May 2 2011 3:12PM GMT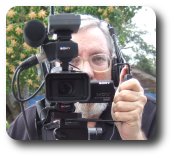 Profile: Robin "Roblimo" Miller
Resumes are important job-finding tools, even if you look for a job by calling friends instead of listing your talents at Dice, Monster, and other big-time employment mills. But today, you will probably use social media more than a telephone in your job search, and the "resumes" you need for LinkedIn, Facebook, and Twitter are completely different animals than the ones you need for more traditional search methods.

Brevity is the soul of Twitter
Old-line resume advisors talk about whether your resume should be one page or two, and how far back you should go in it if you're over 30 or 40 or whatever arbitrary cutoff age they believe will cause employers in your field to balk.
Now, suddenly, we're talking, on Twitter, of compressing your resume to 140 characters or less. Not words. Characters.
If you were Terri the Terrorist Terrier, you might use something like this as your Twitter "I need a job" announcement:
Hey, dog! I'm looking for a guard dog job. I'm literate, friendly, hard-working, and just graduated from The Woofie School. Please help. 🙂
This is exactly 140 characters. It's not really a resume, but an ad for your skills. In Terri's case, it starts with a bark-out to fellow dogs. Your equivalent would be a shout-out to people in your career field, followed by an "I'm looking for ____" sentence, after which you note ONE recent accomplishment that might attract someone's attention. If you can tighten your blurb so that it's 10 characters or so shorter than Terri's, you can include a shortened link to your full resume, which is surely online somewhere.
Your resume is an ad for your services
This is the only sensible way to think of a resume. It's not a bit of history and it's probably not news. It's a sales brochure with you as the product. And you tailor your sales material in different ways for different media.
LinkedIn is probably the most viable way to reach out and look for a job without getting caught up in the mass bins of the job sites. On LinkedIn, you can and should come up with little intro letters targeted not only at specific types of jobs, but at friends and friends of friends who might be in a position to hire you or recommend you for a job where they work.
In your LinkedIn messages, you want to stress recent, provable accomplishments you believe will be important to that particular employer. You can (and should) save that message — no more than 200 words — and crib from it when you write the next one, and crib from both of your first efforts when you write the third, and so on.
You can also broadcast your availability to the world in general through LinkedIn — and Facebook, too. This works best if you have a large number of contacts or friends on these sites, but all it takes is one or two people willing to help you, and one to hire you.
In fact, after I got laid off by SourceForge, now Geek.net, in 2008, the first sizable freelance consulting job I got was with a company in Raleigh, N. Carolina, through a friend in Austin, Texas. And I live in Bradenton, Florida. Without the Internet, and LinkedIn, I never would have made that connection.
The big job hustle mills
When you post a resume on Monster and other big-time job boards, keywords are everything. They're how today's swamped-with-resumes HR people decide who's worth talking to and who isn't.
And don't think their resume-sort programs are smart, because they usually aren't. The fact that you're proficient in six programming languages and can probably pick up someone's in-house variant of Lisp in a couple of days means nothing to the program that is supposed to screen out unqualified applicants. So on the resume you post to Monster or its more IT-centered cousin, Dice, you need to mention everything you have ever done that might cause someone to want you on their staff.
For many of us, personal contacts are best
Blast your keyword-laden resume all over the place. Put out the word to everyone on (at least) LinkedIn, Facebook, and Twitter that you're looking. But then, start a campaign of personal messages, emails, and even old-fashioned (voice) telephone calls to people you know. You've heard the expression, "It's not what you know, but who you know." This is often true. The most proven way to find a job you might actually like is through personal contacts, and it's such a venerable method that Ur the Chaldean stonecutter used it to get his job making statuary for the king's tomb — which only proves that in many ways, the more things change, the more they stay the same.
Be prepared to send a resume or a link to wherever you have your resume online to even your closest friends. They may know what you can do, but they may not remember all of it. And sooner or later they will almost certainly need to discuss you with coworkers who don't know you.
Writing a resume
And this leads us back to the topic of resumes. Since everybody else in the world (I think) has written a book or at least an article on the best format for a standard resume, I'm not going to add to the noise. Instead, in a separate post I've listed Six Web Pages That Will Help You Write an Effective Resume, all written by people far smarter than I'll ever be.