Mar 6 2012 5:08PM GMT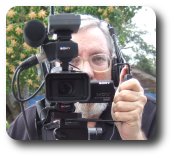 Profile: Robin "Roblimo" Miller
I asked a whole bunch of HR people, recruiters, and IT managers this question. And they gave me a whole bunch of answers. As we say down at the poker club, "Read 'em and weep, my friends…"

Anonymous from career thoughts wrote:
I once received a resume where the candidate used his 'skills' section to mention that he was a puppeteer and a knife collector. Even though his actual resume probably merited a call, we were too creeped out to pick up the phone.
From Robert Hatta:
A big trend these days is for older professionals to leave dates of employment off their resume, or omit decades of experience to seem younger. I get why they do this because age discrimination is real. I also hate it. Evaluating someone's fit for a role and overall abilities has everything to do with their experience. How can I learn about someone and NOT know about, oh, 10-15 years of their career?
Kat Krull of Careerimp writes:
Many job seekers fail to tailor their resume for the particular job I'm trying to fill. This forces me to wade through a bunch of irrelevant information and makes it difficult for me to understand how the person will fit what I need. As a hiring manager, this signals to me that the individual either did not take the time to look at the full job description, or care enough to edit their resume appropriately.
From Creed Huckaby, tech lead at Pyxl, Inc.:
I once received a 12-page resume for our senior web developer position. It appeared that the applicant listed every old technology and programming language they had ever touched, which is a major red flag in my book. I strongly recommend listing a few skills that you are passionate about and you think would be valuable to your prospective company. Technology 'over- generalists' are really common these days and it's much harder to find a good long-term fit for them rather than applicants who have some focus.
Ian Aronovich, CEO of GovernmentAuctions.org writes:
The worst mistake you can make on a resume is to mistakenly leave it tailored to another job…
From Alesia Benedict, President & CEO of GetInterviews.com:
Worst mistake ever: A programmer who was working at a CPA firm. In the description of the company, he listed it as a certified pubic accounting firm.
And I have a million more resume and interview bloopers to share with you in the weeks to come.
Meanwhile, let me leave you with the motherlode of Stupid Resume Tricks: MyCrappyResume.com. These would be funny if they weren't so sad. 🙁