Dec 1 2011 1:53PM GMT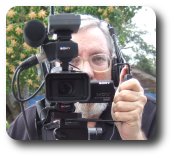 Profile: Robin "Roblimo" Miller
I'm not saying what kind of political cause is best or whether you should choose liberal, conservative, libertarian or socialist candidates to support. But I urge any American who knows anything at all about the Internet and how to make a website — or promote a Twitter or Facebook account — to become politically active.

Voting is obviously the most basic act of political participation. It's an act we American take for granted, but is new and precious in Egypt and other countries that are just now emerging from many years of repression. It may be hard to find a candidate you believe will actively work on your behalf once he or she gets in office, but if you don't vote you have no right to complain about how the government is run.
Really. It's that simple. Voting, here in the USA, gives you the right to complain about your government. If you don't vote, don't complain.
Recently a local (Tampa) TV news report focused on local Occupy protesters who aren't registered to vote or who haven't voted in a number of recent elections. The sneer was obvious in the reporter's voice. But there are also many local Occupy protesters here who I know vote regularly — and work on campaigns, too. And we can say the same about Tea Partiers. Some may not vote, but the sincere ones do.
Even the most basic IT skills can help
I was at a political meeting last week, and a young man was showing some of the older activists how to post to a WordPress site he'd just set up for their group.
You may not think setting up WordPress is a big deal, but to someone who's never done it — or even made a static site using "no skills needed" tools like the ones you see big hosting services pushing on TV — it's hard work.
This is where you come in. You know how to do lots of things that can help a political campaign — starting with making and maintaining a simple website — that you may not consider valuable, but other campaigners have no idea how to handle.
This is the time to get going
The next general election isn't until November, 2012. So why worry about politics now? Answer: because this is when local candidates and causes start getting cranked up. This is when your support can help choose a candidate for a local, state or even national office. And this is when you want to start building a website for your cause or candidate and putting lots of articles and graphics and videos on it so that Google and other search engines pick it up and help you spread the word.
Again, I'm not pushing you toward any particular political niche. You can choose for yourself. But whatever your political leanings, participation is important. People like you and me — and there are a lot of us — can overcome an awful lot of cash that lobbyists throw into our opponents' campaigns.
But this is only true if we get out and actively work to have our beliefs represented in the halls of power.