Nov 3 2011 12:42PM GMT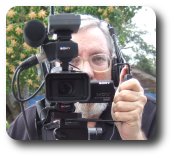 Profile: Robin "Roblimo" Miller
In Florida's Tampa Bay region, the Suncoast Linux Users Group (SLUG) and the overlapping Pinellas Unix People (PUP) maintain email groups and IRC channels that are great for giving and receiving technical help. There's almost certainly a similar group where you live, and you should join it for both professional and social reasons. But there are two non-IT groups you should consider joining, too, especially if you want to go into business for yourself.

Toastmasters International
The tagline on the home page of the Toastmasters International website reads, "Looking to improve your speaking and leadership skills? Ignite your career? Win that job interview?"
This group is all about public speaking. Join, and you'll be subjected to some seriously bad speeches from other members. In turn, they'll sit though your stuttering and awkward pauses. Except you'll find that after a while you don't stutter and you pause less, and less awkwardly, almost every time you get up in front of the group.
Think of a writers' group where you read and critique each other's work, except for talkers.
They mention job interviews. Toastmasters will help you get over the nervousness that causes you to freeze when a prospective employer asks you questions.
Plus, as I've mentioned before in Climbing the It Ladder, presenting at industry conferences is a great way to establish yourself as an expert in your field.
Rotary International
Rotary International is a give-back group that is based on community do-gooding. Even if you can't afford to donate as much cash to worthy causes as Bill Gates does, you can afford to give a little time. This will make you feel good, and it will introduce you to other good-hearted business people in your community.
Wait. Did I just say you'd meet other good-hearted business people? As in, the kind of people you need to know if you go into business for yourself? The kind of people who might hear about an IT job opening at a local business that hasn't been listed on the big Internet job boards? The kind of people who might need an IT consultant with your skills — but don't know one?
Ah, yes. Rotary is a wonderful way to do well by doing good. It may be a little "hale fellow well met" older WASP-ish for some, but even if you don't fit that mold yourself, give Rotary a try. You might fit in better than you expect.
—–
There are many other service clubs and groups out there worth joining. A lot depends on where you live. Toastmasters is great almost everywhere (and is almost everywhere), so it's definitely worth a look. Rotary is one of many service clubs, and since your time is undoubtedly limited, you'll only want to join one, so check out a bunch of them and select carefully — balancing, of course, how you can contribute to their mission against how much good they can do for you in finding useful business contacts.