Sep 19 2011 4:11PM GMT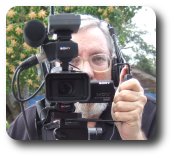 Profile: Robin "Roblimo" Miller
Sometimes, when I need to find a spokesperson with specific topic knowledge, I turn to HelpaReporter.com (HARO). This week, instead of looking for a specific type of spokesperson, I used HARO to ask this question: "My audience is a mix of programmers and sysadmins, and a lot of them enjoy solving problems for people — especially if they can make a few bucks doing it. So what simple program should they write that would make your computing life easier? Inquiring programmers want to know!"

The answers were interesting. The first one that caught my eye was from Cindy Alvarez, who wrote that she "would love the ability to click a button and be reminded to follow up on this email in X days (but hide it from my inbox in the meantime)."
Cindy mentioned this specifically as a potential Gmail feature, but wouldn't it be just as handy in Thunderbird or Outlook? Worth a thought or two, for sure.
Bruce Burke of Gulf Bay Consulting wrote:
I've found that family members, friends & business associates all have their preferences when being contacted. Some like phone calls, others like text messages, email, Skype, or Facebook… If I could set a priority preference that the contact has when I add them to my database, and devices would use that methodology as default method of reaching them it would be great. I'm tired of hearing, "Why didn't you text me?" Or, "You know I hate typing, just call me…"

"Communication Preferences" would be an excellent piece of integration in today's smartphones & tablets…
DH, whose name and employer we'd better withhold (in order to protect her job), says what we need is Boss Alert, which would be "a way to back-date files when you need to hide the fact you didn't start on something when you should have because you forgot (or were sloughing)?"
Well, hmmph! You don't need this and neither do I, because our noses are so close to the grindstone that they're a full inch shorter than they were when we got out of high school. But we have friends and relatives who are… not so much, let's say.
Surely some smart programmer has already come up with something like this. If you're that programmer, please share it with the world!
From Deanne Hollins of Main Street Public Relations:
Okay, we have Outlook, Google, Palm, Thunderbird, Incredimail, and I think Eudora is still around. I've tried them all and all fall short. I resort to Outlook for email and Cozi for my calendar (yes, I'm even adapting the family-oriented, free Cozi for a work situation because I love it).

However, this would be my dream email client:

Easy to organize in folders, archive, backup and restore (Outlook does folder organization well but falls short in the archive, backup and restore department-maybe it's just me, but I fumble at restoration)
Client-side software (not just Web-based; Web-based is too slow and clunky, although sometimes convenient if synced)
Easy-to-set-up accounts
Calendar integration with Google sidebar (Cozi has this feature, although currently not operating properly-probably needs to catch up with Google; I do like Google's calendar color-coding and ability to have different calendars for different functions, however); speaking of Cozi, I like their Journal, one-password access, print-out ability, Android/iPhone app, list feature, and ability to send a quick message or list to someone's phone-PROPS COZI DESIGNERS!
Now, this is truly unique-ability to attach notes to the email! No one does this that I know of
Real-time updates, no matter the machine (EverNote manages this somehow)-so the information and file system is in sync (asking too much here, right?)

There was a time when Eudora held the lead and we had fierce competition in email design, but no longer. It's time for email to catch up with today's busy, socially-active and Internet savvy users!

Please rescue me from email Hell!

Kids may be abandoning email — opting instead for chat and Facebook; however, small businesses still need email. I would pay $50 (maybe more) to purchase this program!
And Bill Horne, of William Warren Consulting, writes:
Baby boomers like me are now into the part of our lives when our vision becomes an issue, and most websites are written by twenty-somethings with 20/10 eyesight who think that 8 point type is cute. I want a program that automatically increases the font size of any website to a value I give it /ONCE/, and automatically centers the "main" part of a website after doing it, so that I can read the "text" portion without having to slide the screen away from the ads.
Bill also says:
I want an email add-on that encrypts any email I send to my wife, without me having to buy some expensive "certificate" every year. I need it to be totally transparent and brainless, and I don't want to have to get one of the IT guys to unlock my machine in order to use it.
Some of the other suggestions I got were for programs that already exist, and I've pointed the people who suggested those programs to the existing ones by email — which brings up the thought that a large percentage of what people want seem to be email improvements.
I'm personally thinking that it may be time for me to ditch Thunderbird, which has been my primary email client for many years, for Gmail before long. I don't dislike Thunderbird, but Google's Chrome browser has me spoiled. I have computers running Linux, Windows and Mac OS on my desk, and I love the way Chrome synchronizes across them all without any effort on my part. I would love to have the same thing happen with my email, and so far Gmail seems to be the only way to get that to happen.
Does this mean Google is gradually taking over my life? Should I be scared of this ever-encroaching behemoth? Perhaps I should. And perhaps I'll look for an alternative to Gmail before turning my innermost communications over to it.
Perhaps the Eudora Open Source Edition will make me happy. It's based on Thunderbird, so it shouldn't be alien to me, and it's available for all three OSes I use. Hmm. Guess I'll give it a try, anyway.