Jul 30 2012 5:11PM GMT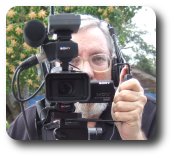 Profile: Robin "Roblimo" Miller
I was hanging out in the noisy press room at the Black Hat Conference, and Lo! There was Ira Winkler, CISSP, Chief Security Strategist at Codenomicon. I had my camcorder in my hand, so I pointed it at him and asked how to get into fuzzing, penetration testing, and other jazzy parts of the computer and network security field.

Watch this 37 second video to see what he told me:
http://www.youtube.com/watch?v=HndUHLSMTC8
Winkler is the author of Spies Among Us, Zen and the Art of Information Security, Corporate Espionage, and co-author of Through the Eyes of the Enemy. He has been quoted in Forbes, USA Today, Wall Street Journal, San Francisco Chronicle, Washington Post, Planet Internet, and Business 2.0. He knows what he's talking about. You can't go wrong following his advice.