Apr 16 2012 2:07PM GMT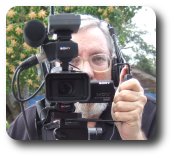 Profile: Robin "Roblimo" Miller
Even if you're on a low-salt diet, you might want to take this much optimism with a grain or two. There's even an optimistic chart, which you can see by reading the (PDF) report itself. But Randstad Technologies is a giant in the field of HR recruitment and consulting, and world-famous Harris Interactive did the survey, so who are we to question them?

We're the nerdy kids who ask questions about everything.
That's who.
So we rounded up Chris Mader, Managing Director at Randstad Technologies, and hit him with three follow-up questions:
IT Ladder: Is the optimism in your chart mainly in the U.S. or is it a worldwide phenomenon?

Chris Mader: There is a very high demand for talented IT professionals in both the U.S. and around the globe.

However, in the industry right now, Baby Boomers in IT are retiring and we simply do not have enough IT talent graduating from U.S. colleges and universities to fill this skills gap. This helps swing the supply and demand curve to favor IT talent, contributing to the optimism you see in our study. I have three young children and I wouldn't hesitate to guide them down the path of a career in IT, or industries such as engineering or healthcare. That is where jobs demand continues to remain consistent.

Lastly, technology is usually one of the first places large companies will cut projects when the economy is in a down cycle. Now that we are recovering, we have seen that companies have been aggressively re-investing in their IT initiatives.

IT Ladder: What country would you move to if you were a young I.T. person looking for challenging work?

Chris Mader: If you are seeking something a little different but don't want to go overseas, Canada offers a favorable work-life balance and IT jobs are in high demand in Toronto, Calgary and Vancouver. If you've never visited these cities, they are all spectacular places to live as a young professional. For one example, Toronto is one of the cleanest, friendliest, and most diverse cities I've ever visited. Canadians in Toronto enjoy all four seasons; have several major sports teams, museums with a rich history, fantastic restaurants and nightlife. And, it is only a one to four hour flight to almost every city in the US.

If you were seeking a European adventure, Germany is a beautiful country and would be a great place to consider, especially considering Germans are very well educated and fluently speak 3-4 languages including English. However, no one can match India right now when it comes to raw hiring numbers in IT. US based companies with a presence in India are oftentimes hiring four to five IT workers for every one hired in the US.

IT Ladder: Where would you move if your ambition was to start your own I.T.-oriented business?

Chris Mader: Many of the "BRICK" Countries (namely Brazil, China, India) and also the Philippines, Mexico, and Germany currently have high demand for IT workers. If I were to start up an IT company in another country it would depend if the business was based on innovation or support. If the focus was support, I would probably choose India. They have an educated and extraordinarily motivated talent base. Outsourcing revenues exceed $1 trillion worth of business now in India. IT is a top priority for the government, and India even has a special task force to make sure they stay competitive with the rest of the world.

However, if innovation was the key driver to my business, I'd keep it here in the US. This is the greatest country in the world when it comes to innovation in Information Technology.
—————
Thanks, Chris. We're a little cynical about your company's IT Employee Confidence Index. But reading it made us feel more confident than we felt earlier this morning — although the coffee we drank while reading it probably helped, too.