Nov 28 2011 1:07PM GMT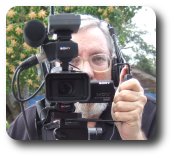 Profile: Robin "Roblimo" Miller
Alan Young, CEO of a company called Armor Concepts, says up to 85% of all break-ins are "kick to enter" jobs. In other words, the intruder kicks in your door, grabs stuff that looks valuable, and runs.
Alan has some advice about how you can make a thief's job harder.

First off, Alan says, you don't need to turn your house into a fortress. You just need to make it look hard enough to get into that a burglar cruising your neighborhood chooses another house instead of yours.
My wife and I may have been cased for a burglary last week, but the person or people who were walking near our back fence went away when they heard Terri the Terrorist Terrier barking. And a few houses up the street — really "a few mobile homes" — we live in a mobile home park in Florida — someone kicked in a door and took almost everything small and valuable, including computers, and had larger appliances, including the (nice new) refrigerator next to the front door, ready to go with them on another trip.
If these people had installed one of Alan's devices, they might not have become crime victims. Someone in our neighborhood still might have been ripped off — but not them.
In another case, an IT reporter/analyst friend went to an auto repair shop for some minor work and took his Intrusion Prevention System — his dog — with him. When he came home, he found a kicked-in door, a missing laptop, and some other stuff gone.
The funny thing was that the thieves hadn't taken the laptop power supply, so its value in the murky used stuff and pawn market was close to zero. Even so, the victim was forced to buy a new laptop.
Alan says his EZ Armor product probably would have thwarted this theft. Who's to say? It might have.
Protecting Your Home Office for Real
So you buy Alan's most popular product, the $69 EZ Armor kit that's designed for do-it-yourself installation. You are still not secure or even close to it. While it's easier for a burglar to kick in a door than to break glass and crawl through a window, if a door-kick fails that burglar might easily try other ways to get in, especially if he has reason to believe you have $5,000 or $10,000 worth of computer equipment waiting for him to carry away and sell.
So — still talking about doors — you need good locks. Alan recommends Grade One locks. This is an industry standard, not a brand. They used to be crazy-expensive, but now, Alan says, they have gotten reasonable enough that it's silly not to have them.
Then there are windows, and… and a whole lot of other things to think about, not to mention alarms, and Alan is not high on alarms as your only protection because, he says, "They don't keep intruders out. They just tell you someone has already broken in." And in a world where the average police response time is close to 20 minutes, and the average burglar is in and out of your house (and your home office) in five minutes or less, that alarm is unlikely to help catch a burglar.
Indeed, an alarms's most valuable component may be the "Protected By ____" yard sign or decal that comes with it. And you can find all the "protected by" signs and stickers you want by hitting Google and using the search phrase, security alarm signs and decals.
Back to Alan. He had a lot more good security advice, most of which did not revolve around his products. You can get a whole stack of useful break-in prevention information by going to his Preventing a Break-In page.
If you've never suffered from a burglary, please read some of the links in this article and try to keep it that way. If you have been a burglary victim, you don't want to repeat the experience, do you?
So read Alan's advice, and the online anti-theft advice available from others, and (my voice suddenly gets all growly) be careful out there.