Apr 12 2011 12:57PM GMT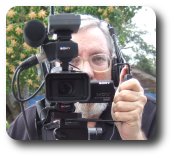 Profile: Robin "Roblimo" Miller
We all love reading Bastard Operator From Hell, but real-life work is more fulfilling if users love you instead of wishing you'd fall down the stairs as karmic payment for the way you treat them. So, since we already know how to be a BOFH, today's post could be subtitled, "How to Become a Legitimate Operator From Heaven."

Here's some advice from three industry executives:
Jeff Trotman, President of Westglenn Software:
I'd say the most important thing is not to make the people you are dealing with feel stupid because…
they call a USB flash drive a "thingamajig", or
they can't remember the exact details of the cryptic error message that popped up when they tried to print, or
they don't know what version of Office they are using.
Using jargon instead of English is another variant of this. If you can't make "non-geeks" understand what you're talking about, you're not going to advance very far.
Bruce Campbell, VP Marketing, Clare Computer Solutions:
When someone calls for help with IT, chances are they've already tried a bunch of stuff which either didn't work or maybe even made things worse. So they call for help in a state of high anxiety and/or embarrassment. Lower-level users tend to worry they'll get in trouble for what they've tried, and higher-level users are frustrated that their usual regal authority has no effect on recalcitrant computers.
The first few seconds of the call are crucial. Techs that have the ability to soothe as they ask for help will do well, and techs that (purposefully or accidentally) give off a "What did you do now?" vibe will always have trouble. Even if both techs can solve the problem, the tech who soothed the client will have a grateful client, while the haughty one will have a client who is still angry even AFTER the issue is resolved. In fact, that client will probably transfer the earlier anger over the IT issue into anger over being humiliated by the tech.
I have taken classes over the years in "dealing with difficult people," and they espoused a form of "verbal jujitsu," where the first moments of the interaction with the client are spent creating empathy. Instead of getting defensive ("What did you do to break it?" "There's no way our products would do this"), they say things like "Wow, that sounds really frustrating – let's see what we can do!" and quickly, an adversarial relationship becomes a partnership with the exact same goals.
Russell Henry, independent IT consultant, Washington D.C.:
First, you must recognize the value of people skills. It should go without saying, but if you don't believe it, you won't do it. If you view dealing with people as a "necessary evil" or "not my department," you'll never be able to develop those skills. Remember: Your reputation is your most important asset. IT jobs are not a dime a dozen anymore. If you commit every day to being a salesperson for your services and developing your reputation, you will earn the respect of your colleagues and will go far. You never know who might become an invaluable networking resource.
Don't play the blame game. Your colleagues probablyl spend a lot of time trying to deflect blame and claim success. Admitting a mistake is not a sign of weakness — it's a show of strength and confidence. Own your mistakes; admit to them, apologize, and suggest a way to move forward. Not shying from blame is a powerful way to attain admiration in the workplace, and an automatic stress eliminator.
Customer service. Whether you're in a traditional customer service role like help-desk or are far removed from the front lines, your work benefits somebody, and that somebody is a customer. Never forget that. If you've ever worked on a help desk or even flipped burgers, apply those customer service skills to your work. They are invaluable. Even if you've never worked in customer service, you've been a customer, so you know what works: Be helpful, provide service with a smile, focus on the positive, and be honest and up-front with your customers.
Go to meetings. Every organization conducts worthless meetings that seem like they do little more than interfere with real work. It may seem the efficient course of action to skip them, but they are important social events. Whether it's an actual meeting or an explicit social event like lunch or happy hour, don't skip it! Businesses and organizations have social structures like any community. You need to be a part of it — people are, after all, social animals.
Lend your expertise. If you work in IT, people are bound to ask youfor free advice about their home computers, mobile devices, or Internet service. You don't have to fix their computer for them or spend a long time helping them, but advice is easy to give. No, it's not your job, but the respect you'll earn in return for 5 minutes of your time is invaluable.

Give people information they can use. Don't give the information you want people to have — give them what they need! If they are not technically oriented, structure your documents or presentations in plain language. People may be impressed by technical mastery, but they are more impressed by tools they can use to further their mission.
A psychologist friend of mine once said, "Sociology, Psychology, and the other 'people sciences' are far harder than physics, math, and the other so-called 'hard sciences' because humans are so incredibly complex."
Time spent learning how to get along with coworkers or clients can be just valuable as the same amount of time put into improving your technical skills. In fact, it may even prove to be more valuable in the long run.