May 9 2011 8:08AM GMT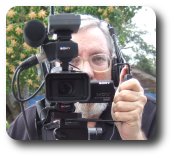 Profile: Robin "Roblimo" Miller
This may sound like a joke, but in this case it's not. California now has a state agency that helps people like you find jobs in the fast-growing HIT (Health Information Technology) field. If you need additional education or training, they can help with that, too. And if you don't live in California, don't despair. Your state probably has a similar program or will start one before long.

The person I spoke with the most before writing this article was Caryn Rizell, who carries the imposing title of Associate Director, Workforce Development, California Primary Care Association (CPCA), but also works closely with CalHIPSO, the California Health Information Partnership and Services Organization, especially on recruiting and training matters.
Caryn says there are plenty of people out there — you're probably one of them if you're reading this — who know plenty about IT but little or nothing about how the health care industry works. Conversely, there are plenty of people working in the health care industry who know little or nothing about IT. A large part of what she is working on right now is setting up community college programs like this one, which concentrates on Heath Care IT Workforce Roles.
Right now, this program and others like it around the state are putting a lot of their energy into training "incumbent health care employees," which means taking people like the office workers you see in doctors' offices and hospitals, and teaching them how to deal with computer hardware and software. But there's also a lot of money and energy going into training IT people like you how to deal with the medical environment. Here are three programs at Cosumnes River College whose titles indicate that they're looking for more IT people than medical people to enter their program:
Health Care IT Implementation Support Specialist
Health Care IT Technical Support Specialist
Health Care IT Trainer (coming fall 2011)
The blurbs for the first two course tracks include this note: "The previous background of workers in this role includes information technology or information management."
The blurb for the third says: "The previous background of workers in this role includes experience as a health professional or health information management specialist."
"But I don't live in California…"
That's okay. neither do I nor, come to think of it, does a majority of the U.S. population. So we non-Californians go to the HealthInformationExchanges.org site, specifically to the Regional Extension Centers List, and find our local equivalent of CalHIPSO — and if we're lucky we find someone as helpful for our state's job-hungry IT people as Caryn Rizell is for our brothers and sisters in California.
A tip of the Zippy the Pinhead pin goes to Joanne Rohde of Axial Exchange, who told me about CalHIPSO and sugggested I write about their efforts to help IT people move into Health IT.