Sep 9 2011 12:08PM GMT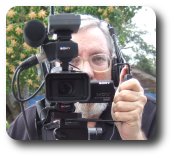 Profile: Robin "Roblimo" Miller
Put down that stick! Stop shaking and start reading! There is more online career advice out there than you can shake it at, anyway. Here are five examples:

These are five advice/forum sites I personally found interesting and potentially useful. Hit Google with the search term "IT Career Advice" and you'll find thousands more.
If you're unemployed and looking, or you're in a job you don't think is going to last, you should look through at least the first few pages of those Google links. If even a few of them teach you something, your time will not be wasted.