Jun 6 2011 2:26PM GMT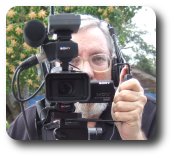 Profile: Robin "Roblimo" Miller
IT is one of the few departments in most modern corporate headquarters where you can get away with jeans and t-shirts every day, and shorts and sandals on "casual" or dress-down days. But abusing this freedom can be a major career no-go, so don't do it. There's no need to wear a tux to work every day, but you should at least be neat and businesslike.

I am going to start with grooming. There is nothing wrong with a beard — on men, anyway. And there's nothing wrong with long hair on either men or women. The key word for acceptable hairstyles and facial hair is "neat."
Well-trimmed long hair is better than messy short hair in almost any professional environment outside of the Department of Defense, where short, easily-managed hair is de rigeur for both men and women even if they're civilian employees, not active duty military.
"I'm so good at my job, nobody cares how I look."
When you say this to yourself, the only person you're fooling is you.
Another great self-delusional statement is, "If they don't like the way I look, it's their problem, not mine."
You're kidding, right? If the person who thinks you don't dress up to standards or that your grooming isn't all it can be is the one who decides whether or not you deserve a raise or promotion, your appearance most certainly is your problem.
Simple clothing rules
Pick a color. Any color. Then ask the best-dressed person you know whether that color suits you. If the answer is "no," ask what color your friendly fashion plate recommends. You're probably better off following someone else's advice than going with your own taste, except for one thing: you are the one who will wear your clothes, so you need to be comfortable in them.
As along as your preference isn't bright reds or other outre colors, you'll probably be fine going with your own preference.
Now find one or two colors that go along with your favorite one and each other.
Congratulations. You can now build a simple, professional-looking wardrobe without a lot of thought by sticking to two or three compatible colors, and since everything in your closet goes with everything else, you can get dressed for work in a few moments.
What kind of clothing? Shirts have collars, and pants are slacks, not jeans. Men wear socks — and can save a lot of sock-sorting and sock-picking time by buying a dozen pairs of identical black socks. Black is a good colors for shoes, too, whether they're Florsheim wingtips or unfashionable (but comfortable) Crocs.
Women may or may not wear stocks or stockings, depending on footgear, but should always stick to "sensible shoes" not only because they present a professional appearance, but because they will leave your feet feeling better after a day's work than high heels or platforms will.
This advice doesn't apply if you're Lady Gaga (or, after the sex change, Gentleman GaGuy). But it should. My wife shakes her head at Lady Gaga's shoe choices. "She's going to have major foot problems when she gets older," says Debbie.
Neckties
I am personally against ties. Even when I drove a limousine and wore a tux* to work every day, I tended to use a decorative collar stud instead of wearing a tie. Since I owned the limo company, my boss thought that was just fine. But in many cases, including limo-driving as an employee and becoming a manager in some companies, ties are part of the uniform.
Female ties? I think they tend to look stupid, but that's just me. I am not an expert on female clothing, and there are thousands of Web pages with advice on how women should dress for work already, so I see no need to add my (uninformed) opinion to this oversupply of information.
Dress one step up
If you want to stand out from a crowd of fellow coders or admin flunkies, dress one step better than your peers, right up to a sport coat or equivalent. Note that I don't say "suit." I have always avoided suits as everyday work clothing because they typically need to be dry-cleaned, which costs so much more than a wash and dry that it's tempting to put it off until your suit is a bit smelly, which is never good.
But a sport coat? Why not? It can spend most of its time on a hangar or hanging on the back of your chair. So can a tie. The point of these two articles of clothing is to have them handy so you can throw them on if a client or regional manager makes a suprise visit.
Job interviews, especially, are a time to dress one step better than your perception of the job suggests. With a little research (Google Images is good for this), you can probably find a photo of one or more of your prospective coworkers at a conference or some such. Fine. Dress at least as well as they're dressed in the photo and you can't go wrong.
Overdressing
An old-fashioned piece of advice: "Dress for the job."
This is correct in the sense that it's silly to wear a suit if you're applying for a job as a truck driver or dishwasher — or jeans and a t-shirt if you're interviewing for a CIO position.
Again, back to "one step up," but within bounds. And knowing a bit about your prospective employer's corporate culture helps. A friend of mine here in Florida — a confirmed t-shirt guy and motorcycle rider — got a job (through a referral) as an IT person for the local branch of a stodgy financial institution. A tie was a daily-wear requirement unless he was actively engaged in some sort of physical work, like crawling under a desk to replace a tower or soldering a cable on his workbench.
Did he adjust to this culture? Amazingly, yes. Before you knew it, my friend had become, if not a snappy dresser, at least much neater than he had been. Then he started losing weight. Now he's in a different (better-paying) job, and (gasp!) he's found that women who would have ignored him a few years ago now seem to think he's desirable (or at least worth dating or flirting with).
"What if I like dressing down?"
I'm writing this column in my home office, wearing swim trunks and a really old "talk like a pirate" t-shirt. But I'm alone, and the only person likely to walk in on me is my wife, who has seen me in almost all possible clothing states in the last 19 years.
I have coder (and writer) friends who dress the same way. But the smarter ones put on long pants, shoes, shirts with collars (we're in Florida, so polo shirts are fine) when meeting with clients, bosses, first dates, and other people they want to impress.
Do they dress up for me? Nah. We're friends. We BBQ together. We don't dress up for each other — nor do the people I know who work with friends they've known for many years, which is a common situation in the not-large towns (Bradenton and Sarasota) around here.
However, adherence to an "I dress down because I can" code may limit your employment options, and can absolutely freeze you out of a lot of corporate jobs, especially in management.
But hey! If you're happy where you are, doing what you're doing, why change?
————–
* A tuxedo doesn't need to be expensive. And for any kind of formal event or fancy date — or when presenting a paper at a conference — a tux is the best outfit a man can own. The secret of buying a tux (a true gentleman never rents one) is to get it from a uniform store, restaurant supply or online specialty vendor instead of from a formalwear shop.