Dec 22 2011 1:06PM GMT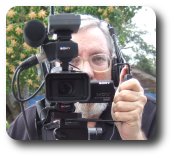 Profile: Robin "Roblimo" Miller
My phone is as stupid as a phone can be, but you can drop it or get it wet and it will still work. My cellular cost per month is about $4, on average. My wife's LG phone is sort of half-bright, you might say. Her plan costs $25 per month (now $35 for new users) for unlimited data use and five hours (300 minutes) of talk time. Maybe one day we'll need smarter phones, but for now these are fine.

I have almost certainly had a cellular phone longer than you have. I signed up for one shortly after Cellular One started offering service in the Baltimore/Washington metro area in 1984. At the time, Cell 1 was the only cellular service in the U.S., and they acted like it was a big privilege for you to pay $2000 for a phone and up to $1 per minute for airtime.
Naturally, the second there was competition, everyone with one fourth of a brain took their business elsewhere. The thing was, once I had a cell phone, I couldn't get along without one, because the reason I got one was that I went into the limousine business, and as an independent I didn't have a central dispatcher and a radio system. Disgustingly high though early cell phone charges were, they were still better than being a hired driver for a limo or cab company, most of which were run by people who thought greed was not only good, but the only good reason for living.
So, while Lilli Von Schtupp may be tired of love,I'm tired of cellular phones. I don't need a GPS, since I don't get lost, and I really don't want to read Web pages or watch movies on a phone. I have a 24″ monitor at home. And a 21″ one. And a 17″ one. And a 42″ HDTV in the living room. And a 15″ laptop I can cart around with me So why should I squint at a tiny little screen when, before long, I'll either be home or someplace I can whip out my laptop?
My wife's phone may look like a smart phone, but it's not one. It has a keyboard and is fine for text messaging and email, which are her most common uses for it. Want to take pictures? Sure. It'll do that, and a little video, too. Want to load a Web page? This is supposedly a 3G phone, but it seems more like .3G to me. And it plays YouTube videos at about 5 frames per second, i.e. really choppy. But the sound is clear, and if you stick a decent-sized micro-SD card in it, you can watch a movie or two or carry a week's worth of music.
I don't know about you, but that's smart enough for my wife. And when I eventually get a new phone, since mine is more than a few years old and kind of bashed up, I'll get something along the same lines.
Who really needs an iRobot phone?
I write articles and email and things like that, so I carry a laptop with a full-sized keyboard. I make videos, so I carry a broadcast-quality HD camcorder and microphones. Sometimes I need to talk with someone while I'm not in my office. That's what my cellular phone is for.
Do you catch my meaning? Do you get my drift? I use my cell phone to talk. In an emergency, like when evil Dr. Smegma throws me in a cell and is listening to me but can't see me, I might send a "HELP!" message. Or tweet something like, "Dr. Smegma has captured me. How droll!"
I keep cell phone conversations short, and I have no trouble hanging up or not answering if I'm driving in traffic or doing something else that requires my full attention. And a lot of the time I'm away from home I'm shooting video or in an F2F conversation or doing something else that is more important to me than a phone call.
I have voice mail and caller ID on both my home/office and cell phones. If I can't get to the phone when you call, leave a message. If you're a legitimate caller, don't worry. I'll call you back before long. And I'll probably get your voice mail.
Phone tag!
But we'll get together sooner or later. Really.
Here's a funny thing I learned about phones maybe 15 years ago: if I miss a call, the world does not end.
Every phone I've bought since that revelation has been equipped with an option called an "off" switch. This amazing gadget keeps people from bothering you when you're on the toilet or working on your car or shooting video. Pure magic. And you know what? No call I have missed has had a noticeable impact on my income or quality of life.
Hard to believe, isn't it?
So now I pay 10 cents a minute for cell phone calls. I spend, on average, around $4 per month with BoostMobile. My phone is so stupid that I understand what just about all its buttons and settings do.
I'm a happy man — at least when it comes to phones. And if you get a stupid phone, maybe you'll be happy, too.
Author's note: BoostMobile's "pay as you go" seems to have gone from 10 cents per minute to 20 cents per minute for new subscribers. Thanks, Blacklight, for pointing that out.