Nov 14 2011 6:52PM GMT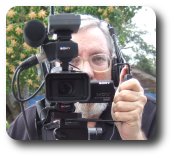 Profile: Robin "Roblimo" Miller
Michael Bremmer of Telecomquotes.com, who claims more than 22 years in the IT service space, says, "Cloud computing isn't new or even a fad, but a return to technology's roots. (All things old are really new again!)" He's right. "The 80's," he points out, "began the era of the 'personal computer' with removable storage (remember floppy drives?) and hard drives. Before this, it was all 'cloud computing' — dumb terminals hooked to a larger and not very smart computer over expensive leased lines."

Dave Hatter of Libertas Technologies says, "Cloud is just a fancy new word for SaaS, which was a fancy new word for ASP, which was a fancy new word for client server, ad nauseum."
And I always thought "cloud computing" meant computing that took place across multiple computers in many places, so that if one of them broke the others would still deliver your Web page or do whatever you were paying the "cloud provider" to do. But recent "cloud" failures have proved that this is not so.
A well-publicized example was the Amazon cloud service failure in April, which took a number of popular Web sites down with it.
Think: if there was a whole cloud of computers behind Amazon Web Services (AWS), how could the failure of one computer — or even a bunch of their computers — kill the entire cloud? The obvious answer is that AWS is merely a stack of servers, with your data on only one of them. Or maybe two or three, but all of them sharing a power supply or a connection to the Internet or some other single point of failure. This means you are not getting a "cloud" when you hire their service, but are merely getting space on one server — or in one server room if you're a large customer.
Once upon a time, we ran our own servers
Soon after we all got dialup connections, we had a magic new thing called an ISDN line offered to us for several times the price of a dialup connection. For a lot of us, this meant we could stop using our ISP's "Web space," which gave us URLs like www.primenet.com/user~/roblimo, and could set up servers with simplifed URLs such as www.roblimo.com. And with our own servers, right there in our living rooms, we could have pictures and even Real videos on our Web pages. Tres cool!
Except sometimes our servers broke and even more often our ISDN lines went down. So those of use whose Web pages had a business purpose (mine was for Robin's Limousine, which I owned), looked for more reliable hosting.
And lo! Just as we were looking, 70 zillion entrepreneurs started Web hosting services.
I excitedly signed up for one of these services. And not but a few weeks after I did, I went looking for roblimo.com and it wasn't there. It seemed the hosting service was having problems. Two days later my site was back. And after the hosting service replied to my help request *a week later* I moved to another hosting service, which worked fine for several months, after which it, too, had a multiple-day service interruption.
By now I was starting to realize that my precious little Web site was still being stored on a hard drive, on a computer, with an Internet connection that could do an oopsie just as easily as the one to my home, and that the shared computer at the hosting service got worked a lot harder than the computer I'd used as a server at home.
Well, DAMN!
Third time's a charm and all that, and the third hosting service I tried was great. Two guys ran it and carefully maintained their dozen or so shared-hosting servers and the hundred or so dedicated servers they rented out to larger customers. The one time they had a failure that affected me, it was for a minute or so and they sent me an automated email to tell me it had happened, and that they had restored my site from their automatic backup.
Lessons From a Cloud Failure: It's Not Amazon, It's You is an interesting article. It says you need to plan for cloud failure and have backups for your cloud. In that case, why pay for cloud service? Why not just have some servers in a rack someplace? And some other backup ones someplace else? Heck, my friend Joe at Globaltap.com, the hosting service I use nowadays, can set you up with all kinds of failovers and blades and dedicated servers and damn near everything except a cloud — and if you want to call the close-to-foolproof array he sets up for you a "cloud" he isn't going to stop you. It's just a marketing hype word Joe doesn't use because he's a techie, not a marketing hypester.
Even SaaS, or Software as a Service, isn't immune to failure. SalesForce had a big outage in early 2010.
What's a poor commercial Internet user to do?
The answer, apparently, is to choose the most reliable and redundant hosting service you can find, with "cloud" services like Amazon's used as additional resources during high-traffic times, but not as your main servers.
And cloud hype? Ignore it. No matter how attractive it sounds, in the end "the cloud" is not really any more reliable than computing over the network has ever been.