May 18 2011 4:54PM GMT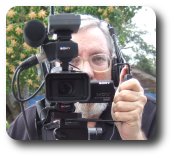 Profile: Robin "Roblimo" Miller
Before I start getting numerical on you, let me say that Google is not paying me to write this little article. I use their Chrome Web browser and like it. In fact, it is now the default browser on all three of my "main" computers — for the five reasons I enumerate below:

1. Sync. I love sync, which synchronizes things like Chrome browser settings and any other Google Web services I use across multiple computers. I tend to be a bit conservative, so I'm not big on moving everything to "the cloud" quite yet (and I may never be).
So far, the only Google service I use heavily is the Chrome browser. But I love a browser whose settings automatically synchronize across my Linux, Mac, and even Windows PCs.
Love may not be too strong a word, after all. Maybe we can get "Weird Al" Yankovic to write a song called "Chrome Love." I'd love that. Wouldn't you?
2. Speed. I like speed metal now and then, especially the Primus piece, Jerry Was a Race Car Driver. I like a browser that loads as fast as that song, and opens pages that fast, too. Without choking or crashing or any of that. Which Chrome does. It is, on average — across my Mac, Windows, and Linux computers — the fastest browser I have ever used. Vroom!
3. 100% cross-platform goodness. Have you noticed that Firefox has slightly different controls and settings locations in different operating systems? If you only use one operating system all the time you will never notice this. But for those of us who need to check work across multiple platforms, software that works the same across them saves us time and, more important, precious Brain Cycles. (You may have a lot of brain to waste. I don't, so I try to conserve what little I have.)
4. Growing selection of add-ons. Yep. There are lots of cool things you can add to or turn on in your Chrome browser — that will instantly be available on all your computers, which is too cool. There's nothing like a browser customized exactly to fit your tastes and work habits. And it is even cooler that your customizations appear on all your Chrome-equipped computers. (I already said that, didn't I? Well, it's obviously worth saying twice. So I did.)
5. One Convenient "Tools" Button. There is a little wrench-looking icon in the upper right-hand corner of your Chrome browser windows. Click on it, then click around on the various thingies you'll see on the various menus hidden behind that wrench. "Preferences" is obviously an important menu to check. It's where a lot of your customizing takes place, so use it wisely.
====
So these are five major reasons I like the Chrome browser as much as I do. Maybe you have others. Or maybe you you've tried Chrome and didn't like it at all.
We are all different, right?
I mean, sure, life would be easier for people like us if everybody used Linux, but they don't, and maybe never will, so we all just have to find the tools that work best for us — and be happy we found them and that they do what we need.