Mar 29 2011 2:53PM GMT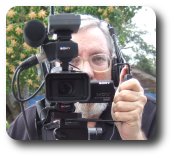 Profile: Robin "Roblimo" Miller
Frank Sfalanga Jr. once worked at a job where, he says, he spent "18 months being ground into dust." He'd left a decent but unspectacular job at a records storage company to join a good friend who had moved to the dust-grinder company. Then the friend changed jobs again, and once again Frank followed him. Before long, though, the new company moved Frank's job from Ft. Myers, Florida, where he lives, to New Jersey. Meanwhile, he'd picked up a couple of consulting customers on the side. So when his job went away, he was suddenly the full-time proprietor of Penguin Computer & Telephone Solutions.

Linux, but not doctrinaire about it
Frank, who is a stalwart member of his local Linux User Group, recommends Linux-based solutions to his clients whenever they're practical.
But even though he prefers Linux in most cases, he knows that it isn't the perfect answer to all IT problems, and that he needs to work with customers' likes and needs rather than his own. In fact, he mentions Windows ahead of Unix and Linux on his small business services page.
Frank gets work through a mix of referrals, social networking, and people who see his blog. Plus, while he has enough work to live fairly well, he's about to try a direct mail campaign targeting local businesses.
And yes, he does install Linux on PCs for plenty of home and small business users. He says many of his neighbors are "elderly people who only make light use of their computers, mostly Web and email," and that once he puts Linux on their PCs, "you never hear from them again. Everything just works. It's like the Maytag repairman."
Frank's fax server
One of Frank's employers had three fax machines in rotation, with one always out for repair. "They sucked up toner," he says, "and used tons of paper. I put in a fax server – all it did was receive – basically two US Robotics modems and a hard drive on a simple motherboard, HylaFAX software, and a heavy-duty printer. And I wrote a little script to tell someone when the printer was out of paper."
Yes, Frank knows it's now 2011 and fax started to go away in the 1980s, and has since been replaced by email. Except it hasn't really been replaced by email, especially in the medical business; many doctors, medical labs, and pharmacies still send and receive hundreds of faxes every day.
There's an article on Frank's website titled, Does Your Office Need A Fax Server? For an awful lot of small business people, the answer is "yes." And Frank obliges them — with a fax server controlled through a super-simple GUI that anyone can learn to use in a few minutes.
Learning all the time
Frank says he is still trying to find his niche, and that sales is still hard for him because he's spent "most of my life in management, not sales." He doesn't consider himself good at writing contracts, and often has trouble pricing his services. "I don't even know what others in the business charge," he says.
One niche he's fallen into is health care, a business segment with a strong and growing need for IT services.
My March 15 IT Ladder post was all about health care IT, which is a wide-open, booming field — not just for Joanne Rohde, my interview subject on March 15, and Frank Sfalanga, but possibly for you, too.
Joanne noted that this year, doctors are investigating new software and hardware for their offices, and that next year is when they'll probably start buying big-time.
When I told Frank what Joanne had said about doctors, he laughed. "Ah, yes. Doctors. Some of the ones who need IT help the most don't even know how bad they need IT help."
Doctors, lawyers, small manufacturers…. even smaller towns and cities like Ft. Myers, where Frank lives, have enough professional practices and businesses using enough computers (and having enough computer and network problems) to keep more than a few independent IT consultants busy.
One thing that drove Frank into starting his own business, he says, is that he's 45 year old, "and used to a salary high enough that a company can hire two 25-year-olds for what I'd want."
There's also a financial safety factor in working for yourself. If you have a full-time job, and they fire you or lay you off, your income stops and you are in trouble. If you work freelance or as a consultant for six or eight or 20 clients, and one or two of them suddenly decide they don't need your services, you may have to do a little belt-tightening, but it's not going to ruin your life.