May 15 2012 5:23PM GMT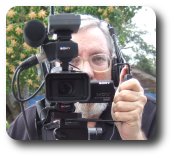 Profile: Robin "Roblimo" Miller
A book titled Innovation Generation, by Dr. Roberta Ness, asks this question, then talks about how to become more innovative. It seems a little funny, but the person who wrote the publisher's blurb for this book used the phrase "think outside the box," which is about as uncreative a description of this book's subject matter as a human being can use. Did the blurb writer not read the book? (Whatever.) In any case, in her book Dr. Ness talks about "frames" rather than boxes, and her frames are not the boxes outside of which you are supposed to think when you are creating. Instead, Dr. Ness's frames are more like points of view.
Imagine this scenario: a gardener lays a stone incorrectly, causing a country's monarch to stumble. The monarch orders the gardener's execution. When allowed to defend himself, the gardener attacks the monarch and explains that, while executing him for a simple mistake would be cruel, executing him for attacking the monarch would be rational behavior. The monarch sees the logic and releases the gardener.
The story about the gardener is a Birbal story, and Birbal stories are Indian versions of Sufi stories — or perhaps Birbal stories are Sufi versions of Birbal stories. Either way, both sets of stories are about simple wisdom winning the day, said wisdom generally coming about by looking at a problem in a way others have not.
Dr. Ness tells about a modern, scientific version of the Birbola/Sufi approach applied to stem cell research: The reason embryonic stem cells are so highly prized by biologists working to regenerate human limbs and organs is that they are generic; they have not yet become toe cells or liver cells. The story is about a research group at Stanford that stops looking at adult human cells, which have hardly any capacity to regenerate, but at newt cells. Adult newts, unlike humans, do regenerate after an injury. In newts, it seems, cells can and do revert to an embryonic state when they regenerate. Humans have two genes that specifically prevent this from happening. What if we suppress those two genes in humans? Hmmmm….
This idea came about because researchers from two different disciplines — evolutionary biology and regenerative medicine — worked together, and viewed the problem of regeneration from outside the frame (or point of view) of either discipline alone. This research only got going in 2010, so we don't yet have people growing their own clone hearts. But give it time….
I have written before about IT + business hybrid education and job functions, and how someone whose knowledge crosses disciplines is inherently more valuable to an employer than someone whose knowledge is limited to a single field.
But cross-fertilization is not Dr. Ness's only idea-generating thought. She has lots more of them, and if you buy a copy of Innovation Generation, put it on your bedside table or nightstand, and read a few pages ever night, some of her ideas might spur you to have a few of your own.
With (a lot of) luck, it's possible that an idea you have after reading this book might even propel you into the elite ranks of developers who become wealthy from writing software. And even if you don't get rich, creativity is fulfilling in and of itself.