---
February 10, 2016 6:35 PM
The graph below illustrates our definition of the uncanny valley, a feeling of unease experienced in reaction to simulations of humans that approach — but don't achieve — realism. For further explanation and a video demonstration, see the full definition.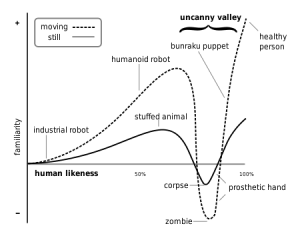 The graph was adapted  by self-made, based on image by Masahiro Mori and Karl MacDorman at http://www.androidscience.com/theuncannyvalley/proceedings2005/uncannyvalley.html
–
The image is made available through a Creative Commons license (CC BY SA 3.0).
---
February 23, 2015 5:00 PM
CIO
Francesco Cirillo developed the pomodoro technique in the late 1980s, when he _______ his tomato-shaped kitchen timer to organize his work schedule.   
a. utilized
b. used
---
November 13, 2014 3:58 PM
CIO
The image below displays the inside of a USB flash drive. On the left is the flash memory chip; the controller is on the right.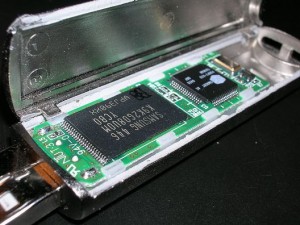 A Cruzer Titanium Drive Opened after being nearly destroyed. (Uploaded by User:Nrbelex)
This file is licensed under the Creative Commons Attribution-Share Alike 3.0 Unported license.
You are free:
to share – to copy, distribute and transmit the work
to remix – to adapt the work
Under the following conditions:
attribution – You must attribute the work in the manner specified by the author or licensor (but not in any way that suggests that they endorse you or your use of the work).
share alike – If you alter, transform, or build upon this work, you may distribute the resulting work only under the same or similar license to this one.
---
October 6, 2014 8:26 PM
CIO
Which is correct?
Call __________ if you have any problems setting up the new modem.  

myself or Gerald
Gerald or myself
Me or Gerald
Gerald or me
Gerald or I
I or Gerald
---
July 2, 2014 12:20 PM
CIO
What does this sentence mean?

When the hapless contestant is fired at the end of Apprentice, it is usually because he has failed as a project manager.  Does hapless mean:

a. Unhappy

b. Unlucky

c. Ineffectual
---
June 17, 2014 2:51 PM
CIO
What does this sentence mean?

To satisfy the WebOps job description, an applicant must have a protean career history.  

a. The applicant would need to be just starting out.

b. The applicant would need experience in many different jobs.

c. The applicant would need to have demonstrated heroic efforts.
---
May 7, 2014 2:44 PM
Which is correct?
The survey results taught us that one in three network administrators ____ interested in learning more about software-defined networking.
a. was
b. were
Answer: a
Explanation: One is the subject of the sentence. One is a singular subject, so it requires the singular verb, was. Ignore prepositional phrases when deciding upon a singular or plural verb.
The survey results taught us that one (in three network administrators) was interested in learning more about software-defined networking.
---
April 30, 2014 3:20 PM
Which is correct?
Our data shows that a vast majority of customers prefer Brand A  ____ Brand B.
a. to
b. than
c. over
---
April 11, 2014 3:50 PM
What's wrong with this sentence?

| | |
| --- | --- |
| | The new iPad Air's Retina display has the same resolution as the previous model, 264 ppi.  |
---