---
June 24, 2010 7:52 PM
Amidst all the talk about dynamic memory and Windows Server 2008 R2 SP1, one recent virtualization update has managed to fly under the radar – and it actually has nothing to do with the upcoming service pack. Though few seemed to notice, Microsoft recently announced that it has increased the number of virtual machines supported by Hyper-V R2 in a cluster.
As of R2, Hyper-V supported up to 384 VMs per server. That number dropped to 64, however, if those virtual machines were running in a cluster. Microsoft has updated Hyper-V to allow clustered nodes to also support a maximum of 384 virtual machines. The total number of VMs per cluster has also been increased to 1,000 (up from an initial limit of 960).
Continued »
June 22, 2010 7:58 PM
The third service pack for Exchange Server 2007 was made available for download this week – and not a moment too soon. The SP3 has been updated to allow Exchange 2007 to be installed on Windows Server 2008 R2 operating systems.
The release comes nearly one year after news first broke that Exchange 2007 would not be supported on R2, which naturally caused more than a few raised (and furrowed) eyebrows. At the time, the word from Microsoft was that the company was focused primarily on Exchange 2010, and testing for R2 support would only push back the release of Exchange 2007 SP2. Microsoft also noted that based on customer feedback, the ability to "support Windows Server 2008 R2 domain controllers in an existing Exchange 2007 deployment" was sufficient.
Continued »
---
June 18, 2010 7:53 PM
Just a quick post today. Microsoft released a new hotfix this month in response to some startup hang issues involving servers hosting virtual machines. Basically, some users running Windows Server 2008 R1 or R2 with Hyper-V have experienced increasingly slow OS startup times following a disk backup.
Systems engineer and IT writer Rob McShinsky said he has dealt with the issue for about a year now, which he said is caused by a "registry bloat" of past snapshots on the host machine. He noted that the startup lag would get longer and longer with each backup since more and more entries were being added to the registry.
Continued »
---
June 14, 2010 7:03 PM
You might not believe this, but one thing I took away from TechEd 2010 last week is that Microsoft reps seem to have a real issue with the term "cloud." This point was brought up in nearly every conversation I had – how "the cloud" is too broad a term, and what the company is really invested in is cloud computing.
Judging by the number of times I heard some variation of this, it's clear that this is something that Microsoft is determined to drive home. In fact, the point was reinforced several times during the opening keynote, where the focus was on extending the data and tools that IT professionals use on premise to a cloud computing environment.
While this was a major topic at Microsoft Management Summit (MMS) 2010 in regards to System Center, it was even more so at TechEd, where Active Directory was added to the mix. I sat down with Microsoft's Justin Graham not long after the keynote, and while we spent a good amount of time discussing what to expect from Windows 7 and Server 2008 R2 SP1, we also chatted a little about Microsoft's plans for AD in the cloud and the company's overall strategy.
---
June 7, 2010 5:01 PM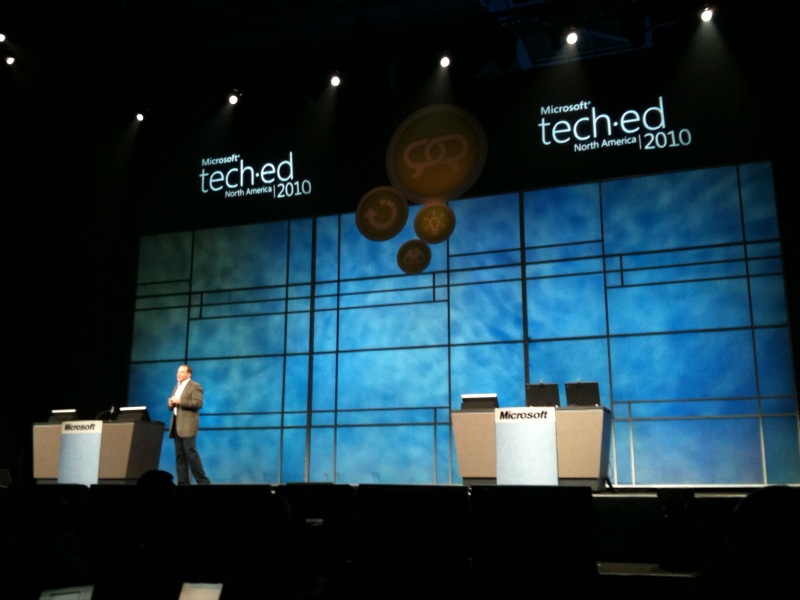 It's very warm and muggy here in New Orleans for Microsoft TechEd 2010, but it was cool, comfortable (and initially, loud) for the opening keynote with Microsoft president of server and tools business Bob Muglia and other company reps.
A lot of topics were covered during the 1 1/2-plus hour presentation, but as expected, the cloud dominated most of the conversation. The big theme was centered on how IT professionals can extend the tools and data they currently use on premise (Active Directory, System Center products, etc.) to cloud computing environments. Muglia once again stressed that Mirosoft is fully-committed to the cloud, and that while it will ultimately affect everyone, it's developers and IT professionals that are the focus right now.
Here are some other quick points from the keynote: Continued »
---
May 25, 2010 8:14 PM
Microsoft has released the first beta for its upcoming systems and client management product, tentatively dubbed System Center Configuration Manager (SCCM) v.Next. The new release is designed to provide self-service application management for end users and simplify the administration of network infrastructures and clients.
Jeff Wettlaufer, senior product manager for Microsoft System Center, briefly described some of the beta's new features in a company blog post. These include automation enhancements for content distribution, troubleshooting and compliance remediation (as you probably know, automation is an incredibly hot topic right now, as made evident by at least one recent Microsoft acquisition).
---
April 27, 2010 5:31 PM
A new app could help simplify the management of Active Directory-related help desk calls straight from your mobile phone. It's called AD HelpDesk, a brand new iPhone app designed to aid with the most common of all help desk requests – password issues.
Continued »
---
April 26, 2010 9:04 PM
I thought I'd take a quick moment to run through some of the key points I took away from Microsoft Management Summit 2010 this year for those who weren't able to attend. I was only there Tuesday and part of Wednesday, but spoke to quite a few people (both Microsoft folks and attendees), and came away with some interesting tidbits. Continued »
---
March 18, 2010 9:10 PM
UPDATE! (6/21/2010)
A lot more info has come out recently regarding the first service packs for Windows Server 2008 R2 and Windows 7. This Q&A with Microsoft's Justin Graham provides more details on dynamic memory, Remote FX, and what else to expect from SP1.
ORIGINAL POST (3/18/2010)
As it turns out, Microsoft's much-publicized Desktop Virtualization Hour that took place earlier today included a little surprise – a first look at the upcoming service pack (SP) for Windows Server 2008 R2. Now I say "little" because the company didn't reveal too much, but the first bit of info we have on the SP1 for both R2 and Windows 7 is all about virtualization.
Continued »
---
March 5, 2010 8:55 PM
While overall server revenue has been down for the past year, one area that continues to grow is the x86 system market. This is according to the latest IDC Worldwide Quarterly Server Tracker report.
The fact that x86 systems are on the rise is interesting when you take into account the climate of the server market overall. IDC states that while Q4 2009 was down in terms of year-over-year quarterly revenue, it also marked the second straight quarter-to-quarter rise. What's interesting is that, as the report pointed out, Q4 is traditionally not a golden period for x86 systems. So why is change in the air?
Continued »
---