---
March 5, 2012 10:07 PM
By the time Windows Server 8 is generally available, you'll likely be as tired of hearing about it as you are about the Republican primary candidates. But right now, just five days after the beta was released into the wild, everyone's hungry for analysis – and the pundits are eager to give it. Below are some choice early thoughts about the Windows Server 8 beta from around the web. Get ready to hear about these issues and others hundreds of times over the next several months (when it's all said and done, "Metro-style interface" might overtake "Romney dog on roof" in terms of search engine results).
Of course, these are just the professional reviews – we've seen dozens more reactions on Twitter and elsewhere from admins around the world. What's your take so far? What can you stand to read more about? Let us know in the comments, or on Twitter @WindowsTT.
February 29, 2012 4:21 PM
See below for our Storify of the Windows 8 launch.
Note: Due to some compatibility issues with Internet Explorer, the Storify might not show up; view it at Storify's website here.
---
---
February 28, 2012 9:00 PM
As you've no doubt heard by now, Microsoft will launch the Windows 8 Consumer Preview on Wednesday at an invitation-only event during the Mobile World Congress in Barcelona. While there will reportedly be no live feed of the announcement, we're pretty sure that details will leak out one way or another over the course of the day.
During the inevitable onslaught of buzzwords, why not get a little bit of a buzz? Our Windows 8 launch drinking game is a handy way to keep tabs on this major event, and have a little fun doing it. The rules are simple – whenever you read or hear one of the words listed below on Wednesday, take the appropriate drink (of coffee or tea, naturally; the event starts at 3 p.m. Barcelona time, which is 9 a.m. EST/6 a.m. PST — even the biggest Microsoft fans don't party that hard).
Got a word to add to the list, or just don't want to drink alone? Drop us a line on Twitter @WindowsTT (hashtag: #win8buzz).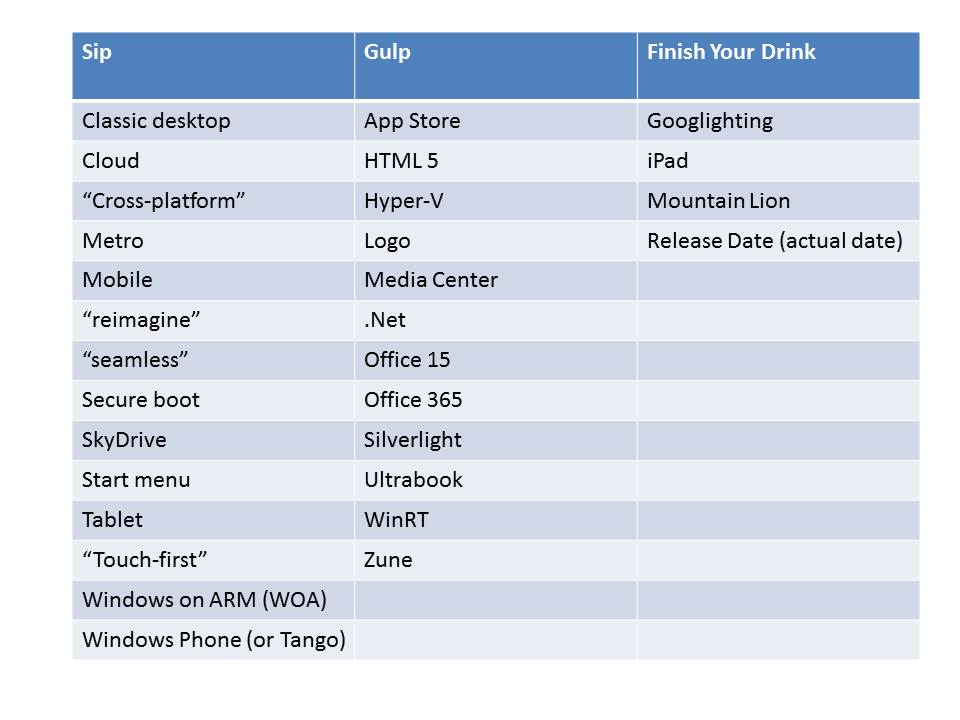 ---
February 24, 2012 3:31 PM
In addition to unveiling the Windows 8 Consumer Preview at a February 29 event during the Mobile World Congress in Barcelona, Microsoft will also launch the Windows Server 8 beta on that day, according to The Verge. Some application certification documentation is available on MSDN, including a note that Windows Server 2008 and Server 2008 R2 applications "should work" on the Windows Server 8 beta (an app certification kit is also available, though it won't be useful until you already have your hands on either the Consumer Preview or the beta).
Also coming on February 29 will be the Visual Studio 11 beta. The developer software will feature integration with Microsoft System Center 2012, which should enable more efficient communication between administrators and developers when responding to program crashes. Microsoft will also release the .Net 4.5 beta next week.
In delivering these beta releases, Microsoft has the core pieces in place for many of its cloud, management, and development strategies. It remains to be seen how the timing of these releases will affect the eventual delivery of the final code, and whether all the products will be available by the end of 2012.
What are you looking forward to the in the Windows Server 8 beta? Let us know in the comments, or on Twitter @WindowsTT.
---
February 20, 2012 2:51 PM
Microsoft released an update this week that extends the expiration dates of the Windows 8 Developer Preview and the Windows Server 8 developer preview.
In a note posted on Microsoft's support site, admins can download the patch that extends the Developer Preview from April 2012 to January 15, 2013. It's a curious step, considering Microsoft hasn't given any reasoning for the extension.
As is the norm with other preview Microsoft releases, after the expiration date systems will restart every hour and nag the user to give it it a new activation key or update the software. That update should come sooner than mid-January.
Microsoft PR says that there is nothing new to report about regarding Windows Server 8 availability. Meanwhile, the Windows 8 Consumer Preview is due out February 29 during Mobile World Congress.
---
February 14, 2012 3:44 PM
When it comes to online discussions of Microsoft and Windows, negativity is pretty much the norm.
If you've read any articles recently about a new Microsoft feature or product, this should come as little surprise. Typically, within a comment or two you'll find someone predicting how the company will screw things up – or, more likely, that the new offering is made irrelevant by Linux, VMware, Apple, or some other competitor.
It's not much better on social media. I follow the #WindowsServer Twitter hashtag daily, and more often than not, my feed is packed with the idle thoughts of frustrated users like this guy:
Dear #windowsserver, kindly kill yourself.

— Mahmoud El Magdoub (@Magdoub) February 13, 2012
That's just one of many messages, but it's representative. Amplicate is a service that analyzes public sentiment about products, companies and services by aggregating messages posted on Facebook and Twitter, as well as on its own site. As of today, the service had logged 156 opinions about Windows Server – 107 of them negative (a 69% Hate rating). You probably won't see the below "bumper sticker" (available for embedding from Amplicate) in a Microsoft press release anytime soon.

It's not the only Microsoft offering whose public approval rating leaves a lot to be desired. Windows has a 67% Hate rating with over 70,000 opinions logged (Windows 8 is at 59% Hate), and the Windows Azure public cloud platform has resonated with just 2% of Amplicate users — in contrast, Amazon Web Services (56% Love) and Rackspace (77% Love) still managed to garner positive numbers.
One area where Redmond does appear to be in the running for public affection: virtualization. Microsoft's hypervisor offering, Hyper-V, has a 66% Love rating. It's not quite at the level of VMware vSphere (84% Love), but it's gotta give some hope.
Obviously you can take these numbers with a grain of salt, as they represent only a portion of the public – and likely not of the people actually making enterprise purchasing decisions. But on a day reserved for love, I have to ask: Why don't we see more of it from Windows admins online? Is the situation really as bad as it seems, or is it just not a top priority to Tweet an ode to Server 2008 R2?
Let me know how you really feel in the comments. Or on Twitter, of course.
---
February 10, 2012 5:24 PM
Microsoft may not be able to patch that hole in admins' hearts on Tuesday, but it will take care of a number of other vulnerable spots.
According to an advance notice, the company's next security bulletin will include nine patches, four of which are labeled 'critical,' addressing 21 vulnerabilities in Windows, Windows Server, Microsoft Office, Internet Explorer and .NET and Silverlight.
Windows Server 2008 and Windows Server 2008 R2 are the most affected products, with six bulletins applying to each, including three critical updates. In contrast, only four bulletins apply to Windows Server 2003, two of which are critical. Five bulletins apply to Windows 7.
All critical updates are related to remote code execution flaws, with the most pressing fixing an issue in Internet Explorer. Most patches will require a restart. The bulletins will be released on Tuesday, February 14 around 1 p.m. EST.
Related: Five quick links on server security and patch management
---
February 8, 2012 9:08 PM
Microsoft is lucky it's a leap year.
In December, the company promised to have the public beta version of Windows 8 available by the end of February. Today, we learned that release (now dubbed the "Consumer Preview") will come at an invitation-only event during the Mobile World Congress in Barcelona on February 29 — the last day of the month. The timing of the release makes some sense given the emphasis on mobility and touch in Windows 8, and its connections with Windows Phone 8. In any case, it keeps things on schedule for a potential late-2012 release.
No word yet on whether there will be an accompanying webcast for the event, nor updates on the release schedule for Windows Server 8, which some think will follow a similar timeline to the client version.
Will you be downloading Windows 8 Consumer Preview as soon as it's available?
Let us know in the comments, or via Twitter @WindowsTT.
---
January 31, 2012 9:42 PM
Microsoft is accelerating the delivery of System Center tie-ins after introducing the release candidate of the suite earlier this month.
First up, Microsoft released the System Center Advisor as part of its software support package Software Assurance, the company said in a blog post last week. With it, admins can offload configuration testing to the cloud.
The Advisor checks a server's configuration and automatically alerts admins when it sees issues. Plus, these alerts can be delivered via email.
While System Center Advisor builds on the architecture of System Center Operations Manager — the tool that alerts admins of problems as they are happening — the manager doesn't have to be installed.
Because it is part of Software Assurance, when an admin needs to get help from Microsoft, the support staff can access Advisor's data for configuration history.
System Center outlook gets cloudier
Microsoft also introduced new runbooks for System Center that enable administrators to better maintain private clouds.
The System Center Cloud Services Management Pack Release Candidate extends the System Center Service Manager. It includes the ability to convey cloud-related data in the Service Manager console.
The management pack also adds templates for commonly used service requests like increasing capacity and VM provisioning.
Microsoft detailed other features in a blog post; it's available for download on Microsoft's website.
Last week, Microsoft also added to its mobile device management options in the System Center Configuration Manager 2012, which has expanded to support more third-party smartphone operating systems.
---