---
July 13, 2010 5:40 PM
Hey! I just read a fascinating ditty in Jason Hiner's recent Between the Lines blog for ZDNet; it's entitled "74% of work PCs still run XP, and they're 4.4 years old." This item does a short, scary, and convincing job of calling the big wins into question that Microsoft has been reporting for sales of Windows (150 million copies sold as of the end of May, or 7 copies per second since the official release in October 2009) — at least, as far as enterprise sales and adoptions are concerned.
Let me explain. Hiner reports that Microsoft shared what can only be call "very interesting numbers" at its Worldwide Partner Conference 2010. At that summit, MS Windows Corporate VP Tammi Reller revealed that 74 percent of business computers still run Windows XP, and also indicated that the average age for corporate PCs is 4.4 years. These are surprising numbers, especially in light of other surveys on enterprise/business OS pilot, adoption, and use plans. They could also spell disappointment for Steve Ballmer's prediction last Monday (July 12, 2010) that Microsoft would sell 350 million copies of Windows 7 by the end of this year.
Given the low current adoption rate Microsoft is convinced that it's a golden opportunity that will result in huge sales for the foreseeable future. And certainly, a PC fleet that's averaging around four-and-a-half years old is past due for a hardware refresh as well — especially if you put any credence into studies about the IT hardare lifecycle, which indicates that machines over three years old become increasingly difficult and expensive to support, and that five years is about as much productive life as any organization should try to squeeze of its PCs (and for notebooks, the cycle is more like 3-4 years, given increased wear and tear to which mobile machines are subject).
On the other hand, Hiners observes that with 74 percent of corporate machines still running XP, and with Windows 8 now under discussion, it's possible that some portion (maybe even a substantial one) of this population may decide to stay put, and wait even longer to upgrade. Just for grins, I took the survey on his blog page to see how previous readers have reacted to a couple of questions, and those results firmly underscore the notion that what MS spins as an opportunity could also result in fewer sales than projected:
Although there's no information available about the size (or quality) of the population being surveyed here, the results certainly provide a rough-and-ready affirmation of what's reported regarding adoption plans and PC age. Now, it remains to be seen whether the need to avoid unpleasant increases in support and maintenance costs trumps an apparently strong desire to stand pat with XP, or vice-versa!
July 7, 2010 4:58 PM
In the over-reported and -analyzed business and IT technology world in which we live, yesterday's grist for news — such as my preceding blog "Windows 8 Slide Leaks the Shape of Things to Come" — can itself become fodder for today's news. At least, that's what I thought when I saw Tony Bradley's thought-provoking piece for PCWorld this morning, entitled "Leaked Windows 8 Details Could Slow Success of Windows 7."
Mr. Bradley's basic premises go something like this: Windows 8 mentions interesting and possibly significant new hardware requirements (for example, a Web cam used for facial recognition, among numerous other jazzy and snazzy planned features and functions). Windows 8 will probably be out in two to three years. Some companies and organizations may elect to delay their OS upgrade and hardware refresh still further to wait for Windows 8 to get finished, so they can buy hardware on which it will run.
I find it interesting, but I don't buy it. Lots of studies show that as desktops and notebooks age, especially over three years for notebooks, and four to five years for desktops, the costs of supporting and maintaining older hardware rise impressively. With many companies and organizations having already pushed the envelope past its normal tearing point (many notebooks are 4-5 years old, and desktops 5-6 years old in a large number of enterprises, companies, government offices, schools, and so forth), there's little chance that enough elasticity resides in those poor old things to permit them to eke out another 2-3 years of productive use.
My personal belief, well-supported by reports from major PC manufacturers and Microsoft itself, is that the "big refresh" is already underway, and that it will be accelerating over the next 12-24 months. I don't think it matters that Windows 8 is around a corner not too far away: it's the distance from the last corner (Windows XP) and the corner that got skipped (Windows Vista) that really makes the difference right now.
Perhaps Mr. Bradley is right to the extent that the pace of Windows 7 purchases (7 per second, according to recent MS press releases) may drop off a bit. But I think the old desktop and netbook fleet is too old to hold out for another 2-3 years for the next, bigger, and better Windows to come along.
---
July 2, 2010 3:10 PM
Earlier this week, an Italian Windows site named Windowsette posted a collection of confidential Microsoft slides about Windows 8, proprietary watermarks and confidentiality notices included. Because I don't read Italian very well (not at all, actually) I found a copied set on the MSFTkitchen.com Website entitled "Windows 8 Plans Leaked Numerous Details Revealed," where you too can look things over in detail at your leisure.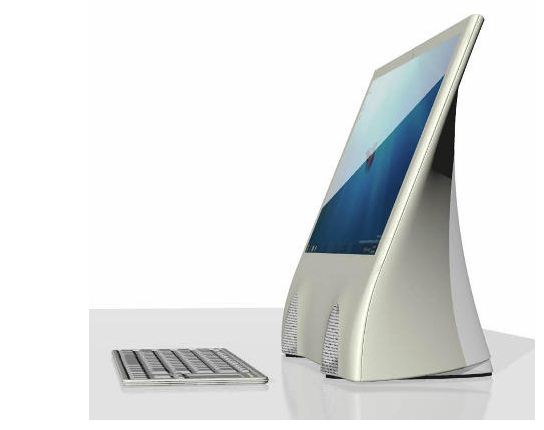 The preceding image is a touchscreen PC, with all cables cleverly hidden below that festoons a slide labeled "Focus: Hardware Capabilities" and mentions multiple contact points, improved (touch) sampling rates, automatic ambient light controls over display brightness, and voice control among numerous other topics.
Now that Windows 7 is off to a resounding start, Microsoft is apparently beginning to plan the next version of Windows in earnest, where lots of interesting topics still figure into their design and development plans. These include an ongoing focus on faster boot-up and startup, a keen appreciation for what Apple has been able to accomplish with a strong interest in replicating their systems and software success, more attention on the post-purchase installation and user experience, and even built-in facial recognition for systems that include Web cams (which nearly all notebooks do nowadays, along with an ever-increasing number of desktops).
To me, it's not just an interesting indicator of what might (or might not) lie ahead for Windows, these slides also tell us a lot about what Microsoft thinks is important, where and how it perceives its competitors and problems, and what kinds of buzzwords and "keen technologies" are currently grabbing mindshare in Redmond and elsewhere. If you're interested in Windows, and want to get some sense of what lies ahead for upcoming versions, take a look at these slides — you won't get a lot of details or substance, but you will be tantalized and teased with what's possible and promised, though neither scheduled nor actually on the table for implementation just yet.
---
June 25, 2010 9:33 PM
Hey! Big new on Brandon LeBlanc's Windows Blog for June 23. It's entitled "150 Million Licenses of Windows 7 Sold…" and goes on to make the claim that this version of Windows is "…the fastest selling operating system in history with 7 copies of Windows 7 sold every second." Does this mean we can finally all stop moaning and groaning about Vista? Gosh, I certainly hope so, because the total and the run rate are both pretty considerable numbers.
LeBlanc's blog also goes on to mention this interesting factoid as well: according to Tami Reiller's keynote at the BofA/Merrill Lynch Technology Conference earlier this month, a whopping "…75% of enterprises are looking at Windows 7 for their organization."  A recent Lifehacker study on Windows 7 user satisfaction reports that 72% are absolutely satisfied with the OS, and that 22% designate themselves as "I've got some complaints, but overall I'm happy." Microsoft combines these numbers to report that 94% of all Windows users are "happy" with the OS, though maybe "some kind of happy" might be a bit more on the mark. Likewise a recent Gartner study that Tom Bradley at PC World covered on May 26 predicts 22% growth in global PC sales for 2010, which Bradley (and Microsoft) are more than happy to attribute not just to the global economic rebound — such as it is — but also to "…the success of Windows 7."
Looks like things are looking up for Windows 7, and if you don't have it on a desktop near you (or your own desktop, in fact) already, it should be showing up there sometime soon.
---
June 22, 2010 4:22 PM
According to MS KB Article 983551 (6/10/2010; Rev: 2.0) some computers running Windows 7 or Windows Server 2008 R2 can freeze at the "Please wait" display that precedes appearance of the desktop on your screen. Alas, because of a deadlock that occurs between Windows Error Reporting (WER) and AppLocker, "Please wait" never gives way to the desktop, nor does is there ever any opportunity to log in. The only cure is to cycle the power on the affected PC, and to hope that the problem does not recur during the next boot-up cycle.
As the preceding header snip from KB article 983551 illustrates, this code fix is currently available from Microsoft as a hotfix. This generally means several things, including Microsoft's intentions to test the code further in the future, the need to proceed (and test) this hotfix with caution, and finally, that the hotfix is only worth applying to machines that actually manifest the problem that this hotfix addresses — namely, hanging indefinitely after the "Please wait" prompt appears on the affected machine(s).
In a related report from Softpedia this morning, however, there is apparently some good news about this problem and its fix in the offing. According to an unnamed source within Microsoft, this hotfix will be incorporated into the upcoming SP1 for Windows 7 and Windows Server 2008 R2, due to go into beta in July, and slated for public release some time later this year (exact release date is still TBD).
If any of your machines have this problem, the hotfix may help. And it seems certain that Microsoft will further test (and if necessary, elaborate upon) the hotfix for later inclusion in the forthcoming SP1 code base.
---
June 21, 2010 4:03 PM
I've been a tremendous fan of Windows maven Mark Russinovich for over a decade now. In addition to his fabulous SysInternals utilities, he's done more for me (and most other ordinary Windows users) to help make Windows more transparent and understandable and rather less opaque and mysterious, than just about anybody else around. Case in point: his recent blog entitled "The Case of the Random IE Crash."
Here, he puts his detailed understanding of how the Windows debugging environment works to catch (and ultimately kill) the cause of an IE error message I'm sure far too many of us have also seen on our desktops:
This generic error message has to be one of the most vexing kind that show up, because you lose access to a running program (and one you're probably using at the moment of failure) and can't directly tell what's up. Mark explains that this occurs because IE 8 runs multiple processes (one per open tab, in addition to a parent IE process) and then goes on to show you how to find the offending culprit, and start tracing symptoms back to causes. He next finds the faulting thread, then describes how to chase down unattributed DLLs to put a name on otherwise unnamed potential culprits. Ultimately, he tracks the cause back to the Yahoo Toolbar and, presumably, puts that toolbar out of the picture going forward.
His conclusion reads as follows "Using a couple of handy troubleshooting techniques, within less than five minutes I had identified the probably cause of the crash I had experienced…" I might also add that he brought a lifetime of deep knowledge and experience, and an extraordinary understanding of the MS Windows Debugger environment to the situation as well. Would that we could all do likewise!
---
June 16, 2010 8:57 PM
In my most recent blog "More Interesting Windows Network Troubleshooting" I recount some recent and both interesting and vexing issues I encountered while bringing up my new HP MediaSmart Server (MSS) EX-495, which has now replaced my trusty but failed EX-475 here on the Tittel Home Network. My first round of problems, as it happens, were self-inflicted: HP warns against manually messing with drivers for the MSS but I elected to update the RealTek PCIe GBE Family Controller in the EX-495 anyway.
Bad move! Turns out this wreaked havoc on the server's networking behavior and characteristics. Whereas with new driver I could only back up about 400 KBps from my Dell D620 notebook, with old driver that number zoomed by half an order of magnitude to something in the range of 2-2.5 MBps instead. I was also unable to complete a successful backup of my new HP notebook, though speeds were just fine.
After I explained what I had done, service agent Cathy Merrick politely but firmly insisted that I run the server recovery disk for the server, and reminded me that HP won't support non-standard configurations anyway. With some mumbling and unhappy grumbling, I complied and was immediately impressed by the results. You wouldn't think a driver could make that much difference but it did make a huge difference, and I was finally able to back up all my machines successfully as of last night. Automatic backup is also working properly (the main reason I bought and cherish this box is that HP makes it easy to restore any PC for which a backup set exists on the MSS, including bare-metal recovery where required) at long last.
However, I observed this morning that the server was still falling over occasionally, not crashing per se, but dropping off the network and going incommunicado. A forced reboot proved necessary to regain access to the server, where the only odd behavior I could find in the System log was an occasional Master Browser election fight with other nodes on the network. Windows Home Server (and thus also, the MSS OS) is a modified form of Windows Server 2003, and as we all know, Windows Server machines ALWAYS take precedence over Windows client OSes when it comes to assuming the master browser role. In fact, each time a workstation would contest the master browser role with the MSS, it would shortly thereafter fall over/drop off the network.
Another call to HP Tech Support, and a new trouble ticket this time. Service agent Luke Fuller had me turn off UPnP on my router, and then helped me set up port forwarding to keep external Web server access and RDP from outside my network operational. I learned some more about the user interface for my DIR-655 router, and got all this set up and working properly. I'm not sure why turning off UPnP makes such a big difference, but the MSS has been running rock-solid ever since I made that change. In searching the Web on "drops off network UPnP" I just came across lots of cases where turning off UPnP on routers makes things work (but for some, not all, users) as discussed in this vistax64.com message thread. For contrast and irony, check out this MediaSmartHome.com posting "Recommended UPnP Routers for Easy Remote Access," where my DIR-655 appears as the third item in that list. The UPnP part works for setting up remote access all right, but unless I disabled the UPnP capability, the MSS itself wouldn't remain available on the network.
Go figure. Just for grins here's a screencap of my new MSS running PerfectDisk 11 to clean up some seriously fragmented data disks.
[Note added on 6/21/10: I had to return the MSS to HP over the weekend, because the unit continued to drop off the network intermittently without a definite pattern of causation, or logged errors to inform detailed diagnosis. Subsequent testing described in another blog for IT Career JumpStart explains why HP decided to label this unit "DOA," and send me a brand-new warranty replacement. Sigh: It's always something!]
---
June 14, 2010 7:46 PM
OK, so I had to replace my trusty HP EX-475 MediaSmart Server because its network interface was stuck in beaconing mode. That is, as soon as I plugged the GbE interface for the device into a switch, the rest of the network went down because of its frantic, non-stop broadcast of DHCP Discover packets that can never be answered because that traffic never ceases. It took me a while to figure this out, because the last time I saw a similar problem on one of my networks was back in the 10Base2 days when a jabbering transceiver could — and occasionally did — bring entire networks down (which would have been in the late 1980s, to explain why it took a while to dredge that memory out of long-term storage).
In fact, it was only when I replaced my in-office 8-year-old SMC GbE switch, with a brand-new NetGear GS108, and started plugging network cables back in that I realized what I was dealing with. Plug the HP EX-475 cable in, and the network goes down; pull it back out, reset the router and back up everything comes once again. With the EX-475 out of warranty and HP no longer offering repair service, I plunked down my hard-earned cash at HPShopping.com to buy an EX-495 as a replacement, thanks to the whopping 25% Bing cashback offer that currently applies to that unit.
The replacement showed up at my door on Friday, and I got started bringing everything back up on Saturday. It took about 4 hours to get the EX-475 set up, and to load and install all the various add-ins I find useful on that box (and install ClamWin AV, 7Zip, HWMonitor, CPU-Z, and a few other odds'n'ends I can't live without). Then I got going on re-installing the MediaSmart Server (MSS) client on my various desktop and notebook PCs so I could put the MSS to work on what I consider to be its most important job — namely, backing up my various machines on a nightly basis. Yes, indeed, the photo and media services features are nice, and the new and improved transcoding and media streaming capabilities, pretty tasty, but for me, access to a regular backup with auto-magic "bare metal" reinstall is what makes my MSS investment worthwhile.
Imagine my astonishment, when after firing off a manual backup of my traveling notebook just after lunch yesterday (it's a 4-year-old Dell D620 notebook, which I've upgraded to a 7,200 RPM HDD, a T7200 CPU, and 4 GB of RAM), I found that same backup still running when I sat down at my desk this morning. After lots of fiddling around and some creative troubleshooting that included a 1-hour stint on the phone with the very helpful Froilan Batacan at the HP support desk this morning, I figured out that the problem with this particular machine comes from Windows Vista and the Broadcomm NetXtreme 57xx GbE Ethernet interface built into the D620.
How can I say this? Here are the data points I used to arrive at this conclusion:
1. I observed throughput of no more than 40-80 KBps (320-640 Kbps) coming out of the D620, using the Networking tab in Task Manager, whether I was backing up to the MSS or simply performing a network file transfer to another machine on the same switch.
2. When I switched the D620 from the GbE interface to its built-in Intel Pro 3945ABG wireless interface, throughput jumped to as high as 18 Mbps (2.25 MBps) doing backups and file transfers to other machines on the same switch.
3. When I rebooted the D620 from Windows Vista Business x86 to Windows 7 Ultimate x64, file transfer throughput jumped to as high as 50 Mbps (6.25 Mbps) doing backups and file transfers to other machines on the same switch. I just jumped into an RDP session to the MSS and saw activity in the range from 250 to 400 Mbps (31.25 to 50.0 MBps) for the D620 backup that's currently underway to that machine running the Win7 OS at this very moment. The whole thing just completed, and took less than one hour to finish what I wasn't able to complete in something over 18 hours running Windows Vista.
I'm not sure what's causing this problem, and I can neither find a reliable report of anything close to similar online, nor did my friends in Dell tech support have any light to shed on this phenomenon. But if I needed another reason to run away from Windows Vista, I think I found it. And this just added considerable impetus to my need to update this machine to run Windows 7 as its primary OS (the version of Windows 7 I'm running is the 7100 beta, and that license is now expired. Sigh).
---
June 11, 2010 5:00 PM
I follow Paul Thurrot's various Windows information outlets at least weekly, if not more often than that (SuperSite, WinInfo, Windows Weekly, and so forth). This morning I came across an extremely interesting item from his reporting at the TechEd event currently underway in New Orleans. It's from his Short Takes for the week of June 14 and runs with the title "Whither Windows 7 SP1?"
Despite earlier announcements this week at TechEd from various Microsoft noteworthies that the SP1 beta would be made available on or before the end of July, 2010, Thurrot reports that "…now this date, which was 'GA+1,' or one year after the general availability of Windows 7 and [Windows Server 2008]R2, is out of date." He then goes on to say that "In fact, SP1 could be shipping a lot later than originally planned and won't even make it in time for the end of 2010."
That's pretty interesting, and when taken with Microsoft's recent "message of import" about Windows 7 SP1 — namely, that there's no real reason to wait for SP1 to get the adoption process underway — makes the kind of crazy sense I've learned to grant some credence when it comes to decoding the often-ineffable work of the spinmeisters in Redmond. Not only does this help to make a virtue of a necessity, it also lets them protect their revenue projections for 2010, even if SP1 slips into the next calendar year.
Boy, will it be interesting to see how this one pans out, and whether or not beta in July translates into general availability and/or public release of the final SP1 before or after next New Year's. Only time will tell!
---
June 9, 2010 2:08 PM
Yesterday afternoon, I ran Windows Update some time after lunch to get the latest set of Patch Tuesday updates for my many and varied Windows machines. None of these boxes downloaded less than 6 updates, and some grabbed as many as 16, depending on what they were running and which applications they had installed. As Patch Tuesdays go, this one hit Windows 7 harder than most have so far, as the following snippet from the latest MS Security Bulletin will attest:
Of the seven items that touch on Windows OSes (MS10-032, MS10-033, MS10-034, MS10-035, MS10-037, MS10-040, and MS10-041) all have some impact on Windows 7, with three tagged "Critical" and four tagged "Important" as shown. As update cycles go, this one has more oomph than many have had recently, especially for Windows 7. That siad, much of what's involved relates more to legacy code included in Windows 7 for backward compatibility and interoperability than to actual core components of Windows 7 itself.
You'll also find updates to the Windows Malicious Software Removal Tool, the Windows Mail Junk E-mail Filter, service packs for .NET Framework 3.5 (SP1) and .NET Framework 2.0 (SP2), a new root certificates update, and a cumulative roll-up for IE 8 in this month's offerings as well. These come along with compatibility list updates for IE 8, and some revised daylight savings time and time zone changes for various countries, too.
In short, there's a lot going on for this month's Patch Tuesday, some of which cries out for rapid analysis and deployment for Windows 7 installations.
---