---
May 10, 2013 12:49 PM
Just saw a very interesting bit of "build detective work," by Rafael Rivera over at the Within Windows blog. It's entitled "Windows 8.1, PowerShell 4.0, and new cmdlets." For those not already in the know, cmdlets are PowerShell scripts, usually designed to lift the burden of repetitive maintenance, configuration, and management tasks for Windows admins. Rivera takes the time to list out all of the new cmdlets he finds in the recently-leaked Build 9374 of Windows 8.1 aka "Windows Blue." This makes for very interesting reading, so I'm going to reproduce them in tabular format here, and then comment on what I see afterwards.
Windows 8.1 "Blue" Cmdlets By Category
VPN Configuration
Windows Defender
Start Screen
Add-VpnConnection
Add-WDefPreference
Export-StartLayout
Add-VpnConnectionRoute
Get-WDefComputerStatus
Get-StartApps
Add-VpnConnectionTriggerApplication
Get-WDefPreference
Import-StartLayout
Add-VpnConnectionTriggerDnsConfiguration
Get-WDefThreat
DISM
New-VpnServerAddress
Get-WDefThreatCatalog
Add-WindowsImage
Remove-VpnConnectionRoute
Get-WDefThreatDetection
Expand-WindowsImage
Remove-VpnConnectionTriggerApplication
Remove-WDefPreference
Export-WindowsImage
Remove-VpnConnectionTriggerDnsConfiguration
Remove-WDefThreat
Get-WindowsImageContent
Set-VpnConnectionIPsecConfiguration
Set-WDefPreference
New-WindowsImage
Set-VpnConnectionTriggerDnsConfiguration
Start-WDefScan
Remove-WindowsImage
Kiosk
Update-WDefSignature
Split-WindowsImage
Clear-KioskLockdown
NAT Management
Set-AppXProvisionedDataFile
Get-KioskLockdown
Add-NetNatExternalAddress
Trusted Platform Module (TPM)
Set-KioskLockdown
Add-NetNatStaticMapping
Confirm-TpmFunctionality
WMI
Get-NetNat
Get-TpmEndorsementKeyInfo
ConvertTo-MOFInstance
Get-NetNatExternalAddress
Get-TpmSupportedFeatures
Get-MofInstanceText
Get-NetNatSession
Systems Management
Test-MofInstanceText
Get-NetNatStaticMapping
Get-PCSVDevice
Clear-CachedCimSchema
New-NetNat
Restart-PCSVDevice
Get-CachedCimSchema
Set-NetNat
Start-PCSVDevice
Import-CimInstances
Remove-NetNat
Stop-PCSVDevice
Import-CimSchema
Remove-NetNatExternalAddress
Set-PCSVDeviceNextBoot
Storage
Remove-NetNatStaticMapping
Invoke-DscConfiguration
Clear-FileStorageTier
Volume
NFC Printer
Get-StorageTier
Disable-VolumeShortnameGeneration
Read-PrinterNfcTag
Get-StorageTierSupportedSize
Enable-VolumeShortnameGeneration
Write-PrinterNfcTag
Get-FileStorageTier
Get-VolumeExtendedInformation
 Systems Management
Register-StorageSubsystem
Write-VolumeCache
 Get-PCSVDevice
Set-FileStorageTier
Write-FileSystemCache
 Restart-PCSVDevice
Set-StorageTier
Systems Mgmt Bus (SMB)
 Start-PCSVDevice
New-StorageTier
Move-SmbClient
 Stop-PCSVDevice
Remove-StorageTier
 TCP/IP
 Set-PCSVDeviceNextBoot
Resize-StorageTier
 Get-NetCompartment
 Invoke-DscConfiguration
Unregister-StorageSubsystem
Update-StoragePool
Here's some more information and speculation on the categories and their applets, from left to right and top to bottom in order of appearance:
VPN Configuration: a great many more cmdlets for managing Virtual Private Network connections, triggers, routes, and DNS make an appearance
Windows Defender: make it possible to automate management of Windows Defender across an entire Windows network
Start Screen: provide the ability to customize the Windows 8 Start screen
DISM has been at odds with PowerShell syntax in the past; these cmdlets hide the differences inside standard structure and syntax
Kiosk: enables setting up Windows 8 to run a single application (for a museum, store, or special-purpose kiosk PC)
NAT management: enable automated handling for Network Address Translation elements in the Windows Routing and Remote Access (RRAS) infrastructure found in Windows Server
Trusted Platform Module (TPM): provides access to important TPM info without having to work through a TPM API or access the TPM Management Console
TCP/IP: a "net compartment" is new terminology, so we'll have to wait and see what this means/is for
Windows Management Instrumentation (WMI): manages information in WMI schemas and instances
Systems Management: provides access to the new Physical Computer System View (PCSV) information to be found in next-generation Windows systems in the enterprise
Storage: management for storage roles in Windows Server "Blue", interacts with Storage Pools on both clients and servers
Volume: miscellaneous volume management utilities
SMB: something inside which to wrap the Systems Management Bus APIs from Microsoft
Printer: these items reference NFC ("near field communications") so Rivera speculates — and I agree — that this is an intimation of support for NFC printers, possibly for asset management or tracking
In his story Rivera includes a screen capture from the Registry Editor that clearly shows a new PowerShell 4.0 version reported in Windows 8.1 "Blue," indicating another version change is  pending. It will be interesting to see what new language changes and features this brings to the table. I'm going to contact some of my PowerShell buddies and see if they can give me a preview of coming attractions. More information on that as and when it comes my way!
May 8, 2013 10:39 AM
For the past few weeks, the Windows pundits and mavens have been enjoying an extended "I-told-you-so" moment with Microsoft's latest desktop OS, as detailed investigation of the upcoming revision to Windows 8 — still code-named "Blue" — has been revealed to restore the Start button, and to give users a configuration option of booting directly to the desktop. This bypasses a serious apparent obstacle to Windows 8's acceptance: namely, the tile-oriented "Windows Store" "Modern UI" or "Metro" interface, depending on how far back into the label bin you would like to dig for your choice of monikers.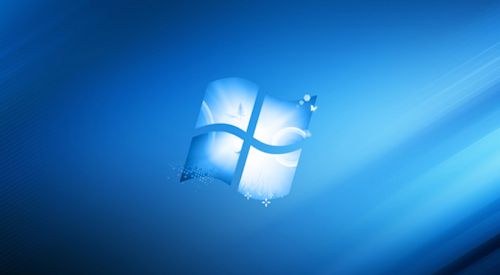 Looks like Windows Blue is intended to dispel the Windows 8 Blues, rather than to pump them up.
[Image Credit: Softpedia]
At the same time, MS has also indicated it has sold over 100 million Windows 8 licenses, presumably as of the end of April, keeping sales more or less on par with those for Windows 7. At 5 months plus 5 days out on April 30, that translates into average sales of between 19 and 20 million per month, which ain't bad even for an operating system as castigated and sometimes reviled as Windows 8 has been. It's certainly way ahead of Vista, to which Windows 8 is often compared.
In a famous epigram about remarriage in the wake of divorce, satirist and playwright Ben Jonson called it "the triumph of hope over reason." Where Windows 8 is concerned, it's starting to look like an opposite situation, where Microsoft's hope to reinvent the desktop paradigm by forcing exposure to a touch-0riented interface is being trumped by a more reasonable and open-ended approach to meeting user's need and wants, particularly for those users who don't have touch-enabled PCs to work on. According to the New York Times, Tami Reller, Chief Marketing and Financial Officer for the Windows Division as MS, "revealed that Windows Blue will be released this calendar year and will include modifications that make the software easier to learn, especially for people running it on computers without touch screens." In a direct quote from an IGN story, Ms. Reller herself said: "The Windows Blue update is an opportunity for us to respond to the customer feedback that we've been closely listening to since the launch of Windows 8 and Windows RT."
More details about Blue will be disclosed at Microsoft's upcoming  Build conference, to be held in San Francisco from June 26-28 at Moscone Center. Perhaps that's why the conference sold out in three hours the same day registration opened. Until then, we'll have to rely on analysis of leaked builds of Blue to try to puzzle out the shape of the new vision for Windows 8 that Microsoft still has under construction.
---
May 6, 2013 4:18 PM
Windows To Go is Microsoft's name for a portable, flash-based implementation of Windows 8 on a USB Flash Drive (aka UFD, in MS-speak). Windows To Go works with BitLocker encryption to protect the contents of the traveling Windows image on the USB drive, and works on any Windows (or Windows-compatible) PC that can boot from the UFD.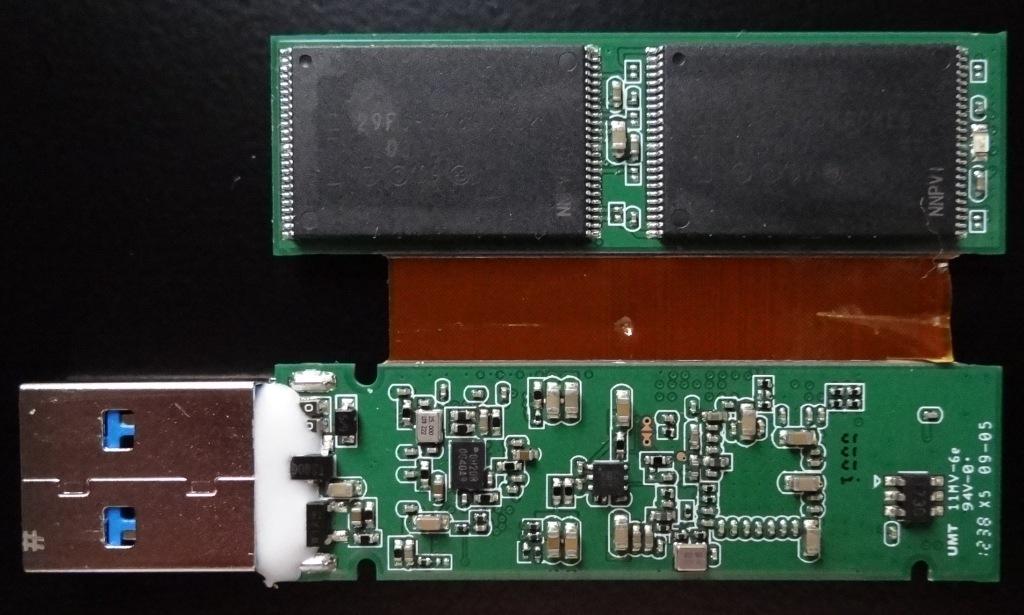 What makes these UFDs special is that they typically integrate an SSD controller along with their flash chips so they behave (and perform) more like an SSD than a UFD in everyday use.
Inside shot of a 64 GB Kingston Datatraveler Workspace, courtesy of The SSD Review
Here's a list of hardware requirements prospective Windows To Go hosts must meet:
1. USB boot must be enabled (because Windows To Go's OS lives on a UFD, and that's whence it boots)
2. The CPU must support the image that's installed on the Windows To Go UFD
3. Does not work through an external USB hub: the Windows To Go UFD must be inserted into a socket on the host machine
4. CPU speed must be 1 GHz or faster
5. PC must include no less than 2 GB RAM
6. Graphics capabilities must support at least DirectX 9 graphics and WDDM 1.2 or higher
7. The USB port into which the Windows To Go UFD is inserted must be USB version 2.0 or higher; 3.0 is preferable for performance reasons
8. Only a limited number of drives are certified for use as Windows To Go devices (see the WTG Overview page for a complete list); currently certified models include the IronKey Workspace (no size info available), Kingston DataTraveler Workspace (32, 64, 128 GB models), Spyrus Portable Workspace (no size info available), SuperTalent USB Express RC4 and RC8 models (RC4: 32, 64, 128, and 256 GB models; RC8: 50 & 100 GB models), and Western Digital MyPassport Enterprise (conventional HD, 500 GB).
The minimum size of a Windows To Go UFD appears to be 32 GB, and the solid state models top out at 256 GB, with most available in a range from 32-128 GB in size. Prices can be high (the SuperTalent RC8 drives cost around $200 for the 50 GB model and $350 for the 100 GB model, here's a note about RC4 pricing, and the 64 GB Kingston model goes for $130 – 170; Spyrus and IronKey models must generally be purchased directly from the vendor, often in concert with other software and services). Even considering the expense, the Windows To Go solution is a great way for people to take their normal working environments with them on the road, if only to use on personal notebook PCs, or on loaner units when they arrive at some temporary work location. And because WTG never stores any data on the local host, and isolates the entire contents of the WTG UFD cryptographically using BitLocker, you don't need to worry about inadvertent disclosure of, or access to, a WTG UFD's contents. Good stuff!
---
May 3, 2013 10:52 AM
Due to hit stores as soon as June, 2013, Toshiba has jumped back onto the Win8 tablet market with a new model — the WT310 — that appears to target the Microsoft Surface Pro directly. The unit is described as being "optimized for business use" by Toshiba (PC Advisor, 5/2/13) and includes the Intel Anti-Theft and Trusted Platform Module (TPM) hardware security features.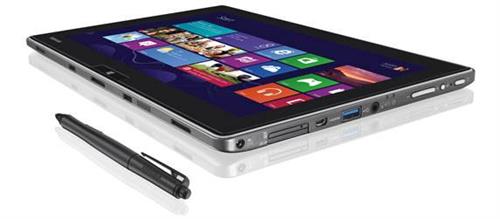 Although it looks a lot like the Surface Pro, it's a little bit lighter and includes a few more features, too.
Otherwise, the specs sound remarkably similar to those for the Microsoft Surface Pro including:
11.6″ 1980×1020 Full HD touch display with Intel HD Graphics 4000
an ultralow-voltage i5 Intel processor like the i5-3317U found in the Surface Pro
a digitizer pen stylus
SSD storage, probably 128 and/or 256 GB
USB 3.0 port (at least one, possibly two)
micro-HDMI for graphics and audio output
SD card slot (probably SDXC capable, to support up to 128 GB of added high-speed solid-state storage, and more as bigger cards become available into 2014)
SIM card for 4G HSPA+/LTE WWLAN support
The various stories I've found don't say so specifically, but I'm guessing with some degree of confidence that these units will include 802.11 b/g/n and Bluetooth wireless modules as well (the PC Advisor story already cited also states that the unit will include Wi-Di support as well)
A docking cradle will also be available to provide additional USB ports and GbE wired Ethernet
Dimensions are reported at V3 as 229x189x12.4mm (9.02″ x 7.44″ x 0.49″) and weight at 825g (29.1 oz/1.82 lbs)
There's no information available yet about battery life nor about pricing, either. But so far, this is one of the most interesting current-Intel-generation processor Windows 8 tablets I've seen. I'm curious why Toshiba is coming to market with this unit so late in the game, and have to wonder why they just didn't wait to release a Haswell-based model later this year, presumably with more CPU and graphics power and improved battery life. I'm hoping I get a chance to check this puppy out, nevertheless!
---
May 1, 2013 11:56 AM
This is the fourth entry in my recent "MyFaves" series: a collection of short and pointed appreciations for various hardware components of particular interest or value for Windows desktops, notebooks, and tablets. In this particular offering, I would like to recommend purchase and use of Secure Digital (SD) High Capacity (SDHC) or Extreme Capacity (SDXC) memory cards at sizes of 32, 64, or 128 GB for use in Windows notebooks, laptops, or tablets with suitable receptacles to accommodate those cards. These memory cards provide a terrific means to extend the storage of such units anywhere from modestly to significantly, especially on tablet or ultrabook systems that may have only 128 or 256 GB of SSD storage installed.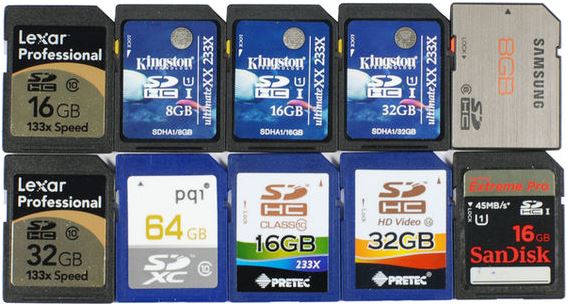 SDHC and SDXC cards come in many forms and in many sizes, but 32 GB or larger works best for extending portable notebook or tablet storage
[Image source: Tom's Hardware]
Until recently, I've routinely used 32 GB SDHC cards — which generally retail for around $20 these days — to extend and expand storage on my Lenovo, HP, and Dell notebooks, all of which I've converted from 300-500 GB conventional hard disks to SSDs in the 128 to 256 GB range (a mix of Intel and OCZ drives mostly, with a mixture of offerings from other vendors including Corsair and Samsung as well). Given tighter space on those machines as a result, a bit of added drop-in storage often proves very handy, especially on those systems where adding a second mSATA SSD is not an option.
But with the recent introduction of extreme capacity (SDXC) memory cards, available today in capacities up to 128 GB, 64 and 128 GB add-ons to compact portable systems are now achievable. Price ranges for these cards look something like this (abstracted from a total of 161 products available at Newegg.com):
32 GB: $28-30
64 GB: $37-150
128 GB: $85-180
The reason for the wide range of pricing for the higher-capacity models comes from different speed ratings for those respective memory cards. The most expensive offerings are generally labeled UHS Speed Class 1, followed in order by Class 10, and 400X speed ratings. According to the afore-cited Tom's Hardware story (see link beneath image), maximum data transfer rates for these technologies are roughly as follows: 104 MB/sec for UHS Speed Class 1, 80 MB/sec for Class 10 (which actually guarantees a minimum 10 MB/sec rate), and 60 MB/sec for 400x devices. Ultimately, data rates as measured in their benchmarking tests show up at significantly lower values (here's a sample table of combined streaming reads and writes, for example) with early UHS Speed Class 1 devices clocking in at between 13 and 20 MB/sec, and Class 10 at between 7 and 18 MB/sec).
To try this newer technology, I purchased a brand-new SanDisk Extreme Pro 64 GB SDXC card, having observed that the SanDisk Extreme memory card models generally come in at or near the top of all the comparative performance ratings. Here's what CrystalDiskMark reported for that card in my Lenovo T520 notebook PC (Windows 7 Professional x64, i7-2640M, OCZ Vertex4 128GB SSD, 12 GB RAM):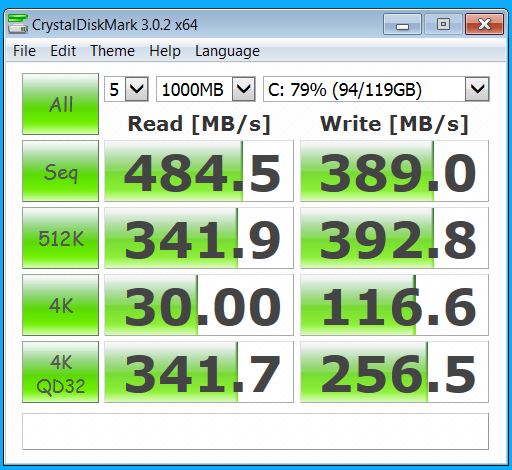 Blazing fast results for the SanDisk 64 GB Extreme Pro memory card! As fast as my SSD, or faster…
Of course, I did have to pay through the nose for this memory card: it cost me $126.40 through a Newegg affiliate partner. The SanDisk Extreme Pro models are among the most expensive SDXC cards currently available, but they appear to offer a storage extension that is close to par with an SSD than most other memory cards do. As a true "storage extension" this is very desirable to me (this capability is primarily intended to serve on fast cameras where video recording or burst mode still photography puts pretty high demands on memory write bandwidth). Whether or not it's sufficiently desirable to you to make the cost justifiable is between you and your checkbook!
---
April 29, 2013 10:04 AM
Thanks to a great post from Ed Bott on ZDNet I just learned that Soluto's announcement of its new Soluto for Business subscription/service was also accompanied by a very interesting report on April 24 as well. Entitled "Soluto's PC Purchasing Guide for Small Businesses" (and its subtitle: "Monthly Report, April 2013" and URL suggest we'll be seeing more of this kind of data possibly on a monthly or quarterly basis), this report crunches data from what the company calls "long term, ongoing analysis of a huge number of PCs, taking into account events such as application crashes, application hangs, blue-screens-of-death, long boot times and excessive number of background processes."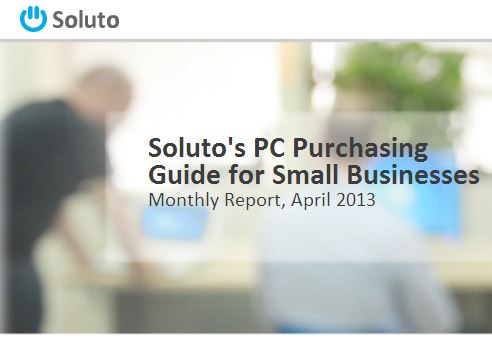 Soluto finally starts to share some results from its massive PC stability and performance monitoring of its large current user community.
In reporting on the top 10 PCs, Soluto incorporated a large data set, including the following information:

Data points considered included counts of crashes, hangs, BSODs, boots, and overall boot time.
In addition, in publishing the guide, Soluto filtered its results to include only Windows laptops that are currently for sale through various commercial outlets, including online, from the manufacturer, in big-box stores, and so forth. Interestingly the highest-scoring machine wasn't a PC at all: The Ivy Bridge MacBook Pro (vintage mid-2012) took the pole position, closely followed by a $429 budget notebook from Acer, the Aspire E1-571. Dell notched up 5 out of the top 10 slots, with Acer and Apple each picking up another spot themselves, and Lenovo barely squeaking into tenth place with its Thinkpad X1 Carbon. Even more interestingly, units that cost at or under $700 dominated the list, racking up six spots overall.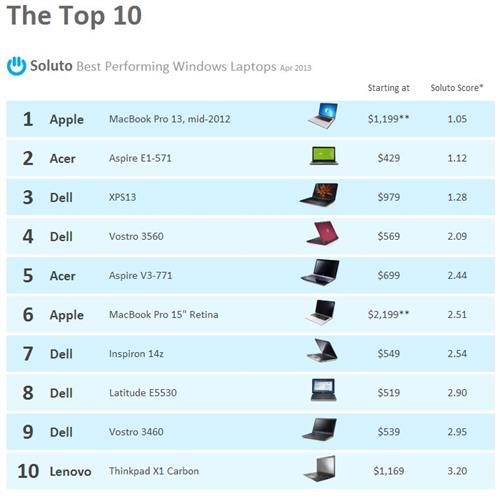 Soluto's Top 10 puts a MacBook Pro in top position, with Dell sweeping "overall best by total count."
In their reporting on the Top 10 units, Soluto observes that PCs from vendors who traditionally load their machines up with third-party software, often called "crapware," do not appear in this list. Such machines often experience lower stability and longer boot times as a result of this practice — which OEMs defend as a way to reduce PC pricing, since the companies that provide the added software help to subsidize the cost of PCs that include their warez — so it's no big surprise that this would cost them position on Soluto's list, given the metrics they use and the way those metrics get weighted. One of the reasons Soluto attributes to a MacBook landing in the top spot "is the fact that every Windows installation on it is clean."
To me, what makes this report interesting is the data that drives it, and what that data tells us about how things work out there in homes and workplaces as measured empirically. This paints a very different picture from the reviews we see at the major online PC publications (PC Magazine, PC World, CNET, and so forth) and even at more focused laptop oriented sites (NotebookReview.com, NotebookCheck.com, LaptopMag.com, and so on). There, reviews concentrate most heavily on features and functions, and a "how fast can it go" kind of review philosophy that doesn't always incorporate stability or reliability considerations (let alone the kind of database that Soluto can bring to bear).
This is extremely interesting stuff, not just because of what this single dataset and analysis has to say — which is pretty valuable and informative all by itself — but because of the ways the Soluto can (and promises to) be sliced and diced in future reports as well. Soluto already plans to report on stability differences between OEM installs and clean reinstalls on the same  hardware; given their observations on the impact of crapware on overall stability and reliability this, too, promises to make for some fascinating reading and learning. It also already argues pretty forcefully that re-imaging new machines with clean installs may repay the time and effort required to replace an OEM image with a clean image of one's own may repay itself quickly, and offer users a better overall computing experience as well.
---
April 28, 2013 4:06 PM
Riverbed Technology is a networking technology company that's been around for over a decade, based in San Francisco. It's probably best-known for its WAN optimization and performance management products, but it has a presence in other market spaces as well including storage and application delivery, network planning and simulation, and a growing list of cloud-based services and appliances. Riverbed also owns CACE, the organization behind the WinPCap promiscuous mode Ethernet and wireless drivers, and the always-excellent Wireshark software-based protocol analyzer.
Riverbed offers cert credentials for its WAN optimization, network performance management, and application delivery products and platforms.
What many people don't know (including me, until fairly recently) is that Riverbed also operates a certification program, one that offers associate and/or professional level credentials on the following Riverbed platforms (the associate credentials are abbreviated RCSA for Riverbed Certified Solutions Associate, and RCSP swaps the (A)ssociate for (P)rofessional instead):
Riverbed Steelhead Appliance Deployment & Management:
Riverbed Cascade Network Performance and Management products:
Riverbed Stingray product family and ADC200 Application Delivery Controller:
All of these items may also be accessed through Riverbed's Certification page, which provides news and information about recent program chances and announcements as well as links to currently available credentials and their requirements. The company's cert information is generally available in PDF form on a per-credential basis (see the links included in the preceding list for an example) and is clear, concise, well-organized and informative (every question I thought to raise about these credentials was addressed therein, included their exam center partner — VUE — cost of exams –$150 — exam coverage and related references — links provided, where appropriate — plus lots more). If you work with Riverbed Technologies products covered by any of these credentials, further investigation — and possible participation in the program — is probably warranted. Good stuff!
---
April 26, 2013 9:46 AM
As I look back over this blog, I see that I've written numerous entries that are either focused on, or make mention of, Tel Aviv-based Soluto's offerings for optimizing PCs, remote management, and troubleshooting (run this Google search to see just how frequently I've delved into their stuff). Since Soluto made its debut in September 2010, in fact, I can see that I've mentioned it at least two dozen times in separate blog postings here. The company's Soluto software starts at boot time, runs continuously in the background, and keeps tabs on many aspects of Windows operations and behavior, with an eye toward minimizing start-up and shut-down time, keeping up with OS patches and software updates for applications installed, and measuring "Windows frustrations" — namely, applications and components that occasionally crash by themselves, or that actually succeed in bringing Windows itself down. Good stuff, despite occasional issues with the tool itself (most notable of which is its tendency on some PCs to prevent the Windows Reliability Monitor from collecting and reporting on reliability data).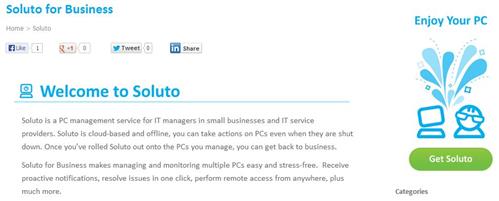 Visit the Soluto Business page to get a sense for what's on offer, or check out this Yahoo! press release.
Two days ago — on April 24 — Soluto announced its Soluto for Business service, a subscription based Windows upkeep and maintenance offering aimed at small businesses that makes the following capabilities available to such organizations at very reasonable prices:
Uses remote access to PCs under its purview to enable admins to access those machines remotely, from mobile devices, PCs, and Macs to undertake updates and repairs as needed.
Automatically notifies designated recipients with alerts via email whenever problems occur on machines under management. Management alerts are proactive, because Soluto notifies IT professionals as soon as it detects potential or actual problems on individual PCs.
Cloud-based service means that IT pros can act on PCs even when they're shut down: pending actions will be queued in the cloud, and applied to the PC as soon as it powers back up and regains access to the Internet
Fosters communication between the people who work and depend on their PCs to do their jobs ("the users"), and the people responsible for procuring, deploying and managing those PCs ("IT" or "the admins") by keeping them informed about what's new, what's changing, what's been detected, and when problems are found, who has fixed them and how they've done it.
Keeps tabs on the total Soluto community in a nice application of crowd-sourced intelligence gathering, and uses that information to provide data about PCs for individual organizations in detail, but also to put that information into an overall global (and anonymous) context.
This is all well and good, but it's the pricing model that makes Soluto for Business of great potential interest and possible value to smaller businesses and operations, especially those that may not have any or only part-time IT expertise on staff (I can also predict it offers a great opportunity for small-business-savvy management services companies to reach out to the very smallest of businesses as fully empowered caretakers of their PCs, too). Here's the deal currently on offer for Soluto for Business:
1. Soluto Lite (up to 3 PCs): free for evaluation or home use.
2. Soluto Pro (up to 10 PCs): $8.33 per month paid yearly/$9.99 per month paid monthly (totals: $99.96 vs. $119.88 per year at $10-12 per PC per year for 10 actual PCs).
3. Soluto Business Pro (up to 50 PCs): $49.79 per month paid yearly/$59.99 per month paid monthly (totals: $597.48 vs. $719.88 per year at $12-14.4 per PC per year for 50 actual PCs).
An Enterprise flavor of Soluto for Business is also available, including customized reporting and phone support (contact Soluto to request a quote). About the only thing I can really compare to Soluto for Business is the Microsoft Intune offering, which only maintains the OS and doesn't include upkeep for third-party software offerings, but does also bundle security software and optionally Software Assurance in the coverage it extends to PCs. Prices for Intune range from $72 per user (no Software Assurance) to $132 per user (with Software Assurance) per year. To my way of thinking, this makes Soluto for Business eminently suitable for smaller businesses and organizations, as long as they're also willing and able to underwrite the costs of Microsoft software licenses or subscriptions as a separate line item on their budgets.
---
April 24, 2013 10:46 AM
I've only got one desktop PC with a built-in Bluetooth interface: it comes with the Asus P8Z68-V PRO Gen3 motherboard that serves as the basis for my Windows 8 desktop test machine (which also features an i7 2600K CPU, 32 GB RAM, Nvidia GTX-560 graphics, and a 240 GB OCZ Vertex4 SSD). I use Bluetooth all the time for various peripherals in my office, especially on my laptop PCs, but also on my desktops as well.
Sure, you can buy incredibly small mouse and keyboard dongles for those most common of input peripherals (like Logitech's excellent Unifying Receiver, which tends to be included with most of their non-Bluetooth devices nowadays). But the same form factor also applies to Bluetooth dongles nowadays, where the latest Bluetooth 4.0 specification is engineering to sip only minimal energy when the interface is not in use, making that type ideal for plugging into a notebook or tablet PC that may not include a built-in Bluetooth interface. If you run this Google Shopping search, you'll see that you have an incredible range of choices for such devices, starting at prices under $4, with bigger-name devices (such as those from Asus, IOGear, Star Tech, and so forth) going for prices from  $12 to $20. I picked up a couple of $10 no-name models from Newegg and have found them quite workable for the three or four notebooks I have that lack Bluetooth, and likewise for the four desktop PCs I use that don't include it, either.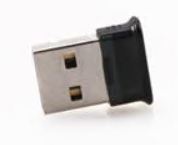 The whole thing is 17mm long, with ~5mm protruding from the USB port.
Here's a short list of what I've used these devices for on various desktop and notebook PCs:
Attach to wireless mice and keyboards
Bluetooth link to various printers (many of which feature USB ports these days)
Attach to wireless headphones and speakers for audio output (I also see you can plug a mini-jack like those found in earbuds, headphones, speaker rigs, and so forth into a special Bluetooth dongle but I've never tried one of these myself, but this strikes me as another great audio application for Bluetooth)
Personal Area Network (PAN) links between computers
Link to iPhone or iPad for file transfer or music playback
Drive my son's Lego NZXT "robot" from a laptop PC
That's a LOT of functionality from a tiny ten-dollar device! Comes in handy all the time, easy to transport, install, and use. Great stuff.
---
April 22, 2013 10:26 AM
I'm always researching and writing. And for me, that means looking up stuff on one screen and writing about what I'm researching on the other. The following photo doesn't really do justice to my actual set-up's usability because the lighting is different from my normal working set-up to enable a usable snap. But it does show me writing this very blog post, with WordPress open on the right-hand screen, and a Dell product page open on the left-hand screen (to their snazzy new UltraSharp U2713H 27″ monitors, currently available online for about $850 a pop).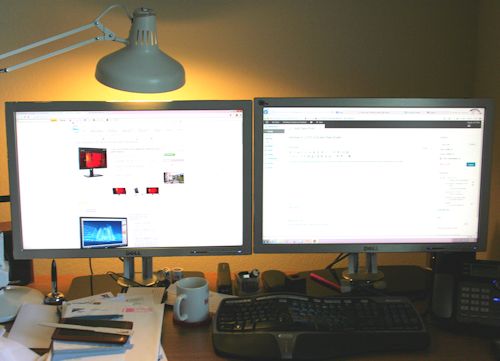 I use two Dell UltraSharp 2707WFP monitors side-by-side on my desktop.
This set-up works pretty well for me, but it does require a reasonably capable graphics card to deal with two HD monitors (my older 2707 models feature 1980×1200 resolution, the newer models typically offer 2560×1440 at this screen size) side-by-side. My GTX 460 dates back to June 2010, and both of my monitors date back to 2008. At their time of purchase, each monitor cost me about $750; the graphics card cost just under $300. That's more than the rest of my production desktop cost, despite its i7 930 CPU, an Intel 520 Series 180 GB SSD, a nice case, and 24 GB (4×6) of PC3-10600 RAM.
Even so, this is probably the best money that I've ever spent on PC hardware, simply because it lets me get so much stuff done both quickly and efficiently. I simply can't overstate the value of copious screen real estate while you're working on a PC. In fact, I've gotten in the habit of remoting into most of my other PCs to work on them (both notebooks and desktops) just because I'd much rather interact with them on a single 27″ screen, especially one of my notebooks, none of which has a screen larger than 21″ (the old HP Dragon) and most of which are 14″ or smaller (my Lenovo T520, X220 Tablet, Acer 5552, and my Dell XPS 13).
Though you may have to twist some arms at work to get funding for a second (or multiple) displays, it's still worth the effort — and the expense. Here's a Google search on "impact of multiple displays on PC productivity" that should provide you with plenty of ammunition to help you convince reluctant bosses that increasing your screen real estate likewise increases productivity and work output. Simply put, it's money well spent and will generally earn itself back within a year (or at most, two) of purchase.
---