---
April 29, 2013 10:04 AM
Thanks to a great post from Ed Bott on ZDNet I just learned that Soluto's announcement of its new Soluto for Business subscription/service was also accompanied by a very interesting report on April 24 as well. Entitled "Soluto's PC Purchasing Guide for Small Businesses" (and its subtitle: "Monthly Report, April 2013" and URL suggest we'll be seeing more of this kind of data possibly on a monthly or quarterly basis), this report crunches data from what the company calls "long term, ongoing analysis of a huge number of PCs, taking into account events such as application crashes, application hangs, blue-screens-of-death, long boot times and excessive number of background processes."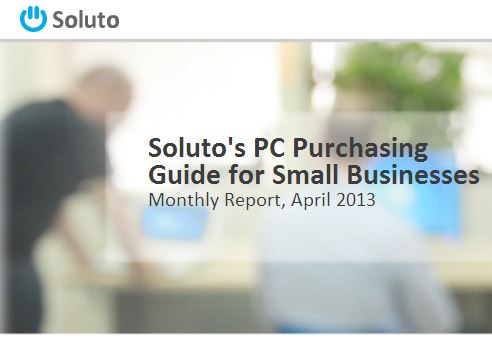 Soluto finally starts to share some results from its massive PC stability and performance monitoring of its large current user community.
In reporting on the top 10 PCs, Soluto incorporated a large data set, including the following information:

Data points considered included counts of crashes, hangs, BSODs, boots, and overall boot time.
In addition, in publishing the guide, Soluto filtered its results to include only Windows laptops that are currently for sale through various commercial outlets, including online, from the manufacturer, in big-box stores, and so forth. Interestingly the highest-scoring machine wasn't a PC at all: The Ivy Bridge MacBook Pro (vintage mid-2012) took the pole position, closely followed by a $429 budget notebook from Acer, the Aspire E1-571. Dell notched up 5 out of the top 10 slots, with Acer and Apple each picking up another spot themselves, and Lenovo barely squeaking into tenth place with its Thinkpad X1 Carbon. Even more interestingly, units that cost at or under $700 dominated the list, racking up six spots overall.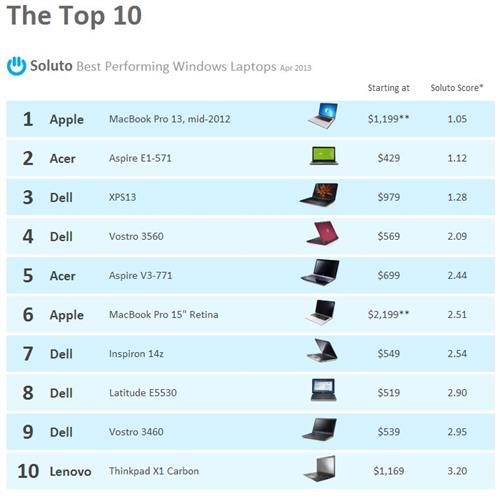 Soluto's Top 10 puts a MacBook Pro in top position, with Dell sweeping "overall best by total count."
In their reporting on the Top 10 units, Soluto observes that PCs from vendors who traditionally load their machines up with third-party software, often called "crapware," do not appear in this list. Such machines often experience lower stability and longer boot times as a result of this practice — which OEMs defend as a way to reduce PC pricing, since the companies that provide the added software help to subsidize the cost of PCs that include their warez — so it's no big surprise that this would cost them position on Soluto's list, given the metrics they use and the way those metrics get weighted. One of the reasons Soluto attributes to a MacBook landing in the top spot "is the fact that every Windows installation on it is clean."
To me, what makes this report interesting is the data that drives it, and what that data tells us about how things work out there in homes and workplaces as measured empirically. This paints a very different picture from the reviews we see at the major online PC publications (PC Magazine, PC World, CNET, and so forth) and even at more focused laptop oriented sites (NotebookReview.com, NotebookCheck.com, LaptopMag.com, and so on). There, reviews concentrate most heavily on features and functions, and a "how fast can it go" kind of review philosophy that doesn't always incorporate stability or reliability considerations (let alone the kind of database that Soluto can bring to bear).
This is extremely interesting stuff, not just because of what this single dataset and analysis has to say — which is pretty valuable and informative all by itself — but because of the ways the Soluto can (and promises to) be sliced and diced in future reports as well. Soluto already plans to report on stability differences between OEM installs and clean reinstalls on the same  hardware; given their observations on the impact of crapware on overall stability and reliability this, too, promises to make for some fascinating reading and learning. It also already argues pretty forcefully that re-imaging new machines with clean installs may repay the time and effort required to replace an OEM image with a clean image of one's own may repay itself quickly, and offer users a better overall computing experience as well.
April 28, 2013 4:06 PM
Riverbed Technology is a networking technology company that's been around for over a decade, based in San Francisco. It's probably best-known for its WAN optimization and performance management products, but it has a presence in other market spaces as well including storage and application delivery, network planning and simulation, and a growing list of cloud-based services and appliances. Riverbed also owns CACE, the organization behind the WinPCap promiscuous mode Ethernet and wireless drivers, and the always-excellent Wireshark software-based protocol analyzer.
Riverbed offers cert credentials for its WAN optimization, network performance management, and application delivery products and platforms.
What many people don't know (including me, until fairly recently) is that Riverbed also operates a certification program, one that offers associate and/or professional level credentials on the following Riverbed platforms (the associate credentials are abbreviated RCSA for Riverbed Certified Solutions Associate, and RCSP swaps the (A)ssociate for (P)rofessional instead):
Riverbed Steelhead Appliance Deployment & Management:
Riverbed Cascade Network Performance and Management products:
Riverbed Stingray product family and ADC200 Application Delivery Controller:
All of these items may also be accessed through Riverbed's Certification page, which provides news and information about recent program chances and announcements as well as links to currently available credentials and their requirements. The company's cert information is generally available in PDF form on a per-credential basis (see the links included in the preceding list for an example) and is clear, concise, well-organized and informative (every question I thought to raise about these credentials was addressed therein, included their exam center partner — VUE — cost of exams –$150 — exam coverage and related references — links provided, where appropriate — plus lots more). If you work with Riverbed Technologies products covered by any of these credentials, further investigation — and possible participation in the program — is probably warranted. Good stuff!
---
April 26, 2013 9:46 AM
As I look back over this blog, I see that I've written numerous entries that are either focused on, or make mention of, Tel Aviv-based Soluto's offerings for optimizing PCs, remote management, and troubleshooting (run this Google search to see just how frequently I've delved into their stuff). Since Soluto made its debut in September 2010, in fact, I can see that I've mentioned it at least two dozen times in separate blog postings here. The company's Soluto software starts at boot time, runs continuously in the background, and keeps tabs on many aspects of Windows operations and behavior, with an eye toward minimizing start-up and shut-down time, keeping up with OS patches and software updates for applications installed, and measuring "Windows frustrations" — namely, applications and components that occasionally crash by themselves, or that actually succeed in bringing Windows itself down. Good stuff, despite occasional issues with the tool itself (most notable of which is its tendency on some PCs to prevent the Windows Reliability Monitor from collecting and reporting on reliability data).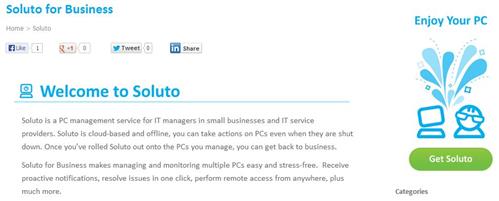 Visit the Soluto Business page to get a sense for what's on offer, or check out this Yahoo! press release.
Two days ago — on April 24 — Soluto announced its Soluto for Business service, a subscription based Windows upkeep and maintenance offering aimed at small businesses that makes the following capabilities available to such organizations at very reasonable prices:
Uses remote access to PCs under its purview to enable admins to access those machines remotely, from mobile devices, PCs, and Macs to undertake updates and repairs as needed.
Automatically notifies designated recipients with alerts via email whenever problems occur on machines under management. Management alerts are proactive, because Soluto notifies IT professionals as soon as it detects potential or actual problems on individual PCs.
Cloud-based service means that IT pros can act on PCs even when they're shut down: pending actions will be queued in the cloud, and applied to the PC as soon as it powers back up and regains access to the Internet
Fosters communication between the people who work and depend on their PCs to do their jobs ("the users"), and the people responsible for procuring, deploying and managing those PCs ("IT" or "the admins") by keeping them informed about what's new, what's changing, what's been detected, and when problems are found, who has fixed them and how they've done it.
Keeps tabs on the total Soluto community in a nice application of crowd-sourced intelligence gathering, and uses that information to provide data about PCs for individual organizations in detail, but also to put that information into an overall global (and anonymous) context.
This is all well and good, but it's the pricing model that makes Soluto for Business of great potential interest and possible value to smaller businesses and operations, especially those that may not have any or only part-time IT expertise on staff (I can also predict it offers a great opportunity for small-business-savvy management services companies to reach out to the very smallest of businesses as fully empowered caretakers of their PCs, too). Here's the deal currently on offer for Soluto for Business:
1. Soluto Lite (up to 3 PCs): free for evaluation or home use.
2. Soluto Pro (up to 10 PCs): $8.33 per month paid yearly/$9.99 per month paid monthly (totals: $99.96 vs. $119.88 per year at $10-12 per PC per year for 10 actual PCs).
3. Soluto Business Pro (up to 50 PCs): $49.79 per month paid yearly/$59.99 per month paid monthly (totals: $597.48 vs. $719.88 per year at $12-14.4 per PC per year for 50 actual PCs).
An Enterprise flavor of Soluto for Business is also available, including customized reporting and phone support (contact Soluto to request a quote). About the only thing I can really compare to Soluto for Business is the Microsoft Intune offering, which only maintains the OS and doesn't include upkeep for third-party software offerings, but does also bundle security software and optionally Software Assurance in the coverage it extends to PCs. Prices for Intune range from $72 per user (no Software Assurance) to $132 per user (with Software Assurance) per year. To my way of thinking, this makes Soluto for Business eminently suitable for smaller businesses and organizations, as long as they're also willing and able to underwrite the costs of Microsoft software licenses or subscriptions as a separate line item on their budgets.
---
April 24, 2013 10:46 AM
I've only got one desktop PC with a built-in Bluetooth interface: it comes with the Asus P8Z68-V PRO Gen3 motherboard that serves as the basis for my Windows 8 desktop test machine (which also features an i7 2600K CPU, 32 GB RAM, Nvidia GTX-560 graphics, and a 240 GB OCZ Vertex4 SSD). I use Bluetooth all the time for various peripherals in my office, especially on my laptop PCs, but also on my desktops as well.
Sure, you can buy incredibly small mouse and keyboard dongles for those most common of input peripherals (like Logitech's excellent Unifying Receiver, which tends to be included with most of their non-Bluetooth devices nowadays). But the same form factor also applies to Bluetooth dongles nowadays, where the latest Bluetooth 4.0 specification is engineering to sip only minimal energy when the interface is not in use, making that type ideal for plugging into a notebook or tablet PC that may not include a built-in Bluetooth interface. If you run this Google Shopping search, you'll see that you have an incredible range of choices for such devices, starting at prices under $4, with bigger-name devices (such as those from Asus, IOGear, Star Tech, and so forth) going for prices from  $12 to $20. I picked up a couple of $10 no-name models from Newegg and have found them quite workable for the three or four notebooks I have that lack Bluetooth, and likewise for the four desktop PCs I use that don't include it, either.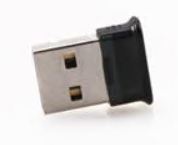 The whole thing is 17mm long, with ~5mm protruding from the USB port.
Here's a short list of what I've used these devices for on various desktop and notebook PCs:
Attach to wireless mice and keyboards
Bluetooth link to various printers (many of which feature USB ports these days)
Attach to wireless headphones and speakers for audio output (I also see you can plug a mini-jack like those found in earbuds, headphones, speaker rigs, and so forth into a special Bluetooth dongle but I've never tried one of these myself, but this strikes me as another great audio application for Bluetooth)
Personal Area Network (PAN) links between computers
Link to iPhone or iPad for file transfer or music playback
Drive my son's Lego NZXT "robot" from a laptop PC
That's a LOT of functionality from a tiny ten-dollar device! Comes in handy all the time, easy to transport, install, and use. Great stuff.
---
April 22, 2013 10:26 AM
I'm always researching and writing. And for me, that means looking up stuff on one screen and writing about what I'm researching on the other. The following photo doesn't really do justice to my actual set-up's usability because the lighting is different from my normal working set-up to enable a usable snap. But it does show me writing this very blog post, with WordPress open on the right-hand screen, and a Dell product page open on the left-hand screen (to their snazzy new UltraSharp U2713H 27″ monitors, currently available online for about $850 a pop).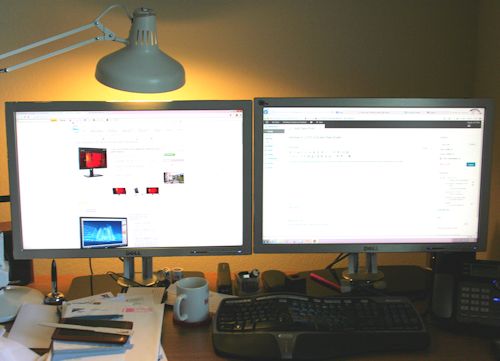 I use two Dell UltraSharp 2707WFP monitors side-by-side on my desktop.
This set-up works pretty well for me, but it does require a reasonably capable graphics card to deal with two HD monitors (my older 2707 models feature 1980×1200 resolution, the newer models typically offer 2560×1440 at this screen size) side-by-side. My GTX 460 dates back to June 2010, and both of my monitors date back to 2008. At their time of purchase, each monitor cost me about $750; the graphics card cost just under $300. That's more than the rest of my production desktop cost, despite its i7 930 CPU, an Intel 520 Series 180 GB SSD, a nice case, and 24 GB (4×6) of PC3-10600 RAM.
Even so, this is probably the best money that I've ever spent on PC hardware, simply because it lets me get so much stuff done both quickly and efficiently. I simply can't overstate the value of copious screen real estate while you're working on a PC. In fact, I've gotten in the habit of remoting into most of my other PCs to work on them (both notebooks and desktops) just because I'd much rather interact with them on a single 27″ screen, especially one of my notebooks, none of which has a screen larger than 21″ (the old HP Dragon) and most of which are 14″ or smaller (my Lenovo T520, X220 Tablet, Acer 5552, and my Dell XPS 13).
Though you may have to twist some arms at work to get funding for a second (or multiple) displays, it's still worth the effort — and the expense. Here's a Google search on "impact of multiple displays on PC productivity" that should provide you with plenty of ammunition to help you convince reluctant bosses that increasing your screen real estate likewise increases productivity and work output. Simply put, it's money well spent and will generally earn itself back within a year (or at most, two) of purchase.
---
April 19, 2013 1:52 PM
Microsoft is a company in transition.
The company posted a 19% increase in profits for the third quarter and stressed the future for Windows lies in the shift to new form factor devices and touch-enabled products.
"We are working on suite of small devices powered by Windows," said Peter Klein, chief financial officer, who also announced he would resign from Microsoft to spend more time with family. Klein noted that Windows 8 touch devices by OEM partners are improving and that more devices at  a variety of price points are expected in the coming months.
Microsoft has laid the groundwork to support new form factor of devices instead of just the traditional PC market. During the call, Klein discussed his expectations for the fourth quarter, noting that Windows will continue to reflect sales from Surface and that he expected OEM licensing to decline for traditional PCs but will grow for the tablet market.
The distribution for Surface has now reached 22 countries and 70 retailers, according to Klein. Reading between the lines, we can all expect Microsoft and its partners to unveil new mini Windows tablets as Klein stressed over and over how Microsoft was investing in Windows 8 devices for different price points.
Products based on Intel's forthcoming Haswell chip will be realized by September while new form factors using Intel's Baytrail Atom processor will be in time for the holiday selling season.
Klein also touted Windows and said, "We will release the next version of Windows with Windows Blue." Windows Blue is expected to be released at Microsoft's Build developer conference in late June. The company, however, did not discuss the number of Windows 8 licenses sold at this time.
The software giant posted $20.5 billion in revenue, while the Windows Division posted $5.7 billion in revenue, which also included revenue related to its Windows Upgrade Offer. The Microsoft Business Division posted $6.3 billion in revenue, also including its Office Upgrade Offer and product pre-sales. Servers and Tools division posted $5 billion in revenue, Online Services $832 million, Entertainment and Devices division $2.5 billion and the rest was $65 million.
It will be interesting to see if the software giant can become the innovative company it hopes to become. It's a long-term transition that not only affects the software giant but the entire technology landscape as new mobile devices come to market.
---
April 19, 2013 1:28 PM
I'm starting a new occasional series of blog posts called "MyFaves," to highlight some of the hardware items that I find absolutely indispensable in working on — that is installing, managing, repairing, and backing up — Windows systems. I'm going to kick this series off with a hardware accessory I have come to rely for all kinds of interesting uses on my fleet of Windows PCs, and my occasional forays into Mac OS and Linux on x86 machines. This product is sometimes called a hard drive caddy or a hard disk drive (HDD) docking station. These units can usually accommodate one or two SATA external hard disks, and typically handle both 2.5″ and 3.5″ form factors with aplomb. Here's a picture of the Thermaltake BlackX Duet 5G (retails for $72 at Newegg) and supports a USB 3.0 interface (which of course also works with USB 2.0 ports, albeit more slowly):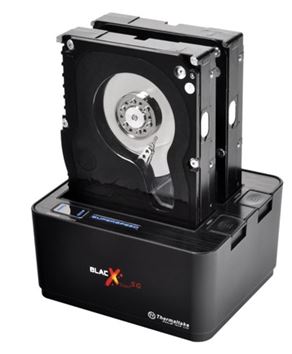 The Thermaltake BlackX Duet 5G supports up to 3 TB drives in each of its two SATA slots.
"What are these things good for?" you ask. Although I keep discovering new ways to put them to work, here are some handy applications I've found for my two single-port HDD docking stations over the past year or so:
1. Drive imaging for conventional 2.5″ hard disks for migration onto an SSD replacement.
2. Drive diagnostics and repair for problem Windows drives — especially when they're boot/system drives.
3. Easy external backup for notebook PCs: the dock makes it easy to swap drives, and thus to maintain a separate 3.5″ drive for each individual notebook.
4. Maintenance of separate, discrete (and sometimes encrypted) project drives for security-sensitive customers who (a) don't want a drive mounted when it's not in active use, and (b) who don't want their data on a drive that is used for any other purpose besides working for them.
5. Easy access to a poor man's simple-minded "near-line storage" for archival purposes (a simple handwritten label keyed to an online index makes it easy to keep track of what's where, too).
6. Easy switching between different OSes and file systems (the dock uses USB, which works equally well with Windows, Mac OS, and Linux), with different drives for each one.
I could go on and on, but hopefully this gives you a pretty good idea that such a device is extremely handy to have around when you need to work on (or with) lots of different hard drives and SSDs. I'm getting ready to buy a two-slot model (the BlackX Duet 5G depicted above, in fact) because it seems tailor made for moving the contents of one drive to another, and will take up fewer ports and wall sockets in my office than the two single-port models I'm using right now.
---
April 17, 2013 4:09 PM
Intel's quarterly earnings declined in Q1 thanks to sluggish PC sales, but the sky is not falling on the chip maker. The drop is simply a sign of the long-term transition toward mobile devices.
Intel Corp. posted $12.6 billion in revenue for the first quarter of 2013, down 7% from the prior quarter reflecting an average seasonal decline. The company reported its PC Client Group revenue of $8 billion, representing a 6.6% decrease compared with the previous fourth quarter and down 6% overall compared with the first quarter of 2012.
Intel's PC sales were affected by the industry slump but the company painted a more optimistic picture for the second half of 2013. The company is looking forward to new mobile form factors coming to market from its OEMs and shipping by the holiday season. In fact, Intel expects to double its tablet volume in the second quarter of 2013.
Concern over whether slow traction for Windows 8 had been a major cause for the decrease in PC revenue caused Intel's president and chief executive officer Paul Otellini to address the issue. Intel's forthcoming core processor Haswell should help Windows 8 gain due to improvements in speed, battery life, new form factors and the integration of touch, he said.
However, as we all know, Microsoft's tile interface has been a sore point among end users and the enterprise. Otellini acknowledged there was a learning curve for using Windows 8 and that price points for touch devices were still high, but will come down in the "next couple of quarters."
PC market declines as mobile device market expands
The earnings call this week reiterated Intel's continued commitment to mobile devices. Products such as Intel's future version of its Atom processor dubbed Baytrail will enable OEMs to build new form factor devices supporting different screen sizes such as thinner, lighter and more power tablets and smart phones. Baytrail will ship in the second half of this year.  (Will we see Windows-based mini-tablets soon?)
For Windows 8 that's good news, especially if, as Intel noted, touch price points come down in the next few quarters. For example, Intel provides ultrabook specs which will enable OEMs to offer devices for $599 and perhaps as low as $499, Otellini said. He added that touch-enabled notebooks could drop down in price as low as $200.
Is Intel's earnings decline dire?
I don't think so.
We have to look at the bigger picture and long-range outlook of our changing technology landscape. We are in a transition mode.  New form factor devices enable us to work in new and creative ways and these products already have been introduced or are coming.
The enterprise will buy devices – whether it's a desktop PC, ultrabook, convertible notebook, tablet, smart phone or some other device that has yet to be invented – based on the user's needs and what applications they require.  Even a consumer will analyze their purchase too. Why buy a gaming desktop PC when what you really need is a tablet or ultrabook?
But these new devices have to work in conjunction with other technologies, like the cloud, and with your enterprise applications, for example.
The rate of technology introduction, growth and adoption occur at different rates. It's a constantly changing puzzle and we have to figure out how the pieces fit at every stage. Even if we hit a quarterly slump today, in a few years that slump could be forgotten as we transition to new technology and new modes of computing. Remember when the industry sold more desktop PCs than notebooks and now it's the opposite?
All of us need to remember that major technology transitions take time.  We shouldn't forget the quarterly outlook to keep companies on track, but more importantly, we need to take a step back and keep in mind what the future looks like.
---
April 17, 2013 2:15 PM
Thanks to testing of some leaked images for the upcoming "refresh" for Windows 8 — codenamed "Blue" or "Windows Blue" at present — numerous sources have now confirmed that it may be possible to boot the next major Windows 8 release directly to the desktop. Likewise, the Start button and its related menu may return to the user interface as well. Various element of this rethinking are reported in recent stories from longtime MS watchers Mary Jo Foley (ZDNet) and Tom Warren (The Verge).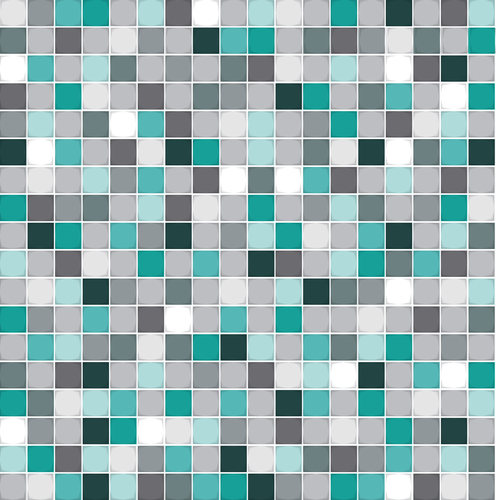 A mosaic of rumors is forming around UI changes to Windows 8.1, code-named "Blue."
[Image Credit: Shutterstock 133089986]
Of course, there was a start button in the developer beta of Windows 8, too, which subsequently disappeared with the consumer preview beta. It's possible this could be a transitory element, but I agree with both Foley's and Warren's analyses which basically posit that MS is bowing to consumer pressure and profound pushback in restoring this kind of functionality to the Windows 8 desktop, despite their explicit philosophy of moving users to a different UI paradigm whether they like it or not.
Where Foley and Warren differ in their stories is regarding the return of the Start button and menu: Foley believes it's on its way back in, while Warren is convinced that the "boot to desktop" option will remain unaccompanied by a Microsoft-supplied Start menu. If the latter proves true, this will be a major boon to companies like Stardock Corporation, whose Start8 $5 start menu replacement has proved enormously popular with Windows 8 users around the globe.
Of course, we need to wait for official betas to emerge from the shadows before we'll know any of this for sure. I find it fascinating that MS resisted input from all sectors to bring back the Start menu and to provide a boot to desktop option, both of which are sure-fire hits with business users who generally stick to desktop-based applications anyway (especially while working in the office), but is now apparently acceding to demand for such changes. But only time will tell, so we'll all have to wait and see!
---
April 13, 2013 8:35 PM
In recent days, IDC has reported that PC sales fell in the aggregate by a whopping 14% for the final quarter of 2012, the biggest decline ever recorded since they started keeping tabs on such things about 20 years ago. In the wake of this report, some interesting headlines have begun to appear in the computer trade press online and off. Here's a sampling, just to give you a flavor of what's making those headlines (please, hover your mouse above the links to get the full versions of these sometimes-truncated link listings):
1. Is Windows 8 Killing PC Sales? (Forbes)
2. Should Microsoft Kill Windows 8 Immediately? (The Motley Fool)
3. PC makers need to refocus after Windows 8 pushes PC sales off a cliff (The Inquirer)
4. The real reasons to blame Windows 8 for plummeting PC sales (PCWorld; here, like me, author Tony Bradley downplays an overt causal link between Win8 and PC sales)
5. Tepid Reception To Windows 8 Blamed for Drop in PC Sales (NPR News blog)
Of course, headlines are designed to suck readers in, so those who write them aren't above using a little hyperbole or sensationalism to attract more eyeballs, but the notion that Windows 8's less-than-stellar market reception is related to the decline in PC sales seems to have struck home with lots of writers, as a quick look at this Google News search will attest with over 300 hits on this presumption.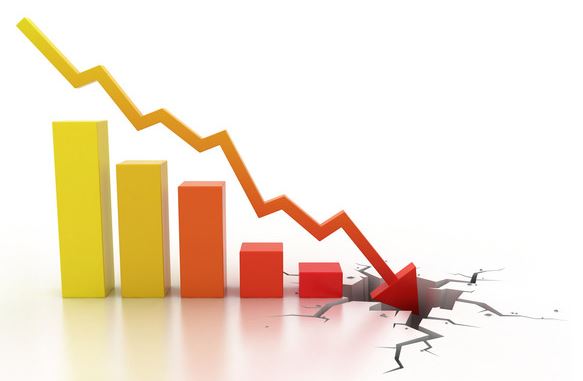 Do Windows 8's lagging sales explain why PC sales in general slumped by 14% for Q4'12?
[Image credit: PCWorld]
I'm not sure I buy into this notion, for lots of reasons. First, Windows 8 didn't become commercially available until one-third of Q4 had already elapsed (its GA date was 10/26). Second, new Windows OS sales seldom take the world by immediate storm, even when they're timed to (somewhat) accommodate the all-important holiday shopping season. Third, I think it's unfair to blame Windows 8 for the well-appreciated tablet and smartphone phenomenon that's occurring worldwide. That is, technology buyers are opting in enormous droves to eschew PCs in favor of smaller, cheaper, touch-oriented computing devices that don't begin to match PCs in overall functionality, but that do meet needs for access to communication, email, social networking, and a little light-duty Web surfing quite nicely. Why should those buyers spend money they don't have to obtain more functionality that they don't need? This is especially true for those in the developing world where the difference between a $50-100 smartphone and even a $300 laptop translates into  "limited computing" versus "no computing" for those who simply can't afford $300 or more to get into a budget PC or notebook (including Chromebooks, outside the Windows umbrella).
I really don't think this is a decline that can be laid entirely at Windows 8's door. Sure, sales are not as robust as OEMs or Microsoft would like. Sure, there are well-documented issues with Windows 8's mind and market share, and it's failed to capture the imagination of the buying public. But there's a lot more at work here than just a stubborn and well-intentioned attempt to remake the user interface for Windows, and to pick up and run with a touch-friendly runtime environment. In fact, the real problem is not Windows 8, as far as I can tell: it's the fact that even the cheapest PC of any kind costs at least twice as much as an acceptable smartphone, and that a good tablet looks and feels like a better buy to those with a little more money to spend than does a bottom-of-the-barrel notebook or desktop PC. That's what's causing PC sales to plummet, IMHO, and it doesn't look likely to stop any time soon, either.
Call me a Pollyanna if you like, but I don't even think Windows 8 is a turkey at all. It may pose some interesting challenges to those not ready for a remake of a familiar desktop environment, but those challenges can be overcome with a little time and elbow grease (or the application of a low- or no-cost Start menu replacement program). There are much bigger forces driving PC sales down than a not-so-popular Windows OS, and no amount of software development is likely to reverse those trends either. Get ready for the "post-PC era" — looks like it will soon be upon us!
---