---
June 24, 2013 11:06 AM
The Microsoft Build conference for software developers kicks off at the Moscone Center in San Francisco this Wednesday and by no coincidence whatsoever that's the same day MS will fire off a preview beta version of its upcoming Windows 8.1 release. The smart money says the general availability release for 8.1 will fall  in late October, and more or less puts Windows 8.1 on the same overall schedule that applied to Windows upon its release in 2012: (early to mid) August for the OEM release, and (probably late) October for GA. But aside from the customary Hackathon that starts the day before the conference kicks off, MS is so far keeping pretty mum about what's on the agenda there.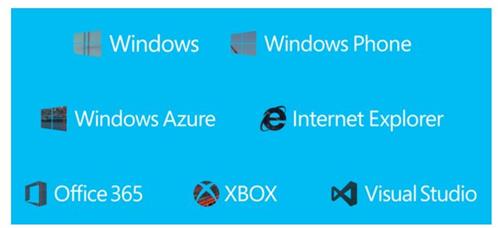 No conference program is available, but execs from these products/platforms have already put themselves on the Build 2013 agenda.
Mary Jo Foley, of ZDnet, has already speculated about conference coverage and content, and puts the Windows 8.1 launch and a public preview for Windows Server 2012 R2 at the top of the list for key elements and announcements at the upcoming conference. In fact, Foley says that "this year's Build will focus primarily around the next version of Windows, and to a somewhat lesser extent, Windows Azure …"
I, for one, will be all over the latest release on a test machine, as soon as the download becomes available. But MS is playing the content and coverage cards for this year's conference extraordinarily close to its chest. I guess we're just going to have to see what unfolds as the conferenced gets underway to see what's in store for the MS community, on both the buyers' and the developers' fronts.
June 22, 2013 3:52 PM
If you've been following this blog for any length of time, you've seen me write repeatedly about Israeli software company Soluto and their Soluto PC management and tracking software. These days, it's hard to find another solution that beats Soluto for managing a small to middling sized number of PCs, that also gathers interesting data from its managed PC population. The group contacted me in advance of their announcement last Tuesday, June 18, of their brand-new software for managing iOS devices including both the iPad and the iPhone, but I was traveling on business that week and unable to deal with anything except the 12-14 hour days I was working for my clients at the time. Visiting the Soluto site just now, I see they also offer support for MacOS PCs as well, but I have to imagine that's been around for some time now, or it too would be front and center in their latest announcement.
I've been home since mid-week, but am just now finding the time to look into what Soluto has to offer, and it seems pretty interesting. It starts with visiting the Soluto site, and then sending an e-mail or an SMS to the targeted iOS device. That email or text message includes a link to an app, which then comes up in the Installer (inside Settings, interestingly enough) which apparently places an app on the iOS device. Once installed, the app then makes its detail information available through the usual Soluto console available through a log-in at www.soluto.com. Here's part of what it has to say about my iPhone, for example: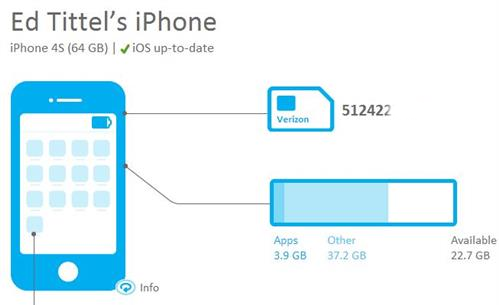 The Web-based Soluto console makes short work of reporting on iOS devices, with clear, easy-to-follow information and analysis.
The Soluto dashboard also lists all the apps installed on the device, which gave me kind of a rude shock as to how many games my 9-year-old has installed on that device (I counted 30 under the "Games" heading, and another 17 items under the "Entertainment" heading, of which only 1 was of my choosing. Seeing this display, I could wish that Soluto would set up remote deletion for such apps, but it's really no big deal to write down the names of some things that can go, and then go do it the old-fashioned way on the device itself.
It's a pretty nice tool, and a great way to extend what you can see and manage — if not directly, then indirectly — through a single Web-based console. Definitely worth checking out!
---
June 21, 2013 8:47 AM
The analysts have never been terribly kind to Windows 8, with the majority of firms maintaining what can only be described as a "safe distance" from Microsoft's latest desktop offering launched in October 2012. But a new Gartner blog post from in-house analysts Michael A. Silver and Stephen Kleynhans includes a telling snippet that indicates the wind may soon be blowing from a new quarter: "Based on information currently available, we believe Windows 8.1 features could quiet most of its detractors" (it's entitled "Windows 8.1 Could Become What Windows 8 Should Have Been" and it's dated 6/19/2013).
As early as May 29, noted Windows guru Paul Thurrott posted screencaps of Windows 8.1 depicting the triumphant return of the Start button to Windows 8.1 (see "In Blue: Start Experience Changes" for the original graphic, and other interesting 8.1 screenshots).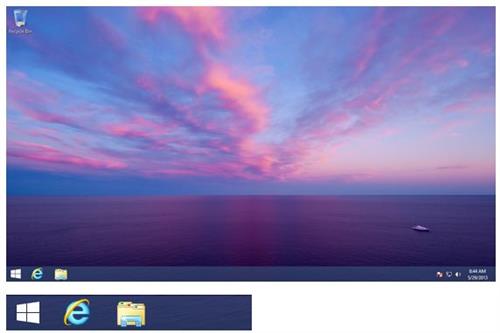 A more familiar look and feel to Windows 8.1, eerily similar to Start8.
Other interesting points from the Gartner piece include:
Windows 8.1 is worth considering for "broader deployment," especially for those who had been inclined to view Windows 8.0 as a "touch-only" operating system
Businesses can seriously contemplate purchasing new PCs with 8.1 pre-installed as a legitimate way "to adopt a new OS via PC refresh" (a not uncommon tactic in the business world nowadays)
Those who are already planning Windows 8.0 deployments have nothing to lose, and much to gain, by switching over plans and pilots to Windows 8.1 instead of Windows 8.0 (even to the point of switching to the beta upcoming later this month as soon as it becomes available, and deploying the production version of 8.1 when it become available later this year, probably in late October or early November)
News Analysis from the actual report from Silver and Kleynhans is available online (see "Windows 8.1 Could Become What Windows 8.0 Should Have Been" for more detail that the previously-cited Gartner news release). This lengthier piece provides additional details about Windows 8.1 benefits for business users, including references to improved search, tighter integration with SkyDrive, more flexible snap-to-screen layouts for apps and application windows, complete Control Panel coverage in the Modern UI, and minor changes to the Windows 8 desktop "which would ensure high levels of compatibility with legacy Win32 desktop applications."
All well and good, and perhaps even interesting to business readers. But is it enough to spur consideration or even deployment of Windows 8.1, when many businesses have only recently migrated to Windows 7? Only time will tell!
---
June 19, 2013 9:11 AM
When I bought two Lenovo notebooks last year — a T520 and an X220 Tablet — one of my regrets was that I had to buy immediately and couldn't wait for the USB 3.0 versions of those models to become available. Last week I learned that my regrets were well-founded. Thanks to the Mushkin Ventura Pro 64 GB USB stick I picked up in May, and an el cheapo ($28) StarTech PCI Express USB 3.0 adapter I grabbed from Newegg in early June, I was finally able to try out the speed difference between built-in USB 2.0 ports and a budget add-in USB 3.0 device.
UFD on left, USB 3.0 adapter on the right.
Using USB 2.0, the Mushkin UFD (USB Flash Disk) runs at ~30 MB/sec: not bad for a USB 2.0 flash device. I observed a 6-fold boost on the X220 Tablet using PCI express for USB 3.0. Where I'd been seeing rates of around 30.1 – 30.3 MB/sec for USB 2.0, it jumped to180 MB/sec using USB 3.0.
I routinely take my sizable Outlook Archive.pst file with me when I go on the road. This morning it's about 9.19 GB in size on my D: drive. It used to take 8-9 minutes to copy that file from the hard drive to the UFD; now it takes just over a minute for the file transfer to complete. This may not sound like much of a difference to some readers, but for me this is huge, simply because I usually wait until the morning I travel to grab my PST files to take with me on the road, along with my traveling laptop for that trip.
Even more impressive are the speed gains when it comes to backing up my machines. A RecImg image snapshot for my Windows 8 machines usually takes half an hour or so to complete, and a full backup might run 10 minutes longer. Using the USB 3.0 interface, those times go down to under 7 minutes and under 9 minutes, respectively. Since I often have to wait for a backup to complete to use a machine for something else, these time savings are pretty worthwhile — to me, at least. Whether or not you can justify a $55 flash drive and a $28 interface card to your boss, if you're in this pretty typical situation, is up to you to find out. But if you can swing it, I believe you'll find the time savings that result to be worthwhile as well.
---
June 8, 2013 11:19 PM
I have half-a-dozen different notebook PCs in my office, and three desktops total, all of which I like to manage remotely from my primary production desktop, because it's got two great big honkin' 27″ monitors hooked up to it. I can devote one whole screen to a remote desktop and still get plenty done on the production machine on the other screen. I often test or research software, capture screen shots, and take crazy chances on my various test machines inside a remote desktop connection window as a kind of "Polack Productivity Booster."
But interestingly — and sometimes frustratingly — not all applications work properly when run remotely. For example the Lenovo Solution Center and the ThinkVantage System Update applications I regularly run on my X220 Tablet and T520 notebook PCs won't run at all in a remote session, though they run just fine if I operate them on either machine directly and locally. This behavior is vexing, but tolerable, because it's painfully obvious to me that these applications simply don't work remotely.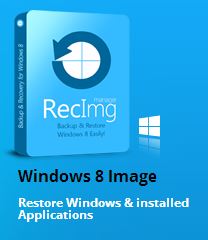 Here's a dandy little utility that just happens to fail nearly at completion when run through a remote desktop connection.
But then, there are applications that appear to run, or start to run, in a remote session in Windows only to fail part-way through their job completion process. Case in point: the Windows 8 record image (recimg) command-line utility and its Modern UI "skin" RecImg Manager (a free and handy program from Slimware Utilities). This incredibly handy utility makes a Windows image (.wim) file from your current Windows 8 system configuration, including all updated drivers, the OS itself, and any and all applications you've installed into the Program Files and Program Files (x86) directories. It works with the "Refresh your PC" repair utility in Windows 8 to create a current custom Windows image that you can use to fix all kinds of system issues that sometimes pop up, even on the best-behaved of Windows 8 systems (especially when you jack them around as much as I do mine).
There's just one small problem with RecImg Manager and it drove me nuts before I finally figured it out: it just doesn't work if you run it from a remote session. About 97% of the way through writing the image file, the program loses the link between the remote Windows 8 system and the local remote desktop connection host system. It hangs, and the image copy fails. I spent the better part of half a day trying to get it work in a remote session before it finally dawned on me that I should try running it locally instead. Not only did it complete without a hitch, it also finished up a great deal faster (probably because the source machine didn't have to waste any cycles driving remote screen updates to the RDP-connected "other PC"). Since this happened, I've confirmed it's not just an eccentricity on one of my 5 Windows 8 machines but affects all of them equally: RecImg Manager works fine locally, but hangs when run through a remote desktop connection.
Live and learn, I guess. Just another of the many "Windows surprises" that keeps me constantly bemused, and gainfully employed.
---
June 7, 2013 2:13 PM

Profile: Diana Hwang
I did it. I agonized and waffled about it for days but finally caved in. I just had to experience why anyone on earth would stand in line for the Surface RT and Surface Pro fire sale. They're first generation products and my rule of thumb has always been: Don't buy a first generation device!
But I couldn't pass up Microsoft's deal for Tech Ed attendees this week: $99 for a 64 GB Surface RT device (normally $699) and $399 for a 128 GB Surface Pro (normally $999). I spent $542.21 including tax instead of $1700 (before tax). At that price, Microsoft only allowed attendees to buy one of each – no more, no less.
As we say in Boston — it's a BAH-gain.
I had to badger and plead with my senior executive editor Ed Scannell to stand in line with me. Ed probably thought I was crazy because he's been covering the tech industry forever and knows better.
Once the conference started, dedicated attendees stood in line, some waiting for as long as three hours to get their device(s). Although that's just a blink of an eye compared to Apple fanatics who camp out at the Apple store for new versions of the iPhone and iPad, this wait was substantial for a Microsoft device. However, Tech Ed attendees don't represent the general population.
Just before I had to leave from Tech Ed and catch a plane to return home on Wednesday, the wait was down to an hour. Not too bad.
While we waited, Ed figured out that theoretically if all 10,000 attendees at the show bought an RT and Surface Pro, it would bring Microsoft nearly $1 million in revenue for RT and $4 million for Surface Pro. That's $5 million in additional revenue for Surface units. Not a bad boost for Surface sales for Microsoft's fourth fiscal quarter.
Of course not every attendee bought the devices: some only the RT, some only the Pro, some both and some none. But even if Microsoft conservatively added another $2.5 million to its coffers and upped their shipment numbers this quarter, every little bit helps.
Time in line flew by because of the entertainment, and I'm not referring to the flying beach balls. Steven "Wheelin' and Dealin'" Borg, co-founder and strategist of Northwest Cadence, a small 16 person company in Bellevue, Wash. provided his own fun for those around him.
Mr. Wheelin' and Dealin' asked the folks in line to see if they were going to buy their allotted one Surface Pro. If not, he was going to pay them $500 cash to get one and give it to him. Yes, $500.
Steve ended up with three takers, although one guy backed out. Mr. Wheelin' and Dealin' did such a good job of getting others excited about the Surface Pro this guy changed his mind and decided to keep the unit. (Maybe Steve should work for Microsoft's Surface team).
Sure, some simply bought the devices to resell for a quick profit on eBay. But many folks were either buying the RT as a consumer unit for their family, or they were buying the Surface Pro for their company to see if they could actually use it for business purposes. Some buyers said they would use the device for testing to see if it would fit in their environment and then perhaps roll the device out to others in their organization.
You may ask: did I sell mine? Nope. I had to buy a unit for my nephew and didn't want to suffer the wrath of my brother and nephew if I sold it off.
The big question is, will I replace my trusty Apple iPad 2 with my new lovely red Logitech ultrathin keyboard? Not yet. My iPad serves me well and lets me file my work on the road. I just wish Microsoft would get Office for iOS into Apple's App Store. You know they have it; they're just not letting it out. If they did, Microsoft would lose their major competitive edge for Surface, something they can't afford at this point.
Surface RT has the Office suite and, with the forthcoming Windows 8.1, Outlook will be available for Windows RT. We'll have to wait and see whether putting Outlook on Windows RT makes any difference in the enterprise.
So all's well that ends well: my kids get to play with yet another digital device (though I'll have to argue with them to turn it off because it's time for bed) and my nephew will be happy when he gets his Surface Pro.
And it only took us 55 minutes to get through the line.
Senior executive editor Ed Scannell (who is probably cursing me for making him spend $100 bucks for an RT) contributed to this post.
---
June 6, 2013 9:42 PM
These days ultrabooks and tablets make DVDs passé for Windows installs. UFDs (USB Flash Drives, that is) are the way to go. I'd discovered the free Microsoft Windows 7 USB/DVD Download Tool at the Microsoft store about the same time that Windows 7 went commercial, but had also run into occasional issues with the tool (on some machines, the image wouldn't install correctly and although all the files would download and unpack OK, I would still wind up with a non-bootable UFD). Just recently, I came across a reference to a free tool named Rufus that creates bootable UFDs in a variety of formats. It's small, fast, and seems pretty much trouble-free: I got it to build a bootable Windows 8 Pro x64 UFD in just under 8 minutes (on my production PC, the MS tool takes about 15 minutes to do the same job).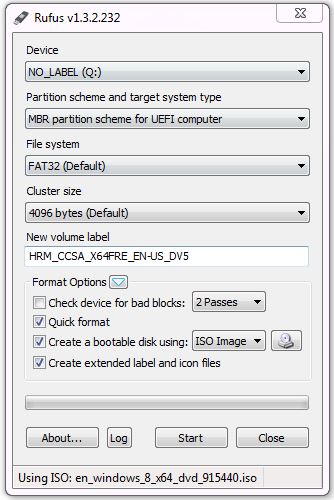 The tool completely rebuilds the UFD from the ground up, so you don't need to worry about MBR or formatting issues getting in the way.
Rufus is also very good about reporting on what it's doing while it's building you a bootable UFD. It started out by telling me it was rebuilding the MBR for a UEFI set-up, then reformatting, and then took the rest of the time to tell me what it was doing as it was building the Windows 8 Pro x64 boot environment on my behalf. This beats the pants off the Microsoft tool, which basically just goes away and tells you little or nothing about what it's doing at any given moment. I like it enough to have put it in the Dropbox folder I use to make sure that key utilities are always at my immediate disposal whenever I'm graced with an Internet connection. Good stuff!
---
June 6, 2013 9:12 PM
OK, come on: you may balk at the "Geeks-only" term in my blog headline, but who else could possibly care about the Cisco Press Facebook Sweepstakes now underway? Here's the deal: register to win, and you might qualify for a free Cisco Marketplace Store shopping spree or $1,000 in Cisco equipment (no 10GB switches fall under that heading, so sorry). Here's the headline from the Cisco Press Lounge: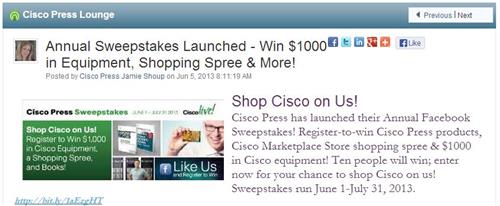 No kidding: register on Facebook and you could achieve a modest payoff in the form of Cisco Press books, videos, practice tests, and even some choice bits of Cisco gear.
Tell me this doesn't make your heart beat just a little bit faster. Sure it does! Head on over to Facebook, and login to that Webpage to get yourself signed up. Who knows? You might actually get lucky (one person qualifies for a $1,000 gift card from a Cisco reseller, two more get $350 to spend at the Cisco Marketplace store, and seven others can claim three Cisco Press print or e-books of their choosing).
---
June 5, 2013 11:26 AM
Yesterday, a flurry of stories announced a couple of new Sony VAIO touch-equipped ultrabook models equipped with Haswell processors that give us some pretty good intimations of what lies ahead. The new Sony Duo 13, for example, includes near field communication (NFC) as well as Bluetooth, along with a narrow-bezel touch display that essentially squeezes a 13″ monitor into the same frame as older 11″ models.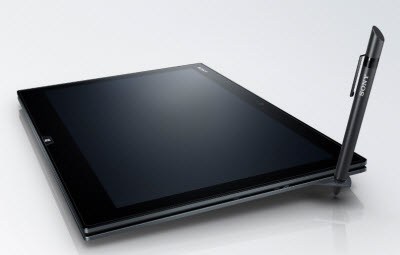 The new Sony Haswell models are thinner, lighter, and feature longer battery life.
The primary characteristics of these latest generation ultrabooks include thinner designs, improved graphics (thanks to Haswell's added graphics oomph), better power management, and consequently, longer battery life. According to British tech site, The Inquirer, Sony is touting some of these latest models –namely, the VAIO Pro 13 and 11 — as "the world's lightest touchscreen ultrabooks, weighing just 1.06 kg (2.33 lbs) and 0.87 kg (1.91 lbs) respectively.
Interestingly, this release doesn't appear to be a complete redesign of earlier VAIO models in the same series. According to the Inquirer, the 13″ model features the same HD screen, webcam, storage options, and HDMI support as the preceding Ivy Bridge model. Battery life estimates for the 13″ Haswell model are in the 8-9 hour range, while 11 hours is mentioned for the 11″ model. All of these are very good numbers, and in line with what's needed for a full day's work on most notebook (or ultrabook) PCs. I'll be curious to see if Sony (and others) follow up soon with tablets based on the ultra-low voltage Haswell models, and what kind of battery life they can deliver. Units may be ordered with i5 or i7 processors, 4 or 8 GB of RAM, 128, 256 or 512 GB SSD, along with fancy audio and other features as well (Sony will offer sheet batteries to more than double battery life for long flights or other extended untethered uses).
These Sony models are supposed to hit stores in mid-June to early July, at which time pricing information (not yet fully disclosed) must presumably also be available. The video indicates the Duo will start at around $1,000, and the 11" Pro at around $1,150. For those interested in more info about these upcoming Sony models, here's a YouTube video (04:28) that introduces them, and shows them off.
---
June 3, 2013 10:24 AM
OK, so it doesn't take a rocket scientist to understand that MS has to do something to boost Surface Pro battery life, not only to establish parity with other emerging Windows 8 tablets, but also to help level the playing field with ARM-based Apple and Android tablets, too. That's what makes this morning's iTechPost story "Microsoft Surface Pro 2: Top features Intel's new Haswell processor brings to the table" particularly interesting.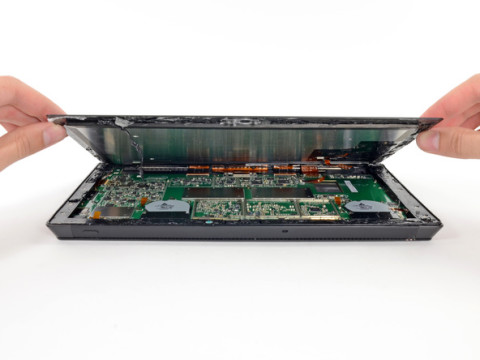 A peek inside the Surface Pro from the 2/13/2013 LifeOnMyMobile story "Take a Look at the Microsoft Surface Pro from the Inside" (photos from the iFixIt teardown).
Here are some of the items from that story, prompted no doubt by some opening Haswell shots in what should become a fusillade at Computex in Taipei this week:
The Verge gets attribution for the claim that "…the Haswell processor is expected to boost battery life by an extra three hours." That takes the normal range from 4-5 hours and extends it to 7-8 hours, nearly enough for a day's worth of untethered computing. That's certainly getting closer to what most professional users want — including me.
Haswell chips are smaller than their predecessors which iTechPost says "…could mean we'll be seeing an array of even thinner tablets," while also observing that thinner probably also means smaller batteries, invoking a by-now classic engineering trade-off.
Increased processing power should bring more oomph to Haswell graphics, and faster boot times for Haswell-based tablets.
What I'm really curious about is if MS will take the plunge into a removable battery, so users can elect to purchase extras and carry them around to extend battery life beyond whatever limits the combination of form factor, battery size, and power consumption the new Haswell-based units will afford. I'd also love to get some reliable information on when the next generation of Surface Pro units is likely to ship, so I can start saving my pennies and planning to buy one. Some publications, such as TechThirsty, speculate that the next-gen Surface Pro release may be tied to the upcoming Windows 8.1 release. If so, that means it may be available around the end of October 2013. On the other hand, TechRadar speculates that the Surface 2 could be released as early as June at Microsoft's Build Developer Conference. TechRadar's story also presents some interesting snippets form a Reddit AMA (Ask Me Anything) session that includes disclosures that the next Surface Pro will support an interface to accommodate an external battery link up (via the current "accessory spine" jack used to accommodate a snap-on keyboard at present), and some suggestion that the next edition will be better at accommodating external screens at various (and different) display resolutions.
Very interesting. I'm not at all sure that my "wish list" from November, 2012, will be satisfied in one go from MS with the Surface Pro 2. Nevertheless, it sounds like the next version should tick off a few checkmarks in some categories, and make significant progress in others. I'm hopeful that as we learn more about what's coming, we'll also like what emerges even more than what's shaping up from the current crop of rumors, speculations, and educated guesses.
---