---
March 2, 2012 6:20 PM
OK, so yesterday was the day that I put together a brand-spanking new Windows 8 desktop system for my upcoming book Windows 8 in Depth (due out from Pearson in late October, 2012, or whenever Windows 8 goes into general availability release). Here's a partial "bill of capabilities" that I made sure were present, so I could exercise ALL of Windows 8's new and improved capabilities:
Intel i7 2700K Quad Core CPU with SLAT (second level address translation) support necessary for use of Hyper-V with the OS itself
Asus P8Z68-V Pro/Gen 3 motherboard with UEFI (unified extensible firmware interface)
3M Multi-Touch Display M1866PW (18.5″) with 20-finger multi-touch HD display, thanks to a loan from the maker
I cannibalized an older test system with a Q9400 Yorkfield CPU and an older LGA 775 motherboard, replacing motherboard, CPU, graphics card, and memory to put the system together. It took me less than an hour to install all the new parts, and the system turned over the first time I powered it up.
To all appearances, I was on a quick trip to Windows 7 installation, to be followed by a quick migration to the Windows 8 consumer preview. But I found myself badly stuck trying to install Windows 7 from a DVD or a bootable UFD (USB Flash Drive). In fact, I got nowhere for a couple of hours at which point I called my friend and motherboard expert Tom Soderstrom (a regular contributor to and editorial staffer at Tom's Hardware) to ask for some guidance.
Turns out he's worked with that very same motherboard extensively, and observed that it's very finicky about memory. I had recycled 4 2GB SuperTalent memory modules (DDR3-1600) into that machine not even thinking that memory timings might be an issue. After yanking two of the modules (Tom told me the motherboard behaves better when only two of its four memory slots are populated) and reducing the slightly overclocked memory timings to their so-called XMP (eXtreme Memory Profile) values, the Windows 7 installer actually started working a little, whereas before the installer would hang just after loading the Windows Pre-installation Environment (PE) stuff signaled by "Windows is loading files…" at the very start of the install process.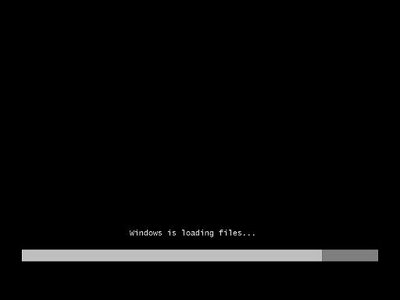 All of this, but nothing more!
Once I realized the memory was biting me, I grabbed a couple of 4GB G-Skill memory modules from a different test machine (DDR3-1333 instead of DDR3-1600 and thus, not so aggressively overclocked) and swapped them for the SuperTalent modules. Instant success! This just goes to show you that automatic overclocking isn't always a good thing (apparently when the UEFI started up, it saw the high-speed RAM and assumed it should run it at its top-rated speed, and that's what caused my system instabilities). The slower memory wasn't subject to that same level of speed, and everything worked like a charm. Even with the slower RAM installed Windows 7 experience reports 7.8 for both processor and memory, and 7.9 for everything else (graphics from the nVidia GTX 560 Ti is 7.9 for both business and gaming, and the SSD I'm using for the boot drive also garners the same rating).
So now I've got Windows 7 installed, all the drivers fully updated and I'll be installing Windows 8 and the 3M touch screen next week (I need a mini-HDMI to regular HDMI cable to make the connection from the PC to that display device). In the meantime, I've been trying to play with UEFI to understand more of how it works, but so far Asus hasn't been too supportive in letting me access the UEFI shell or various UEFI tools that are now readily available — check out the Website EFI Zone for access to various EFI shells and tools. I'm going to have to learn how to create an EFI-accessible UFD and/or DVD to get to the UEFI command line, but so far I'm still figuring out how to make that happen.
On my Lenovo X220T tablet, however, I now have Windows 8 installed, and am futzing around getting touch to work properly. I'm guessing the download servers for the customer preview must be really slammed, because it took me over four hours to download the files after I'd started up the relatively small (500K) bootstrap loader to fire off the initial installation process. Windows 8 is a huge change from all the Windows stuff I already know, and it looks like it's going to be an interesting experience to learn and document all of the new functionality for our book. Stay tuned: three's going to be LOTS more to report over the next four months on this front.
February 29, 2012 3:50 PM
The Building Windows 8 blog just posted an item entitled "Running the Customer Preview: system recommendations" a few minutes ago, but I'll be darned if I can find a download link for that software just yet. I'll post that link as soon as it becomes available, though. And just now, it pops up "Welcome to Windows 8 — The Customer Preview." The direct link is http://preview.windows.com. Go get 'em!
Windows 8's basic system requirements are as follows:
1 GHz or faster processor
1 GB RAM (32-bit) or 2 GB RAM (64-bit)
16 GB available hard disk space (32-bit) or 20 GB (64-bit)
DirectX 9 graphics device with WDDM 1.0 or higher driver
If you ask me this is a kind of "wimpy platform" for testing and fooling around with Windows 8: it's really more of a "bare minimum requirements statement." In fact, the real action with Windows comes on  systems that include all of the following items:
UEFI (Universal Extensible Firmware Interface) to take advantage of Secured boot
a TPM (Trusted Platform Module) to make better use of BitLocker
a 64-bit CPU with second-level address translation (SLAT) to make use of Hyper-V in the OS. (Hyper-V also consumes at least 2GB of RAM so be sure to load your system up with extra memory!)
some games and graphics stuff requires support for DirectX 10 or higher, so a higher-end graphics module will be nice
Touch access works with conventional touch displays, but those that support 5 or more simultaneous touch points will provide an optimal Windows 8 experience (the OS itself requires only 2 right now)
and of course clean installs will require all the right drivers to make devices show up and work properly (be prepared for some digging around)
And remember: there is no rollback or upgrade from a preview Windows 8 installation, so back up what you've got before you install the customer preview, and be prepared to lose that installation when the "real thing" comes along later this year (though third party companies like LapLink may offer tools that migrate stuff from the preview to production versions, as they did with Windows 7).
Enjoy! I'll be building my fully-loaded desktop PC this afternoon, and installing this software on that machine, plus on my just-purchased Lenovo X220T and T520 tablet and notebook PCs. Stay tuned for more news on those experiences. And I'll be trying out the loaner 3M 21.5″ 20-point touchscreen on the desktop, too. Should be exciting!
---
February 28, 2012 6:23 PM
My eyes literally bugged out when I read this item from Ed Bott's Report last week (February 20): "Microsoft quietly extends consumer support for Windows 7, Vista." Here's a snapshot for Windows 7 from MS's "Support Lifecycle" Web page that shows what's up (I include just a snippet: for each screencap, all dates are the same):
A similar pattern, but with earlier expirations, also applies to Windows Vista:
Under Microsoft's original guidelines mainstream support for Vista is set to end in two months, and this hasn't changed. What has changed is that consumer as well as business versions now qualify for extended support, too. That means everybody gets to keep using Vista (if they want to, that is) until April 2017. Same thing goes for Windows 7, upon which the sun won't finally set until January, 2020. It used to be that extended support was for business customers with support contracts only, but that is no longer the case!
I can only speculate that Microsoft is signaling that it's OK to stay with Vista or Windows 7 for the near term, and that there will be no massive shakedown or pulling the rug out from under the feet of business or consumer users to push them into Windows 8. Interestingly, Windows 8 purchases will also confer downgrade rights to Vista and Windows 7, but NOT Windows XP. Could it be the real target of this change? You bet!
---
February 25, 2012 4:20 PM
I saw, then read, the recent Building Windows 8 blog post entitled "Connecting your apps, files, PCs and devices to the cloud with SkyDrive and Windows 8" last Monday. I've been chewing this mass of information over since then, and was very glad to re-interpret that information through the lens of Paul Thurrott's recent SuperSite article "Windows 8 + SkyDrive."  Thurrot puts it like this: "This already-useful service is about to become indispensable."
SkyDrive essentially provides the glue that ties multiple Windows 8 devices that share common apps and data together, including desktop, notebook and tablet PCs, as well as smartphones and ARM-based devices. SkyDrive will appear in a Metro-style app in Windows 8, to make it available via touch-only devices, where it functions as just another storage device in the runtime background. It will also be integrated into the Windows 8 desktop (and also through native Windows 7 and Vista interfaces as well, presumably through some kind of Windows update or Service Pack some time after Windows 8 goes into GA release around October 2012; ditto on the "just another storage device" remark in the previous sentence). And finally, Windows 8 will include a so-called "Remote Fetch" feature, which lets SkyDrive poke around inside any Windows 8 PCs that share the same SkyDrive credentials to "…access, browse, and stream your files from anywhere simply by fetching them from SkyDrive.com." Yes, that's right: your own private cloud. And for extra security, MS will use your mobile phone to send you a second authentication factor that you'll use to grab this information along with standard account credentials. Amazing!
Incidentally, Thurrott's colleague Rafael Rivera also learned that MS is consolidating all of its remote log-in accounts — including Windows Live ID, Xbox LIVE, Zune, and Zune Pass (and probably even HotMail) — into a single credential called "Microsoft Your Account." This certainly adds some impetus and urgency for digging into SkyDrive, which will be accessed using the same account credentials as well!
---
February 22, 2012 2:37 PM
Man! I almost had a heart attack this morning when I read The Guardian's latest Technology Blog "Want the Windows 8 Preview? First, catch your 1366×768 resolution tablet." "Uh-oh!," I thought to myself, "What's the resolution for the Lenovo X220 Tablet PC I just ordered?" I had to do a little digging, but here's the Lenovo specification blurb for the display itself on that unit:
I'd hate to think that I just laid out about $1,400 for my test Win8 tablet, after considerable time, effort, and $$$ went into its selection, only to have to send it back because I overlooked minimum resolution requirements. As it happens, even though many of the Windows tablets currently on the market only support 1280 x 1024 resolution (XGA) I was lucky enough to get one of the few (along with Acer, Samsung, and Dell) that supports this medium-rez HDTV (16:9) ratio display resolution.
Turns out that MS has designed its displays to support the "screen snap" functions (whereby windows are moved and positioned to occupy predefined screen areas and locations) for optimal display of two apps on-screen at the same time (along with the obligatory right-hand Charms bar that shows what else is up and running or available in your Win8 environment). Another interesting point from this Guardian blog is that running Windows 8 inside a VM (presumably without a touch screen) or on a conventional laptop or desktop PC (ditto) doesn't really show the new OS to its best advantage. And, of course, that explains why I spent so much time, effort, and money making sure to secure a tablet, a notebook, and a desktop PC environment, all with higher-end touchscreen capabilities.
According to Lenovo's order tracking page, my X220 tablet has not yet shipped, though. And now the estimated ship date has slipped from 3/4/2012 to 3/6/2012. All I can hope is that it doesn't keep slipping too much further!
---
February 19, 2012 4:12 PM
On Friday, Sam Moreau blogged about the new Windows 8 logo in Blogging Windows in a post entitled "Redesigning the Windows Logo." The graphic at the head of my post comes from him, and lays out the prior Windows logos from 1.0 all the way through Windows 7 (below) against the brand-spanking new Windows 8 logo (above). According to Moreau the impetus in the redesign was to "…better reflect our Metro style design principles…" with "…an opportunity to reconnect with some of the powerful characteristics of previous incarnations." Yeah, right!
I am glad to see this come out, not necessarily because I have strong feelings about the new logo one way or the other (though I am curious to see what kind of animation it will get, if any, during start-up and/or OS load), but because this pretty much makes Windows 8 the official product name for the upcoming release. That's at least one thing solved and resolved about this thing that continues to generate interest, activity, and marketplace uncertainty for consumers and business users, not to mention the IT professionals who must support them.
Some commentators have described the new logo as an "inverted Finnish flag" by which they mean that the predominant color is switched from white to blue, making the central cross a white one against against a blue background, instead of the other way around. A quick gander at that country's flag shows this comparison is apt.
Ultimately the new design is meant to reimagine "…the Windows log as just that — a window." Moreau also takes readers through Windows logos for all the previous versions (read bottom part of the first screencap in this post for a visual history, from left to right). I'm interested that MS took the time and energy to explain the logo's evolution and changes to us, and to have their Principal Director of User Experience for Windows put his name to this effort. In particular I'm intrigued to see MS use the notion of "humble, yet confident" as a motivating feeling for the logo design. That's something new for Microsoft, too, and it will be very interesting to see how it all plays out, and how it shows up in the upcoming customer preview released for Win8 due out on February 29th.
---
February 17, 2012 4:59 PM
OK, so I'm going to be co-authoring the next edition of Windows … in Depth with long-time Windows stalwart Brian Knittel, and I'm literally "gearing up" for that project (the next edition, predictably enough, will be entitled Windows 8 in Depth). I thought readers might be interested in reading about what I'm building and buying so as to be able to install, use, and document the ins and outs of this fascinating new Windows iteration.
I'm acquiring parts for a desktop unit, and have already placed an order with Lenovo for two notebook PCs. These are the X220 Tablet model (with a rotating hinge on the screen half to let it function either as a conventional notebook, or a tablet-only PC) and the more powerful ThinkPad T520notebook with touchscreen display. I outfitted both of these units with i7 2640m quad core processors, Bluetooth, and (for the T520) an HD (1920×1080) display, but otherwise chose not to add too much by way of bigger or faster drives, more memory, and so forth. Even so, these two units set me back about $2,800 despite a generous "friends and family" discount courtesy of Kris Fair of Lenovo PR. According to my go-to guy for touch technology, Geoff Walker (see my recent posts "Buying a Touchscreen for Windows 8" Episode 1 and Episode 2 to learn more about him and his recommendations) these two devices offer the best portable PC Windows 8 experience currently available on the open market (though I read Paul Thurrott's recent article "Of MacBook Airs, Ultrabooks, and Windows 8" with both anticipation and frustration this morning).
T520 on the left, X220 Tablet on the right
On the desktop side, I'm going to cannibalize a LOT of parts to put that system together in the interests of economy. This includes an Antec 900 case, a ThermalTake 750W power supply, 16 GB of DDR3-1600 RAM, and various hard disks, an optical drive, and so forth. Here's what I'm buying to put the rest of that system together, along with the 21.5″ pro-cap 20-touchpoint prototype display that 3M has graciously agreed to loan me:
ASUS P8Z68-V PRO/Gen3 motherboard for Socket 1155 ($205)
Intel Core i7 2600K Sandy Bridge processor ($330)
OCZ 120GB VTX3MI Solid State hard disk ($240)
MSI 560GTX Nvidia graphics card ($300)
That puts my out-of-pocket for the new system at $1,075 all told, and at $4K for total book-related equipment outlays. If I add up all the costs for the whole desktop system (including the $1,400 for the 3M monitor) it comes out somewhere between $2,800 and $3,000 altogether. That's a pretty high-dollar PC these days! And at about $6,000 for 3 machines, that's a pretty high per-PC average cost, too. But that's what it takes to jump on the ragged, bleeding edge of PC technology these days…
What these expenditures should permit me to do, however, is to get a very good sense of how Windows 8 behaves in the PC realm from desktop to notebook to tablet PC. I'm still chewing on how to score an ARM  device with Windows 8 so as to learn more about Windows on ARM (WOA) as well. In the next week to 10 days, this stuff will start arriving at my doorstep, whereupon I can proceed to "get busy!" — just in time for the Windows 8 customer preview's release on February 29.
[Concluding note: notebook PCs for sale! With the two new Lenovo units coming, I'll have 7 notebooks at the house, which is about 3 more than I need. I've got a very nice and gently used Dell M11x-R3 with an i7-2617M CPU (quad core), 4 GB RAM, 500 GB HD, and WiMAX that I'll sell for $750 OBO that's still under warranty. I've also got an HP dv6t with an i7 720QM (quad core), 4 GB RAM, 500 GB HD, fingerprint reader, and so forth, that I'll part with for $600 OBO that's just out of warranty but in absolute tip-top shape. Drop me an email at ed@edtittel.com if you're interested. Thanks! In case you're wondering about the third laptop, I'm planning to give that Dell D620 unit away.]
---
February 15, 2012 3:24 PM
You've gotta love Paul Thurrott and his Supersite for Windows. In a recent blog (Valentine's Day 2012, same title as the quote in my blog lead for today) he articulates clearly some very interesting thoughts about Windows on ARM, aka WOA, not just in terms of what it could mean, but also in terms of where it comes from. And he does so with great humor and even a bit of old-fashioned story-telling.
To really get the point of WOA (and his blog) it helps to remember that part of Windows that goes all the way back to the original NT release in 1992 (called Windows NT 3.1 to synch up with the "other Windows" that prevailed at the time). It's called the HAL, which stands for Hardware Abstraction Layer, and is best understood as a sort of CPU über-driver (or as a CPU-family-specific "operating system driver," if you will). In fact, HAL lives on quite happily in the latest Windows versions, including Windows 7 and Windows Server 2008 R2 (and even in Windows 8).
In his post, Thurrott reminds us that when the HAL was introduced in its earliest days, Intel and AMD did not completely rule the PC landscape with their x86 (Intel) and x64 (AMD) architectures. So, Windows NT was built to run on other CPUs as well, including PowerPC, the DEC Alpha, and MIPS processors (anybody remember those?) through custom-building HALs for each one. Later on, the same technique was also put to work for Intel's Itanium processor as well.
Well guess what? The same technology — and the same hard work to build a new HAL — makes it doable to bring the ARM processor into the Windows fold. But Microsoft has gotten smart about the needs of mobile processors for small, power-efficient code and has further decided NOT to bring x86/x64 support into its Windows on ARM (WOA) implementation. Yeah, sure, this will cause heartburn for those who think they want to run standard Windows apps on ARM-based devices, but this is one can of worms that Microsoft has decided not to open in WOA container. Metro-style apps only for WOA, so as to be sure to sip power, work well with touch GUIs, and leave lots of legacy problems and heartaches behind (especially where security is concerned).
Thurrott makes the point that "what's old is new again" (a proverb, not a quote from his story) thanks to this built-in facility that dates back to the first NT release. I agree wholeheartedly, and wonder what kinds of interesting capabilities lie ahead thanks to this WOA design.
---
February 13, 2012 3:22 PM
Looks like we've got some interesting security updates coming tomorrow in Windows Update. The Security Bulletin Advance Notification for February 2012 lists 9 different bulletins for the upcoming release. Four of them are critical, and three of them involve various Windows versions from XP through Windows Server 2008 R2 and Windows 7 (one more involves the .NET Framework and Silverlight), and all of these involve remote code execution.
Each of the five remaining bulletin items is rated "Important" and involves either "remote code execution" (3) or "elevation of privilege" (2). In addition to current Windows versions (3), Microsoft Office (2)and Server applications (1) are affected. Every single update is labeled either  "Requires restart" (4) or "May require restart" (5) so some deployment analysis and planning will be required to slipstream these updates into your normal handling processes.
The other shoe will drop tomorrow, when we find out exactly what kinds of threats are being addressed or mitigated, and what kinds of urgency enterprises are likely to feel in the face of the latest crop of update releases. It used to be that 9 for patch Tuesday was a big deal, but it's becoming increasing commonplace to have half-a-dozen or more patched delivered "on-cycle" (2nd and 4thTuesday of each month) with the occasional truly urgent package delivered whenever it can be rushed out the door.
---
February 10, 2012 8:21 PM
I knew something interesting was up when I saw a blog post from Adrian Kingsley-Hughes this morning entitled "Microsoft gets it right with Windows 8 on ARM, and why Apple should be worried." I must also hasten to add that I've just been hired on as one of two authors for the upcoming Que book Windows 8 in Depth (due out at the same time as the new OS itself, probably sometime around the end of October 2012), so I've been getting increasingly interested in the whole "mobile side" of Windows 8 anyway.
Between yesterday's Building Windows 8 blog post "Building Windows for the ARM processor architecture," and Kingsley-Hughes' ZDNet blog post this morning, my life and this particular job have just gotten a lot more tricksome. Although I'm still very much in "Huh?" mode — which is to say, still trying to figure out what's been said, what's going on, and how to understand these things properly — it is already obvious to me that Windows on Arm (aka WOA, which I choose to pronounce like the command you'd give to a horse: "Whoa!") is going to mean major changes for Windows 8 but also major changes for the mobile device landscape in general, particularly iOS and Android.
Part of the appeal for this new Windows OS model is that you can use and work on at least some of the same data and applications on a mobile device, including a smartphone or low-end tablet device (like the iPad, with all due respect for its considerable good looks and capabilities) as well as any more conventional convertible tablets, notebooks, or desktop computers that might be running that same OS. Although Sinofsky himself writes that "WOA is new member of the Windows family, much like Windows Server, Windows Embedded, or Windows Phone" and that "…WOA builds on the foundation of Windows, has a very high degree of commonality and very significant shared code with Windows 8, and will be developed for, sold, and supported as part of the largest computing ecosystem in the world" I'm still not completely sure about what all of this really means.
That's where Kingsley-Hughes' blog post sheds some interesting light on the whole situation, after he got a sneak preview of WOA running on an ARM-based device in somebody's test lab somewhere far, far away. He does a nice job of summarizing the high points of the BW8 blog post referenced a couple of paragraphs back. Interestingly the conventional Win8 and the WOA8 (if I can coin some version-based references here) have quite a bit in common, including UI look and feel (for Metro and even those parts of desktop that ARM will support), timing, MS Office support (at least, for Word, Excel, PowerPoint, and OneNote). The differences are also pretty telling, but are all strongly motivated by the limitations of ARM-based platforms, which are usually smaller, less memory-rich, and with fewer CPU cycles to burn: no virtualization or emulation, no support for native x86/x64 applications, and no software-only distribution (you must buy a device with WOA pre-installed is what I believe this means). Other key points: WOA PCs will use different labeling and branding to "avoid customer confusion" and WOA devices should feel more like consumer electronics rather than full-blown, traditional PCs.
So far, so good. When Kingsley-Hughes got to see a WOA device somebody else was driving, and he wasn't allowed to take any photos or capture any screenshots, so obviously this stuff remains pretty loosey-goosey. But if this information is all correct, it's not unreasonable to expect a WOA preview to get unleashed along with the consumer preview release scheduled for Leap-Day (February 29th) this year. He also saw MS Office 15 apps running on this WOA device, and reports that "…the ARM versions of Office appear to offer all the features of their desktop counterparts…" and that "they're highly customized for touch."
The notion that Windows remains solidly Windows, even on an ARM platform, is what drives Kingsley-Hughes to forecast potential worries for Apple (and if he's right, I think they extend to Google and Android as well). Where Apple has maintained a deliberate separation between MacOS on stationary PCs and notebooks, and iOS on iPhones, iPads, and iPod Touch devices, it looks like Microsoft is going to do its best to deliver a completely consistent (if not application- and legacy-functionality complete) version of Windows across all platforms on which it runs. Quite rightly, I think he sees this as a potentially revolutionary move, one that has the potential to shake up the current order of things, and revamp the computing spectrum from mobile devices all the way to server clusters. Should be interesting to watch this unfold!
---