---
May 3, 2017 12:30 PM
system recovery
,
Windows 10
In resuscitating my Insider Preview desktop, I've been fixing dual boot and Windows Recovery (WinRE). (Links to previous posts: Balky Mobo, Clean Install.) Apparently, something about dual boot interferes with WinRE's normal operation. It usually lurks in the background, ready to take over if Windows boot or startup issues appear. Dual booting, however, appears not just to disable WinRE. Alas, it also breaks its normal re-enablement process. In researching this, I've discovered a couple of peachy resources, and found a nice fix. The resources help with troubleshooting Windows Recovery Environment issues, so I share them here.
Here's what you see on a typical Windows 10 PC, after you set up dual boot then run the REAgentC command. For those unfamiliar with that command, it's used to configure a WinRE image and "push-button reset recovery." Happily, that quote comes from one of my two nonpareil resources on WinRE.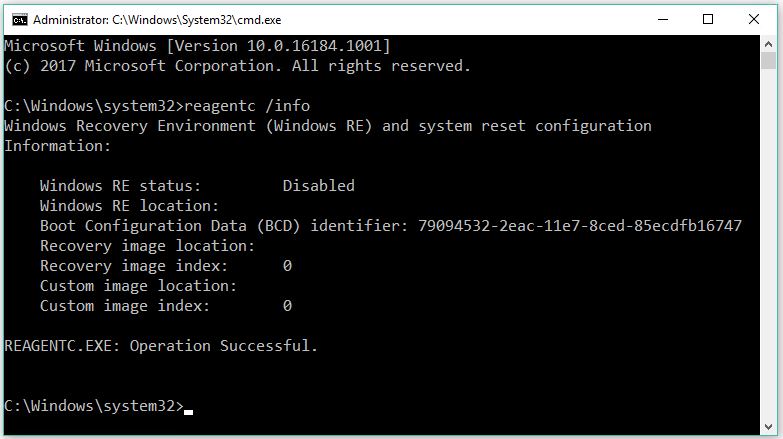 After setting up dual-boot on Win10 on my PC, both installations show status as "Disabled." Time for some troubleshooting!
Tools for Troubleshooting Windows Recovery Environment
First comes the "official resource" — the MSDN Hardware Dev Center's 5/4/2016 documentation. It's a multi-part opus. Thus, I provide links to each part, along with a brief explanation. Helpfully, the first item defines what WinRE is and does:
Windows Recovery Environment (WinRE) is a recovery environment that can repair common causes of unbootable operating systems. WinRE is based on Windows Preinstallation Environment (Windows PE), and can be customized with additional drivers, languages, Windows PE Optional Components, and other troubleshooting and diagnostic tools. By default, WinRE is preloaded into the Windows 10 for desktop editions (Home, Pro, Enterprise, and Education) and Windows Server 2016 installations.
WinRE produces a familiar "alternate boot" screen during Windows boot-up. It can come when called, or when the primary active install of  Windows 10 can't or won't boot: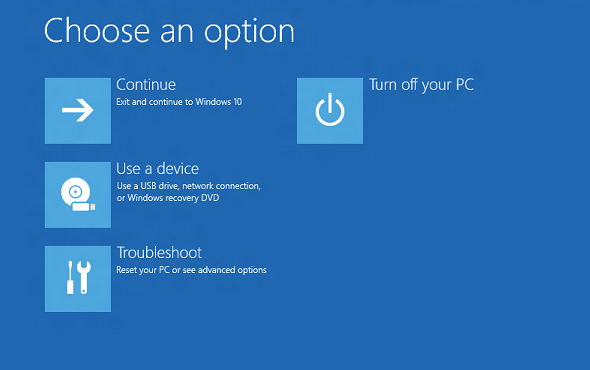 When WinRE kicks in, this is what you see on your PC's display.
Tool 1: MSDN/Hardware Dev Center WinRE Reference
Here are WinRE items from Microsoft. Key sections are flagged with an asterisk (*):
Windows Recovery Environment (Windows RE)*: general WinRE overview.
Customize Windows RE: manipulate a WinRE image (using DISM). Include languages, packages, drivers, and custom  diagnostic or troubleshooting tools.
Add custom tool to the Windows RE boot options menu: mount and configure a WinRE image.
Add hardware recovery button to start Windows RE: simplified process introduced with Windows 10.
Deploy Windows RE: deploy WinRE to a new computer including BIOS and UEFI options.
Push-button reset: for OEMs wanting push-button reset features for computer systems.
REAgentC command-line options*: command-line tool for WinRE setup and management.
ResetConfig XML reference: XML elements in the ResetConfig.xml file for push-button reset.
Windows RE troubleshooting features: Recovering from startup failures and WinRE troubleshooting utilities. Automatic Repair, System image recovery, Command Prompt, and more.
In working with reagentc.exe, I found the overview and the command line options elements useful and germane. Those who wish to customize WinRE will find the other sections helpful, too.
Tool 2: TeraByte KB Article 587
This gem is entitled "Repairing the Windows Recovery Environment (WinRE)." It's both long and incredibly detailed. Believe me, that's what you want when exploring various ways to get WinRE working on a Windows PC.
For me, the fix that worked appears in a section entitled "Reset the ReAgent.xml File." It shows how to edit that configuration file. ReAgent.xml drives a running Windows image's set-up for and understanding of WinRE. By changing XML elements as this section recommends, I was able to run reagentc /enable successfully. This meant that the tool rebuilt my Windows Recovery environment and made changes needed to get it working again.
But the article covers a range of ways to repair WinRE. First, it explains various ways that WinRE might fail. These include:
WinRE disabled
BCD file not correctly configured to boot WinRE
missing or misplaced WinRE.wim file
wonky WinRE configuration file (ReAgent.xml)
Repairs discussed include
disabling and re-enabling WinRE
correcting invalid BCD file references to WinRE
moving WinRE to the right path/location
resetting the ReAgent.xml file
finding and restoring the Winre.wim file
Each repair provides sufficient detail to work your way through it. Even better, each section is illustrated with examples. Bottom line: I was able to diagnose and fix my issues using this Guide. 'Nuff said!
May 1, 2017 3:51 PM
Clean install
,
Windows 10
As I explained in a recent blog post, I'm busy rebuilding my Win10 desktop test PC. (Details: "Balky Mobo Caused Insider Boot Woes," 4/28/17.) For the past few hours, I've been clean installing the Insider Preview version of Windows 10 Enterprise. Working through that process, I observe that the Insider Preview clean install confers insights worth sharing. I'd been updating the previous installation for over two years, so that's saying a lot.
What impelled the clean install? I had to switch motherboards because the previous occupant of the test system went south. That is, after power on, I could only get it to give me an error code for "SATA problem" (A2) or "USB problem" (99). It's hard to use a system when you can't even get into the BIOS/UEFI! Thus, I had to rip out a failing MSI z87-G45 motherboard.
After shopping around, I replaced the old unit with an Asrock z97 Fatal1ty Killer. That meant I had to switch from a Samsung 840 EVO mSATA SSD, to a Samsung 951 m.2 NVMe SSD in the new board. Alas, the Insider Preview OS on that dual boot machine was affected. So that's why I performed a clean install this time around. A "back to bare metal" situation argues pretty convincingly for such a move anyway.

This are the drivers the Windows installer found on its own in setting up the test system.
[Click image to see full-size view]
If Insider Preview Clean Install Confers Insights, What Are They?
I got my good friend and occasional collaborator, Kari the Finn, to build me an ISO for the latest Insider Preview build (16184).  (Kari's the author of the recent "Windows 10 Custom ISO" 6-part-series of blog posts here, and a true master of the Windows image arts. Here are links to Parts 1 – 2 – 3 – 4 – 5 – 6.) This morning, I used the latest version of Rufus (2.14) to build a bootable USB flash drive from that ISO, being careful to select the UEFI only option that perforce uses FAT32 formatting for the install media.
Overall, the install process proceeded without a single hitch. I did notice some changes in its overall speed. In fact, the first phase is much, much faster. The last time I clean-installed Windows 10 on that machine back in late 2014, it took 20-25 minutes to work through that process. This time, I was done in less than 15 minutes. The Enterprise installer is much more aware of its capabilities now, too. When asking for a Microsoft account for account set-up, it wouldn't let me use my Yahoo! email address, and it was smart enough to know that neither edtittel.com nor spamarrest.com would permit me to draw on a domain server or DNS connection. In fact, I had to set up a local account to get through initial install (my preference anyway). After the initial install was done, I linked to my primary MS account through the Accounts page in Settings without difficulty.
How Clean Install Has Changed Since Then…
This time around, Windows 10 did a bang-up job with device drivers, too. Earlier, the Windows Installer couldn't recognize the Killer 2200 Ethernet adapter on the MSI motherboard (also present on the Asrock, BTW). I needed a USB GbE dongle (a $21 Startech model still available from Newegg) to bring my network connection back to life. In fact, all of the drivers I needed showed up after the latest clean install on that machine. I only had to update these exceptions:
Logitech SetPoint for my m325 mouse.
Dell E228WFP monitor (almost time to replace this guy, too)
Intel devices 0C01 (PCI express controller), 0C00 (DRAM controller), and 8CA2 (SMB host controller)
Intel Management Engine Interface (MEI)
Nvidia display driver
None of this stuff was terribly hard to run down, and I've seldom seen any install get the Intel stuff completely right anyway. A quick check into Reliability Monitor shows me the system tried to grab current drivers for all system items (shown in the preceding screen grab). For some items my tool of choice (Windows Update MiniTool, or WUMT) was better informed or up-to-date than MS. But everything was working, with no unknown devices in Device Manager.
And then, there's the usual tweaking and clean-up that follows any clean install. I had to change the network status from Public to Private, and join a Homegroup, before Remote Access worked. Usual tweaks in File Explorer options must come via the Microsoft account, because they were already set. Ninite helps with the tedium of adding back in most of my common apps, but not with more specialized tools. I still have a few hours left to go before things will be just the way I like them, and my toolbox fully restocked. Wish me luck!
---
April 28, 2017 11:53 AM
I just got finished rebuilding my test desktop Windows Insider PC. This system was set up for dual boot, actually. It could boot either Current Branch (1703/Build 15063) or Insider Preview (Enterprise Build 16179). I'd been having terrible boot issues lately trying to manage both boots. That's because the Windows Installer happily trashes dual-boot setups when it performs a feature upgrade. That makes rebuilding the boot files and boot configuration data a necessary follow-up. Given the frequency of feature upgrades in the Insider Program, that drove me bonkers. When I replaced some hardware, I determined that my (former) balky mobo caused Insider boot woes galore. A motherboard swap set things right. Let  me explain…
How Do I Know a Balky Mobo Caused Insider Boot Woes?
I'd been having problems getting the system to boot into the BIOS for some time. Even the maker's "Boot to UEFI" function was hit or miss. I ran that MSI Z87-G45 board for just over three years, but recently it started getting wonky. Eventually, I found myself in a situation where if I tried to boot with any SATA drives attached, the board would hang with a SATA device error code (A2). But with no SATA devices attached, it would hang with a USB error code instead (99). Ouch!
Alas, you can't boot a system that can't get past the error codes. That's when I decided to purchase a new motherboard, so I could reclaim most of the components at a modest cost. Because I chose an Asrock Fatal1ty Z97 Killer, I also decided to spring for an M.2 NVMe SSD (a Samsung 951) to replace the mSATA Samsung 840 EVO I'd been using in the previous build. I confirmed my initial diagnosis when the new build fired right up, upon inserting the CPU, RAM, and the 1703 boot drive into the new motherboard. I didn't even have to reinstall Windows 10, though I did have to go through some contortions to get the new install activated. For the first time, the activation troubleshooter didn't automatically activate my install when I clicked the "hardware changes" button. I'm guessing it was because I was using an MSDN key that had been auto-upgraded from Windows 8. But I still have MSDN keys for Windows 10 Pro available, so burned another one of those…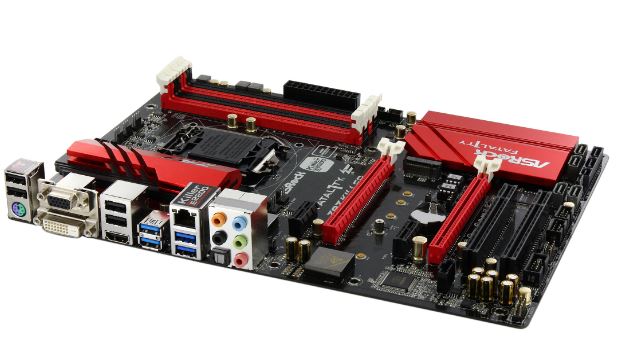 With a combination of nice features and a good price ($140), I pick the Asrock Z97 Fatal1ty Killer.
Not Quite Home Just Yet, Though
I switched from an mSATA to an NVMe SSD for the other part of the dual boot: Windows 10 Enterprise Insider Preview. That meant I wanted to perform a clean install to a brand-new drive. Wouldn't you know it? Microsoft has turned off Insider Preview ISO downloads at the moment, and I can't find them anywhere for that reason. Even the usually infallible HeiDoc.Net Windows and Office ISO Downloader comes up blank for Insider Preview items right now. No sooner than is one problem solved, than another jumps up to take its place. To be continued…
---
April 27, 2017 9:01 AM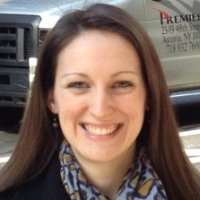 Profile: Alyssa Provazza
Citrix
,
H-1B visas
,
Microsoft
As President Donald Trump's administration considers changes to tax, healthcare and immigration laws, large technology companies are primed to feel some of the biggest effects.
The CEO of one such organization, Citrix, discussed the potential fallout in an interview with SearchEnterpriseDesktop.
"There's a lot of anticipation," Kirill Tatarinov said.
That's especially true regarding the rules around H-1B visas, which allow U.S. companies to temporarily employ foreign workers in specialty careers such as technology. These visas are distributed to candidates based on a random computer-generated lottery system. Last month, the U.S. Citizenship and Immigration Services suspended the fast-tracking process for H-1B approval, which lets applicants pay a fee to get a faster response to their applications.
"Expectations are very high for — I would characterize it as 'modernization' of — H-1B visas," Tatarinov said. "We employ highly educated, highly paid workers that were brought up in countries other than the United States. Citrix, just like frankly most other native high-tech U.S.-based companies, would benefit from something other than a lottery."
In terms of healthcare, Citrix employs about 4,000 people in the U.S. who would feel the waves of any changes there.
"It's not insignificant," Tatarinov said. "Expectations are still high, despite what transpired, in healthcare reform that impacts everybody."
Republicans in March shelved a first attempt at a new healthcare bill that would repeal and replace the Affordable Care Act, but the White House said just last week that it would continue those efforts.
Tatarinov also discussed Citrix's turnaround over the past year and its partnership with Microsoft. Check out more of the interview on SearchVirtualDesktop.
---
April 26, 2017 10:25 AM
DISM
,
Windows 10
,
Workarounds
If you're running the Current Branch release for Windows 10 — namely, Build 15063 — you may have a DISM problem. Some tangible percentage of such installs will puke if you run DISM /checkhealth on the runtime image. But with a Build 15063 DISM fix available, you can repair this anomaly yourself. Here's what the symptoms look like: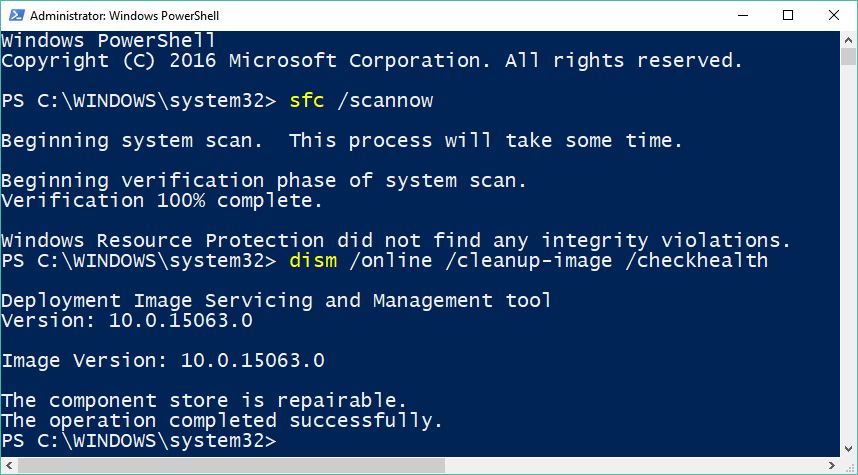 SFC finds nothing amiss, but DISM erroneously thinks something's off in the Component Store.</>
The key elements for these peculiar circumstances are:
SFC /scannow completes without a hitch
DISM /online /cleanup-image /checkhealth reports repairable component store issues
DISM … /restorehealth cannot fix those issues, no matter what /source you use (I've tried them all)
The DISM log file reports a variety of (mostly driver-related) files MIA as the cause of the errors
With a Build 15063 DISM Fix Available, What's the Deal?
Warning! Some registry editing will be required, so prudence dictates you back up your registry before proceeding. But that editing simply involves deleting these two specific keys. First, reset permissions on each key to give Administrators full access before entering the delete command, or that command will fail.:

Key 1:
[HKEY_LOCAL_MACHINE\SOFTWARE\Microsoft\Windows\CurrentVersion\Component Based Servicing\PackageIndex\Microsoft-Windows-TestRoot-and-FlightSigning-Package~31bf3856ad364e35~amd64~~0.0.0.0]

Key 2:
[HKEY_LOCAL_MACHINE\SOFTWARE\Microsoft\Windows\CurrentVersion\Component Based Servicing\Packages\Microsoft-Windows-TestRoot-and-FlightSigning-Package~31bf3856ad364e35~amd64~~10.0.15063.0]
With those edits performed, the DISM problem will vanish. And while cleaning this up might seem like a bit of over-the-top OCD because it restores DISM to proper operation, it actually has real value. That's because should the running Windows image actually need some kind of real repair, DISM will then be able to perform such tasks.
[Note: I'd like to give a shout-out to the relentless expert Win10 tweakers at TenForums.com, particularly user gommace from posts #39 and 40 in this thread: Creators update component store shows corruption but unable to repair. Be sure to read the whole thread to get a sense of potential gotchas that applying this fix could invite. Most of the more senior members of the forum are electing to wait for MS to fix this issue, as I am myself (except for the test system where I tried out this fix).]
---
April 24, 2017 10:38 AM
Dual monitors
,
Hardware Upgrade
,
Windows 10
Just recently, I decided it was time to upgrade my dual desktop monitors. I've been running a pair of Dell 27″ monitors for over 8 years now. They're identical 2707 WFP UltraSharp monitors, and turn ten years old this year. When I purchased the first member of that pair in 2007/2008, I paid over $700 to put it on my desk. When I purchased the second member of that pair, it set me back just almost $570 including shipping. In switching over to a pair of Dell Ultrasharp 2717 monitors this weekend, I paid just under $960 for both of them (less than $480 apiece) all told. My monitor upgrade saves on money and energy, and buys a lot more for less money. Let me explain…
2707 left, 2717 right
Why My Monitor Upgrade Saves on Money and Energy
It just goes to show that the relentless forward march of technology keeps delivering more bang for our bucks. The original monitors measured 25″ x 16.5″ with a nearly 1″ bezel all the way around. The new ones measure 23.75″ x under 14″ with a 5/8″ bezel. I see the same amount of screen real estate while gaining back some space on my desk. Even better, energy consumption is waaaay down. The 2707s consumed 125W at peak graphics load, while the 2717s only suck up 28W likewise. That's a 77.6% reduction! Over time, that will make a huge difference. That's because I routinely run my monitors 14 or more hours a day during the week, and at least 10 hours a day on weekends.
According to RapidTables Energy Consumption Calculator, the old monitors consumed around 60 kWh per month. But the new ones will come in under 14 kWh. At 10.2 cents per kWh from my provider, monthly cost drops from $6.12 to $1.37, for a savings of $4.75. Let's assume I keep these monitors for 10 years like I did their predecessors. If so, I'll have recovered over half their purchase price ($570) by the time the next generation takes over. Not enough to justify the outlay by itself, but not a bad dividend for an overdue upgrade.
But Wait … There's More
The old monitors offered up 1980×1200 resolution, while the new ones deliver 2560×1440. The new monitors also offer a 5 ms response time, while the old ones clocked in at just slightly less (6 ms). The old ones included a built-in USB 2.0 hub and an SD card reader. The new ones drop the card reader, but offer 4 ports of USB 3.0 access instead. I also like the switch from VGA/DVI-D video ports to a single HDMI port, one mini-DisplayPort (DP), and three full-sized DP ports (2 in, 1 out, for daisy-chaining).
Hooking up the new monitors was also considerably easier, though Windows didn't recognize the screens until I reinstalled the latest Nvidia driver (version 381.65). But that's because I also installed an MSI Armor GeForce GTX 1070 to drive them. And although I already had 381.65 installed on that machine to drive the GTX 750 Ti already in place, Windows wasn't happy until it was uninstalled and reinstalled on my production PC. Only then did it recognize the second monitor, and allow me to extend my desktop to encompass both together.
All in all, my monitor upgrade saves on money and energy, but also delivers higher resolution plus more and better connectivity options. A good deal, all the way around.
---
April 21, 2017 3:41 PM

Profile: Colin Steele
Apple iOS
,
Application delivery
,
google android
,
Windows 10
,
Windows desktop
I love ice cream.
There's a small stand down the street from my house that I frequent during the summer. I spend my time in line staring at the dozens of flavors, pondering my options. Mint chocolate chip? Ooh, that sounds good. I could go for cookie dough, too. Or maybe coffee …
But when the time comes to order, I always get the same thing: chocolate peanut butter. It just works for me.
IT administrators do not have the same luxury when it comes to delivering applications to end users. Their options are nearly as plentiful as the flavors at an ice cream stand, but in this era of the mobile, distributed workforce, there's no single choice that's right for every situation.
Windows desktops and applications are still the foundation of how workers do their jobs. And with Windows 10, which runs on tablets as well as desktops, Microsoft made significant progress toward bringing the native Windows experience to mobile users. But what about all those workers using their Apple iOS and Google Android devices for work?
Even though most major enterprise vendors make mobile or web versions of their software available, custom legacy applications are often stuck on Windows. Small and medium-sized businesses typically don't have the resources to build their own mobile apps. And the use of desktop and application virtualization to deliver Windows apps to smartphones, with their small and touch-enabled screens, can create a frustrating user experience. Application refactoring is an option for making virtualized Windows apps touchscreen-friendly, but it's a niche technology in an unproven market.
Add in desktops and applications as a service, cloud apps and file-sharing platforms, and there's quite the menu of application delivery flavors to choose from. Picking a favorite and ordering it every time won't work these days. IT must mix and match to meet the needs of both the business and its users.
This post originally appeared in the April 2017 issue of Access Magazine.
---
April 21, 2017 12:09 PM
After installing the latest Windows 10 upgrade to Version 1703, my two ThinkPad notebooks remain surprisingly robust and capable. I purchased them in February 2012 to work on a book for Windows 8. Both models have many things in common. These include: a Sandy Bridge dual core i7 CPU (2640M), 16 GB RAM, and Plextor 256 GB mSATA SSDs. What makes them different? One — the X220 Tablet — is smaller, and has a 12.8″ touchscreen. The other — the T520 notebook — is larger, and has a 17″ display, plus extra disk storage. It's no exaggeration to say "ThinkPads going strong 5 years later" when it comes to this dynamic duo.
Here's what the old Windows Experience Index (WEI) says about the T520 this morning: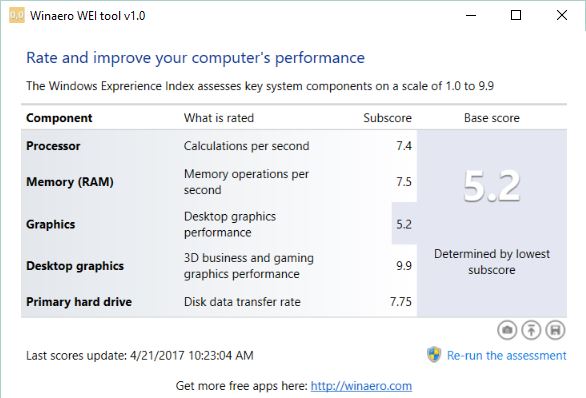 This rude'n'crude metric for Windows performance was popular when I bought these units, but is now passe.
Why Say "ThinkPads Going Strong 5 Years Later?"
It's only when I think about what these machines have been through that I really start to appreciate them. When purchased, they included 7200 RPM 500GB spinning hard disks. They also ran Windows 7 and included 4 GB of RAM. Over the past 5 years they've been upgraded from Windows 7 to 8 to 8.1 to 10 and are current with 1703. I've upgraded them from 2x2GB PC3-10600 SO-DIMMs to 2x8GB PC3-10600 SO-DIMMs (and even had to replace one of the 8GB modules last year when the Lenovo Diagnostics warned me that the X220 Tablet had problems). I also replaced the spinning drives with 2.5″ SATA SSDs at first (older Corsair 120GB models), then later populated the internal mSATA slots with the Plextor 256 GB SSDs that now serve as their boot/system drives.
In fact, these two ThinkPads are old enough to lack built-in USB 3.0 ports but have PCI Express card slots. That's why I bought a StarTech 2 Port ExpressCard adapter in 2014, to make faster USB connections possible. For ISO installs and external drive backups, they offer 3 times the speed of a USB 2.0 connection.
Right now, both units use modest-capacity SATA SSDs for data drives (OCZ Vertex4s, nominal capacity: 128 GB). I've replaced the DVD drive in the T520 with a second SATA drive bay, and it hosts a Samsung Spinpoint 1TB drive for backups and extended storage. I make do with a Spinpoint 2 TB 2.5″ drive in an Intatek USB 3.0 enclosure for portable storage/back-up for the X220 Tablet. Recently, I've repurposed a Samsung EVO 840 500 GB mSATA SSD in a compact, $15 Sabrent USB 3.0 enclosure that makes a peachy alternative to the Inatek unit. Because it's smaller and lighter, I like taking it on the road.
The best thing about the two units is the soft-touch semi-rubberized coating that Lenovo used on the top deck of each notebook shell. While it does show smudges and fingerprints, it's remarkably tough and easy to wipe clean. I've taken both of these notebooks on the road, domestic and international, and they've held up well throughout. I also like the ThinkPad keyboards,  particularly the larger layout on the T520. I've had them long enough to know I'll need to replace them in the next year or two. But gosh, they've held up well and still keep doing everything I ask of them. I just wish all of my laptops, notebooks and tablets were this sturdy and capable. I still prefer them to my 2014 vintage Surface Pro 3 and Dell Venue Pro 11 7130. Good stuff!
---
April 19, 2017 1:50 PM
Now that the Creators Update is officially out and available, many people are looking for sources of download files for the new OS. When it comes to grabbing Win10 1703 ISO files, there are many ways to scratch that itch. I will name several in this blog post, but others will no doubt think of more. If so, please e-mail me or comment on this post, and I'll add them in! For the moment, however, this is as complete a list as I can come up with. That said, I omit working with the Update Assistant and the Media Creation Tool, because neither actually produces an ISO file per se.

This is the graphic from the MS page entitled "New with the Windows 10 Creators Update."
[Click to see full-size version.]
Ways of Grabbing Win10 1703 ISO Files Recited
One. Use HeiDoc.net Microsoft Windows and Office ISO Download Tool. I blogged about this in February, and showed how it can be used to obtain just about every known ISO for current Windows versions. It also works for 1703.
Two. Use the browser "trick" described in this TenForums note "How to Download Creators Update ISO via MS w/o Media Creation Tool" (4/13/2017). Basically, it consists of adding a browser extension that spoofs the MS website into seeing you visiting from a non-Windows OS. When that happens, you get access to an ISO download page where you can grab exactly what you need.
Three. Microsoft license/subscription sites where those who own volume licenses or subscriptions can grab OS ISOs and other access-controlled files. These include MSDN, the Volume Licensing Service Center (Enterprise editions), and the Download Academic Products page (for Education editions).
Four. Grab the Windows download files from Windows Update. Then, you can use the UUPtoISO tool from Kari the Finn at TenForums.com to convert those files into an honest-to-gosh ISO file. (Be sure to read and follow the instructions in this Tutorial "Create Bootable ISO from Windows 10 Build Upgrade Files…". You'll also find a download link to the tool there as well).
That's as complete a list as I've been able to compile. Do please let me know if you know of others I may have missed or overlooked somehow. Thanks!
---
April 17, 2017 2:12 PM
Boot manager
,
Windows 10
,
Windows Boot Disk
Reading an Ed Bott blog post this week reminded me that keyboard controls can come in mighty handy when restarting Windows 10. That goes double when the goal is to boot outside the normal OS restart umbrella. This could mean booting into UEFI or BIOS to change fundamental system settings. Or it might mean booting into a recovery partition, or from an alternate boot source. As it happens, there are several handy Win10 boot controls for Win10 that will let you do all that and more. Some work in combination with GUI buttons, however. Thus, you need some manual dexterity when using them. That's why I also describe other methods to achieve the same ends when they're available.
Show Me Some Handy Win10 Boot Controls!
I'm thinking of two primary tools in this particular case. One of them disables the fast startup setting that has been default for Windows behavior since the 8.0 era. The other involves accessing alternate boot mechanisms or techniques.
Bypassing Fast Startup, When It's Not Wanted
Here's a picture of how fast startup works, courtesy of TenForums.com:

With fast startup enabled, telling Windows to shut down actually involves writing to the hibernation file to speed the next boot along.
[Click image for full-sized view, please!]
Fast startup is good stuff, and can shave 20 or more seconds off normal boot times for PCs. But there are times when a real, honest-to-gosh cold boot involving all the steps at the top of the preceding figure are needed. These include: after installing device drivers, when testing boot or startup settings, or after major system or software changes of pretty much any kind. By default, fast startup is enabled in all modern Windows versions (8, 8.1 and 10). There are various ways to turn it off. But should you need to do so for your next boot only, a keyboard trick is all that's needed. Simply hold down the Shift key when you click shutdown. Then, fast startup mechanisms don't come into play when shutting down. Thus, the next boot will truly be a cold one and won't involve reading a hibernation file.
Other mechanisms to change this involve toggling checkboxes in the Power Options item in Control Panel (easily accessible by typing "Power Options" into the Win10 search box). Then, click on "Choose what the power buttons do" in the left hand controls. Next, click "Change settings that are currently unavailable" to produce this window: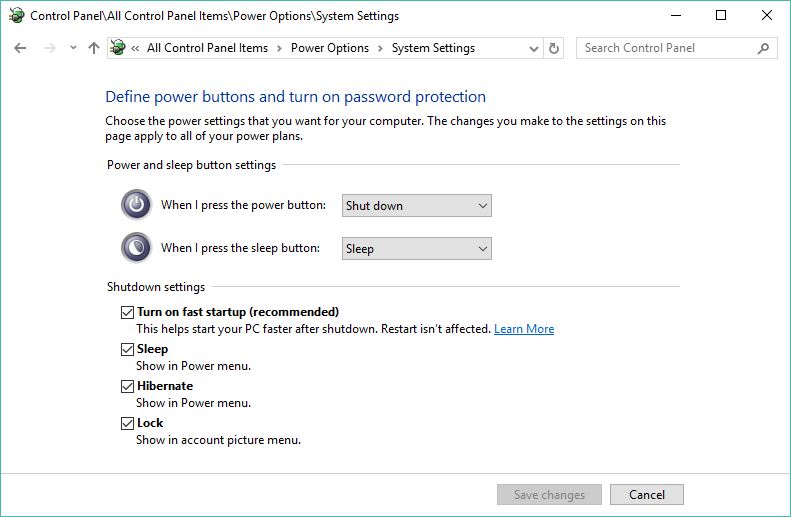 The key entry here is the one for fast startup (uncheck to disable, check to enable).
[Click image for full-sized view, please!]
I like using the Shift key method because it lets you skip fast startup just one time. Nor must you remember to go back and make changes once that next reboot comes and goes. As handy Win10 boot controls go, this one is great, simple, and fast.
Arranging for Alternate Boot
On more modern UEFI systems, messing with boot may sometimes require extra shenanigans. Most such systems support motherboard or system focused utilities designed to speed boot-up at the hardware level. Thus, for example, my Asrock based production PC uses the ASRock Fastboot utility. It lets users choose among three boot settings: Disable, Fast, and Ultra Fast. It, too, has a one-time toggle that reads "Enter UEFI setup on next boot." But unless you use a shortcut program like AutoHotkey, you can't really set up a keyboard equivalent to make this happen. That said, those who use such programs find this pretty darn handy indeed. By and large, these utilities work pretty well.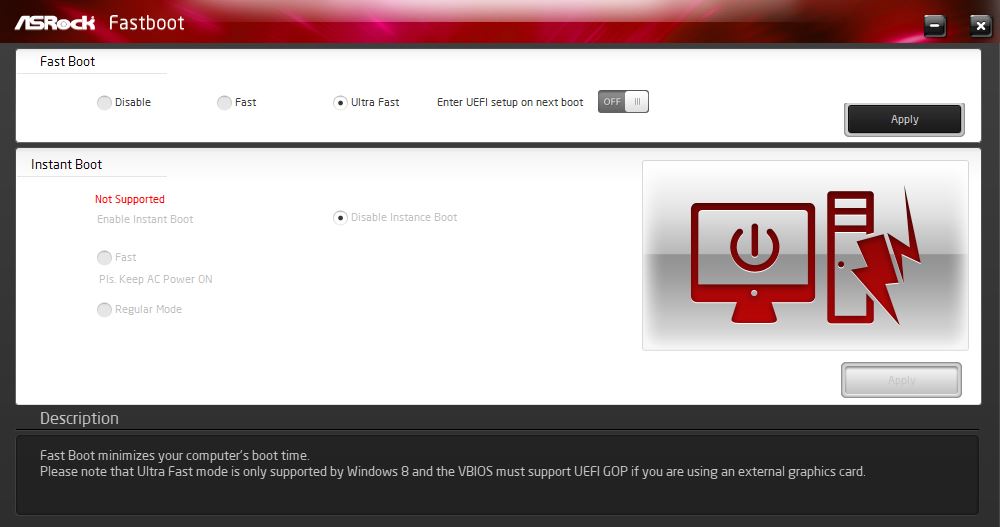 The motherboard- or system-specific utilities for UEFI/BIOS access vary by maker and appearance, but very little by function.
[Click image for full-sized view, please!]
My MSI system has a different utility, as do my various Microsoft and Dell tablets and laptops so YMMV is the rule of the day here. MS does offer its own alternative to access other boot options during startup. Click Settings, Update & Security, Recovery, then "Restart Now" under the Advanced startup heading. This provides immediate post-boot access to the boot options menu from the Windows 10 boot loader, including access to BIOS/UEFI, change Windows start settings, start up from a device or disk (alternate boot media), or restore Windows from a system image. Good stuff!
---