---
September 19, 2013 10:46 AM
Microsoft's monthly Patch Tuesday updates have started to resemble motor vehicle recalls as the company once again encounters problems after releasing a public patch update.
In the September Patch Tuesday cycle, Microsoft  recalled a non-security update dubbed KB2817630, which affected Microsoft Office 2013 and Office 2013 Pro. The update caused the Outlook 2013 folder pane to disappear.
The issue was caused by incompatibility between the outlook.exe and mso.dll files. The minimize button in the navigation pane will render very large and become invisible to the end user, thus causing it to disappear. Microsoft confirmed the issue in a blog post, where the company expressed "regret" for any inconvenience caused by this update, and explained how to address the problem.
For Microsoft and its pursuit of a rapid release cadence for updating software, the latest mishap with the Patch Tuesday updates might be cause for concern.
The company recently pulled several patches off its sites and offered band aid fixes. In August, Microsoft pulled the MS13-061 Exchange security update and reissued an update later in the month. In April, the company recalled security update MS13-036, which affected Windows 7 and Windows Server 2008 R2 end users, and re-released it later in the month.
The recent string of patch issues serve as a reminder to IT pros to implement them with care.
"The rule has always been to test out patches before deploying widely, and it appears that administrators have been letting that best practice lapse," said Eric Beehler, an IT professional who offers consulting and training services with Consortio Services LLC, of Colorado Springs, Colo. "Admins just need to reset their best practices and always have their rollback plans ready, just in case."
September 18, 2013 1:51 PM
Microsoft is finally giving its bread and butter enterprise customers the ability to download Windows 8.1 Enterprise RTM through its TechNet and MSDN subscriptions.
Volume licensing customers also will be able to download the new RTM if they have an active Software Assurance (SA) agreement.
Just last week, Microsoft had to reverse its stance on giving out Windows 8.1 RTM bits to IT pros and developers. Windows developers who caused an uproar were particularly upset at being left out of the initial Windows 8.1 RTM release to PC manufacturers.
A Microsoft spokesperson said after the Windows 8.1 RTM was made available to TechNet and MSDN subscribers there were code reviews and other processes that needed to occur before releasing additional products to the public.
If Microsoft wants to court enterprise customers and encourage them to test Windows 8.1 in their organizations, they need to make sure all the pieces are available to IT professionals and simply communicate their intention.
All they had to do was explain that they planned to do a phased approach for releasing the various versions of Windows 8.1 RTM. First Windows 8.1 RTM will go to the PC manufacturers, then to IT pros and developers and finally, Windows 8.1 Enterprise RTM for volume licensing customers who have an active SA agreement.
Had Microsoft communicated this approach, it would have suffered a lot less backlash from the industry. Hopefully Microsoft learned some lessons from this experience.
On a separate note, if you don't have an MSDN or TechNet subscription and need to wait until October 18 to get a commercial copy of Windows 8.1, Microsoft released the list pricing for those who don't qualify for a free upgrade.
Windows 8.1 will cost you $119.99 and Windows 8.1 Pro will cost $199.99. And here's some other pricing. For those who are thinking of buying a new Windows 8.1 device too, you can upgrade your Windows 8.1 operating system the Pro Pack version that includes Media Center for $99.99. If you are planning to buy Windows Pro 8.1, you can add-on the Media Center for $9.99.
---
September 18, 2013 10:40 AM
Thanks to a report from Mary Jo Foley at ZDNet that posted yesterday, I can now tell you how much Windows 8.1 will cost those who wish to upgrade from a version of Windows earlier than 8.0 to Windows 8.1. For Windows 8.0 users that upgrade will be free, but others must pay for the privilege of moving up to Windows 8.1. Those running Windows XP, Vista, or Windows 7 will pay $119.99 to upgrade to plain-vanilla Windows 8.1, or $199.99 to upgrade to Windows 8.1 Pro. Those prices are the Microsoft list prices (MSRP, as it were, and of course thus also what the Microsoft Store will be charging) and apply both to digital downloads and to retail-packaged boxed versions with DVDs sold at big box stores around the world. As MJF observes in her story, "these are the same prices Microsoft charged users of older versions of Windows for the Windows 8 and Windows 8 Pro upgrades."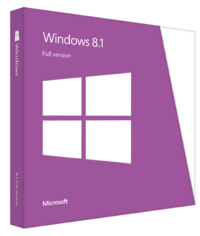 A snapshot of the new retail package (box) for Windows 8.1, courtesy of MJF and MS.
This time around, however, there will be some differences vis-a-vis the last set of downloads and boxed products that MS offered for Windows 8.0 versus 8.1:
The boxed version incorporates a "full-version" installer. In plain English, that means even though it's called an upgrade, you can still use it to perform a bare-metal install on a brand-new machine with no prior OS to upgrade from. I had been puzzled why MS hadn't mentioned anything about a separate full-version SKU (which usually costs more than an upgrade-only SKU) but now we all know that the upgrade is also a full-version so there's no need to buy (or pay extra for) a different version for that purpose. This is great news for those who build their own systems, or who want to blow away their boot/system drives completely to perform what you might jokingly call a "squeaky-clean install!"
Those who move from Windows 7 to 8.1 may indeed be able to perform an "upgrade install" but they won't be able to bring their desktop apps along for that ride. For the first time ever, MS will require a fresh re-install of desktop apps following an upgrade install  from 7 to 8.1 (bummer!).
MS recommends that those with PCs running XP or Vista skip the upgrade install completely, and perform a clean install instead. MJF provides this explanation "older hardware plus Winodws 8.1 won't make for an optimal experience" and says that "Microsoft is advising them to buy the retail DVD, rather than download the bits and boot from the DVD to do a clean install…"
Users who purchase new hardware running Windows 8.1 will be able to buy a Windows 8.1 Pro Pack from MS for $99.99, to add support for Pro features along with Windows Media Center. Users already running Windows 8.1 Pro can buy Windows Media Center for $9.99.
There are no current plans to offer limited-time savings on Windows 8.1 upgrades. For some time after Windows 8.0 went into General Availability (the GA release on October 26, 2012), anybody who owned a copy of XP, Vista, or Windows 7 was able to purchase an upgrade to Windows 8 for a paltry $40. It doesn't look like they're going to repeat that offer, alas.
---
September 16, 2013 10:41 AM
Having successfully upgraded a test machine to Windows 8.1 on Friday, I decided to do likewise to my son's brand-new state-of-the-art Dell XPS 27 All-in-One which showed up at the house about three weeks ago. It is the only system at my disposal new enough to have come with Windows 8 already installed, and I wanted to see how the whole upgrade experience would go on that machine. Much to my later surprise, upon reflection as to why my attempts failed, initial screening of suitability (the compatibility check phase of the pre-install maneuvers now built into the Windows Installer) failed to determine that the Atheros/Qualcomm Killer-N 1202 wireless network interface built into that machine doesn't work with Windows 8.1. I also experienced some interesting display and storage issues in trying to make the upgrade (and then a clean install) work, which resulted in two pretty major hurdles to the 8.1 install process: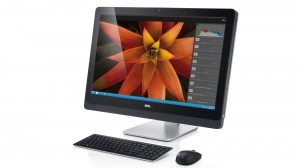 The XPS 27 Haswell model is fast and surprisingly capable, but the Atheros Killer-N 1202 wireless adapter,
Intel HD 4600 display, and RST-based storage environment all impacted
(and ultimately foiled) my attempts at a Win8.1 upgrade — for now, anyway.
1. On the display side, something with the Intel HD 4600 graphics chip went wonky, which resulted in constant (and highly irritating) on-off behavior for the built-in 27″ display. I solved the irritation part by covering the display with a towel, and found that attaching an external monitor via the unit's HDMI-Out port (a Dell 23″ monitor, as it turns out) worked just fine.
2. On the storage side, I had to load an AHCI driver from the Dell Driver disk that shipped with the unit, to permit the Windows 8 installer to see the primary hard disk (which depends on Intel RST to gang up the built-in 32 GB mSATA SSD and a conventional 2 TB HD to provide access to the built-in storage subsystem on the XPS 27 AIO)
After part-installing Windows 8.1 on the machine, I had a PC that would boot but with no network access capability, and seriously wonky display behavior, it turned out to be simply unnacceptable for everyday use. After spending three hours trying various repair methods (including routing a 100 ft Cat 5 cable from my downstairs network switch to the GbE interface on the back of the unit) I had to give up on installing Windows 8.1 on that machine. I was able to completely reformat the primary drive after supplying the right AHCI driver during the initial install process in performing a clean re-install of Windows 8.0, and by using the external monitor got past initial installation to the point where I could install the proper HD 4600 video driver to return the display to its usual, brilliant and rock-solid graphics performance.
After that, it was just a matter of applying updates to the base-level OS (around 60 of them altogether: 52 immediately following installation, and another 6-8 as various applications and services brought .NET and Silverlight into the runtime picture), addressing the out-of-date device drivers (more or less the same 19 I ran into on my Windows 8.1 upgrade from Friday on a different machine, interestingly enough), and re-installing my usual collection of tools and utilities (RecImg Manager, CCleaner, 7-Zip, WinDirStat, WSCC, and CPU-Z went on right away, and I'll probably keep adding more in dribs and drabs over the next week or two, as I continue to work on that machine in my spare time).
And obviously, I'm going to keep my eyes on the XPS 27 support pages on the Dell site, so that when the driver issues get resolved, I can try the upgrade "once more, with feeling!"
---
September 15, 2013 1:03 PM
I found myself in an "interesting" situation on Friday because I started up the Windows 8.1 installation on one of my test machines, then decided to abort after the first couple of screens. I was working with an ISO I'd edited using the WinISOUtils to remove the cversion check to attempt an "upgrade" from Windows 8.1 Preview to Windows 8.1 RTM. But when the patched version of the installer got to my upgrade options screen, upgrading with programs and personal settings did not appear in the menu. Thus, I decided to abort, and see if I could fix my problems and attempt that option on another try. It was not to be!
I was in for a surprise when I next rebooted, because the Win 8.1 Preview refused to boot properly — my UEFI BIOS informed me it couldn't find a valid boot drive on my system. Alas, attempted boot repairs couldn't bring my system back to life, either. Faced with the option of re-installing an image backup of the prior Win8.1 Preview, or a clean install of the Windows 8.1 RTM, I opted for the latter, since it had been my plan to move up to that version anyway. The install went very quickly — it took less than 15 minutes to get to the initial configuration screens, and another 20-30 minutes to get through all the updates and to bring the machine online for test use.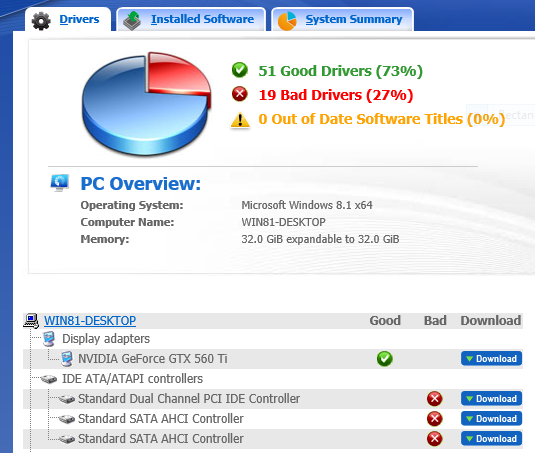 Following the install of the Windows 8.1 RTM, DriverAgent found 19 out-of-date drivers.
DriverAgent found 19 drivers in need of updating after the plain-vanilla install: 8 or 9 of these were fixed by installing the latest Intel Chipset driver file (version 9.4.0.1026 for this particular PC), and dealing with the rest required updating my NIC driver, a couple of Bluetooth drivers, the Intel 82802 chip driver, JMicron and Marvell SATA controllers, the Intel Management Engine Interface, and a new, more PC-friendly version of the Intel Extreme Tuning Utility (XTU) version 2.1.1 (which worked on all the PCs I tried, including two Windows 7 PCs as well as 3 Windows 8 PCs of various persuasions, and solves DriverAgent's long-standing issues with versions of the Intel Thermal Monitoring drivers used on so many modern motherboards nowadays). Overall time required to get a complete, up-to-date install for Windows 8.1 RTM consumed under two hours — that is, complete except for the applications I normally add to any of my test or production machines. As it is, I've still probably got another 2 or 3 hours' work to bring the system completely up to snuff. Would that I could have taken the illicit upgrade route (which I've used before on other beta Windows OS versions with greater success) because all that time would have been saved.
But that's the way things sometime go in Windows-land. I wish I'd been able to completely diagnose the boot fault issue that occurred. It seems odd to me that a partial install would have messed with the MBR and left the boot/system drive in la-la land. But my rudimentary research didn't lead me to any easy fixes, so I simply elected to blow the drive away and go forward from there. As things turned out, this resulted in some extra work for me post-install to restore my applications, but it also gave me the opportunity to work completely through a clean install, which left me impressed with the speed of the overall process. Even Windows 7 took at least half an hour longer to complete, even later in the release cycle and after gaining enough experience in the process to do it without having to puzzle problems through along the way any more.
---
September 10, 2013 9:30 AM
After holding Windows 8.1 back from developers, Microsoft relented and made Windows 8.1 and Windows 8.1 Pro RTM available to IT professionals and application developers through the TechNet and MSDN network this week.
The company changed its mind based on feedback from the IT community and will make available Windows 8.1, Windows 8.1 Pro and even Windows Server 2012 R2 RTM builds to the developer and IT pro community, said Steven Guggenheimer, Microsoft's corporate vice president and chief evangelist, in a blog post.
"We heard from you that our decision to not initially release Windows 8.1 or Windows Server 2012 R2 RTM bits was a big challenge for our developer partners as they're readying new Windows 8.1 apps and for IT professionals who are preparing for Windows 8.1 deployments…As we refine our delivery schedules for a more rapid release cadence, we are working on the best way to support early releases to the various audiences within our ecosystem," he wrote.
Microsoft's Windows RTMs are typically available to developers, but the Windows 8.1 RTM was only made available to PC manufacturers a few weeks ago.
What was Microsoft thinking? If you want enterprises to deploy Windows 8, you need the IT community to test the latest version of the operating system in their own environment. If you want Windows 8.1 bug-free apps available in the Microsoft Store when the operating system hits, developers need the latest RTMs. It's really not rocket science.
Giving IT pros and app developers the Windows 8.1 RTMs is not just about creating bug-free apps. New Windows 8-based mobile devices will become available throughout the fourth quarter. Do you think those devices are going to sell without apps? We all know Windows 8 mobile devices are just a fraction of the OS and Android-based app ecosystem. Microsoft needs all the help they can get.
Given that enterprises are not deploying Windows 8 in droves, Microsoft really should have considered how their Windows 8.1 RTM release strategy could affect the entire ecosystem. Holding the Windows 8.1 and Windows 8.1 Pro RTM versions from developers clearly wasn't the right move.
---
September 9, 2013 3:46 PM
MS performed  an abrupt about face today, and posted the bits for the Windows 8.1 RTM to both TechNet and MSDN this morning. Here's what I see as the top 3 Windows 8.1 downloads in the MSDN Subscriber Downloads pages: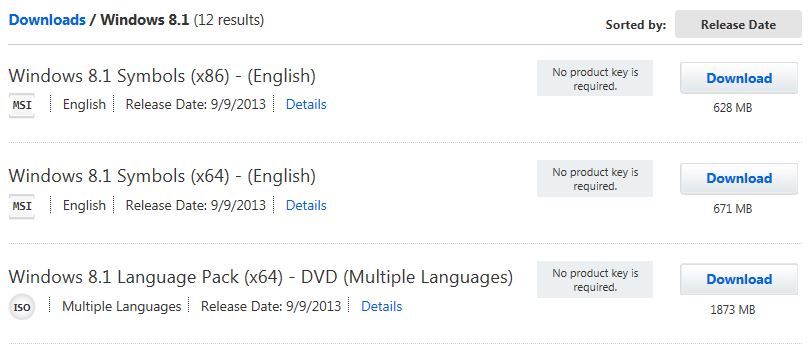 The IE-free "N" version of Windows 8.1 shows up at the head of the list, but you'll find both x86 and x64 versions in full-featured form on MSDN as well. Note that today (9/9) is the official release date!
Apparently, Microsoft attended to the hue and cry from developers (both of the hardware and software variety) and early evaluators who questioned Microsoft's change of policy for Windows 8.1. The Verge's Tom Warren quotes Microsoft Chief Evangelist Steve Guggenheimer as saying "We heard from you that our decision to not initially release Windows 8.1 or Windows Server 2012 R2 RTM bits was a big challenge for our developer partners. We've listened and we get it." And now, not only goes Microsoft get what developers wanted all along, they've gone ahead and made the software available in both regular and Pro formats (look for the appropriate downloads labeled "multiple editions") to subscribers.
Better late than never, or shrewd acquiescence from Microsoft? Who knows? I'm just glad to see they've allowed common sense to trump policy. It's nice to see them act reasonably in the face of both reasonable and unreasonable requests for advance access to the software. Given its availability through Torrents and other pirate channels anyway, it's simply a helpful move to deliver the software through safe and official channels.
---
September 9, 2013 10:29 AM
Just yesterday (September 8, 2013), Paul Thurrott posted a thorough in-depth tour and review of the RTM version of Windows 8.1 to his SuperSite for Windows Website. Entitled "Windows 8.1 Review: Windows 8.1 is meaningful and welcome upgrade to Windows 8," it walks readers through pretty much everything that's new and different in the upcoming October release of Microsoft's latest desktop OS. It's a lengthy, detailed, and fairly thoughtful piece. And though its title might suggest that Thurrott is playing the role of Microsoft apologist and advocate, he's always been one to report faithfully and objectively about what he finds in the many MS operating systems and platforms he follows so closely.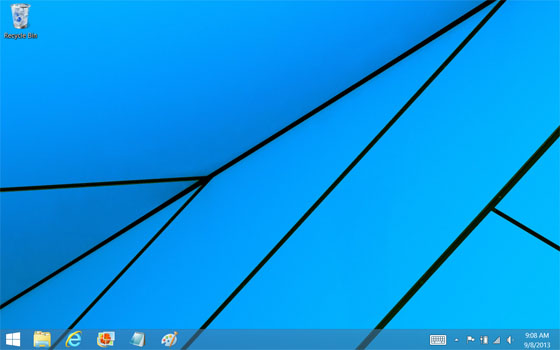 The 8.1 desktop provides ways to boot to the desktop and offers a nod toward Start button functionality with a left-hand icon that jumps to the Modern UI Start screen instead.
If you're interested in what's up with the Windows 8.1 RTM (both for Windows x86 and x64 as well as Windows RT versions), you could do a lot worse than to read this article from start to finish. The entire piece includes 4 lengthy numbered pages, ranging from just over 600 words to almost 2,200 words per page, and profusely illustrated with screen shots and examples. Highly recommended.
---
September 7, 2013 6:04 PM
For over 50 years, Germans (and folks from elsewhere on the continent) have been heading to Berlin in the fall for the IFA (Internationale Funkausstellung, which translates roughly as "International Radio Exposition"). For the past decade or more, that's meant a serious emphasis on home entertainment and computing, along with lots of other high-end electronics. This past week, Sony announced the Tap 11 Tablet at the IFA — its answer to Microsoft's Surface Pro — which really ups the ante on Windows tablet computing.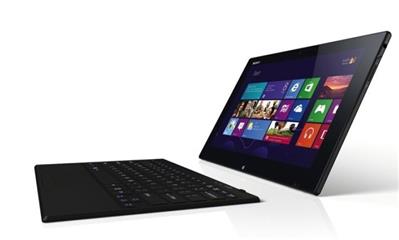 The new Sony VAIO Tap 11 tablet takes the Win8 tablet game to a whole new level, nearly on par with the iPad for thickness and heft.
[Image Credit: Engadget Sony VAIO Tap 11 slide show]
Sony proclaimed the Tap 11 to be "the world's thinnest tablet PC," and with a thickness of just under 10mm (0.39″) , they're not kidding. Some early "reviewers" (observers, really, as Sony has not yet released the PC into reviewers' hands for full-bore inspection and analysis) have indicated that the Sony Tap 11 is so thin that with its keyboard cover attached in place, it's about the thickness of the Surface Pro all by itself. But there's a lot more to like about this high-end tablet PC, including a fourth-generation Haswell processor (the Tap 11 will include ULV versions of either i5 or i7 processor models), 4  GB RAM, an SSD (in capacities up to 512 GB, according to some reports, 128 GB according to others), micro-SD card reader (for which one reviewer says tweezers will be needed for insertion and removal of such media), a single USB 3.0 port, micro-HDMI, NFC, an 8 MPX camera, and a Sony Active Pen stylus for screen input onto the full HD (1920×1080) touch-screen display. Some reviews also indicate the unit will support 4G/3G LTE, as well as 802.11a/b/g/n wireless LAN (but not in all markets, according to CNET) plus Bluetooth and NFC. Sony reports battery life at a disappointing 5-6 hours (on par with the current Ivy Bridge Surface Pro), much to my surprise.
Sony has yet to reveal shipping dates or pricing, but CNET reports that the unit will start shipping in Asia Pacific this month. Hopefully, it will hit the US market soon after that. I really, really want to get my hands on one of these  — though that doesn't necessarily mean I'll buy one — so I can check out its ergonomics, utility, and overall battery life. If Sony can bring this to market for $900 in the USA, however, it will take the market away from Microsoft. If they make it cheaper, they'll waltz in late to the Win8 tablet party, and grab a seat at the head of the table!
---
September 5, 2013 3:07 PM
Microsoft's decision to purchase Nokia this week is another example of the company buying its way into a market because it couldn't develop a competitive technology on its own.
Unfortunately, Microsoft missed the boat on major mobile trends like smart phones and tablets just because it wanted to be seen as an innovator.  Microsoft put the kibosh on innovative products like Office for the iPad because it allegedly didn't want to squash sales of its own Surface tablets. Surface has yet to "surface" as a major tablet player. Remember Microsoft's Tablet PC efforts a few years ago? That went nowhere. Remember Windows CE and Pocket PCs? It became an epic failure once the iPhone took over.  (Although, I hear the embedded Windows CE is still in use today for specialized applications.)
As Steve Ballmer's reign comes to an end sometime within the next year, perhaps Microsoft's attempts to be a true innovator for mobile technology will also come to an end if it continues to make some poor decisions in the mobile space.  Microsoft had to buy its way into the smartphone market with the Nokia deal and we'll have to see how that story plays out. It's the execution and merger of the two companies that will be vitally important if Microsoft expects to become a serious competitor in mobile.
Microsoft could have been a better mobile software provider if it was more open to embracing mobile technology trends. If Microsoft had jumped to support iOS and Android for its flagship Office software suite, it wouldn't be viewed as playing catch up.  Microsoft might be on the map already, especially in the enterprise, with the BYOD movement and millions of Office knowledge workers who want an app that extends their work model to a tablet.
I devised a simple spreadsheet model to see how much revenue Microsoft might have made if the company sold an Office for iPad application suite since Apple launched the iPad in 2010.
Using Web research I estimate 215.3 million iPads have been sold. (Mind you, that's sold, not shipped into the channels).  Upon its launch, I assumed not many people would really purchase Office for the iPad. But in 2011, once end users started seeing the tablet's value for data creation (not just for data consumption) the picture gets much more interesting.
I made certain assumptions about market trends and end user behavior. So with that, here are the numbers.
Starting in 2011, if one calculates conservatively that 10% of iPads sold installed Office for iPad, all the way up to 30% in 2013, and the Office suite costs $30, that's an estimated $1.35 billion. However, Apple takes a 30% revenue cut for selling apps through the iTunes store, to drop potential revenue to nearly $1 billion worth of tablet sales that Microsoft  has left on the table  (Hmm…that's enough to cover the $900 million Surface RT inventory charge from Microsoft's fiscal fourth quarter).
Now assume the Office for iPad suite sold for was $50. Microsoft's accumulated revenue might have crested $1.6 billion up to this year, and that takes into account Apple's iTunes charge.
Personally, I don't think customers would pay $50 for an iPad application software given many users think even $4.99 is too much for an app. A conservative $30 for Office for the iPad is more realistic. Microsoft could adopt the Apple model and pull apart the software to price out each app at $10. This would give Microsoft even more incremental revenue from buyers who may want to cherry pick one or two apps from the Office suite.
I didn't calculate potential iPhone revenue. I doubt end users would be inclined toward performing serious productivity work on such a small screen – whether it be a Word document, PowerPoint presentation or Excel spreadsheet. Other than reviewing a doc and making a light edits, real productivity work happens on an iPad with add-on keyboard.  And, because customers buy Apple's productivity software once and it works on all devices, paying extra for the software to work on an iPhone will not fly.
Now, could one calculate how much total Microsoft could have made if we include the Android tablets? Sure.  There is probably an effort somewhere deep inside Microsoft to create an Office for Android suite that hasn't seen the light of day. And that, my friends, is even more revenue lost.
So let's hope eventually Microsoft gets its mobile strategy right. For now, I'll just settle for having a copy of Office for the iPad.
What do you think? Send an email to dhwang@techtarget.com.
---