---
July 12, 2013 1:15 PM
Microsoft regularly offers one- and two-day Jump Start seminars through the Microsoft Virtual Academy (MVA). Shortly, the first of a two-part series on the outstanding PowerShell OS scripting language will get underway. This is a very worthwhile toolset for network and systems admins, to the tune of if you don't sign up and attend, you'll want to tune into the recordings of these materials that will be posted after the fact. If you need more convincing, zip over and thru the excellent "Learning PowerShell" materials in the SQL Server 2008 R2 pages (don't worry, PowerShell works with all MS server and many desktop facilities, so there's no danger of painting yourself into a corner here).

The TechNet Script Center is another great clearinghouse for learning PowerShell stuff.
Here are some links to this two-part Jump Start series, with (hopefully) tasty descriptive blurbs and registration links. If you want to do this live, don't tarry: only six days until Part 1 of this two-part series kicks off!
Part 1: Getting Started with PowerShell 3.0. Ace instructors Jeffrey Snover (Distinguished Engineer and Lead Architect for the Windows Server and System Center Division — pre-reorg, I'm guessing) and Jason Helmick (Senior Technology at Concentrated Technology) will provide a full-day, hands-on intro to PowerShell structure, syntax, and basic script development tools and strategies. (visit page link above to register) Takes place on July 18, 9AM-5PM PDT (UCT -08:00)
Part 2: Advanced Tools & Scripting with PowerShell 3.0. The same ace instructors (Snover and Helmick) take attendees through a full day of data and parameter driven scripting activities, including help and support systems, error handling, and debugging tools and techniques. They will also deal with script and manifest workflows, as well as tools and workflows. This is where working with PowerShell is more like real programming and less like throwaway, one-off scriptlets. Should be great fun! (visit page link above to register) Takes place on August 1, 9AM-5PM PDT (UCT-08:00).
July 10, 2013 3:23 PM
Wow! I'm seeing lots of activity as per yesterday's (July 9, 2013) Patch Tuesday. My Windows 7 machines report 30 updates, and my Windows 8 machines 28. Here's the breakdown:
Patch Tuesday 7/9/2013
Windows 7: 30
Windows 8: 28
Security Update: 16
Security Update: 10
Other Update: 3
Other Update: 4
Office Update:7
Office Update: 11
Office Security: 3
Office Security: 2
Monthly Stuff: 1
Monthly Stuff: 1
All of the security updates are rated "important" and the security updates include the built-in Flash Player for IE10 on Windows 8, a couple of .NET 4.5 items, and several items related to TrueType fonts (widely used, so important to include in testing, planning, and deployment). Martin Brinkman's coverage of the patches at ghacks.net ("Microsoft Security Bulletins for July 2013 overview") provides excellent coverage of what's in this latest batch, and includes this summary "seven security bulletins fixing a total of 32 different vulnerabilities in Microsoft Windows, the Internet Explorer browser [including a cumulative roll-up], the Microsoft .NET Framework, Silverlight, GDI+, and Windows Defender." The actual MS Security Bulletin Summary for July 2013 provides the company's official line on the security-related elements released this Patch Tuesday.
---
July 9, 2013 12:22 PM
The forthcoming latter half of the year will see lots of new systems based on Microsoft's Windows 8.1 operating system.
Microsoft will ship the RTM version of Windows 8.1 to OEMs by the end of August, just in time to get the operating system on to a host of new products slated for the fall, the company said at its Worldwide Partner Conference yesterday
With the release of the new software, the industry will see a host of new form factors using Windows 8.1 ranging from mini-tablets to notebooks. Already, devices such as Apple's upgraded MacBook Air are using Intel's new Haswell chips, a processor designed to provide improved processing and battery life for mobile devices.
But will Windows 8.1 kick start more adoption for the new OS in the enterprise? Probably not, because there are too many large corporations that are just migrating from Windows XP to Windows 7. But I do think the new OS will be more attractive for IT to really start testing Windows 8.1 running it through its paces to see if it makes sense for their environment.
I like the boot to desktop feature, as well as the security and management enhancements Microsoft added to Windows 8.1. The boot to desktop feature is important for enterprise IT so that they can test Windows 8.1 as the next generation operating system and choose to deploy it with a familiar user interface.
However, organizations are not going to deploy Windows 8.1 just because it's a new operating system. They need to have a problem to solve that helps the company's bottom line, whether it means profits or increased productivity to justify budgeting for the forthcoming new form factors instead of deploying new technology just because it's there.
At the end of the day, IT needs to work with their company's business decision makers to look at the bigger picture: their company's business strategy, which technologies to deploy, and how any new technology  will help the company's profits.
Sometimes you can put a number on it, and sometimes not. But the business case has to be there and maybe this is where Microsoft will need to do more customer hand holding if they want Windows 8.1 and future versions to succeed. In this day and age, just building new technology doesn't mean everyone will flock to it.
---
---
July 8, 2013 12:22 PM
I'd noticed the stories last week about how the Bing Ads platform is integrated into the new Windows 8.1 Smart Search capability, but I didn't really understand what this means until I ran across a very interesting InfoWorld story from long-time Windows maven Woody Leonhard this morning. It's entitled "A look at the black underbelly of Windows 8.1 'Blue'" and it walks through a whole list of potentially questionable things that MS is doing with the upcoming release to its flagship desktop OS. And despite my own blog post from last week ("Smart Search Provides Big Boost to Win8.1") I simply had no freakin' idea that using Smart Search for a purely local survey of what's on your own PC would lead to sharing of the search strings used with Bing, Google, or whomever you designate as your default search engine, and be followed by a stream of ads to match.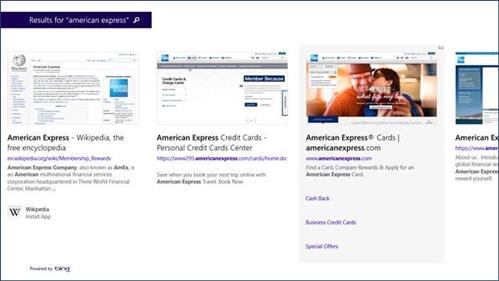 Searching for the latest PDF file for your American Express card statement (*amex*.pdf) will also set you up for a barrage of advertisements.
(Image source: David Pann Bing Ad blog post, with a hypothetical change to the search string)
For the Microsoft take on what's going on here before Woody started digging into the so-called "black underbelly" parts, see David Pann's Bing Ads blog post from July 2 "New Search Ad Experiences within Windows 8.1." In light of Woody's disclosures some of the language in this innocuous seeming rah-rah marketing post take on a more sinister meaning (all bulleted items that follow are verbatim quotes from the afore-cited blog post):
"…a number of new ad products, driving significantly higher click volume for our advertisers…"
"…this journey is our pursuit of making search ever more relevant and engaging for customers…"
"With one search, consumers can look for information across the web, device, apps, and cloud."
"Bing Ads will be an integral part of this new Windows 8.1 Smart Search experience."
"…advertisers can connect with consumers across Bing, Yahoo!, and the new Windows search with highly relevant ads for their search queries."
In retrospect, MS isn't hiding anything at all, but the complete implications of the preceding statements don't really register until you stop to think that this means targeted ads follow in the wake of any search, including those conducted purely to locate a document or file on your PC, even if it's not related to any desire to shop whatsoever. Very interesting, and a potent reminder that every action in the digital world leaves traces that others can collect, analyze, and respond to — whether you want them to or not.
---
July 5, 2013 4:33 PM
If you're thinking of trying the new Windows 8.1 preview Microsoft released last week, make sure you leave a good 1.5 hours to perform the install. Watch something you DVRed, read a book or catch up on your email from your smart phone or tablet because you'll be doing a bit of waiting.
Now, I am neither a developer nor an engineer. I'm just someone who loves to play with technology and represent the masses of mere users.
I downloaded the 15MB Windows update file to the Lenovo U310 Touch Windows 8 IdeaPad Ultrabook that Tech Target's Technology Guide Test Lab kindly leant to me (Yes, like most of Corporate America our company is on Windows 7 still so I needed to borrow the notebook). It only took five minutes to download and restart my system. But alas those files only allowed access to the Windows Store preview tile so then I could really download the 2.44 GB Windows 8.1 files from the store. It took a little over one hour to download and install the Windows 8.1 preview.
In our fast-paced world this seems like FOREVER! I had forgotten any major update to an OS takes a long time.
First up? The Start Button, of course. I clicked the desktop tile screen and saw the Start Button located at the bottom left corner of the display. Touch it, and the button brings you to the Modern interface screen.
The new boot to desktop feature was not intuitive to set up. In the desktop mode, you right click on an empty space in the task bar and choose Properties. Then you select the Navigation tab and choose the Start to desktop selection. There are also other choices how the charms bar will appear on the corners, or show the Apps view when someone goes to Start. Hit the Apply button and save your choices. After restarting the PC, the desktop view appeared. When I hit the Start Button icon it toggled to the Modern view. In the desktop mode, the Start Button brought up the traditional menu when you performed a right click.
If you hold an empty spot on the Modern interface, you can also swipe up the screen to see the Apps view by name.
Windows 8.1 offers a new Personalization feature to give your system new colors and backgrounds. I also regrouped my tiles into categories. For example, Travel and Games are now in the "Fun Stuff" category. To be honest, on the Modern interface, I'm still getting used to the live tiles. This little animation perk does make looking at the screen more "fun" and I can keep up to date with live news scrolls.
Windows 8.1 is not as intuitive as I would prefer though because of my history with the traditional desktop. I opened so many apps and Windows in the Modern UI, I wondered whether they had closed at all. However, this only led to the Snap view. By placing the cursor at the top left corner of the screen, I could see thumbnails of my open apps. A simple right click brings up the menu to close the app or insert the app to the right or left side of the screen, giving the option to view apps side by side. Windows 8.1 can show up to four apps on the screen but it's based on your display. On the laptop which has a recommended resolution of 1366 x 768, I can only have two views open. But how to get rid of one app when you're done? It was not intuitive until by trial and error, I made one app bigger than the other and the unwanted app disappeared.
I'm a Chrome user but with IE 11 enhanced for touch, I could see myself converting to IE 11. The touch-enabled browser allows for some quick scrolling vertically and horizontally through pages to read articles and surf. If I'm using the new OS on a non-touch device, the experience is not a game changer.
I tried Bing, which now ties searching to not only the Internet but also your SkyDrive account and local computer. I called up an article stored on my SkyDrive account and Bing easily found the file. I also searched for an Alaska Vacation as it's hot and humid in Massachusetts and wouldn't it be nice to go somewhere cooler? Bing presented some extensive information on Alaska tourism, displayed in a simple layout with a picture of the web page and an explanation underneath.
All in all, Windows 8.1 preview provides some nice features for personal use. For business, the need to reimage PCs with the corporate image and add some useful live tiles important to a company's business like "New sales closed" or company news is going to be imperative. For Corporate America, there needs to be a compromise with the traditional desktop view and an enterprise-relevant Modern interface. And, to take real advantage of the new OS, updating all the hardware with touch-enabled systems, is a big capital expense many businesses aren't ready for, especially if they just upgraded their systems to Windows 7. Give it a few years and we'll see what happens.
---
July 5, 2013 10:45 AM
Here's an interesting story from the Synaptics news archives vis-à-vis Windows 8.1 "Touch and Gesture Performance is Further Enhanced with Windows 8.1" If you're like me, and one or more of your notebook PCs uses a built-in Synaptics touchpad (I've got Lenovo, Acer, and Dell models all using touchpads from that same vendor), you'll be pleased to learn that one subtle but definite benefit to upgrading to Windows 8.1 on those machines is an improved touch and gesture interface for touchpads and trackpads.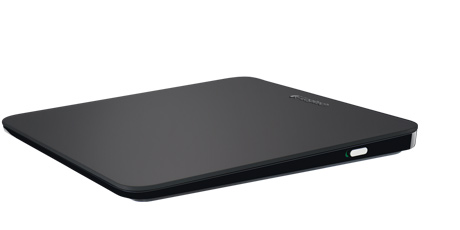 Word is that trackpad behavior for Windows 8.1 is much improved, with better support for gestures (image shown is a Logitech t650 device, not Synaptics).
Here's how it shakes out. On my Lenovo X220 Tablet running Windows 8, whenever I touch the rightmost 0.5-0.8″ of the trackpad it calls up the Windows 8 charms instead of tracking a right to left scrolling gesture. I often have to look at the trackpad to position my finger far enough away from the right edge of the trackpad for the right-to-left sweep to be properly recognized. With the new Windows 8.1 drivers (download link to v16.3.15.1), that behavior is altered so that the gesture gets recognized as soon as your finger moves outside of the charms zone and continues tracking right to left. It seems like a pretty minor thing, but it lets my keep my attention focused on the screen as I work, instead of forcing me to switch my attention from using the interface to driving the interface (and sometimes even having to strike the escape key to force the charms display to get out of the way).
I'm also told that gestural recognition overall is improved in the Windows 8.1 touchpad drivers, thanks to close collaboration between MS and Synaptics (and presumably, other trackpad vendors as well). I haven't really noticed that much difference just yet, but I haven't been driving the new interface that long, either. I'll report back as I spend more time working with the new preview OS, and let you know how it acts and feels to me. And even on my Windows 8.0 machines that I haven't upgraded, seems like the new driver helps there, too — as long as I remember to touch down no less than half an inch from the right edge of the trackpad, that is.
---
July 3, 2013 4:44 PM
Take a quick look at these numbers from NetMarketShare's Desktop Operating System Market Share graph for the period through the end of June, 2013. Though XP (37.17%) and 7 (44.37%) are still way out in front, Windows 8 (5.1%) finally overtops Vista (4.62%). The next step up, howerver  — as the old saying goes — "is a doozy!" Given Microsoft's switchover to yearly OS refreshes going forward, I'm modestly comfortable asserting that it's highly likely that Windows 8's marketshare (as measured by NetMarketShare) will NEVER catch up to either XP or Windows 7, either. Each had 3-6 years of market-leading purchase preferences to establish its base, something Windows 8 will never enjoy.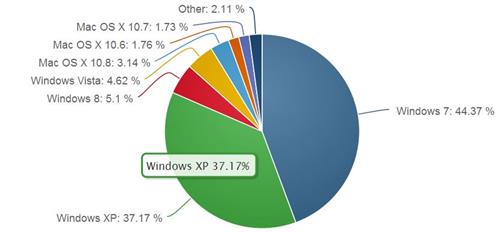 Here are the latest market share readings from www.netmarketshare.com (OS, by version) through the end of June, 2013.
It's interesting to wonder how high Windows 8's numbers will climb before Windows 8.1 takes up its own segment on this pie chart. Even more interesting — and probably no more so for anybody than for the Windows OS team in Redmond — will be to see how quickly that Windows 8.1 slice grows. Microsoft is apparently pinning some hefty hopes on appealing to business users and corporate license negotiators to consider and adopt Windows 8.1 as "ready for business use." The realization of those hopes hinges in large part on how soon that slice appears (it has to be greater than 1% to register at all, if I understand the charting approach used here) and how quickly it starts moving counter clockwise from the mid-night position that the "Other" category currently occupies.
---
July 3, 2013 4:23 PM
Last week, long-time practice test developer MeasureUp (now a part of Pearson, by way of VUE, by way of Certiport) announced it has been named "the official practice exam provider for VMware certification." Starting with the VCP5-Data Center Virtualization exam (aka VCP5-DCV), the company also plans to offer practice tests for VCP-Desktop, VCP-Cloud, and VCAP5-Data Center Design as well.
An intercompany alliance creates practice exams from the same publisher who brings you certification prep books.
If memory serves, I've been working with and using MeasureUp practice tests for exams from Microsoft, CompTIA, and Cisco since the late 1990s. I've always found them to be accurate, well thought-out, and to offer excellent coverage of exam topics, concepts, tools, and technologies. The only practice test from MeasureUp currently available is the VCP5-510, and it retails for $139, about par for a cert whose exam costs $225.
VMware is a cert niche that has hitherto been only lightly served with practice exams (and I've seen comments online from VMware certified instructors that claim that many of those materials are subject to error rates as high as 33% — insufficient to pass, in fact). It's a good thing to see a solid company like MeasureUp step into this market to offer an "official" product — though I'm not sure what this really means — so that cert candidates can actually have some confidence that what they're practicing bears some relationship to what they'll actually be tested on.
---
July 1, 2013 11:37 AM
With the update/install process behind me now on a couple of laptops (2/3s of my Windows 8 test machine bench), I'm starting to find my way into the latest OS release from Microsoft. What's struck me most forcibly — and favorably — so far is its new so-called "Smart Search" capability. It used to be that running Windows 8.0, search results — from typing some string onto the Start screen, for example — would provide results segregated by category: by Apps, Settings, and Files. You could carry your search into Bing simply by clicking Bing next and view those results separately.
All this changes very much for the better in Windows 8.1: Smart Search still provides links to local stuff on your PC, but it integrates them into a single search results display that also includes search info online as well. This not only makes it faster to find stuff, it also speeds ( or perhaps "blurs" is a better choice of words here) the transition from local to Internet in finding useful information. This is one of those kinds of things that doesn't sound like much, but that really helps with work and leisure pursuits.
Let me explain, first from the work perspective: say I wanted to run the useful desktop utility known as the Driver Store Explorer (rapr.exe, a CodePlex project that jumps into your Windows Driver store and tells you what it finds there, and even lets you delete unwanted or superfluous drivers from the store). By searching on the filename, rapr.exe, the search results will provide a link right to the program if it's on my PC. If it's not, it will take me to the home page for the product documentation, where I can click the "download" link there to grab what I want with a single click. Incredibly convenient.
Another explanation, this time from the leisure angle: say I wanted to watch a video of "Young Indiana Jones." If I search on that term, and there's a video on my PC that matches the search term already, it will take me straight to it. If not, I will be able to access any of a number of download links on YouTube from whence I can grab whichever of the 23 episodes that are available online that I might care to watch. Way cool!
But wait, there's more: in addition to searching your PC and the Internet for hits, Smart Search on Windows 8.1 will also search SkyDrive and your Video and Music apps as well. I agree with PCWorld's Brad Chacos (see his excellent story "The top 5 reasons to upgrade to Windows 8.1" for some other eye-openers about the new MS desktop preview /beta OS) that "If Microsoft had added only Smart Search to Windows 8.1, it would've been enough to convince me to install the update." I predict that if you give it a try, you won't want to go back to the old Windows 8.0 Search capability at all. If you need more convincing, check out Paul Thurrott's recent post "Hands-On with Windows 8.1: Smart Search."
---
June 28, 2013 10:53 AM
OK, so I've gotten far enough into the Windows 8.1 Preview that I've learned about two different ways to get hold of the software and run it on a test (or other) PC. On the one hand, you can find an online source (such as MSDN or the Windows 8.1 Preview page), grab the ISO, use a tool like the Windows 7 USB DVD Download tool or Rufus to create a UFD-based installer, and go from there, or on a machine already running Windows 8, you can visit the Preview Page, click "Get it now" and elect to run that installation to Windows 8.1 straight from there.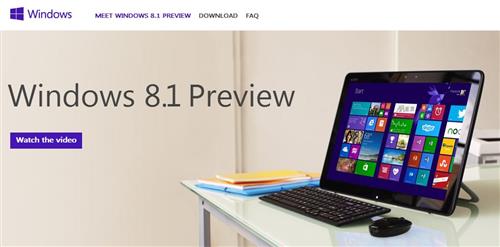 Yes, there's already a public download page for the Windows 8.1 Preview, so even those who lack an MSDN subscription can grab-it-and-go!
The update option also comes with a couple of caveats, as anyone wise to the ways of Preview and other Windows beta releases knows already:
Windows 8.1 Preview is indeed a beta, so you don't want to install it on a production machine
It's often the case when betas are superseded by commercial (OEM or general availability/GA) releases that you may have to reinstall the OS, and wipe out everything on the partition where the preview resided (there are often, but not always, workarounds for this so you can't count on being able to preserve anything from such an installation).
Before you install any beta OS on any machine that has a running OS already installed, make an image backup of the prior/current installation. That way, if anything goes wonky, you can always get back to a running installation by booting from a repair, recovery, or install UFD, then restoring that image.
Of course, those same caveats also apply to anyone who elects to take the ISO route instead, though this will give you more opportunities to think and plan ahead of the installation (and let you install to a VM, an alternate partition, or other techniques to prevent over-writing an existing OS installation if that's your preference, as it probably will be for many curious IT pros and enthusiasts interested in trying out 8.1 without necessarily tying up an entire machine to do so.) Later this weekend, I'll try out a VM install and report on that experience for Monday's blog. Stay tuned!
---