---
September 27, 2013 10:03 AM
I've got a total of 5 out of 8 PCs in my house running Windows 8 now, and every now and then I encounter some new form of wacky Windows behavior that requires certain shenanigans to fix. I stumbled upon another interesting case in point yesterday, when I tried to establish a Remote Desktop Connection link to our Dell XPS12. When I got this machine from Dell it came with Windows 8 installed, which I proceeded to upgrade to Windows 8 Pro so that, among other things, I could use RDP to log into that machine remotely and manage updates and such from the production Windows 7 desktop I work at customarily in my home office.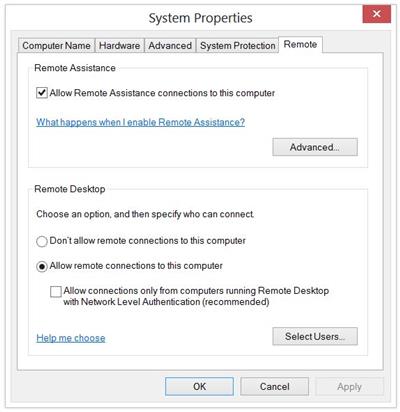 Even though my XPS12 was properly configured for remote access, my connection wouldn't stay up long enough to get through the hand-off process.
Without giving the matter too much thought, I checked the machine yesterday to make sure that Remote Access settings were properly configured. As shown in the preceding screencap, they were just what I thought they should have been, with remote connections turned on and RD-NLA turned off. However, when I tried to establish an RDP connection to that machine, I would start to go through the process of establishing a remote connection, only to have it fail before the entire process of opening the remote window and obtaining a working view of its desktop could complete. Non-plussed, I tried to establish a connection going the other way — that is, from the desktop of the XPS 12 to my production desktop — only to have it fail and hang in the same way. Bizarre!
By searching on "Windows 8 RDP fails during login" and "Windows 8 RDP fails immediately," I learned two very interesting things I didn't already know. First, I had to purge some outdated printer connections in the Devices and Printers entry in Control Panel, apparently because print queue and device driver connections were interfering with network access for RDP. And second, I had to make a registry hack to turn off the version of UDP that RDP uses in the Windows 8 environment as follows:
In the key at HKLM\SOFTWARE\Policies\Microsoft\WindowsNT\Terminal Services\Client\, create a DWORD named tofClientDisableUDP and assign the value "1" (either Hex or Decimal, I used Hex) to it.
I had to remove the printer references and then restart the machine immediately after that to get them to "stay gone," because if I didn't restart, they would magically re-appear within 30-60 seconds of their removal. This took some careful observation and fiddling about to achieve. I found the registry hack documented on Microsoft's social.technet pages in a thread entitled "Remote Desktop client on Windows 8 drop connection."
To me, it all goes to show the sometimes forensic characteristics of Window troubleshooting. I've learned to try to characterize the symptoms as tersely as possible, and then to put Google to work to help me find information or discussions around those topics. If I keep at it long enough, as I did yesterday afternoon, I will almost always stumble my way into a workable solution. But why, oh why, I must plaintively ask, does it have to be this way? Sigh.
September 25, 2013 4:14 PM
As of the end of August, a new version of the Windows Assessment and Deployment Kit (aka the Windows ADK) is now available for Windows 8.1 (RTM version, which presumably means it will also work with the General Availability, or GA, version scheduled for release on October 16). The download page at the MS Download Center provides a link to grab the full kit for experimentation and/or production use.

The latest ADK is ready to work with the most recent RTM release of Windows 8.1 (and presumably with the GA release, too).
Here's a list of some of the tools available in the Windows ADK (see the ADK download page for a complete list):
1. Application Compatibility Toolkit (ACT) helps IT professionals prioritize, test, and detect compatibility issues with applications, and to find and share risk assessments with other ACT users. Visit the ACT page for more information on this tool.
2. Deployment tools: a whole raft of items to help IT professionals in customizing, managing, and deploying Windows images, such as the Deployment Imaging Servicing and Management (DISM) command line utility along with numerous DISM PowerShell cmdlets and its API, the Windows System Image Manager (Windows SIM), and OSCDIMG, a command-line tool for creating an image (.iso) file of a customized 32-bit or 64-bit version of the Windows Preinstallation Environment (PE) 3.0. See the Deployment tools page for more info.
3. User State Migration Tool (USMT): a scriptable command line tool designed for migrating user data from an older Windows installation to a newer one. The USMT home page offers more information and documentation.
4. Windows Assessment Toolkit, used to run system assessments on a single computer based on tasks that simulate user activity and examine computer state to produce metrics for various aspects of the system, and make recommendations for improvement. See the Windows Assessment Toolkit home page.
5. Windows Preinstallation Environment (Windows PE) is a minimal OS created to provide a runtime environment for preparing a computer for installation and servicing of Windows OSes. The Windows PE Technical Reference is the go-to for this outstanding and valuable Windows resource.
For those who work with Windows OSes, and plan to work with or deploy Windows 8.1, the ADK is an invaluable toolset. It's definitely well worth the time and effort needed to inspect, learn about, and master the various components it contains. At a minimum, these items provide a baseline against which other commercial toolsets must be measured, if only because MS gives them away for free.
---
September 22, 2013 5:15 PM
Earlier this afternoon, I finished a story for SearchWindowsVirtualization.com that's currently entitled "Automation Technology in VDI Environments." Given that it usually takes a week or two before my submissions show up online I'll provide a link to the final version right here when it goes live (and change the title if those with editorial authority decide that something a bit different or jazzier is needed to attract reader interest). What blew me away about researching this story is the hundreds of ready-to-run scripts one can find easily online, to help automate every aspect of virtual desktop infrastructure, from initial set-up and image construction, to VM deployment, applying patches and updates, and monitoring and managing fully operational VDIs.
All you have to do to get a sense of the massive resources available for your use are to check out these mostly Hyper-V related resources online (no surprise, really, because the vast majority of these links come from Microsoft itself, in one guise or another):
There's lots of really great stuff here that admins are hopefully already using. If that doesn't include you, be sure to check one or more of these items out immediately. That means today!
---
September 20, 2013 11:08 AM
Microsoft is holding an invitation only press event next Monday, September 23, to announce its new generation of Surface tablets, currently known as Surface 2. Both the RT model (to which rumors currently ascribe the label "Surface 2") and the full-blown Windows model (to which the name "Surface Pro 2" currently sticks likewise by rumor) are supposed to get some serious upgrades. By combining interesting rumor coverage from The Verge, ZDnet, and Design&Trend, here's what I've been able to piece together about the next-gen version of these devices, which appear to get about half-way to meeting the wish list I put together for the Pro model in November 2012. I'll list what I've been able to learn about for each model separately, in bulleted list form (both are expected to acquire a two-step kickstand, which permits the extension to lock into two different positions rather than the current single position):
Surface 2 (Windows 8.1 RT model)
Slated to include a faster Tegra 4 CPU
RAM capacity will double, from 2 GB to 4 GB
Screen resolution will increase to 1080p
New RT OS is reportedly based on Windows 8.1, and designed to boot up, run, and shut down more quickly
Surface Pro 2 (Windows 8.1 full OS model):
Haswell i5 CPU, with some i7 ULV models also possible.
8 GB RAM (now that one SO-DIMM accommodates 8 GB easily, this is a no-brainer).
256 and 512 GB SSD configurations should be available (don't forget: you can talk to the Microsoft Store about special-ordering higher-end models).
Paul Thurrott reports that battery life shold go up from 4-5 hours to as high as 7 hours (from MJF at ZDnet in her Surface Pro 2 leaks story). A new Power Cover will include a built-in, rechargeable battery pack, along with a Type Cover style keyboard, and will extend the unit's battery life still further (by how much, however, isn't yet known).
A dock for the unit is widely expected to be made available, and is said to support external monitor connections, gigabit Ethernet, plus one USB 3.0 port and three USB 2.0 ports. Sources say the dock will work with both first and second generation Surface Pro models. The dock will also charge up any attached Surface Pro tablet. No pricing information is available, though.
If the Power Cover brings the Surface Pro 2 up to 8 hours of battery life or longer, I may just find myself in the market for one. I'll be looking forward to more detailed coverage after next week's event concludes. Stay tuned for more info.
[Notes added 9/23/2013, based on reporting from the MS announcement:
Surface 2 (Arm version, formerly Surface RT): Tegra 4 confirmed, 4 GB RAM confirmed, higher 1080p resolution confirmed, 25% better battery life, 1xUSB3.0 port. Price starts at $499.
Surface Pro 2 (x86 version, replaces Surface Pro): MS claims 75% better battery life! 4GB RAM goes with 64 or 128 GB SSDs, 8GB with 256 or 512 GB SSDs; Power Cover said to increase total battery life to ~10 hours; Docking station supports total resolution for all screens up to 3840×2160 (equal to 2x1080p in both dimensions), adds 1xUSB3.0, 3xUSB2.0, an additional mini-DisplayPort, and GbE. Price starts at $899, but no pricing for accessories disclosed yet.
There's even a Surface Music Kit — namely a touch cover for mixing sound instead of typing text. See the Ars Technica coverage for more details.]
[More Notes from 9/25/2013, based on Paul Thurrott's excellent "Need to Know: Surface 2 and Surface Pro 2" article for WindowsITPro.
More complete pricing information available, especially for peripherals like the new Type Cover offerings, Power Cover, and dock, as well as for more advanced Surface Pro 2 models ($1,299 for 256 GB SSD/8 GB RAM, $1,799 for 512 GB SSD/8 GB RAM). Worth a read-through!]
---
September 19, 2013 10:46 AM
Microsoft's monthly Patch Tuesday updates have started to resemble motor vehicle recalls as the company once again encounters problems after releasing a public patch update.
In the September Patch Tuesday cycle, Microsoft  recalled a non-security update dubbed KB2817630, which affected Microsoft Office 2013 and Office 2013 Pro. The update caused the Outlook 2013 folder pane to disappear.
The issue was caused by incompatibility between the outlook.exe and mso.dll files. The minimize button in the navigation pane will render very large and become invisible to the end user, thus causing it to disappear. Microsoft confirmed the issue in a blog post, where the company expressed "regret" for any inconvenience caused by this update, and explained how to address the problem.
For Microsoft and its pursuit of a rapid release cadence for updating software, the latest mishap with the Patch Tuesday updates might be cause for concern.
The company recently pulled several patches off its sites and offered band aid fixes. In August, Microsoft pulled the MS13-061 Exchange security update and reissued an update later in the month. In April, the company recalled security update MS13-036, which affected Windows 7 and Windows Server 2008 R2 end users, and re-released it later in the month.
The recent string of patch issues serve as a reminder to IT pros to implement them with care.
"The rule has always been to test out patches before deploying widely, and it appears that administrators have been letting that best practice lapse," said Eric Beehler, an IT professional who offers consulting and training services with Consortio Services LLC, of Colorado Springs, Colo. "Admins just need to reset their best practices and always have their rollback plans ready, just in case."
---
September 18, 2013 1:51 PM
Microsoft is finally giving its bread and butter enterprise customers the ability to download Windows 8.1 Enterprise RTM through its TechNet and MSDN subscriptions.
Volume licensing customers also will be able to download the new RTM if they have an active Software Assurance (SA) agreement.
Just last week, Microsoft had to reverse its stance on giving out Windows 8.1 RTM bits to IT pros and developers. Windows developers who caused an uproar were particularly upset at being left out of the initial Windows 8.1 RTM release to PC manufacturers.
A Microsoft spokesperson said after the Windows 8.1 RTM was made available to TechNet and MSDN subscribers there were code reviews and other processes that needed to occur before releasing additional products to the public.
If Microsoft wants to court enterprise customers and encourage them to test Windows 8.1 in their organizations, they need to make sure all the pieces are available to IT professionals and simply communicate their intention.
All they had to do was explain that they planned to do a phased approach for releasing the various versions of Windows 8.1 RTM. First Windows 8.1 RTM will go to the PC manufacturers, then to IT pros and developers and finally, Windows 8.1 Enterprise RTM for volume licensing customers who have an active SA agreement.
Had Microsoft communicated this approach, it would have suffered a lot less backlash from the industry. Hopefully Microsoft learned some lessons from this experience.
On a separate note, if you don't have an MSDN or TechNet subscription and need to wait until October 18 to get a commercial copy of Windows 8.1, Microsoft released the list pricing for those who don't qualify for a free upgrade.
Windows 8.1 will cost you $119.99 and Windows 8.1 Pro will cost $199.99. And here's some other pricing. For those who are thinking of buying a new Windows 8.1 device too, you can upgrade your Windows 8.1 operating system the Pro Pack version that includes Media Center for $99.99. If you are planning to buy Windows Pro 8.1, you can add-on the Media Center for $9.99.
---
September 18, 2013 10:40 AM
Thanks to a report from Mary Jo Foley at ZDNet that posted yesterday, I can now tell you how much Windows 8.1 will cost those who wish to upgrade from a version of Windows earlier than 8.0 to Windows 8.1. For Windows 8.0 users that upgrade will be free, but others must pay for the privilege of moving up to Windows 8.1. Those running Windows XP, Vista, or Windows 7 will pay $119.99 to upgrade to plain-vanilla Windows 8.1, or $199.99 to upgrade to Windows 8.1 Pro. Those prices are the Microsoft list prices (MSRP, as it were, and of course thus also what the Microsoft Store will be charging) and apply both to digital downloads and to retail-packaged boxed versions with DVDs sold at big box stores around the world. As MJF observes in her story, "these are the same prices Microsoft charged users of older versions of Windows for the Windows 8 and Windows 8 Pro upgrades."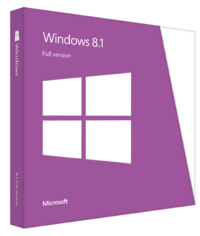 A snapshot of the new retail package (box) for Windows 8.1, courtesy of MJF and MS.
This time around, however, there will be some differences vis-a-vis the last set of downloads and boxed products that MS offered for Windows 8.0 versus 8.1:
The boxed version incorporates a "full-version" installer. In plain English, that means even though it's called an upgrade, you can still use it to perform a bare-metal install on a brand-new machine with no prior OS to upgrade from. I had been puzzled why MS hadn't mentioned anything about a separate full-version SKU (which usually costs more than an upgrade-only SKU) but now we all know that the upgrade is also a full-version so there's no need to buy (or pay extra for) a different version for that purpose. This is great news for those who build their own systems, or who want to blow away their boot/system drives completely to perform what you might jokingly call a "squeaky-clean install!"
Those who move from Windows 7 to 8.1 may indeed be able to perform an "upgrade install" but they won't be able to bring their desktop apps along for that ride. For the first time ever, MS will require a fresh re-install of desktop apps following an upgrade install  from 7 to 8.1 (bummer!).
MS recommends that those with PCs running XP or Vista skip the upgrade install completely, and perform a clean install instead. MJF provides this explanation "older hardware plus Winodws 8.1 won't make for an optimal experience" and says that "Microsoft is advising them to buy the retail DVD, rather than download the bits and boot from the DVD to do a clean install…"
Users who purchase new hardware running Windows 8.1 will be able to buy a Windows 8.1 Pro Pack from MS for $99.99, to add support for Pro features along with Windows Media Center. Users already running Windows 8.1 Pro can buy Windows Media Center for $9.99.
There are no current plans to offer limited-time savings on Windows 8.1 upgrades. For some time after Windows 8.0 went into General Availability (the GA release on October 26, 2012), anybody who owned a copy of XP, Vista, or Windows 7 was able to purchase an upgrade to Windows 8 for a paltry $40. It doesn't look like they're going to repeat that offer, alas.
---
September 16, 2013 10:41 AM
Having successfully upgraded a test machine to Windows 8.1 on Friday, I decided to do likewise to my son's brand-new state-of-the-art Dell XPS 27 All-in-One which showed up at the house about three weeks ago. It is the only system at my disposal new enough to have come with Windows 8 already installed, and I wanted to see how the whole upgrade experience would go on that machine. Much to my later surprise, upon reflection as to why my attempts failed, initial screening of suitability (the compatibility check phase of the pre-install maneuvers now built into the Windows Installer) failed to determine that the Atheros/Qualcomm Killer-N 1202 wireless network interface built into that machine doesn't work with Windows 8.1. I also experienced some interesting display and storage issues in trying to make the upgrade (and then a clean install) work, which resulted in two pretty major hurdles to the 8.1 install process: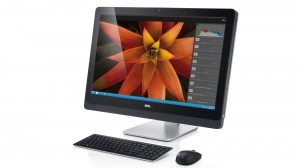 The XPS 27 Haswell model is fast and surprisingly capable, but the Atheros Killer-N 1202 wireless adapter,
Intel HD 4600 display, and RST-based storage environment all impacted
(and ultimately foiled) my attempts at a Win8.1 upgrade — for now, anyway.
1. On the display side, something with the Intel HD 4600 graphics chip went wonky, which resulted in constant (and highly irritating) on-off behavior for the built-in 27″ display. I solved the irritation part by covering the display with a towel, and found that attaching an external monitor via the unit's HDMI-Out port (a Dell 23″ monitor, as it turns out) worked just fine.
2. On the storage side, I had to load an AHCI driver from the Dell Driver disk that shipped with the unit, to permit the Windows 8 installer to see the primary hard disk (which depends on Intel RST to gang up the built-in 32 GB mSATA SSD and a conventional 2 TB HD to provide access to the built-in storage subsystem on the XPS 27 AIO)
After part-installing Windows 8.1 on the machine, I had a PC that would boot but with no network access capability, and seriously wonky display behavior, it turned out to be simply unnacceptable for everyday use. After spending three hours trying various repair methods (including routing a 100 ft Cat 5 cable from my downstairs network switch to the GbE interface on the back of the unit) I had to give up on installing Windows 8.1 on that machine. I was able to completely reformat the primary drive after supplying the right AHCI driver during the initial install process in performing a clean re-install of Windows 8.0, and by using the external monitor got past initial installation to the point where I could install the proper HD 4600 video driver to return the display to its usual, brilliant and rock-solid graphics performance.
After that, it was just a matter of applying updates to the base-level OS (around 60 of them altogether: 52 immediately following installation, and another 6-8 as various applications and services brought .NET and Silverlight into the runtime picture), addressing the out-of-date device drivers (more or less the same 19 I ran into on my Windows 8.1 upgrade from Friday on a different machine, interestingly enough), and re-installing my usual collection of tools and utilities (RecImg Manager, CCleaner, 7-Zip, WinDirStat, WSCC, and CPU-Z went on right away, and I'll probably keep adding more in dribs and drabs over the next week or two, as I continue to work on that machine in my spare time).
And obviously, I'm going to keep my eyes on the XPS 27 support pages on the Dell site, so that when the driver issues get resolved, I can try the upgrade "once more, with feeling!"
---
September 15, 2013 1:03 PM
I found myself in an "interesting" situation on Friday because I started up the Windows 8.1 installation on one of my test machines, then decided to abort after the first couple of screens. I was working with an ISO I'd edited using the WinISOUtils to remove the cversion check to attempt an "upgrade" from Windows 8.1 Preview to Windows 8.1 RTM. But when the patched version of the installer got to my upgrade options screen, upgrading with programs and personal settings did not appear in the menu. Thus, I decided to abort, and see if I could fix my problems and attempt that option on another try. It was not to be!
I was in for a surprise when I next rebooted, because the Win 8.1 Preview refused to boot properly — my UEFI BIOS informed me it couldn't find a valid boot drive on my system. Alas, attempted boot repairs couldn't bring my system back to life, either. Faced with the option of re-installing an image backup of the prior Win8.1 Preview, or a clean install of the Windows 8.1 RTM, I opted for the latter, since it had been my plan to move up to that version anyway. The install went very quickly — it took less than 15 minutes to get to the initial configuration screens, and another 20-30 minutes to get through all the updates and to bring the machine online for test use.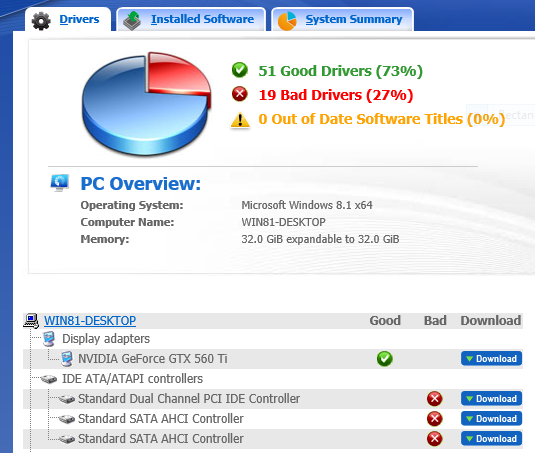 Following the install of the Windows 8.1 RTM, DriverAgent found 19 out-of-date drivers.
DriverAgent found 19 drivers in need of updating after the plain-vanilla install: 8 or 9 of these were fixed by installing the latest Intel Chipset driver file (version 9.4.0.1026 for this particular PC), and dealing with the rest required updating my NIC driver, a couple of Bluetooth drivers, the Intel 82802 chip driver, JMicron and Marvell SATA controllers, the Intel Management Engine Interface, and a new, more PC-friendly version of the Intel Extreme Tuning Utility (XTU) version 2.1.1 (which worked on all the PCs I tried, including two Windows 7 PCs as well as 3 Windows 8 PCs of various persuasions, and solves DriverAgent's long-standing issues with versions of the Intel Thermal Monitoring drivers used on so many modern motherboards nowadays). Overall time required to get a complete, up-to-date install for Windows 8.1 RTM consumed under two hours — that is, complete except for the applications I normally add to any of my test or production machines. As it is, I've still probably got another 2 or 3 hours' work to bring the system completely up to snuff. Would that I could have taken the illicit upgrade route (which I've used before on other beta Windows OS versions with greater success) because all that time would have been saved.
But that's the way things sometime go in Windows-land. I wish I'd been able to completely diagnose the boot fault issue that occurred. It seems odd to me that a partial install would have messed with the MBR and left the boot/system drive in la-la land. But my rudimentary research didn't lead me to any easy fixes, so I simply elected to blow the drive away and go forward from there. As things turned out, this resulted in some extra work for me post-install to restore my applications, but it also gave me the opportunity to work completely through a clean install, which left me impressed with the speed of the overall process. Even Windows 7 took at least half an hour longer to complete, even later in the release cycle and after gaining enough experience in the process to do it without having to puzzle problems through along the way any more.
---
September 10, 2013 9:30 AM
After holding Windows 8.1 back from developers, Microsoft relented and made Windows 8.1 and Windows 8.1 Pro RTM available to IT professionals and application developers through the TechNet and MSDN network this week.
The company changed its mind based on feedback from the IT community and will make available Windows 8.1, Windows 8.1 Pro and even Windows Server 2012 R2 RTM builds to the developer and IT pro community, said Steven Guggenheimer, Microsoft's corporate vice president and chief evangelist, in a blog post.
"We heard from you that our decision to not initially release Windows 8.1 or Windows Server 2012 R2 RTM bits was a big challenge for our developer partners as they're readying new Windows 8.1 apps and for IT professionals who are preparing for Windows 8.1 deployments…As we refine our delivery schedules for a more rapid release cadence, we are working on the best way to support early releases to the various audiences within our ecosystem," he wrote.
Microsoft's Windows RTMs are typically available to developers, but the Windows 8.1 RTM was only made available to PC manufacturers a few weeks ago.
What was Microsoft thinking? If you want enterprises to deploy Windows 8, you need the IT community to test the latest version of the operating system in their own environment. If you want Windows 8.1 bug-free apps available in the Microsoft Store when the operating system hits, developers need the latest RTMs. It's really not rocket science.
Giving IT pros and app developers the Windows 8.1 RTMs is not just about creating bug-free apps. New Windows 8-based mobile devices will become available throughout the fourth quarter. Do you think those devices are going to sell without apps? We all know Windows 8 mobile devices are just a fraction of the OS and Android-based app ecosystem. Microsoft needs all the help they can get.
Given that enterprises are not deploying Windows 8 in droves, Microsoft really should have considered how their Windows 8.1 RTM release strategy could affect the entire ecosystem. Holding the Windows 8.1 and Windows 8.1 Pro RTM versions from developers clearly wasn't the right move.
---