---
September 10, 2013 9:30 AM
After holding Windows 8.1 back from developers, Microsoft relented and made Windows 8.1 and Windows 8.1 Pro RTM available to IT professionals and application developers through the TechNet and MSDN network this week.
The company changed its mind based on feedback from the IT community and will make available Windows 8.1, Windows 8.1 Pro and even Windows Server 2012 R2 RTM builds to the developer and IT pro community, said Steven Guggenheimer, Microsoft's corporate vice president and chief evangelist, in a blog post.
"We heard from you that our decision to not initially release Windows 8.1 or Windows Server 2012 R2 RTM bits was a big challenge for our developer partners as they're readying new Windows 8.1 apps and for IT professionals who are preparing for Windows 8.1 deployments…As we refine our delivery schedules for a more rapid release cadence, we are working on the best way to support early releases to the various audiences within our ecosystem," he wrote.
Microsoft's Windows RTMs are typically available to developers, but the Windows 8.1 RTM was only made available to PC manufacturers a few weeks ago.
What was Microsoft thinking? If you want enterprises to deploy Windows 8, you need the IT community to test the latest version of the operating system in their own environment. If you want Windows 8.1 bug-free apps available in the Microsoft Store when the operating system hits, developers need the latest RTMs. It's really not rocket science.
Giving IT pros and app developers the Windows 8.1 RTMs is not just about creating bug-free apps. New Windows 8-based mobile devices will become available throughout the fourth quarter. Do you think those devices are going to sell without apps? We all know Windows 8 mobile devices are just a fraction of the OS and Android-based app ecosystem. Microsoft needs all the help they can get.
Given that enterprises are not deploying Windows 8 in droves, Microsoft really should have considered how their Windows 8.1 RTM release strategy could affect the entire ecosystem. Holding the Windows 8.1 and Windows 8.1 Pro RTM versions from developers clearly wasn't the right move.
September 9, 2013 3:46 PM
MS performed  an abrupt about face today, and posted the bits for the Windows 8.1 RTM to both TechNet and MSDN this morning. Here's what I see as the top 3 Windows 8.1 downloads in the MSDN Subscriber Downloads pages: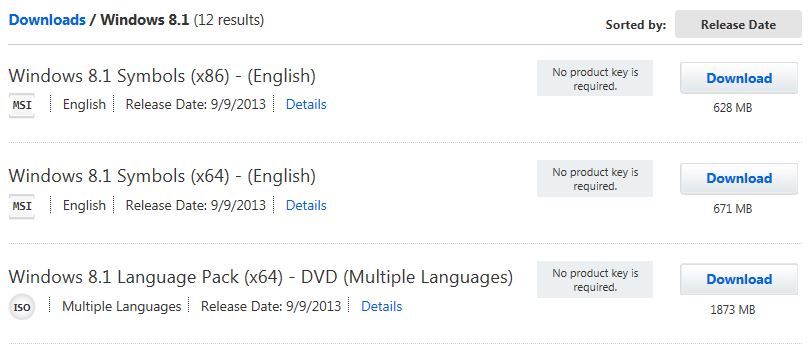 The IE-free "N" version of Windows 8.1 shows up at the head of the list, but you'll find both x86 and x64 versions in full-featured form on MSDN as well. Note that today (9/9) is the official release date!
Apparently, Microsoft attended to the hue and cry from developers (both of the hardware and software variety) and early evaluators who questioned Microsoft's change of policy for Windows 8.1. The Verge's Tom Warren quotes Microsoft Chief Evangelist Steve Guggenheimer as saying "We heard from you that our decision to not initially release Windows 8.1 or Windows Server 2012 R2 RTM bits was a big challenge for our developer partners. We've listened and we get it." And now, not only goes Microsoft get what developers wanted all along, they've gone ahead and made the software available in both regular and Pro formats (look for the appropriate downloads labeled "multiple editions") to subscribers.
Better late than never, or shrewd acquiescence from Microsoft? Who knows? I'm just glad to see they've allowed common sense to trump policy. It's nice to see them act reasonably in the face of both reasonable and unreasonable requests for advance access to the software. Given its availability through Torrents and other pirate channels anyway, it's simply a helpful move to deliver the software through safe and official channels.
---
September 9, 2013 10:29 AM
Just yesterday (September 8, 2013), Paul Thurrott posted a thorough in-depth tour and review of the RTM version of Windows 8.1 to his SuperSite for Windows Website. Entitled "Windows 8.1 Review: Windows 8.1 is meaningful and welcome upgrade to Windows 8," it walks readers through pretty much everything that's new and different in the upcoming October release of Microsoft's latest desktop OS. It's a lengthy, detailed, and fairly thoughtful piece. And though its title might suggest that Thurrott is playing the role of Microsoft apologist and advocate, he's always been one to report faithfully and objectively about what he finds in the many MS operating systems and platforms he follows so closely.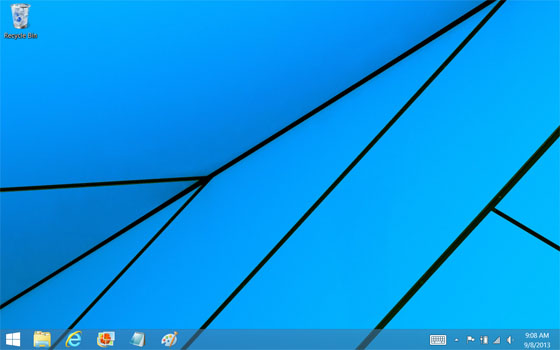 The 8.1 desktop provides ways to boot to the desktop and offers a nod toward Start button functionality with a left-hand icon that jumps to the Modern UI Start screen instead.
If you're interested in what's up with the Windows 8.1 RTM (both for Windows x86 and x64 as well as Windows RT versions), you could do a lot worse than to read this article from start to finish. The entire piece includes 4 lengthy numbered pages, ranging from just over 600 words to almost 2,200 words per page, and profusely illustrated with screen shots and examples. Highly recommended.
---
September 7, 2013 6:04 PM
For over 50 years, Germans (and folks from elsewhere on the continent) have been heading to Berlin in the fall for the IFA (Internationale Funkausstellung, which translates roughly as "International Radio Exposition"). For the past decade or more, that's meant a serious emphasis on home entertainment and computing, along with lots of other high-end electronics. This past week, Sony announced the Tap 11 Tablet at the IFA — its answer to Microsoft's Surface Pro — which really ups the ante on Windows tablet computing.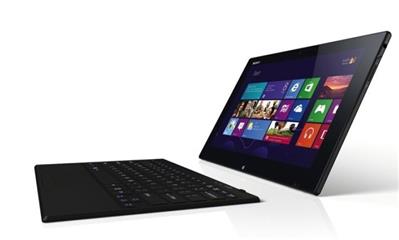 The new Sony VAIO Tap 11 tablet takes the Win8 tablet game to a whole new level, nearly on par with the iPad for thickness and heft.
[Image Credit: Engadget Sony VAIO Tap 11 slide show]
Sony proclaimed the Tap 11 to be "the world's thinnest tablet PC," and with a thickness of just under 10mm (0.39″) , they're not kidding. Some early "reviewers" (observers, really, as Sony has not yet released the PC into reviewers' hands for full-bore inspection and analysis) have indicated that the Sony Tap 11 is so thin that with its keyboard cover attached in place, it's about the thickness of the Surface Pro all by itself. But there's a lot more to like about this high-end tablet PC, including a fourth-generation Haswell processor (the Tap 11 will include ULV versions of either i5 or i7 processor models), 4  GB RAM, an SSD (in capacities up to 512 GB, according to some reports, 128 GB according to others), micro-SD card reader (for which one reviewer says tweezers will be needed for insertion and removal of such media), a single USB 3.0 port, micro-HDMI, NFC, an 8 MPX camera, and a Sony Active Pen stylus for screen input onto the full HD (1920×1080) touch-screen display. Some reviews also indicate the unit will support 4G/3G LTE, as well as 802.11a/b/g/n wireless LAN (but not in all markets, according to CNET) plus Bluetooth and NFC. Sony reports battery life at a disappointing 5-6 hours (on par with the current Ivy Bridge Surface Pro), much to my surprise.
Sony has yet to reveal shipping dates or pricing, but CNET reports that the unit will start shipping in Asia Pacific this month. Hopefully, it will hit the US market soon after that. I really, really want to get my hands on one of these  — though that doesn't necessarily mean I'll buy one — so I can check out its ergonomics, utility, and overall battery life. If Sony can bring this to market for $900 in the USA, however, it will take the market away from Microsoft. If they make it cheaper, they'll waltz in late to the Win8 tablet party, and grab a seat at the head of the table!
---
September 5, 2013 3:07 PM
Microsoft's decision to purchase Nokia this week is another example of the company buying its way into a market because it couldn't develop a competitive technology on its own.
Unfortunately, Microsoft missed the boat on major mobile trends like smart phones and tablets just because it wanted to be seen as an innovator.  Microsoft put the kibosh on innovative products like Office for the iPad because it allegedly didn't want to squash sales of its own Surface tablets. Surface has yet to "surface" as a major tablet player. Remember Microsoft's Tablet PC efforts a few years ago? That went nowhere. Remember Windows CE and Pocket PCs? It became an epic failure once the iPhone took over.  (Although, I hear the embedded Windows CE is still in use today for specialized applications.)
As Steve Ballmer's reign comes to an end sometime within the next year, perhaps Microsoft's attempts to be a true innovator for mobile technology will also come to an end if it continues to make some poor decisions in the mobile space.  Microsoft had to buy its way into the smartphone market with the Nokia deal and we'll have to see how that story plays out. It's the execution and merger of the two companies that will be vitally important if Microsoft expects to become a serious competitor in mobile.
Microsoft could have been a better mobile software provider if it was more open to embracing mobile technology trends. If Microsoft had jumped to support iOS and Android for its flagship Office software suite, it wouldn't be viewed as playing catch up.  Microsoft might be on the map already, especially in the enterprise, with the BYOD movement and millions of Office knowledge workers who want an app that extends their work model to a tablet.
I devised a simple spreadsheet model to see how much revenue Microsoft might have made if the company sold an Office for iPad application suite since Apple launched the iPad in 2010.
Using Web research I estimate 215.3 million iPads have been sold. (Mind you, that's sold, not shipped into the channels).  Upon its launch, I assumed not many people would really purchase Office for the iPad. But in 2011, once end users started seeing the tablet's value for data creation (not just for data consumption) the picture gets much more interesting.
I made certain assumptions about market trends and end user behavior. So with that, here are the numbers.
Starting in 2011, if one calculates conservatively that 10% of iPads sold installed Office for iPad, all the way up to 30% in 2013, and the Office suite costs $30, that's an estimated $1.35 billion. However, Apple takes a 30% revenue cut for selling apps through the iTunes store, to drop potential revenue to nearly $1 billion worth of tablet sales that Microsoft  has left on the table  (Hmm…that's enough to cover the $900 million Surface RT inventory charge from Microsoft's fiscal fourth quarter).
Now assume the Office for iPad suite sold for was $50. Microsoft's accumulated revenue might have crested $1.6 billion up to this year, and that takes into account Apple's iTunes charge.
Personally, I don't think customers would pay $50 for an iPad application software given many users think even $4.99 is too much for an app. A conservative $30 for Office for the iPad is more realistic. Microsoft could adopt the Apple model and pull apart the software to price out each app at $10. This would give Microsoft even more incremental revenue from buyers who may want to cherry pick one or two apps from the Office suite.
I didn't calculate potential iPhone revenue. I doubt end users would be inclined toward performing serious productivity work on such a small screen – whether it be a Word document, PowerPoint presentation or Excel spreadsheet. Other than reviewing a doc and making a light edits, real productivity work happens on an iPad with add-on keyboard.  And, because customers buy Apple's productivity software once and it works on all devices, paying extra for the software to work on an iPhone will not fly.
Now, could one calculate how much total Microsoft could have made if we include the Android tablets? Sure.  There is probably an effort somewhere deep inside Microsoft to create an Office for Android suite that hasn't seen the light of day. And that, my friends, is even more revenue lost.
So let's hope eventually Microsoft gets its mobile strategy right. For now, I'll just settle for having a copy of Office for the iPad.
What do you think? Send an email to dhwang@techtarget.com.
---
September 4, 2013 12:41 PM
On October 17 or 18, depending on your location (the Far East goes up, and the rest of the world pretty much goes down, date-wise) Windows 8.1 goes into General Availability status. On and after those dates, the only way to get Windows 8.1 will be to buy it, as such. Right now, if you search for "Shop for Windows 8 upgrade" you'll find prices that run from a low of $49, and lots of deals for about $65 (the Microsoft Store price is $199.99). On the other hand, an OEM license for Windows 8 Pro runs from about $100 to $133 or so, and a full-blown (upgrade) license goes for $150 to $200 or thereabouts. There's no reason to expect prices for Windows 8.1 Pro to be any different. And if experience is any teacher, the OEM versions won't be widely available for some months after the initial, full-price GA release hits the street, either.

For once, Microsoft actually dispenses some smart buying advice for those who will upgrade to Windows 8.1 someday.
Why am I telling you this? Because the Windows 8.1 upgrade download is free to anyone who already has Windows 8 installed on the PC to be upgraded. Thus, it's cheaper to obtain an upgrade to Windows 8 right now, and then to get the 8.1 upgrade later for free, than it will be to purchase a Windows 8.1 upgrade when those hit the market next month. As for myself, I took advantage of $25 and $50 upgrade prices to purchase upgrades for my Windows 7 machines when Windows 8 hit the streets last year, and for at least two of my machines — still running Windows 7 — this will cover me for Windows 8.1 as well.
Time, as they say, is running out. Be sure to snag such el-cheapo Windows 8 upgrades as you can find now, to save yourself some shekels on Windows 8.1 upgrades later. You've got a little over a month to make this happen, so happy online shopping!
---
September 2, 2013 12:00 PM
Kudos to Martin Brinkmann at ghacks.net. His September 2, 2013, article "How to install Windows 8.1 RTM on a Windows 8.1 Preview system" explains how to get around the MS-imposed restriction on Windows 8.1 installs. Otherwise, MS requires either a clean install of that RTM release (or the upcoming GA release scheduled for mid-October), or a return to plain-vanilla Windows 8 (another clean install) before installing the upgrade bits on any PC with the Windows 8.1 Preview release already installed.
The secret comes form a set of tools called the WinISOUtils, a set of Windows ISO disc image utilities designed to operate on the dowloadable ISO images that MS uses nowadays to distribute its various operating systems. The self-description blurb for this nice little set of tools provides a great overview for its components, so I reproduce it here: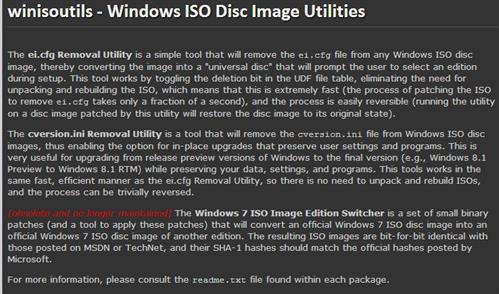 The cversion tool can be grabbed on its own, and essentially sidesteps the version check portion of a typical Win8.1 install by deleting the version info file from the install image in use.
In fact, this technique works for any modern version of Windows, from Vista on forward, where the cversion.ini file is used to check whether or not a chosen upgrade path is allowed or not during the install process. Because it permits users to retain existing data and settings, as well as additional programs already installed, it's a real time-saver for those not afraid to risk the occasional (and inevitable) compatibility hiccups that Microsoft's policies are designed to avoid (but which are too draconian to be acceptable to most power users and Windows-savvy IT professionals willing to do their own application-level troubleshooting).
---
August 30, 2013 12:17 PM
I've said it in this blog before, I'm saying it now, and I'll no doubt say it again: Woody Leonhard is a genuine Windows guru, and always has something interesting and informative to say about his chosen field of endeavor. In his latest InfoWorld story — entitled "A first, jaundiced look at Windows 8.1 RTM" — he braves the potential for malware to inspect and comment upon a pirated, leaked version of the Windows 8.1 RTM bits that have come into his possession through various unspecified means (BitTorrent searching, anyone?). The net-net of his reporting is nicely summarized in that story's subtitle: "Hopes that Windows 8.1 RTM would correct some of the problems from earlier builds prove very wrong."
Here's a list of the items he recites in that story to underscore that subtitle:
1. Smart Search remains turned on by default.
2. Difficulties inherent in installing Windows 8.1 to a local, non MS Live account continue (the trick, he discloses, is to use a bogus email address which presents the option to install to a local account when attempts to resolve that address fail).
3. Libraries don't get built by default, and are hidden in File Explorer (which still launches from explorer.exe). The push toward SkyDrive for fun and profit even makes public folders hard to find. (Hint: the old default library items still show up under Folders at the very head of the "This PC" view in File Explorer. Public shows up as a folder entry under This PC in the left-hand menu as well.)

The old Library entries found in Windows 7 and 8.0 now appear as "Folders" in the This PC view in Windows 8.1 File Explorer.
4. No more backup and restore center (I also blogged about this on August 21 in a post entitled "Windows 7 File Recovery Absent from Windows 8.1" and explained how to gain access to the vhd and vhdx files created for Windows image backups by the now-missing utility in Windows 7 and earlier versions, and Windows 8, respectively). In this story, Woody also explains how to get to restore points in Windows 8.1 (by typing "restore" from the Start screen or into the Run box you elicit a "Create Restore Point" tool) and how to turn them on for drives of your choosing.
5. Echoing a point he makes several times elsewhere in his reporting, Woody affirms that claims for a return of a Start menu in Windows 8.1 are both overblown and inaccurate: he observes (and I concur) that it's simply easier to get to the Start screen. I still use Classic Shell or Start8 (the 1.17 beta version) to keep a real Start menu on my 8.1 desktop. He also observes that desktop apps get Modern/Metro UI tiles in 8.1, which makes launching them "interesting" on an unmodified desktop (but works as it did in Windows 7 with any of the many add-on "Start menu replacements" available for Windows 8 or 8.1).
6. More missing matter: still gone are the Windows Experience Index (WEI), connections to Facebook and Flickr in the Photos app, and Windows Easy Transfer works inbound only (no using this tool to migrate to a different Windows 8.1 install).
Given what's reported, the jaundice in Woody's eyes is easy to understand. But perhaps it's still worth hoping that MS will choose to address and repair some of these deficiencies before the general availability (GA) release hits on October 17/18. Only time will tell!
---
August 28, 2013 3:14 PM
That's the substance of a comment posted to a story that appeared yesterday on The Verge, entitled "Windows 8.1 leaks on the web ahead of its October release," which reports that "a localized Chinese version" of Windows 8.1 has already been leaked into the shadowy underworld of BitTorrent. With English versions sure to follow soon, and developers ranging anywhere from highly incensed to mildly peeved that the Windows 8.1 RTM release won't be made available via MSDN or other developer channels, life is very interesting for those whose jobs and livelihoods entail following the latest version of Windows wherever it may lead.

User aaron44126 expresses a pithy sentiment that many Windows followers currently share.
Just because the OS has been released to RTM doesn't mean it won't be changing, perhaps even in some serious or substantial ways, before the General Availability (GA) version ships on October 17/18. Microsoft is apparently not interested in sharing a not-yet-solid version with developers, preferring instead to have them wait for a more solid version when GA lockdown occurs. Why is it that this appears like another obvious mis-step for Windows 8, which continues to operate under a dark cloud? You'd like to think that MS understands better than most companies the value and importance of apps for their platform, as they hustle along playing permanent catch-up with the Android and iOS offerings already available.
Go figure…
---
August 27, 2013 4:19 PM
Microsoft is right on time. The software giant released its Windows 8.1 and Windows 8.1 RT RTM version to PC hardware vendors this week.
In a post by Microsoft's Antoine Leblond, the company said it hit an important milestone: providing a new release of the software only 10 months after it arrived. But Microsoft is doing things differently this time.
"While our partners are preparing these exciting new devices we will continue to work closely with them as we put the finishing touches on Windows 8.1 to ensure a quality experience at general availability on October 18th. This is the date when Windows 8.1 will be broadly available for commercial customers with or without volume licensing agreements, our broad partner ecosystem, subscribers to MSDN and TechNet, as well as consumers."
The kicker? While the RTM version isn't complete, it is good enough to get out the door to the PC hardware vendors but the MSDN and TechNet communities won't get it. Huh?
Microsoft says technology has shifted so our personal and work lives have become blurred. I don't deny this because mobile technology and the cloud have really changed how we work and live our lives. But does this allow Microsoft to tweak the software even after the RTM goes to its hardware partners? To Microsoft, yes. Faster updates provide customers more time to tweak their own platform given all the new devices expected in the fourth quarter.
I'll give Microsoft a pass on this because partners want to make sure Windows 8.1 looks and works well on their new form factors. Providing touch and a new interface on these forthcoming devices is not an easy task.
But, whereas MSDN and TechNet subscribers previously received the RTM shortly after its release, this time around, these communities  get them on October 18, the same as commercial customers and consumers.
Why would Microsoft do this? Don't they want apps to be fully ready, tested and bug free as soon as Windows 8.1 hits  stores on October 18? In this case, even though Microsoft wants to abide by its rapid software release cadence, the developer community should have access to the RTM version. End users don't want buggy apps on day one.
And, here's another thing. If mobile is so important to Microsoft, they must realize  it's not just about devices. It's about the apps and the entire ecosystem. In fact, if some apps don't work on a device when they come out in the fourth quarter, why would anyone buy it? These technologies go hand in hand and even though I'm not a developer, I can't fathom why Microsoft would do this. As a multitasking, mobile business and enterprise user, I would never buy a device if it didn't have the bug-free apps I wanted.
It would behoove Microsoft to change their stance on allowing MSDN and TechNet subscribers to have the Windows 8.1 RTM version. Developers need to make sure their apps are bug free and ready to go on October 18 when Windows 8.1 becomes available to the masses.
If Microsoft is going to have any chance of uncovering new opportunities in the enterprise, IT pros absolutely need the software for testing in their own environments.
I know not many enterprises are really moving to the new operating system and they would prefer Windows 7. But, that being said, Microsoft needs all the support they can for Windows 8.1. This approach only takes into account the hardware device manufacturers and for the short-term leaves out the developers and IT community. The success of Windows 8.1 doesn't just rely on the hardware and the operating system. It is, after all, an ecosystem, and supporting all branches of the system is what's going to slowly get Windows 8.1 into the hands of a broader set of users.
---