---
March 12, 2014 9:34 AM
In January of this year, I purchased a very nice Stylistic Q704 Tablet PC from Fujitsu's online store. The unit shipped with Windows 7 installed, but I immediately upgraded to Windows 8.1 on the premise that it makes no sense to use a touch-oriented device with the less touch-friendly Windows 7 rather than its more touch-friendly (and current) 8.1 counterpart. Fujitsu even sent me a Windows 8.1 install DVD so I could do the upgrade myself.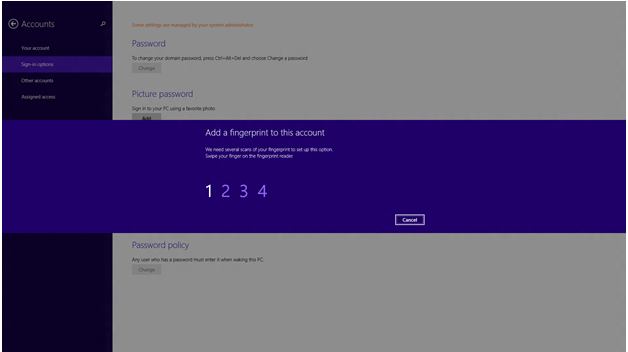 Once I gave up on Fujitsu and started looking for fingerprint scanner support on my own, I learned that Windows 8.1 itself provides basic device support in PC Settings.
After working through that process, I quickly realized that Fujitsu provided no software to put the tablet's fingerprint scanner nor its Near Field Communications (NFC) sensor to work. In conversations with the company's tech support staff, I emerged under the impression that they would be releasing Windows 8.1 software for those two devices around the end of February. Thus when the first week of March came and went, and I saw nothing new on the support page for the Q704 for those devices, I contacted Fujitsu by e-mail to inquire further about the availability of this software. I received a reply saying that there has never been a delivery date published for those items, and that my understanding of the delivery date must therefore have been faulty (or perhaps, deluded). Sigh.
Given this disheartening response, I went digging for information about the unit's Validity Sensors fingerprint scanner through Device Manager and the Fujitsu site itself. I learned that the installed device is compatible with the Windows Biometric Framework (WBF), and that it is natively supported in Windows 8.1, Windows Server 2012 (and R2). I also found an article in TechNet entitled "What's New in Biometrics in Windows 8.1" that contains the following and very interesting quote in the "Fingerprint registration experience and fingerprint management application" section:
Windows 8.1 includes a fingerprint registration application, thereby removing the need for a hardware manufacturer to provide such an application. This application is integrated with the account settings page in PC settings.
Furthermore, the article provides step-by-step instructions on how to register fingerprints with that built-in application, so that users can easily begin using the fingerprint scanner to log into Windows 8.1. Almost immediately after reading this article — set-up took less than two minutes — I was able to start using the fingerprint scanner that I had mistakenly believed to be unusable on the Fujitsu for lack of vendor-supplied software to support same. This raises the even more interesting question of "Why didn't Fujitsu know about this?" (and to make sure they did, I emailed them again to tell them about what I'd learned, and to point them at the TechNet article with the step-by-step instructions others can use to put their fingerprint scanners to work under Windows 8.1).
Now, if only I could find something similar for the NFC device. It looks like I can download some example applications from MSDN to put that device to work, but that's going to require downloading and installing Visual Studio on that machine. I'm not sure I want to do that on a mobile device with limited storage space, but I'm pondering that possibility right now. If anybody knows of other options for NFC on Windows 8.1 (surely, there's got to be some commercial software out there?) please let me know!
It all goes to show that while information from Tech Support may be nice, and sometimes helpful, it's still up to those who own the devices to root around and figure out how to get things working. Otherwise, one might have to wait for the infernal regions to ice up before obtaining genuine relief!
March 10, 2014 11:08 AM
Although I missed this particular boat last Thursday, it seems that files for the upcoming Windows 8.1 Update (apparently to be called the Spring 2014 Update) appeared online by mistake that day. For a while, editing a Registry key was all it took to gain access to the upcoming new bits for Windows 8.1. While MS has now blocked that form of access, I just tried the links to update files via Knowledge Base (KB) downloads, and was able to access two of them without difficulty while the other four produced 404 errors.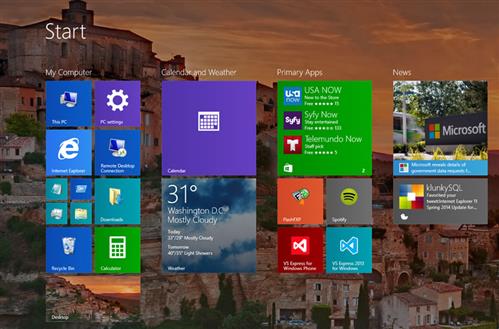 Snapshot of a typical Win 8.1 Update 1 Start screen (source: WinBeta.org).
.
You can find a complete list of these links at Microsoft-News.com in a story entitled "Windows 8.1 Update Leaks…Sort Of" (click the 32-bit or 64-bit elements in the middle of each list item to get to the corresponding KB items). The story goes onto opine that "…these links are intended for internal Microsoft employees [who] have been testing or "dogfooding" Windows 8.1 Update 1," which may explain why some of those links still work.
If you're interested, you'll also find the recommended order for KB article items by number is as follows:
1 KB2919442 Preparation Update
2 KB2939087 Preparation Update
3 KB2919355 Update 1 done
4 KB2932046 Supplement File
5 KB2938439
6 KB2937592
So far, published reactions to the new update have been mixed, with some individuals reporting bugs or an inability to start the OS after installation of some KB items, and others reporting no such problems. Neowin.net already has an interesting summary from those members of its user forums who've installed the update: it's entitled "Neowin members offer impressions of Windows 8.1 Update 1." If you're interested in a preview of things to come, it's probably too late to grab them from Microsoft, so you'll have to ask yourself if curiosity trumps caution when it comes to seeking out the BitTorrent versions likely to proliferate soon, if not already available.
---
March 7, 2014 12:23 PM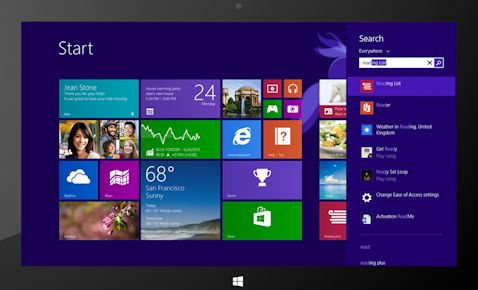 Russian leaker WZOR scores one more time, and scores BIG, with his disclosure of the documentation from the Windows Assessment and Deployment Kit for Windows 8.1 Update 1, which says the following about the topic of "Windows with Bing:"
"Windows 8.1 with Bing helps OEMs add Windows to low-cost devices while driving end user usage of Microsoft Services such as Bing and OneDrive," the documentation states. "This edition of Windows sets Bing as the default search engine within Internet Explorer. Users will be able to manually change default search settings and install additional browsers of their choice. Windows 8.1 with Bing is based on the feature set available in Windows 8.1 Core and includes all of the latest updates, including Windows 8.1 Update. Windows 8.1 with Bing is available for 32-bit and 64-bit platforms. "
The documentation also clues us into official MS terminology for what's been called Windows 8.1 Update 1 up until now: the official term is apparently "Windows 8.1 Spring 2014 Update" (which goes along with Windows Server 2012 R2 Spring 2014 Update, in keeping with the common code base for the client and server versions of this operating system).
---
March 5, 2014 9:51 AM
According to sources that include Mary Jo Foley, Paul Thurrott, and others, Windows 8.1 Update 1 has been released to OEMs, a milestone usually abbreviated as RTM (for "release to manufacturing" or "release to manufacturers," a step that lets equipment vendors start building reference images for their Windows 8.1 devices in anticipation of an immanent General Availability, or GA, release). Thurrott tweeted at the end of February that "Windows 8.1 Update 1 will hit MSDN on April 2, Windows Update on April 8."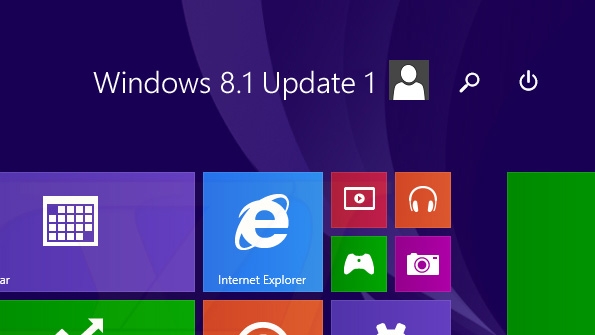 Thurrot's 1/25 screen cap of an early leaked Windows 8.1 Update 1 build.
All this points to upcoming access to a new and keyboard-and-mouse friendlier version of Windows 8, sooner rather than later. I wonder if PC Pro's recent quote from Joe Belfiore, Microsoft's VP for Windows Phone, will be enough to breathe more enthusiasm and interest into the ho-hum uptake for Windows 8 versions for far:
"We are making improvements to the user interface that will naturally bridge touch and desktop, especially for our mouse and keyboard users. We have a number of targeted UI improvements that keep our highly satisfying touch experience intact, but that make the UI more familiar and more convenient for users with mouse/keyboard."
It's pretty clear that MS is aware that public perceptions of its new flagship OS must improve for Windows 8 to attain a measure of success. It will be interesting to see if the company can truly reverse course, and make Windows 8 less unpalatable to the vast majority of PC users who lack the critical touch interface capabilities previously thought necessary to fully appreciate Windows 8. Hopefully, this means Windows 8 will also gain more traction with business/enterprise users, many of whom are facing a more-or-less-mandatory migration away from Windows XP in light of the upcoming withdrawal of ongoing support on April 8. Surely, that makes the timing of Windows 8.1 Update 1 no coincidence whatsoever.
---
March 3, 2014 11:08 AM
The Web's been abuzz with rumors of a low-cost/no-cost version of Windows 8.1 that could be offered as an "upgrade" to Windows 7 users who might otherwise be disinclined to migrate to Windows' upcoming Update 1 release scheduled for April 8 or thereabouts. Outlets as varied as TheVerge and Forbes have reported on this phenomenon, but Russian überleaker WZOR scores BIG with his leak of a EULA screen for "Windows 8.1 with Bing"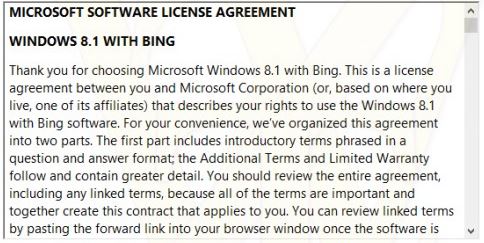 How convincing is a "possible EULA" for Windows with Bing? You decide…
Rumor has it that Windows 8.1 with Bing may be offered for free or a nominal cost, and made available to OEMs dirt-cheap, to encourage uptake of the upcoming Windows 8.1 Update 1 release scheduled for April, 2014. Forbes also reports that this version would include some form of Microsoft Office (I'm guessing Home and Student, through a one-year online subscription), Skype, and, of course, OneDrive (formerly known as SkyDrive). Charley Blaine at Forbes hits the "what's wrong with this picture?" button perfectly with the following observation, though (emphasis mine):
It's not clear if "Windows 8.1 With Bing"  will ever exist in a commercial form. Some pieces of the idea don't really make sense for a company that monetizes as much of its software as it can.
This adds additional interest and zest to monitoring the rumor mill for Windows 8.1 Update 1, though. It should be very interesting to see how this plays out when April 8 (the consensus date for the Update 1 release to drop) rolls around no so very long from now.
---
February 28, 2014 12:14 PM
As fate would have it, I was on an important conference call with clients yesterday at around 2:30 PM my time when I rebooted my machine after installing the recently-issued MS Office 2013 Service Pack 1. I was a bit surprised when the boot-up process hung, but figured something had reset the BIOS to change the boot drive order. And indeed, I had to point the UEFI BIOS at the proper drive to force Windows to access the Windows Boot Manager on that device. But this didn't solve my problem, which quickly degenerated into a full-blown hardware failure on the motherboard for that system. When I was able to instruct Windows to start booting, it would still fail (with the frowny-face error screen that so unhelpfully indicates that "Your PC ran into a problem" but doesn't provide much insight) anyway. And when I tried booting from a bootable UFD with the Windows 8.1 installer to attempt a repair, the PC wouldn't recognize the keyboard (though the mouse kept working) no matter which port I plugged it into (or which of the four keyboards I keep in my office I plugged in).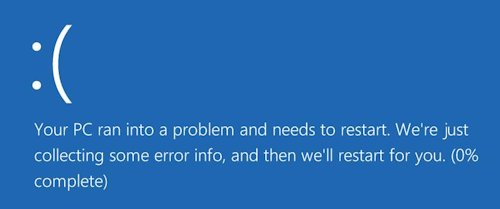 This is seldom a good sign when rebooting Windows, but sometimes it's a worse sign than at other times.
I had to go to school yesterday to help out with the robotics club meeting as I do every Thursday afternoon, at which point I described the symptoms and asked for a confirmation of my diagnosis — bad motherboard — from the club leader, who also happens to be the "IT guy" for the school. He concurred that the motherboard was hosed, and agreed with my decision to move my production platform over to my Sandy Bridge i7 test machine (2600K on an ASUS P8Z68-V Pro Gen3 motherboard). "No big deal," I figured, "All I have to do it install Office, migrate my PSTs, and move the drives, and I'm done." Moving the drives turned out to be easy, because I have learned to keep my important stuff on eSATA or USB-attached external drives: that simply means moving cables, and not much else. I did also remove the boot drive from the dead machine because I knew I'd need it to grab my most current PST file (and might need access to pictures or other stuff that automatically takes up residence on a Windows system/boot drive).
But I hit an "interesting" snag when I brought up MS Office. For some reason or another, the Windows Search service (SearchIndexer.exe) had quit working, and when I tried to restart it, informed me that the file was missing even though I could see it in …/System32 and the sfc /scannow utility reported nothing wrong with the file. Artful attempts to replace the file also had no impact on its intransigence. I Googled my way into troubleshooting mode, and tried various repairs documented online, including some registry hacks, all without success.
Because I depend heavily on being able to search my Outlook email folders (it's my primary repository for work information and communication history), I found myself forced into a clean (re)install of Windows 8.1 on my new production machine. I was able to get through this process in under one hour, but of course, following up with all the patches through Windows Update took quite a bit longer to complete. Likewise for the process of reducing the number of out-of-date drivers on the newly reminted system from 18 out of 74 to 2 (of which one, the Intel Management Engine Interface aka MEI is a false positive: it doesn't create the correct registry entries to show itself to DriverAgent, even though Device Manager shows that the version I'm running is the one they say I should be running; and the other is for some "HID-compliant consumer device" that defies detection sufficient to tell me what driver for which device is involved). Then, of course, I had to reinstall all my standard applications to restore my normal working environment, which easily consumed two hours. And finally, installing Office 2013 plus the 800-odd MB of updates, patches, and yesterday's SP1, also took just over two hours to complete, including Outlook configuration and importing the necessary PST files.
But hey! I'm back in action, on a faster PC with more memory, storage, a newer, faster CPU with a better graphics card. And I didn't lose more than half a working day to get back to where I started (though I did keep plugging away until after 9 PM last night). In the wonderful world of Windows, that's not too bad — but it does make me wish that virtualization and back-up technology were sufficiently advanced that I could just select "run on new machine" and make it so, more quickly and easily. Perhaps when GB Internet links are the norm, and most everything really is virtual, this will seem entirely normal, and not like a wonderful but unattainable fantasy.
---
February 21, 2014 11:19 AM
The word has been out for a few days now that MS has refreshed (and renamed) its cloud storage offering. What was SkyDrive on Windows 8 devices may now be replaced with OneDrive instead (download link). After installation, the SkyDrive icons and naming remain present on Windows 8 devices (except for smartphones that run Windows 8 Phone), so don't be surprised when you jump into File Explorer afterwards and see the old nomenclature still present. The only thing that changes for desktop, notebook, or tablet users, really, is what's on the cloud side of the SkyDrive/OneDrive connection and that's where the new look and naming come into play.

The logo still looks more or less the same, but the name has definitely changed.
To add some interest to this makeover, MS is offering extra free storage to those who add their camera rolls to the OneDrive environment, and also to those who invite their friends to sign up for OneDrive service (at 500 MB per successful invite, up to 5 GB altogether). To add a camera roll, you must download the OneDrive app to your smartphone or tablet, then backup your camera roll (or Photos, or whatever it's called) to your OneDrive/SkyDrive storage (by default, this goes into a folder named "Pictures"). The Camera Roll bonus adds 3 GB to your overall storage. Here's what mine looks like after jumping through these various hoops (I got onto SkyDrive early enough to get the 25 GB allotment for early adopters):
Up to 8 GB of added storage is available for free to those who recruit 10 friends, and backup their camera rolls.
I'm a little disappointed to understand that the Windows 8 desktop doesn't change as a result of going through the upgrade to OneDrive. The only real tangible evidence of the change that I can see is when logging into OneDrive on the Web, and on my iPhone, where I now have a OneDrive app that I can use any time I like.
---
February 17, 2014 12:56 PM
With Windows 8.1 Update 1 now confidently predicted for March/April of this year, the rumor mill is grinding ahead into the next major planned release for Windows. Usually called Windows 9, this next release is said to provide remedies for many of the beefs that old-line mouse-and-keyboard Windows users have tallied against the Windows 8.* family of operating systems.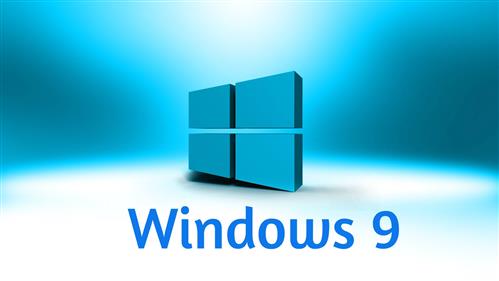 One view of the Windows 9 logo, courtesy of techtimes.co
Numerous sources now indicate that a Release Candidate for whatever Microsoft ends up calling "Windows 9" is likely to appear between late August and sometime in September, 2014, including Wzor (as reported at WinBeta.org). Among the various enhancement and improvements said to be included in this release are:
Modern UI apps inside desktop windows, much like Stardock's ModernMix utility
The return of a genuine, built-in, desktop start menu, much like Stardock's Start8 or Classic Shell (Paul Thurrott says this will be a user-electable option)
Windows 9 (or other distinct OS) branding seems pretty likely, as MS tries to distance the next release from the generally poor-to-lukewarm reception for Windows 8. The current MS code name for this next version is "Threshold"
More consolidation across Xbox, Windows, and Windows Phone is likely for Windows 9, so watching SKUs should be interesting (as should be the fate of Windows RT). Mary Jo Foley reports there will be a "modern" consumer version, a traditional PC version, and an enterprise version. Details remain sketchy
Most reports (or speculations about the future) put the release date for Windows 9 into Q2 2015 (which squares up against the RC date mentioned earlier, given a typical 6 month lag from RC to Customer Preview (CP; usually at mid-point) to General Availability (GA) releases.
Please note that this also holds to Microsoft's newly adopted Rapid Technology Update approach, wherein they release new versions on a more or less annual schedule. It's too early to tell how many of these rumors may show up in the various code releases, but this paints an interesting picture of regrets addressed, and missteps retrodden.
---
February 16, 2014 1:23 PM
USB Flash Drives — aka UFDs — represent one Windows install medium of choice nowadays, particularly on newer PCs with USB 3 ports when matched up with USB 3 rated flash drives. These speedy little storage devices can deliver a complete Windows 7 install in under 20 minutes, and I've been able to install various versions of Windows 8 even faster than that on occasion.
In fact, I've started to maintain bootable UFDs with install images for various Windows operating systems to make installation or VM creation as fast and easy as possible. I now have 32- and 64-bit bootable UFD images for Windows 7, Windows 7 SP1, Windows 8, and Windows 8.1 all squirreled away on one of my big 3.5″ SATA drives ready for use on relatively short notice. I used to use the Windows 7 USB DVD Download Tool to create such bootable UFDs using Windows OS .iso files, but have lately switched to the even better Rufus utility instead.
But with 8 images in all, and only 4 small-capacity USB 3.0 UFDs, I needed some way to rotate images to and from those UFDs on an as-needed basis. (FYI, I've got 2 Mushkin 8 GB, and 2 Corsair 16 GB UFDs for this purpose, because it's a waste of space to dedicate anything bigger to such use, given that a complete install image for these OSes runs somewhere between 3 and 5 GB, before you start adding drivers or slip-streaming applications into that mix. My production Win8.1 image is about 9.57 GB as you'll see in the following examples.)
Pick the UFD you want to back up or restore, then specify a source or destination, and you're in business.
I discovered that Acronis True Image would make image backups from UFDs a couple of years ago and at first, took this approach to backing up and restoring UFD bootable images for Windows install work. Just recently, however, I discovered Alex Beug's excellent USB Image Tool (Version 1.64 is the most recent implementation of this nice little "donationware" program). It's extremely easy to use and works quite nicely. For a USB 2 scenario the program is significantly slower than USB 3: over 18 minutes versus under 6 minutes to back up 9.57 GB of data from my production Windows 8.1 UFD; and over 33 minutes to restore that same backup on USB 2 versus around 11 minutes on USB 3 (that's because it takes longer to write to a UFD than it does to read from one).
For those Windows sysadmins who sometimes (or often) turn to fast UFDs for Windows installation, UB Image Tool is a very nice additions to one's toolbox. If you do take advantage of this nice little utility, please do what I just did and send Alex a $2-5 donation (the price of a cup of good coffee, which I arbitrarily decided was 2 Euro in my case) to say "Thanks!" for his good work.
---
February 12, 2014 12:23 PM
OK, so yesterday was "Patch Tuesday," and MS posted a couple of interesting compatibility updates along with a number of security updates, and the latest version of the Malicious Software Removal Tool.

One version for new installs of Windows 8.1, the other for existing installs: both address the same set of application compatibility issues.
In particular, I'm talking about the following items:
KB 2917929 "Compatibility update is available for Windows RT 8.1, Windows 8.1, and Windows Server 2012 R2…" This one covers a huge list of applications (65 or so, including well-known items such as 7-Zip, Acrobat X1 Pro, Audacity, the DivX Converter, Evernote, FileMaker Pro, Omnipage, Open Office, Opera, Safari, and WinRAR, among many others) to make older versions play more nicely with Windows 8.1. This particular patch applies only to those who upgrade to or install Windows 8.1 on a PC.
KB 2917929 "Compatibility update is available for Windows RT 8.1, Windows 8.1, and Windows Server 2012 R2…" This one covers the same huge list of applications, and will be offered to those whose PCs already have Windows 8.1 installed (normal consumers of Windows Update on 8.1, in other words).
It's probably worth exploring the list of applications covered by these compatibility updates to see if your PCs might benefit from its application. Visit either of the two KB articles linked above to see that list in its entirety.
---