---
October 18, 2013 12:05 AM
Microsoft has made good on its promise to release its software at a faster cadence with the release of Windows 8.1 today with some features that may grab the attention of IT.
This means you can now download Windows 8.1 from the Windows Store and upgrade your Windows 8 PC.  But should enterprise users care?
If you use Windows 8 at home or in your workplace, sure. Now you can take advantage of the pseudo-Start button, boot up your system in the familiar desktop mode, and have better support for multitasking.
IT administrators may also want to consider Windows 8.1. The community was part of the Windows 8.1 second wave of release to manufacturing version (they should have been part of the first wave), and now they can evaluate a final copy of the operating system which offers more enterprise management and security features, including biometrics.
Depending upon the version of Windows 8.1 — Pro or Enterprise – the software provides IT administrators with more control by enabling domain group/policies, support for BitLocker encryption, work folders, workplace join and open mobile device management. There also is a tighter integration with Internet Explorer 11.
However, we all know that many enterprises are not ready to adopt the Windows 8 platform as this would mean not only a software upgrade but also a hardware upgrade to take advantage of touch capabilities. And, many of them just spent a lot of money moving from Windows XP to the stable Windows 7 operating system, as Windows XP end of life looms.
But take note: mainstream support for Windows 7 ends January 13, 2015. At that time, the industry enters the five year extended support phase, which ends on January 14, 2020.  At that point we're back to square one of migrating businesses off of Windows 7 to whatever version of Windows is going to be out at that time.
Businesses will probably take advantage of the extended support phase, as they have with Windows XP. The Windows 8 platform is still in evaluation mode among many enterprises.
CIOs and CTOs say they want IT administrators to gain a better understanding of the company's business, its employees and market trends so that they think more strategically when it comes time to make technology decisions.
It's only a matter of time before enterprises have to think about the tried and true Windows 7 going away and the industry entering another cycle of major upgrades. IT pros: be prepared.
October 16, 2013 10:23 AM
I volunteer at my son's school, where one of my gigs involves assisting with a Wednesday morning programming class on Microsoft's SmallBasic, and another one has me helping out with a way-cool robotics club orchestrated around the Lego MindStorms robot kits. It's not only fascinating and fun, it also has me rubbing shoulders with the school's main (and only fulltime on-site) IT guy who's the sponsor of the robotics club and who also supports the programming class. This morning, as we often do before things get rolling, we talked about what he's up to and what projects lie ahead on his planning horizon.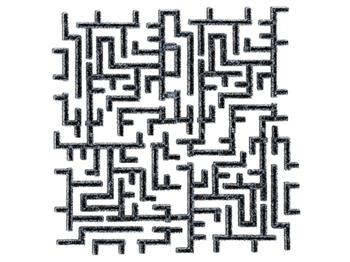 The maze of issues that faces early migrators to new Windows versions abates substantially for those who wait … and wait … to make that move.
[Image Credit: Shutterstock 27511863]
"What's up with the refresh?" I asked him this morning, alluding to the school district's upcoming plans to migrate classroom and admin systems from Windows XP to Windows 7. Because Round Rock ISD has an enterprise volume licensing agreement with Microsoft, I learned that they are required to phase out all systems running XP just after the start of 2014, some months ahead of Windows XP's last-and-final retirement date (April 8, 2014). When I asked how he planned to handle that migration, he informed me that the centralized IT group for the school district is preparing a set of reference images for the targeted systems, and he'll pull those images from network drives at the school to perform clean installs of Windows 7 on the 400 or so PCs, laptops, and netbooks currently deployed in the elementary school where he works.
Another interesting wrinkle emerged from the discussion — namely, that some systems will use images with the Microsoft Office 2013 release slip-streamed in. I knew this would increase the size of the download involved, but was a little surprised to learn that this would just about double the download time required to move  the image across the network from the servers where it resides to the target machines where it will be installed. My colleague's efforts will also be somewhat complicated by having to work around the schedules of teachers and administrators, who are usually busy using the computers at their disposal the whole time they're on campus, be it in their offices or their classrooms, depending on their various job roles.
He expects this effort to consume most of his working hours for the entire month of January, and possibly even into the first week or two in February, depending on how successful he is at wresting the machines that need to be upgraded from their normal users to perform the installs, and how many problems he encounters on the path from getting started with the netbooks and laptops in groups of 10 or 20 on the dozen or so computer carts he manages for the library and the computer labs in the school, to the pairs of PCs in individual classrooms, and onto the other office and mobile machines scattered around the campus. He plans to use a spreadsheet to keep track of all the machines that need handling during this process, and expects that while it will be time-consuming it shouldn't be too difficult. All of the machines the school district uses are of Windows 7 vintage (more than a year old, but less than 4 years old) so drivers and compatibility issues have been worked out a long time ago.
This is a typical large user base scenario and reflects what lots of "trailing edge" organizations have experienced recently or right now, except for those planning to follow along at the back of the pack in the next few months. This should make it very interesting to see how much XP remains in use after the April 2014 retirement date comes and goes. In the interim, those organizations with relationships to Microsoft that mandate moving up the food chain must go through the final motions involved in keeping themselves current, no matter how much or little they may like having to do so!
---
October 14, 2013 11:48 AM
I found a fascinating article on WinBeta.org this weekend. If you can get past its enormous title "Windows 8.1 'GA Rollup A' update will finalize the Windows 8.1 code, comes with fixes" there's some useful and interesting substance to the story as well. In fact, this story goes a long way toward explaining the mechanics of how code changes can follow in the wake of the RTM (release to manufacturing) version of Windows 8.1 that became available in early September (9/9 on MSDN, a few days earlier to the OEMs).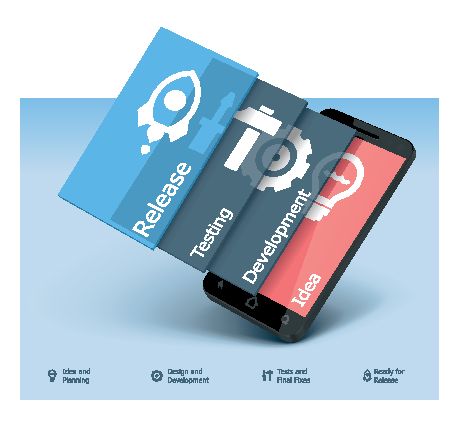 Shorter dev-cycles require interesting final release maneuvers, including a last-minute "update to the upgrade!"
[Image Credit: Shutterstock 151265540]

The story reports that Microsoft will release an update to the update called "GA Rollup A" that will accompany the actual release bits for Windows 8.1 (presumably, the same as the aforementioned RTM release). This will take the nearly-finished RTM version and add the necessary changes, fixes, and finishing touches that have followed in the wake of last month's RTM release. According to WinBeta, the roll-up is about 200 MB in size for x64, and 100 MB or thereabouts for x86 and ARM versions, and is said to "address bugs and various components throughout the operating system." The GA rollup may or may not appear in tandem with the release of  8.1 to update channels on October 17/18, or it may follow a day or two later.
What we're seeing here is, I think, the way that future Windows releases will be orchestrated to better accommodate the new short-cycle approach for major Windows versions, which Microsoft has said will occur on a more-or-less annual cycle going forward. Given such a compressed timeframe, developers will need whatever time interval is available to them between RTM push and the following GA date, to keep polishing the latest release, to fix bugs, and to slide whatever last-minute additions and enhancements can make it into the OS before the lock-down date for the GA release is imposed.
Will this have an effect on OS stability, reliability and quality? I'm not convinced that a short schedule and working up to the deadline has to mean more such problems are inevitable. But you can bet IT professionals and service providers (especially those in the "Desktop as a Service" business) will be watching the upcoming cycle with more than usual interest. It will no doubt set the tone for how quickly (and enthusiastically) such organizations jump onto new Windows releases in the future, and how soon they will commit themselves to rolling out such releases to their user bases thereafter.
---
October 11, 2013 12:09 PM
One week ago today, I reported on an upgrade install on my production PC from Windows 7 SP1 to the current version of Windows 8, as an experiment in anticipation of the GA release for Windows 8.1 to occur next week on October 17/18. If anything, the system is actually more stable running Windows 8 than it was running Windows 7. It does take a bit longer to boot than it did before (about 35 seconds, by my seat-of-the-pants stopwatch measurements, and about 42 seconds, according to Soluto) but other than that, things seem to be going swimmingly.
Even in looking at the various logs in Event Viewer, I'm not seeing any new errors that weren't already occurring under the Windows 7 regime. I did, however, notice that I need to resize the volume shadow storage for my boot/system drive (C). I jumped into the System Protection tab in the Control Panel System applet to bump up the allocation from 9 to 18 GB, which should keep me out of trouble for a while. I tend to be pretty conservative on those disk allocations, because I'm using a 180 GB Intel 520 Series SSD on that system, and always try to make I have between 25 and 50% free space on the drive (the zone in which, in my experience, SSDs tend to perform and behave at their best).
A quick gander at the Update History file shows that a whopping 52 updates were  applied to the system son Patch Tuesday. At least half of these items are for MS Office 2013, and its numerous components (Word, Excel, PowerPoint, and so forth). And the count on prior updates immediately following the install (dated October 3 and 4) is also pretty high: 75 items altogether, including a handful (5) of driver updates after the install, a large number of .NET updates for versions 3.5 and 4.5, and security updates galore. No wonder running the Drive Cleanup with the clean system files option turned on removed over 4 GB of stuff from the system/boot drive when all was said and done! If you do perform any upgrades, you'll want to exercise this option as soon after working through the process as possible (following a couple of image backups, of course: a total "before" snapshot, and another one just before performing the clean-up).
I am keenly aware that this experience flies in the face of best practices and common belief. I will confess to being both pleasantly surprised by this outcome, and pleased that I apparently will not have to reinstall all of my many applications atop a clean Windows 8 install after all. But wait: all could go kerfluffle in the wake of next week's upcoming second upgrade to Windows 8.1, so stay tuned for further developments. Could that be the straw that will break this particular camel's back? We'll see!
---
October 9, 2013 2:10 PM
Alas…Microsoft is playing catch up yet again.
This time the industry buzz is about exiting CEO Steve Ballmer's keynote comments at this week's Gartner Symposium/ITxpo in which he finally acknowledged Microsoft would be coming out with an Office for iPad version.
But the company already has lost substantial revenue since the iPad came out three years ago by not having an Office for iPad app, and it doesn't sound like the suite is coming out any time soon.
Microsoft says its wants to make sure an Office version is truly touch-enabled whether it's for the iPad or even Windows 8. A Windows 8 touch version of Office is slated for 2014 but in the meantime, frustrated users seek Office alternatives.
Some theorize that Windows 8 could have even had a better response from day one.
The problem is Office, says Robert Enderle, principal analyst of the Enderle Group, a long-time consultant in the IT industry. Office hasn't even been converted to the Windows 8 interface, he said.
So the constant waiting drives software entrants to fill the holes created by Microsoft's lack of a true touch-enabled Office suite. Indeed, the recent spate of office collaboration tools like those from CloudOn and others fill a gap for office productivity tools running on mobile devices that support the Office document formats.
But even as Ballmer finally states Microsoft's intent to deliver Office for iPad, end users may not be interested in paying for what could potentially turn out to be a pricey package.
Now, Microsoft is waving its hands to gain attention. In fact, a few days after rival Apple said it would give away iWorks for free on its new iOS devices and Google said it would offer QuickOffice for no charge, Microsoft blogged that its Office for Web apps was also free.
Unfortunately for Microsoft, end users may have lost interest already, even if Ballmer's booming voice finally tells them what they want to hear;  Office for the iPad is in progress – but it may be too little, too late.
---
October 9, 2013 10:17 AM
When I read Larry Seltzer's Zero Day blog post yesterday — which appeared on a Patch Tuesday morning, by no coincidence whatsoever I'm sure — I was both amazed and amused to realize that it has indeed been a decade since Microsoft changed from its prior practice of pushing patches primarily as circumstances and availability dictated to its current practice of batching them up and pushing them out at a regular and predictable interval. This change occurred primarily in response to qvetching from IT departments everywhere that pushing patches out the door randomly didn't really fit the working methods and models of modern IT organizations. Even then, standard best practices were already in commonplace use that employed formal change controls within the context of scheduled update activities to rationalize patching and update processes, and better fit them into the overall IT workflow.
A regular, predictable update schedule is what IT organizations wanted, and what Microsoft gave them with Patch Tuesday. Seltzer's comment about all of this is right on the money "…the predictability of the update schedule and the improved information that comes with security bulletins these days, as well as improvements in patch management systems, were also a big part in making IT life more normal."
Just last week, I was explaining to my nine-year-old son — who is the proud owner of "his" first PC (a Dell XPS 2710 Haswell model) — that he needed to get ready for Patch Tuesday. "What's that?" he asked. I explained: "Round about the second Tuesday of every month, Microsoft releases most of its security updates and patches for the month. It's part of the regular routine of keeping Windows systems up to date." "Oh," he said, "what do I have to do?" "I'll show you," I said, and yesterday we worked through his first-ever Patch Tuesday, as I showed him how to download and install the important patches, and evaluate and select the optional items he might or might not want.
I'm bemused to find myself passing the torch for Windows upkeep and  maintenance to another generation, but that's what started happening around our house late yesterday afternoon. And so the world keeps turning…
---
October 7, 2013 9:54 AM
The first thing one should always ask when reviewing any kind of poll result is "Who's in the survey population?" I was forcibly — and humorously — reminded of this essential basis for analysis upon taking a poll in an article about the impending release of Windows 8.1 (it's due out about 10 days from today) entitled "11 days until Windows 8.1 rolls out for Windows 8 users, are you ready for it?" (from the Website, WinBeta.org). If you stop for just one second to consider that anybody who actually reads an article like this has to have some kind of interest, not just in Windows 8.1, but in its approaching release date, the following poll results make perfect sense:
Does this poll remotely approximate a cross-section of the general public (or even the whole population of IT professionals)? No freakin' way, my readers, no freakin' way! The population is what statisticians call "self-selecting" in that an indication of strong interest — namely, clicking a link to get to an article about the upcoming release of Windows 8.1, and then making it all the way to the end of the article before the poll even shows itself — is required to enter the population of survey respondents in the first place. Nevertheless, I find it very interesting that the vast majority of those respondents are apparently panting with lust to install the release as soon as it becomes available. That makes me wonder why they haven't installed the RTM version already, itself widely available through MSDN and TechNet downloads for nearly one month now.
All of this goes to show that not all surveys are the same, nor do all convey genuinely meaningful information, either. If you see anybody quoting survey results, especially for surveys like this one, please take the time to find out where those results originate, and you may also be able to conclude that while these results may be interesting or amusing, that they also are not terribly informative about the attitudes or mindsets of the general population. If anything, these results are a perfect inverse of the general population, where I would be highly surprised if even 10 percent of Windows users plan to install 8.1 soon after the October 17/18 impending general availability (GA) date.
---
October 4, 2013 9:47 AM
Almost forever, I've been a big proponent of the "clean install school" of Windows upgrade methodology. That is to say, rather than upgrading my systems from an older Windows version to a new one, I've been mostly inclined to blow away the older install in favor of a new one, followed by the added effort of reinstalling all my applications, restoring settings manually, and so forth and so on. What's guided my activities has been the belief that this results in a leaner, more stable system, and reduced time to complete the overall installation process. And FWIW, many Windows experts — including the likes of Ed Bott, Paul Thurrott, and Woody Leonhard — have all voiced opinions or advice more or less in keeping with this approach.
But with the impending release of Windows 8.1 as a free upgrade for PCs already running Windows 8 on October 17/18, I'm prepping my PCs currently running Windows 7 — for which I purchased the $40 Windows 8 upgrades last year, when MS ran what still looks to be a "once in a lifetime" dirt cheap promotion to get people to move up from 7 to 8 — by upgrading them to Windows 8 in advance of the upcoming GA date. As an experiment, I'd planned to perform an in-place upgrade of my Windows 7 production desktop this weekend, with all of its 237 applications (as reported in Secunia PSI for that system) coming along for the ride.
Finding myself with some unexpected idle time yesterday afternoon, I decided to run the upgrade a bit sooner than planned. This blog post recounts my observations and experiences along the way to the successful and surprisingly smooth conclusion to that process (I'm writing this blog right now on the upgraded PC, which has shown no signs of outright weirdness or flakiness since the upgrade completed at around 5:15 PM yesterday afternoon, following about two hours of upgrade activity). I began the process by capturing two image backups of the original Windows 7 system: one using the built-in image backup captured in the Control Panel Backup and Restore utility, the other using Acronis True Image Home 2013 with the added precaution of creating a bootable UFD with the ability to restore that image to its original drive. I'd already replaced CPUID HWMonitor 1.18 with the Pro version, and uninstalled DualBootPro, Nvidia GeForce Experience, and VirtualCloneDrive to take cognizance of the pre-install warnings courtesy of the Windows 8 Upgrade Assistant beforehand.
The Upgrade tool downloaded the Windows 8 ISO from the Internet to start off the process, an activity that consumed about 24 minutes overall (I didn't know how to point it at the local ISO copy I already had on one of my 2 TB  conventional HDs, and didn't bother to research those details, though I do see a very good discussion of this process on Windows EightForums). This approach did have one benefit that saved me from myself, however: using the MS-provided installer I obtained when I paid for the $40 license last year apparently had the product key baked into the installer, so my oversight in neglecting to store that key on another system (it currently resides in my Outlook PST file on that very PC) didn't impede the installation process in any way, shape, or form, to my great relief and delight. Here's how the rest of the timeline for the overall install process shook out (all times are approximate, based on my glancing over to my laptop where I relied on its system clock for rough-n-ready timing info, rounded to the nearest minute):
00:00 – 00:24  Download Windows 8 install files from Microsoft (perhaps Akamai; source wasn't visible)
00:24 – 00:40  Copy files and perform in-place upgrade file copy, initial installation, and configuration
00:40 – 00:44  Getting devices ready (installing device drivers is handled during this phase)
00:44 – 00:54  Getting ready (system set-up and configuration)
00:54 – 00:56  Moving your settings (importing settings and preferences from the previous Windows 7 install)
00:56 – 00:57  Finalizing your settings (adapting/customizing settings for the Windows 8 runtime environment)
00:57 – 00:59  Getting your PC ready
00:59 – 01:03  Installing apps (this means Windows 8 Store/Modern UI/Metro apps, I imagine)
01:03 – 01:05  Establishing initial log-in, switching to Windows Live account, first complete Windows 8 log-in
01:05 – 02:00  Download and install 62 updates from Windows Update to catch system up to current patch/update levels
There were six (!) reboots during this process, one during the second step above, and between each of the next three steps, with the fifth one following installing apps, and the final one after the massive update installation that concluded the overall actual upgrade process. I didn't hit any snags along the way, nor any serious hiccups or delays. Once this process was complete, I fired up DriverAgent to observe that it now reported 5 out-of-date drivers — an interesting improvement following the upgrade, because it had reported six out-of-date drivers (all either bogus or insoluble) for the previous Windows 7 installation resident on that machine. After about one hour of downloading files and fiddling about with them, I got the number of out-of-date drivers down to one, a considerable improvement over my "healthy status" on the prior Windows installation. It is for a "motherboard resources" item in the "Disconnected Devices" section for which DriverAgent supposes that a 2010 vintage version of the Intel Extreme Tuning Utility will address the issue. However, I've got the latest (2013) version of that utility already installed on this PC, and because it addressed all other items related to the Intel Thermal Monitoring devices to which the out-of-date finding attaches, I'm of the opinion that this is a false negative ("bad driver") report from DriverAgent, rather than a genuine and fixable "bad driver" report from the utility. Case closed!
Summary, Observations, and Conclusions
Now that the process is over and done with, I understand that the process of recognizing, handling, and accommodating applications adds considerably to the Windows 8 install process, and the time required to complete it. The usual 15-18 minutes for a clean install zoomed to 65 minutes or thereabouts once my sizable collection of 200-plus applications entered the picture. Soluto reports that my boot time went up from 0:55 to 1:55 following the upgrade (something that I plan to investigate and whittle away at, if I can). But otherwise, the system is running well, my applications are working (at least, all of those I've checked so far), and if anything, seems more stable and responsive than it did when running Windows 7. I've installed Start8 to help me work on the desktop more effectively (that's where I spend 90-plus percent of my time on the system anyway), and RecImg Manager to capture Windows 8 snapshots as backups for use in the Windows 8 "Refresh your PC" facility. Since I'll be using this system every day henceforth, count on me to report further if and when any glitches or gotchas should make themselves known to me. But "so far, so good" is how I'd sum up my experiences so far, much to my surprise.
---
October 2, 2013 10:46 AM
I'm facing an interesting issue that I'm sure is at least somewhere on the minds of fellow Windows-focused IT professionals — namely, how well an upgrade might work from Windows 7 or Vista to Windows 8  in anticipation of the upcoming GA release of Windows 8.1 (a free upgrade to those with Windows 8 already installed on their PCs). To that end, I'm planning to bite the bullet this weekend, and try the upgrade from Windows 7 to Windows 8 on my production PC. To that end, I just re-ran the Windows 8 Upgrade Advisor to see what it could tell me about the upgrade-readiness and -worthiness of that machine. Here's what I see after running the program, which took about one minute to run to completion on my Bloomfield vintage i7 930 based PC, with its ASUS P6X58D-E motherboard and other accoutrement.
A click on the "See compatibility details" element reveals the following items, none of which looks distressing or even terribly serious:
I must say, I'm more encouraged by this result than I had initially expected to be. But in preparation for the upgrade this weekend, I'll be making an image backup of the system as it currently stands, and also, turning it into a VM so I can keep running the same environment inside Hyper-V after the upgrade is complete, just in case — as I suspect might be more likely than this list of potential issues indicates — that some issues with the 290-odd applications I have installed on this machine might manifest after the move to Windows 8 is complete. Stay tuned: I'll report on the results of this "big move" next Monday, October 7.
---
September 27, 2013 10:03 AM
I've got a total of 5 out of 8 PCs in my house running Windows 8 now, and every now and then I encounter some new form of wacky Windows behavior that requires certain shenanigans to fix. I stumbled upon another interesting case in point yesterday, when I tried to establish a Remote Desktop Connection link to our Dell XPS12. When I got this machine from Dell it came with Windows 8 installed, which I proceeded to upgrade to Windows 8 Pro so that, among other things, I could use RDP to log into that machine remotely and manage updates and such from the production Windows 7 desktop I work at customarily in my home office.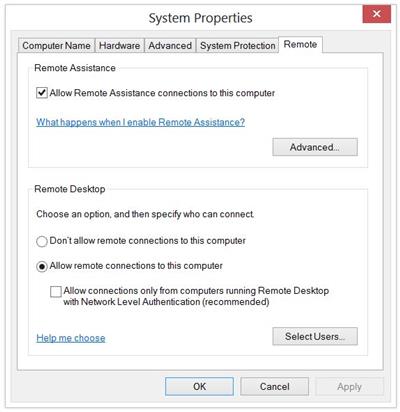 Even though my XPS12 was properly configured for remote access, my connection wouldn't stay up long enough to get through the hand-off process.
Without giving the matter too much thought, I checked the machine yesterday to make sure that Remote Access settings were properly configured. As shown in the preceding screencap, they were just what I thought they should have been, with remote connections turned on and RD-NLA turned off. However, when I tried to establish an RDP connection to that machine, I would start to go through the process of establishing a remote connection, only to have it fail before the entire process of opening the remote window and obtaining a working view of its desktop could complete. Non-plussed, I tried to establish a connection going the other way — that is, from the desktop of the XPS 12 to my production desktop — only to have it fail and hang in the same way. Bizarre!
By searching on "Windows 8 RDP fails during login" and "Windows 8 RDP fails immediately," I learned two very interesting things I didn't already know. First, I had to purge some outdated printer connections in the Devices and Printers entry in Control Panel, apparently because print queue and device driver connections were interfering with network access for RDP. And second, I had to make a registry hack to turn off the version of UDP that RDP uses in the Windows 8 environment as follows:
In the key at HKLM\SOFTWARE\Policies\Microsoft\WindowsNT\Terminal Services\Client\, create a DWORD named tofClientDisableUDP and assign the value "1" (either Hex or Decimal, I used Hex) to it.
I had to remove the printer references and then restart the machine immediately after that to get them to "stay gone," because if I didn't restart, they would magically re-appear within 30-60 seconds of their removal. This took some careful observation and fiddling about to achieve. I found the registry hack documented on Microsoft's social.technet pages in a thread entitled "Remote Desktop client on Windows 8 drop connection."
To me, it all goes to show the sometimes forensic characteristics of Window troubleshooting. I've learned to try to characterize the symptoms as tersely as possible, and then to put Google to work to help me find information or discussions around those topics. If I keep at it long enough, as I did yesterday afternoon, I will almost always stumble my way into a workable solution. But why, oh why, I must plaintively ask, does it have to be this way? Sigh.
---