---
January 2, 2014 12:13 PM
Here's an interesting graph from the Market Share Reports for "Desktop Operating System Market Share" at netmarketshare.com. Today, January 2, it shows The Windows 8.1 number at 3.6%, with the Windows Vista number at 3.61%. I'm pretty sure that means by next month, if not sooner, Windows 8.1 will pull ahead of Vista for once and for all, and won't look back at such numbers for some time to come.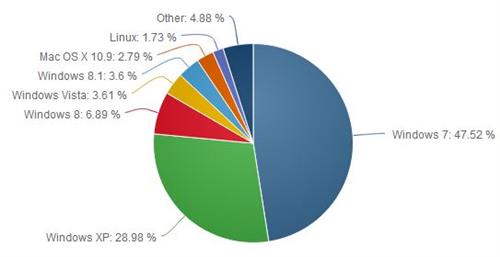 The numbers for desktop OS share on the Internet show Windows Vista and 8.1 neck-and-neck for the moment.
But Vista's share never climbed much above 10% at any time in its lifecycle, and has steadily declined in recent years. Although 8.1 has yet to make significant inroads into the business side of the market, it's picking up momentum on the consumer side. I have to believe that it will surpass Windows 8 some time in the next calendar quarter or two, and cross the ten percent mark that represents something of perihelion for Vista's approach to the center of our desktop "solar system" before too much longer after that.
What's really interesting is to observe and learn how Microsoft's new rapid cadence will play out in terms of desktop share as NetMarketShare measures it. I expect we'll see Windows itself becoming something of a "long tail" distribution, with popular versions trailing somewhat behind the leading edge (as leading versions Windows 7 and XP now occupy slots 2 and 3 releases behind the leading-edge 8.1 version). It should also be interesting to observe how long XP maintains the number two slot after April 2014 when long-term support for the OS is discontinued at Microsoft.
December 30, 2013 1:33 PM
Here's a classic good news-bad news scenario for serious Windows users seeking a lightweight Windows 8.1 tablet with acceptable battery life (which I define as more than 8 hours, or enough to get users through a whole day, or a long flight away from AC power). The Fujitsu Stylistic Q704 offers a true HD (1920×1080) 12.5″ screen, with options for a dual core i7-4600U CPU with 8 GB RAM and a 256 GB SSD, and up to 10 hours of battery life. Its dimensions are svelte: 0.47″ x 12.19″ x 7.85″ and it weighs just 2.16 lbs (under 981 grams). It offers a dual-boot with Windows 7 SP1 and Windows 8.1 both preinstalled, Bluetooth 4.0, 802.11 a/g/n Wi-Fi, one each USB 3.0 and 2.0 connectors, Intel HD 4400 graphics, and a media card reader (to add up to an additional 64 GB of microSDHC or SDXC flash memory, and 128 GB as such modules become more widely available and affordable; I even see discussion of a 256 GB module at myego360.com though product links are not currently available). The package is described as "semi-ruggedized" and it offers a number of waterproofing options (notice the water droplets artfully arranged at the lower right in the photo below):
The bad news is that this sucker is extraordinarily expensive. Just for grins, I jumped onto www.shopfujitsu.com to configure a top-of-the line Q704, and nearly fell over when it priced out at $2,852.00, including a $50 off promotion code I was able to find and put to work. For that money, the build includes a Core i7-4600U CPU (dual core, 4 threads, 2.1 GHz clock with 3.3 GHz max turbo, 4 MB cache, 15W max TDP), 8 GB RAM, built-in GPS, 256 GB SSD, a keyboard dock with external battery, NFC, and a SmartCard reader. But still, this is nearly $1,000 more than a similarly configured Surface Pro 2, so you're paying a hefty premium for the four hours of additional battery life and added processing power that this unit should deliver.
Still looks like a great machine, though, and one worth pondering at length. Pick the "Customize" button in the middle column on the Fujitsu store's Q704 page to configure a system to your heart's content, too. Will the "chancellor of the exchequer" here at home (my wife, that is) authorize such an extravagance? Not bloody likely!! But it's still nice to dream a little … or a lot, as is the case here.
[Note added 1:05 PM CST 12/30/13: To my amazement and delight, my request for the Q704 has been approved. I went looking again for coupons, and found a $75 discount that beat my earlier $50 off discovery. It's "FUJITSUTECHBARGAIN" and you can use it, too, if you like. I've applied for a 36-month business lease just to see how that all goes, and will report back here further after New Year's when my application will no doubt get processed. No word on build or ship dates until then either, but the site told me that the ship date was still "TBD" when I submitted that application.]
---
December 27, 2013 10:49 AM
Last summer, my trusty Dell All-in-One 968 became unusable, thanks to the failure of one of its color inkjets (if memory serves it was either red or magenta, depending on whether that device uses an RGBK or CMYK color model). Ever since its retirement via the safe electronics disposal available from the great folks at Goodwill Industries, I've been struggling to remove all traces of its existence from the driver files on the Windows PCs belonging to the Homegroup on my house network. I finally took out the heavy artillery over the holiday, and used Driver Store Explorer [RAPR] and its "Force Deletion" option to forcibly remove all remaining traces of the AIO drivers from those machines. [Warning! RAPR requires an older .NET version –which means either version 2.0 or 3.0 — serviced by the MS 3.5 Framework download. It will manage the download process for you, but you may need to apply relevant Windows Updates to patch potential security issues and functionality gaps as well. When I added this to one of  my 8.1 PCs that lacked this support, however, Windows Update gave it a clean bill of health immediately thereafter.]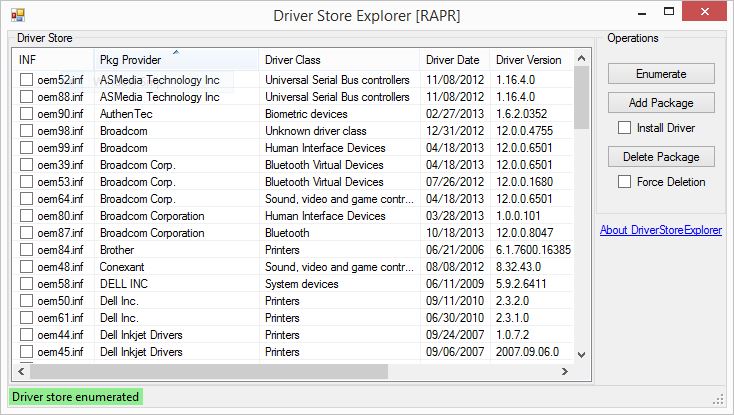 The key to removing persistent drivers is in checking the "Force Deletion" box below the Delete Package button.
Only by checking the boxes to the left of the two Dell Inkjet Drivers entries shown (oem44.inf and oem45.inf), and then checking the "Force Deletion" box beneath the Delete Package button in RAPR was I able to make these pesky and persistent printer drivers disappear from my Windows PCs. This technique works for any such persistent drivers that otherwise resist removal, but you'd better be darn sure that you don't need those drivers (or can find them again) should their return ever be mandated. To ease any concerns you might have in restoring them, you can first use the right-click "Export" option in RAPR to make backup copies in another directory of your choosing, before getting rid of them. I had no such concerns for the inkjet drivers, because I have replaced that printer with a very nice Dell 2155 cn color laser printer, whose drivers you see already resident in the foregoing RAPR display as well.
---
December 23, 2013 1:52 PM

Profile: Diana Hwang
Surface Pro 2 is being touted as a notebook replacement and I've been using it for the last few weeks to see if I can get my job done. But there's a world of IT administrators out there who view the Surface Pro 2 with a skeptical eye.
I put the Surface Pro 2 through its paces using our own TechTarget environment as an informal test bed to see how our admin respond to the mobile device.
The good? It's a Windows PC and it was no harder or easier to get the system up and running in TechTarget's environment. It supports many of TechTarget's existing corporate policies without any additional work.
The bad? It's Windows 8.1 and TechTarget's VPN and other corporate applications don't support the new operating system yet. The $899 for an entry-level 64GB unit is still high, especially if one needs to purchase a $129 Touch Type cover and $199 docking station.
Paul Gonzalez, Tech Target's systems architect, gave me a first-hand look of what he, like many other IT administrators, would have to do to get a new device up and running if an end user wanted to use the Surface Pro 2 as a bring your own device (BYOD) unit.
Like any organization, TechTarget has its own set of policies and processes required for deploying a new device to an end user. Paul said the device should image easily. He created an Active Directory account called Surface Test giving himself full admin rights. The name popped right up in the Active Directory.
As Paul restarted the Surface Pro 2 , we chatted about Windows 8.1. It only took a minute to restart the device. He, like many other IT admins and end users, prefer the classic desktop instead of the glitzy tiles interface. In fact, as Paul explained, when TechTarget was a Windows XP shop, there was a policy put into place that would automatically boot a system into the classic desktop mode. Paul was particularly pleased to see when the Surface Pro 2 finally finished its restart; the policy withstood the test and in Windows 8.1 booted right up in the desktop mode.
As an IT professional, Paul worried about security. Our company has added in some extra security layers with our wireless network. For example, only certain organizational business units can jump on the wireless network, thus providing our IT administrators with an additional level of control.
Paul tried installing some off-the-shelf applications such as Adobe Reader and set up his email on Outlook 2013. It went without a hitch. In addition, he tried Remote Desktop, and it worked well during the test.
So what was the biggest issue from our exercise? The Surface Pro 2 cannot access our VPN. Just to be clear, this is not a function of the Surface Pro 2 or Microsoft's Windows 8.1 but rather Tech Target's lack of support for Windows 8.1, which would require the company to rework our licensing agreement with Microsoft.
Unless there is a true business need for Windows 8.1, our organization will not upgrade our software just to support it, due to the time and expense.
I also handed a Surface 2  to Paul as well to get his IT administrator thoughts.  It took him all of one minute to say: "I'm out." Why? Because Surface 2 uses Windows RT and it does not support Workplace Domain Join. As an IT administrator, he cannot easily  manage the unit. Enough said.
So what's the conclusion? The Surface Pro 2 could be useful as a BYOD unit and it certainly served my needs well during my travels. But it's not a corporate notebook replacement for companies that aren't on Windows 8 yet.
There are ways to work around the issue, but if an organization wants to do it right, it could be an expensive proposition. At the end of the day, there has to be a specific business need for upgrading to Windows 8.1 and deploying the Surface Pro 2s.
---
December 20, 2013 3:30 PM
When I found out from Woody Leonhard in early November that the Windows Experience Index (WEI) widget was missing from Windows 8.1 (reported in this 11/13/13 post), I immediately set about writing a PowerShell script to recapture that functionality and produce a Web page to provide that information. I made the script available in another post two days later (Bringing Back WEI to Win8.1) and recruited a professional developer friend to help me turn it into an executable that would run the winsat formal command with admin privileges, and then present a nicely-formatted version of its output. But the two of us have been busy enough that we hadn't complete our efforts, when I saw a Lifehacker story online this morning that let me know we'd been beaten to the finish line: "WEI Tool Brings the Windows Experience Index Back to Windows 8.1." Here's what the output of the Winaero WEI tool v1.0 looks like:
While I can say I'm sorry we didn't finish our little exercise in sharing free code with the masses quickly enough to be first out, I am glad to see a version of this tool available to Windows 8.1 users everywhere. This one is the work of talented programmer Sergey Tkachenko, whose Winaero.com site offers a plethora of excellent freeware Windows utilities. Be sure to grab this utility, and to check out the many other interesting tools and widgets available on his site.
---
December 18, 2013 4:57 PM
Those who make the update transition from Windows 8 to Windows 8.1 via download may encounter a situation where the "Refresh your PC" or "Reset to factory defaults" options may no longer be available to them. Refresh works with the most recent image created by the built-in RecImg command, where Reset takes the system back to the first image created immediately after the system is completely set up for the first time (or the first time the RecImg command is run on that system). In Windows 8.1 (and 8) these functions may usually be accessed by searching for "refresh" from the Windows 8.x Start screen, and produce a display that includes these items:
Reports have surfaced in both Neowin and McAkins Online that using an online download to update from Windows 8 to 8.1 sometimes causes these options (and the underlying functionality) to become unavailable to Windows installations. The remedy in this case is to provide a working ISO (or installable image) for Windows 8.1 from which the necessary ESD (electronic software download) files that contain the OS source image may be read. Numerous articles explain how to build a usable UFD or DVD ISO for Windows 8.1, including this follow-up piece at McAkins which I have followed and used myself to generate a bootable UFD containing the Windows 8.1 installer files (I can't get it to work with a Windows 8 key, but that's a whole 'nother problem already documented extensively in other recent blogs last week). Given a source for the necessary files, the reset or refresh operations will work properly from that media.
---
December 16, 2013 11:13 AM
I've been reading lots of rumor coverage lately about what's coming in the next major version of Windows, which has picked up a Threshold code name/moniker in some reporting. My favorite story in this vein is from Windows (and Office) maven Woody Leonhard who's been nailing quite a few gems in his InfoWorld coverage of late. The story is entitled "Cause for hope: Windows 8 gets the heave-ho in the next wave of updates." While I strongly recommend interested reader also consult the original, I will recite the primary items that the story visits and speculates upon, very much in a vein with which I agree, and which I also endorse with some degree of fervor. Woody himself draws on (and points to) recent reporting from Mary Jo Foley and Paul Thurrott, themselves often sources of Windows insight and juicy rumors about upcoming changes and revisions to the OS.
Here are the juiciest tidbits, somewhat out of order from the original (Woody's take on items numbered 1 and 2 combined is that this is "the biggest, best Windows story this decade"):
1. Metro apps will be made available running in Windows on the desktop. Anybody already familiar with Startdock's ModernMix already knows what this looks like.
2. The return of a real Start menu, not just a way to get to the so-called "Start screen" in the Windows Store UI for Windows 8/8.1. Here, Stardock's excellent Start8 illuminates this principle nicely.
3. Enterprise and consumer versions of Windows that enable it to operate directly (and entirely) from the desktop, possibly with support for Win32 APIs for legacy application support (Woody calls this "an updated version of Windows 7 to ease everyone into the Metro world").
Woody also expresses the hope that Microsoft might decide to purchase Stardock as a step toward what he calls "its move to a better future." I already use Start8 and ModernMix on all of my production Windows 8.* PCs, so I couldn't agree more, though I'm not sure that being purchased by MS is the realization of anybody's dream of ultimate success. But all of these rumored moves seem like Microsoft is indeed figuring out where the bleeding is, and at least thinking about taking stops to fix the problems that caused all that hemorrhaging. The timeframe on this stuff isn't until mid-2015, though, so they still have plenty of time to change their minds and screw things up further. Here's hoping that they stick to this rumored vision, and don't decide to do something different…
---
December 13, 2013 11:54 AM
This will be my final installment on the subject of working around upgrade issues and problems regarding Windows 8.1. I've seen numerous sources that claim the combination of a bootable Windows 8 ISO-derived image, plus an edited edi.cfg file in …Windows\Sources enables installers to skip the Windows Store download of the free upgrade from Windows 8 to Windows 8.1. [See NOTE at end of story for another method]
Yesterday, I tried it myself, in several variations but found no way to accomplish all of these results in a single operation:
1. Work from the USB-based image of the Windows 8.1 installer and perform a free upgrade install
2. Use the original Windows 8 key as the key for Windows 8.1 during or immediately after install
In following the method I laid out in my December 4 blog post "Windows 8.1 Store Upgrade Snafu/Catch-22" I quickly observed that the installer did not present me with upgrading from the current Windows 8 installation on my son's Dell XPS2710 unit. I was only presented with the options of preserving settings, store apps, and files, settings and files only, or nothing at all. Of course, I also wanted to preserve the desktop apps that had already been installed so that wasn't really what I was after. If I simply went the clean install route, I couldn't get my Windows 8 key to work as a valid Windows 8.1 key.
Gyrations completed, I opted to grind through the incredibly slow download and install from the Windows Store. I started this off at 2:15 PM in the afternoon, and it didn't get all the way through that process until around 4:30 PM, where the bulk of the delay came from a 3.84 GB download whose bitrate often fell below 1 Mbps making the transfer, even though my Internet connection is capable of handling up to 20 Mbps in download speeds under optimal conditions, and 15-16 Mbps nearly all the time.
I was somewhat pleasantly surprised by the results of the maneuver this time around, because:
1. Having updated all drivers to the most recent, 8.1-friendly versions recently on this machine, the 8.1 installer changed no drivers whatsoever during the install.
2. Other than an apparent stall between the "Getting Devices Ready" and "Getting Some More Things Ready" phases of the installation process, during which I had to cold-boot the machine (it was stuck with a black screen, showing no disk or other activity I could ascertain, so I pulled the power plug, plugged it back in, waited 10 seconds, then hit the start button), the process completed without any snags.
3. Start8 remained operational after 8.1 booted for the first time (I've had mixed luck in sometimes having to reinstall Start Menu replacements on 8.1, and sometimes not), though I did have to reinstall 8GadgetPack to get my desktop gadgets back.
All in all, though, things went about as well as they could have. And having ploughed through countless war stories from other IT pros who haven't been so lucky with their Windows Store upgrades, I am both pleased and relieved to have the bulk of these upgrades entirely behind me. I still have to believe that MS will come up with a technical solution for the free upgrade from local media, rather than requiring everyone to sit through a sometimes interminable download from the Windows Store (and struggle through the occasional cases where this particular upgrade technique fails to complete as it should). It just doesn't make sense to force small to medium sized operations that don't have other means of accessing "no-cost" keys for upgrading from Windows 8 to 8.1 should be forced to perform one-at-a-time upgrades this way. Let's hope that this technical solution becomes available sooner, rather than later.
And one more thing: I was able to ascertain that my Windows 8 before installation and my Windows 8.1 after installation on the XPS2710 did indeed share the same Windows key, thanks to Nir Sofer's dandy ProduKey utility. So it is demonstrable that a Windows 8 key will also work as a valid Windows 8.1 key. But that apparently works only with the code and installer that gets downloaded from the Windows Store, NOT the ISO version so readily downloaded from MSDN.
[NOTE added  12/15/2013] There's a 12/13 story by Paul Monckton from the PC Advisor entitled "How to create a bootable Windows 8.1 USB flash drive so you can install Windows 8″ whose subtitle is actually more important "Create a bootable USB flash drive from which you can install or upgrade Windows 8.1" (emphasis mine). He makes some changes to the ei.cfg file that make it version independent and describes how to get through the install without entering a key until activation time. This might actually do the trick for those who must make repeated installs, but it still doesn't seem "automation-friendly" for larger scale deployments. That said, it's definitely worth reading as another way to work around the Windows Store download and limitations inherent to the "free Windows 8.1 upgrade/update."
---
December 12, 2013 3:02 PM
In the past month or so, I've documented various issues and potential gotchas in upgrading from Windows 8 to 8.1 This morning, I came across an extremely interesting item from Microsoft amidst its Windows 8 Website pages. The title of that page speaks volumes, so I reproduce it here in pictorial form as a screen capture:
MS clearly states that you can upgrade from 7 or 8.1 Preview only, and that the Windows Store method is REQUIRED for the Windows 8 to 8.1 "update".
Alas, I wish this news were better. Just for grins, I'm going to try this method with the Windows 8.1 ISO and the Windows 8 product key from my son's Dell XPS 2710 later today or tomorrow, to see if it will work for that scenario as well (Windows 8 key with a Windows 8.1 setup; FYI the link later on this page labeled "Install Windows 8.1" points to a file named WindowsSetupBox.exe, whose original filename descriptor reads "Web Setup Self-Extractor" so I'm guessing this provides an alternate means of accessing the same installer that's used through the Windows Store for ordinary 8 –> 8.1 updates). To grab the product key from an already installed version of Windows 8 (or other versions, for that matter) you need a tool to extract it for you (find a list in this Yahoo! article "How to Find Pre-installed Product Key for Windows 8"). I like Nir Sofer's tools and utilities more than most, so I turned immediately to the NirSoft ProduKey utility. It coughed up the necessary info in seconds after I unpacked the ZIP file into my standard Utilities directory. Next blog post: a report on using the Windows 8 key with an ISO install from a bootable USB using an MSDN-obtained image file for Windows 8.1 Pro.
---
December 9, 2013 4:56 PM
I've been a fan and devoted user of Acronis True Image for half a decade or longer, but am struggling a bit with the latest version (2014) when combined with Windows 8 versions (either 8 or 8.1). I have many reasons why this is the case, some good, some persnickety, and plan to visit all of them. I'll tackle this rumination in the form of a list of pros and cons, while noting that the pros outweigh the cons by and large, and that the program remains peachy keen for its primary intended use — namely, backing up and restoring files and partitions on Windows PCs. This screencap of the Tools and Utilities pane in the program helps to convey the broad range of (mostly excellent) functionality that Acronis True Image (which I'll henceforth call ATI here) 2014 delivers cheerfully and reliably: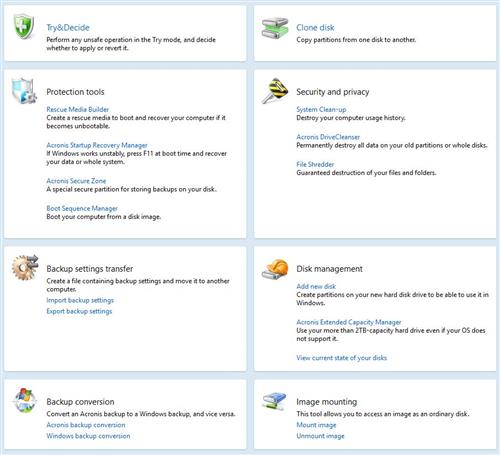 ATI Tools and Utilities include a variety of interesting functions; the other key tab is for Backup and Restore.
Pros
The plusses and benefits in using ATI 2014 are many and varied. I'll present my favorites in the form of a bulleted list (and for parity, do likewise with the cons that follow afterward):
1. Rescue Media Builder lets you create a bootable CD, DVD, or UFD (USB Flash Drive), or build an ISO image from a bootable disk (a nice way to snapshot its contents in a mountable form).
2. Acronis offers an alternative to the F8 at bootup to launch Windows Recovery: strike F11 to launch Acronis Startup Recovery instead (which works with rescue media to give you access to existing and available Acronis and Windows backups).
3. Acronis Secure Zone provides a way to set up a password-protected disk partition in which to store backups (otherwise, anyone with administrative rights to a system can read anything and everything in that backup).
4. Backup settings transfer lets you capture backup settings from one PC (or VM) and move it to another PC (or VM); helpful for cookie cutter operations across multiple PCs and VMs.
5. Backup conversion can be handy in moving backups to and from PCs that don't have ATI installed.
6. System Clean-up, DriveCleanser, and File Shredder are all workmanlike history and data erasure tools (DriveCleanser complies with US DoD 5220.22-M, while the File Shredder not only supports that standard, but 6 other standards as well).
7. The Extended Capacity Manager is a nice alternative to the Asus Disk Unlocker utility for those with drives larger than 2.2TB in capacity, and systems to old to mount such large volumes natively.
8. In the "saving the best for last" tradition, ATI's backup and recovery remain second to none. I've never had a problem reading a backup after the fact, and the Mount/Unmount image utilities make any ATI backup mountable and browsable as a normal Windows file system in the form of a Windows (virtual) disk drive. The Disk Backup facility makes image backups easy to capture, while Recover makes them easy to restore.
Cons
1. The Boot Sequence Manager is designed to permit you to boot from any disk image you select as the source for boot-up, but in practice this works only on non-UEFI PCs because of restrictions on boot controls in their non-volatile RAM (NVRAM).
2. The same limitation (no built-in support for cloning UEFI boot drives) makes the Clone Disk utility useless for transferring the boot drive on such systems to another hard disk or SSD, because of the way that UEFI boot works. So far, the only tool I've found that works around this limitation is Paragon Software's Migrate OS to SSD version 4.0. Acronis may remedy this on its next release, according to a recent conversation I had with company representatives, but it's not yet a sure thing.
3. Over time, ATI backups, both full and incremental, tend to accumulate on active Windows systems (my production desktop sees more than 70 of them all the way back to September 2009), but they aren't labeled in a terribly friendly or accessible way.  Here's a brief sampler of what I'm describing:

Abbreviated info above, detailed below, but neither is terribly helpful or descriptive. I've talked to Acronis about allowing user tagging data to appear here, too.
When you have dozens upon dozens of backups to look through, and not a lot of information to go on (except a cryptic system-assigned name or drive letter, the folder location, and capture date) , it can get frustrating trying to find the right item. Sure you can mount the backup and see what's in there, but that takes more time than reading a user-defined tag or label.
All in all, though, there's still a lot more to like about ATI 2014 than otherwise. And for $49.99 (MSRP) it remains a good enough software buy that it goes on all my production systems.
---