---
October 23, 2013 10:37 AM
When I installed the Soluto startup and runtime monitoring and reporting tools on my production machine a while back, soon afterward I discovered that the Windows Reliability Monitor had quit working. I was never fully able to resolve why this happened, and went a couple of rounds with Soluto tech support on this topic, before reluctantly realizing that I could either have Reliability Monitor on that machine or Soluto, but not both. After upgrading that machine to Windows 8 and then last week to Windows 8.1, I uninstalled Soluto just to see if I would get Reliability Monitor back. No dice! Or rather, no data: Reliability Monitor would run, but it wouldn't show me any data.

After deleting the old log files for Reliability Monitor, then waiting a few days, the data display resumed working.
As the preceding screen capture shows, I've gotten Reliability Monitor back to monitoring reliability data and while I can't say I'm happy with what's on display — which shows some of the niggling stability problems I've encountered since upgrading to 8.1 (the bumpy part) preceding by a rock-steady "no trouble" display beforehand running Windows 8 — I am glad to have regained access to this source of system monitoring and information. I found the secret to restoring ReliMon (as I call the facility to myself) in an interchange on answers.microsoft.com entitled "What to do if reliability monitor in action center does not show any activity?"
The trick is to navigate to C:\ProgramData\Microsoft\RAC and to delete that folder's contents. If you want to restore your prior data after this clean-up maneuver, you should first make a copy of the PublishedData and StateData sub-folders therein to a safe place somewhere else (I copied mine to another drive). Reboot your PC after you delete the RAC folder contents. If you want to restore the prior data, copy (and replace) the contents of the PublishedData and StateData folders from your safe copy elsewhere to put things back the way they were.
In reading the responses of those afflicted with this situation — namely, one where Reliability Monitor reports no reliability data — I see that this fix doesn't work for everyone in every situation. But it worked for me on my machine, once I'd upgraded to 8.1 and uninstalled Soluto. If you find yourself in a similar boat, or your users come to you with such a complaint, this solution may very well also work for you. As with so many other Windows fixes, there's no way to know for sure until you try!
October 21, 2013 11:35 AM
I've upgraded three machines to the Windows 8.1 GA release now, including my primary production machine (I reported on an in-place upgrade on this machine from Windows 7 SP1 to Windows 8 on October 4 in a post entitled "True Win7 to Win8 Upgrade Goes Suprisingly Well"). I can now observe that I'm experiencing many more noticeable behavioral changes in Windows 8.1 since I completed that upgrade on Friday of last week. Most noticeable — and sometimes vexing — has been the tightened up security inside Internet Explorer 11 in the wake of this latest software update.
So far, I've noticed the following changes:
1. Tightened security for use of Java and JavaScript in web pages
2. Requirements to add https:// URLs to the Trusted Sites list (these had been included automatically, in earlier releases, even if the "require server verification" option was unchecked on the Trusted sites display — no longer true!)
3. Much tighter controls on log-in pages, or other pages requiring authentication of any kind
4. I get quizzed pretty much any time a web page wants to run active content (ActiveX, Java, JavaScript or whatever) to do its thing.
For me, the symptoms of this trouble popped up in working with LinkedIn, a site I visit multiple times daily, and to which I post blog and article notifications as the fruits of my labor become available to the general public. I found myself unable to login to LinkedIn at all, until I added both the plain-vanilla http://www.linked.com home page and the secure https://www.linkedin.com/uas/login?goback=&trk=hb_signin login page to my Trusted sites list in IE. I'd never, ever been required to do this before, not even in the RTM version of Windows 8.1. On the plus side, IE now balks at loading advertisements in LinkedIn and lets me block such items:
Some other interesting gotchas have cropped up, including:
1. An inability to access my contact information from iCloud in MS Outlook 2013 (this worked fine until I applied the 8.1 upgrade to my 8.0 production machine; now I have to open iCloud on the web to access contact data). So I went back to a recent backup of my PST file and have re-imported my Contacts from there. I'm guessing the iCloud/Outlook synch operation is broken, too.
2. I did have to re-install two drivers after the Windows 8.1 upgrade had completed (the ICH10 Family SMBus Controller – 3A30 item, previously updated last week using the 9.4.4.1006 version of the Intel chipset drivers, and the RealTek HD audio drivers, which may actually have been a legit update). I've noticed only a few such items in the wake of upgrading to 8.1, but they do seem to occur on a onesie-twosie basis (somewhat puzzling, since I'd updated these items under 8.0 previously).
3. My printer drivers (Samsung ML-2850 and Dell 2255cn) had to be reinstalled on networked machines in all cases, and on the machine to which the Dell has a USB connection as well.
Although the upgrade has gone smoothly on every machine to which I've applied it, there have still been a few mostly minor hiccups in its wake. Nothing I can't live with, or fix, so far though.
---
October 18, 2013 10:30 AM
Having deliberately installed the Windows 8.1 RTM version on my primary Windows 8 test machine recently, I was naturally eager to jump all over the promised "Update Rollup" yesterday when it appeared through Windows Update. Its application took all of 5 minutes, including both download and installation. When I saw an entry in the list of pending updates there named "Update for Windows 8.1 for x64-based systems (KB2883200)" I hied me off to the cited knowledge base article where I immediately espied the following banner that resolved all uncertainty:

The size of the download is 230.1 MB, somewhat bigger than the "around 200 MB" mentioned in earlier disclosures from Microsoft regarding the roll-up, but by no means gargantuan (the full-blown 8.1 Pro x64 VL version, dated 10/17/2013, weighs in at 3,674 MB or ~3.59 GB). Since installing the roll-up yesterday, my test system has been rock-solid stable and shows little or no signs of major changes or updates. Here's what Winver says after the roll-up is installed, showing that the OS designation remains at Windows 8 (no big 8.1 logo, as some — including me — might have expected):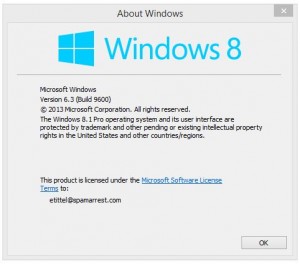 Expectations to the contrary, the OS designation for 8.1 still remains "Windows 8."
The only visual tell-tale about the new OS version I can find easily appears in Control Panel, where the following entry appears in the "Small icons" view:

In turn, that applet provides a Windows Store link where one can purchase the Windows 8.1 Media Center Pack for $9.99, which is not a bad price to bring DVD and other media playback into the Windows 8 environment, which otherwise lacks such capability. As I dig into the final, final version of 8.1, I'll report on other findings as they come up. But it looks like there's really nothing too earth-shattering here (and no, I haven't found or even heard about any promo codes to bring upgrade or add-on prices down, either).
---
October 18, 2013 12:05 AM
Microsoft has made good on its promise to release its software at a faster cadence with the release of Windows 8.1 today with some features that may grab the attention of IT.
This means you can now download Windows 8.1 from the Windows Store and upgrade your Windows 8 PC.  But should enterprise users care?
If you use Windows 8 at home or in your workplace, sure. Now you can take advantage of the pseudo-Start button, boot up your system in the familiar desktop mode, and have better support for multitasking.
IT administrators may also want to consider Windows 8.1. The community was part of the Windows 8.1 second wave of release to manufacturing version (they should have been part of the first wave), and now they can evaluate a final copy of the operating system which offers more enterprise management and security features, including biometrics.
Depending upon the version of Windows 8.1 — Pro or Enterprise – the software provides IT administrators with more control by enabling domain group/policies, support for BitLocker encryption, work folders, workplace join and open mobile device management. There also is a tighter integration with Internet Explorer 11.
However, we all know that many enterprises are not ready to adopt the Windows 8 platform as this would mean not only a software upgrade but also a hardware upgrade to take advantage of touch capabilities. And, many of them just spent a lot of money moving from Windows XP to the stable Windows 7 operating system, as Windows XP end of life looms.
But take note: mainstream support for Windows 7 ends January 13, 2015. At that time, the industry enters the five year extended support phase, which ends on January 14, 2020.  At that point we're back to square one of migrating businesses off of Windows 7 to whatever version of Windows is going to be out at that time.
Businesses will probably take advantage of the extended support phase, as they have with Windows XP. The Windows 8 platform is still in evaluation mode among many enterprises.
CIOs and CTOs say they want IT administrators to gain a better understanding of the company's business, its employees and market trends so that they think more strategically when it comes time to make technology decisions.
It's only a matter of time before enterprises have to think about the tried and true Windows 7 going away and the industry entering another cycle of major upgrades. IT pros: be prepared.
---
October 16, 2013 10:23 AM
I volunteer at my son's school, where one of my gigs involves assisting with a Wednesday morning programming class on Microsoft's SmallBasic, and another one has me helping out with a way-cool robotics club orchestrated around the Lego MindStorms robot kits. It's not only fascinating and fun, it also has me rubbing shoulders with the school's main (and only fulltime on-site) IT guy who's the sponsor of the robotics club and who also supports the programming class. This morning, as we often do before things get rolling, we talked about what he's up to and what projects lie ahead on his planning horizon.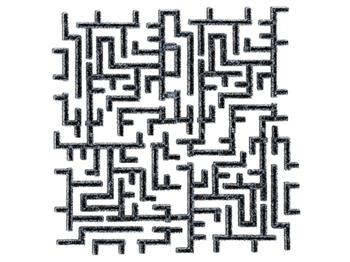 The maze of issues that faces early migrators to new Windows versions abates substantially for those who wait … and wait … to make that move.
[Image Credit: Shutterstock 27511863]
"What's up with the refresh?" I asked him this morning, alluding to the school district's upcoming plans to migrate classroom and admin systems from Windows XP to Windows 7. Because Round Rock ISD has an enterprise volume licensing agreement with Microsoft, I learned that they are required to phase out all systems running XP just after the start of 2014, some months ahead of Windows XP's last-and-final retirement date (April 8, 2014). When I asked how he planned to handle that migration, he informed me that the centralized IT group for the school district is preparing a set of reference images for the targeted systems, and he'll pull those images from network drives at the school to perform clean installs of Windows 7 on the 400 or so PCs, laptops, and netbooks currently deployed in the elementary school where he works.
Another interesting wrinkle emerged from the discussion — namely, that some systems will use images with the Microsoft Office 2013 release slip-streamed in. I knew this would increase the size of the download involved, but was a little surprised to learn that this would just about double the download time required to move  the image across the network from the servers where it resides to the target machines where it will be installed. My colleague's efforts will also be somewhat complicated by having to work around the schedules of teachers and administrators, who are usually busy using the computers at their disposal the whole time they're on campus, be it in their offices or their classrooms, depending on their various job roles.
He expects this effort to consume most of his working hours for the entire month of January, and possibly even into the first week or two in February, depending on how successful he is at wresting the machines that need to be upgraded from their normal users to perform the installs, and how many problems he encounters on the path from getting started with the netbooks and laptops in groups of 10 or 20 on the dozen or so computer carts he manages for the library and the computer labs in the school, to the pairs of PCs in individual classrooms, and onto the other office and mobile machines scattered around the campus. He plans to use a spreadsheet to keep track of all the machines that need handling during this process, and expects that while it will be time-consuming it shouldn't be too difficult. All of the machines the school district uses are of Windows 7 vintage (more than a year old, but less than 4 years old) so drivers and compatibility issues have been worked out a long time ago.
This is a typical large user base scenario and reflects what lots of "trailing edge" organizations have experienced recently or right now, except for those planning to follow along at the back of the pack in the next few months. This should make it very interesting to see how much XP remains in use after the April 2014 retirement date comes and goes. In the interim, those organizations with relationships to Microsoft that mandate moving up the food chain must go through the final motions involved in keeping themselves current, no matter how much or little they may like having to do so!
---
October 14, 2013 11:48 AM
I found a fascinating article on WinBeta.org this weekend. If you can get past its enormous title "Windows 8.1 'GA Rollup A' update will finalize the Windows 8.1 code, comes with fixes" there's some useful and interesting substance to the story as well. In fact, this story goes a long way toward explaining the mechanics of how code changes can follow in the wake of the RTM (release to manufacturing) version of Windows 8.1 that became available in early September (9/9 on MSDN, a few days earlier to the OEMs).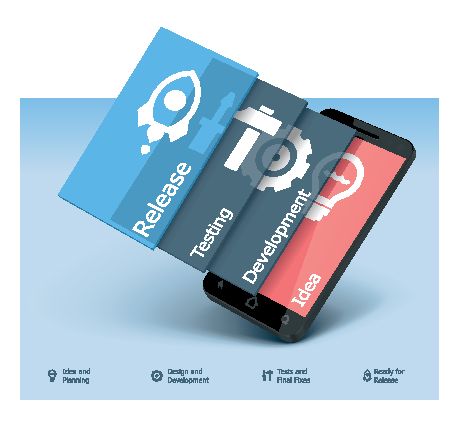 Shorter dev-cycles require interesting final release maneuvers, including a last-minute "update to the upgrade!"
[Image Credit: Shutterstock 151265540]

The story reports that Microsoft will release an update to the update called "GA Rollup A" that will accompany the actual release bits for Windows 8.1 (presumably, the same as the aforementioned RTM release). This will take the nearly-finished RTM version and add the necessary changes, fixes, and finishing touches that have followed in the wake of last month's RTM release. According to WinBeta, the roll-up is about 200 MB in size for x64, and 100 MB or thereabouts for x86 and ARM versions, and is said to "address bugs and various components throughout the operating system." The GA rollup may or may not appear in tandem with the release of  8.1 to update channels on October 17/18, or it may follow a day or two later.
What we're seeing here is, I think, the way that future Windows releases will be orchestrated to better accommodate the new short-cycle approach for major Windows versions, which Microsoft has said will occur on a more-or-less annual cycle going forward. Given such a compressed timeframe, developers will need whatever time interval is available to them between RTM push and the following GA date, to keep polishing the latest release, to fix bugs, and to slide whatever last-minute additions and enhancements can make it into the OS before the lock-down date for the GA release is imposed.
Will this have an effect on OS stability, reliability and quality? I'm not convinced that a short schedule and working up to the deadline has to mean more such problems are inevitable. But you can bet IT professionals and service providers (especially those in the "Desktop as a Service" business) will be watching the upcoming cycle with more than usual interest. It will no doubt set the tone for how quickly (and enthusiastically) such organizations jump onto new Windows releases in the future, and how soon they will commit themselves to rolling out such releases to their user bases thereafter.
---
October 11, 2013 12:09 PM
One week ago today, I reported on an upgrade install on my production PC from Windows 7 SP1 to the current version of Windows 8, as an experiment in anticipation of the GA release for Windows 8.1 to occur next week on October 17/18. If anything, the system is actually more stable running Windows 8 than it was running Windows 7. It does take a bit longer to boot than it did before (about 35 seconds, by my seat-of-the-pants stopwatch measurements, and about 42 seconds, according to Soluto) but other than that, things seem to be going swimmingly.
Even in looking at the various logs in Event Viewer, I'm not seeing any new errors that weren't already occurring under the Windows 7 regime. I did, however, notice that I need to resize the volume shadow storage for my boot/system drive (C). I jumped into the System Protection tab in the Control Panel System applet to bump up the allocation from 9 to 18 GB, which should keep me out of trouble for a while. I tend to be pretty conservative on those disk allocations, because I'm using a 180 GB Intel 520 Series SSD on that system, and always try to make I have between 25 and 50% free space on the drive (the zone in which, in my experience, SSDs tend to perform and behave at their best).
A quick gander at the Update History file shows that a whopping 52 updates were  applied to the system son Patch Tuesday. At least half of these items are for MS Office 2013, and its numerous components (Word, Excel, PowerPoint, and so forth). And the count on prior updates immediately following the install (dated October 3 and 4) is also pretty high: 75 items altogether, including a handful (5) of driver updates after the install, a large number of .NET updates for versions 3.5 and 4.5, and security updates galore. No wonder running the Drive Cleanup with the clean system files option turned on removed over 4 GB of stuff from the system/boot drive when all was said and done! If you do perform any upgrades, you'll want to exercise this option as soon after working through the process as possible (following a couple of image backups, of course: a total "before" snapshot, and another one just before performing the clean-up).
I am keenly aware that this experience flies in the face of best practices and common belief. I will confess to being both pleasantly surprised by this outcome, and pleased that I apparently will not have to reinstall all of my many applications atop a clean Windows 8 install after all. But wait: all could go kerfluffle in the wake of next week's upcoming second upgrade to Windows 8.1, so stay tuned for further developments. Could that be the straw that will break this particular camel's back? We'll see!
---
October 9, 2013 2:10 PM
Alas…Microsoft is playing catch up yet again.
This time the industry buzz is about exiting CEO Steve Ballmer's keynote comments at this week's Gartner Symposium/ITxpo in which he finally acknowledged Microsoft would be coming out with an Office for iPad version.
But the company already has lost substantial revenue since the iPad came out three years ago by not having an Office for iPad app, and it doesn't sound like the suite is coming out any time soon.
Microsoft says its wants to make sure an Office version is truly touch-enabled whether it's for the iPad or even Windows 8. A Windows 8 touch version of Office is slated for 2014 but in the meantime, frustrated users seek Office alternatives.
Some theorize that Windows 8 could have even had a better response from day one.
The problem is Office, says Robert Enderle, principal analyst of the Enderle Group, a long-time consultant in the IT industry. Office hasn't even been converted to the Windows 8 interface, he said.
So the constant waiting drives software entrants to fill the holes created by Microsoft's lack of a true touch-enabled Office suite. Indeed, the recent spate of office collaboration tools like those from CloudOn and others fill a gap for office productivity tools running on mobile devices that support the Office document formats.
But even as Ballmer finally states Microsoft's intent to deliver Office for iPad, end users may not be interested in paying for what could potentially turn out to be a pricey package.
Now, Microsoft is waving its hands to gain attention. In fact, a few days after rival Apple said it would give away iWorks for free on its new iOS devices and Google said it would offer QuickOffice for no charge, Microsoft blogged that its Office for Web apps was also free.
Unfortunately for Microsoft, end users may have lost interest already, even if Ballmer's booming voice finally tells them what they want to hear;  Office for the iPad is in progress – but it may be too little, too late.
---
October 9, 2013 10:17 AM
When I read Larry Seltzer's Zero Day blog post yesterday — which appeared on a Patch Tuesday morning, by no coincidence whatsoever I'm sure — I was both amazed and amused to realize that it has indeed been a decade since Microsoft changed from its prior practice of pushing patches primarily as circumstances and availability dictated to its current practice of batching them up and pushing them out at a regular and predictable interval. This change occurred primarily in response to qvetching from IT departments everywhere that pushing patches out the door randomly didn't really fit the working methods and models of modern IT organizations. Even then, standard best practices were already in commonplace use that employed formal change controls within the context of scheduled update activities to rationalize patching and update processes, and better fit them into the overall IT workflow.
A regular, predictable update schedule is what IT organizations wanted, and what Microsoft gave them with Patch Tuesday. Seltzer's comment about all of this is right on the money "…the predictability of the update schedule and the improved information that comes with security bulletins these days, as well as improvements in patch management systems, were also a big part in making IT life more normal."
Just last week, I was explaining to my nine-year-old son — who is the proud owner of "his" first PC (a Dell XPS 2710 Haswell model) — that he needed to get ready for Patch Tuesday. "What's that?" he asked. I explained: "Round about the second Tuesday of every month, Microsoft releases most of its security updates and patches for the month. It's part of the regular routine of keeping Windows systems up to date." "Oh," he said, "what do I have to do?" "I'll show you," I said, and yesterday we worked through his first-ever Patch Tuesday, as I showed him how to download and install the important patches, and evaluate and select the optional items he might or might not want.
I'm bemused to find myself passing the torch for Windows upkeep and  maintenance to another generation, but that's what started happening around our house late yesterday afternoon. And so the world keeps turning…
---
October 7, 2013 9:54 AM
The first thing one should always ask when reviewing any kind of poll result is "Who's in the survey population?" I was forcibly — and humorously — reminded of this essential basis for analysis upon taking a poll in an article about the impending release of Windows 8.1 (it's due out about 10 days from today) entitled "11 days until Windows 8.1 rolls out for Windows 8 users, are you ready for it?" (from the Website, WinBeta.org). If you stop for just one second to consider that anybody who actually reads an article like this has to have some kind of interest, not just in Windows 8.1, but in its approaching release date, the following poll results make perfect sense:
Does this poll remotely approximate a cross-section of the general public (or even the whole population of IT professionals)? No freakin' way, my readers, no freakin' way! The population is what statisticians call "self-selecting" in that an indication of strong interest — namely, clicking a link to get to an article about the upcoming release of Windows 8.1, and then making it all the way to the end of the article before the poll even shows itself — is required to enter the population of survey respondents in the first place. Nevertheless, I find it very interesting that the vast majority of those respondents are apparently panting with lust to install the release as soon as it becomes available. That makes me wonder why they haven't installed the RTM version already, itself widely available through MSDN and TechNet downloads for nearly one month now.
All of this goes to show that not all surveys are the same, nor do all convey genuinely meaningful information, either. If you see anybody quoting survey results, especially for surveys like this one, please take the time to find out where those results originate, and you may also be able to conclude that while these results may be interesting or amusing, that they also are not terribly informative about the attitudes or mindsets of the general population. If anything, these results are a perfect inverse of the general population, where I would be highly surprised if even 10 percent of Windows users plan to install 8.1 soon after the October 17/18 impending general availability (GA) date.
---