---
September 2, 2013 12:00 PM
Kudos to Martin Brinkmann at ghacks.net. His September 2, 2013, article "How to install Windows 8.1 RTM on a Windows 8.1 Preview system" explains how to get around the MS-imposed restriction on Windows 8.1 installs. Otherwise, MS requires either a clean install of that RTM release (or the upcoming GA release scheduled for mid-October), or a return to plain-vanilla Windows 8 (another clean install) before installing the upgrade bits on any PC with the Windows 8.1 Preview release already installed.
The secret comes form a set of tools called the WinISOUtils, a set of Windows ISO disc image utilities designed to operate on the dowloadable ISO images that MS uses nowadays to distribute its various operating systems. The self-description blurb for this nice little set of tools provides a great overview for its components, so I reproduce it here: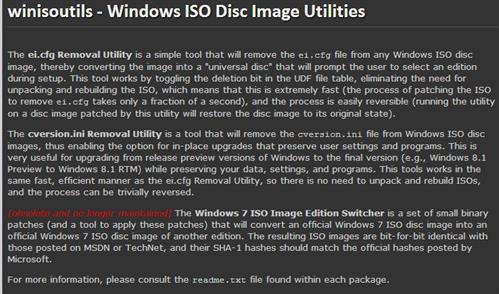 The cversion tool can be grabbed on its own, and essentially sidesteps the version check portion of a typical Win8.1 install by deleting the version info file from the install image in use.
In fact, this technique works for any modern version of Windows, from Vista on forward, where the cversion.ini file is used to check whether or not a chosen upgrade path is allowed or not during the install process. Because it permits users to retain existing data and settings, as well as additional programs already installed, it's a real time-saver for those not afraid to risk the occasional (and inevitable) compatibility hiccups that Microsoft's policies are designed to avoid (but which are too draconian to be acceptable to most power users and Windows-savvy IT professionals willing to do their own application-level troubleshooting).
August 30, 2013 12:17 PM
I've said it in this blog before, I'm saying it now, and I'll no doubt say it again: Woody Leonhard is a genuine Windows guru, and always has something interesting and informative to say about his chosen field of endeavor. In his latest InfoWorld story — entitled "A first, jaundiced look at Windows 8.1 RTM" — he braves the potential for malware to inspect and comment upon a pirated, leaked version of the Windows 8.1 RTM bits that have come into his possession through various unspecified means (BitTorrent searching, anyone?). The net-net of his reporting is nicely summarized in that story's subtitle: "Hopes that Windows 8.1 RTM would correct some of the problems from earlier builds prove very wrong."
Here's a list of the items he recites in that story to underscore that subtitle:
1. Smart Search remains turned on by default.
2. Difficulties inherent in installing Windows 8.1 to a local, non MS Live account continue (the trick, he discloses, is to use a bogus email address which presents the option to install to a local account when attempts to resolve that address fail).
3. Libraries don't get built by default, and are hidden in File Explorer (which still launches from explorer.exe). The push toward SkyDrive for fun and profit even makes public folders hard to find. (Hint: the old default library items still show up under Folders at the very head of the "This PC" view in File Explorer. Public shows up as a folder entry under This PC in the left-hand menu as well.)

The old Library entries found in Windows 7 and 8.0 now appear as "Folders" in the This PC view in Windows 8.1 File Explorer.
4. No more backup and restore center (I also blogged about this on August 21 in a post entitled "Windows 7 File Recovery Absent from Windows 8.1" and explained how to gain access to the vhd and vhdx files created for Windows image backups by the now-missing utility in Windows 7 and earlier versions, and Windows 8, respectively). In this story, Woody also explains how to get to restore points in Windows 8.1 (by typing "restore" from the Start screen or into the Run box you elicit a "Create Restore Point" tool) and how to turn them on for drives of your choosing.
5. Echoing a point he makes several times elsewhere in his reporting, Woody affirms that claims for a return of a Start menu in Windows 8.1 are both overblown and inaccurate: he observes (and I concur) that it's simply easier to get to the Start screen. I still use Classic Shell or Start8 (the 1.17 beta version) to keep a real Start menu on my 8.1 desktop. He also observes that desktop apps get Modern/Metro UI tiles in 8.1, which makes launching them "interesting" on an unmodified desktop (but works as it did in Windows 7 with any of the many add-on "Start menu replacements" available for Windows 8 or 8.1).
6. More missing matter: still gone are the Windows Experience Index (WEI), connections to Facebook and Flickr in the Photos app, and Windows Easy Transfer works inbound only (no using this tool to migrate to a different Windows 8.1 install).
Given what's reported, the jaundice in Woody's eyes is easy to understand. But perhaps it's still worth hoping that MS will choose to address and repair some of these deficiencies before the general availability (GA) release hits on October 17/18. Only time will tell!
---
August 28, 2013 3:14 PM
That's the substance of a comment posted to a story that appeared yesterday on The Verge, entitled "Windows 8.1 leaks on the web ahead of its October release," which reports that "a localized Chinese version" of Windows 8.1 has already been leaked into the shadowy underworld of BitTorrent. With English versions sure to follow soon, and developers ranging anywhere from highly incensed to mildly peeved that the Windows 8.1 RTM release won't be made available via MSDN or other developer channels, life is very interesting for those whose jobs and livelihoods entail following the latest version of Windows wherever it may lead.

User aaron44126 expresses a pithy sentiment that many Windows followers currently share.
Just because the OS has been released to RTM doesn't mean it won't be changing, perhaps even in some serious or substantial ways, before the General Availability (GA) version ships on October 17/18. Microsoft is apparently not interested in sharing a not-yet-solid version with developers, preferring instead to have them wait for a more solid version when GA lockdown occurs. Why is it that this appears like another obvious mis-step for Windows 8, which continues to operate under a dark cloud? You'd like to think that MS understands better than most companies the value and importance of apps for their platform, as they hustle along playing permanent catch-up with the Android and iOS offerings already available.
Go figure…
---
August 27, 2013 4:19 PM
Microsoft is right on time. The software giant released its Windows 8.1 and Windows 8.1 RT RTM version to PC hardware vendors this week.
In a post by Microsoft's Antoine Leblond, the company said it hit an important milestone: providing a new release of the software only 10 months after it arrived. But Microsoft is doing things differently this time.
"While our partners are preparing these exciting new devices we will continue to work closely with them as we put the finishing touches on Windows 8.1 to ensure a quality experience at general availability on October 18th. This is the date when Windows 8.1 will be broadly available for commercial customers with or without volume licensing agreements, our broad partner ecosystem, subscribers to MSDN and TechNet, as well as consumers."
The kicker? While the RTM version isn't complete, it is good enough to get out the door to the PC hardware vendors but the MSDN and TechNet communities won't get it. Huh?
Microsoft says technology has shifted so our personal and work lives have become blurred. I don't deny this because mobile technology and the cloud have really changed how we work and live our lives. But does this allow Microsoft to tweak the software even after the RTM goes to its hardware partners? To Microsoft, yes. Faster updates provide customers more time to tweak their own platform given all the new devices expected in the fourth quarter.
I'll give Microsoft a pass on this because partners want to make sure Windows 8.1 looks and works well on their new form factors. Providing touch and a new interface on these forthcoming devices is not an easy task.
But, whereas MSDN and TechNet subscribers previously received the RTM shortly after its release, this time around, these communities  get them on October 18, the same as commercial customers and consumers.
Why would Microsoft do this? Don't they want apps to be fully ready, tested and bug free as soon as Windows 8.1 hits  stores on October 18? In this case, even though Microsoft wants to abide by its rapid software release cadence, the developer community should have access to the RTM version. End users don't want buggy apps on day one.
And, here's another thing. If mobile is so important to Microsoft, they must realize  it's not just about devices. It's about the apps and the entire ecosystem. In fact, if some apps don't work on a device when they come out in the fourth quarter, why would anyone buy it? These technologies go hand in hand and even though I'm not a developer, I can't fathom why Microsoft would do this. As a multitasking, mobile business and enterprise user, I would never buy a device if it didn't have the bug-free apps I wanted.
It would behoove Microsoft to change their stance on allowing MSDN and TechNet subscribers to have the Windows 8.1 RTM version. Developers need to make sure their apps are bug free and ready to go on October 18 when Windows 8.1 becomes available to the masses.
If Microsoft is going to have any chance of uncovering new opportunities in the enterprise, IT pros absolutely need the software for testing in their own environments.
I know not many enterprises are really moving to the new operating system and they would prefer Windows 7. But, that being said, Microsoft needs all the support they can for Windows 8.1. This approach only takes into account the hardware device manufacturers and for the short-term leaves out the developers and IT community. The success of Windows 8.1 doesn't just rely on the hardware and the operating system. It is, after all, an ecosystem, and supporting all branches of the system is what's going to slowly get Windows 8.1 into the hands of a broader set of users.
---
August 26, 2013 11:40 AM
OK, so now we not only know that the official release date for Windows 8.1 will be October 17/18, 2013 (4 AM on 10/18 in New Zealand, 10 AM 10/17 in Redmond), but now we also know that last Friday Microsoft sent off the bits for the release to manufacturing (RTM) as well. Numerous sources, including Mary Jo Foley and Paul Thurrott confirmed that it went out on 8/23, with release number 9600.16384.130821-1623. Foley went on to comment further as follows:
…my sources said that Microsoft's game plan is to withhold the Windows 8.1 RTM bits until launch this year, which means almost no one outside (other than OEMs) would get officially released Windows 8.1 bits until October 18.
This is at odds with Microsoft's prevailing practices for releases of Vista, Windows 7, and Windows 8.0, but it buys the company some time to slipstream changes into the general availability release if they must, and it keeps things simpler and more straightforward for the company's suport staff while the run-up to October 17/18 continues to wind down. Nevertheless, I do expect to see at least some purported "leaks" of the RTM version on BitTorrent in the relatively near future. Curious researchers and enthusiasts should be warned that such leaked versions have included malware for past Windows versions, and may very likely do so for Windows 8.1 versions as well. If you're bound and determined to exercise your curiosity, be sure to take security precautions when messing about with unofficial version of any not-yet-officially-released Windows (and other) OSes. Happy hunting nevertheless!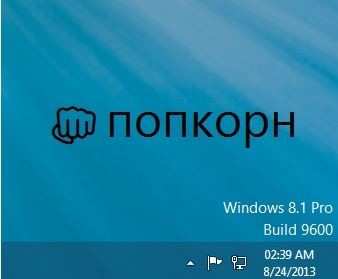 Only images of the new OS have leaked so far; no ISOs have surfaced anywhere as yet.
One image of the release has surfaced on MS news, rumors, and info site Neowin.net, with the following warning, which apparently originated from the MyDigitalLife forums from a member with the handle 'Cleric':
The source of the image also pointed out on the MDL forums, that those who currently have access to the RTM version are "being watched closely"; so for now we'll all have to wait until general availability on Oct. 17th.
---
August 23, 2013 12:04 PM
My last blog post was entitled "Windows 7 File Recovery Absent from Windows 8.1," and disclosed my discovery that image backup facilities are no longer built into the upcoming Windows 8.1 release (based on analysis of and interaction with Build 9431). Since that post appeared, I've found an interesting InfoWorld article from Windows guru (and a personal hero of mine) Woody Leonhard entitled "'Almost finished' build of Windows 8.1 still a mess." The link goes  to page 2 of that article, because I will reproduce two very interesting paragraphs from that page verbatim (please note that he's working from a pirated 8.1 build that is newer than the one that MS released for the Windows 8.1 Pro Preview):
Finally, I note with some consternation that all of the Windows 7 backup and restore programs are gone in Build 9471. They're in Windows 8, but not in Windows 8.1. We've known for quite some time that the "ghost" system image backup (the one that makes a full copy of any hard drive/volume) was going to disappear in Win 8.1. What took me by surprise is that all of the other Windows 7-era backup tools, which were in full force — if a bit hard to find — in Windows 8, are gone, completely, in Windows 8.1: No Windows Backup; no Backup and Restore Center.

Even System Restore Points, the old system rejuvenation fallback of an entire generation, get turned off by default in Build 9471. You won't get any Restore Points unless you turn the feature on, manually.
I did figure out a couple of methods to access the virtual hard disk files (both older .vhd and newer .vhdx formats) that those now-missing backup tools create in Windows 8.1, so that older images may be mounted and accessed therein, and documented them in my previous blog. But it looks like the new built-in, go-to tool for Windows 8 backup purposes will become the "record image" tool of choice for Microsoft's latest desktop environment (recimg.exe, which drives the creation of a custom "refresh image" for the "Refresh your PC" facility in Windows 8 and 8.1). That also makes the free Slimware utility known as RecImg Manager even more popular and valuable for Windows 8.1 than it already was for Windows 8.0. That program includes automatic scheduling of regular backups using this facility, so it really does become a true image backup tool that can succeed the now-absent "Windows 7 File Recovery" backup and restore toolset included in the Control Panel in Windows 8.0.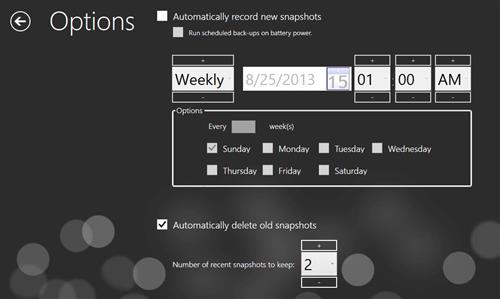 The scheduling pane from RecImg Manager helps show why it makes a valuable addition to any Windows 8(.1) desktop.
---
August 21, 2013 11:50 AM
As I'm getting to learn the latest Windows 8.1 release from the current Pro Preview version that's available, I've been finding my way into some of its more obscure or random wrinkles. In responding to a reader inquiry about my recent post about the WinDirStat utility ("Run as Administrator" Adds to WinDirStat File Visibility, 8/19/2013) this morning, for example, I learned that the built-in Windows backup utility which appears in Windows 8.0 as "Windows 7 File Recovery" in Control Panel, is no longer present in Windows 8.1. This same utility is a port of the "Backup and Recovery" utility that was present in Windows XP, Vista, and Windows 7 as well. But it's apparently gone, gone, gone in Windows 8.1.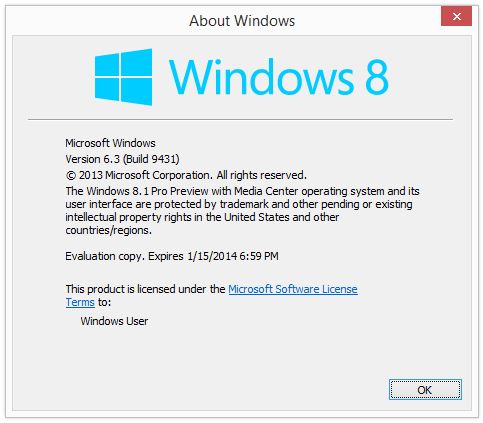 Output from the winver command in Windows 8.1 shows that it's labeled Version 6.3 (Build 9431) and is desigated as "Windows 8.1 Pro Preview," with an expiration date of 1/15/2014.
For those who might need to access the .vhd or .vhdx files that the Windows 7 File Recovery utility creates as part of its backup file collections from older versions of Windows 8, I was also surprised to learn that Hyper-V's "Import Virtual Machine…" interface won't permit you to mount and access the contents of those virtual disks. Nor, to my greater surprise, will Elaborate Bytes' usually excellent Virtual CloneDrive tool. You can always use the "Attach VHD" option in the Windows built-in Disk Management (diskmgmt.msc) utility, though, to mount and grab files from backup images that the older utility created on Windows 8 prior to an in-place upgrade to Windows 8.1 (which shows up as Disk 7/M: Drive in the following screencap).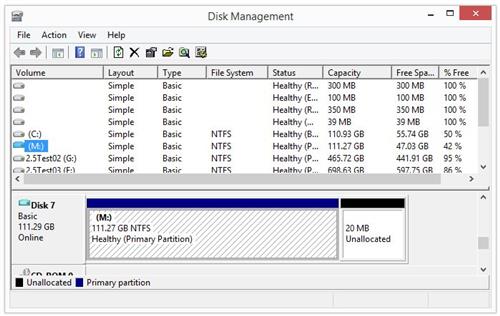 The 'brute force technique' for accessing a Windows 8 image backup created using the Windows 7 File Recovery utility is to use Attach VHD in the Disk Management console.
After a bit of poking around, I found a free utility named VHD Attach 3.80 that provides right-click support for mounting VHD and VHDX files in Windows 8. It did the job nicely once I figured out I had to use the "Run as administrator" option to grant the program sufficient rights to mount the virtual disk file that the Windows 7 File Recovery utility creates and protects with system level privileges. Armed with this insight, I tried to do likewise with Virtual CloneDrive, but still found it blocked by access restrictions. Thus, if you want to get into image files in Windows 8.1 that originated from the Windows 7 File Recovery utility in Windows 8.0, it looks like you'll need to use Attach VHD in the Disk Management console, or grab and use VHD Attach as an alternative.
---
August 19, 2013 1:54 PM
I've written repeatedly about a great, free SourceForge utility called WinDirStat for this blog over the years. But just this morning, I learned something about the program I didn't know — namely that applying "run as administrator" when using this tool sheds additional light on where files that WinDirStat labels as "Unknown" come from. I'll show two screen caps to illustrate what this can mean in stark fashion:
Left/above shows a huge yellow unknown area; right/below shows a much smaller area of the same hue.
The first screenshot was generated by running WinDirStat directly from the Start menu, but I created the second one for the same drive after launching the program using the right-click "Run as administrator option." The differences between the two screenshots show that elevated privilege for the program provides more insight into Windows System information available from the System Volume Information data to administrators but not to other users (even if they, like the account used to generate both screenshots, are members of the "Administrators" or "Local Administrators" groups). I had been wondering about the huge allocation to Unknown for this drive, and discovered this technique by Googling "large unknown file WinDirStat." In turn, this led me to a sequence of user forum posts that mentioned the difference in passing, while explaining how to reduce the size of such allocations to other users (I was already aware of using VSSADMIN to reduce shadow copy storage, and had checked — and reduced — those allocations already).
The upshot was that I was able to see that around 72 of the 90 GB that showed up as "Unknown" in the first screen cap, could actually be attributed to image and other files in the WindowsImageBackup holdings, as shown in the second screen cap. In that screen cap, the "true Unknown" — namely the volume shadow copy files — resolved to under 12 GB, entirely in keeping with the allocation that I'd made (and double-checked) using VSSADMIN. It all goes to show that some problems in Windows aren't necessarily problems at all. Rather, they're a matter of assessing circumstances from the proper perspective! A valuable insight for me, and I hope for some of you readers as well.
---
August 14, 2013 5:37 PM
If I owned Microsoft stock I would be none too pleased right now.
Microsoft was slapped with a class action suit this week by New York-based law firm Robbins Geller Rudman & Dowd LLP on behalf of those who bought Microsoft stock between April 18, 2013 and July 18, 2013. The 30-page complaint filed in the District of Massachusetts charges that Microsoft and its officers, including Steve Ballmer, Peter Klein, Frank Brod and Tami Reller, allegedly violated the U.S. Securities and Exchange filings with misleading statements about the lackluster performance of Surface RT.
Microsoft took an unexpected $900 million inventory write off for Surface RT, which only came to light in its fourth quarter earnings call held in July.
The law firm claims that Microsoft delivered misleading statements about the Surface RT and knew Surface RT was not doing well in the market. The firm said Microsoft failed to notify its shareholders that Surface RT experienced extremely poor customer demand and the inventory declined in value during Microsoft's third fiscal quarter ending March 31, 2013.
To be fair, if you're in the techie world and have been following Surface RT, you'd know that the product has not fared well since the beginning of this year: Microsoft's fire sales on the excess inventory for Surface RT and even Surface Pro at its tech conferences in June, a free $100 keyboard, and recent price slashing on Surface RT all signaled bad news. . Surface RT has yet to gain any traction in the enterprise as well as consumers, and partners like Asus are officially pulling support.
For those who don't follow Microsoft closely but own stock, the $900 million write off could have been a shocker because Microsoft missed its earnings. Upon disclosure of the news, Microsoft stock suffered a big drop, down by 11.4%, or $4.04 per share. According to the complaint, this was the biggest price drop in four years.
Questions remain as to whether Microsoft knew its Surface RT inventory plans during the previous third fiscal quarter and whether they're accounting practice to write off the inventory was acceptable.
Indeed, the complaint states that Microsoft's partners were already cutting prices on their own inventory to get rid of the overstock, way before Microsoft did. Even they knew the platform wasn't as successful as expected.
Having watched the tech industry for longer than I want to say, Microsoft's Windows RT-based tablet seems like an experiment. Remember all those Windows CE devices? (Yes, I still have a Compaq iPaq gathering dust somewhere). Microsoft is throwing spaghetti to the wall again to see what sticks.
But let's be clear. Microsoft all along has said that what they're doing now with their corporate restructuring, Windows 8, Office 365, Azure, and branding itself as a devices and services company is part of a long-term strategy. And that, my friends, is what we all have to remember.
Yes, Microsoft may have made a serious error with this Surface RT inventory write off and Windows RT, but they still have loads of cash to take the company forward and seek their long-term vision. This takes time. It's not a short-term gain but a long-term outlook.
For now, maybe we'll see more Surface RTs selling on eBay, Overstock.com or on those penny auction sites like Quibid.com.
---
August 14, 2013 12:29 PM
Score one for the Russian rumornets: Ed Bott has just reported that Windows 8.1 will go into general availability (GA, open to the general public) release at 12 AM in New Zealand (which Mr. Bott informs us is 4:00 AM in Redmond; that's PST  or -08:00 UCT). I blogged here last week about Russian language site Microsoftportal.net claiming that the OEM release could go out as early as August 16. Given that the date for GA has now been announced, and that it usually precedes GA by two months exactly, they were off by a day or two, at most. Bott confirms the overall timing, and indicates that "…my sources have also told me … that Windows 8.1 has been officially released to manufacturing."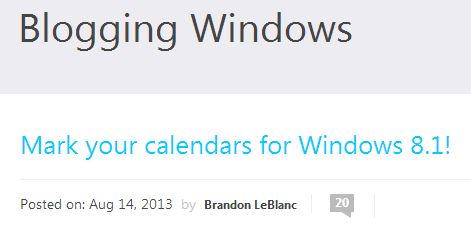 Today's Blogging Windows post from Brandon LeBlanc shares the info that on October 17/18, MS will post the Windows 8.1 update for free on the Windows Store.
What's interesting is that the rumor mill has been grinding thick and fast lately about when the OEM release will be made available via MSDN. I've read some sources that claim MS will skip this step and hold off on making the OEM release available until the GA date rolls around. Frankly, I don't see how or why MS would choose to do this to developers, who need some time to get their applications ready for Windows 8.1 before it ships (or who conceivably might decide to build some new ones to coincide with the GA date). Bott catches my general take on this still-murky situation quite nicely when he says "There's no indication in today's consumer announcement of when the Windows 8.1 code will be available for developers on MSDN, nor when the Enterprise edition will be available for general release." Just because MS isn't saying anything about this yet doesn't mean that nothing is going to happen until GA. Let's hope Ed's request for additional information produces some results sooner rather than later.
---