---
February 5, 2014 10:42 AM
I recently wrote an article with my old buddy Earl Follis for SearchVirtualDesktop entitled "Vendor options for VDI deployment — sans Microsoft." In response, Rick Mack, an SME at Dell based in Australia was kind enough to remind me that I'd left one very important product out of the mix — namely, Dell's capable and redoubtable vWorkspace product.
Indeed vWorkspace has a lot of useful and important characteristics necessary for a VDI or terminal server solution to endear itself to enterprise and business users. In particular it aims to provide effective access to computing resources whenever and wherever they're needed, without imposing too much complexity on the users, and without taxing corporate coffers overmuch to provide usable tools and technologies.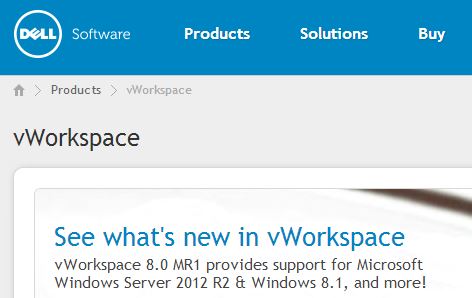 Turns out that Dell vWorkspace hits the sweet spot between user access plus ease of use versus overall cost and complexity.
In particular, I liked Rick's admonition to "Do your research properly, get your facts right, and give credit where credit is due. Otherwise you're just adding to a bunch of useless marketing that could be best described as a biased piece of disinformation." This is the real problem with any quick survey of a general market category or niche. That's why I'm always glad to learn about products or platforms I might have overlooked in putting a story together, or in reporting on "what's out there" in some particular area of the IT, technology, or certification landscape.
I'm especially grateful that he took the time to share his superior knowledge of the overall landscape and some of its denizens with me, and to help me see a bigger and hopefully better picture of the world I attempted to portray than I could see on my own. That's why all feedback is always welcome, and all input gratefully accepted. Please keep those comments and emails coming: my work (and the information and occasional insight you might glean therefrom) can only improve as a result.
February 3, 2014 10:06 AM
When I started seeing the news online this morning about recent discounts on various Windows 8.1 tablets, I couldn't take them seriously. But upon traipsing over to the Microsoft Store online (the digital counterpart to Microsoft's brick-n-mortar stores around the USA and in other locations), I discovered the following items and prices on their Discount PCs page:
1. $699 for the HP Envy Rove 20″ touchscreen tablet/PC.
2. $499 for a 4 GB RAM/128 GB SSD Ivy Bridge model Surface Pro.
3. $229 for a Dell Venue 8 Pro (32 GB) and $299 for the 64 GB model.
4. Toshiba Encore 8″ tablet (32 GB) for $249.
5. Lenovo Miix 2 8″ tablet (32 GB) also $249.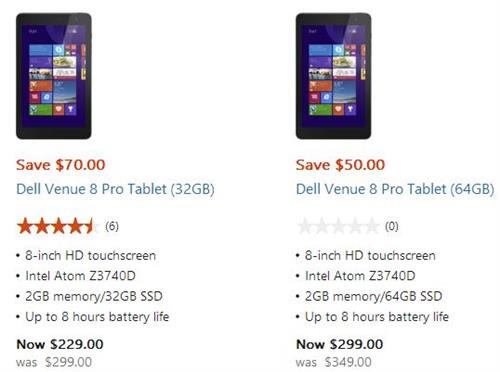 There are lots of good discounts on Win8 Tablets at the Microsoft Store right now, but this Dell Venue 8 Pro offer is especially hot.
For those interested in trying out a small format tablet at low cost, the Dell, Toshiba, and Lenovo items are especially compelling. The old-model Surface Pro is also a lot more palatable with its 4-hour battery life and limited storage capacity at $500 than it was at $900. Given the great reviews the Dell Venue 8 Pro has been collecting of late (despite its 1366×780 screen resolution) it's almost too good a deal to pass up. I may have to find an excuse to pass by the Microsoft Store about 6 miles from our house sooner rather than later myself!
There are those who speculate that the depth of these discounts indicates problems in selling Windows 8 PCs in general, and Windows 8.1  tablets in particular, into the consumer market. My 9-year-old son loves our local physical Microsoft Store, so we've spent more time in there over the past year or so than many people. I have to say that if the size of the crowds and the amount of foot traffic is any indication of interest, there may be fewer passers-through and more buyers at these stores over coming weeks, thanks to better buying incentives in the form of lower prices. With margins on PCs and tablets already razor-thin, MS can't be making much profit from such deep discounts — that's for sure.
---
January 31, 2014 11:35 AM
OK, so the latest Windows 8.1 Update 1 rumors are out, and they're reporting something nearly everybody who's ever used a Windows 8 version of any kind on a PC already knew, be that version beta, 8.0, 8.1, or whatever — namely, that most users work from the desktop with a keyboard and a mouse, and couldn't care less about the tiled, touch-friendly interface and the Windows Store apps that go with it. Here's how Tom Warren at The Verge reports on what's driving a major upcoming change to the Windows 8 UI in the upcoming next release for Windows 8.1 aka "Update 1:"
The Windows Store continues to grow with applications, but we understand that Microsoft has been paying close attention to telemetry data that shows the majority of Windows 8 users still use a keyboard and mouse and desktop applications. This same telemetry data was used to justify the removal of the Start button shortly before the Windows 8 release, and contributed to its eventual return in Windows 8.1. Microsoft may have wanted to push touch computing to the masses in Windows 8, but the reality is that users have voiced clear concerns over the interface on desktop PCs.
Other sources indicate that the next update being tested changes default system behavior to boot to the deskop, and to make Modern UI applications (and the tiled Start screen) available through explicit navigation. Also, as reported in many other places, it will be possible to run Modern UI apps inside windows on the desktop, and even to pin them to the taskbar just as with desktop applications since the Windows XP days.
Hence, my title for this blog post, which recalls the title of a once well-known 1979 Supertramp hit song in speculating on the basis for this possible change of course from Microsoft. Of course, it's still not a done deal, and it will be interesting to see how it all pans out when Update 1 starts to become available to a wider range of users, be that on March 11 as current predictions claim, or through earlier leaks onto the Internet.
---
January 29, 2014 10:33 AM
In the past 10 days, rumors about the upcoming Windows 8.1 update have started to circulate with some degree of urgency and plenty of frequency. There are two particularly interest elements in these rumors (see the end of this blog post for pointers to some particularly interesting sources for same) — namely:
1. That it will become possible to "pin" Metro apps to the taskbar on the desktop, and run those apps within Windows on that selfsame desktop. This will probably irk the folks at Stardock, who offer this capability in the form of a $5 desktop application called ModernMix, but should be welcome news to those who spend most of their time in Windows on the desktop, with only occasional forays into Metro app-land.
2. MS also intends to reduce the disk and memory footprint for Windows 8.1, so that it will be better suited to reside on el-cheapo tablets, which seldom include more than 2 GB of RAM nor more than 32 GB of flash memory for storage. Right now, for example, my brand-new Fujitsu Q704 tablet running Windows 8.1 occupies 29.2 GB on its SSD (basic Windows 8.1 Pro installation plus MS Office 2013 Professional Plus, and less than two dozen other apps as detailed in my blog from last Friday entitled "Getting Desktops Ready for Windows 8(.*)") and consumes 2.02 GB of RAM (running the OS, Task Manager, Desktop Gadgets, and PowerShell). I can see where MS would probably like to trim the bare OS below 20 GB and memory to 1.5 GB (or less) to give less well-endowed tablets some room to breathe.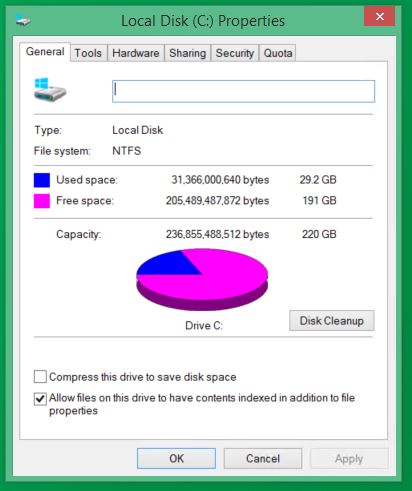 Just with Windows 8.1, MS Office 2013, and a scant set of other apps, my disk footprint is already over 29 GB.
I wonder exactly how MS will accomplish the latter trick. My best guess would be some kind of special parameters to more aggressively manage active runtime elements, perhaps by reducing the number of services running, and background processes called into action during typical use. If true, it should be interesting to examine how Microsoft tweaks things so as to provide some guidance on how admins and power users might themselves do likewise if the setting is neither ubiquitous for all Windows 8.1 installations, or not directly available to informed users who'd like to reduce the Windows footprint on other machines as well. And in fact, I hope Microsoft is looking at sites like the excellent Black Viper (whose tag line reads "Have you tweaked your OS lately?"), to get some insight on what can stay, what must go, and what could go safely if what must go is not enough by itself to trim things down as needed.
Good Rumor Resources for Windows 8.1 Update
Other recent rumors indicate that the Update may surface as early as the March 2014 Patch Tuesday, which falls on the 11th of that month. Check out these stories for the inside scoop on this update:
1. Mary Jo Foley "Microsoft's Windows 8.1 Update 1: Rumored release target is March 11" ZDNet (1/24/2014)
2. Kevin Parrish "New Windows 8.1 GDR1 May Arrive in March" Tom's Hardware (1/27/2014)
3. Paul Thurrott "Need to Know: Windows 8.1 Update 1 and Windows Phone 8.1" WindowsITPro (1/28/2014) Thurrott indicates further that "…this disk savings will only be offered on new PCs, and isn't something that can be added otherwise." Bummer!
---
January 27, 2014 10:39 AM
The latest results from AV-Test, an independent anti-malware and security software testing group based in Magdeburg, Germany, are out. In particular, results for what the site calls "Corporate Solutions" for Windows 8 versions — namely endpoint and client security software from big well-known vendors such as Bitdefender, F-Secure, Kaspersky, McAfee (Intel), Symantec, and others — should be of interest to readers of this blog. The latest chart from AV-Test sums things up pretty nicely: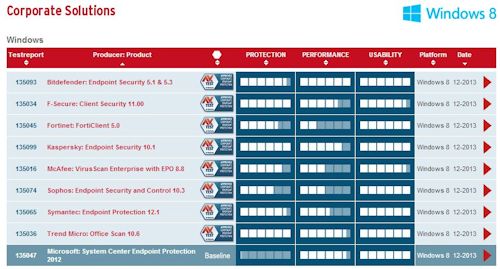 The Jan 2014 test results for corporate Windows 8 solutions from AV-Test report on metrics for 8 different offerings. (Click image or link to see larger version)
I was a little disappointed to see my long-time favorite, Symantec Endpoint Protection (which comes of its Norton lineage), get dinged for less-than-stellar performance (a long-time beef against the company's offerings, but one which they beat back for Windows 7 versions). The leaders in this round of testing are Bitdefender and Tend Micro Office Scan, with Kaspersky Endpoint Security not too far behind.
---
January 24, 2014 11:16 AM
I've just taken delivery of a new Fujitsu Q704 Tablet with a keyboard dock that turns it into a somewhat hefty (4 lbs 12 oz, or 2.175 kg, according to my digital office scale) notebook PC. Although I ordered a Windows 8.1 model, I was surprised to see the unit arrive running Windows 7 SP1 and to hear the Fujitsu support tech tell me that it was up to me to install Windows 8.1 from the included system recovery DVDs (all three of them). Lucky for me, I had a USB DVD drive that I hooked up to the unit, and proceeded to do just that. As I worked after the Windows 8.1 install completed, I took notes on the system changes I ended up making and the software I installed, so as to provide a snapshot of what it takes to get a desktop or notebook PC for production use.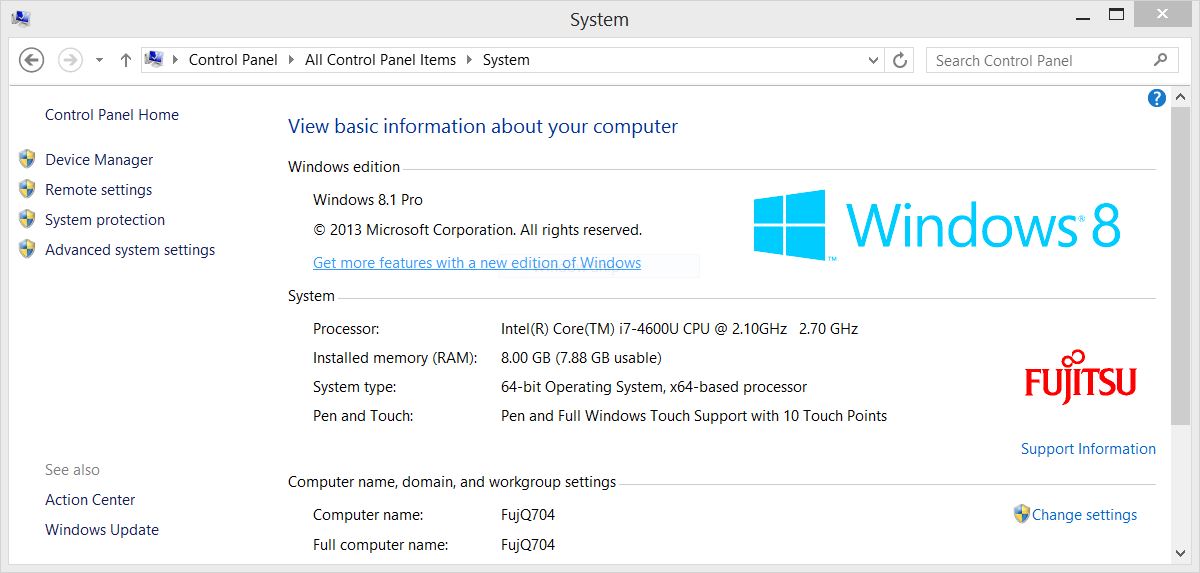 The new convertible Fujitsu Q704 tablet gets uplifted to Windows 8.1
Here's what I ended up doing, over the course of a pretty long day, after completing the Windows 8.1 install from the media (which took longer than I'm used to, having now been pretty well spoiled by installing from a USB 3.0 UFD instead of optical media: about 70 minutes from DVDs, versus 15-20 minutes from UFD):
1. Cycle through Windows Update to get all 27 updates available installed, which required three passes and three system reboots to accomplish.2. Download and install the Fujitsu Download manager, to download and sift through 36 potentially applicable driver updates, to decide about 23 of them were needed, including a BIOS update and numerous peripherals.
3. During the previous process, I downloaded and installed my go-to compression/unpacking tool, 7Zip from the 7Zip.org download page.
4. A gaggle of helpful utilities came next, including: CCleaner, Start8 ($5), 8GadgetPack, Rufus, CPUID's CPU-Z and HWMonitor, FileZilla, IrfanView, RecImgManager, Revo Uninstaller, and finally, WinDirStat. All are free except Start8, which is part of my standard Win8.1 desktop setup anyway. I also added Google Chrome and Mozilla Firefox to my browser arsenal. For the "mother of all Windows utilities management" try out the free Windows System Control Center (WSCC), but because it adds 140-odd programs to the Windows environment and requires operation with admin privileges, this is an "admin-and-power users only" kind of thing.
5. Downloaded and installed Microsoft Office 2013 from MSDN (subscription required).
6. Turned on Hyper-V capabilities using the Control Panel Programs and Features / Turn Windows features on or off facility.
7. Downloaded and installed some commercial software I like to use, including Corel PaintShop Pro X6, Gabe Topala's System Information for Windows (SIW), and Norton Internet Security 2014 (NIS).
Those with enough identical systems to image (and reimage as needed for repair or restoration) would clearly benefit from using Windows Image Management and maintenance tools (such as DISM, System Center, and so forth) to create canonical images with all this stuff slipstreamed in, and ready to go.
---
January 22, 2014 10:12 AM
Anybody who's been reading this blog for awhile knows I have a fondness for helpful Windows utilities of interest to admins, power users, and others who must make Windows behave properly on a day-to-day basis. Ditto, long-time readers will know that I have great regard and respect for the former Sysinternals utilities from Mark Russinovich and Bryan Cogswell. That's why I'm very pleased to report that yesterday witnessed an update to the already-stellar Windows Sysinternals Disk2vhd utility, now available in version 2.01 dated 1/21/2014. The program works with MS Virtual PC or Hyper-V with equal facility, and will take any physical disk and create a virtual hard disk (VHD) analog for use in a Microsoft Virtual Machine (VM). The utility will work on any version of Windows from XP SP2 to 8.1 on the client side, and any Windows Server version from 2003 and up.

That's a whole lotta functionality out of 873 KB (compressed) worth of code! (Click the image to launch the download)
I find this utility incredibly useful for turning existing Windows installations into VHDX files I can then run as virtual machines later on, inside a newer or clean and pristine Windows install running on the same hardware. That way, if I left anything important behind in the files on that older system/boot disk, I can launch it in a VM and grab what I need later on, which confers great piece of mind when moving up from or replacing any Windows installation. Disk2vhd will do likewise for you, and a whole lot more, if you let it. Grab your free copy now!
---
January 20, 2014 10:47 AM
Unusually attentive owners of Microsoft's Surface Pro 2 might have noticed a partial, out of band firmware update for the Surface Pro 2 this weekend (Saturday, January 18). Mary Jo Foley reports on ZDnet that some users remarked on Twitter and the Surface Forums that MS pushed a 4.2 MB firmware update that day, well after this month's Patch Tuesday on 1/14. Here's a partial screen snippet from that Surface Forums posting:

Unusual to see updates issued over a weekend, more so to see a much-awaited fix trickled into the field sans fanfare.
Further investigation indicates that the firmware patch is not comprehensive, but seems to address the unscheduled wake and battery drain problem reported for the December, 2013, firmware patch released 12/10, then pulled later that month when users reported battery life problems following in its wake.
Foley contacted MS for comments about the update's content and coverage and received this reply (quoted verbatim from her 1/19 story):
"This weekend we released an update that addresses the unexpected wake and battery drain behavior experienced by a small number of Surface Pro 2 customers who installed the December Windows Update. This should have no impact on customers who had not received the December update. We are working hard to deliver the rest of the December update to those customers who had not received it prior to it being removed from distribution."
Also according to Foley, some users reported no problems with Wi-Fi, Bluetooth, stylus/pen or the Type Cover 2 after the patch was installed, but that others indicated issues with cold booting with a microSD card in the card reader still showed "excessive CPU consumption issues." It seems MS still has some firmware work to do for the Surface Pro 2, and there's no word yet on when this firmware update will be pushed out through normal Windows Update channels. Stay tuned for more news as it becomes available.
[Note added 1/22/2014: Paul Thurrott has a must-read commentary on the Surface 2 and Surface Pro 2 firmware updates on his Supersite. Entitled "Surface Firmware Update Fracas," it's definitely worth a read, and adds more interesting details to this whole saga or debacle, if you agree with many owners' assessments of how MS has handled the whole situation since the inital update appeared on 12/10, only to be yanked from the site a week to ten days later… Find this story at http://windowsitpro.com/microsoft-surface/surface-firmware-update-fracas]
[Note added 2/12/2014: Indeed, MS did complete its promised round of Surface firmware updates (RT, Surface Pro, Surface 2, and Surface Pro 2) with the latest "Patch Tuesday" updates on 2/11. See this WinBeta.org story: "Microsoft rolls out firmware updates for Surface Pro 2 and Surface 2, fixes various issues." No confirmation yet that these fixes address the "wake and drain" problem or other issues reported by owners of various Surface tablet models.]
---
January 17, 2014 1:42 PM

Profile: Diana Hwang
Tablets, data centers, wearables and more are Intel's Next Big Thing.
In fact new technologies is where Intel intends to place more emphasis as it seeks to capture new sources of revenue and reduce its reliance on a mature PC market.
The company is laying the foundation to be the powerful core that enables new devices and technology to take computing to a new level of user experience.
Intel's goal for 2014 is to ship 40 million chips for tablets, said CEO Brian Krzanich during this week's fourth quarter and year-end call with financial analysts.  Krzanich is optimistic the company can reach that figure, especially with Android-based tablets coming to market in the second quarter based on the Bay Trail chipset.
The forthcoming tablets are designed for the Atom segment and upper-end of the tablet market, Krzanich said during the earnings call. The company will also determine the Bill of Materials cost at the system level for what low- to mid-range tablets will need.
Intel is no different from any other tech titan looking for the Next Big Thing. Its own partners like Dell, HP and others seek new revenue sources to move away from the low margin PC hardware business and have focused on software and services too.
But this transition also illustrates the difficulties for traditional PC giants to move quickly and generate revenue from new market areas. While PCs will never go away despite reports of the death of the PC by naysayers, the market will transform and rely on mobile technologies like tablets and smart phones as strong alternatives for enterprise and consumer applications.
The company recently demonstrated support for a dual Windows and Android OS strategy, and reference designs for wearables and the unveiling of its new Edison chip.
Regardless of where Intel's NBT might be, the $53 billion company is still at the heart of the PC business and must continue work in this area as well.  Financial results from Intel's PC Client Group reflect the overall PC industry growth or decline.
Intel posted fourth quarter and end of year results this week. For the 4Q13, Intel posted revenue of $13.8 billion and net income of $2.6 billion, up 3% in revenue and 6% in net income respectively a year ago.
Intel also reported year-end revenue of $52.7 billion and net income of $9.6 billion. The results represented a loss of 1% in revenue from last year's results of $53.3 billion and 13% drop in net income of $11 billion a year ago.
The big winner for the year-end revenue was Intel's Data Center group, which reported year-end revenue of $11.2 billion, up 7 percent from 2012. The PC Client Group revenue was down 4 percent from a year ago, posting $33 billion.  Other Intel architecture segments dropped 7 percent from 2012 with $4.1 billion in revenue.
---
January 17, 2014 10:14 AM
Look no further than TechNet for some great input and advice from Microsoft on how to deploy Windows versions — including Windows 8 or 8.1 — to user desktops. This week, I re-read an article there entitled "Streamlining Windows 8 Deployment with the Microsoft Desktop Optimization Pack" (better known as MDOP), that walks readers through the deployment process from initial analysis and planning stages all the way through roll-out across the network.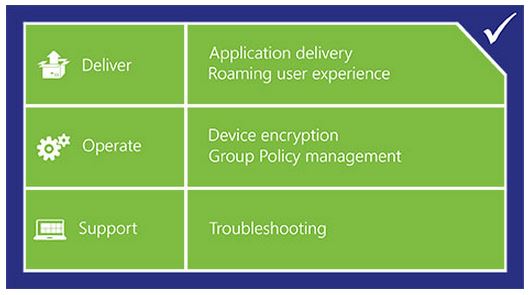 The TechNet MDOP article reviews all the various steps in the deployment process for Windows 8 desktops.
In fact, Microsoft recommends using virtualization for so-called "application portfolios" (the Windows Store apps and regular desktop applications that organizations wish to make available to users on their desktops) to increase overall manageability and flexibility. Not only does it make what's available to users on their desktops easier to manage and control, it also minimizes what the company calls "application-to-application conflicts" that can occur when users need to run two versions of the same application at the same time (MS uses MS Office 2013 for normal productivity tasks versus MS Office 2003 with line-of-business apps as its case in point).
The Microsoft Application Virtualization (App-V) tool is included with MDOP. It's designed to make applications available in the form of network services, to stream them to users on demand without requiring local installation. This helps reduce local image sizes, and thus makes deployment faster and cleaner. Updating and managing such applications occurs in the datacenter, completely under IT control. And when applications need to be replaced or retired, there's no need to physically uninstall them from user's PCs; they need only be made unavailable through App-V.
There's a lot more useful and interesting information about deploying Windows 8 and virtualized applications in this TechNet article, so be sure to check it out. MDOP does require its own subscription (and use of the Windows Enterprise editions), but free evaluation versions are available to MSDN and TechNet subscribers. To get started digging in, here's a link to the MDOP page.
---