---
December 6, 2017 4:17 PM
Windows 10
When I worked at Novell back in the late 1980s and early 1990s, an interesting rumor circulated there. Then-VP of Marketing Craig Burton was reported to say: "The nice thing about networking standards is that there are so many to choose from." As true today as it was back then, the same thing is true for Windows 10 Insider Preview releases. These can come thick and fast at times. One memorable week I can remember seeing three "flights" (the prevailing MS term for an IP release) in quick succession. Now, thanks to efforts from Senior Program Manager Brandon LeBlanc there's a new website out to track such things. That's why the title to this blog post reads: Insider Preview Gets Flight Hub. Here's a snapshot of the kind of data it offers for the latest set of such releases which show there as RS4: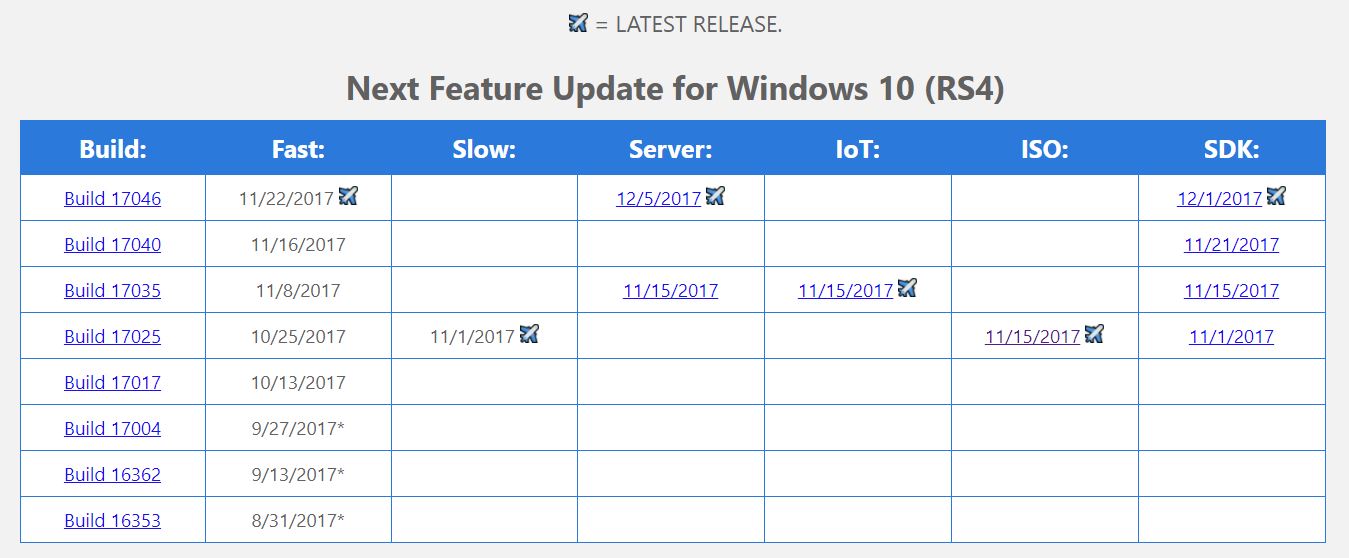 There are many possible elements in any Insider Preview release. This table tracks 'em all.
[Click image to see full-sized view.]
When Insider Preview Gets Flight Hub, What Flights Might Appear?
The legend at the top of the table is worth explaining if only briefly. Let's do that from left to right, with the understanding that a build number always appears in the left-most column, and dates in the other table cells:
Build: links to the Windows 10 blog that announces the build by its build number.
Fast: If present, indicates the release date for the build to the fast ring.
Slow: If present, indicates the release date for the build to the slow ring.
Server: If present, indicates the release date for a corresponding server build to Insiders; links to the announcement blog post.
IoT: If present, indicates the release date for a Windows 10 IOT Core Insider preview release; links to a download page where editions may be found by build number.
ISO: If present, indicates the release date for various Windows 10 ISOs, with a link to the Insider Preview download page wherefrom any of a number possible ISOs are available. Build 17025 for example has Win10 Pro, Enterprise, and Home China sub-links.
SDK: If present, indicates the release date for a Win10 SDK (Software Developer's Kit) Preview, with links to the announcement blog post for same (and includes a download link as well).
Two more things. One, this is usually a sparse matrix where more cells are empty than are occupied. Two, the airplane symbol for latest release always appears to the right of the most current build in any column. This is a handy tool, so you'll want to visit the Flight Hub for yourself if you're involved in Insider Preview activity. Enjoy!
[Thanks to WinAero/Sergey Tkachenko and Arif Bacchus at onmsft.com for bringing this gem to my attention.]
December 4, 2017 3:57 PM
GPU
,
Troubleshooting
,
Windows 10
My 13-year-old son is getting into PC gaming. That's how I found myself rooting around in the innards of his desktop PC this weekend, swapping out an aging MSI GeForce 760Ti card for a brand-new Asus GeForce 1070 Turbo. Because of the board and case layout, I had to disconnect the power on, HDD LED and reset power leads that tie the case (an Antec 902) and motherboard (Asrock Z97 Fatal1ty Killer) together. As is so often true, it proved much easier to take things apart than to put them back together. Along the way, a mosquito rescues GPU upgrade proved itself quite true.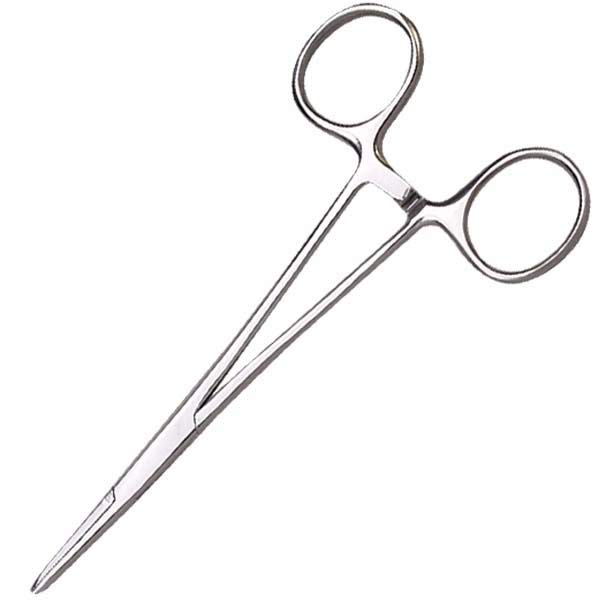 Thanks to my Mom (a lifelong RN) I know this medical clamp for small bloodvessels is called a "mosquito."
How a Mosquito Rescues GPU Upgrade
Turns out that the pins for these functions are situated near the top right corner of the mobo (and the wires from the case, naturally, emerge at the lower left). The wire bundle has to be routed all the way across the case on a diagonal, thus straddling the full-length GPU. The mosquito comes in handy to grab the 2-element connectors (positive and ground) for each of these things, because our fingers were too big to maneuver (and blocked our light source completely). The little straight hemostat works like a champ and doesn't block the sight line to make sure the connectors are properly oriented and straddling the right pair of pins.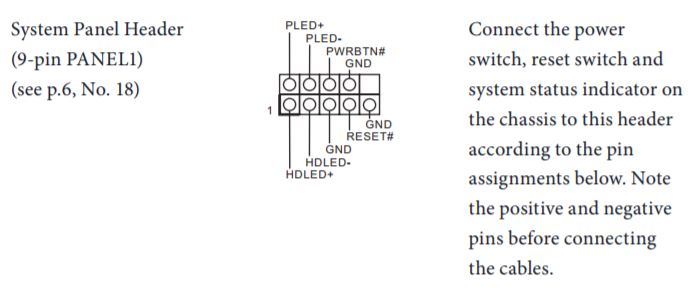 A mosquito is just the right tool to position the connectors onto the proper pins in Pin block 18.
[Source: Asrock Fatal1ty Z97 Killer mobo manual, pg. 20]
Once again, the old saying "Get the right tool for the job" is validated. I'm glad I just happened to have the right thing on hand. For the record, the mosquito came as part of the old compact Jensen JTK-6C technician's toolkit Excelan (later to become part of Novell) paid for back in 1988 when I worked as a field engineer. Talk about a great purchase!
---
December 1, 2017 9:55 AM
Networking
,
Troubleshooting
,
Windows 10
Alas, a recent Win10 update resets network status from Private to Public. In turn, this means RDP access to affected machines stops working. Sure, you can use Network Settings to dig down into your current connection's status and reset it to Private. But I've discovered that a HomeGroup trick fixes Win10 Public Network Reset with a pair of clicks. Simply type Homegroup into Cortana/Search, then when the HomeGroup windows opens, you'll be prompted to Change network location. (Note: this works only for Windows PCs not served by Active Directory.) Here's a screencap: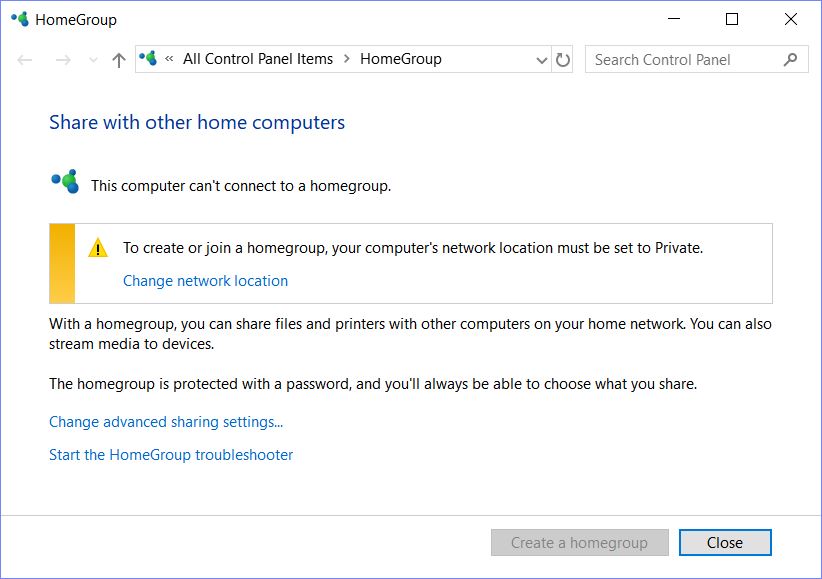 HomeGroup "knows" the network must be Private to work, so it offers to fix the Public setting for you.
How HomeGroup Trick Fixes Win10 Public Network Reset
As the preceding caption explains, HomeGroup understands that sharing resources and devices on a Windows network requires that the network location be set to "Private." If it sees the network set to "Public" instead, it will happily make the switch for you simply by clicking the "Change network location" link in the window. You don't really need to join a HomeGroup to make this work, in fact. You can simply click the link to change the network location, then close the HomeGroup window when that change is made.
Next, you'll be prompted in the Notification center to make your PC discoverable by other PCs and devices. Click Yes to make the change, and your network location will be reset properly. Done!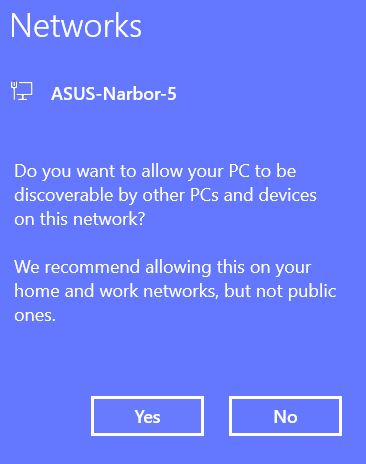 Click "Yes" and your network location will be reset properly.
The Other Way to Reset Network Location
If the HomeGroup trick isn't an option, you reset Network Location as follows:
1. Click the network icon in the notification bar.
2. Click "Network & Internet settings" at the bottom of the pop-up network menu that appears.
3. Click "Change Connection Properties" under the Network Status heading.
4. Click the radio button for "Private" under the Network Profile heading.
Done! And now you see why I like my "trick" — there are less clicks involved in using HomeGroup instead.
---
November 29, 2017 2:47 PM
Drivers
,
Troubleshooting
,
Windows 10
We've been making some PC changes around the house lately. This weekend, I moved my former test desktop upstairs to my son's bedroom, having swapped it for an increasingly unreliable Dell XPS 2720 All-in-One. While the Dell had a built-in WiFi adapter, I had to switch the test machine over from its built-in Killer E2200 GbE wired interface to an Asus USB 3.0 AC56 802.11ac WiFi adapter instead. As soon as I installed this device and turned the PC over to its proud new user for homework, it started failing repeatedly. Sigh. Time to start troubleshooting … which ultimately led me to failing WiFi gets driver fix.
When Failing WiFi Gets Driver Fix, Why Does This Fix Work?
At first, I was able to restore WiFi to operational status by unplugging the device, then plugging it back in. But it would run for about two minutes, then fail again. When I looked at my driver options in Device Manager for this device, I immediately noticed two things:
There were two drivers available for the device, one labeled Microsoft, the other RealTek.
The Microsoft driver was currently selected and running … sort of.
Then I remembered that we'd just updated this machine to the Fall Creators Update (Version 1709) a few weeks earlier. And though I'd run and used the Asus adapter prior to the upgrade with no problems, the same was no longer true now. Because the Windows Installer uses its own judgment to select and run device drivers when a major upgrade occurs, I immediately surmised that the Microsoft entry had been supplied by MS when I plugged the device in for the first time after the upgrade. I was convinced that the other driver, however, was the one I really wanted to use instead.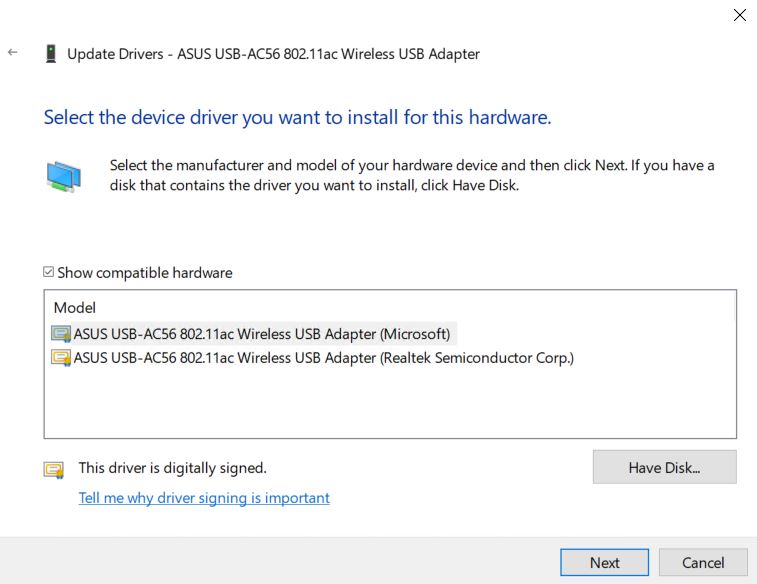 When one driver comes from MS and the other from the WiFi chip's maker, common sense dictates that trying the chipmaker's version might be a good idea.
The Fix Is In … and It Works!
And indeed my guess turned out to be correct. No sooner did I switch to the other driver than the problems abated completely. Just for grins, I visited the Support page for this device, selected Windows 10 64-bit as my OS, and downloaded the driver and utility file. Guess what? The driver file sizes in that ZIP archive matched the installed file sizes (.cat and .inf) exactly, while the MS versions did not.
Apparently, I'd already installed the right drivers once before and had things working properly. But because I'd upgraded Win10 and the installer had chosen a different driver instead, I ran into the "dropped wifi connection" problem I've read about from others who've experienced similar travails. At least the fix was easy to figure out, and easy to apply. And so it goes, here in Windows-world!
---
November 27, 2017 3:30 PM
Hyper-V
,
Hyper-V Manager
,
Windows 10
In the wake of Windows 10 Fall Creators Update (Version 1709), lots of interesting wrinkles are emerging. A raft of Hyper-V changes in this release are spelled out in a new Virtualization Blog post from Microsoft. Dated 11/13/17, it's entitled "What's new in Hyper-V for Windows 10 Fall Creators Update?" Among the various new items it spells out, there's an item that reads "Hyper-V has a Default Switch for easy networking." Having just tried it out myself, I can affirm that this Default Switch makes Hyper-V networking dead simple.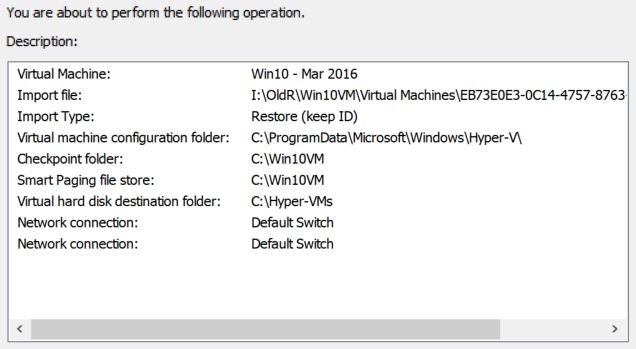 When picking a virtual NIC in Hyper-V, Default Switch is your new go-to option.
How Is It That Default Switch Makes Hyper-V Networking Dead Simple?
As the foregoing screenshot shows, an option named "Default Switch" now shows up whenever you're asked to select a network interface or to identify network-based resources. It comes as part of the runtime environment, by default as it were. Having struggled to identify the right NIC on a Hyper-V host with two GbE interfaces (where only one was connected), I've had bonehead problems with Hyper-V networking on earlier versions of the software. But with this new default option, you can pick simple, basic networking as a menu item as soon as you turn Hyper-V on. It doesn't get a whole lot simpler than this, nor easier to use. Highly recommended!
What Else Is New in Version 1709 Hyper-V?
According to the "What's new" blog post , these other new features for Hyper-V are present in Version 1709:
Quick Create Gallery: a quick create button in Hyper-V Manager can reference a gallery of pre-defined OS images, to which you can add your own items. This capability is still under construction, though, as the following 11/8 post to the same blog explains "Create your custom Quick Create VM gallery." I'm waiting for the promised documentation to show up to avoid hand-crafting the necessary JSON documents.
Easy to revert VMs to their start state: Hyper-V now creates a checkpoint each time you start a VM. That means you will always have a reasonably current checkpoint to which you can revert for all your VMs.
Host battery state visible in VMs: means that you can tell how much battery life is left from inside a VM running on a battery-powered PC.
Virtual machines are easier to share: A new "Share" button packages and compresses VMs to make them easier to move to another Hyper-V host using the Virtual Machine Connection facility.
Good stuff.
[Note added 12/7/17: Based on a member's report of issues in getting default switch working on an existing/prior installation of Hyper-V in the Fall Creators Update/Version 1709, it looks like if you encounter problems trying to get it to work, one quick and easy fix is to do the following:
1. Disable Hyper-V
2. Restart PC
3. Re-enable Hyper-V
This sequence is reported as working for at least two people: my colleague and occasional co-author Kari Finn, and the original poster who reported the problem at TenForums.com.]
---
November 22, 2017 11:18 AM
cybersecurity
,
Windows 10
Yesterday, ZDNet reported another security hole in the Intel Management Engine (ME). It also affects Intel's Trusted Execution Engine (TXE) and Server Platform Services (SPS). ZDnet writer Liam Tung's story is entitled "Intel: We've found severe bugs in secretive Management Engine, affecting millions." It links to a note describing a detection tool for Windows and Linux systems. Alas, as another Intel ME security flaw discovered unfolds, several of my systems are affected. Helpfully, this screen shot from the tool's GUI version spells things out: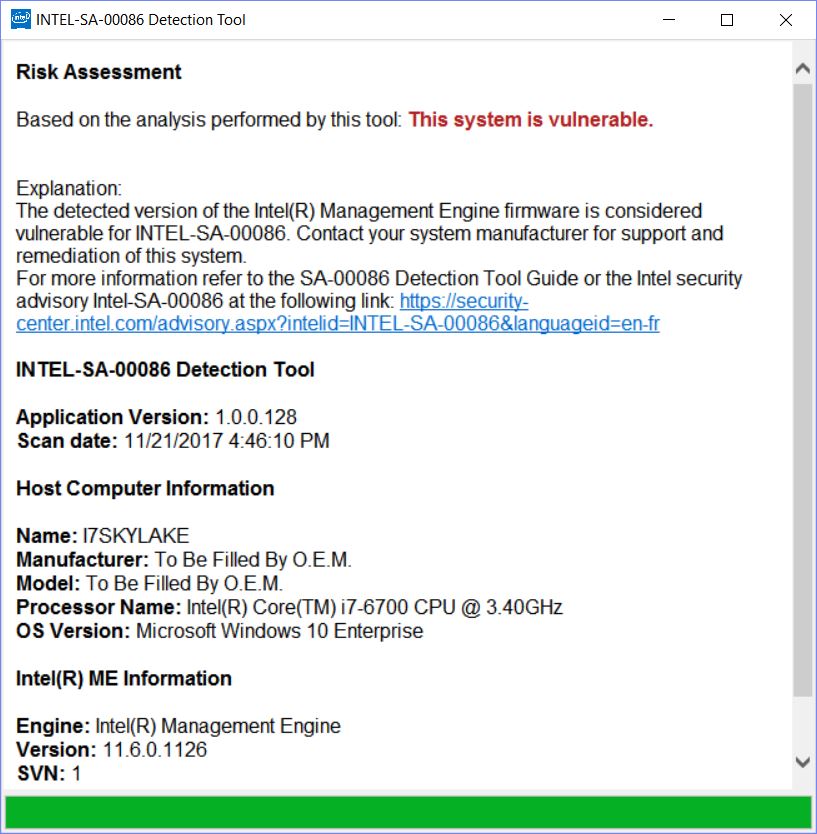 All of my newer PCs are subject to this vulnerability. Sigh.
Another Intel ME Security Flaw Discovered: What to Do?
In fact, this particular flaw affects systems using Intel ME firmware versions 11.0.0 through 11.7.0, SPS firmware version 4.0, and TXE version 3.0. The processors that fall under this fairly broad umbrella include:
6th, 7th, and 8th generation Intel Core Processor Family:
Intel Xeon Processor E3-1200 v5 and v6 Product Family
Intel Xeon Processor Scalable Family
Xeon Processor W Family
Intel Atom® C3000 Processor Family
Apollo Lake Intel Atom® Processor E3900 series
Apollo Lake Intel® Pentium® Processors
Intel® Celeron® N and J series Processors
Source: Intel's Support Note SA-00086 (preceded item list quoted mostly verbatim)
If you like, you can download a detection tool from Intel to check your systems. Simply navigate into the DiscoveryTool.GUI folder. There, run the executable named Intel-SA-00064-GUI.exe. When run, the tool produces output like that shown in the preceding screen capture.
If you're affected, you'll need a BIOS fix from your system or motherboard maker to plug the security hole. According to posts on TenForums.com (where this vulnerability came to my attention), some motherboard vendors have already posted patched BIOSes. Alas, neither of my newish Asrock-based motherboards has a fix available yet. Hopefully, that will be addressed sooner, not later or never… In the meantime, grab and run this tool for yourself to see if you should be on the lookout for patches, too.
---
November 20, 2017 11:38 AM
Network
,
Network security
,
Windows 10
,
windows installer
In the wake of last month's Fall Creators Upgrade, aka Windows 10 Version 1709, some glitches have popped up. Today's reported item is minor and easy to fix, but could be vexing nontheless. That's why I hope my readers can benefit from what I recently re-learned. That is, a Windows 10 upgrade will occasionally reset one's network status from Private to Public. This locks down access and sharing, and basically turns Remote Access off. That's why some readers may find they want to restore Win10 Private Network status after performing the upgrade. RDP is handy stuff, especially when it comes to having your fingers and the network do the walking, rather than having to sit down in front of some specific PC.
How-to: Restore Win10 Private Network Status
You can check, and if necessary, restore Win10 Private network status in Settings. The click sequence runs like this:
Settings →
Network & Internet (Click "Change connection properties) →
Network profile (Check the Public/Private radio buttons; if Public is selected, click Private intead).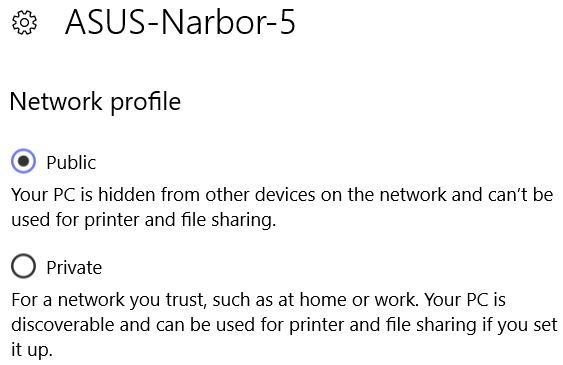 If Public is selected, Win10 amps up network security, which basically disables RDP and remote access/asssistance.
Another trick that works is to fire up the homegroup utility (but that's irrelevant in most workplaces because they use domain-based security anyway). As its first step it automatically changes the network profile from public to private, if it finds public enabled.
Why Did This Unwanted Behavior Resurrect?
I saw this network status change issue pop up quite a bit in Windows Insider releases while transitioning from Version 1607 to version 1703, and intermittently in even earlier phases of that beta test program. What I don't understand is why this behavior popped back up for a product release to 1709. MS had this one fixed for at least 4 or 5 months before this Fall Creators Update appeared. Why then, did it show up in the production release of the selfsame OS? Another Windows administrivia question for the ages, I guess!
---
November 17, 2017 12:05 PM
Device Manager
,
Troubleshooting
,
Windows 10
I have to laugh at myself. I just troubleshot an issue with the latest version of the Realtek HD Audio drivers to learn I'd shot myself in the foot. Let me explain, and provide some Realtek HD Audio Driver tips along the way. I visit the Drivers and Hardware forum at TenForums regularly, as a source for posts to this blog. Today, I saw that its Realtek sticky thread points to a newer driver version than I currently had installed. But in using the Microsoft Update Catalog link, I inadvertently downloaded the wrong file. Here's what I saw on offer online: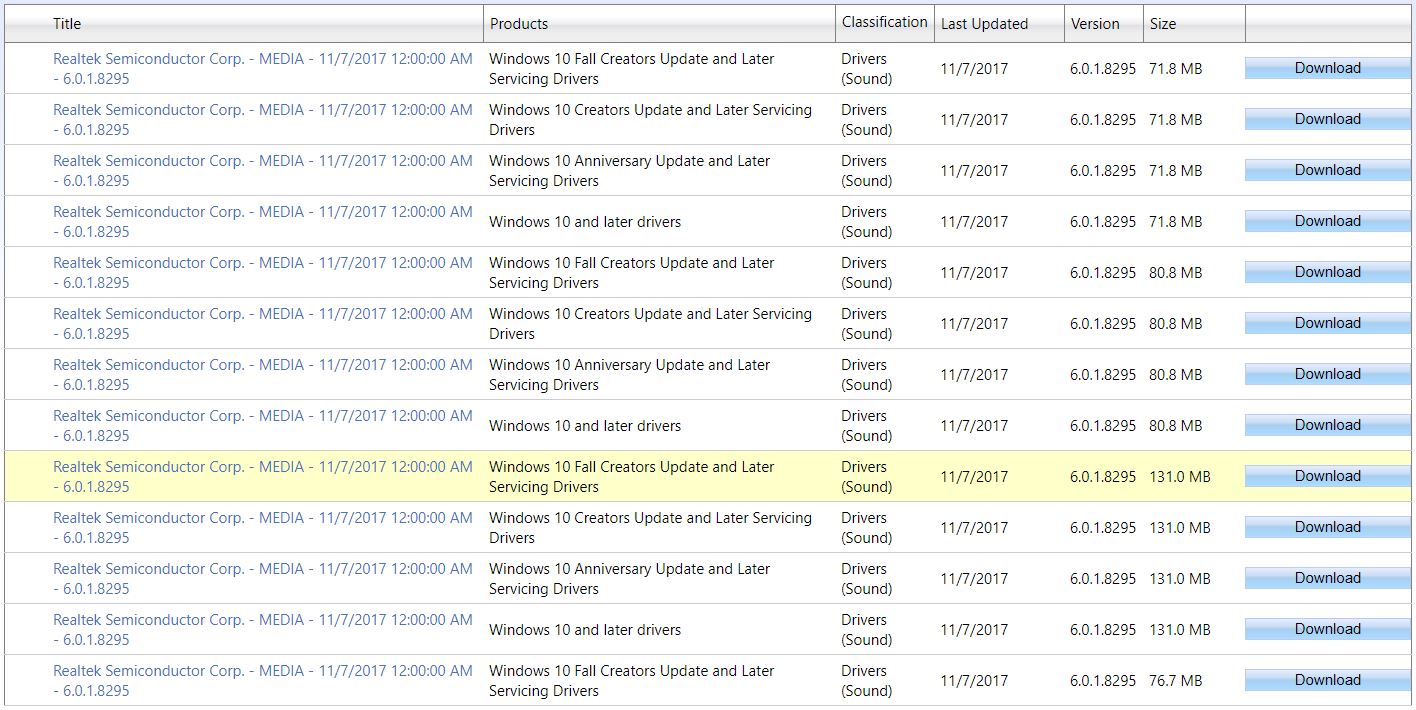 Three different sets of versions of the files appear. The version I should've grabbed is in yellow.
[Click image to see full-sized view, please.]
Simply put, I grabbed the wrong version of the driver files. I needed the 64bit version (the biggest file: 131.0 MB for Fall Creators Update). I grabbed the 80.8 MB version and didn't realize it. Finally, I grasped that the error message I got when trying to force install the 32-bit driver told me I was in the wrong, albeit unknowingly. It wasn't a complete waste of time, though. That's because working through the process refreshed my memory about a number of useful tips and tricks for dealing with drivers. Because these tips apply reasonably well to any drivers you might fetch from the Microsoft Update Catalog, I recite them here.
A Select List of Realtek HD Audio Driver Tips
[1] The Latest Realtek High Definition Audio Codecs sticky thread at TenForums remains your best source for these drivers.
[2] TenForums has a peachy tutorial named "How to Install a CAB File in Windows 10." If you don't already know this, it guides you through the process.
[3] If you're tempted to force-install a Windows Driver in Device Manager/Update Drivers, pause to investigate before forcing anything. I was clued in that something was wrong for several reasons. First, the browse function came back and said I had the latest and bestest driver already installed. Second, the force function warned me that the driver I pointed at was incompatible with my hardware. That's Microsoft's way of telling you trouble may follow soon.
[4] I realized my error when I went back to look at the CAB file I'd downloaded.  It was less than 100 MB in size, when I knew I wanted the biggest one for my 64bit setup. Note to Microsoft: why not label downloads explicitly as 32- or 64-bit?
[5] Remember you can use Driver Store Explorer (aka RAPR.exe) to check the true name of the .inf file you want to replace when updating. It told me I had the right driver file in the 32-bit directory. I correctly concluded something fishy because Device Manager didn't like it. That's how I figured out that the HDXRT4.INF file wasn't the version of that file that I needed.
Problem Recognized Means Problem Solved
Sure enough, as soon as I removed the original download and replaced it with the correct version, Device Manager was able to find and install the proper driver, no forcing needed. That reminds me, and should remind you, that when the square peg won't slide into the round hole, the proper response is to stop and think rather than to reach for a bigger hammer. Please keep that in your list of Realtek HD Audio Driver Tips, and general driver update knowledge, somewhere near the top!  'Nuff said.
---
November 15, 2017 11:14 AM
Deployment
,
Windows 10
Since Version 1607, Windows Server has included support for an image format named FFU. Short for Full Flash Update, this format lays down a runtime image on a physical drive. FFU support comes to Windows 10 as of Version 1709. It can create runnable Windows and recovery images, and a complete system partition scheme in one go. Designed for speed (it proves itself fast in practice) and supports larger files than Windows Image format (aka WIM). This is fully documented at Microsoft's Hardware Dev Center where two articles specifically target FFU. The first is Windows Full Flash Update (FFU) images, the second WIM vs. VHD vs. FFU: comparing image file formats. Win10 Full Flash Update offers some nice advantages, which I will recite shortly.
Digging into Win10 Full Flash Update
A quick visit to the second cited article above reveals FFU's key characteristics. It is the fastest tool for capturing and deploying Windows on the factory floor (it's aimed at OEMs). It is sector-based and uses the highly compact Xpress-Huffman compression algorithm. FFU captures a complete set of drive information including partition data. When FFUtool is used to apply an image, it starts by cleaning the entire drive. When deploying from a source image, the target drive must be the same size as the original (source) drive, or larger. DISM works with FFU images, so they may be mounted for manipulation, then modified, then dismounted to deploy updates and changes. FFU also includes a catalog and hash table to validate signatures upfront before flashing gets underway. A hash table is generated during the capture process, then validated when the image gets applied (neither WIM nor VHD support this added reliability check).
You can use FFU with Windows 10 right now through the Deployment Image Servicing and Management (DISM) command-line utility. Recent ad-hoc tests using DISM and WIM versus DISM and FFU shows off FFU's speed advantage. On a pair of test technician machines, the speed difference was better than 50% for each one when comparing the time it takes to apply a WIM image as compared to its FFU counterpart (same OS, same modifications, same everything). FFU is good stuff, and worth getting to know for those in the image deployment game.
See the FFU image format article at the MS Hardware Dev Center for depictions of FFU V1 and V2 disk layout schemes. The second version supports multiple data stores so it can accommodate multiple, unrelated images in a single file.
---
November 13, 2017 11:43 AM
Windows 10
,
windows installer
Here's a potential gotcha I've seen popping up with some frequency online lately. When Microsoft releases a new Windows version, a new version of Media Creation Tool come out, too. Alas, the MCT is always named MediaCreationTool.exe. That filename can't tell what version of Windows 10 MCT supports unless you do some poking around. But whatever MCT version you've got, it will always and only download the Windows version to which it's tied. In the simplest terms, an old MCT grabs an old version of Windows. That's not always what you want, so it's smart to check the MCT version before you use it to download and install Win10.
If New Win10 Means New MCT, How to Tell What You've Got
There at least two ways to tell which version of the MCT you've got. The quick, dirty and less reliable way is to open File Explorer and look at the file date. If it's older than the current version of Windows 10 (or the version you want), don't use it. Jump to the Download Windows 10 page, where you'll click the "Download tool now" button to grab the latest and greatest MCT instead.
A more reliable way to check the Windows version tied to an MCT file is by examining the Details pane in its file Properties window. Here's a look at two versions of this file from my Downloads directory to illustrate: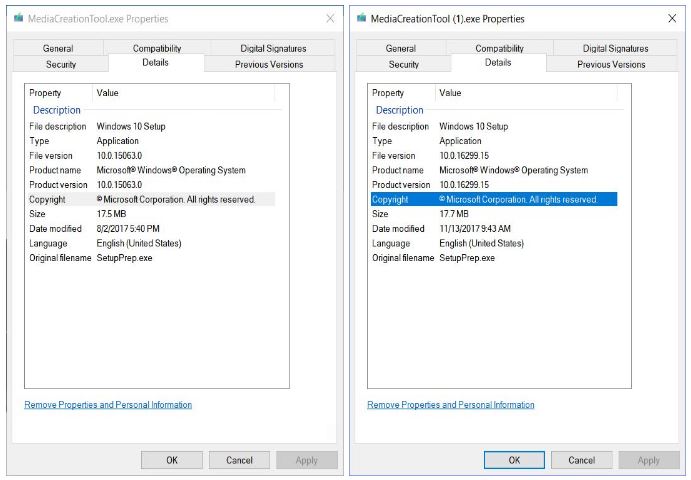 Spring Creators Update (1703/15063) left, Fall Creators Update (1709/16299) right.
Of course, identifying what's what requires having a clue about Windows version and build numbers. You can get those basics from Microsoft's Windows 10 release info page. In fact, that page tells us what we need to know about the two foregoing MCT versions shown. The current version of Windows 10 is 1709 and is build 16299; the previous version is 1703 and is build 15063. That's how we know the MCT on the right is the most current version and the one to its left its predecessor. And of course, the file dates tell the same story, too.
Using MCT for Older Win10 Versions … NOT!
The safest way to use MCT for the current version is to visit the Win10 download page. There, grab a fresh copy just before you use it. For older Win10 versions, you're better off finding an ISO file of the right vintage and building your own installable media. If you must, you could root around in your file system or backups to find a corresponding MCT. Frankly, I think that's more trouble than it's worth…
---