---
August 3, 2016 11:24 AM
Microsoft Windows Installer
,
Windows 10
Yesterday, on August 2, MS unleashed the Anniversary Update to Windows 10 Current Branch users. Because Windows Update is staggering update availability, various other means to grab an ISO also appeared. These include: MSDN (subscription required), and the Media Creation tool. Clicking "Learn More" on the Settings –> Update & Security –> Update Status page also helps. It points to a Windows 10 Upgrade advisor and can also fire off the upgrade process. However, Tech Bench, is currently not available. Having upgraded 5 machines from build 1511 to 1607 yesterday, I can report that some anniversary update post-install cleanup is required. Finally, here's an interesting screen cap of a self-congratulatory notification from MS received yesterday (twice, in fact):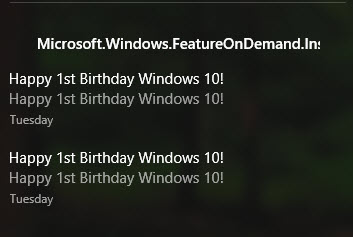 MS sent users this birthday greeting for Win10's "bonne anniversaire."
What Kinds of Anniversary Update Post-Install Cleanup?
First off, there's the usual post-install stuff: modern Windows takes the previous install and moves it into the Windows.old folder, but also keeps the installer file around as well. These usually clean up nicely using Disk Cleanup (aka cleanmgr.exe), or with CCleaner. It's also a good idea to use a file like DriverStore Explorer (aka rapr.exe) to check on Windows drivers, because some installs deposit duplicate drivers in profusion. For example, my son's Dell XPS One 2720 had 81 copies of the Realtek HD Audio driver in the store, of which only 1 was needed.
For this upgrade, Windows.old did not disappear after those usual clean up maneuvers. I found some persistent files related to audio, display, and various Windows 10 apps on all 5 of my upgraded systems. That said, each system had a slightly different collection of persistent stuff, all in a size range around 4 MB. The easiest way to get rid of them turned out to be booting the systems from a bootable UFD. I used Command Prompt in the Computer Repair – Troubleshooting option to root them out. This required using the delete (del) command on actual files, and the remove directory (rmdir) command on directories. This took about 20 minutes per PC to handle, including booting into UEFI, selecting an alternate boot source, and command line activity.
Issues Unrelated to Anniversary Update Post-Install Cleanup
A few other snags came up in applying the Anniversary Update on the 5 target PCs. Three of them went without a single hitch, but I encountered issues on two machines. I built my UFD using Rufus with an image from MSDN. It worked flawlessly on my Lenovo X220 Tablet, but hung at 99% on processing updates on my Lenovo T420. I purchased both machines at the same time so they have the same CPU, equal RAM, and identical Plextor 256 GB mSATA SSDs. After forcibly shutting down and rebooting the T420, it moved into the next install phase and completed successfully. It was disconcerting that the progress on that next phase stayed at 0% complete until it finished and rebooted. But it jumped into the "Hi! We're setting things up…" phase and finished as it should have.
I tried out the Upgrade Advisor method through Windows Update for my wife's mini-ITX PC, but it only reached 94% complete after 2-plus hours. I canceled that upgrade, and used the UFD method instead. It completed in about 40 minutes, again without a hitch.
I also had to reinstall my Windows 7 Games for Windows 10 on my production PC after the upgrade completed. For some reason, this upgrade broke the earlier version of that software. I'm also noticing some file indexing and lookup issues, but initial problems with looking up contact info in the Outlook address book have already gone away. I expect this will subside once general indexing completes.
August 1, 2016 10:32 AM
NTFS
,
Windows 10
Windows 10's anniversary update brings an interesting if obscure change to the OS. Right now, long NFS filenames max out at 260 characters. The change busts through that limit and may eliminate it altogether. This limit includes the path specification and the filename itself, so 260 characters isn't terribly generous. Consider these filenames, for example:
amd64_auditpolicygpmanagedstubs.interop_31bf3856ad364e35_10.0.10586.0_none_ae7acc7213cb54f7
amd64_c_magneticstripereader.inf.resources_31bf3856ad364e35_10.0.10586.0_en-us_da58d366ae7ebd06
amd64_desktop_shell-search-srchadmin.resources_31bf3856ad364e35_7.0.10586.0_en-us_e69986636926afeb
Where did I get them? Scrolling through the WinSxS folder for system files, I picked the biggest ones I could find. (Just for the record, the longest is 98 characters.) If I looked harder, I'm sure I could find longer. Adding a long path into the mix, it's easy to see how the 260 character limit becomes a constraint.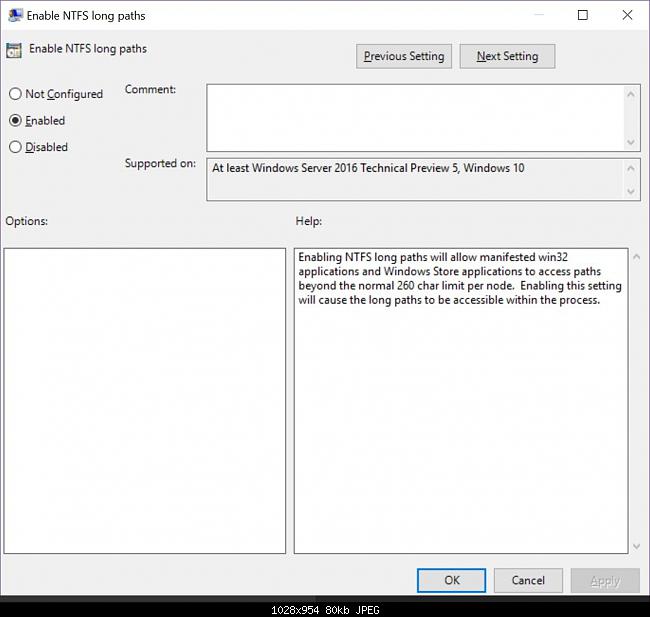 Here's the Enable NTFS long paths pane from the Local Group Policy Editor in Windows 10 1607 Build 14393.5
[Source: TenForums.com]
But a new Local Group Policy Editor setting for NTFS long paths lifts this ceiling. Simply click the radio button labeled "Enabled" as shown. For more details see TenForums.com principal and Windows 10 MVP Shawn Brink's  great tutorial. It's entitled "How to Enable or Disable NTFS Long Paths in Windows 10."
When the Ceiling on Long NTFS Filenames Is Raised…
I'm surprised that the default setting remains "Not Configured,"  though. That's because Windows itself uses the longest filenames I could find. But perhaps that's a change for a future Windows update? In the meantime, Win32 applications must also change to accommodate such filenames. Ultimately, this kills a long-standing Windows certification question about filename length limitations.
---
July 27, 2016 12:38 PM
BCD
,
bcdboot
,
Windows 10
Those who run more than one operating system on a computer must learn to deal with multi-boot scenarios. Things are already interesting when multiple OSes come from a single maker (such as multiple Windows versions). They become even more so when Windows, Linux and perhaps even hackintosh join the mix. I believe in using good tools to save time and energy whenever possible. That's why I skip the built-in bcdedit command and use a NeoSmart Technologies tool instead. My post today, in fact, is in praise of EasyBCD 2.3 (the current commercial version).
Meet the BCD in EasyBCD 2.3
For those not already in the know, BCD stands for Boot Configuration Data. BCD files create a specialized data store to describe boot applications and related settings. Objects and elements in the BCD data store do for modern Windows versions what boot.ini did for older ones. But working with bcdedit can be tedious and time-consuming, because I don't use it regularly. Thus, I need to keep re-reading the documentation and relearning proper syntax and usage.
A simple and straightforward GUI in EasyBCD delivers all of bcdedit's capabilities, and then some. In my situation I changed boot order so that the default selection is the Insider Preview Windows 10. As it turns out, I upgraded the other image on that system from Windows 8.1 to Windows 10 Version 1511 recently. Shortly thereafter, the runtime promoted 1511 to default status entirely on its own. Because that's not what I wanted, I switched things around: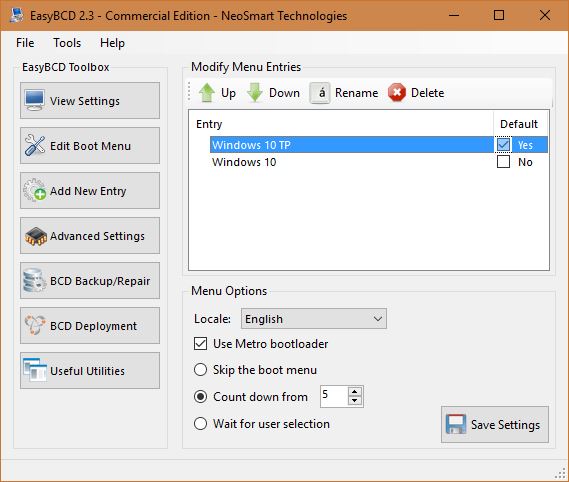 Before I ran the program "Windows 10" was on top and default; now "Windows 10 TP" occupies that place and role.
The adjective in the EasyBCD 2.3 product name is both apt and well-deserved. The program makes editing and manageing the boot menu easy, with easy access to the UEFI command shell at boot-up. In fact, it works like a charm. Install it on a USB Flash Drive for portable use and you can run it on any Windows machine. It may seem a bit pricey at $30 or so, but once you start using it you'll never regret the outlay. If you spend some time investigating the program, you'll also learn to like its tools. These include BCD Backup and Repair, the ability to reset a BCD configuration or recreate boot files, and change the boot drive altogether. Lots of good stuff here!
---
July 26, 2016 2:29 PM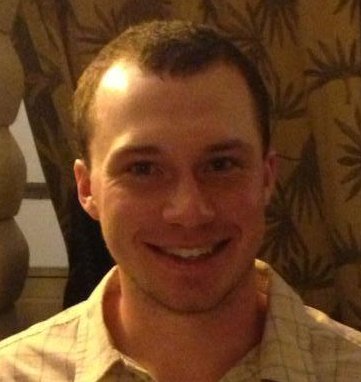 Profile: Eddie Lockhart
Microsoft
,
Windows 10
In theory, anniversaries are a wonderful opportunity for couples to show each other how much they care about one another. In reality they can easily end in disaster if one side of the relationship forgets the special day or lets their partner down.
Well, if Microsoft were dating its Windows 10 Pro customers, it would be neck deep in some anniversary-based relationship hot water right now because the Windows 10 anniversary update does not include Application Virtualization (App-V) or User Environment Virtualization (UE-V) in Windows 10 Pro.
Organizations that went with Windows 10 Pro's free upgrade (instead of paying for Windows 10 Enterprise) and rely on Microsoft App-V to deliver remote apps to their users or UE-V to allow users to seamlessly transition from device to device and maintain their app settings, are out of luck.
It is a particularly shady move by Microsoft because companies that upgraded to Windows 10 Pro really can't go back to Windows 7 or 8.1 now. And, if they still want access to App-V and UE-V, they have to migrate to Windows 10 Enterprise. That means paying for the new OS and taking the time to move once again. Their other option is to integrate a brand new application virtualization product such as VMware ThinApp, but that change is a hassle too.
As frustrating as this trickery is for Windows 10 Pro shops, the anniversary update's security improvements could help Microsoft patch things up with them. The update includes Windows Defender Advanced Threat Protection. This free antimalware service uses analytics tools to send data on previous attacks back to Microsoft. The company then applies that information to its security updates and patches to make the OS more secure.
In addition, the Windows Information Protection tool allows users to mark any content they create as personal or business related. If it is business related, the content is placed into an encrypted container. IT can take the choice out of users' hands by designating content created on particular devices as corporate.
It's not a perfect anniversary present and for many the aggravations of the update probably outweigh the benefits, but most companies probably won't break up with Microsoft over it just yet.
---
July 25, 2016 10:38 AM
Windows 10
,
Windows Update Management
,
Windows Updates
Next week, MS will release the Windows 10 Anniversary Update on Tuesday, August 2. The company has already announced it will be staggering that release for users in the Current Branch. These are the folks who get the latest release via Windows Update. Mary Jo Foley of ZDNet cleverly refers to this it as "Release to Mainstream." This new decoding for the RTM acronym works well for the world of continuous updates that Windows 10 now inhabits. I myself like to think of the staggered update mechanism as introducing a "slow-flow Anniversary Update."

Slow-Flow means that not all users will get the Anniversary Update offer from WU at the same time: some will get it sooner, others later.
[Source: Windows Insider Program 6/29/2016 blog post]
Why Is a Slow-flow Anniversary Update in the Cards?
It's a little early to say how big the Anniversary Update will be, so I turned to a list of ISOs for a recent Insider Preview at WZOR.com. These particular ISOs come from the 14393.0 code base released two weeks ago. Those .esd files vary from a low of 1.93 GB to a high of 3.07 GB. 14393.3 appeared late last week, but should be close to the same size. Many Windows watchers, including me, think that 14393 represents the foundation for the upcoming Anniversary Update.
The reason for the slow-flow release is to keep update requests immediately following the release from swamping the Internet and download servers. Instead, Microsoft staggers its update offer across the current installed base. This helps them to manage huge flows from millions of users downloading multi-gigabyte updates all at once. Alas, it also means that some people will wait weeks before they receive an update offer that they can then exercise.
Working Around a Slow-flow Anniversary Update
For those too impatient to wait for an update offer to come their way, there are workarounds. For one, you can grab ISO files from MSDN (if you're a member). For another,  they'll be posted to Tech Bench (as soon as MS decides to put them there). It took two week before my test machines got a previous slow-flow Windows 10 update  to upgrade from 1507 to 1511. I was able to grab ISOs from MSDN within a day of the initial release of 1511. They hit TechBench about a week later.
---
July 22, 2016 10:41 AM
adoption
,
SMBs
,
Windows 10
Business buy-in remains a key but elusive factor in the success or failure of Windows 10. If end-users migrate, but businesses stick stubbornly to Windows 7, it could retard Windows 10's eventual desktop dominance. That's what makes the report from Spiceworks entitled "Windows 10 Adoption: Sprinting out the Gate" an interesting read. It shows business uptake at the lower end of the size spectrum as surprisingly vigorous and likely to stay that way. Spiceworks is uniquely equipped to tell the Windows 10 SMB story, for reasons I will now explain.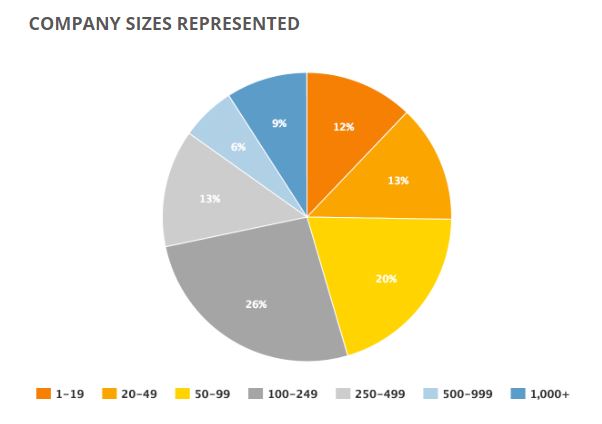 71% of Spiceworks respondents come from companies under 250 employees in size; 91% from companies under 1,000.
Why and How Spiceworks "Gets" the Windows 10 SMB Story
Essentially, SMB represents Spiceworks core audience. The preceding pie chart shows that, of the 900 IT professionals surveyed, most (71%) work in companies with less than 250 employees. In Europe, SMB means companies with 500 employees or less; in the US, it's those with 1,000 or less. By either metric, Spiceworks sits heavily in the middle of that range. Thus, respondents work in a sector with a huge number of desktops and devices in use today, likely to continue in the future.
In a nutshell, the study reports that nearly 40% of respondents have adopted Windows 10 already. The actual percentage is 38%. Last year, a similar survey projected this number at 40%. Among those companies, 85% report themselves at least "generally satisfied" with Windows 10. Windows 7 is the only other version in use to get a higher satisfaction rating. That group also reports the top implementation issue turned out to be "compatibility issues with hardware or software." Another key concern was "time required for the upgrade process." 30% report experiencing bugs in early Windows 10 releases, which registered number 4 out of the top 9 issues.
Spiceworks' Take on the Windows 10 SMB Story Timeline
Looking at companies that haven't yet taken the Windows 10 plunge, one-third plan to adopt in the next 2 years. Of the other two thirds, another 16 percent plan to adopt at some point, and 42 percent have no plans to adopt. This suggests that nearly 30 percent of businesses surveyed (half of the 60 percent that have not yet adopted) are not considering Windows 10 at all. Thus, this identifies a clear target for MS to promote more widespread business use of Windows 10.
Overall, the Spiceworks study is well worth a read. Grab a copy and check it out for yourself today. That goes double if SMB is your home sector and your company isn't already on the Windows 10 bandwagon.
---
July 20, 2016 1:02 PM
Windows 10
,
Windows 7
,
Windows 8.1
,
Windows Upgrades
As of this morning, only nine days remain for the free MS upgrade offer to convert Windows 7 or 8.1 devices into Windows 10. I'd been holding out on a Windows 8.1 installation on one of my test machines until yesterday. But I decided to go ahead and exercise the offer, to preserve the value of its 8.1 license. The process took some time but went quite well — better than I expected, as I'll explain. Let me walk you through the process for my 11th hour Win8.1 upgrade.
Prepping for an 11th hour Win8.1 Upgrade
I wanted to preserve a Windows 8.1 runtime environment should I ever need to stand it up again. Thus I first updated and cleaned-up the installation to get things underway. This meant applying all updates, updating drivers, and running Secunia PSI to make all applications current. Next, I ran CCleaner to clean up the boot/system drive. Then I captured two kinds of backups. First, I used the Sysinternals Disk2VHD utility to create a VM version of my 8.1 environment. Second, I captured a system image backup using the backup utility from File History in Control Panel. The former will let me run 8.1 as a virtual machine. The latter will let me perform a bare-metal restore to bring the old OS back up on my test machine.
Performing the 11th hour Win 8.1 Upgrade

Click Upgrade Now to download and run the Windows 10 Upgrade advisor, which checks your machine for compatibility, then launches the upgrade installer.
Because I had also installed the GWX Control Panel on that Windows 8.1 install, I couldn't use Windows Update to fire off the upgrade process. I could have uninstalled that program, and taken that route. Instead, I chose to visit the Get Windows 10 page and use the Windows 10 Upgrade Advisor. It's downloaded to your PC when you click the "Upgrade now" button. You can also use the Windows 10 Media Creation tool available on that same page. It will download an ISO image of the Win10 install, and build a bootable DVD or UFD from which to perform a clean install, if you like.
The installation process started with a review of the test machine's hardware and software. I'd already upgraded that same image to the Windows 10 Technical Preview (now known as the Insider Preview) months earlier. That's why I knew it would breeze through that process. Then the actual installation got underway. The whole thing took less than half an hour to complete. I'm now running Windows 10 Version 1511 (OS Build 10586.494) on the same drive where 8.1 ran yesterday.
A Nice Surprise from my 11th Hour Win8.1 Upgrade
I was a little concerned about this upgrade. That's because it's on a dual-boot machine that's also running the current Technical Preview on another SSD. I actually took the time out to build a Recovery Drive on an external USB-attached hard disk. I figured I could use it for boot repair, just in case the install process munged the dual boot set up. When the installer booted directly into the new image during its reboot phases, I wondered if a boot rebuild would be needed. But as soon as the new OS upgrade install completed, the OS selection option reappeared during initial boot. The previous Windows 8.1 entry was changed to Windows 10. I'd already used EasyBCD to re-label other boot image as "Windows 10 TP" so I could tell them apart. This was a pleasant and welcome surprise indeed.
Furthermore, Windows 10 installation seems to have improved over the initial versions of 1511. I can remember having to find and re-install the Killer NIC driver on that machine, because Windows 10 didn't recognize that device. I also had to clean up other driver issues. Most notably, this included duplicate installs (perhaps based on install failures during the upgrade process) of the same drivers on that machine. This time, Windows 10 got all the drivers right on the first try. This improves on my experience in performing hundreds of Windows 10 installations over the past couple of years.
Pushing My Luck to Its Limit
As it turns out, I could have waited longer to perform this last-minute upgrade. It worked like a charm and took only a short while to complete. Nevertheless, I'm glad to have it behind me now, along with a new production install of the Windows 10 OS on that test machine. I'm also glad my 11th hour Win8.1 upgrade to Win10 was an unqualified success!
---
July 18, 2016 12:40 PM
growth
,
Windows 10
I've been watching the Windows 10 growth curve for some time now. That's kept me wondering if the company could make its self-assigned deadline of 1 B (one billion) Win10 devices before the close of fiscal year 2018 (FY18). Based purely on numbers reported to date, Windows 10 adoption rates must stay at 27-30 million new adoptions per month to hit that mark. Now, ZDNet Windows mavens Ed Bott and Mary Jo Foley indicate it ain't gonna happen. While the mark may still be hit, timing for the Windows 10 1B milestone recedes into the future.
What Ed Bott/MJF Learned About the Windows 10 1B Milestone
In a recent blog post Bott observes that his thumbs-up assessment of Terry Myerson's original projection factored in 50M Windows 10 handsets per year. (See ZDNet, "After One Year, 10 Lessons Learned for Windows 10," 7/15/2016.) Upgrades to existing Windows 10 handsets encompassed 200M Windows-based phones in the 1B number. The rest of the 800M came from less mobile devices such as desktops, tablets, notebooks, and the like. But Windows Phone is now more or less out of the picture. Likewise, upgrades for existing phones range from problematic to impossible. Thus, that forcibly extends the timeframe to make up for now-missing elements.
As evidence, Bott cites a quote that Mary Jo Foley elicited from MS Senior VP Yusuf Mehdi. He says "…due to the focusing of our phone hardware business, it will take longer than FY18 for us to reach our goal of 1 billion monthly active devices." If my calculations are correct, monthly addition of 23 million new "active users" dates the 1B milestone at December 2018. I don't think that's a realistic or sustainable rate. My guess is that monthly new adoptions could fall in the 15-17M range once the free upgrade expires. At those run rates, the milestone won't come until mid to late 2019. I'd wondered if this was a realistic goal, and am glad to see MS not just recognize reality, but actually acknowledge the facts.
---
July 15, 2016 12:12 PM
Windows 10
,
Windows migration
MS has just released a Forrester Consulting report on the Total Economic Impact of Windows 10. Jason Leznek describes it in detail in a Customer Stories blog post. The results offer compelling Win10 upgrade ammo: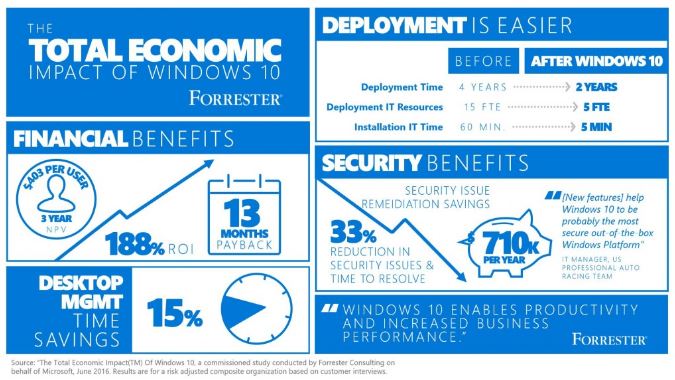 Forrester finds that Windows 10 is quicker to deploy,consumes fewer IT resources, offers a 13 month payback, and is more secure.
Forrester interviewed four early-adopter enterprise organizations in depth to gather its data. Interviewees included a government health department, a global IT services firm, a professional auto racing team, and a multinational food and beverage conglomerate.
Gimme Some Win10 Upgrade Ammo, Already!
Here are some highlights from that study:
It takes less IT admin time and effort to install, manage and support Win10. Win10 offers more user-friendly features and self-serve functions. One organization observed that deploying Windows 10 was up to 50% quicker than their previous OS upgrade. IT staff also spent 15% less management time on Windows 10.
Advanced security features could produce significant savings on security remediation. Credential Guard and Device Guard, plus enhancements to BitLocker, boost Win10's security profile. Using them means organizations can sidestep or reduce security events requiring remediation. According to Forrester, enabling security features in Windows 10 could save businesses as much as $700K per year.
Improved productivity. Windows 10 delivers faster boot and shutdown times, easy access to corporate apps, improved security, and enhanced mobility tools. Combined, IT and users can complete work faster and more efficiently. Employees estimate they have 25% more time to get work done than with previous Windows OSes.
For the full contents of the Forrester report, download their TEI Study (PDF format). You can also grab a full-size version of the preceding infographic (PDF format) .
---
July 13, 2016 1:12 PM
Software as a Service
,
Subscription models
,
Windows 10
The Microsoft World Partner Conference (WPC) is underway right now in Toronto. Surprisingly, it's proving to be a great source of Windows intelligence. Yesterday, the company announced that it will make Windows 10 Enterprise E3 available by subscription. Subscriptions will be available to business users through partners in its Cloud Solution Provider (CSP) program. The cost will be $7 per seat per month ($84 per year). By itself, this is a good deal for the OS. Better yet, it comes in the context of a managed service provider (MSP) offering. Thus, it also includes deployment, updates, and technical support. Win10 business subscriptions are indeed coming, but outside end-user/retail customer channels and needs.

This blurb comes from the Windows Insider blog post announcing the offering.
In the announcement's words, this offering seeks to serve "…businesses who do not have dedicated IT resources or limited IT staff, and want their licensing and IT needs managed by a trusted and experienced partner." This extends the menu of items that CSPs can offer to customers to what MS calls a "full IT stack." That now includes Windows 10, Office 365, Dynamics Azure and CRM. All will come on a per-user/per-month basis from a single source. Businesses can even scale up or scale down the number of seats as their needs change.
Benefits of Win10 Business Subscriptions
In discussing the benefits of business subscriptions, MS specifically mentions certain"key features:"
Increased security, thanks to enhanced capabilities to manage identity and sensitive data built into Windows 10.
Simplified licensing and deployment: built-in auditing, license management, and compliance checks help keep OS and software use up-to-date, documented, and paid for. Business can even "move from Windows 10 Pro to Windows 10 Enterprise E3 without rebooting" per the announcement.
Partner-managed IT: partners will provide device configuration and management. They can also help businesses develop device security and management strategies based on Windows 10's security features. Businesses can check on subscriptions for Windows 10 and other MS cloud-based items online. MS also touts "easier management with one contract, one user account, one support contact, and one simplified bill."
I believe this could be a huge deal for SMBs. In fact, it could very well provide some much-needed impetus to spur migration to the new OS. Thus, this offer could spur a changeover sooner and in greater numbers than the history for previous Windows versions suggests. That response could even eclipse the uptake of the two most popular prior Windows versions — namely, XP and Windows 7. Bravo, MS: Win10 business subscriptions could be a silver bullet of sorts!
---