---
February 8, 2017 10:50 AM
ISOs
,
MS Installer
,
Windows 10
Now and then, admins may need mountable ISO files for Microsoft OSes or programs (like Office). That's when "find the ISO" can sometimes turn into a challenging game. Except for those with MSDN subscription access, running down ISOs can take a while. Itinerant programmer Jan Krohn provides a useful anoydyne through his Cambodia-based Website HeiDoc.net. It comes in the form of a program named Microsoft Windows and Office ISO Download Tool. The tool covers all current Windows desktop versions (7, 8.1 and 10). It also covers Office 2007, 2010, 2011, 2013, and 2016. ISO downloads are available in multiple versions for all this software.
Take a Peek at HeiDoc.net MS ISO Downloader
Here's what the program looks like, taking Windows 10 as its focus: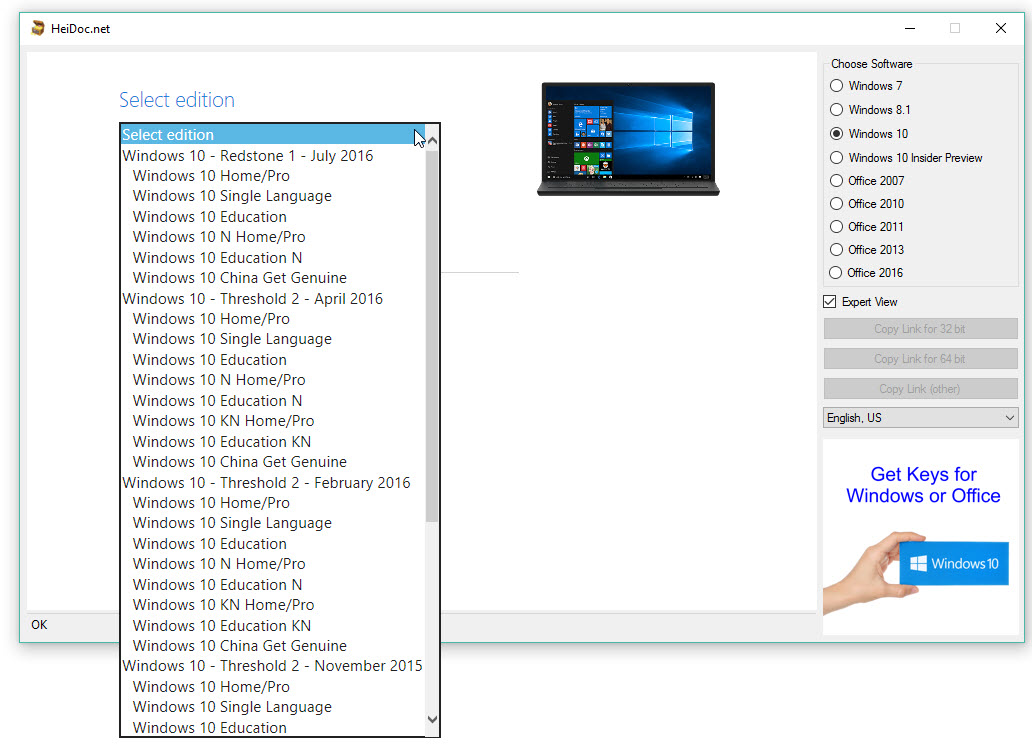 Look at all those Windows versions! And all the flavors, too (Home/Pro, Single Language, Education, … but no Enterprise).
As you can see, there are numerous Windows versions covered. You'll find not just 1607 and 1511, the major builds, but also 1604 and 1602 and others as well. There's only one flavor of Windows 8.1 available, as befits its short release life. Ditto for Windows 7 in its various SP1 forms. Those who work with Office, or need older versions for whatever reason, will find these ISOs a treasure trove.
The code is portable and standalone (no installer needed). You can load it up on your traveling flash drive, and plug it into whatever machine you like. Enjoy!
February 3, 2017 12:32 PM
Backup and Recovery
,
Troubleshooting
,
Windows 10
Last weekend, I ran into an interesting problem on a couple of my laptops. Those were a Surface Pro 3 and a Dell Venue Pro 11, each with the same problem. As I ran Macrium Reflect to back each one up, it would fail to complete. This was on the same hardware: an external Eagle Consus USB 3.0 drive dock with an HGST 4GB 7,200 RPM HDD. The error messages were likewise the same. I would either get a "Write operation failed" or "Write operation timeout." Because I like to keep USB drives humming along properly, I turned to the Macrium KnowledgeBase.
How Does One Keep USB Drives Humming Along Properly, Anyway?
Sure enough, I found a KB article there entitled "Backup aborted! – Write operation failed – The request could not be performed because of an I/O device error." It told me what I needed to know. As it happens the secret is on the Policies Tab in a Disk Drive item in Device Manager, to wit: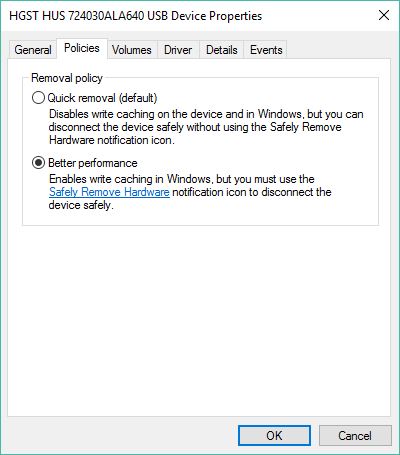 Select the radio button that reads "Better performance" to fix this issue.
According to the KB article, the default setting of "Quick Removal" is the culprit. It means that "Windows will disable write caching to the disk thereby slowing down throughput. All writes will go direct to the disk and throughput IO collisions can occur." Backup is one of those situations where the IO channel gets pretty saturated. Obviously, it bumped the odds of a collision occurring to a certainty in these cases! After this setting change, a restart is also required.
I'm pleased to report that this fix did the trick. I was able to backup both machines without further issues after applying it. This is a per-PC item. Thus, unless you're willing to write a GPO to change this setting globally, it must be applied on each individual PC.
---
February 2, 2017 4:56 PM
Since last November, I've mentioned the Unified Update Platform 5 for Windows 10 five times in this blog. It made its debut with Insider Preview build 14959, and as of yesterday, we're up to build 15025. It's proving to be something of a pain, as I work with downloading and installing frequent Insider Preview builds. These are more like the transition from 1511 to the 1607 Anniversary Update for those outside the program, bigger and more time-consuming than a typical cumulative update. Recently, though, as UUP gets teething problems, it's been a real slog to keep up with new builds.

It all started on 11/3/16 when Bill Karagounis posted this to the Windows Insider blog.
When UUP Gets Teething Problems, What Gives?
Fortunately, there are two different workarounds to get past UUP problems. For me, these problems have recently manifested the following signs or symptoms (also reported by many other Insiders):
Long download times from Windows Update. I quit one download yesterday after waiting 2 hours, another after letting it run for 7 before giving up.
Download apparently hangs at various stages of completion: I've personally gotten stuck at 0% and 100%.
A variety of installation errors that result in a rollback to the previous build.
For a more complete litany of woes, see this thread on TenForums.com: Announcing Windows 10 Insider Preview Build 15025 for PC. It gets pretty interesting in a hurry, and is the first such build to collect 30-plus pages of posts in recent memory.
How to Get Past UUP Issues: The Workarounds
There are two ways to get around the UUP download problems. One is to run a registry hack that instructs WU to provide the compressed ESD file format (older-style updates) instead of UUP's large file collections. This hack is documented in a TenForums thread (post #728) entitled "Upgrading Windows 10 – ESD or UUP?" After installing this hack and rebooting your PC, downloads work better on some machines. This was the case for my Insider Preview desktop test machine. In fact, its MSI Z87-G45 motherboard has proven pretty resilient over the two years or so it's served in that role.
For other machines, though, not even the ESD trick works. That, alas, was true for my Dell Venue Pro 11. It stubbornly resisted all attempts to let WU handle the upgrade install. I resorted to links posted at WinAero.com in a recent item entitled "Download Windows 10 Build 15025 ISO Images" instead. Title notwithstanding, this actually has one download the ESD file. Next, you'll use a decrypter to turn it into an ISO. After that, you can mount it in the file system and run Setup.exe for an upgrade install.
I'll be very glad to see Microsoft fix or improve UUP. I'd like to see it work like earlier iterations of Windows Update: slowly, but reasonably reliably. In the meantime, when UUP gets teething problems, savvy Insiders know to look for alternative arrangements until this baby settles down!
---
January 27, 2017 10:51 AM
Thin client
,
Windows 10
,
Windows RT
A fascinating rumor is making the rounds on Windows news and rumor sites. As best I can tell it originates with Thurrot.com/Petri regular Brad Sams. His report is based "on documents I have seen," not hearsay. This quote comes from a brief Petri 1/26 item entitled "Microsoft's Cloud Shell Looks to Modernize Windows." Other derivative reports on Cloud Shell are on NeoWin.net and onMSFT.com. These rumors hint thin client model for Windows may be in the offing, an idea that makes excellent sense.
That idea goes as follows: the shell runs on a device with a standardized framework for ongoing interaction. This shell scales and adapts to work on devices that include smartphones, PCs, tablets, consoles, and more. In the cloud, a back-end VM provides necessary compute and storage capabilities to do actual work. This is a thin client model because it runs the GUI on the client and does the rest of the computing on a back-end server.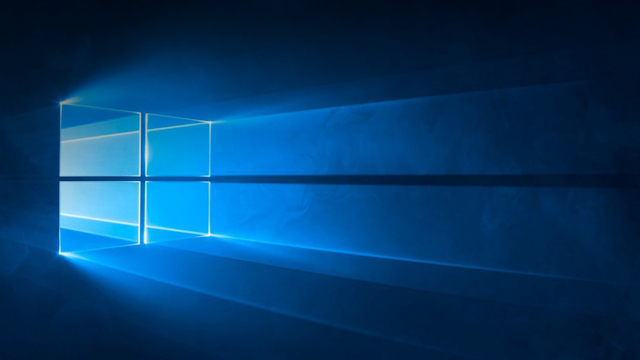 Windows 10 looks the other way in this reimagined early lockscreen graphic. That's what Cloud Shell may also do.
When Cloud Shell Rumors Hint Thin Client Model, What Does It Mean?
According to Sams/Petri, Windows Store and UWP apps also have a role to play in Cloud Shell. What that role might be isn't yet clear. Surely, though, it's not too big a stretch to imagine it means general access to shared apps and storage? Sams and others have speculated this involves a more nuanced and capable return to the Surface RT model, now that scaffolding to support it is more solid. The Windows Store offers a large catalog of apps, and the UWP framework is well-defined and increasingly well-used. This is what leads Sams to speculate the following:
What would be more interesting is if Microsoft is truly trying to make a version of Windows for the masses that runs in the cloud and then streamed locally to your machine, much like a thin-client, but the details around Cloud shell are still a bit foggy.
There are still too many ifs and unknowns around the Cloud Shell to make out real details. But this could be an interesting and useful spin on the traditional desktop OS, updated for the 21st century. I'm sure we'll all be watching for more information about this topic in the months ahead!
---
January 25, 2017 10:53 AM
Admins will occasionally need to mess around with Windows licenses as they install new images or repair existing ones. For cases where digital licensing information from Microsoft doesn't automatically activate such PCs, a key finding-tool comes in handy. While there are many such tools around, one particularly good — and free — such tool is ShowKeyPlus, from Superfly Inc. Unlike other key-finding tools I've used, this one sets off no anti-malware alarms, either.
What's to Like about ShowKeyPlus?
A picture helps answer the foregoing question: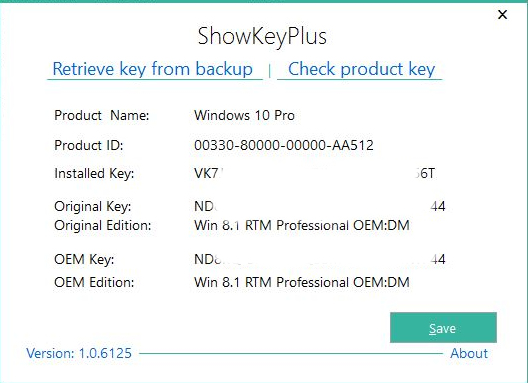 The keys are blanked for security but the OEM data is what's particularly interesting.
As the image from my Surface Pro 3 PC shows, the tool digs into the PC's BIOS to determine if an OEM key is in residence. If it finds such a beast, it reports that key as well. This is doubly helpful to admins seeking to manage (or re-use) keys for the following reasons:
OEM keys for Windows 7 or 8.1 still activate Windows 10 clean installs
OEM keys may not be transferred from one machine to another (but retail or volume license keys allow this)
What makes ShowKeyPlus even more useful, IMHO, is that it can also retrieve Windows product keys from backup images. To do this, however, one must mount the backup as a volume (it helps if it's a virtual disk image of some kind), then navigate to the %windir%\System32\Config folder, and select the item named SOFTWARE there. Thus even when a system is inoperable, admins can still obtain some key information. Here's a screencap I grabbed from a late 2015 backup image from my production PC: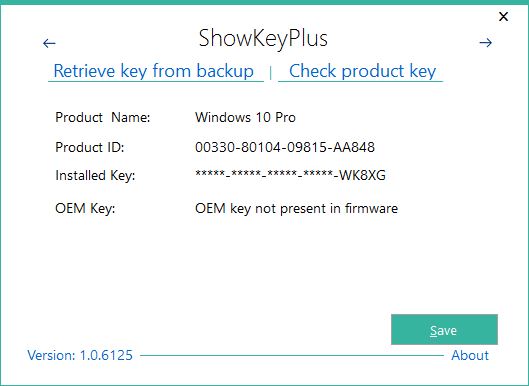 Good stuff! Grab yourself a copy today.
---
January 23, 2017 12:47 PM
The German arm of Microsoft started banging the drum for retirement and replacement of Windows 7 last week in a fascinating blog post. It's entitled "Windows 7 Supports Ends in Three Years." (German original, open in Chrome, then right-click and select translate.) The post seeks to make several interesting points, after observing that Windows 7 support ends 1/14/2020 — namely:
Windows 7 can no longer keep up with today's increased security requirements
Windows 7 incurs higher operating costs than newer versions. They come from added maintenance, increased support needs, and time lost to malware attacks
In Windows 7, modern peripherals such as printers may no longer be recognized
The newest Intel, AMD, and Qualcomm chips will run Windows 10 but not Windows 7
I'm tempted to write this off as Microsoft seeking to cultivate FUD (Fear, Uncertainty and Doubt) in its business user base. Except for something that stands out in stark relief in the December 2016 Desktop OS Market Share pie chart: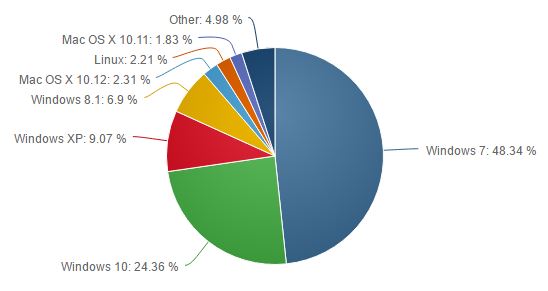 Windows 7 still outnumbers 10 by 2-to-1, but over 9% of the monitored population still runs XP.
[Source:NetMarketShare.com, captured 1/23/17]
What Happens When Windows 7 Support Ends 1/14/2020?
Obviously, MS wants Windows 7's slice of the pie shown in the preceding chart at zero BEFORE end-of-life comes around. But, given that 9-plus percent of users who accessed any of NetMarketShare's servers in December 2016 were still using XP, is that a reasonable wish? Probably not. XP hit end of life on April 8, 2014. But in just one example of what continued afterward, the US Navy paid MS $9.1M in 2015 for continued support for XP and Office 2003 components.
My best guess is that the claims and observations that MS is making in the blog post are completely factual. That said, those remarks are plainly intended as a goad. MS want its huge base of business users planning and executing a migration strategy away from Win7 before that date arrives. I don't blame them. But the continuing hump of XP users (which could be as large as 165M users, assuming that the size of the Win10 population is at 450M in this chart) says otherwise. It will be fascinating to watch how this unfolds. Stay tuned!
---
January 20, 2017 11:01 AM
Windows 10
,
Windows as a Service
,
Windows Upgrades
CSM is Microsoft's Cloud Solution Provider program, granting subscribers access to Windows 10 licenses for $7 per seat per month. Customers of that program just got a nice bonus. MS has announced that they can "upgrade their Windows 7 and Windows 8.1 PCs and devices to Windows 10 at no additional cost." (Source: Windows Business Blog) This is not just a great opportunity for business customers, it's also a necessity for Microsoft. They've made it crystal clear that they want to move business users off of older Windows versions and onto Windows 10. This offer means that CSM subscribers get free upgrades. But Microsoft also gets a reduced service and support load as a result of its uptake.
Of course, MS will get the same rate going forward for newly-upgraded seats as it got for prior subscriptions. But what's in this offer for business customers? The earlier CSM arrangement required them to purchase a Windows 10 license to upgrade machines before they could participate in the program. This saves the $200-plus that a Windows 10 Pro, Enterprise, or Education license costs at putative MSRP. (Such costs usually go down somewhat under the terms of most Volume Purchase agreements for larger numbers of licenses.)
Why Do CSM Subscribers Get Free Upgrades, Really?
Sure, Microsoft can pick up some more subscription revenue out of this deal for seats upgraded under this offer. Maybe even a large number of seats, in fact. But the real savings from moving customers to Windows 10 is in services and support. Right now, MS has to maintain deep and broad organizations to support customers, provide security patches, and handle integration with management platforms and tools. If they can start to slim down on legacy installs and up the number of current generation seats in use, they can save big. I have to believe that's what's driving this particular bus.
One more good thing for customers appears a little later in the afore-quoted blog post. It's worth reproducing in its entirety:
The Windows 10 upgrade licenses issued as part of this process are perpetual and associated with the device. This means the license will not expire or be revoked if the customer chooses to end their Windows cloud subscription in the CSP program.
I'm sure customers will be reassured to understand that they get to keep those upgrades after exercising this offer. Nobody wants a deal that ties them to a subscription in perpetuity, that's for sure! And for the record, the offer applies to Windows 10 Enterprise plus Secure Productive Enterprise E3 and E5.
How Can CSM Subscribers Get Free Upgrades?
Here's how: The so-called "tenant admins" (folks who manage subscriptions on the customer side) must log into the Office 365 Admin Center using Azure Active Directory credentials. There, they'll see these options: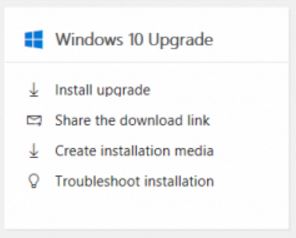 After that, the upgraded workstations fold into the environment along with the original subscriber elements. Easy-peasy, huh?
---
January 18, 2017 4:22 PM
Disk partitioning
,
hard disk management
,
Windows 10
In my ongoing quest for great additions to the Windows admin's toolbox, I've found and am learning MiniTool Partition Wizard. It's available in both freeware and commercial forms, for home and commercial use. That's a nice touch, because users can download and learn the fundamentals of the program for free. Then, for use at work, they can purchase any of a number of licenses for $50 and up (see home page for details). Here then, is the latest entry for the Win10 Admin Toolbox: MiniTool Partition Wizard (MTPW).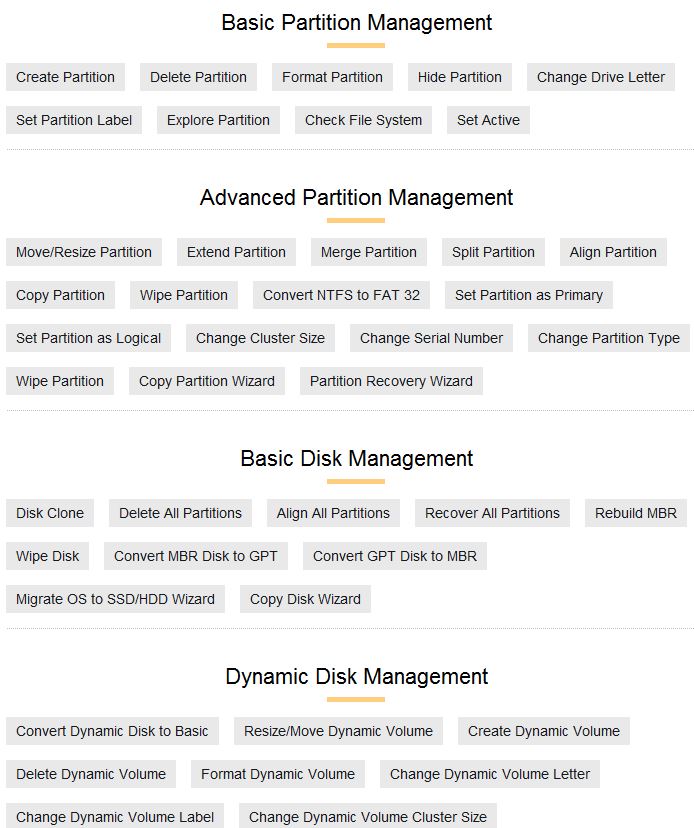 A function map for MTPW appears on the front page of its built-in help file.
[Click image to see full-size version]
What's So Good About MiniTool Partition Wizard?
Even the free version does most of what full-featured disk and partition manager packages do. Thus, it's a capable tool for managing Windows disks and their partitions. A quick run-through of the preceding graphic from the Professional version shows only four functions missing in the Free version:
Resize/Move Dynamic Volume
Create/Delete/Format Dynamic Volume
Convert Dynamic Disk to Basic
Change Cluster Size
Otherwise, you get the whole shebang on a free copy for home/personal use and practice. It's great at inspecting partitions and then deleting, merging, splitting, or moving them around. For those interested in disk layouts after upgrades, it offers validation that an upgrade is worth following with a clean install. Once a device gets its digital license you can wipe the current drive layout and start over fresh with a clean (or customized) Windows 10 partition scheme.
The Burden of "Partition History"
Having upgraded my wife's PC from 8 to 8.1 to 10 I knew that her partition map would include legacy recovery partitions from those previous versions. Sure enough, that's exactly what MTPW showed me:

Because Windows 8 used 300 MB and 8.1 350 MB recovery partitions, partitions 2 and 6 map to those OSes.
Partition 3 (FAT32) is the EFI partition, 4 (C:) is the OS partition, and 5 is the Windows 10 recovery partition, whose 450 MB size identifies it. That partition is also so labeled in the details information from MTPW. By deleting no-longer used partitions, then moving the other partitions one gains but a scant 650 MB of disk space. Because of the complications involved in moving the EFI partition, and reassigning remaining recovery partition's location, I've simply left it alone. But one can easily see why a clean install that includes a disk wipe makes good sense. For those interested in trying a partition clean-up, MTPW is certainly up to the task.
Go Ahead, Give It a Try!
This is a terrific program well worth downloading and learning. If your budget has room for another commercial license, it will also come in handy on the job.
---
January 16, 2017 11:30 AM
preview
,
Windows 10
,
windows 10 upgrade
Last week, Microsoft released a new Insider Preview — build 15007 — to the fast track. I was not alone in experiencing problems getting that upgrade to download and install. Many people reported problems completing the download successfully (I was in that group). Others reported subsequent failed installations as well. Once upon a time you could grab .esd and other files before the first Windows reboot during the upgrade process. Then, you'd use them to create an ISO file on your own. But the recent adoption of the Unified Update Program (UUP), results in a bunch of files in driving the install. UUP's file structure now means building Insider Preview ISOs add complexity to the usual contortions previously involved.
Why Does UUP Make Insider Preview ISOs Add Complexity?
Microsoft's goal with UUP is to slim down the volume of updates by picking (and transmitting) only items that target clients need from Windows Update. Thus, updates (and upgrades) are delivered piecemeal rather than in monolithic form when UUP is active. Working around this limitation involves two potential paths to ISO compilation and alternate installation for Fast Ring users.
The first path comes from one of the gurus at TenForums.com whose nomme de forum is "Kari." He's put together a tutorial entitled "UUP to ISO — Create Bootable ISO from Windows 10 Build Upgrade Files." For DYIers, this approach involves copying the various UUP download files, then compiling them with a tool named UUPtoISO.cmd. This tool builds the ISO for you, after which it will serve nicely on a bootable USB flash drive.

For the Fast Ring, getting ISOs for current builds means building them yourself, or finding them online.
[Image source: WinAero.com]
The other method is to find an alternate source for Fast Track Insider Preview ISOs. My favorite is Sergey Tkachenko's WinAero.com, which usually provides links to reputable third-party sources when it doesn't host them itself. Last Friday (1/13) he shared a post entitled "Download Windows 10 Build 15007 ISO images." It included links to 32- and 64-bit ISO files for Home, Pro, and Enterprise versions of Build 15007.
The Tradeoffs in Insider Preview ISOs Add Complexity
There's a tradeoff involved in DIY construction vs. ISO download. On the one hand, there's the time and effort involved in constructing your own. This took me about 22 minutes on my test hybrid tablet (a Dell Venue Pro 11 7130). On the other hand, there's little time and effort involved in downloading a third-party download except for the download time involved. But one must trust the provider, and absorb the download costs involved. Because that download came from New Zealand, it also took about half an hour to complete.
For me, because I had two machines in the game, one of which succeeded in completing the download, I did have access to the files needed for DIY. Others who didn't and can't complete the download can only turn to third parties for downloads elsewhere, or wait for MS to move the build to the slow ring. That's when they publish official ISOs for the safest possible download option.
---
January 13, 2017 12:12 PM
Windows 10
,
Windows Upgrades
When the cutoff date for free upgrades arrived on July 27, 2016, Windows users assumed that was the end of that. But as time has elapsed since then — almost 6 months — free upgrades are still on. True: the hated and obnoxious "Get Windows 10" (GWX) tool is history. So are FORCED upgrades. But those running Windows 7 or 8.1 PCs can visit the "Download Windows 10" page. There, if they follow instructions, the result is a working Current Branch Windows 10 installation, Version 1607. Thus, the claim of a free Win10 upgrade still available is completely true.
How Is the Free Win10 Upgrade Still Available?
The secret to this continuing bonanza, according to Ed Bott at ZDnet, is that Microsoft's activation servers keep activating upgrades based on Windows 7 and 8.1 license keys. As long as those servers continue to issue valid digital licenses for those older keys, the free upgrades will continue.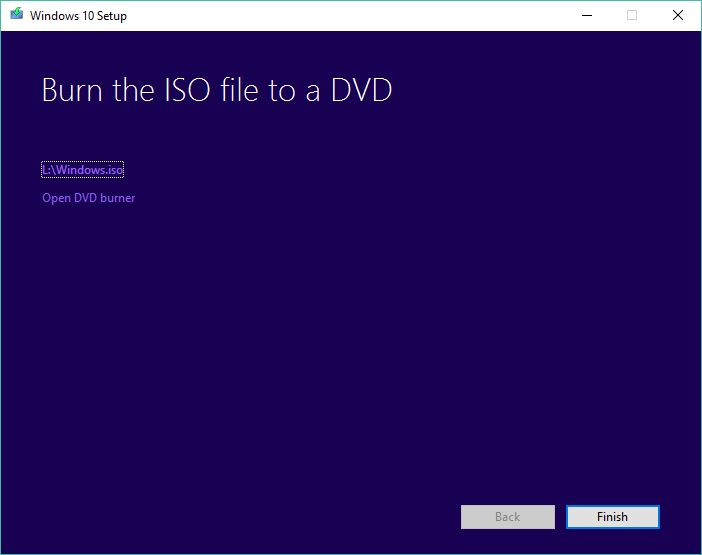 The last step in the process shows the name of the ISO file you'll use to build a bootable UFD.
[Source: Windows Media Creation Tool; filename: L:\Windows.iso]
Here's an overview of the steps involved in obtaining a copy of Windows 10 to install:
Download Media Creation tool
Select "Create Installation media for another PC"
Select Language, Edition, and Architecture (recommended options should work, otherwise, see table)
Select ISO file (or it can build a bootable USB flash drive instead)
Click "Finish" when writing the ISO file completes
Now you can use any of a variety of tools to build a bootable USB flash drive to install Windows 10 on your system. Finally, the Windows Activation servers will still accept your Win7 or 8.1 key to activate this new Win10 install. You'll get a valid digital license to keep and use going forward. The excellent Windows 10 tutorial "USB Flash Drive — Create to Install Windows 10" explains and shows how to do this in step-by-step detail, with copious illustrations and examples.
---