---
September 21, 2016 10:13 AM
Troubleshooting
,
Windows 10
,
Windows Update Management
In the wake of recent Windows updates, lots of users have reported issues with Windows Update. This reminded me that there's a built-in troubleshooter in Windows 10. Other recent versions of Windows — 7, 8, and 8.1, that is — required a Fix-It download from Microsoft instead. By contrast, Windows 10 users and admins have it easier: they need only type "trouble" into Cortana, then select the "Troubleshooting" Control Panel widget. From there, they can select "Fix problems with Windows Update" under the System and Security setting. This launches the Windows Update Troubleshooter.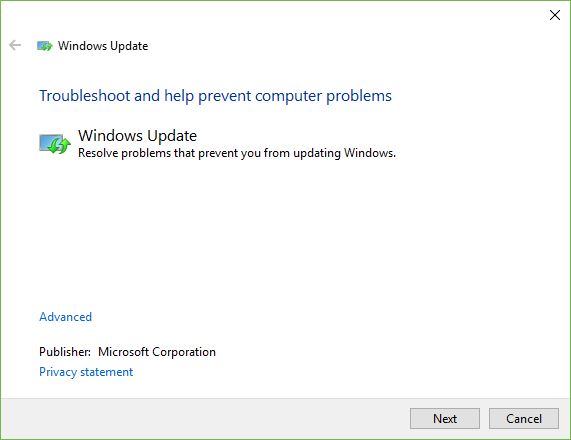 The Windows Update (WU) troubleshooter tackles most common update issues automatically.
What Does the Windows Update Troubleshooter Do?
As it runs, the Windows Update Troubleshooter performs three sets of actions:
1. It shuts down Windows Update Services and the associated Background Intelligent Transfer Services (BITS)
2. It renames the download target folder for updates from %windir%\SoftwareDistribution to …\SoftwareDistribution.old, and creates a new, empty \SoftwareDistribution folder. This clears the download cache to let WU start over afresh. This also means you'll lose your current Update History, too. The troubleshooter also checks and, if necessary, repairs or instantiates (missing) registry keys for Windows Update.
3. It turns WU and BITS services back on.
Note also the "Advanced" button in the preceding screenshot. It's important to click it, so you can run the troubleshooter with elevated privileges. That is, you must click the "Run as administrator" link, after checking the box next to "Apply repairs automatically."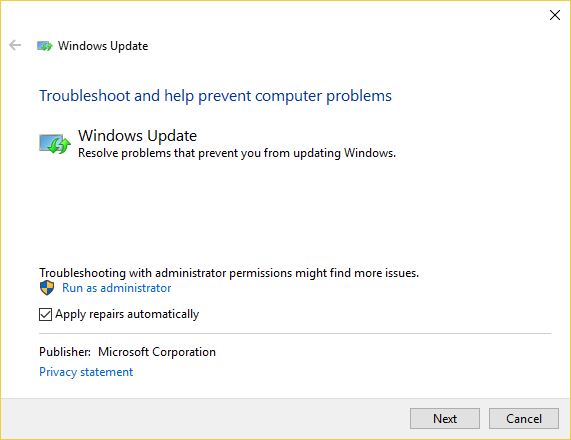 After clicking "Advanced," click "Try troubleshooting as administrator" to safely mess with system files.
What if the Windows Update Troubleshooter Doesn't fix WU?
If you run the troubleshooter, and WU still isn't working, you can perform the same steps the troubleshooter automates from a Safe Boot into Windows. This is admirably described in an article at HowToGeek.com in step-by-step fashion, so I won't repeat that information. Find it at "How to Fix Windows Update When It Gets Stuck," in the final section entitled "Fix Windows Update by Deleting Its Cache Manually." The story is dated 3/28/16, but still applies to the latest Windows 10 versions (the Anniversary Update, Build 1607, as I write this post).
September 19, 2016 10:06 AM
I found myself embroiled in a discussion on TenForums.com recently, wherein I dug into 802.11n sufficiently to confirm my recollection that newer implementations are dual band. That is, they can communicate wirelessly at either 2.4 or 5 GHz, depending on configuration. After this discussion, I checked my Lenovo X220 Tablet, which sits next to my desk. It was running on the 2.4 GHz band, so I switched it over to 5 GHz instead. Promptly thereafter, I also couldn't reconnect using the Remote Desktop Protocol (RDP). The Incoming Connections troubleshooter on the laptop failed, too, so I found myself puzzling over a solution. Then, I remembered that toggle remote connections restores RDP access at least some of the time. I tried it, and it worked!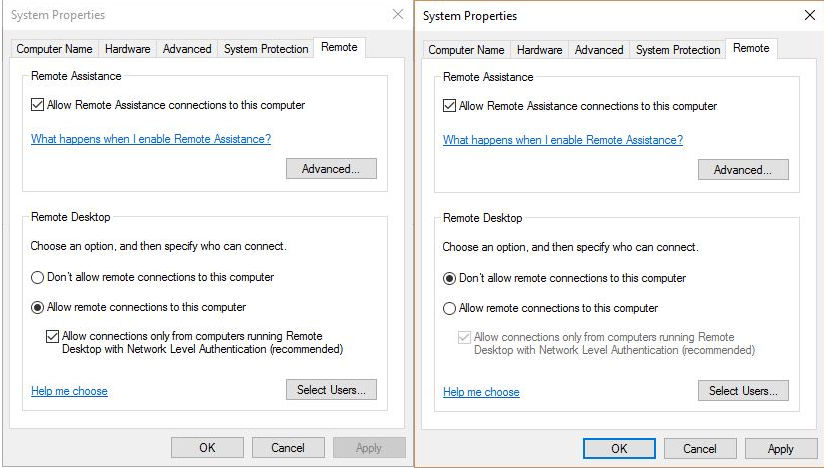 To toggle you must turn off remote access, then turn it back on again.
I've encountered this situation working with Remote Desktop before. It happens when switching from one wireless network to another (as I experienced this morning). It doesn't happen when switching from wireless to wired, or back again (as I just confirmed on my test PC). It appears to stem from connection settings inside the RDP configuration, which can maintain only one wireless connection to a PC at a time. For some reason, changing wireless networks kills the connection. It gets reset when you turn remote connections off (don't allow) then turn them back on again (allow). Apparently, this rebuilds connection settings for the current wireless network.
Benefits of Toggle Remote Connections Restores RDP Access
I could easily switch from 2.4 to 5 GHz because my laptops are in the same office as my WAP. Thus, I don't ordinarily have to worry about distance affecting bandwidth between them. For me, the benefit of the switch shows clearly in this screen cap from the Time Warner speed test: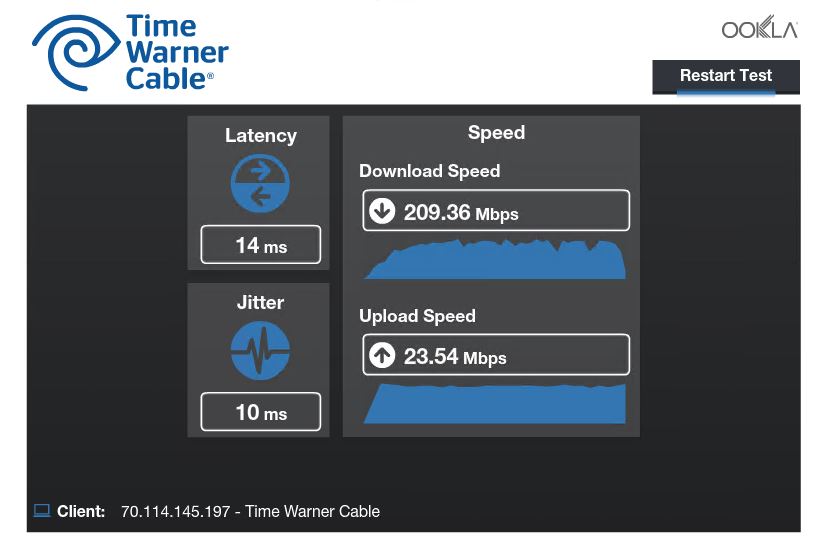 For a wireless connection, this is a pretty snappy download speed (upload is throttled to a putative 20 Mbps).
It's not as fast as a wired connection. That tops out at 350-ish Mbps on my LAN, on Time Warner's 300up/20down plan. But it ain't bad, either. I'm glad I made the switch, and remembered how to restore RDP to working order, too!
---
September 16, 2016 3:43 PM
Windows 10
,
Windows Update Management
,
Windows Updates
WU is, of course, short for Windows Update. I was reminded recently that when the Windows Update service fails to update a PC, there is another way to grab and install the necessary files. It's called the Microsoft Update Catalog, and you can almost always find what you need there. Case in point: the most recent Cumulative Update KB3189866 installed on nearly all of my PCs recently. But I ran into a problem with one of them. My son's Dell AIO 2780 would get part-way through the download then fail and hang WU completely. After three tries with the same results, I realized it was time to try a manual download and install instead. That is, if WU fails try update catalog download instead. Here's what I go when I searched the catalog using the KB article number from that problem item: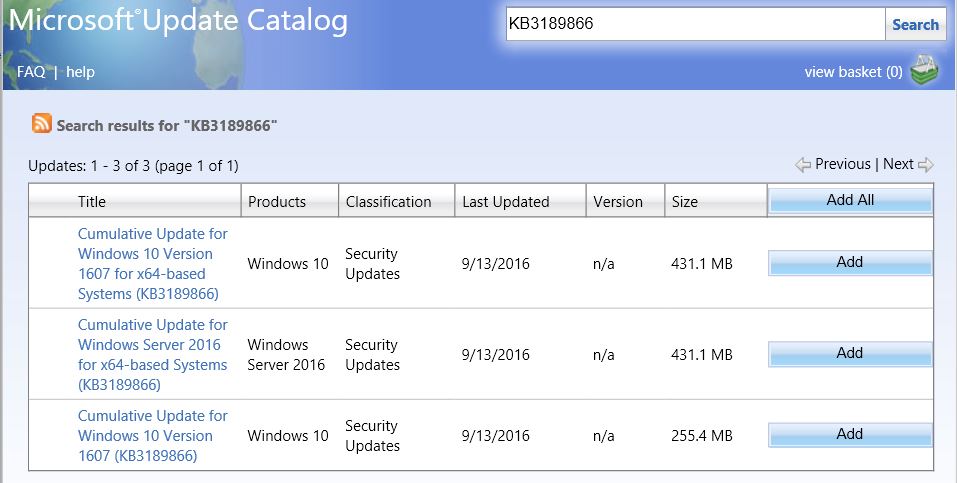 Three different versions of KB3189866 available for download.
[Click on image to see full-size version.]
How-to: Try Update Catalog Download
To use this method, visit the Microsoft Update Catalog page, and enter the Knowledge Base article ID for the problem update. In case, I searched on "KB3189866" as shown in the preceding screen cap. Next, I grabbed the first of the three items showing, because all my Windows 10 installs are 64-bit. You'd need the middle one for a Windows Server 2016 install, and the bottom one for a 32-bit Windows 10 install.
The download process couldn't be simpler. First, click the "Add" button to the right of your chosen item. Second, click "view basket" at the upper right of the window. This produces an "Updates in your basket" window that includes a "Download" button. Click that button, then designate a delivery folder, and the download process proceeds.

The download button fires off file transfer to your PC.
The download page helpfully shows a progress bar while the download is underway, and reports "Done" when it's finished. Once the download is complete, you'll close the catalog page. Next, navigate to the target directory you've chosen. For this item, you'll find a folder named:
Cumulative Update for Windows 10 Version 1607 for x64-based Systems (KB3189866)
It contains a single file named:
AMD64-all-windows10.0-kb3189866-x64_2c3e91a8162269579c8bf26a502c620d41efef0d.msu
Double-click the file, and an update installer fires off to complete the update process on your behalf. Done!
---
September 14, 2016 10:47 AM
Windows 10
,
Windows Update Management
An interesting item popped up from Mary Jo Foley at ZDNet yesterday. Basically, it reveals that the Windows 10 Anniversary Update rollout will keep trickling out until early November. That's right: Anniversary Update on 3 month schedule stretches the delivery of Version 1607 until 1611. Here's the footnote, which MJF kindly pasted into her article.

Now THAT's what I call "extended release!
How to Skip Anniversary Update on 3 Month Schedule Slowing Your Access
Of course, you don't have to wait until MS decides to deliver the Anniversary Update automatically. Other options let you install it on your schedule. But before you jump on them, consider that MS is holding back on some machines for what it deems good reasons. The company is using telemetry readings to stagger the update to give them time to address potential compatibility issues. Goodness knows, plenty have already been reported for the AU already.
What if you're bound and determined to get the upgrade on one or more of your PCs? Then, you have several options for manual upgrade:
Use the Windows 10 Update Assistant
Use the Media Creation Tool and elect the "Upgrade this PC now" option
Grab the Windows 10 ISOs for whichever version you wish to upgrade. Use a tool like Rufus to build a bootable USB drive (or simply right-click the ISO file, mount it on your system, and click  "setup.exe")
Thus, there's no shortage of choices (and associated methods) to update sooner, rather than later. Those prepared to troubleshoot compatibility issues that result should feel free to exercise them. Those who'd rather avoid such travail might best wait for MS to offer the update through the Windows Update service.
---
September 12, 2016 1:15 PM
Batch files
,
task scheduler
,
Windows 10
For the past few months, I've been bedeviled with a strange phenomenon. Every now and then, several times a day, a command line window (cmd.exe) pops up on my desktop, runs a batch file, then disappears. The whole thing usually takes less than a second to complete, so I've only been able to catch the file in action once. Now that I know that TaskSchedulerView IDs cmd.exe popups, this is what that windows looks like: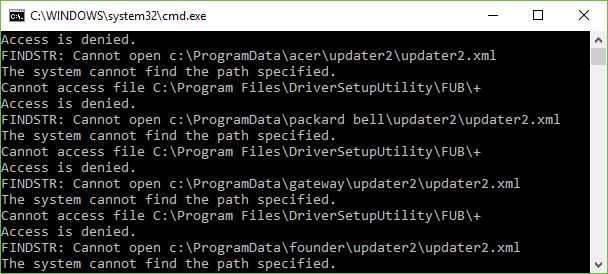 The one time I caught this window, I didn't copy nor read carefully enough to determine the source.
It's been driving me nuts, because I wasn't sure how to identify the batch file that had to be responsible. Then, this weekend, in helping out users at TenForums.com, I got lucky. I learned that Nir Sofer's TaskSchedulerView utility allows its users to search the strings used to define actions in scheduled tasks. Actions like running programs (the source of the original user's problems) or batch files (like the popups on my PC). In fact, there's a Find command built into the tool. It searches the text data it compiles from all of your scheduled tasks. (Note: these can number anywhere from hundreds to thousands on any Windows PC.) As it turns out, that's exactly how TaskSchedulerView IDs cmd.exe popups.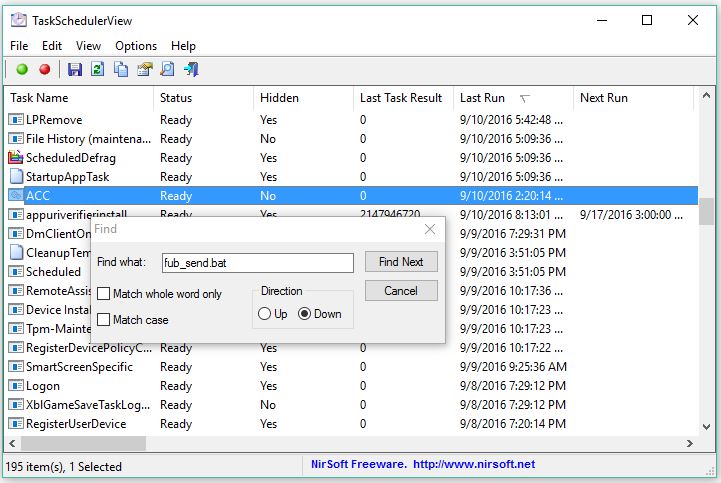 The detail info for the ACC task identified the culprit: FUB_send.bat!
Using Find So That TaskSchedulerView IDs Cmd.exe Popups
Once I realized a batch file must be responsible for the popups, I used the tool to search for *.bat. The only item it found in my entire library of scheduled tasks was named FUB_Send.bat. As soon as I edited that file to keep it from closing upon completion, I ran it. I recognized it immediately as the elusive popup I'd been chasing. Upon reading its output and realizing it wasn't working, I simply renamed the file with a .tab (bat is short for batch, so I turned it backwards). If I ever need it, I can rename the file easily and restore it to working order in a jiffy. But right now it can't run, so it won't be popping up any more.
Turns out it's a part of the self-updating capability of my current device driver update program, SlimWare Utilities' DriverUpdate. I confirmed my diagnosis when a search of their user forums turned up a handful of other posters with the same symptoms. The title of the thread was the clincher "Strange command prompt box opens." Because I'm perfectly capable of running my own updates, I had no problem killing this problem by rendering the batch file invalid.
---
September 7, 2016 10:43 AM
Windows 10
,
Windows Boot Disk
With UEFI replacing BIOS on most modern PCs, and SSDs for boot drives, many rigs use fast boot settings to launch into action as quickly as possible. Some machines boot fast enough to make detecting and responding to Function key input problematic. Microsoft recognizes this, and has added new capabilities to Windows 10 to instruct the PC to use an alternate boot source as part of system restart. It's not without some "interesting wrinkles" however. I discovered some of them in learning how to boot Win10 from USB media on my various tablets, notebooks, and desktop PCs recently.
Advanced Startup Lets You Boot Win10 From USB Media
There's a new Advanced Startup directive that appears in the Windows 10 Recovery menu. You can access this option in at least two ways:
Click Settings, Update & Security, Recovery, then click "Restart Now"  under Advanced Startup
Type "Advanced Startup" into Cortana (search box), click Change Advanced Startup options, then click "Restart Now"
If you can get to your UEFI/BIOS during bootup easily, you can also use an alternate boot selection outside the OS to target an alternate boot source, including bootable USB media. My ThinkPad laptops make this easy using the blue "ThinkVantage" button. On fast boot desktops, this is usually not an option unless one disables fast boot beforehand. But this technique works on all of my Windows 10 PCs across a wide variety of machine types: all-in-ones, mini-itx PCs, convention desktops, laptops/notebooks, and hybrid devices (a Surface Pro 3 and a Dell Venue Pro 11 7139).

Restart now means what it says, so be sure to save all work before clicking the button!
Potential Gotcha 1 When You Boot Win10 From USB Media
I did run into a couple of gotchas when using this facility on my various PCs. When you click the "Restart now" button, it performs an immediate reboot. After bootup, it produces a "Choose an option" screen that includes "Use a device" among its selections. That's the one you want to pick. So far, so good…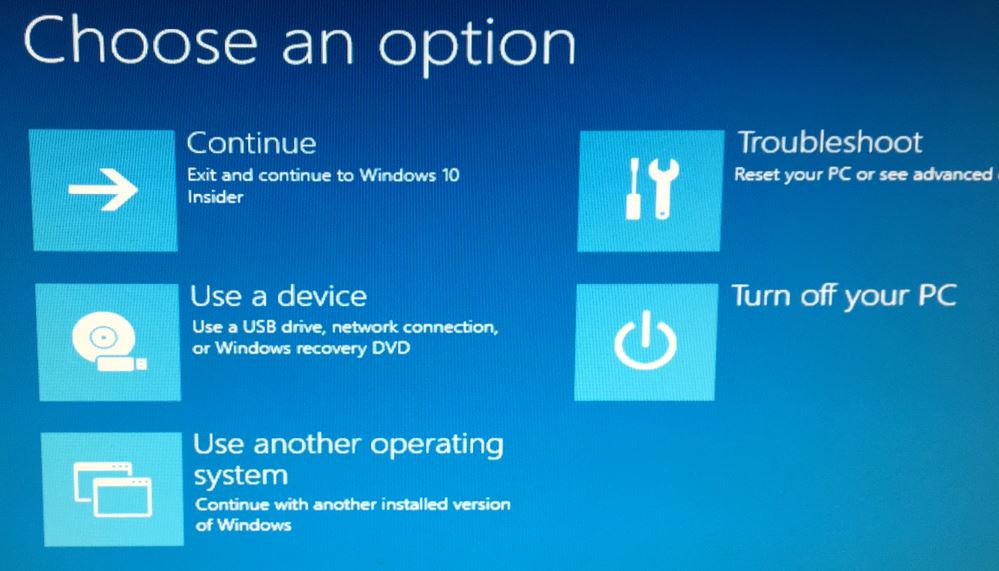 Next up, comes a list of devices from which you can choose. This is where things get interesting, because device names aren't always crystal clear. On my desktop PC, the device name obligingly reports the make and model of my USB Flash drive. That makes it easy to select as my boot source, as shown (Mushkin).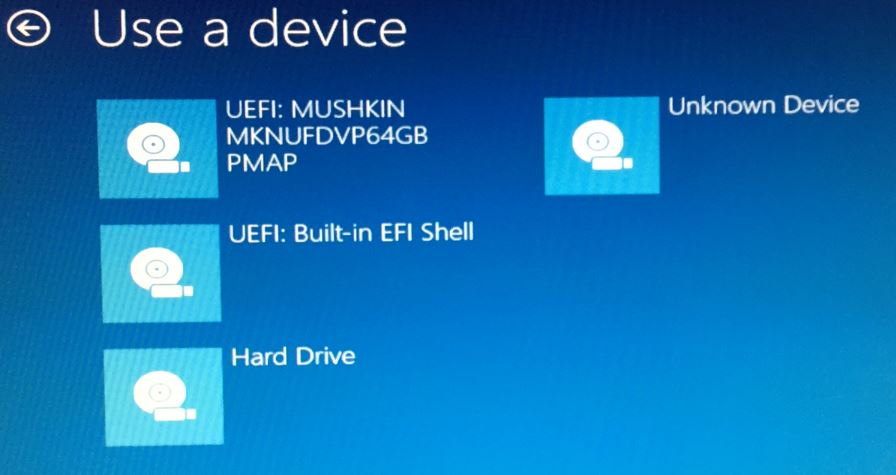 But on my Lenovo X220 Tablet, my options include only a bunch of generic names such as USB CD, USB FDD, ATAPI CDO, and ATA HDD1, among others. I used the ThinkVantage key to invoke F12 boot selections to see how my boot UFD appeared there to learn that I wanted the one labeled USB CD (go figure). That was my first gotcha. It may require rebooting once to see what the default options, then again with the UFD plugged in to see what's new in the mix. Ultimately, that's what I did on the X220T to use the Windows Advanced Startup Options facility.
Potential Gotcha 2
Another gotcha also manifested when I first started using this tool. As is my typical practice, I remoted from my production desktop to a test machine to get to work. But when I did, no Advanced Startup Options appeared on the Settings/Update&Security/Recovery page. Turns out it's not accessible via RDP. Don't bother trying…
Gotchas aside, the facility is a good one. It's worth using when you need an alternate boot source for a PC for troubleshooting, repair or installation. Add this one to your bag of admin tricks, please!
---
September 6, 2016 11:58 AM
Rooting around for a good way to view current drive letter associations at the command line this weekend, I stumbled across command line access to the Windows Management Interface, aka WMI. Known as WMIC (the WMI command-line utility) it delivers access to and control over all kinds of Windows settings and information. Right now I'm still just discovering WMIC , and learning about what it can do and how to use it. Even so, I already know it's well worth digging into. That goes double for those who write command-line or PowerShell scripts, or Windows OS utility programs.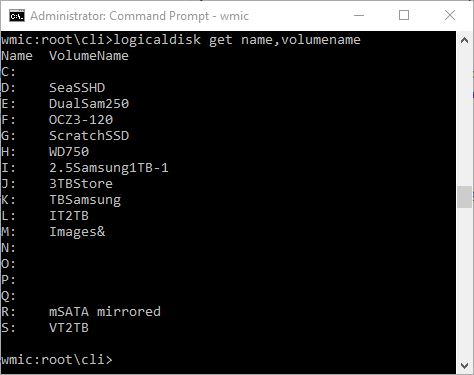 Here's a nice example that shows drive letters and their associated volume names at the command line.
Discovering WMIC via Drive Info at the Command Line
Working on test machines this weekend, I found myself facing another round of post Win10 install cleanups with holdouts in Windows.old. Having already blogged about this and knowing the drill, I booted into a Windows 10 UFD to root them out. That was when I found myself jumping to Google to refresh my memory on viewing current drive associations. In turn, this led me to WMIC through a Windows Club story entitled "List Drives Using Command Prompt & PowerShell in Windows 10."
I like my example better than theirs because it shows volume name as well as drive letter. Together, that data lets me identify exactly which drive is which on my systems. This information didn't come as easily as I might have wished, however. Even though there's a ton of WMIC documentation available, there's very little overview or "best use" discussion of this awesome utility. The best of what is around comes from Microsoft, as you might expect. I'll recommend the "WMI Command Line Tools" section of the WMI Reference as a good place to start. The "Useful WMIC Queries" post to the Ask the Performance Team blog (2/17/2012) is also pretty helpful.
As for myself, I'm going to keep digging in and learning for some time yet. Count on further WMIC blog posts from me as I figure things out. Stay tuned: good stuff ahead!
---
September 6, 2016 9:00 AM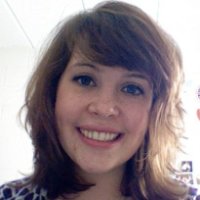 Profile: Margaret Jones
Storage is a critical part of a successful VDI deployment; most IT administrators already know this.
There are many different reasons VDI can fail, but one of the most persistent — pun intended — is unhappy users.
VDI can make users unhappy if it's buggy, laggy or slow, and the right storage for VDI deployments can help remedy all those things. Because virtual desktops read and write equally, admins must think about storage for VDI differently than they do read-heavy server virtualization. Virtual desktop workloads are also dynamic, and they change throughout the day from the initial boot storm at 9 a.m. to the mass log off at 5 p.m. The reads and writes are randomized, so the storage that admins pick to support VDI has to be able to handle those requests.
That being said, there's a new breed of storage on the market that could provide even better storage for virtual desktop infrastructures. Companies can go the old-school route of buying storage hardware, or they can buy hardware that has software preinstalled to optimize how the storage works. Unlike deduplication, data is optimized before it's written to primary storage, which is more efficient and takes up less storage space. As arrays with expensive flash become the norm for VDI environments, admins value the ability to use less space with these software-defined hardware products.
There are also vendors who offer software-only storage optimization. These products use existing storage better, either by accelerating storage that's already there, or creating a virtual storage area network from disk that's already there. In either case, the result is faster storage that can handle the heavy, ever-changing workloads of VDI.
Learn about these software-only vendors, as well as whether software-based optimization is better than hardware in our three-part guide, Software-Centric Storage Selections for VDI.
---
September 3, 2016 11:53 AM
Around the beginning of each month I look at what's happening with Windows marketshare. Courtesy of TenForums poster Lehnerus2000, I show activity for July and August with a pair of vertical bar graphs abstracted from NetMarketShare.com. Trends for Windows marketshare Jul-Aug 2016 don't hold many surprises, except perhaps for two marginal items. That is, Windows 7 marketshare actually edged up slightly over this period (from 47.01% to 47.25%). So did Windows 8.1 at  an even more marginal 0.12%. But those gains are probably within the margin of sampling error. Thus, it's probably no indicator that Windows 7 and/or 8.1 are gaining desktops.

Windows 7 holds on, 10 keeps climbing, and the others all decline or stay put.
[Click image to see full-size details.]
Windows 10 shows growth of around two percent (1.86% to be more precise), while Windows XP dips about one point (0.98%). Other losers include the Mac OS X and Other headings, which together gave up about 1.2%.
What Does Windows Marketshare Jul-Aug 2016 Augur?
The most interesting thing is that August growth of two percent comes after the free upgrade period has come to a close. Consider Microsoft's contention that 300 million PCs were running in May, 2016. Consider also its current "By the Numbers" assertion that it's running on 350 million device right now. That indicates that 720 million computers are running Windows 7. Given a two percent swing per month going forward, that puts Windows 10 on 622 million devices in December 2018. Alas, that's well short of Microsoft's goal of 1B. That leads to one sure and unavoidable conclusion: either Windows 10 adoptions need to pick up the pace or MS ain't gonna hit that goal.
My best guess is that with the US armed services getting serious about migration later this year and over most of next year, other large enterprises and organizations will follow in 2017 and 2018. Thus, it's possible that MS might indeed make this goal. But it will depend almost entirely on business uptake. Stay tuned: I'll keep you posted.
---
August 31, 2016 12:05 PM
Windows 10
,
windows installer
While working on one of my test systems this morning, I realized one Win10 image hadn't run since late July. Because the Anniversary Update (AU) went public on August 2, it was still on Build 1511. But when I ran Windows Update, it applied a raft of updates for Build 1511 without offering the AU. Even remembering that Microsoft promised to stagger access, I was shocked that Win10 AU doesn't auto-apply 29 days after release.
Fortunately, I had a bootable UFD with the 1607 installer. I simply plugged in that drive, then ran setup.exe from File Explorer. This launched the Win10 AU installer, and got things underway. It was even smart enough to suspend my dual-boot configuration. Thus, installation completed without requiring me to catch the various reboots as they occurred. In general the process went smoothly, and completed in about 40 minutes.
Ask Yourself: Why Win10 AU Doesn't Auto-Apply Itself?
After going through a belated AU update, I'm curious how MS offers AU to Current Branch PCs still running Build 1511. Surely, I can't be the only user who's got a physical or VM-based install not yet updated to 1607? I'm guessing that MS established rules for offering the update to smooth out traffic immediately after the release. I'm guessing further that they haven't yet changed those rules. I wonder: how long before they add the Anniversary Update directly to the update stream? I guess only time will tell!
Should you find yourself in this situation, you can access the Media Creation Tool to build an installer. Or, you can grab the Windows 10 AU ISO and build your own media instead. (I usually take the latter path, because Rufus gives me more and better options for building a Windows installer UFD.) Either way, you'll be able to short-circuit Microsoft's "delay before AU offer" mechanisms apparently still in place. If you can't beat Windows Update, you can work around it instead!
[Note: persistent apps and drivers do stick around in Windows.old after the anniversary update. Read my blog post "Anniversary Update Post-Install Cleanup" for instructions on removing them. Long story short: a bootable repair or recovery disk will help that process along.]
---