---
November 30, 2016 2:01 PM
Toolbox
,
Windows 10
,
Windows Update Management
,
Windows Updates
Late last month, I wrote a blog post about Windows Update (WU) Alternatives. Little did I know at the time that one of the tools I wrote about would so soon save my bacon. I'm talking about the Windows Update Minitool, aka WUMT. I learned this morning that WUMT does updates when WU can't or won't handle them. In this case, I'm talking about KB3201845 a Release Preview cumulative update to the Current Branch build.
First, I tried downloading that update through the usual means, and the download hung at 90% complete. Two more tries left me hanging, first at 45%, then at 0%. Realizing I was heading in entirely the wrong direction, I next downloaded the catalog element for KB3201845. I didn't get it from the Microsoft Update Catalog (can't find it there yet); I got links from TenForums.com (x86, x64). Because that cab file wasn't self-installing, rather than find and use an installer, I turned to WUMT instead.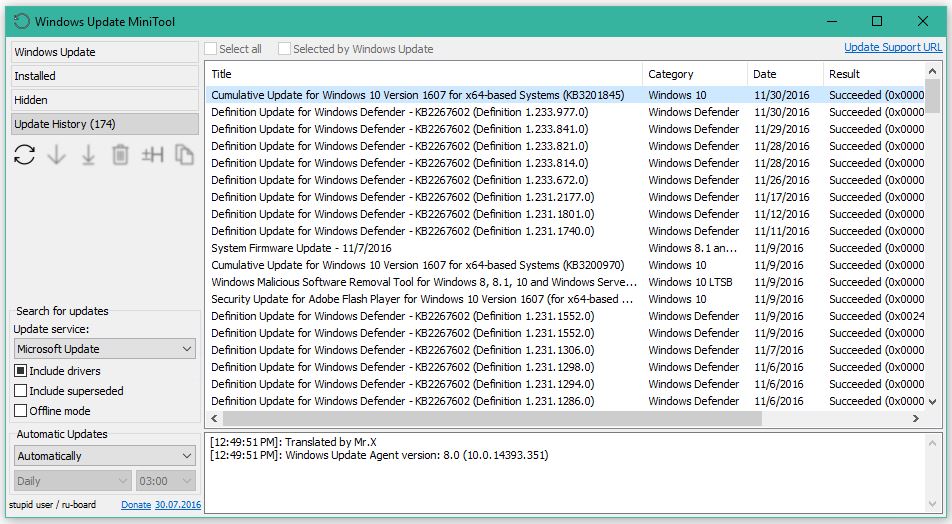 The ultimate outcome shows up as "Succeeded" in WUMT's Update History.
[Click image for full-size display.]
How Is It that WUMT Does Updates When WU Can't or Won't?
Apparently, because WUMT accesses Windows Update servers independently, it can complete downloads and installations when WU is either blocked or misfiring. Though it took 3-4 minutes to download the ~937 MB that KB3201845 occupies on disk, it was able to complete that task on the first try. It also took some while to complete that installation, especially when factoring in the prep-before-reboot phase (5 minutes) and a longer-than-normal bootup sequence (5 minutes) that followed. But it did do the job, and nicely at that.
Assiduous Windows admins and power users will want to grab a copy of this free utility right away, which is available courtesy of the great guys at MajorGeeks.com. It's already proved its worth in my toolbox. Why not let it do likewise in yours? If you need further inducement, it also works with Win7, 8, and 8.1 as well as 10.
November 28, 2016 1:03 PM
Command Line Processor
,
Windows 10
,
Windows PowerShell
Here's an interesting tidbit from Dona Sarkar's announcement for Windows 10 Build 14971 from the Windows Insider Program. Though it appeared on 11/17/16, I've been digesting this one for a while. Also, my experiments have produced thankfully positive results. The big news in that blog post is: Build 14971 drops Cmd.exe for PowerShell. The results of this change are best understood in showing output from Winkey-X for 14971 side-by-side with Current Branch.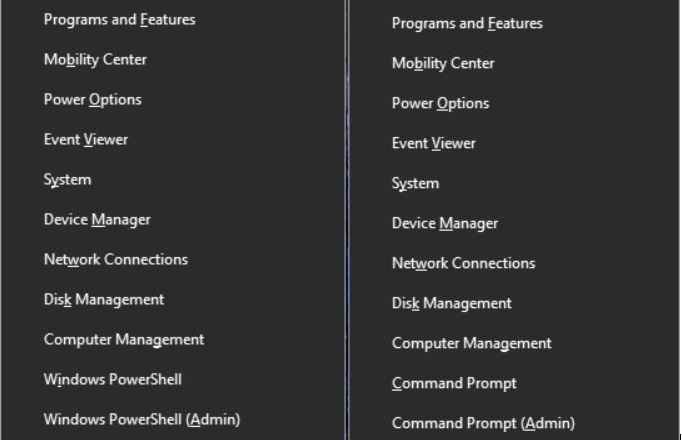 Build 14971 on left, Current Branch on right, shows that PowerShell replaces Command Prompt.
[Click on image for full-size view]
Is There a Gotcha in Build 14971 Drops Cmd.exe for PowerShell?
After I'd said: "Yikes!" my immediate concerns produced two burning questions,
Does this mean normal command line syntax won't work anymore?
Do batch files (ending in .bat or .cmd) run inside PowerShell?
Fortunately, recent experimentation shows that those questions' answers are good ones. Thus, it's a relief that normal command line syntax works fine in PowerShell. And for those with large existing collections of batch files, it's probably equally comforting that batch files run just fine inside PowerShell. But there are some subtleties in running batch files inside PowerShell scripts. Some experimenting with multiple approaches usually produces necessary outcomes. But only bat file invocation and assignment of desirable variables are tricky. This StackOverflow exchange provides details: Safest way to run BAT file from PowerShell script.
Can't Give Up Cmd.exe?
MS must be learning from past user reactions, because it also published workarounds to keep using cmd.exe instead of PowerShell. For one thing, cmd.exe still works. You can launch it through Cortana (the search box) or through Windowskey-R (the run box). Here's a quote from Sarkar's blog post on opting out of this change altogether:
For those who prefer to use Command Prompt, you can opt out of the WIN + X change by opening Settings > Personalization > Taskbar, and turning "Replace Command Prompt with Windows PowerShell in the menu when I right-click the Start button or press Windows key+X" to "Off".
Maybe MS finally understands that not all Windows 10 users want or welcome every change. Personally, I think this change is a good one. But leaving the door open to old, tried-and-true tools and environments helps maintain good will with those admins and power users who feel differently.
---
November 25, 2016 12:23 PM
Anybody who follows this blog knows I turn regularly to Sergey Tkachenko's Winaero.com site for news and the occasional admin tool. I've been aware of his free (donationware, actually) Winaero Tweaker for some time, but never dug into it before. After seeing it come in for "honorable mention" repeatedly on TenForums.com lately, I decided to check it out. So far, I've found it as good at managing Windows settings and appearance as anything I've ever worked with. Its "Behavior" controls provide a good illustration.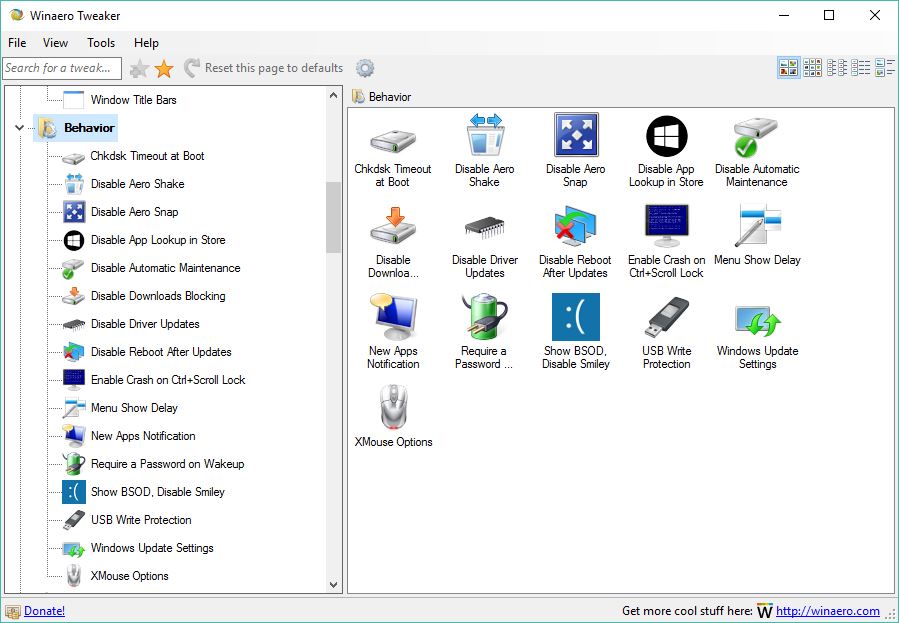 Lots of nice tweaks here, for sure.
[Click on image for  full-size view.]
Winaero Tweaker: Behavior Tweaks
These various items testify about what Winaero Tweaker is and can do. Its various Disable settings are particularly useful, and include:
Automatic Maintenance (turns off the automatic maintenance task)
Downloads Blocking (turns off blocking of file downloads in IE)
Driver Updates (turns off driver downloads in WU)
Reboot After Updates (turns off automatic reboot after updates, and wake to install updates)
These items address common complaints about default Windows 10 stuff, and make it easy to adjust the OS to less intrusive or disruptive behaviors. I also find the "Show BSOD, Disable Smiley," USB Write Protection, and Windows Update Settings items helpful, too.
Winaero Tweaker also offers interesting boot and logon controls. These include easy access to boot options, lock screen behaviors, and login screen and behavior controls. They turn laborious Registry tweaks into one- or multi-click controls. You'll also find nice network and user accounts controls as well, and various goodies here and there. I especially like the "Reset Icon Cache" item in the Tools section. It's handy for fixing occasional icon cache corruption issues. In fact, the more you look around inside Winaero Tweaker, the more you'll find to like about it. Highly recommended!
---
November 23, 2016 5:10 PM
This will be the first in a multi-part series on free or low-cost tools worth adopting for Windows desktop admins. Here, we take a look at two free tools for Windows file management: WinDirStat and TreeSize Free. These are two widely used tools for inspecting and managing Windows files. Use them for a look at disk layout, or for finding large files (or folders) potentially for pruning. Both tools are highly regarded and frequently recommended at TenForums.com. I've used WinDirStat for over a decade myself, and am learning to appreciate TreeSize as well. Both make admirable elements in the Admin Toolbox: File Mgmt category.
Admin Toolbox: File Mgmt Item 1: WinDirStat
WinDirStat is a SourceForge project that has been around for a long time. It's biggest strength is the "treemaps" it makes to depict how files lay out on a disk. These are based on the brilliant work of Dr. Ben Shneiderman, Distinguished University Professor in the Department of Computer Science at the University of Maryland, College Park, and the founding director of the University's Human-Computer Interaction Lab. Here's what WinDirStat shows me about the C: (Windows boot/system) drive on my production PC:
The big blocks provide immediate targets for investigation (and sometimes, cleanup).
[Click on image for full-size, more legible view.]
Here's what's hiding behind those big blocks by color:
Green (left, top): The biggest is my archive.pst file, which resides in my …\Documents\Outlook Files folder at 10.1 GB; its neighbor is my <ms-account-name>.pst file, which is now over 3.3 GB in size (that tells me its time to do some pruning there).
Red (center, top): The biggest is hiberfile.sys (the Windows hibernation file) at 12.8 GB; its neighbor is pagefile.sys (the Windows paging file) at a relatively svelte 4.7 GB given that my system has 32 GB of RAM.
Magenta (right, bottom): these turn out to be two Apple Device Software Update files (.ipsw) for iTunes at 2.3 and 1.7 GB, both in my Recycle Bin. Time to take out the trash!
The obvious appeal and utility of the visual layout of treemaps shines through clearly in this example. Ultimately, it helped me recover more than 7 GB of disk space (mostly from the .ipsw files in the Recycle bin).
Admin Toolbox: File Mgmt Item 2: TreeSize Free
TreeSize Free comes from German software company JAM Software GmbH. It presents users with a straightforward file hierarchy view of a target volume, with items listed in descending size. The tool is not as visual as WinDirStat. But it shows you where the bulk is. It also provides more insight into the sometimes mysterious System Volume Information folder found  on every NTFS volume (shown on the following screen cap):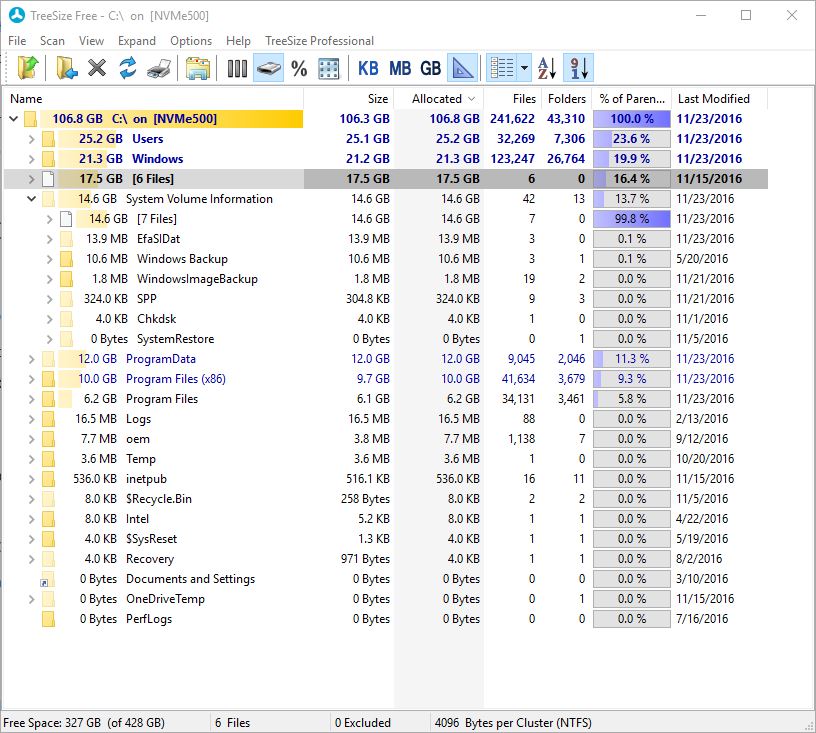 TreeSize isn't terribly visual, but provides insight into the hidden contents of System Volume Information and more.
[Click on image for full-size view.]
Those who aren't as visually inclined or who really want to dig into the gory details of Windows' hidden files and folders will appreciate how TreeSize shows them what's up under the OS's hood. It's equally good at helping users focus in on the biggest files and folders on a drive, albeit on a purely numerical basis from the file listings it provides.
Either of these tools will help admins or power users bring file systems under control. I myself prefer WinDirStat, but TreeSize can tell you some things that WinDirStat cannot. That makes both of them useful elements in the Admin Toolbox!
---
November 22, 2016 9:40 AM
Enterprise Windows Computing
,
Windows 10
Advertisements are pretty unavoidable on your favorite websites and social media. Now users have to deal with them on Windows 10, too.
On its lock screen, Windows 10 displays ads for apps, games and movies users can download from the Windows Store. Windows 10 Home, Pro and Enterprise all come with the Windows Store — and its ads –built in.
"It's something I've accepted, but that's not to say I like it," said Steven Powers, IT manager at Millar, a medical technology provider in Houston. "I hardly notice it now because I've become so accustomed to it. If I were a paying person, I'd be more upset over it."
Millar deployed Windows 10 Pro as a free upgrade, and the IT department hasn't heard any complaints from users about ads yet, Powers said. But users of Reddit's forum for systems administrators have taken issue with Microsoft advertising to their enterprise users, calling it "unacceptable" and "insane."
Some commenters complained that Microsoft posts ads despite businesses having already paid for Windows 10, but organizations that took advantage of the operating system's free promotion period said it's just the cost of using that complimentary offer.
Windows 10 runs on desktops and tablets, so it shows a lock screen on PCs similar to those on most smartphones and tablets, which is where the ads appear. The operating system displays suggested apps to download in the Start Menu as well.
There are ways to block the Windows 10 ads, however. In the Enterprise edition, administrators can turn off both the lock screen and Start Menu ads through Group Policy. In the Home and Pro editions, disabling the lock screen ads is a matter of turning off Windows Spotlight in the Settings tab. Users can turn off Start Menu ads in Home and Pro by switching off the Occasionally Show Suggestions option in the Start settings.
Another pop-up nuisance is when Windows 10 asks users for input on their experiences. If a Microsoft application adds a new feature, for example, Windows 10 randomly displays questions asking users what they think of it. Users can close the pop-up windows without responding, but it can be distracting when they're focused on something else.
"That's kind of annoying," Powers said. "You might feel obligated to answer."
---
November 14, 2016 5:00 PM
Desktop images
,
Desktop Management
,
Personalization
,
Windows 10
The Windows desktop offers plenty of personalization controls to enable users to improve how desktops appear on screen.  This includes the ability to incorporate any number of way-attractive Win10 eyecandy desktop themes. This trick takes three steps:
1. Download images you'd like to see,
2. Put them in a directory where you can find them
3. Make some key personalization settings.
Here's a screen capture that shows how I employ a set of panoramic forest scenes to show something different and idyllic every 10 minutes.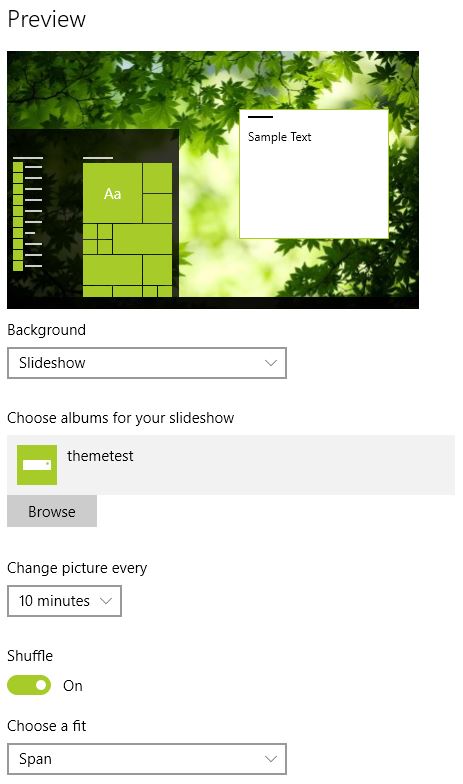 There are several important observations to make about using this tool. I'll tackle them in the same order in which they appear above.
Download Win10 Eyecandy Desktop Themes
Microsoft offers oodles of Desktop Themes for download online. I like to pick panoramic items because my production desktop has two full HDI monitors side-by-side. That way, I can use a single image to span both monitors with tasty images of my choosing. The Microsoft stuff is generally great, but you can also try out this Google search to browse through countless third-party purveyors as well.
Put Win10 Eyecandy Desktop Themes in a Folder
Once you've grabbed a theme you need to be able to find it for re-use. I usually create a folder named "Themes" with named subfolders ("themetest" for this blog post) to pick from. You also need to unpack the contents of the themepack or other file layouts. I use 7-zip, which can extract the contents of just about anything, to pull those images out into my target older.
Settings for Win10 Eyecandy Desktop Themes
The key to seeing the results of your work is to right-click anywhere on the desktop that's not occupied by an icon or open window. Select Personalization from the resulting pop-up menu, and you'll see a display like the one depicted above. You want to browse to the folder where you put your theme's images, using the Browse button. Then select a time interval at which the picture will update, and turn Shuffle On (to keep them changing). For a panoramic view, you must also choose the value named "Span" in Choose a fit. Other options include: Fill, Fit, Stretch, Tile, Center. They are pretty easy to understand so I won't explain them. Or, you can fool around with this setting to "learn by seeing" what they do. Easy-peasy.
Enjoy!
---
November 11, 2016 1:57 PM
firmware update
,
Surface Pro
,
Windows 10
I've owned and enjoyed my Surface Pro 3 hybrid laptop/tablet since I purchased it in late October 2014. Though there's been some recent controversy over battery life for this device, it's always worked reliably for me. In fact, it's never let me down when I needed it. All that may be about to change, though, thanks to an 11/7/2016 Firmware update. That update came without any advance warning at all. Sadly, that meant I personally had no chance to "heed SP3 firmware update warning"  as this blog post tells its readers..
Let me explain with a snippet from this November 9 story by Andy Weir for Neowin.net. It's entitled "Microsoft says it's fixed the latest Surface Pro 3 battery issues with new firmware update." Here it is:
Before installing, you should ensure that your Surface Pro 3 is plugged into AC power directly, not via the Surface Docking Station, and that all USB devices and external monitors are disconnected. Microsoft warns that you should "not disconnect from AC power while the system firmware update is being applied." Once the update is installed, you'll be returned to Windows, but Microsoft adds that "you'll need to do another restart for the new battery logic to take effect."

The firmware item is the one that bit me…
How Could I Heed SP3 Firmware Update Warning?
There's one small problem with this overall scenario. When updates arrive via Windows Update — especially Surface Pro firmware updates — I usually apply them the same day. MS itself included no warning to disconnect from the Surface Dock, and use the brick for A/C instead. And because I keep my SP3 docked when it's in the office, guess what? I fired off that update while the unit was docked.
I must say: this really, really ticks me off. Currently Battery Bar tells me that the SP3 battery is good for 3:00 or so. That value should be 8:00 and the new firmware fix is supposed to push it in that direction. If accidental docking prevents me from realizing battery life improvements, I'll be even more upset.
The Current WU Model Is Broken
Right now, WU users don't get to choose which updates to download and which ones to skip. To pick and choose, they must use a tool like the Windows Update Minitool or WSUS Offline Update instead. (I described both in my 10/27/2016 blog). I didn't take either option when I last updated the SP3 updates. But I definitely would have, had I known that the firmware item required me to use the brick instead of the dock. Alas, MS provided no advance warning, so I didn't know the usual automatic update strategy from WU was the wrong one to use.
These kinds of things happen from time to time. Thus, this problem shows a terrible flaw in the current "forced update" model for Windows 10. There will be times, like this one, where special considerations may apply or configuration changes need made before applying certain updates. MS needs to change its model so it can warn people about such things, and give them the option to delay or defer such items, instead of forcing all updates, all the time!
I don't know what this means for my SP3 PC battery. I'm running it through a series of full discharge cycles (and will use the brick, not the dock, to recharge — though I can't understand why that has to be) and can only hope my battery life will start climbing if and when the new firmware starts doing its thing. Sigh.
[Note: As the device is starting to discharge down to zilch, which I'm doing intentionally right now, battery life is starting to climb. It's up from 2:49 (169 min) to 3:14 (194 min), or 13% in dropping from a full charge to what currently registers as 61% charge. I'll report back at the end of the cycle, and after the next charge/discharge cycle as well. Maybe there's hope!]
---
November 9, 2016 10:04 AM
Windows 10
,
Windows Update Management
Yesterday, the latest Cumulative Update for Windows 10 Current Branch, KB 3200970 appeared. After installing that item, cleanmgr.exe reports that the 3.99 TB cleanup continues. I first reported this on October 12 after KB3194798 appeared, and it's back!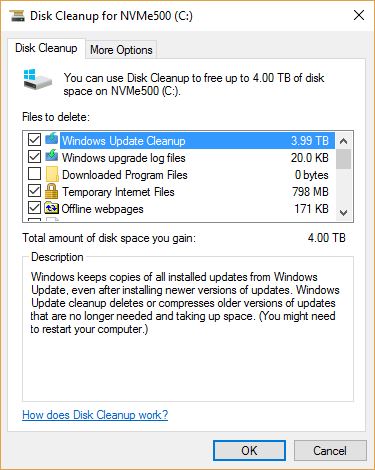 It's such a neat trick to clean up 3.99 TB from a smaller drive that MS is doing it again!
What's Up With 3.99 TB Cleanup Continues?
The same behavior I observed in the previous cleanup continues in this one. Disk Cleanup runs a long time (about 25 minutes on average across my half-dozen CB machines). It requires a reboot to fully flush the actual update files involved. And again, disk space recovered averages around 1.4 GB.
I'm not exactly sure what's going on inside the Cumulative Update file itself. Presumably, some hard-linked element is pretty pervasive in the OS file hierarchy. Given the way cumulative updates work, it's undoubtedly the same file that originally provoked this cleanup behavior. When the Unified Update Platform (UUP) gets rolled into the CB, this effect should disappear. That's because UUP downloads update elements in Cumulative Updates once, and only once. But until this new feature appears in the CB version of Windows 10, this giant cleanup will continue.
---
November 7, 2016 1:34 PM
SHARE
,
Windows 10
The UK website, The Register, has thoughtfully consolidated Windows 10 marketshare numbers from my favorite sources. They report that Windows 10 growth appears as flat as a board for the just-ended calendar quarter. In looking for explanations for what makes Win10 marketshare flat in Q316, look no further than the end of the free upgrade on July 29.
Here's a telling table of results from The Register's 11/2 article entitled "Windows 10 market share stalls after free upgrade offer ends:"

The values do vary, but the trend is undeniably flat across all sources.
[Source: TheRegister, 11/2/16]
Who Says Win10 Marketshare Flat in Q316?
The Register turned to three of my very favorite sources for OS marketshare data in compiling this table, so I'm happy to grant some credence to the results they present:
NetMarketShare.com aggregates web traffic from ~40,000 affiliated websites, and counts ~160M unique visits per month. While they can't truly represent the entire globe (mostly the more-networked parts, actually) they offer a useful approximation.
Analytics.usa.gov is more narrow and captures client/user agent info only from browsers that visit the US Government's thousands of websites. It's always a bit more leading-edge, because the USA is farthest down the Windows 10 adoption trail.
StatCounter is a web traffic analysis tool that offers both free and for-a-fee tracking services. Based in Dublin, the company claims to represent three percent of all global websites (that's 33M websites, based on current Internet Live Stats values).
Though values do differ between NetMarketShare and StatCounter, they are in the same ballpark. More important they show only negligible growth month-over-month for the previous quarter. (Even a slight decline, according to NetMarketShare).
Apparently, Windows 10 has hit the wall. In the absence of the free promotion, it does indeed appear stalled. Whether this is a temporary lull while the market catches its breath or a major future vexation for MS, only time will tell.
[Note: here's a shout out to VIP Member lehnerus2000 at TenForums.com, whose 11/5 post brought The Register's story to my attention. Thanks!]
---
November 4, 2016 1:32 PM
Windows 10
,
Windows Update Management
Yesterday, Microsoft unleashed Windows 10 Insider Preview build number 14959. Usually I don't cover previews here, because they sit at the bleeding or leading edge of Win10 technology. But a new feature in this build warrants mention. That feature is the Unified Update Platform, or UUP: it downsizes cumulative downloads and upgrades. A 11/3 Windows Experience blog post describes them as "differential downloads." Basically, the unified update platform reduces update complexity … and update size.
Here are some details from that blog post:
We have converged technologies in our build and publishing systems to enable differential downloads for all devices built on the Mobile and PC OS. A differential download package contains only the changes that have been made since the last time you updated your device, rather than a full build. As we rollout UUP, this will eventually be impactful for PCs where users can expect their download size to decrease by approximately 35% when going from one major update of Windows to another. We're working on this now with the goal of supporting this for feature updates after the Windows 10 Creators Update; Insiders will see this sooner.
What Does the Unified Update Platform Do?
Update checking is revamped with UUP. Data volume is cut, and processing on target devices (especially mobile ones) reduced. With UUP, asking for updates means checking for new items not yet applied. Only missing updates are assembled and downloaded. And with WU handling more processing, update checks complete more quickly. In terms of look and feel, WU looks unaltered. But behind-the-scenes optimizations make it faster and more efficient.
That's the promise, anyway. Once UUP it begins rolling out we'll know more. And by the time next Spring's Redstone 2/Creator's Build is unleashed in March, 2017, we'll know what's what. Warning! If recent issues with WU continue, there could be a few bumps for Insiders along the way. That's what makes Windows-watching such an interesting sport!
---