---
June 13, 2016 3:49 PM
Apprenticeship
,
apprenticeships
,
BIS
,
Digital skills
,
European Commission
,
Pitcom
,
Trailblazer
This morning the House of Commons Science and Technology Select Committee released its report on the "Digital Skills Crisis"  This afternoon the House of Lords debated the government response  to its "Make or Break" report last year . Last week the European Commission published a proposal for a Skills Guarantee . Meanwhile BIS is ploughing ahead with byzantine routines for a return to the type of training grant and levy scheme that was  scrapped (for good reason) in 1980s.  Unfortunately though dead, the idea of grants and levies, job creation schemes for bureaucrats, will not stay buried. In 1992 I helped kill an attempt to revive it with a Bow Group Paper on the theme of "Training for jobs not just jobs for trainers".  The processes proposed by BIS to fund "approved "training organisations to deliver apprenticeships which meet criteria dictated by officials not employers, make the average European "initiative" look like a model of efficiency.
I therefore applaud the recommendations by the Select Committee that
"Government needs to work with closely with employers, higher education institutions and schools to understand the apprenticeship marketplace, to ensure that education aligns with industry's requirements, and that apprenticeships are delivered in a flexible way to adjust to future changes in the digital sector"  (Para 54)
"Government should emphasise the need for more digital skills components in all apprenticeships … " (Para 55)
"should review its Trailblazer initiative, making it more streamlined and accessible … simplifying the scheme's processes" (Para 56) and
"… make it easier for industry to partner with universities and colleges to support student teaching … work placements … allow the cost to be written off against the Apprenticeship Levy contributions" (Para 57)
I am less happy with the recommendation that  "The Government should review the qualifying requirements for the new IT roles added to the Tier 2 visa "shortage occupation list" , making it easier and more flexible for SMEs to recruit top talent from outside the EU" (Para 30).  The European Commission proposal for a "Skills Guarantee" to help adults stuck in low paid jobs is more forward looking but the Committee's recommendation is perhaps inevitable,  given the 50 years of policy failure summarised in my evidence to the House of Lords report (see pages 1057 – 70) and referred to in my blog entry, describing the need to break out of groundhog day, when that report was first published.
"The crisis is over. The patient is dead" .
We failed to use the past "crises" as a catalyst for change. Things came to a head during the run up to Y2K and the "false start" of the transition to mass-market, Internet-based on-line systems. My 2001 IT Skills Trends report was about surviving the bursting of the dotcom bubble and preparing for the skills that would be in shortest supply when recovery came – in 2005 – 6. But that recovery did not come. By 2006 demand and salaries for those jobs which could easily be moved off-shore had stagnated. Much of the software and support industry had come to be staffed by a mix of overseas systems development and imported contract labour. We were facing the consequences of our inability to retrain our existing workforce, let alone our failure to educate and train our children.  I stopped writing the reports. They had become too depressing and the only ones taking action were those who helped write them.
An Apprentice Levy without a credible, let alone efficient, Grant process
Today we have a curate's egg  wth unemployed computer science graduates in parallel with unprecedented shortages of competent and trustworthy recruits for Fintech and Security roles and another exercise to dig up the dodo of levies and grants – this time with the grants ring-fenced to meet the costs of "approved providers", officials trying to dictate the requirements that employers are allowed to have and different processes for England, Wales, Scotland and Northern Ireland. Last week I attended a briefing session for employers. Those serious about training their future employees with the skills they will need were already looking at how to bypass the system, writing off the levy as a payroll tax on those jobs they could not realistically subcontract or move out of the UK. It was, as the Commons Select Committee has pointed out, not only unfit for purpose when it comes to the needs of SMEs (Para 30), it looks unlikely to meet the evolving needs of those large firms who already train their own and/or those in their supply chains.
But markets do not stand still. The Commons Select Committee call for the annual "dynamic mapping" of initiatives against demand so as to create a long term mechanism for adjusting the strategy (Para 29) is therefore particularly welcome.
The recommendation that Government should commit "to work with the Tech Partnership to develop industry-led, vocationally focused careers advice …" (Para 43) is also most welcome, but this should be extended to cover school-leavers. We can no longer afford to peddle the immoral fantasy that the majority of our children will benefit from starting their working lives saddled with student debt after spending three years to become less employable than if they had been paid to do a graduate level apprenticeship. In 1982, in "Learning for Change" I attacked both
"the examination treadmill to which we chain our adolescent youth in a set of puberty rites crueler than those of primitive Africa, At least in Africa they do not label any of the participants as failures" and
our confusion of "education" with taxpayer subsidy for the middle class ritual of kicking the fledglings from the nest.
The many recommendations of the Select Committee with regard to computing schools in schools are worthy but the most important boring is  Paragraph 83 where it recommends working with the Tech Partnership "to raise the ambition for, and coverage of, industry led digital training, and to make it easier for business of all sizes to get involved".
The need to "break open the educational ghettos" has been a key message since  1982, when PITCOM organised for relays of school-children (from 30 schools) to man an exhibition in the Upper Waiting Room of the House of Commons (26 computer systems, up to 14 running at any one time running off three power points, at a time when Parliament had no facilities for schools visits!). That exhibition was attended by 120 MPs: one returning six times to get a group doing Economics A Level to run variations on the Treasury Economic Model – hence my long-standing support for Donald Michie's idea that MPs should be able to simulate the effect of the legislation, including amendments, which they are expected to approve.
That was over 30 years ago. It is therefore particularly sad that the same messages have to be repeated as though they are new. The reason is linked to the prevalence, evident in paragraphs 70 – 76, that teachers (whether in School, College, University or Industrial Training Centre) have to be expert in IT in order to educate their pupils/students.  If that is correct then there is no solution – other than to rely on those (in other parts of the world) who use their limited supply of skilled educators to supervise the delivery of blended learning (mix of packaged learning materials, personal contact and supervised work experience) by mixed teams of assistants and subject experts: which is what successful digital "informal learning" groups (para 70 – 77) as well as enlightened employers, have been doing since before school computing curricula or computer science degrees were invented.  Hence some of the recommendations in my own submission to the Select Committee
April 20, 2017 11:52 AM
Brexit
,
Internet
Last week I used the appeals for support for the forthcoming demonstration in support of the CWU Campaign to halt the closure of the SE27 Sorting Office to illustrate how Royal Mail appears to be exiting the Internet Delivery market – albeit probably by accident rather than design. It has been suggested that I post a couple of photos to illustrate Royal Mail's dilemma and why the protestations of those, from all parties (I too have signed the petition), who will be demonstrating against the closure, should not be taken at face value.
I anticipate that, on the day of the demonstration, the council will enforce parking regulations and remove vehicles parked on the pavement outside the sorting office, blocking access, including for the disabled.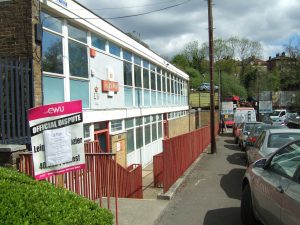 But let us stand back and look at why Royal Mail does not regard the location as suitable for an Internet Age sorting office
It is down a narrow side street off what is probably the United Kingdom's most neglected High Street outside the some of the former Welsh mining towns.
The surrounding area is wealthy and the leafy suburban streets are regularly clogged with vans delivering goods ordered over the Internet.  But the heart of West Norwood, (once a centre for leading-edge radio-age technology alongside a vibrant artistic community, where the night buses and trams from the West End carrying actors and musicians met the daytime transport for wealthy commuters from the City with competing bus and tram garages), has become run down with decades of planning blight.
Even the library has been closed for five years and will now be replaced by something adjacent to the foyer of a multi-screen cinema with no parking.  Nearby, the site of one of the UK's great technical colleges, once the home of marine radio training (one of the largest manufacturers was nearby), supposedly reserved for educational or industrial use  is now occupied by a Big Yellow storage depot and some derelict land. That land might make a good location for a sorting office, but is not available because some-one else wishes to use it for a distribution depot. Meanwhile those who think the area would be ideal for multi-media businesses who cannot afford Shoreditch, are ignored because the area currently lacks globally competitive broadband backhaul.
West Norwood does need an Internet Age delivery and collection service. But Royal Mail also needs Internet Age sorting offices. Fighting to keep a depot that is probably suitable for neither, does not make sense.  But nor does making customers make a "two bus" journey to collect that which could not be delivered because they were out.
What has those to do with IT?
It brings the arguments down to earth.
The Brexit election is likely to see the IT and Internet policy arguments in a number of other areas brought down to earth with a bump . These include:
whether freedom of movement is about genuine skills shortages or about replacing UK professionals by cheaper Indian (more than EU) technicians.
whether those who fail to use technologies now available to protect customers from abuse should be able to avoid legal liability for the consequences.
cross-boundary co-operation against on-line fraud and tax abuse as well as other forms of computer and Internet assisted crime
Then there is the question of whether the negotiations should focus on the future relationship we want with Europe, the bits of the current relationship we want to keep or the divorce settlement. My own view is that we should focus on the future relationship we want – including arrangements for the physical delivery of goods across borders (whether ordered over the Internet or not). This beings us back, of course, to the for a proper discussion on the future of Royal Mail.
---
April 14, 2017 12:26 PM
The campaign against the closure of our local (SE27) Royal Mail sorting office and collection point  appears as muddled as the policy behind the closure. Both fail to separate the need for much better local collection facilities for that "delivered while you were out", from the need for physically larger sorting offices to handle the massive increase in size and volume of parcels. In this context, Royal Mails legacy of small sorting offices and sub-post offices should be a massive asset, not a millstone.
The campaign led by the CWU and our local MP against the closure has gathered serious support from all parties (I too have signed the petition). But both the campaign and forthcoming feelgood demonstration, fail to distinguish between sorting office facilities and collection facilities. More constructively, one of the recently selected prospective conservative council candidates has written to the Chief Executive of Royal Mail  asking whether the impact on services to the public has been considered. I have asked whether that letter, so far kept private while awaiting a reply, can be made public – because the "solution" – so far as the residents of SE27 are concerned – appears obvious. Use the old Victorian sorting office in Alleyn Park and/or the old  Crown Post Office  in Knights Hill, as collection points while moving the sorting office, with the need for massive articulated trucks carrying what has been ordered over the Internet, to  where-ever makes most sense.
The politics of the Post Office, including the divisions between Royal Mail, Post Office and Sub-Postmasters are, however, byzantine. Back in the days of steam it was an efficient national channel of communications for an increasingly centralised nation state – with processes that we would do well to reinvent today.
Last month I had to organise the funeral of a favourite uncle, who had led the subpostmasters team during their attempts to get Sir Ron Dearing to really modernise the Post Office so that it was fit for the on-line world. While sorting out his effects I came across a letter I had written to him in 1979 shortly after I had appeared on the Jimmy Young Programme after the launch of "Cashing in on the Chips"  explaining why new technology was no threat to jobs – least of all to those of postmen because some-one would have to deliver all those goods that we would be ordering over our televisions. Shortly afterwards, when I was running the NCC Microsystems Centre he was complaining that the Post Office would not allow him to use a micro computer and a dot matrix printer to generate (and complete) all the forms it demanded.
I should perhaps add that as an ex-butler and wartime docker he had gone from running a country post office, with its own sorting office and postman, to turning Walton Post Office into one of the largest (by turnover) in the country handling the banking of the freight-forwarding companies moving into Felixstowe Docks because Girobank opened earlier and closed later than the banks – and was open on Saturday. His turnover would have put him in the top 50 of Crown Post Offices and he looked forward to seeing a revitalised Post Office enabling its network of sub-post offices to put the banks out of business.
After his funeral I was able to have a brief word with some of his former colleagues, albeit they were of a much younger generation, he was over a hundred when he died, and it became clear that, if anything, the post office and its unions have gone backwards, not forwards, in their collective vision since Dearing failed in his attempt to bring them into the 20th Century.
---
April 2, 2017 11:18 AM
Will Britain's path into the future be opened up by the Digital Pirateers of Plymouth as much as by their new Pilgrim Fathers? I thoroughly enjoyed the discussions last week around the launch of STEM Plymouth . These showed a City with a more joined up approach to building its future than I have seen anywhere else.
The discussion on the need to need to identify and enlist teenage talent talent before it goes to the dark side was a lot more practical than most – looking at all sides from the promotion of attractive and challenging on-line schools competitions linked to the Cyber Security Challenge through ideas for police cyber cadets and naval cyber reservists.
But it started me thinking at tangents – beginning with my blog for Brexit Day
The British Empire had its roots in 1570 when the Pope excommunicated Elizabeth thus expelling England and Wales from the Catholic Common market of the day. The Pirateers of Plymouth, based well away from London, proceeded to open up their own access. Then the Pilgrim Fathers demonstrated that start-up colonies in North America could pay their way: a shipment of beaver furs, resulting from trade with the Indians, arrived from the struggling colony when the Thirty Years war had destroyed the European supply of furs.
The timescales will be shorter this century. Hopefully, there will also be less violence. But we can see Brexit following a similar process – now that the EU has fatally weakened its collective negotiating position by opening the first of the bilateral nation-to-nation negotiations: Spanish access to UK fishing waters in return for an open border with Gibraltar.
The negotiations on matters digital will soon open up more complex rifts, such as between:
those who give priority to the need for effective global co-operation to address the rising tide of cyber-crime and fear of cyber-assisted terrorism
and
those obsessed with enforcing byzantine processes, such as the GDPR which helps fraudsters to target the customers of those who report breaches.
Of course we should aim to keep freedom of movement for those who have job offers (as per the Treaty of Rome)  but the strength of the UK negotiating position will depend almost entirely on how well we move from dependence on imported talent to growing our own. Plymouth is showing the way. But it is will not be enough unless London copies the joined up approach of the West Country – including toward the "other half" of the talent pool.
The centenary of the birth of  Joan Clarke , briefly engaged to Alan Turing and one of the few people at Bletchley on the same intellectual wavelength, gives an ideal excuse for enlisting girl-power and the spirit of Bletchley Park (and Boudicca and Britannia) to not only make the UK the safest place to go on-line but to place it at the heart of global digital security – transforming the UK approach from timid, reactive, information security and sclerotic, silo'd, criminal law processes to robust international privateering (under civil law) to identity, track, trace and "remove" predators and "recover" what they have stolen.
Let me know if you are interested in not only sponsoring memorial plaques to Joan Clarke, (including on her old school in West Norwood), but also in activities (perhaps linked to the Cyber Security Challenge) to help recruit the necessary teenage talent to transform our approach to on-line safety and security.
P.S. The next meeting of the Digital Policy Alliance sub-group looking at Security Skills Partnerships is on 5th March. Please e-mail the membership secretary if you wish to join.
---
March 31, 2017 6:35 PM
"Computer security"
,
Big Data security
,
Brexit
,
Security
,
Skills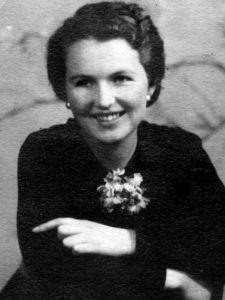 Brexit Day, 29th March, was the 46th Anniversary of the conclusion of the Battle of Cape Matapan.  The battle only happened because Mavis Batey, then aged 19, spotted an Italian Enigma signal which did not contain the letter "L". She set to work, broke into the "system" and found a short message "Today's the day minus three". The whole team set to. After a couple of days hard work they broke a long message with details of the Italian plans.
On Brexit day I attended the launch of STEM Plymouth . This repeats the "vision" of the Pilgrim Fathers who set sail in 1620 to invent the New World in which they wanted to live. The United States is not quite the society they had in mind. But they provided the break through that showed North American colonies were commercially viable without gold mines.
Plymouth is doing what others are talking about. The  University, the FE Colleges, schools, commercial training providers, the City Council, major employers (the RN, Babcock, Kawasaki, the Peninsular Medical School and Research complex etc.) and minor employers (via the LEP and Chamber of Commerce) are all working together to build the high tech, smart future they want.
They are not looking to import skills. They are looking to educate and train their own. They already have some of most notorious teenage hackers in the UK. They are therefore major supporters of the Cybersecurity Challenge, with the aim of identifying and enlisting undisciplined talent before it turns to the dark side. They also have the largest WISE (Women into Science and Engineering) Hub in the Country, providing 300 of the 1,000 stem ambassadors across Devon and Cornwall
More-over many of the ideas being explored in Smart City bids across the UK are already operational in Plymouth. Their Big Data service, Data Play , was launched in 2015. Analyses of the movement of mobile phones have already led to changes in bus routes to better fit the journeys the passengers are making. Meanwhile most of the buses are now wifi enabled and the new buses on order will have power supplies to enable teenagers to recharge their smart phones as they video-gossip on the move.
I mentally contrasted their plans to grow their own talent with those of so many of the members of Tech UK. The latter still appear to be seeking to import talent rather than help fix the problems with our education and training system. The third of Tech UK's four priorities for the exit negotiations is "Set out a credible plan to ensure the UK remains open to the best international talent".
But UK public sector digital training has imploded over the past five years because FE colleges have been unable to offer the internationally recognised qualifications (CISCO, Comptia, IBM, ISACA, ISC2, Microsoft) demanded by most Tech UK members.
At a recent meeting of the Digital Policy Alliance Skills Group with the Minister, the official responsible for standards policy within the Department for Education confirmed that the issues of handling globally recognised qualifications was not one that had been raised with her colleagues or the Minister before.
That says volumes about the lobbying over skills policy in recent years. It has been dominated by two groups:
those wanting funds to develop new standards and qualifications rather than use and maintain those that already exist and are recognised.
those wanting favourable entry (and tax treatments) for supposedly skilled immigrants.
The time has come to change that. Those meeting the Minister were therefore asked to provide further information setting out their concerns. On Monday the DPA Skills group will start the process of doing so. Those wishing to join in should contact the DPA membership secretary for details
We also need to recognise that, if we want the UK to be not only the safest place to go on-line but also the location of choice (in a post Brexit world) for global information security, risk management and "asset recovery" operations, we should focus on nurturing the most devious talent in the world:
"These have knelled your fall and ruin, but your ears were far away
English lassies rustling papers, through the sodden Bletchley day"
We need to attract the modern equivalent of "Dillies Fillies" .
The proportion of women working in GCHQ is much lower than that at Bletchley Park, and is top secret, but is rumoured to be over three times that working in private sector information security.
Some one is being very stupid – and it was not Dilly Knox.
---
March 18, 2017 1:33 PM
Facebook
,
GDPR
,
Google
,
Information governance
,
twitter
The Google share price took a brief hit after the stories of systemic distortion with regard to on-line advertising metrics, on which I recently blogged.  That of Facebook continued to grow.  The Twitter shareprice did not recover and continues to drift down.
Now the UK Government has stopped advertising on YouTube and Havas has suspended advertising on both the Google Display Network and YouTube  but is continuing to spend on verified search ads.  The reason given is the inability to guard against proximity to terrorist recruitment material. It would appear that misleading and/or fraudulent metrics or proximity to other illegal material (e.g. sexual content that would lead prosecution if sourced from within the UK) is of less concern to those in charge of public sector advertising budgets.
The UK public sector is, of course, a piddling market compared to Proctor and Gamble worldwide. The impact of any boycott will be modest provided Google and Facebook can reassure global consumer advertiser that their impact measurement metrics are robust and their brands will not be damaged  by proximity to family-hostile material.  Those metrics depend, however, on invasive data collection and analysis of a scale and nature that is incompatible with the spirit behind the GDPR. Those who invested in UK and EU Data Centres to cope with the expected post-Snowden Balkanisation of the Internet look set, therefore, to get their reward.
Earlier this week, at my last AGM as an officer of the Conservative Technology Forum, we discussed topics that need to be addressed for a Post-Brexit age, when the prosperity of the UK depends largely on being able to act as a bridge between an increasingly protectionist Festung Europa, a Post Trump United States and the rest of the world. That will entail going for either the world's highest, or its lowest, practical standards of information governance. Anything between gives no competitive advantage. Since it is impossible to get any lower than those of some of major trading partners who have been able to negotiate "safe harbour" agreements in the past (and are likely to do so again), the obvious way forward is to go for the highest standard.  I will be handing my contact lists to those planning a major event to discuss the consequences of doing so.
---
February 19, 2017 12:29 PM
Facebook
,
Google
,
Jaguar
,
Ofcom
Shortly after the news that Jaguar has pulled its on-line advertising because its adverts were appearing alongside ISIS terrorist recruitment videos  came the news that Proctor and Gamble is reviewing all its on-line advertising 
When I blogged on the risk that the On-line Advertising market was about to implode because of widespread fraud, I was not aware that nine out of ten major advertisers were planning to review their contracts because of the scale and nature of the problems with big-data based algorithmic advertising . It is apparent that further change is on the way as users decide that the content they are seeking is not worth sitting through unwanted advertising , major on-line media players review their policies  and traditional media begin to fight back by exposing the problems with their on-line competitors .
In the United States the traditional media are coming together to promote an alternative approach based on trusted validation as opposed to the black box algorithms that are being reverse engineered to promote illegal content and not just defraud legitimate advertisers but actively offend their target audiences.
When Lord Lucas proposed an amendment to the UK Digital Economy to enable Ofcom to address the problem of reverse engineering and exploitation to promote illegal content , supported by Lord Erroll, chairman of the all-party Digital Policy Alliance, the Government asked that it be withdrawn pending further research into how to make legislation work.
This does appear to be idea whose time have come – albeit it may well be that a global alliance of legitimate advertisers, rather than Ofcom, will force the pace. If so, we can reasonably expect action from Google and Facebook, seeing at least 20% of their  revenues (that proportion already which comes from "programmatic advertising") at risk.
---
February 3, 2017 2:47 PM
Arqiva
,
Broadband
,
BT
,
CTIL
,
Funding
,
Gigaclear
,
Hyperoptic
,
Infrastructure
,
investment
,
JISC
,
O2
,
Ofcom
,
Virgin
,
Vodafone
,
Zayo
On February 2nd the chairman of BT Openreach finally admitted that they have seriously under-invested in upgrades and maintenance over recent years  . On February 3rd Mike Kiely blogged on how much they have been overcharging local authorities and are liable to refund.  His figures look similar to those lost in Italy. Meanwhile BT has a pension fund deficit to cover and is still trying to take on Sky's content business. In July 2016 I wondered whether BT was likely to change its investment priorities but it is as well to remember why those priorities were as they were.
In July 2015, in a blog on Ofcom's Strategic Review consultation, I pointed out that BT strategy was an all-too-rational response to Local Loop unbundling.  LLU might have saved the cable companies from being sold to Sky for a pound, leaving the US bondholders with nothing. But it nearly destroyed BT. And it certainly led to the collapse in investment which followed.
Now Ofcom has changed its priorities in the light of that review but can BT still afford to invest on the scale necessary? Both Mike McTighe and Mike Kiely appear to think it can. I hope it can. But I strongly suspect it can only do so by divesting its content operations – and accepting the £8 billion service contract (£800 million a year for ten years) offered (on a platform during the Conservative Party Conference) by Sky to help raise cheap leasing finance for investment in a divested Openreach.
The above gives context to the recent DCMS Call for Evidence on "Extending Local Full Fibre Networks". I have received copies (usually confidential) of several of the submissions. I also promised to make my own available – because those trying to reconcile some very different issues will benefit from public debate on areas that many players unwilling to discuss in the open. I should also take this opportunity to say thank you to  all whose material I have plagiarised without attribution. My excuse is that most of you said you did not wish to be quoted and I cannot remember who was willing.
= = =
Funding Local Full Fibre Networks – personal response from Philip Virgo
This response looks at the issues from the perspectives of:
Business users (all shapes and sizes) who are willing to pay internationally competitive prices for future ready, world class, reliable, resilient on-line access to global markets.
Investors wishing to invest in companies building, operating and maintaining open access infrastructure businesses, underpinned by medium to long term contracts to meet the connectivity needs of medium to large business and public sector users and the backhaul needs of both network operators (local/national fixed/mobile) and cloud/OTT/IoT service providers.
Those seeking to harness the growing support for Neighbourhood Plans, Business Improvement Districts, LEPs and Smart Cities, in co-operation with Local Authorities, to identify demand and supply and enable risk investment and fragmented procurements to be collated into co-operation to access/leverage the many sources of funds available for contract-backed utility investments.
This submission does not reflect the collective views of any of the organisations with which l am associated but my understanding is that most are willing to work together on follow up.

Summary of key points
The cost of building, equipping and maintaining full-fibre networks has fallen sharply over the past decade. Meanwhile access and wayleave charges appear to have risen sharply. Costs and charges vary so widely, according to local geographic and market conditions, (including the willingness and ability of local authorities and property owners to enter into arrangements to reduce prices and costs on all sides), that national averages are of little value.
The UK is unusual in that a single player still dominates network (including mobile backhaul) construction, maintenance and operation across most of the country. The UK led the way in telecoms liberalisation but has been overtaken by most other nations. Many communities around the world are still served by local monopoly telco, mobile, cable or broadband services but such services commonly run over open access infrastructure facilities built and owned by others (including public-private partnership, co-operatives and municipal enterprises) and maintained by specialist contractors (some local, others global).
 Effective infrastructure competition (not just reselling of monopoly services) is essential to the promotion of investment. The BEREC Report "Challenges and Drivers of NGA Rollout and Infrastructure Competition" noted "that infrastructure investment takes place when investment incentives are such that non incumbent players enter the market. A competitive response is then triggered and the incumbents also invest."
The key to getting value for money from public funds is to mandate the sharing of information on supply and demand by all bidding for public sector business and/or support central or local. Accurate and meaningful information at all levels is essential to enable effective planning, procurement and customer choice. Voluntary sharing is better but those bidding for public funding/support and/or supply contracts should not be given a choice.
Introduction and General Points
1. The cost of building, equipping and maintaining full-fibre networks has fallen sharply over the past decade. Meanwhile access and wayleave charges appear to have risen sharply.  Costs and charges vary so widely according to local geographic and market conditions, (including the willingness and ability of local authorities and property owners to enter into co-operative arrangements), that national averages and estimates are of little value.  
 The scale of world-wide communications network construction, accompanied by technology advances and competition from China mean that equipment and fibre costs have fallen sharply since the late 20th Century guesstimates still used for most regulatory purposes and business rate valuations. The effect is to over-value the networks of the incumbent operators and under-estimate the ability of new players to build more reliable, future ready, networks at a fraction of the costs commonly quoted – provided they can agree access and wayleaves.
The price of most items of equipment used in full-fibre networks fell by up to 80% in the decade to spring 2016, although they have since risen around 10% with the post Brexit fall in sterling. The cost of construction varies widely according to the co-operation of landlords and local authorities, including to time work to coincide with other building, refurbishment or maintenance programmes. Hence the focus of many of the competitors to BT on deals with those property owners and local authorities who will help "join up" activities in return for being offered better service at lower cost.
Access and wayleaves charges are now commonly the main cost component, except where these are reduced or waived in return for better services at lower cost to property owners (including local government and public authorities as well as commercial landlords) and their tenants. The rise in charges has been fuelled by negotiations between those intermediaries who offer to get better rates for property owners (sometimes more than double) than the national agreements in return for commission and those intermediaries who assemble access routes and/or handle negotiations for network builders and operators. 20% from either side (or sometimes even both) is not unusual.
There are various current national and local exercises to address this problem. Some are linked to the revision of the electronic communications code. They are complicated by the desire of property owners for treatment of network operators and their contractors to be compatible (including timescales for agreement, appeal, installation, access and removal) with those for other tenants and their contractors. Pricing arrangements are complicated by desire of those controlling current or potential choke-points (including masts and ducts) to exploit their assets and the willingness of others to offer cheap or free access in return for services. The situation is further complicated by the position of those who already have large numbers of agreements in place (e.g. BT and the other Utilities) and have limited, if any, flexibility with regard to discounting their prices or offering differential service.
2. The UK is unusual in that a single player still dominates network (including mobile backhaul) construction, maintenance and operation across most of the country.
 The UK led the way in telecoms liberalisation thirty years ago but has now been overtaken by most other nations. Monopoly telco, mobile, cable or broadband services still serve local communities in many parts of the world but they increasingly run their services over infrastructure utilities which they do not own and which have their own maintenance arrangements. Such utility networks are often built and owned by mutuals (public-private partnerships, co-operatives etc.) or municipal enterprises and maintained by specialist contractors (according to the technologies used and local conditions).
The local access utilities are then linked by competing national back haul operations to shared switching centres (many also acting as internet exchanges and/or peering centres). Those running major server firms and data centres increasingly seek to connect direct to such centres, using multiple back haul providers, to ensure their internet connectivity does not pass through single points of failure. This is also helping drive the plans for more exchanges in the UK: perhaps one or more for every aspiring "smart city" with a University super-computer complex and cluster of data centres.
Provided the backhaul and exchanges observe international open access standards, most customers, (both business and consumer) then have a choice of network operator (e.g. Verizon, AT&T, Liberty etc. in the US), OTT content services (e.g. Facebook, Google, Time-Warner, Fox/Sky etc.) and ISPs.
There are, however, tensions between network operators aspiring to dominate both utility and content operations. In the US these culminate in "Net Neutrality" arguments. Provided neither side actually wins, these appear to result in increased investment and better service. In the UK, however, the position of BT, straddling all markets (from access, through backhaul to content) with relatively weak action against anti-competitive behaviour, has had the opposite effect. Hence the need for more robust regulatory action to enable market forces to work.
 3. Effective infrastructure competition (not just the reselling of monopoly services) is essential to promoting investment in the UK full-fibre infrastructure (including backhaul).
The BEREC Report "Challenges and Drivers of NGA Rollout and Infrastructure Competition" noted "that infrastructure investment takes place when investment incentives are such that non incumbent players enter the market. A competitive response is then triggered and the incumbents also invest."
This can be seen in the UK where investment in communications Infrastructure fell sharply, year on year (2002 – 2007) after Local Loop unbundling destroyed BT's case for investing in order to compete with the Cable Companies in providing "full motion video to the home by 2002".
BT's capital investment and preventive maintenance budgets then remained almost static until 2015, while sales revenues doubled. Then, in 2015, when competitors began to invest, initially to serve business parks and commercial centres, BT began to review its own investment plans, albeit beginning with a take-over of EE to supposedly reduce duplication of effort. More recently BT's spend on preventive maintenance has doubled, albeit it is still barely half that in the period to 2008. Hence the case for opening the maintenance market to competition to improve quality of service and response times using those UK maintenance operations who already serve overseas markets, UK utilities, defence and aerospace providers and the growing number of other private networks.
Until 2012 BT accounted for almost all new UK communications infrastructure investment. It probably now accounts for barely 25%. The figures are, however, uncertain. To the spend of Virgin, Vodafone, O2,3/Relish, CTIL, Arqiva, Wireless Infrastructure Group, City Fibre, Gamma, Gigaclear, Hyperoptic, Venus etc. needs to be added the investment to serve Business Parks and Data Centres being made by global utilities like Hibernia and Zayo and by major construction companies and property developers. We should also add the spend of Network Rail, of Universities (including to serve local Research Hubs and Science Parks) and Local Authorities on the infrastructures they themselves own.
Recent revelations as to the state of BT's finances and the risk that Orange and Deutsche Telekom will cut their losses as soon as they are able to sell mean that proportion of communications infrastructure Openreach can fund is unlikely to rise – unless BT accepts the offer from Sky to enter into a ten year rental contract in return for BT Retail selling its content operations (de facto separation). Either way would make sense to many BT shareholders for it to also copy Telia and seek to use and/or operate, networks built and owned by others. Thus Telia now operates but still does not own Stokab, (of which it was always the largest "tenant").
It is therefore even more necessary to encourage alternative investors.  Whether these work in co-operation with BT or in competition, or both (according to market and location) can be left to market forces provided there is effective and consistent regulatory action to give investors confidence that they will not be subject to predatory behaviour.
Responses to Questions:
Question 1: What local approaches have been taken to date or are planned – either in the UK or internationally – to stimulate the market delivery of full fibre networks, in both urban and rural areas, and what results have they achieved? Where appropriate please provide evidence and any other additional information.
There are many ways of providing local connectivity, dependent on the geography to be served, the availability of low price/cost access and wayleaves and the co-operation of property owners and local government (commonly both the largest customer and property owners as well as planning authority). But many of the shared-risk models common across the EU, let alone the rest of the world, are blocked in the UK by fear that those unwilling (unable) to participate (usually the incumbent supplier) will cite "state aid" (regardless of the many relevant decisions) and threaten legal action, even suing the EU if it gives agreement (and quietly dropping the cases when delay has destroyed enthusiasm).
The most common models for encouraging competition are variations on:
Using the expected increase in property values to drive investment. Thus in Hong Kong the main fixed and mobile networks are owned by the parent companies of the main property businesses and operated to provide services that attract and retain tenants and improve property values. Many communities across the US and Scandinavia have adopted similar models, with the aim of the investment being to improve "real estate" values – albeit they tend to separate ownership (a variety of funding models to raise funds from local businesses and residents) from operation (contracted to regional, national or international network operators).
Enabling/encouraging other utilities (e.g. power supply) to compete with the incumbent. This was the original model in South Korea and can be seen in the US in Chattanooga. The attractiveness of this model can be seen by the efforts that US incumbent operators recently took to prevent Chattanooga offering services outside its municipal power supply area.
Whatever the model for organising/funding local delivery, the availability of affordable backhaul is critical. Here the willingness/ability of BT to deliver appears limited. The current Openreach position on dark fibre and fibre on demand and Ofcom's consultation on physical infrastructure (duct & pole) access imply that we will only see significant new investment if BT wants to actively market its spare capacity with a view to using the incremental revenues to also improve its own service and cover. The indications to date are that it does not. Rationing the service to five small ISPs with complex terms and conditions have caused its would-be partners, as well as its competitors, to conclude that BT is fighting a rearguard action to delay access and prevent its other revenue streams being cannibalised.
Hence the need to look more seriously at alternative backhaul providers.
The UK has a surprising number of other national trunking and distribution networks. There are those which currently serve specific audiences (e.g. Janet, HITS, MoD, NRTS, National Grid, National Rail, N3) and those which serve almost anyone who will pay (e.g. Arqiva, City Fibre, Sky, Virgin, Vodafone, Wireless Infrastructure Group, Zayo). Other networks serve specific geographic regions or markets (e.g. Colt for Financial Centres, the NEN for schools, Gamma for Leeds and Manchester, Hibernia from the US to London via South Wales and Reading, Venus serving the West End etc.).
Most all UK "public" networks (both fixed and mobile, local, national and regional) pass through Single Points of Failure" (SPoFs). These range from rural masts and city centre ducts to shared switching centres and service/support operations. Most, but not all, are run by BT (Wholesale as well as Openreach). The consequences include major outages with little or no standby, fixed or mobile, when fire, flood, lightning or cable-power-equipment theft-failure affect a "SPoF". Hence the support from large businesses and data centres for investment in alternative routings, Until April 2017 such investment is rarely economic because of punitive valuations for business rates. The Business rates "holiday" announced by the Chancellor is most welcome but appears only to cover full-fibre – not shared masts and equipment. A permanent solution based on current actuals is needed.
The availability and quality of backhaul also determines the ability of independent operators to provide local access (whether fibre or wireless). Thus B4RN, often cited as an example of a rural community enterprise providing world class service, would not have been able to provide the latter had it not been able to obtain direct local access to a Zayo high speed trunking service, linking Manchester and Glasgow, at a fraction of the cost charged by BT for a much more limited local service.  The availability of backhaul in City Centres similarly determines which office or apartment blocks can be provided with gigabit connectivity.  It also determines the location of the 250 or so co-location and several hundred other data centres that are essential for the operation of low latency, cloud-based services and for the ability of users to make effective use of those services (including for back-up).
The provision of a Universal Service Obligation of at least 10 mbps (regardless of time of day or day of the week/month) will demand major improvements to backhaul in many parts of the country. That need will, however, be dwarfed by the need to expand capacity and improve reliability for a world of smart cities, transport, health care and all the other IoT applications which will depend on ubiquitous Wifi, 4, 4.5 and 5G availability.
We therefore need:
A national backhaul database
Ofcom to have access to forward plan to determine areas in need of intervention
Ofcom/DCMS to use the database to undertake gap analysis
A review of the full range of funding options: from public sector procurement to underpin investment through levies and cross subsidies to more granular intervention funding
A revisiting of the case for a retail USO after improved backhaul reduces the cost
Question 2 : What evidence is there to demonstrate the effectiveness and potential of the following approaches, specifically in the context of stimulating the rollout of local full fibre networks in urban and rural areas?
Demand side approaches
A. Public sector demand aggregation
The history of public sector demand aggregation is chequered. The main reasons for failure include:
– many organisations (consultancies as well as suppliers) are structured around silo-centric sales, systems, support and procurement and do not expect a net benefit from change
– career paths (both public and private sector) which reward those climbing professional/departmental promotion trees and penalise those focussed on cross-boundary co-operation.
One of my last activities before retiring as Secretary General of EURIM in 2010 was to try to organise a group to look at the shared network service procurement. We found good practice in Local Government (e.g. the SOCITM joint procurement exercises) and Education (e.g. JISC, Janet and the University Networks and Grids for Learning – now NEN) where up to 70% had been saved.  Central Government frameworks had commonly led to increased delay, cost and/or reduced throughput. We wanted to explore the tentative conclusion that procurement frameworks should compete for support from both customers and suppliers and report performance. That approach met with such resistance (from major suppliers and central government officials) that the planned study was dropped. We have since seen the failure of another generation of Central Government procurement frameworks.
The more recent success of players like City Fibre and the number of Local Authorities looking at ad hoc co-operation with their neighbours, indicates that the time may be ripe for another attempt. If so, it should be built around voluntary co-operation between those departments and agencies who actively want to co-operate (with serious support for those trying to make it work) and those suppliers offering support, discounts and service improvements to those who help cut their cost of sales and delivery.
Given the difficulty that Central Government will have in supporting such an approach, perhaps it should focus on providing tangible encouragement and rewards (e.g. funding for cross-boundary project management and procurement) to public bodies seeking to work together.
B. Voucher schemes for private sector demand aggregation.
 The success of the voucher scheme shows that this approach has serious potential but it needs to be sustained over time and linked to processes for aggregating the demand of those who do not qualify for vouchers. Future programmes should include help for the two thousand or so groups preparing Local Planning Agreements and 200 or so Business Improvement Districts to survey local demand and supply. These cover local SMEs and Home Based workers as well as consumers. The support should be dependent on the results being made fully available to those suppliers who provide information on the services they already offer to the area and on their forward plans.
Supply side approaches
C. Making public sector assets available
Most public sector organisations are under severe and increasing pressure to monetise their assets. This results in silo-centric cost-cutting except when leadership from the top of a Local Authority (for example) results in policy decisions to make assets freely (sometimes that really does mean "no charge") available to those who make open access future-ready networks available to the council in ways that will save it more than any forgone revenue.
DCMS, DGLG, Transport and Treasury will need to co-operate in supporting local authorities, like Ashford (with its ambitious economic growth and housing plans) to ensure that such policies (including to join up building and highways regulation and silo-ed central government funding pots), are not overturned by planning inspectors used to following the wishes of incumbent operators who will not benefit.
It is also critical for Treasury to provide clear guidance as to how the public sector in general, including Central Government departments and agencies (such as Network Rail or the NHS and its Trusts) , should similarly balance the potential revenues from exploiting their assets against the gains from access to future ready communications at lower cost. The answers may vary by department and agency. But, without clarity of policy on budgeting, accounting and performance measurement, any rhetoric on aggregation will be wasted. Even so, the difficulty of organising co-operation is such that tangible carrots (including jump promotion paths for the officials who deliver) may well be needed.
D. Access to location data on infrastructure assets
Many, perhaps most, infrastructure providers, including local authorities, have their digital maps maintained for them by Ordnance Survey. But not even those with national responsibility for the Critical National Infrastructure can claim access without explicit customer agreement. A recent local authority exercise (using contingency planning powers) revealed the value of sharing: many networks were not where it was thought (e.g. the contractors had put cables or ducts on the other side of the road because …). But only those with appropriate security clearance could have access to the results.
A subsequent workshop on the actions necessary to provide a genuine open market in re-usable infrastructure components (from ducts and poles to dark fibre runs and open access switches), identified the value of a voluntary service with tiered security access, run by a suitable neutral third party – e.g. Ordnance Survey.
The aims would include helping:
Bandwidth hungry business to identify potential suppliers and/or decide where to locate
Property developers and Landlords to plan how to get connectivity to their sites
Network operators to sell spare capacity and plan co-operative investment to address lacunae and bottlenecks
Reduce the risk of network outage caused by "unplanned excavation"
CPNI and others to identify vulnerabilities and organise investment/support to address these
Central and local government better target the use of public funds.
A market driven approach, beginning with support and permission from those wishing to sell spare capacity (the high level, open access tier of maps) and plan inter-connection (security cleared engineering and support staff), is rather different to the mandatory/regulatory approach to opening up the Openreach database. The latter is likely to gather pace slowly. The former could accelerate rapidly if those who use the service begin to win serious new business –  particularly if used as "proof" by those handling public sector contracts requiring that critical services did not pass through the same single point of failure.
E. Directly funding fibre routes in uneconomic areas
The recommendations in the answers to A, B, C and D above are likely to lead to a reduction in the number and size of uneconomic areas but many will remain. Given the limited value of post codes in sparsely populated rural area (where properties may be many miles from the notional centre of the code) and densely populate urban areas (where a top floor flat may be similarly remote from a street cabinet), funding should be routed via competitive bids to support identified hereditaments and/or business/tourist locations (e.g. mountains, country parks or coastal paths, with the provision of backhaul to the "digital village pump" contracted separately. This is an area where co-operation with those preparing Local Planning Agreements in partnership with their Local Authorities is likely to be particularly helpful in tailoring supply to local need and affordable cost – levering community support where practical.
F. Potential pilots
Almost every approach has been piloted somewhere in the world. The need is to collate information about what has worked, where and why – not organise more pilots.
Question 3: What is the most effective and efficient delivery model Government can use to stimulate future delivery of full fibre networks across the UK in both urban and rural areas, building on and integrating approaches that have been taken to date?
There is no one model. The fixed/mobile mesh networks to support a "smart" world (4 and 5G, IoT etc.) will, like the Internet, be a set of networks of networks of networks ….
The focus should be on
1 Mandating the use of "future ready" technologies and open access standards for inter-operability,
That will require practical support for the production of authoritative practitioner guidance for those in Central and Local Government making planning and procurement guidance to enable them to avoid dead ends. This is almost certainly best done via the relevant professional bodies working together -but they will need funding and support to work across their own professional boundaries in ways which their members may find challenging.
2 Requiring those bidding for public funding to share all relevant information on current services and expected upgrade/extension costs except during a competitive tender.
 Greatly improved information is essential to make markets work by enabling informed customer choice as well as better informed planning and procurement.
 Question 4: What other changes, locally and/or nationally, are needed to reduce the cost of full fibre rollout, such as opening access to publicly and privately owned facilities, or changes to wayleaves, streetworks and other areas? What evidence is there to demonstrate the effectiveness of such changes?
Provide certainty for investors in new networks that they will not be subjected to predatory behaviour by incumbent operators subsidised by Government. This is particularly important given Government will wish to reduce its exposure to the BT pension fund deficit.
Require Government Departments and Agencies to contribute information on their networks and infrastructure facilities to any "voluntary" infrastructure mapping services and contribute towards the costs of such a service.
Treasury to provide clear guidance as to how those in the public sector should balance the potential revenues from exploiting assets (including access and wayleaves) against the gains from having access to future ready communications at lower cost. It is also vital to ensure that this is reflected in the funding allocations and guidance given to Local Government.
Provide tangible encouragement and rewards (e.g. funding cross-boundary project management and procurement) to public bodies to work together. And seek to ensure that individuals who focus on the collective benefits of cross-boundary co-operation rather than narrow departmental interests are not penalised.
 Provide the 2,000 Local Planning Forums and 200 or so Business Improvement Districts with support to survey local demand and supply: conditional on the results also being made available to those suppliers who provide them with information on the services they offer to the area and their forward plans.
---
January 26, 2017 12:42 PM
Brexit
,
ICANN
,
identity
,
inter-operability
,
Internet
,
ISOC
,
Security
,
trust
Yesterday I mentioned that many on-line advertising campaigns generate less revenue (let alone profit) than they cost.  Today the Drum carries an article on the scale of fraud in the on-line advertising market.
The time has come to enlist the on-line advertisers in the fight against on-line crime and fraud. It is not just that they (and their customers) are among the biggest victims. Their entire "industry" may be at risk. If so, the business model of advertising funded Internet access and services is also at risk. As I warned  yesterday, the result could help tip the west into recession and increase the risk of an Internet-enabled 1930s style mix of nationalism, socialism and protectionism.
No wonder that the Internet Society, ICANN and the IETF are now taking the issues of Trust, Security and Identity much more seriously.  Perhaps pan-European (and Global) co-operation to improve trust should feature more prominently than the GDPR in the Brexit negotiations.
My personal conclusion is that support for the work of the IETF in developing effective global standards for the secure and trusted interoperability of digital identities  should be at the heart of our new industrial strategy . I hope this message will come out clearly from the work that the 21st Century Infrastructure Group of the Digital Policy Alliance is planning with the IET on guidance for practitioners involved today in planning and procurement for a future ready world tomorrow.
I was also delighted to learn recently that the current Chairman of the Conservative Technology Forum is about to announce an impressive (relevant UK/EU/Global technology and business experience plus MPs who recognise the importance for jobs in their constituencies) little group to look at how to make current UK government digital identity policy (e.g. Verify) fit for a "smart" post-Brexit world.
Now I plan to go back to assembling my response to the consultation on  how to pull through investment in full fibre networks to help the UK thrive at the heart of a global digital single market as opposed to becoming a latter day Cannery Row, sifting the cybercrud that floats our way. I am delighted that I was wrong, the last time I warned of the danger –  but we are once again at risk of slipping behind as the rest of the world proceeds on its way towards wireless meshes supported by full fibre.  BT's obsession with extending the life of an obsolete copper network is more than a bit like British Railway's 1950s obsession with preserving steam while the rest of the world was going diesel and/or electric. One consequence is that my Internet behaviour changed as my searches became clogged with advertising bloatware. That is also one of the reasons I now blog less frequently.
---
January 25, 2017 9:39 PM
Brexit
,
BT
,
OTT
I was struck today by a piece by Eli Noam on how the Internet got Donald Trump elected.  This came on top of recent articles from Social Europe on "Why the Working Class has abandoned the left"  and the case for "a New Deal to save Europe".  As a member of the Internet Society since 1995. I have long been concerned over the introverted nature of most on-line policy debate: the Internetties in their Cyberghettoes talking to themselves. Meanwhile the progressive digerati , with their obsessions about using big data to analyse traffic over social media, appear to have also systematically misled themselves. They now appear to be collectively helping lead democracy and informed choice into oblivion.
Luckily the accountants and stock market analyists may be about to save us all. They have spotted that spend on using big data to drive personally targeted Internet advertising campaigns  is almost all wasted. It changes few spending decisions and commonly costs more than the revenue (i.e. not just profit)  generated. The consequent collapse in stock market valuations will dwarf that in the share price of BT after the discovery of "over optimistic" accounting in its Italian subsidiary.
The differences between BT's UK accounting practices and those of its competitors will, however, trigger a re-evaluation by fund managers which could have serious consequences for the UK. A re-rating (including of BT's debt) is likely to raise Treasury concerns over its exposure to the underwriting of BT's pension liabilities. This has implications for the UK Government plans to use public funding to encourage the deployment of full fibre networks – the consultation on which closes on the 31st January . I have promised to make public (via this blog) a summary of the reasons for the disparity between the costs quoted by BT and those quoted by competitors deploying modern technology in co-operation with property-owners and local authorities. We must avoid any temptation to route budgets intended to encourage investment in future ready infrastructure into covering pension fund (and other) deficits.
Meanwhile, it will be interesting to see the economic consequences as US Tech and OTT players begin to repatriate profits to pay reduced "post Trump" corporation taxes.  Will we also see 1930s style protectionist trade wars? If so, will the UK, as piggy-in-the-middle between a protectionist EU and an equally protectionist US, be squeezed. Or will the entrepreneurs of London and Dublin use fully porous (both physical and digital) borders between Ulster, Munster, Leinster and Connaught to lead the British Isles (not just the UK) into a new round of growth and prosperity as entrepot between the US, EU and rest of the world?
In this context my quibble with the Tech UK response to Brexit is its failure to mention that most relevant skills shortages are pan-European and/or Global. We need to give priority to removing the barriers which prevent our youngsters acquiring world class skills not just poaching from our neighbours. As Yanis Varoufakis, former finance minister of Greece, puts it in his article calling for a New Deal for Europe: "The vast majority of Greeks, Bulgarians and Spaniards do not move to Britain or Germany for the climate; they move because they must."  We rely on them (and others) because we have failed to give our youngsters the skills needed by their local employers.
That is partly because our main Tech employers have consistently failed to put their lobbying muscle behind the Sector Skills Partnerships (and their predecessors) when they tried to get the well-honed, century old, University dominated UK funding hierarchies to take fostering employability as seriously as grooming and filtering for academic excellence. The Brexit vote was, in no small part, symptomatic of a growing revolt among those labelled as failures while still at school!
There is a body of evidence which shows that this revolt, also mobilised via the Internet (but not picked up by Big data analytics because …) helped win the Brexit vote for Nigel Farage.
We have be serious about supporting training programmes (for all age groups) which develop globally recognised skills. The alternative could well be a 1930s mix of Nationalism and Socialism, led by the "true" masters of social media.
We also need to take a good look at the collapse of trust in the on-line world and its values – as well as in almost everyone else.
We live in interesting times.
---
January 10, 2017 1:12 PM
Broadband
,
centralisation
,
HMRC
,
NAO
,
Uncategorized
The BBC News today carries the news that HMRC has just realised that current plans to move 38,000 staff into 13 regional centres may be "unrealistic" . The intention to move from 170 local offices to shared city centre "Government Hubs" and regional "Mini-hubs" was announced some time ago.  According to the National Audit Office report "Managing the HMRC Estate" this was part of a Civil Service strategy to move staff to "Offices based in city centre locations forming part of government hubs, close to Universities and Colleges and with stronger skills bases and talent pipelines", with "a good local supply of housing, schools and recreation facilities" and "high speed broadband and mobile networks"
The shared "Hub" concept does not relate to the locations where specialist IT skills are needed. User staff will move from Redruth to Bristol, Dundee to Edinburgh and Norwich to Croydon (not known for broadband excellence). Meanwhile the HMRC IT development complexes (now to be called Specialist Centres) will stay where they are – at Telford and Worthing, with two new centres at the well-known University towns of Dover and Gartcosh.
Does that mean HMRC's IT centres do not need a talent pipeline or that they are too important to risk moving staff from where:
office property is cheap and available to hot spots where it is expensive and may be rationed
where housing is cheap and available to where it is not
commuting is relatively easy to where it is not (even when the trains and tubes are not on strike)
alternative employment opportunities are limited to where there is intense competition for talent.
The National Audit Office report is nearly as savage over the forward property plans of HMRC as it is over those which led to the current proposals. Page 48 of the report lists the HMRC failure to respond to previous recommendations.  The consequent summary of the NAO recommendations is polite but devastating. The biggest sting is in the tail.
25 HMRC is seeking to implement an ambitious estate strategy alongside 14 other major programmes designed to transform the way it administers the tax system. Many of these programmes are interdependent. It is inevitable that not every aspect of the transition to regional centres will run smoothly and HMRC must learn as it goes and respond proactively as issues arise. It should:
a Improve its control of the costs of the new regional centres. HMRC needs to be realistic in re-forecasting costs and guard against optimism bias. Given the inherent uncertainty in the property market, it should plan for the worst case rather than risk basing its plans on optimistic assumptions. It should put in place an adequate contingency for the programme of regional centres as a whole to make it resilient to emerging cost increases.
b Plan in detail how the infrastructure it is putting in place through regional centres will support the ways of working its business aspires to. HMRC has yet to demonstrate how in practice the regional centres will help its employees provide a better service to customers while increasing the efficiency and effectiveness of its compliance work. It should prioritise engagement with its business to identify what features of the new estate will be most important to support working practices that will deliver the outcomes it is seeking.
c  Put in place a process to learn lessons by analysing the costs and benefits of occupying and operating regional centres. HMRC should be clear how it will establish whether it is achieving the benefits it expects from its regional centres once they become operational, and at what cost. It should identify and apply good practice from its occupation of the Croydon regional centre in 2017, and evaluate how its forecasts of the timetable, costs and benefits were affected by events. It should build a framework to compare the performance of the regional centres by identifying each centre's annual running costs, service levels and business outcomes.
d Build in flexibility to respond to future changes in technology and working practices. In negotiating property deals for the regional centres, it must therefore balance cost considerations against the benefits of retaining flexibility to make future changes to its estate.
Equally interesting is the way the public Government policy of devolution appears to be accompanied by a private Civil Service policy of recentralisation as well as of insourcing.  In short – there appears to have been a quiet decision to reverse the long standing policy of relocating government staff out of London wherever possible. But not when it comes to IT staff – where HMRC and DWP have begun to rebuild their in-house expertise with staff training programmes which put most other employers to shame and appear to have no wish to risk driving away those attracted to areas where public sector pay, even before pensions, outstrips that in the private sector.
So why is HMRC going down such an odd road?
The clue is the press release for the NAO report  "Managing the HMRC Estate" . The driving force behind the HMRC proposals is the need to escape from one of Gordon Brown's more expensive and inflexible sale and leaseback deals.  It is particularly interesting that the landlord in this case, was formed specifically to bid for the HMRC deal.  HMRC has declined to look at the offshore tax arrangements of Mapely.
Perhaps the time has come for the Public Accounts Committee to call for specials audits the tax affairs of all off-shore property companies currently milking the public sector – including all those NHS Hospital Trusts and Schools also trapped with exhorbitant maintenance charges. Might this form part of the Flexit deal – to which we are inexorably moving: with our departure from "ever closure Union"  accompanied by deals with the major member states to address aggressive tax avoidance of all types, halt free movement of terrorists and enhance co-operation on surveillance.
Meanwhile, if Government is serious about using "digital" to transform the way it does business, it should be putting communications availability at the heart of its future plans. Until recently Croydon was a communications notspot. The history of the UK's porous borders was linked to the inability to connect Lunar House in Croydon with our ports and airports.  Has BT overhauled its local networks sufficiently to handle the many firms planning to relocate to within easy reach of Gatwick? How many of its competitors are planning global terrabit links to the area?
Meanwhile the war between Southern and the Rail Unions has led to a growing number of  CEOs asking whether it is cheaper and more efficient to collectively contract fibre to the homes of key staff and/or hot desking office suites in commuter towns and villages, than to rely on being able to travel into City centre office complexes. This gives added bite to the current consultation  on how to extend full fibre cover across the UK
---