---
April 1, 2008 8:09 AM
Now is your chance to join Project Virgle, the first permanent human colony on Mars.
[kml_flashembed movie="http://www.youtube.com/v/PmSdy_9blB4" width="425" height="350" wmode="transparent" /]

Check out the YouTube responses to see who is applying for a spot on the interplanetary mission.
March 31, 2008 11:58 PM
In 2008, April Fools' Day Jokes are everywhere. Here's a roundup list of some of the best/worst of the lot.
Gday, MATE, from Google Australia. Future search! A great follow-up from the company that has brought us Google MentalPlex and PigeonRank technologies, along with openings for Googlelunaplex on the moon and a smart-drink called GoogleGulp! MATE™ stands for Machine Automated Temporal Extrapolation.
Google's prank in the US, Google Custom Time, involves messing about with time as well, utilizing "an e-flux capacitor to resolve issues of causality (see Grandfather Paradox)." Send your emails back in time! Amaze your friends!
YouTube links will RickRoll you. All of the featured videos for YouTube UK and YouTube Australia link to aRick Astley video. If you aren't familiar with RickRolling – it's when someone puts a link on website to something, but it actually takes you to a music video of Rick Astley's ' Never Gonna Give You Up.'
TechCrunch sues Facebook for $25 million in Statutory Damages. You have to get to the end before the jokiness shows up. Can you tell Michael is a lawyer?
Shakespeare Ghost Writer. Because everyone needs the bard.
Pay Per Tweet from Problogger. This one spawned some pretty funny reactions on Twitter when it was announc
Even our friends over at CNET are getting into the fun, reporting that TechCrunch has acquired TigerBeat and renamed it CrunchKids.
Watch out, however, as there's a major backlash brewing in the blogosphere. ValleyWag's Paul Boutin captured the zeitgeist quite succintly in Your April Fools' Prank Sucks:
April Fools' Day in tech has devolved over the past two decades into lazy online hoaxes… Worse, the goal is no longer in-house camaraderie, but Internet publicity. Some companies notify the press of their hoaxes a week early, in hopes of securing coverage. We thought about running their emails as they came in, just to pop their bubbles. But there's no laugh in giving away an unfunny joke. Look, if you want attention, why not ship a real product? That seems easier.
Anil Dash elaborated further, stating that Your April Fools' Day Joke Continues to Suck.
Ouch. Ok, guys. We get it. But I'm still laughing. I've even posted a prank played upon me from last year on the right, a well-implemented foiling of my desk and everything on it.
If you're hungry for more, there are some hoary classics out there, like John C. Dvorak's Drunk Modeming and April Fools' Phone from Penn & Teller. WhatIs.com's joke for the day was Electricity over IP , if you missed it. Michael Morisey had some fun at Cisco's expense over at SearchNetworking.com, too. Make sure to read Cisco re-thinks Layer 8 networking with green components to learn about The Human-Like Network.
Slashdot is having a merry time with an April Fools' Day Prank Roundup thread that includes a five pranks you can build in the office, Wired's top 10 practical jokes for nerds, Lifehacker's Top 10 harmless geek pranks and Jack Shafer's guide over at Slate.com on how to protect yourself from the media's prankish habits. Jack linked to the Top 100 April Fools' Day Hoaxes Of All Time, which shouldn't be missed.
The folks over at /. did miss a few, however.
Unfortunately, I have work to do (a host of new definitions, naturally) but Patrick Altoft is liveblogging April Fools' Day 2008. Just check in with him to see what's new. April Fools' Day on the Web is doing a great job of cataloging new pranks as well.
***
UPDATE: I couldn't resist. Thanks to a tweet from Dan Sandler, I learned about the announcement of a Legend of Zelda movie.
UPDATE: I think this one takes the cake for most chutzpah, given that both parties are publicly traded: Infoworld announces that Microsoft and Yahoo! have agreed on a buyout price.
UPDATE: And as the day comes to a close, Wikipedia's entry for April 1, 2008 has over 158 different hoaxes and jokes that were made in the news media, in sports, in video games, on websites, on television, in podcasts, and on the radio.
I bet my friend Brian's favorite is the report from Chicago Public Radio that "Major League Baseball has retroactively awarded the 1945 World Series title to the Chicago Cubs, due to an alleged ineligible playere appearing on the roster of the Detroit Tigers."
Personally, I can't wait to get my hands on some Spazztroids to munch on while I queue up my Betamax to HD-DVD Converter to watch old episodes of the Muppet Show. (Thanks, Thinkgeek!) I hope they can distract me from the USB Pregnancy Test I'm giving my PC.
---
March 31, 2008 9:53 AM
Linking to ITKnowledgeExchange.com could be music to your ears.
Over the course of April, our sister site will be running a promotion whereby anyone that links to them or adds them to a blogroll will be eligible to win an iPod Shuffle.
All you have to do is add ITKE and then send Brent Sheets an email to let him know about it.
Good luck!
---
March 28, 2008 8:53 AM
John Belmont demonstrates IBM's newest mainframe, the Z10. It has a starting price of about a million dollars.
[kml_flashembed movie="http://www.youtube.com/v/LN4J4mClckA" width="425" height="350" wmode="transparent" /]

IBM asserts that it represents a 50 percent performance boost and has dramatically lower energy costs over its predecessor.
Mark Fontecchio, one of the intrepid writers over at SearchDataCenter, reported on the announcement in IBM pushes System z10 mainframe as consolidation savior. In the story, Mark wrote that the newest version of "big iron"includes highlights like:
the capability to run 64 4.4 GHz processors, compared with 54 1.7 GHz processors on the z9;
1.52 TB of memory capacity, compared with 512 GB on z9;
Five models, ranging from a unit with a maximum of 12 central processors, to one with up to 64; and
a larger physical footprint than the z9, standing more than 6 feet tall, taking up 30 square feet of floor space, and weighing in at about 2.5 tons.

IBM also previewed the new version of z/OS 1.10 due out in September.
Mark also wrote about an IBM System z10 mainframe beta user who touts HiperDispatch, a new feature allows mainframers to limit the amount of data that is moved during different sessions.
---
March 27, 2008 9:42 AM
Geek Squad's Ish Matos examined the demonstration of wireless charging for iPods and cell phones at the iVolta booth at Macworld 2008.
[kml_flashembed movie="http://www.youtube.com/v/LWF8m0I0zSU" width="425" height="350" wmode="transparent" /]
---
March 26, 2008 1:52 PM
Our sister site, Bitpipe.com, just sent me an email informing me that I could view a video of John Cleese offering advice on data distribution systems. (You'll need to register but, IMHO, it's worth it. Cleese in a unitard is a sight to behold.)
The video is the next in a series of dependably droll, frequently hilarious spots that follow Cleese's work as "Dr. Harold Trainwreck" in  The Institute for Backup Trauma  and as the host at the Friendly Advice Machine.
Here's Dr. Trainwreck on "Rule 26," wherein he provides advice for corporate counsels and IT managers:
[kml_flashembed movie="http://www.youtube.com/v/55EYXeQzUF8" width="425" height="350" wmode="transparent" /]
And more of the good doctor, this time providing a (mock) tutorial on how to botch data management.
[kml_flashembed movie="http://www.youtube.com/v/m3-TZsAVAs4" width="425" height="350" wmode="transparent" /]
Captains of Industry created the campaign for Iron Mountain.
---
March 26, 2008 10:46 AM
In the video below, Tmuster demonstrates how to create thousands of false SSIDs by using FakeAP, an open source app releases by BlackAlchemy under the GPL.
[kml_flashembed movie="http://www.youtube.com/v/-MKvsyyO9qM" width="425" height="350" wmode="transparent" /]
You can either improve security by hiding your real wifi network in a gazillion fake WAPs or simply amuse yourself by, as he says, "annoying the hell of your neighbors."
Wifi freeloaders, beware. I'm reminded again of the largest (unofficial) ISP in the USA: linksys.
---
March 25, 2008 12:01 PM
John Lisbin, the chief strategist at Point It! discusses domain parking and domain tasting with Greg Jarboe of SEO-PR at SES 2008. In the video below, Lisbin addresses the issues advertisers have with domains in relation to searches performed using Web browser toolbars.

[kml_flashembed movie="http://www.youtube.com/v/_YAEbCIORH0" width="425" height="350" wmode="transparent" /]
---
March 24, 2008 6:24 PM

Profile: Ivy Wigmore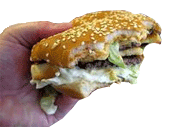 No more free nibbles! ICANN is doing away with the exemption for a twenty-five cent transaction cost on refunded domain names.
Which can add up when you register a bazillion domain names. Like spam, domain tasting has to be done in volume to be profitable.
According to Jay Westerdal, ICANN's act will end the practice within the year.
In his blog, CEO of GoDaddy.com, Bob Parsons wrote about the magnitude of the problem:
Ever wonder why it seems more and more difficult for you to get the domain name you want? Quite often it's because the domain name tasting and kiting industry is alive, well and running rampant. The practice of domain tasting and kiting continues to rage out-of-control. In February 2007, 55.1 million domain names were registered. Of those, 51.5 million were canceled and refunded just before the 5 day grace period expired and only 3.6 million domain names were actually kept. With the exception of just a few names, 93.5% of those names were registered simply to see how much advertising revenue – paid by big search firms like our "do no evil" friends at Google – will generate when they are associated with a one page Web site and related links.
---
March 19, 2008 4:38 PM
This video captured Dave Burke, an engineering manager within Google's mobile team, at the Future of Mobile conference in London talking about Android and the Open Handset Alliance (OHA).
[kml_flashembed movie="http://youtube.com/v/iIZxL37tr9U" width="425" height="350" wmode="transparent" /]
---