---
September 16, 2009 4:56 PM
Long-time Windows guru Ed Bott blogs for ZDNet, and his postings are often sources of great information, tips, and tricks for that OS. His 9/14/09 posting "The Windows 7 upgrade survival guide" is no exception to this rule, and includes seven useful tips to help ease the upgrade process along. Now that I've upgraded half a dozen machines myself in the last two weeks, I can attest to the veracity and usefulness of these tips, though some will prove more relevant or germane than others.
Here's a quick recap of what you'll find in this short but sweet blog posting:
Run setup from a flash drive or USB hard drive. These devices are faster than optical drives, and save time on installation normally devoted to reading from optical media.
Move big data collections off the system drive before starting the upgrade. All this stuff has to be read, indexed, and handled as part of the upgrade process, even though not much happens to such files (especially digital photos, music, movies, and other media files). Copy 'em onto another drive, then delete them from the system drive before you upgrade (you can always copy them back when they're done, if you like).
Use the Windows 7 Upgrade Advisor and address all compatibility issues before starting the upgrade. Just do it!
Ditch old and unwanted software. Use Programs and Features or a third-party tool (my fave: Revo Uninstaller) and get rid of stuff you no longer use, no longer want, or no longer need. Not only will this get rid of clutter, it will also speed the upgrade process (which takes time to migrate each application into the Windows 7 runtime environment).
Upgrade your HD as well as your OS. If you're feeling cramped for space on your system drive, you might want to replace it before you perform the upgrade. Lay down an image backup on the new drive, and you'll have more room to work and play after the upgrade completes. If anything goes wrong, the old drive will still work, and can take over for the new one.
Grab all the drivers before you upgrade. Use a utility such as Driver Detective, DriverAgent, or RadarSync — or your own personal favorite — to grab Windows 7 or Vista drivers for your PC. As Bott observes, you must have a usable network driver at a bare minimum, so you can then use the Internet after the upgrade to fetch whatever else you might need.
Make a clean image backup after you upgrade. This will provide a pristine image of your new system after the upgrade, and give you a place to go back to later on if something goes haywire with Win7. To make this easy, the OS itself provides image backup capability for all Win7 versions.
That's about it, and it's all pretty good advice. If you're facing Windows 7 upgrade maneuvers, you'll find these tips helpful and handy.
September 14, 2009 4:53 PM
If you've been reading this blog for any length of time, you already know I've been struggling with strange and unstable behavior on my primary production PC for over a year now, both under Windows Vista and Windows 7 Ultimate editions. I've suspected issues with that machine's motherboard for some time now (having replaced almost everything else in that system for upgrade purposes or other repairs over that time, it was the only possible culprit left anyway). Windows 7 was finally kind enough to confirm these suspicions this weekend, when I experience a BSOD while trying to open a child window from inside IE 8.0 to follow a link. Here's the Problem Details report that Windows 7 provided, along with a memory dump (whose contents I omit for brevity's sake):
A little research on this error for Windows 7 turned up numerous hits, of which the most interesting was this message thread from social.technet.microsoft.com, where the 4 at the end of the string indicates "an uncorrectable PCI Express error occurred" (as cited from "usasma, MVP, answerer" along with a snippet from the Windows Debugging Tools Help file). Because I know I'm using the latest and greatest driver for my relatively new Nvidia GeForce GTX 275 graphics card (and I even had trouble with the two graphics cards that preceded it over the last year), I'm pretty sure that my suspicions of motherboard trouble have now finally been confirmed.
I've got an Asus P5Q3 motherboard ensconced in its box not 10 feet from where I'm sitting right now, and a new case into which I'd like to move the other innards of this machine along with that now-necessary replacement item. All I have to do is find the time to tear this system apart and rebuild it from scratch (a good, long day's work, if experience is any guide). I'm waiting for a replacement BIOS for my temporarily trashed test machine which I will then press into service as a temporary production unit, while I rebuild this puppy from the ground up — later this week, probably. Wish me luck, and stay tuned for further news on this front.
---
September 11, 2009 6:41 PM
I got back from a business trip this morning to learn that my Mom, aged 90, passed away peacefully in her sleep last night. She spent the last year and a half of her life in an assisted living facility in Fairfax County, VA, after living with me and my family for just over two years in the home (with "mother-in-law wing") we had built to care for her in her declining years.
I'd like to take this opportunity to remember her to all of you. She was a ferociously intelligent woman who did her best to take care of her family, and I'll always be grateful to her for ensuring that I got such a good education. She graduated first in her high school class, and also at the top of her class in nursing school. She served in WWII with distinction, and attained the rank of Major in a mobile army surgical hospital, following the Army through Northern Africa, into Sicily, and then on to France. When I was a boy, she took a job as the school nurse in the Heidelberg American School system in Germany, in part to keep a closer eye on me and my sister. She always encouraged my love of learning and language, and I owe much of what I am today to her care and attention. I will miss her terribly.
Mom was also a multiple cancer survivor: after being diagnosed with colon cancer in 1987 and learning to live with a colostomy (at which point she quit smoking), she was then diagnosed with lung cancer in 1989 (at which point she had the upper lobe of her left lung removed). She managed to survive for 20 years after those medical misadventures, and remained cancer free until her dying day. If anybody wants to remember her, I'd ask them to make a donation to the American Cancer Society in her name.
---
September 9, 2009 11:23 AM
It's been long enough since I started using Windows Vista that I'd forgotten the usual pattern of Windows Update postings on a typical "Patch Tuesday" (the first Tuesday of each month is when Microsoft releases all in-cycle security updates, plus a monthly reworking of the Windows Malicious Software Removal Tool and the Office Outlook Junk Email Filter) early in the OS lifecycle. This morning's updates came as a pleasant surprise (though I did have to turn off the 31 language packs that always show up early in each lifecycle).
Even more pleasantly surprising, a quick look at my complete update history so far shows only seven "real Windows updates" amidst a list of 34 total items — most of the others are Office related, though some driver updates (my Nvidia GeForce GTX 275, Dell 968 AIO printer, and built-in RealTek GbE interface), Windows Defender definitions (no longer used on my machine), and a few other odds'n'ends also appear.
Of course, it can't stay this way for too long, and only time will tell if the relative incidence of security updates is lesser or greater than Vista at the same times in their relative lifecycles. At this point, however, the relative lack of clutter is exhilarating (though the number of MS Office 2007 updates portends what we're likely to see for Windows 7 in a couple of years). With only the Silverlight update (KB 974331) counting as a real security update for Windows 7 Patch Tuesday activity so far, and a couple of IE 8 updates in the mix, we haven't really seen a significant vulnerability in Windows 7 to date. Alas, history also teaches that it's just a matter of time before Windows 7 adds more security updates as it also becomes a more regular target for exploits, and a more intense focus for the search for vulnerabilities.
---
September 8, 2009 2:33 PM
One interesting change in interface and behavior in Windows 7 is the addition of the Devices and Printers option in the Start menu (depicted below). This new facility not only shows you the devices installed on or known to your Windows 7 PC, it also provides a staging area where it is easy to add new devices or printers to your PC. As you can tell from the following screen shot, I've already made serious and interesting uses of this new facility.
Most of the devices and printers present appear courtesy of Plug and Play as soon as they're attached to your PC. Others require some effort to make their appearance (such as the HP LaserJet 4/4M PS currently attached to my wife's PC, about which I wrote in these blogs: Interesting Antics and First Casualty of Windows 7).
Until recently, however, I think I really lacked a conceptual framework to help me understand Devices and Printers more thoroughly in the Windows 7 environment, despite mucking about with this utility for over six months now. Thankfully, this has now been rectified thanks to a length and detailed posting to the Windows 7 Team Blog entitled "The Device Experience in Windows 7-UPDATED" by Jack Tao (posted courtesy of Brandon LeBlanc, most recently on 9/1/2009). This white-paper-like posting explains the design goals for the Devices and Printers Control Panel item, and also digs into the Device stage shown in the next screencap.
Enhancements here include multiple device interaction models based on device type and capabilities, including automatic icon appearance for devices in the taskbar when connected, with jump lists to match frequently selected tasks (photo upload/mangement for cameras, music upload/download from mobile players, address book synchronization with smartphones, and so forth). In the background an XML Schema drives visible options and behaviors, and makes it easy for developers to provide heavily customized stages for their devices, and straightforward for users to put them to work. Here's an example of what happens when I hook up my son's low-res digital camera up to my Windows 7 PC via USB cable: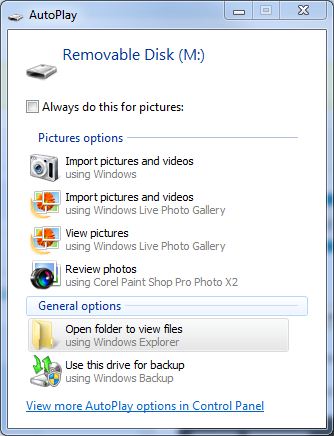 After I select an item from this menu, a wizard guides me through photo upload from camera to PC for storage, printing, editing, or whatever. Same thing goes for devices of other types, in that options provided match typical tasks a user might wish to perform with said device. Dig into Tao's article for more details on how this works, and what it can do (along with some nice diagrams about how the staging process works). It's definitely worth a read!
---
September 7, 2009 9:41 PM
I just bought my wife an ultra-barebones mini-ITX PC from my old buddies at Logic Supply. I outfitted this box and its MSI MS-7265 Core 2 Duo mobo with a Core 2 Duo T2300 processor and also purchased a Panasonic slim-line DVD burner from that supplier, and added my own 160 GB 5,400 RPM WD 2.5″ hard disk, and a 2 GB Patriot DDR2-800 240-pin DIMM to complete the system. She'd been using my Asus Eee PC 1000HE notebook, but had decided it was just too slow, even though she only surfs the Web, reads e-mail, and does basic computing stuff.
The new machine isn't exactly a screamer (it scores a 2.4 on the Windows Experience) but it runs rings around the Eee 1000HE, thanks to a true dual-core CPU, not to mention a faster memory bus. It's also the first system on which I've installed Windows 7 Starter Edition, and I'm starting to see why this is indeed a truly minimalist offering. That said, its lack of support for Windows Aero and other high-end graphics effects often associated with Vista and Windows 7 makes it much better suited for the system's modest Intel 945 GM graphics, even on my wife's Dell E228WFP monitor at its native 1,680×1,050 resolution.
I've run into some of Starter Edition's limitations already, though, and expect to run into more:
No support for Remote Desktop Connections. I like to manage "other machines" on my network from my own desktop by setting up a remote desktop session on those units. Not with Starter Edition: though Remote Assistance can get through, it supports no RDP connections, incoming or outgoing.
No personalization features for desktop backgrounds, windows colors, sound schemes, and so forth.
No ability to switch among multiple logins: for User B to log on, User A must log off (or be forcibly logged off).
No support for multiple monitors.
No DVD playback.
I'm not sure any of this is a deal-breaker for my wife, except perhaps number 5 (she sometimes likes to watch DVDs while riding the stationary bike that's next to her PC, but I think I can fix this by installing a third-party DVD playback program instead). It will be interesting to see how this goes, and to learn if she can live with this version, or whether I'll end up installing Windows 7 Home Premium instead. As with many things Windows, only time will tell! If you're thinking about installing it on corporate netbooks, however, you may want to think again: Windows 7 Starter Edition's lack of support for domains (and Active Directory) will indeed be a deal-breaker on many if not most corporate networks.
---
September 4, 2009 3:56 PM
Those who've been reading this blog for any length of time know I've been fighting with a balky, or perhaps blighted, production PC for some time now. I upgraded this machine to Windows 7 in early August in hopes that it might help with chronic instability issues. Since then, results had been mixed with reliability index values fluctuating between 4.8 and 7.0 or thereabouts (in Windows 7 it's kind of hard to tell because the Reliability Monitor no longer reports numeric values for that index, so you must eyeball it from the scale at the left of the graph). But over the past 10 days my system has experienced what mathematicians call a "montonically increasing" pattern, which translates into plain English as "upward and onward."
I can't tell if I'm at a 10.0 value, or simply approaching that value, but this is probably the highest reliability index I've ever seen on this machine. And of course, that raises a very interesting question: should I just leave this machine alone and keep on going with what I've got, or should I tear it down and install the processor and other components on the new Asus P5Q3 motherboard I ordered a couple of weeks ago to replace the Gigabyte P35T-DQ6 motherboard that's currently in there (I had also planned to move the system into a bigger, better-ventilated Antec 900 case, and use an SSD for the boot drive)? I'm mindful of the old saying "If it ain't broke, don't fix it" — we are talking about my production machine after all. But then, I start to recall all the aggravation and heartbreak this machine has caused me in the past year, and wonder if this isn't just a lull between storms.
I'm probably going to sit tight for a while because I've got to build a machine for my wife, for whom I just bought a barebones compact system built around an MSI Core 2 Duo Mobile motherboard (945GME1 mini-ITX model) and a Morex 150-Watt compact mini-ITX case with an Intel Core Duo T2300 processor (1.66 GHz). I've got SO-DIMMs out the ying-yang, and a 5,400 RPM SATA 2.5″ 160GB drive scavenged from my MSI notebook ready to install in that unit. I think I'll do that system first, and also install my new Samsung monochrome laser printer, and use that interval to see if the good behavior from my production system is a glitch or the real thing. And if it ain't broke, I may very well NOT fix it, but may take advantage of sub-$200 prices on Core 2 Quad Q8XXX CPUs to build a new test system re-using the case and power supply from my wife's now-retired Sempron 3200+ system that gave up the ghost a couple of weeks ago.
More on this as the situation develops. Tell you what, though: I'll be astonished if my production system has finally settled down. We'll see…
---
August 28, 2009 2:52 PM
Right around the same time that Windows RTM was posted to TechNet and MSDN (August 6), reports began to surface that Windows 7 was suffering a bluescreen when users would run the CHKDSK utility with the /r switch selected (which locates bad sectors and recovers readable data from them). See this 8/5 Gizmodo item as a good example of the kind of reportage that swirled around the Web in the wake of initial reports on this problem: Windows 7 Has an Obscure OS-Crashing Memory Bug (or visit Bing or Google using "Windows 7 chkdsk /r crash" as the search string). As you might imagine, furor and hysteria soon followed, and subsequent reports from MS that confirmed high memory as a deliberate design choice to limit ongoing concurrent use of the affected PC (who wants to use a machine with a bum disk until it's repaired anyway?) and indicated that crash conditions were not reproducible did little to quell the uproar.
Today, just over three weeks later, the hubbub has died down. That's why I found MS VP Steven Sinofsky's detailed posting (the blog is signed only "Steven"  so I assume this means him, though I'm happy to be corrected if I'm wrong about this) on the Engineering Windows 7 blog to discuss this item fascinating, even though it appeared on 8/10 and I just stumbled across it just this morning. It's entitled "What do we do with a bug report?" and makes for some compelling reading. He not only digs into the particulars of this particular Windows 7 problem, he also reflects on how MS deals with bug reports, especially when they involve mention of bluescreens or other system crashes.
What I found most interesting in this posting were the following revelations:
MS has access to a lot of data about crashes and errors, thanks to the many users who turn on error reporting during the Windows installation process and elect to share that information with Microsoft. His discussions of telemetry and the kind of information it can provide are terrific, and help to explain why you might agree to those information sharing and improved experience requests, the next time you install an MS product.
MS uses some interesting test approaches to try to reproduce and understand crash situations. Sinofsky talks about how they use configuration data to set up test environments, and how they reach out into the tens of thousands of in-house users in their own community to see more data than might otherwise be at hand. We're talking hundreds upon hundreds of test runs going in a pretty short period of time.
Though I'm sure some of his rhetoric and discussion is easy to interpret, and possibly even to dismiss, as "executive damage control," I gotta say I was impressed by how clearly and concisely he described the overall situation, and put it into the more general context of bug reporting and resolution processes at Microsoft. I've already noticed that my own error reports from Windows 7 tend to produce more updates and eventual solutions from the Action Center, than they ever did from the error reporting facility in Windows Vista. Now, I'm starting to understand why this might be the case.
Check out this blog. I'm sure you'll find it both interesting and informative.
---
August 27, 2009 9:52 PM
Take a look at the Reliability Monitor output for my production PC, which has been running Windows 7 since my birthday on August 8. In addition to showing why I've got a new motherboard waiting for me to have time to swap out with its current Gigabyte P35T-DQ6 motherboard, it also shows no numerical values for the reliability index on any given day. I've highlighted the most recent Windows OS failure on 8/19/2009 by way of illustration, but what I want you to note is that while you can eyeball an approximate value for the RI (reliability index) on any given day — 8/19 looks like about a 6 to me, for example — the utility no longer reports a number anywhere in its display. Of course, that number has to be around somewhere, because the utility couldn't draw the graph without numerical data from which to plot the points.
On my Dell D620 notebook running Vista Business, however, Reliability Monitor is happy to show me an index value for any day I select, as indicated here:
During the beta period I tried like the dickens to contact the MS beta team and tell them to please add this back in, but I'll be darned if I could ever figure out how to get into the proper channel to deliver that feedback, let alone share it with somebody who could actually *do* something about it. Now, all I can hope is that somebody at MS will see this lament and get it scheduled for Windows Update inclusion. I think we all deserve to know what our RI value is, rather than having to guess! What say you?
---
August 27, 2009 8:52 PM
Part of what I've been learning lately as I slowly but surely upgrade all of my PCs to Windows 7 has been about the dynamics of working with networking/LAN resource access. Although my understanding of homegroups and printer access has been proved more right than wrong in concept of late, my recent experience has also showed me a few wrinkles that I didn't know about, and that others may not anticipate until they stumble across them themselves, or read about them here or elsewhere. Please allow me to explain…
One of the nice new additions to the Windows 7 environment is an interfac entry entitled "Devices and Printers" that shows up in the bottom section of the right-hand start menu along with Control Panel, Default Programs, and Help and Support. Here's what this currently looks like on my production machine.
You'd think that discovery of printers on a network with Windows 7 machines is simple and straightforward, wouldn't you? If you have turned on File and Print access, you'd expect that UNC names for the printer of the form \\PC-name\Printer-name would work like a charm to gain access in the Add a Printer wizard. Not so — at least, in my experience. Even making sure that both sides of the connection (would-be printer user, and would-be print provider) had File and Print access enabled, and belonged to the same workgroup didn't do the trick in all cases (it did for two out of three machines, but not for all three).
The "trick" — if there is one — turned out to be setting up a Windows 7 Homegroup and making sure all machines that wanted to use the printer, as well as the machine that hosted the printer, belonged to that Homegroup. My earlier understanding of Homegroup membership was that it added to existing Windows capabilities, so that if you didn't take this step, you could still revert to old-fashioned UNC names to obtain device access at the NetBIOS level. I'm not sure if this is just an idiosyncracy for one of my machines, or a general tendency for Windows 7, but I couldn't get everything to work properly on my network until all my machines had joined the same workgroup. After that, proferring or obtaining printer access across the network was a snap.
I can't help but guess that this won't affect AD environments, but if you run into strange printing problems there with Windows 7, drop me a line and let's figure out what's going on there, too. Could be interesting!
---