---
August 10, 2009 4:21 PM
I stumbled across an interesting TechNet Step-by-Step piece this morning as I started researching the Vista to Windows 7 migration subject. I just upgraded two machines over the weekend, in the wake of the RTM release to MSDN at noon CDT on Thursday. Once the downloads were completed (that took until just past midnight Friday night, in my case to get 32- and 64-bit copies of Windows Professional and Ultimate), I started cranking away at installs for my 64-bit test machine (which also got an upgrade to 12 GB RAM at the same time) and for my 32-bit production PC as well.
The formal title of the TechNet piece is "Step-by Step: Windows 7 Upgrade and Migration." Here's a screen shot snippet that shows the lead-in and library entry info: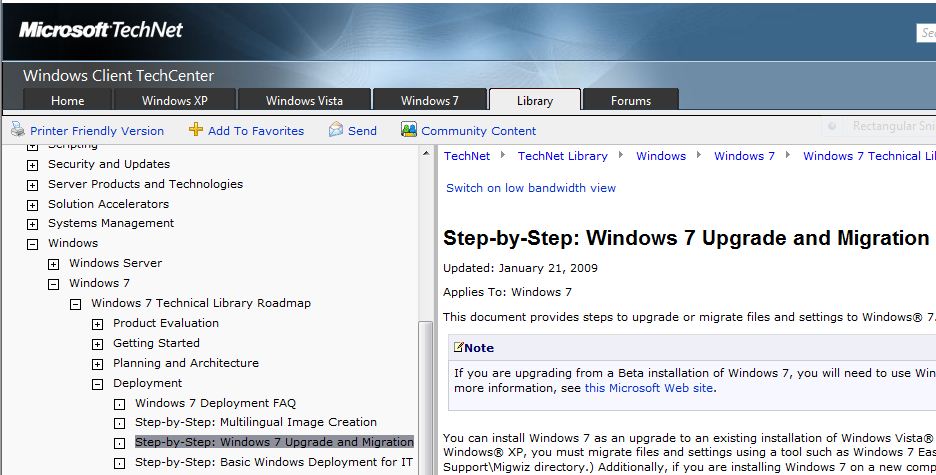 If you dig into this story, you'll find useful instructions for the following topics covered:
Upgrade from Windows Vista to Windows 7
Migrate files and settings to a new computer
Upgrade from Windows XP to Windows 7
To those scenarios, I'd also recommend that organizations with some budget also look into the Laplink one-time upgrade/migration licenses. These retail for $65 each on a one-off basis, and can probably be purchased in bulk at some kind of discount (hopefully substantial), and permit applications to be migrated along with files and settings from most older Windows OSes (especially Vista and XP) to Windows 7. This can make the job of migrating machines must easier for admins who may need to do this pronto for some existing installs.
Let me also observe that my experiences in installing Windows 7 so far have been uniformly positive and mostly-problem free. If you want the gory details check out this morning's ViztaView blog "No Joy on In-place Upgrade; Clean Install Succeeds," wherein I provide a blow-by-blow recitation of my recent experience in moving my problem-plagued production PC from Vista to Windows 7, with 98% positive results and a solution for all my software problems along the way.
August 7, 2009 2:32 PM
At this very moment, I'm about 80 percent done with my first of four planned downloads for Windows 7 from MSDN. Alas, my Vista box did go to sleep last night despite the ongoing download, so it didn't resume until this morning to finish up. Now I know to turn off sleep mode on this machine until the rest of those downloads complete, and because the 32-bit version of Ultimate is last on my list (wouldn't you know it) I probably won't get that version until later today or perhaps even tomorrow. It's the one I need to try out the upgrade on my balky and temperamental production desktop machine. Why didn't I put it first on the list?  Oh yeah: because it's lower down on the MSDN download page. Sometimes I wonder…
Here's a snapshot of my current progress:
There is some good news on the download front this morning, however: my transfer rate is bouncing between 250 KBps and as high as 450 KBps. That sure beats the sub-100 KBps rates that prevailed yesterday, and means I might actually finish all three remaining downloads in far less time than the first one took to complete. At least, I certainly hope that's the case! As I post this blog, I've already jumped to 87 percent complete on the first item, so there may indeed be cause for optimism.
[Update at 9:53 AM, 8/7/09: first download completed and now being validated. Let's hope it passes!]
[Update at 3:39 PM, 8/7/09: fourth download underway, transfer rates down below 30 KBps for a total transfer time of 26-30 hours: looks like the 32-bit versions are getting hammered, with the 64-bit versions coming more than 10 times faster. Does that indicate the current ratio of 32-to-64 bit installations (about 11 to 1)? I sure think so…]
[Update at 11:07 PM: broke the Akamai connection to reboot after updating to Logitech SetPoint 4.80 drivers just released on 8/5. Bingo! A new connection is running consistently at 400+ KBps. Maybe I'll get this downloaded before I crash tonight after all…]
---
August 6, 2009 4:17 PM
Today is August 6, 2009, the day that Microsoft is supposed to post the Windows 7 RTM versions to MSDN and TechNet. I've been logged into MSDN Subscriber Downloads since early this morning and refreshing the page feverishly every 15 minutes or so since then, but so far, the most recent updates on that page are the Windows 7 RC (release candidate) postings last made on May 21st.
I'm going to keep this up all day, and will update this blog with the news as soon as the page changes, or other news emerges about the Windows 7 RTM. Stay tuned: it's like waiting for Santa Claus…
OK, it's 1:00 PM Central Time and I just got back from lunch and here we are: the RTM files are now available, if somewhat slowly. I'm currently downloading the 64-bit version of Win 7 Professional at a whopping 55-155 Kbps or so from an Akamai site (MS obviously laid on some extra download resources for the download rush that is currently underway) and have 3 more items in the queue (Win 7 x86 Professional, and x86 and x64 versions of Win 7 Ultimate). Here's what the top of the download list looks like now:
Things are going painfully slow at the moment: it looks like it's going to take over 12 hours just to download the first of these four files. Here's what the MS File Transfer Manager has to say about my current scheduled MSDN downloads:
Because I must grab this stuff, I have no choice but to wait for it to come through. If you don't absolutely have to get this RIGHT NOW, I'd advise waiting for the traffic to die down. Early next week looks like a good time to jump into the swamp to me. I wish I could wait!
---
August 3, 2009 1:38 PM
One of my personal favorite sources for detailed, useful Windows 7 information is and remains Ed Bott's Microsoft Report at ZDnet.com. Last Wednesday (7/29/2009) he posted a gem entitled "Windows 7 first look: More than just 'Vista, fixed'." He's been working with the final RTM through a special arrangement with MS since mid-July and thus has more time than anybody else I know of outside the company in harness with the soon-to-be-released final version, which hits TechNet and MSDN this Thursday, August 6.
Apparently he hasn't slept much in the interim because he's worked with all the major versions, and has done upgrades, clean installs, and worked with the Easy Transfer utility, in both 32- and 64-bit implementations. Having just finished 9 chapters of a book on Windows 7 myself (look for Windows 7 in Depth to hit bookstores next month/September 2009) I've got a pretty darn good idea of the amount of work involved in doing all this stuff, and it's not insigificant by any means!
Visual thinkers will want to jump right to Ed's image gallery of key Windows 7 features and hidden gems, the rest of you can stick with me for a verbal recap. You'll see the new splashscreen with official Windows 7 wallpaper, taskbar thumbnails and Aero Peek, Jump Lists, Libraries and search stuff, a revised Resource Monitor layout, integrated QuickTime support, direct access to Devices and Printers plus Device staging, direct connect for external audio devices, improved system restore and advanced recovery methods, and Windows Easy Transfer details. FWIW, I agree that every single one of these items adds significant value to features and functions available in either Windows XP or Vista.
Bott also waxes eloquent on other subjects near and dear to my own recent and extended Windows 7 experience: improved responsiveness, perceptibly faster performance (especially compared to Vista), smaller resource footprint, and excellent driver coverage. He doesn't dig into Windows 7's improved resilience and robustness and much as I might have liked, nor does he mention much about its improved abilities to detect, manage, and recover from driver or software instabilities and issues. But this is just the first in a series of such articles he has planned, so I'd recommend keeping your eyes peeled for others in this sequence, as well as reading this particular item.
For myself, I've just weathered another round of crashes and failures on my production Vista Ultimate PC. I'm going to try installing Windows 7 Ultimate on that machine as soon as I can grab the MSDN download later this week, in hopes that Windows 7 proves more capable at handling my system, which incorporates a first-generation DDR3/LGA775 motherboard that apparently makes Vista crazy. If Windows 7 can't cope with that configuration, I'll know for sure that it's time to replace that motherboard. I already have a couple of second generation boards picked out and ready to order, should that prove necessary. Wish me luck, and I'll do the same for you!
---
July 28, 2009 3:04 PM
I'm a long-time fan of Microsoft watcher Mary-Jo Foley's blog on ZDnet entitled "All about Microsoft." It's usually informative, sometimes entertaining, and often thought-provoking, as with her recent July 23 (2009) blog The Scarlet V: What's a Vista business user to do? The blog itself raises some interesting points, but it's the Talkback discussion — where users share their comments, views, and rants — that really makes this particular posting so interesting.
Foley reminds us of Microsoft's changing stance on enterprise migration to Vista, as follows (the points recounted are hers, the paraphrasing mine):
Until recently, MS told enterprises to keep migrating to Vista if said migration was underway; otherwise enterprises should skip Vista and go straight to Windows 7
In May (2009) MS pretty much clammed up about Vista and hasn't said much new about migrating, pro, con, or indifferent
This led MJF to Mike Angiulo, General Manager for Microsoft's Planning and PC Ecosystem team (man, wouldn't you love a title like that? 😉 to whom she posed the question about whether or not MS is abandoning its Vista users. Short version of his response: 1. No we're not. 2. Lots of good stuff for Windows 7 will also work for Vista. FWIW, Dell is also taking a similar line, and the USAF is continuing its Vista deployment, with 90,000 desktops and notebooks already deployed, but is also moving as quickly as possible to get on the Windows 7 bandwagon.
The talkback section includes 150 postings as I write this and they make for fascinating reading. The attitudes span everything from "Vista sucks" and "Microsoft is the spawn of the devil" to "Vista is rock solid, and poses no problems for my organization" with many conceivable intermediate points of view also represented. The fragmented state of the Vista user base is clearly represented, and among those actually interested in using MS operating systems, I see a trend for most enterprise users to favor a move to Windows 7 as soon as it makes sense to do so. Some enterprise users say they won't move until SP1 comes out, while others say they'll wait for SP2. Microsoft already knows the road to widespread adoption is long and full of potholes. Let's just hope that Windows 7 helps to improve road conditions rather than making them worse, as was an all-too-common perception for Vista until SP1 came along.
But only time will tell. Stay tuned!
---
July 24, 2009 2:34 PM
OK, so now OEMs may have the Windows 7 RTM and MSDN and TechNet will have it on August 6 (in exactly two weeks, as I write this blog). In the very near future, the breathless hype and excitement of a new release will be replaced by the hard work of learning how to install, package, and deploy that new OS in a workplace setting. Of course, my first big question is "Will the MS servers be ready and able to handle the download traffic as everybody with a TechNet or MSDN subscription tries to grab licenses and keys on 8/6?" I can't also help but speculate that there will be a kind of "birthwatch" in effect, as would-be downloaders keep checking in on the download areas on both sites to see if the files and keys are ready for access or not. As I recall, when the final version of Vista SP2 hit MSDN, it didn't actually become available until mid-afternoon the day it was made available. It will be interested to see how the initial proferring plays out, and how heaviliy loaded the MS servers will be.
Longer term, though, I suspect there'll also be lots of interest in and traffic toward the various Microsoft deployment tools that can accommodate Windows 7. Interested enterprise desktop professionals will surely want to check out (and keep an eye on) the Microsoft Solution Accelerators Web page, where they will find links to the following items of special interest:
Microsoft Deployment Toolkit 2010: This is still in Beta (Beta 2, actually) and it looks like access may be limited, so keep an eye on this item because it will surely change to production status around the Windows 7 GA date (10/22/2009).
Microsoft Operations Framework 4.0: Developing guidelines and documents on Windows 7 and Windows Server 2008 R2 deployment efforts. Access to this beta is still wide-open and may be worthwhile for enterprise admins.
Microsoft Assessment and Planning Toolkit: Includes tools and guidance to assess IT infrastructures and plan for introduction of Windows 7 and Server 2008 R2, among numerous other items of potential interest. This beta is still wide-open, too.
Here are some other items of related and potential interest as well, already widely available:
There's plenty more where all those things came from, but this will be more than enough to get you started, and to help you zero in on the items most likely to do your enterprise some good during upcoming deployment planning and implementation efforts. Enjoy!
---
July 23, 2009 3:31 AM
According to long-time Windows maven Mary-Jo Foley, Windows 7 RTM will be downloadable from MSDN on August 6. For all the various access points and related dates, see her "Who will get the Windows bits and when?" blog for 7/21/2009, or go straight to the source and see Brandon LeBlanc's Windows 7 Team Blog "When will you get Windows 7 RTM?" instead. RTM has actually occurred now: as of 4:40 pm EDT today, Windows 7 was released to manufacturing. OEMs should get it in the next day or two, and both TechNet and MSDN subscribers can begin Windows 7 downloads on Thursday, August 6.
I for one am entirely jazzed about this immanent prospect. My primary production machine is currently running Vista SP2 and it's giving me fits: Event Viewer isn't working, Vista says I'm not connected to a network even though I'm on the Internet at this very second, can see all of my LAN resources, and make TCP/IP stand up and bark just like usual. The litany goes on, but if you really want to read about all of my recent troubles check out my ViztaView blog "Current List of Unsolved Vista Mysteries."
Suffice it to say that I'm on the brink of having to blow away my system drive and rebuild Windows anyway, just in the names of sanity and stability. For some perverse and perhaps ineluctable reason, I want the new OS on my production machine to be Windows 7. Looks like Microsoft has ensured that I will get my wish in just a little over two weeks. I'm not exactly holding my breath in the meantime–and I do make nightly backups–but I'm hoping like heck my desktop doesn't blow up between now and then. This does help keep things interesting, and definitely makes me pay attention to what I'm doing, and how I'm using my machine.
Have a good reason to be wishing and hoping for Windows 7 yourself? Post a comment here and let me know about it, too.
---
July 21, 2009 1:25 PM
Although what I am about to report may seem irrelevant to Windows Enterprise Desktop concerns at first blush, I plan to argue otherwise — and of course, that's why I'm reporting about a current beta and planned upcoming release for Windows Home Server Power Pack 3. It's popped onto my radar for this blog because of its planned support for Windows 7 and the time frame involved.
To understand why this might be of more than just passing or trivial interest, let me sketch some background. Windows Home Server is a special, pared-down version of Windows Server 2003 to which Microsoft has added drive replication, volume spanning, and comprehensive backup and media streaming support. It's designed to run on small, self-maintaining boxes in households to add centralized backup and media support services for small-scale home networks.
By now, I hope you're asking "What does any of this have to do with enterprise desktops?" The answer is: "Nothing directly, but recent prior history teaches that MS is taking Windows 7 very, very seriously." More explanation: since its initial announcement in January, 2007, Windows Home Server (WHS) has seen two Power Packs released so far. Each of them took about a year to develop, beta test, and release. Power Pack 2 hit the streets in late March, 2009, and the beta for Power Pack 3 is already avaialable for download as of July 9, 2009 — less than three and a half months later.
I submit this is very strong evidence that Microsoft is granting Windows 7 extraordinary focus and resources, and determined to ensure its success in every way possible. Whereas they've been lax about catching WHS up with current tools and technologies in the past, preferring to wait for the Power Pack roll-ups to incorporate (relatively) new functionality when and as they get released, this time they're aiming for day-and-date support for Windows 7 on the General Availability date.
To me this shows a very strong commitment to Windows 7. Strong enough, in fact, that they're breaking with precedent and prior history in their updates to this increasing popular home product. MED-V already shows us that they're planning strong support for enterprise deployment of Windows 7, and I expect we'll see more tools, training, and information to help early adopters obtain a positive and successful deployment experience. Now, if MS could only do something to bump up the numbers reported in eWeek's Microsoft Watch that only 17% of enterprises plan to migrate to Windows 7 within 12 months of its release…
---
July 17, 2009 3:39 PM
If, like me, you're panting with lust to lay hands on a copy of Windows 7 RTM so you can start building production PCs using the latest — and indeed, possibly also the greatest — Windows ever, I may just be able to share some good news with you. Last Tuesday, indefatigable product marketing manager Brandon LeBlanc posted some very interesting information to his Windows 7 Blog. I'll quote one section from that blog in full, because it covers the bases for most, if not all, of the readers of this enterprise desktop blog:
Once Windows 7 is complete, how do I get it?

The answer depends on who you are:

MSDN & TechNet Subscribers: Subscribers will be able to download the final version of Windows 7 a few weeks after we announce RTM.
Volume License (VL) Customers: Customers with Software Assurance for Windows will be able to download the final version of Windows 7 Enterprise a few weeks after we announce RTM. As announced today by Bill Veghte during his WPC09 keynote, customers without Software Assurance will be able to purchase Windows 7 through Volume Licensing on September 1st.
Consumers, Enthusiasts, & Beta Testers (Everyone else): The retail version of Windows 7 will be available in stores October 22nd. If you pre-ordered Windows 7, it should be delivered sometime around the October 22nd timeframe (depends on the retailer). You can pre-order Windows 7 today through many online retailers like the Microsoft Store.
On New PCs: OEMs are expected to start shipping new PCs with Windows 7 pre-installed on them around October 22nd.
Of course, this begs the inevitable question "When will Windows 7 RTM be released?" All LeBlanc is willing to say in this blog, and all that Microsoft will tell anybody on the record is "When it's ready." Some time during or before the end of July looks pretty likely for the actual RTM itself, which means Windows RTM versions for those with the right subscriptions or volume license agreements (and OEMs, of course) some time during or before the middle of August. Or, as Jerry Pournelle would say "Real Soon Now."
Can't wait!
---
July 15, 2009 1:51 PM
OK, so today is Wednesday, so that means Patch Tuesday has now come and gone, and the finalized version of the Security Bulletin Summary for July 2009 is now available. In addition to six updates, there's also an updated version of the Windows Malicious Software Removal tool included amidst this month's offerings. The following table provides some details on the security-related patches and updates, with links to their underlying individual security bulletins.
| Bulletin ID | Rating | Target | Remarks |
| --- | --- | --- | --- |
| MS09-023 | Critical | Microsoft Windows | 2 privately reported remote code execution items in the Windows Embedded OpenType (EOT) Font Engine |
| MS09-028 | Critical | Microsoft Windows | 2 vulnerabilities (1 public, 2 private) in Microsoft DirectShow; opening a specially formatted QuickTime media file can lead to remote execution |
| MS09-032 | Critical | Microsoft Windows | Resolves privately reported vulnerability already being exploited in the MS Video ActiveX control; could lead to remote execution upon viewing a specially crafted Web page in IE with a malicious ActiveX control |
| MS09-033 | Important | Virtual PC Virtual Server | Privately reported vulnerability allows arbitrary code to be executed, or complete control taken for an affected guest OS |
| MS09-031 | Important | ISA Server 2006 | Privately reported vulnerability could allow elevation of privilege upon successful impersonation of administrative account on ISA server configured for Radius One time Password (OTP) authentication and authentication delegation with Kerberos Constrained Delegation |
| MS09-030 | Important | Microsoft Office Publisher | Privately reported vulnerability could allow remote code execution if a user opens a specially crafted Publisher file; could lead to complete control over affected system. |
The critical Windows related items will probably need to be addressed as soon as possible; the other important items may or may not apply to all enterprise situations, but will surely apply to some. For those outfits, the possibility of remote code execution or outright system takeover suggests that they, too, should be addressed quickly.
FWIW, I was able to download and install all these patches on several Vista systems late last night/early this morning without any difficulties. Alas, the same is not true for an optional update to one of my systems Realtek 8111B PCIe GBE Ethernet controller: after three attempts to install same, I'm still scratching my head and wondering why it won't work. And wouldn't you know it: the Realtek Web site doesn't have an update newer than May 2009, while this one is dated for earlier in July. Sigh.
---