---
June 3, 2009 3:32 PM
OK, now the rumors are no longer rumors, and the launch date, aka GA (General Availability),  is out thanks to Steve Ballmer's keynote at Computex (much) earlier today in Taipei, Taiwan, and Brandon LeBlanc's "Date for General Availability" posting to the Windows 7 Team Blog yesterday.
Here's the deal, in broad strokes:
Windows 7 hits store shelves on 10/22/2009, ostensibly to have it ready for the holiday buying season (lots of others outside MS are speculating it's more of a pre-emptive strike against Android which becomes available at the end of October)
The Windows 7 Upgrade Option will kick in "soon" which permits those who purchase a new and qualifying PC to exercise  "…a special deal to upgrade to Windows 7…" Look for Brandon to blog about this program with dates and more details as "soon" becomes "real soon," I guess! (According to TechARP, a usually reliable source for leaked MS secrets, this will happen on July 1.)
RTM should occur some time in mid-July, with Windows Server 2008 R2 following in the same time frame.
OK, now what  I want to know is when MSDN and TechNet subscribers can lay hands on the RTM version. I hope we'll see some more information on that very soon. Not only am I itching to get and use this code, I'm also working on a book that we're going to have to review very thoroughly to make sure it agrees with the RTM version in all respects and in every screenshot. Stay tuned!
June 1, 2009 8:56 PM
It just goes to show you that sometimes enough hullaballoo can cause even the biggest of dogs to change its bark. Case in point: the hue and cry that followed the disclosure earlier this year that Microsoft's Windows 7 Starter Edition would be limited to 3 simultaneous applications while running. Ed Bott showed that this wasn't really a hard and fast limit anyway, because it included as many browser tabs as you might want to open in a single window, and apparently didn't charge for use of OS-based utilities (Windows Explorer, Microsoft console programs, Accessories, and so forth).
Nevertheless, I'm pleased to report that on May 29, Windows 7 product manager Brandon LeBlanc posted to the Windows Team Blog an item entitled "Let's talk about Windows 7 Starter." Among other tidbits of interesting info, includes the news that Windows 7 Starter will no longer impose any arbitrary limitations on the number of apps it can run at the same time. Of course, given the kinds of machines that are typical for the netbook platforms at which it aims, I suspect that CPU limitations will still play a role in the number of apps anybody will want to keep open at any given moment.
What's just as interesting about this posting is the list of things that Windows 7 Starter does NOT include, which I quote verbatim from LeBlanc's posting:
Aero Glass, meaning you can only use the "Windows Basic" or other opaque themes. It also means you do not get Taskbar Previews or Aero Peek
Personalization features for changing desktop backgrounds, window colors, or sound schemes.
The ability to switch between users without having to log off.
Multi-monitor support.
DVD playback.
Windows Media Center for watching recorded TV or other media.
Remote Media Streaming for streaming your music, videos, and recorded TV from your home computer.
Domain support for business customers.
XP Mode for those that want the ability to run older Windows XP programs on Windows 7.
To me, most of these limitations make a lot of sense. The only one I'd complain about is the multi-monitor support one: given that most netbooks offer resolution of 1024×600 or so (especially those with 10.1″ screens or smaller) it strikes me as cruel and unusual to keep me from hooking up an external monitor when one is available. The hardware includes a VGA (or equivalent) video out port, so why should the OS restrict its use?
Let's make some more hullaballoo! Maybe we can get MS to back off on this, too. I've already posted this observation to the comments on the blog. Perhaps you could, too?
---
May 29, 2009 7:12 PM
Previously aswoon with relief at a more stable system after installing Vista SP2, I failed to notice an interesting dilemma: although I can access local area network resources, and have no trouble using the Internet, Vista thinks I'm not connected to any network. This leads to a very interesting display in Windows Explorer, in fact:
I conducted a little research into this situation and learned that this problem has persisted since Microsoft introduced SP1 for Vista — I guess I should be grateful it waited this long to bite one of my systems — and that there's no easy fix available. I tried leaving, then rejoining my local workgroup, rebuilt my TCP/IP protocol stack, uninstalled then reinstalled my NIC driver — all to no avail. Looking over the various fixes others have attempted — see this discussion on the MSDN Forums entitled "Windows Vista – LAN working properly, but Vista says I'm not connected," for example — I see I hit most of the high points. But since nobody else has been able to fix this, either I supposed I shouldn't feel so bad.
Nonetheless, I can't help it. It bugs me no end when things don't work like they're supposed to, and I can neither fix them nor figure out why or how they broke. Maybe that's what keeps me banging my head against Vista after all these years, eh?
---
May 27, 2009 4:14 PM
With a publication date of 5/25/2009, Windows Vista Service Pack 2 actually hit the Microsoft Download Center yesterday (5/26/2009). It's official title is "Windows Server 2008 Service Pack 2 and Windows Vista Service Pack 2 – Five Language Standalone DVD ISO (KB948465)." Not only does this image roll up Windows Server 2008 and Windows Vista in a single ISO image file; it also includes both 32- and 64-bit versions of both OSes. The following Vista versions are also included:
Windows Vista Business
Windows Vista Enterprise
Windows Vista Home Basic
Windows Vista Home Premium
Windows Vista Ultimate
On the Server side, 32- and 64-bit versions for standard processors are available, plus a version for Itanium-based systems as well.
There's also a TechNet article available dated 5/26/09, entitled "Service Pack 2 for Windows Server 2008 and Windows Vista." This is where most people will want to go to grab their downloads, because you can get separate versions here for ISO (the preceding item in the initial paragraph), but also separate links for x86, x64, and ia64 (Itanium) versions are also available. You'll also find a link here to the Windows Service Pack Blocker Tool, and a FAQ that describes its recommended uses.
It will still be a while before Windows Update provides automatic access to Windows Vista SP2, so you may want to give the TechNet link above a visit in the meantime.
---
May 24, 2009 6:26 PM
Last week, starting May 15, the pre-release version of the forthcoming MS Office 2010 started to make its way into a select group of invited participants as part of Microsoft's Technical Preview (whose official pre-release date isn't until July). As has become typical for such previews, no sooner did this happen than screenshots of the new product began appearing online. Also as typical, Malaysian site ArsTechnica was the first to scoop this information, with their release on May 15 of a comprehensive set of screenshots, which have since been removed at the request of the Microsoft legal department. That said, CNET still has a pretty comprehensive set available as of May 24, but who know if they'll still be there by the time you look for them.
What emerges is an installation process that's more like the one for Office 2007 than it differs from that sequence, but where lots of details about look and feel have changed, and where more elements than ever before are present in the Enterprise version. There's a bit more of a Windows 7 theme to the product, with the use of large icons and screen layouts reminiscent of the new OS everywhere. There is also quite a bit more network smarts in the suite, with more advanced options for content sharing, access control, and the ability to create PDF outputs. You can also choose to hide the whole Ribbon at the top of the screen, when you're trying to maximize text viewing or input area on screen (this will be handy for those hardy enough to use Office on a netbook PC).
There are some amusing aspects to the preview itself ("Send a smile" for positive feedback, "Send a Frown" for negative). Outlook 2010 gets a bit of a makeover that looks to be for the better, with more intelligent Ribbon integration through its own explicit tab (instead of a top-left Window button). New elements include InfoPath Designer and a SharePoint Workspace, with reworked icons for all suite components.
It looks like this will be an interesting release for the leading enterprise productivity suite. I'll be curious to keep up with — and report on — "push" installation capabilities, and other enterprise-focused features and capabilities. So far, news on this front is pretty non-existent.
---
May 22, 2009 4:40 PM
Although Microsoft released Windows Vista SP2 to manufacturing (RTM) on April 29, and to MSDN and TechNet subscribers in early May, it's still not available for download elsewhere. As of this morning, neither the Microsoft Download Center nor Windows Update shows hide nor hair for SP2 anywhere. On its Microsoft Update Product Team Blog for May 20 we finally got some news about what's going on in a posting entitled "Get ready for Vista and Win2k8 SP2."
According to the MU Team, Vista (and Windows Server 2008, which share a common code base) SP2 "…will be available in the coming weeks on the Download Center (DLC), and also through Windows Update and WSUS." But according to Nick Clark, by way of Mary Jo Foley, automatic updates for Vista SP2 won't start getting pushed until June 30, 2009.
Why such a long delay before automatic push? Enterprise users should know this answer better than anybody else. Rolling out any service pack, including SP2, takes prior testing and may involve possible remediation or even a postpone/no-go decision, which in turn takes time. This approach also leaves the door open for some organizations to use the Microsoft Service Pack Blocking Tool to prevent the SP2 update from being applied prematurely.
As for me, I started testing various SP2 versions (including a slipstreamed install for both x86 and x64 versions) a couple of months ago. I liked what I found and saw enough to switch my production units over to SP2 in the last week (thanks to my MSDN subscription), and believe that many others will want to switch over to SP2 as time and opportunity permit. In fact…knock on wood as I write this…I haven't had a single stability problem with my production machines since the day after installing that service pack (I did, however, have problem during the reboot phase of the install on one of those machines and got tagged in Reliability Monitor for an unexpected shutdown when I had to hit the reset button to get the SP2 install to continue through the reboot phase successfully). Other than that, it's been surprisingly smooth sailing on the sometimes choppy Vista waters ever since! Look at the "monotonically increasing trend line" in Reliability Monitor since 5/14 (the day after my install on the problem machine).
---
May 20, 2009 6:46 PM
One of the great joys of writing a blog is that the author gets to choose the topic, no matter how odd, weird, or unusual it might be. Though its relevance to enterprise Vista is, I freely and cheerfully admit, tangential at best I simply had to chime in about the new Klingon anti-virus package from Sophos. I stumbled across this in today's PCmag.com Security Watch blog from veteran malware researcher and expert Neil Rubenking, did a double-take, checked the article, and ROFL or maybe even LMAO.
As it turns out this is really just the Sophos Threat Detection Test with interface screens dubbed into Klingon. I have four things to say about this software product (provide yourself with appropriate derisory sound effects for each one, please):
1. Some companies obviously look farther for new markets to exploit than others.
2. The product is a clear testament to the ability to separate UI from underlying functionality.
3. Some software engineers obviously have too much time on their hands.
4. Did April first come late this year?
Even so, it's a real hoot. Check it out. Perfect for those security-conscious Trekkies on your gift list, too.
---
May 15, 2009 11:45 PM
The beta version of the Windows 7 Upgrade Advisor is ready for download. You can check it for yourself if you like, but here's a guided tour through a (slam-dunk) installation and scan. I picked a system already loaded for bear to try this tool on, knowing it would pass the scan,  just to show the outline of the program's installation and use. Here goes.
1. After downloading the program, run Windows7UpgradeAdvisor.msi
2. Click Next, then click the checkbox to accept the EULA

3. Supply an installation target folder, or stick with the default (that's what I did).

4. Wait while the program installs itself on your system.

5. When installation completes, you can close Microsoft Installer.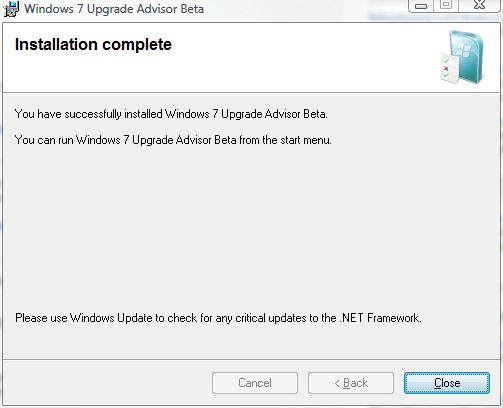 6. Next, navigate to Start, All Programs, where you'll find an entry for Windows 7 Upgrade Advisor Beta. Fire that puppy off!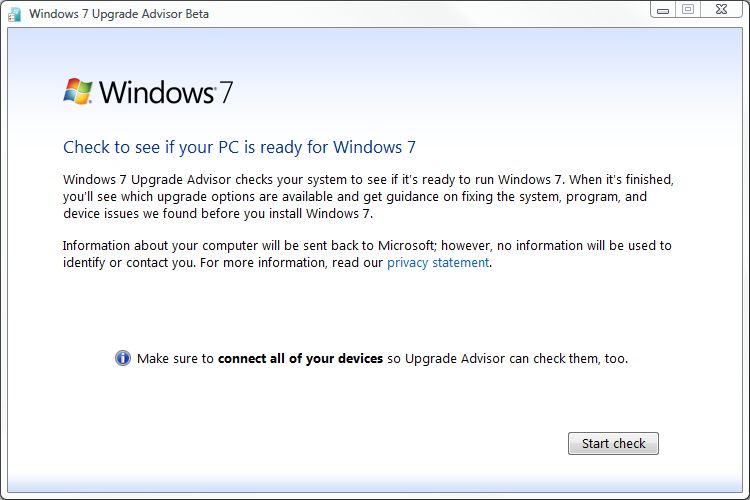 7. As the program runs, you'll get a circulating progress bar. Whereas the Vista version took about 4 minutes to complete on this computer, the Windows 7 version finished in just under 3.

8. When the program finishes you'll see a summary screen pop up. This one simply indicates I won't get everything from Windows 7 that I got from Windows Ultimate (thank goodness! ;-).

9. More details on the hardware checks indicate I have a fast enough CPU, sufficient RAM and disk space, and my graphics card can handle Aero.

In future blogs, I'm going to try other systems with the tool, including a modest notebook, a netbook, and an older single-core machine, and I'll report on those results. This tour should give you a pretty good idea about where to get the Windows 7 Upgrade Advisor beta, and how to use it yourself.
---
May 14, 2009 4:49 PM
Now that I've been living with Vista SP2 for three whole days, I'm getting some experience with the new environment on some production machines. I did encounter a situation where SP2 froze at 48% through its Phase 1 (of 3) changes prior to the restart between Phase 2 (before restart) and Phase 3 (post restart), but a reset on the machine caused it to start over with Phase 1, after which the entire remaining process completed successfully. Having made a complete backup before starting, and wondering if the admonition not to power off the PC while in process was as dire as stated, I was both surprised and pleased that the SP application proceeded and succeeded on a second try without having to restore the backup and start over. Is it possible MS has improved its SP application tools?
At any rate, with the SP now in place I'm watching my systems closely for stability and reliability. I've also dug into the System and Application logs in Event Viewer to see if some of my chronic and persistent errors have been addressed by the new service pack. Without conducting a complete exhaustive analysis, my observation is that some have been addressed, while some have not.
Here are some details. Prior to the SP2 application, I had a decent-sized laundry list of recurring errors for which I could find no fix, but which also didn't seem to adversely affect system stability and usability. Here's a summary table for these items:
| | | | |
| --- | --- | --- | --- |
| Critical | DriverFrameworks-UserMode | 10110 | A UFD has a flaky driver |
| Warning | Servicing | 4374 | KB955430 not applicable to my system |
| Warning | Time Service | 36 | No synchronization occurred in last 24 hrs |
| Warning | Tcpip | 4226 | Limit of concurrent TCP connect attempts reached |
| Error | HttpEvent | 15016 | Unable to initialize Kerberos for server side authentication |
Of these items, I see some have disappeared, and others have morphed slightly (and more informatively) into altered forms. The time service error remains unchanged (but it always works when I synch manually, so I'm not worried about it). The UFD error code persists, but also gets a new companion code 10111 that explicitly identifies the offending device by name. Because it always works when I plug it in, my workaround here is just to remove the device whenever I finish using it. 4374 (update not applicable) has gone away completely, and 15016 (Kerberos not initializing) shows up only once (it used to appear daily) . 4226 (TCP connect attempts) hasn't showed up, either, but this usually occurs when I'm using FTP and I haven't done so since applying SP2. That means I give SP2 a 20-40% improvement score on those "pre-existing conditions."
As you might expect, however, I also see some new recurring items in the Event Viewer that I didn't see before applying SP2. I summarize these in the next table:
| | | | |
| --- | --- | --- | --- |
| Error | Service Control Manager | 7000 | Windows search service failed to start in timely fashion |
| Error | DistributedCOM | 10005 | Error 1053 when attempting to start WSearch |
| Error | BitLocker-Driver | 24620 | Volume information on N cannot be read |
The DCOM error is one I've seen before and relates to Windows Search attempts to index items that are no longer present (hence an empty search target in the error message detail), and ties of course into error 7000 as well. Likewise, Volume N relates to the UFD with the driver problems. All of these are items I can live with (and if I can figure out my search target issue for Windows Search) maybe even do away with.
My final analysis on SP2 for chronic errors: "So far, so good!"
---
May 11, 2009 5:03 PM
I'm helping to revise a book on Windows 7 right now. By well-known Windows mavens Brian Knittel and Bob Cowart, it's to be called Windows 7 in Depth (Pearson, 2009, ISBN: 0789741997). In the course of writing the chapter on hard disks, formats, basic and dynamic volumes and so forth, I was forcibly reminded that there are many different formats that work on USB Flash Drives, aka UFDs. And as is usual for good questions of all kinds the answer to the inevitable question: "Which format should I use on my UF?" start with the famous qualification phrase: "That depends…"
I'll list the formats that work on UFDs in Windows Vista and Windows 7, and explain why you might use each one in the ensuing explanation (for more great information on this topic see GUIDE: FAT16, FAT32, NTFS, or exFAT on USB Flash Drives? in the forums at the excellent NoteBookReview.com Website):
FAT16 (aka simply "FAT;" there used to be a FAT12 format once upon a time, too, but it's not supported in Vista or Windows 7 although I think these systems can probably still read it) offers the best overall cross-platform support for non-Windows or old Windows OSes, and also delivers the best total performance overall. That said, it's limited to 2 GB volume size (up to 4GB on some OSes, if a 16 KB cluster size is used), with a maximum file size equal to maximum volume size minus file/directory overhead (usually no more than a few hundred bytes). FAT16 works best for UFDs of 2 GB and smaller.
FAT32 also offers good cross-platform support, especially on non-Windows OSes (it won't work on older DOS versions or Windows versions prior to Win95 SR2), and is not subject to the 2/4 GB size limit (it tops out at 32 GB, more than big enough for all but the largest UFDs on today's market). It offers only moderate to slower overall performance, however, and supports a maximum file size of 4 GB. FAT32 works pretty well on all but the largest (< 32 GB) UFDs.
NTFS supports relatively low cross-platform support, and doesn't work on non-NT based Windows versions, and not at all on DOS (though the NTFSDOS utility from SysInternals can mitigate this to some extent but only for reading the contents of NTFS volumes). It's very fast for single files, but doesn't do as well as FAT16 or FAT32 for write activities involving multiple files. It does support ACL based access controls and works with all kinds of encryption technologies, and is far more secure than FAT (Windows 7 supports a Portable BitLocker implementation that lets you encrypt UFD contents for save storage and transport). You must use the Optimize for Quick Removal option on an NTFS formatted UFD, or risk losing data unless you use the "Safely Remove Hardware" applet to dismount it from your PC. NTFS or exFAT are required for UFDs larger than 32 GB, and work well for those who want to use large UFDs for backups.
exFAT, introduced with Vista SP1, is basically FAT64. This supports file and volume sizes of 264-1 (16 exabytes), and volumes to match, and raises the ceiling on maximum file entries per directory as well. Vista can't use exFAT for ReadyBoost, but Windows 7 can. exFAT currently works only in Vista, Windows Server 2008, and Windows 7, and also suffers from slow write speed on multiple files. NTFS or exFAT are required for UFDs larger than 32 GB, and work well for those who want to use large UFDs for backups.
To format a UFD with any of these file systems, insert it into a Vista or Windows 7 PC, right click the drive icon in Windows Explorer, then select the format entry in the resulting pop-up window, to see a display something like this one (it shows the exFAT format selected in Windows Vista).
---