Jun 9 2009 1:55PM GMT

Profile: Eric Siebert
I wanted to know when current VMware users are planning to upgrade their existing VMware production environments to vSphere, so I ran a poll on my website. I then ran additional polls to find out the primary reasons that users are holding off on upgrading to vSphere, and to see if they are planning on upgrading their Enterprise licenses to the new Enterprise Plus licenses.
What I discovered is that while people are eager to upgrade to vSphere, there are reasons why others are waiting; and while some will upgrade from Enterprise to Enterprise Plus licensing before the end of the year, a number of respondents indicated that they have no plans to upgrade at all.
When will you upgrade?
The first poll clearly indicated that many existing customers will be quick to upgrade to vSphere to benefit from the new technologies. Out of 140 responses, 32% are planning to upgrade within 3-6 months and another 25% of users are planning on upgrading within 0-3 months.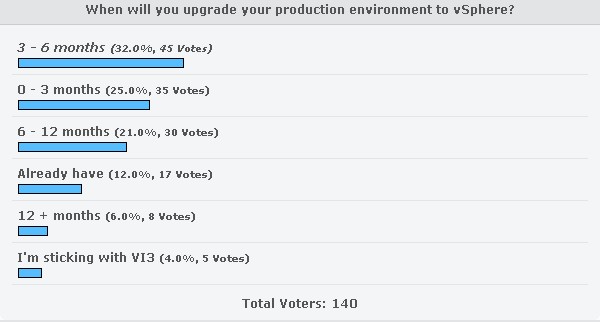 Only 12% had already upgraded to vSphere, so my second poll was to find out the primary reason that users were holding off on upgrading to vSphere.Why wait?
Out of 101 responses, 31% of users are waiting until they get more knowledge and experience with vSphere. 29% of users indicated that they are waiting for the first maintenance update of vSphere.
This would seem to indicate that many are leery of this release as it is new and has only been tested by VMware and its beta testers, suggesting that memories of the infamous time bomb bug still linger.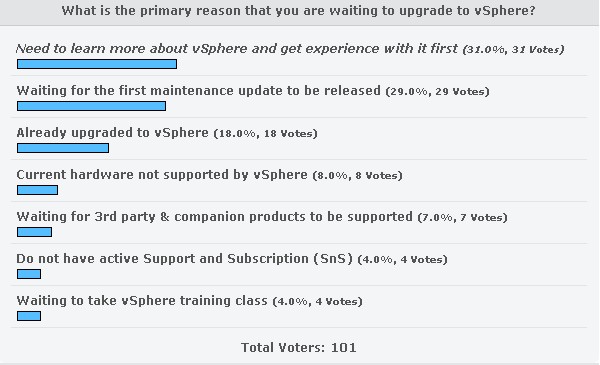 Enterprise or Enterprise Plus?
Finally, I wanted to see if customers were planning on upgrading to the new Enterprise Plus edition and taking advantage of the discounted $250/processor special upgrade offer that is valid until the end of the year. I ran a third poll; out of 65 responses only 43% of current Enterprise customers are planning on upgrading to Enterprise Plus this year. 37% are not planning on upgrading at all — my guess is that this is because they can not afford to upgrade their licenses or are not interested in the extra features that are included in Enterprise Plus (Host Profiles and Distributed vSwitches).
To summarize these results, many customers are anxious to upgrade to vSphere for its new features and benefits — but not too anxious, many are holding off until they learn more about it and for the first update to be released. Additionally, many customers are not willing to spend the extra money to upgrade to the new Enterprise Plus license tier and will stick with their existing Enterprise licenses.
What are your plans with regard to vSphere? Commennt and let us know.