---
January 23, 2013 11:41 AM
Until built-in webcameras become higher quality or enterprises decide they care less about high video resolution, the life of the USB webcam market may be left to the health of enterprises.
"It's no secret the USB webcam business is suffering due to the growth of embedded webcams. Consumers particularly are not concerned with high definition videoconferencing. … Good enough quality is fine when you are talking to friends and family," Forrester Analyst Phil Karcher said.
Karcher believes that consumers will pick up on high definition (HD) videoconferencing slower than enterprises: "While desktop videoconferencing is becoming more popular in both the consumer and business markets, business buyers have a stronger appetite for high-quality audio and video."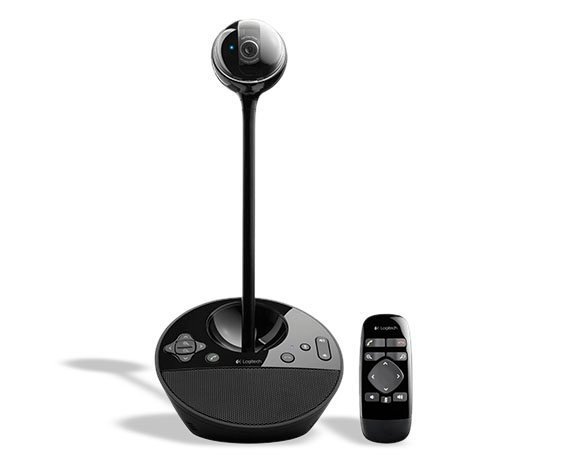 Due to this "good enough quality" attitude from consumers, some major players have exited from the webcam business, like Cisco. At the same time, consumer-oriented webcam vendors are targeting enterprises, like Logitech. The vendor recently evolved it's classic desktop webcam into a small-group camera [shown left]. By pushing the roundtable BCC950 ConferenceCam, Logitech hopes to fill a niche for businesses craving video conferencing systems at palatable prices (compare a $249.99 conference cam to a $5,000 room-based video solution).
Karcher says that Logitech isn't the only consumeristic vendor pushing into the enterprise market. Both Google and Skype offer free and professional video conferencing products and services for organizations to experiment with.  
" The consumerization of IT is accelerating this trend. Its also more viable with the cloud allowing small start ups to scale up their operations by experimenting in the consumer markets before introducing more hardened enterprise offerings."
Time will tell whether this enterprise experimentation will be enough to keep USB webcam vendors afloat.
December 21, 2012 4:43 PM
After Cisco's quarterly earnings call in November revealed soft numbers for the company's collaboration business, I wrote a story about how Cisco was planning to bolster its collaboration strategy for the coming year. The story mentioned that users wanted to see more integration and interoperability from Cisco, something that CEO John Chambers mentioned in that same earnings call.
After the story published, Cisco requested a follow up conversation to talk more about the notion of integration and interoperability, so I got back on the phone with Roberto De La Mora, senior director of collaboration solutions marketing for Cisco.
De La Mora emphasized that customers are asking for better interoperability from Cisco, but they're looking for the ability to integrate with third-party technology.
While Cisco's collaboration products — like TelePresence and Jabber — can be purchased separately, they all play nice with one another. Businesses can purchase these products separately and the pieces do fully integrate with each other, even if they are purchased at different times, he said.
"We have bundling and pricing also to make it cheaper, but if you only want to buy WebEx for example, you can buy only that," De La Mora said.
As an example, if a company starts off with only Cisco Unified Communications Manager (CUCUM), and then purchases Jabber down the road, Jabber will connect with CUCUM to allow phone and video calls. And because Cisco's tools configure automatically, there is little involvement from IT needed, De La Mora added.
"All these pieces were designed to work together from the get-go, but that doesn't mean you have to buy them all at once," he said.
Sometimes for customers however, less is more. Other vendors — like Microsoft — bundle their collaboration product licenses into larger purchases for their customers. Cisco had always included Jabber as a separate line item charge for their customers, but recently saw the value in consolidating and began bundling Jabber licenses into CallManager.
Customers are fine with a monthly WebEx spend — but they don't want to see the extra Jabber line item that could be growing rapidly each month. "When customers are seeing this extra line item spend increase, it's an easy target to say 'let's eliminate that'," said Bill Haskins, senior analyst for Wainhouse Research.
"People like WebEx, and so integrating that Jabber spend into something they are already buying is a great approach," Haskins added.
Third party integration
UC and collaboration is still very much a mixed vendor environment, and customers have made it clear that they want better integration between Cisco products and their existing UC tools. Cisco will be making strides in satisfying their users in this area.
"We are doubling up on software investments, because most of those integrations users want aren't just on a hardware level, but on a software level, too," De La Mora said. Cisco currently offers integration to platforms like Microsoft's Exchange, Office or Lync, and Google's Gmail.
"If a user wants to start an instant message session with someone using Lync, or a video conferencing session with a person that has a unit from Polycom, we have open APIs and we use industry standards to make sure it's not just integrated with Cisco," he said.
---
December 11, 2012 11:58 AM
SayWhat — a 5-employee start-up — released a product today that actually makes our smartphones smarter. How you ask? By giving phone call recipients the ability to know what a call is about before the phone is answered. It also gives callers the ability to see presence on a phone and check availability before you make a phone call.
SayWhat goes beyond caller ID. It also goes beyond ditchmail services like YouMail, or forward-to-voicemail-and-listen services offered by Google. My Personal Secretary is a mobile app available in the Google Play store today that offers ditchmail and auto-reply SMS to phone calls. But SayWhat goes a step further by allowing callers to explain the urgency, mood and subject of a call before the phone is even answered — much like the subject line of an email.
The benefits of SayWhat seem obvious, and there's no risk because the application is free, their privacy policy is clear and you can still interact with those who don't have the app. SayWhat doesn't even bombard users with advertisements.
The downside? It's currently only available on Android. Noam Wolf, co-founder and CEO of SayWhat Labs Ltd, says he plans to make it iPhone and Windows' phone compatible in the near future.
As you could probably guess from the infomercial above, the app is geared at consumers. But the company plans to target enterprises down the road provided enterprises show enough interest in the app.
"There's nothing bad about this app from the enterprise perspective. I know my buddies over in sales would love it if it could interact with Google Chat statuses, CRM and automated marketing tools — which Noam seems capable of doing if the demand is high enough," Mobiquity Marketing Associate Ben Bell said.
He noted companies looking to deploy SayWhat would probably own an enterprise app store. One hurdle to enterprise adoption would be finding a way for IT groups to "wrap the app … to do what they need to [do] security-wise," he said.
While SayWhat may enjoy consumer adoption to start, enterprises looking for similar programs may be more interested in apps like Mosec, Mobile Secretary, which sorts through emails, instant messages and voice calls  and interfaces with a company's CRM," Bell said.
Still, SayWhat is the only mobile application that can tell you what a call is about before you recieve it.
---
December 3, 2012 10:21 AM
It was a rivalry of ShoreTel's premise-based and cloud- based offerings last Wednesday at the TD Garden in Boston…sort of.
The Boston Celtics, a customer of ShoreTel's premise-based phone system went up against the Brooklyn Nets, a new user of ShoreTel Sky, a cloud-based business VoIP offering made possible through the Sunnyvale, Calif.-based vendor's recent acquisition of M5 Networks.
My night kicked off with a tour of the Celtic's data center — housed across the street from the Garden — by Jay Wessel, vice president of technology for the Boston-based basketball team. Formerly an Avaya customer and a self-proclaimed "hardware guy," Wessel had been interested in ShoreTel's software-based phones for several years before making the switch this season in a newly renovated office.
While the employees (and just maybe the players, too) are enjoying caller ID and forwarding capabilities that the new, slick-looking phones provide for the two Boston-based and Waltham offices, the Brooklyn Nets were looking into making an even bigger leap of faith.
Once inside the Garden before the start of the game, Mireille Viau Verna, senior director of IT for the Brooklyn Nets, described the recent relocation of the Net's office from their New Jersey location into Brooklyn. Rather than rip out and bring their legacy equipment with them, the New York-based team decided to go big and adopt a cloud -based phone system.
Verna and her team reached out to M5 — now ShoreTel's Sky division — and was up and running in the cloud within hours, she said.
The cloud-based system — a newly-appointed leader in the UCaaS Magic Quadrant this year by Gartner, and also the first year Gartner has announced leaders in this category — is a great fit for the small Nets administration team, Verna said, noting that the new system came in handy when Superstorm Sandy struck the East Coast earlier in the Fall.
"If we had it to do all over, we'd go with the cloud-based system again," she added.
The two ShoreTel customers may have different phone system preferences — and probably other differences as well, judging by the scuffle that broke out between several Celtics and Nets players after a technical foul. However, both teams can agree they are enjoying new digs, complete with new IP phone systems helping them accomplish greater business goals and handle larger call volumes, with less risk of downtime.
---
November 28, 2012 9:54 AM
Upgrading to unified communications is similar to making the switch from a standard cell phone that just makes calls and sends texts  (the horror), to a smartphone with all the bells and whistles — like an app-filled iPhone or Android. Once you have access to important capabilities all in one place, there really isn't any turning back.
Having the ability to make a quick phone or video call, check someone's presence status or send an instant message from an integrated system can change an employee's job experience quickly. And once a business decides to go all out and implement UC or collaboration tools into the workflow, they are in it for the long haul.
But new tools, especially those that are infamous for hogging bandwidth — like video — can wreak havoc on an enterprise network. The good news is that many network monitoring vendors have noticed this new blind spot that real-time UC traffic causes for IT.
Tone Software Corp, a provider of network monitoring and management for converged telecommunications and IT infrastructures, recently announced a free, downloadable monitoring tool for Microsoft Lync UC environments. Once downloaded, the ReliaTel Lync tool offers IT a full view of Lync quality issues, call quality statistics, and QoS dashboards to help pinpoint the root cause of developing and historical Lync quality problems, according to the company.
Tone Software's ReliaTel product suite supports many different UC environments, including Avaya, Nortel and Cisco. The latest version of the provider's ReliaTel VoIP and Unified Communications (UC) Service Assurance solution, 4.1, was the first version to offer proactive monitoring and management for Microsoft Lync UC environments — something that many enterprises are asking for.
As Lync adoption continues, organizations are realizing they need greater  visibility into the voice quality of their Lync UC services, which can overload their IP network and put additional strain on each Lync users' desktop resources, Tone Software noted in a recent press release.
"The free ReliaTel Lync Monitoring Tool builds on that premise to provide Lync users with a quick and easy methodology to monitor and manage critical QoS across their Lync UC environment," said Amit Kapoor, director of strategic technology for Tone Software.
Just like with any new network application, monitoring is key. And since enterprises can't stop UC and collaboration once they start, being able to quickly identify performance degradation culprits and smooth out potential bottlenecks along the way will be essential to helping users take advantage of all the unique (and pretty exciting) features that UC tools have to offer.
---
November 26, 2012 11:13 AM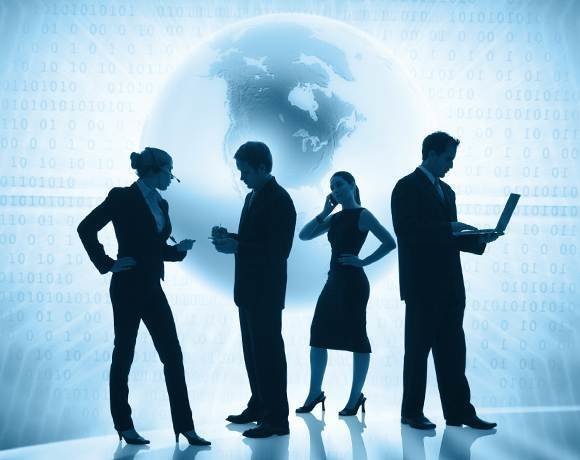 This year's UC Magic Quadrant from Gartner brought to light several unified communication trends:
UC Magic Quadrant author Bern Elliot, VP Distinguished Analyst, explains the reason for such a tight-knit integration:
It's a natural fit to start integrating collaboration capabilities with communications capabilities… It really was enabled by the convergence of communications into software environments on Internet networks around Internet standards…. As unified communications comes together, the environment can do more because it's software [which can break down] … unified communication silos.
These trends will continue to evolve the definition of UCC. In the coming year, we can hope for fewer silos between different types of communication, like messaging and telephony. We can expect more cloud services for UCC; UCC products with mobile clients will become the norm; and video will become more integrated, higher quality and less pricey.
---
November 16, 2012 3:02 PM
Users want and expect interoperability and reliability from their UC and collaboration tools. As enterprises learn to pick and choose the right vendor to match their unique business goals, vendors typically rely on their channel partner's expertise within certain market verticals for deeper insight into what features these businesses actually need.
Industries — such as healthcare, education and finance — all require a specialized tools for communication and collaboration.  UC vendor Avaya and Genband, an IP infrastructure provider, have expanded their partnership with the hopes of targeting "carrier-class" enterprise customers, or large higher education, health care, government and finance organizations.
The two companies will actually recombine elements of Nortel Networks, both Nortel's carrier VoIP and applications software unit now owned by Genband and Nortel's enterprise segment, scooped up by Avaya in 2009. The extended collaboration is about continuing to support the existing customer base of Avaya Communications Server 2100 (CS 2100) and Avaya SL-100 products — a definite plus for former Nortel users who will still be able to use of their legacy assets.
And Avaya and Genband will continue to target niche enterprise customers. "UC needs to be carrier class and beyond reliable. For government and health care in particular, downtime is intolerable — we're talking about lives on the line," said Richard Travis, senior product manager for Avaya.
"It's really about enabling these industries with  applications for video conferencing and emergency notification services," Travis said, noting that the Avaya Aura and Genband Genius platform will enable customers to take advantage of any new features along the way.
It's been a bumpy ride for Nortel customers since the company went bankrupt three years ago, but the new roadmap should help to put more minds at ease, Travis said.
"Customers are kind of in a wait and see mode," he added.
---
August 24, 2012 4:20 PM
"Collaboration" is when mutiple components work with one another. In turn, a unified collaboration solution can involve many moving parts. This can make choosing a solution overwhleming for an IT organization. But Nemertes Research analyst Irwin Lazar tells us the trick to finding a unified collaboration solution is to first understand your organization's collaborative needs and to match those needs with those in the unified communication (UC) vendor landscape. Not every vendor will have all the features you require, but he says choosing a vendor with the most solutions for your company will simplify your life and give you leverage to negotiate more features in the future.
With this savvy advice, the editors of SearchUnifiedCommunications.com asked Lazar to create an IT Decision Center guide to walk IT professionals through the steps of a typical RFP buying process to help our members find a business collaboration solution. In the guide, you will learn the answers to these questions:
If you're left with any questions along the way, feel free to reach out to our UC expert panelists by emailing editor@serachunifiedcommunications.com.
---
May 10, 2012 4:22 PM
LAS VEGAS — Everyone wants to use their personal devices for work, hence BYOD was born. But while using a personal mobile phone instead of a desk phone can be helpful — especially for working remotely — there are downsides associated with just anyone knowing your mobile number.
At Interop 2012, ShoreTel demonstrated enhancements to its cloud-based phone system following its acquisition of M5. The new portal –an M5 offering — can give users the ability to manage their personal preferences including call routing and voicemail management.
The portal can be downloaded onto iPhones and tablets, as well as Android and Blackberry mobile devices, and it allows the user's mobile device to serve as an extension of the PBX in every way, said Kevin Gavin, chief marketing officer for ShoreTel.
If a user is working from home, calls can go over the Wi-Fi, saving the user money, Gavin noted. If the user wanted to leave the Wi-Fi area and still be on the call, the portal then can switch the call to the user's service provider for their cellular service without interruption to the call, he said.
Via the portal, the users can make calls through any mobile device and still appear as if they are calling from their work, home or personal mobile phone number. This allows users to have a "dual persona," said Bernard Gutnick, senior director of product marketing for ShoreTel. "The user has the ability to make choices about what ID makes the most sense when placing a call," he said.
And the portal can also make decisions for the caller. If the user is placing a call to a contact already in their phone, the mobile identification of the user will be selected to display to the contact on the other line. The opposite is true if the user calls an office number.
"People want to bring their own device to work, but leave their personal ID at home," added Gavin.
And really, who doesn't want to have their cake and eat it too?
---
May 8, 2012 7:44 PM
As BYOD gains acceptance within the enterprise, the desk phone is becoming a dusty box sitting in a corner on a cubicle desk. Phone numbers could follow. This is the vision that many enterprises and vendors are starting to see for the future of mobility.
But are enterprises realizing the value in leaving the desk phone behind and moving to mobile devices as the primary form of communication? During the "Mobile Vision: Breaking the habit of the desk phone" session at Interop 2012, analysts from Huawei, Extreme Networks, Cisco Systems and Avaya explored possible paths toward total mobility and mobile UC.
John Roese, SVP and GM for Huawei Technologies went so far as to pose the question as to whether phone numbers should be a part of the new UC experience. He said no, dubbing phone numbers archaic. The elimination of phone numbers may be a scary concept for many enterprises, but so was social media just a few years ago until its business value was recognized.
"Click to call is not really progress for the new UC vision, where is click to collaborate?" Roese asked. UC vendors are coming out with impressive UC solutions for mobile devices like tablets and smartphones, but they aren't simplified enough from the user perspective, he noted.
But there is a silver lining. Roese is looking at the future for UC in a very positive light. Vendors have the capabilities needed to create a "futuristic experience" for their users, noting that someday, a smartphone may have the ability to dictate a message to the user if the device realizes the user is otherwise preoccupied — like driving a car.
Roese referred to his own desk phone as an "alarm clock" or a device that tips him off that someone has tried to reach him, but it is rarely answered — unlike his mobile phone. "We need to start thinking about what helps users make the decision to answer the phone," he said, noting that if not only the caller, but the reason for the call could be integrated into one device, a more satisfying UC experience would result.
But vendors should be driving this idea, as the enterprise may not know what is best for its own mobile UC strategy, Roese said. "I don't anyone in the enterprise who asked for Skype right away," he noted.
On a philosophical note that can be applied to both life and the enterprise UC strategy, Roese said,"One of the most difficult things moving forward is deciding what we should leave behind."
---