---
September 23, 2015 8:53 AM
cloud
,
Integration
,
Mobility
,
Unified Communications
Mobility and the cloud have become the primary drivers for organizations to integrate communication capabilities like voice and video with business applications. Moving unified communications (UC) to the cloud allows organizations to embed communication into the business applications they use daily with click-to-chat and click-to-call, and support a more mobile workforce.
"Marrying mobility and the cloud is the perfect storm of opportunity" for communication integration, said IHS Infonetics Research Director Diane Myers in the IHS and RingCentral webinar "How to Improve Business Productivity with Integrated Communications."
According to IHS research, 85% of organizations are using smartphones as part of their UC strategy and 79% view voice integration with their business apps as critical.
"When you integrate communication into your business apps, it can make your life easier," said Marco Casalaina, vice president of contact center and integrations at RingCentral, a cloud-based business communications provider. "It drives higher user productivity."
A simple integration like click-to-call, which lets users make calls directly from an app, can be very useful for someone who spends much of the day dialing numbers and making calls, he said.
Myers said the top three applications that organizations are moving to the cloud are email, collaboration apps and customer relationship management (CRM). CRM is a big area where people expect voice integration, especially with apps like Salesforce and Zendesk, Casalaina added.
"These are the apps people live in," he said. "They are in these apps all day long and need communication to be part of that."
Myers said voice integration with business applications is about breaking down silos between business apps and communication tools. Organizations that integrate see the value it brings to IT and their employees in improving productivity, she said.
Key voice integration considerations
Before organizations begin integrating their communication tools with their business apps, they need to understand the requirements that a cloud communication provider should meet to make integration successful.
Myers said organizations need to find a provider that understands what an organization needs to get from application integration. Organizations should request demos to understand a provider's integration services.
Casalaina said most cloud providers offer pre-built applications for the most common cloud tools to minimize IT involvement and make integration easy. But for organizations that have custom-built apps, Casalaina said a good cloud provider will also be a platform that offers application program interfaces (APIs) to support flexible voice integration that includes custom applications.
Voice integration with mobile devices can be tricky since it can be difficult to do deep integration with specific applications, Casalaina said.
For example, the Salesforce1 mobile app does not allow for much integration, but RingCentral uses mobile deep linking to make the app launch a RingCentral app that offers some voice integration.
"Mobile integration is newer when compared to Web-based integration, but it can be accomplished successfully," he said.
July 17, 2015 8:54 AM
PBX
,
Unified Communications
The legacy PBX is still a fixture for some organizations, but it may be holding them back from reaching their business goals.
8×8's Mike Reinhart, senior product marketing manager, and David Leach, business communications consultant, discussed the shortcomings of the PBX in today's communication environment in the webinar "Your PBX is killing your business."
Business communication has evolved due to globalization, an increasingly mobile and distributed workforce, integrated workflows and changing buying behaviors, Reinhart and Leach said.
"Picture your PBX in relation to these trends and you realize you've got a big problem that needs addressing," Leach said.
Reinhart and Leach listed 10 problems organizations face with the PBX: High acquisition cost and total cost of ownership; multiple vendors and systems involved; limited integration into business ecosystems; lack of insight into the customer journey; complex upgrades; costly or limited redundancy; complex system administration; security vulnerabilities; out-of-date feature sets; and built-in obsolescence.
"The day you install it, it's obsolete," Reinhart said. "It can't change as your business changes."
Leach said vendors are on a 12- to 24-month refresh cycle, so vendors are already working on their next PBX by the time an organization buys and deploys one.
But the cloud can eliminate many of the business problems created by legacy PBXs.
Cloud-based communications offers benefits including ease of integration with business ecosystems, resiliency and high availability, built-in security and software is always up to date.
Reinhart and Leach cited a Florida-based vacation travel agency that migrated from a PBX to 8×8's cloud-based communications services.
Leach said the agency reported business issues that stemmed from its PBX, including downtime caused by frequent hurricanes, a lack of integration of chat and voice traffic in the contact center and lack of integration with Salesforce.
After moving its communications services to the cloud, the agency no longer had to worry about weather-related outages and reported increased sales and agent productivity.
"The cloud gives businesses an edge that the PBX just can't offer," he said.
---
July 2, 2015 11:13 AM
Big Data
,
cloud
,
service provider
,
Unified Communications
Before making the move to unified communications (UC), every organization must prioritize three issues: scalability, application integration and security. Failure to address these issues can have far-reaching implications for organizations when they enter a growth cycle or encounter a security threat.
Independent industry analyst Jon Arnold discussed in a webinar why the issues of scalability, application integration and security are so important, and how the cloud can address them and provide additional benefits.
Scalability
Organizations need scalability to meet business needs, whether it's adding phone lines to accommodate more employees or ensuring a consistent end-user experience across branch offices. But for organizations that deploy an on-premises UC infrastructure, scalability is difficult, Arnold said.
The cloud is here to help. Organizations that deploy a hosted UC service can support growth by making sure their applications grow with the company and meet changing business needs. The cloud enables users to access their UC apps through the same interface for a consistent experience.
In addition, the cloud can leverage UC in ways an on-premises deployment cannot, Arnold said. The cloud offers flexibility that allows organizations to migrate to VoIP and UC at their own pace and makes migrating to UC an Opex decision since there's no need to invest in on-premises hardware.
"Stop thinking about the value of communications in terms of premise-based solutions," Arnold said. "The cloud provides new options that can create a competitive advantage."
Application integration
Organizations must integrate voice and telephony into other applications to leverage UC effectively, Arnold said. Voice is the preferred method of real-time communications. Integrating voice with other modes of communication, like instant messaging and conferencing, gives organizations an additional layer of value, he said.
Organizations looking to integrate their applications must focus on horizontal apps the whole company uses, like email, and vertical apps limited to specific departments, like salesforce.com, Arnold said. Organizations should leverage the cloud to integrate their applications for fixed and mobile environments to get the most value out of their apps.
"You need to give employees the tools they want to use in the way they like to use them," Arnold said. "You have to integrate them in a way that works in the environment people can be most productive, increasingly that means mobility."
Using the cloud to integrate voice into other applications also gives organizations access to big data. "There's a wealth of new information that comes when you capture everything in a digital format," Arnold said. Big data offers new metrics for organizations to gauge employee performance and make better decisions regarding employee and customer engagement.
Security
For all the cloud's benefits related to UC, security concerns add a layer of uncertainty for organizations. Arnold said it's easy to think of security only in terms of telephony, but the reality is much bigger. Organizations that opt for a hosted UC and VoIP service face security threats in five areas: company data, employee data, financial data, operations and toll fraud.
Organizations must be proactive and address security issues before they become a problem by engaging employees, taking a holistic view of security that goes beyond IT and developing best practices to mitigate security risks, Arnold said.
Organizations should also have discussions with potential hosted UC service providers to make sure they understand security. Organizations should determine if a potential provider operates its own data center environment or if it uses a partner, what cloud models it supports, if it has the ability to encrypt VoIP traffic and if it can meet compliance requirements for data security audits, like HIPAA and PCI.
"If you don't think the cloud is a safe place, then you have to think twice about hosted UC," Arnold said.
---
June 12, 2015 2:46 PM
Cisco
,
Collaboration
,
Collaboration software
,
Collaboration tools
,
Email
,
Messaging
,
Microsoft
,
Microsoft Outlook
,
Social collaboration
Collaboration applications are the hot thing right now in unified communications.
The big collaboration apps seemingly do it all. They offer an easy-to-use, consistent and persistent workspace that features video conferencing, instant messaging, file sharing, screen sharing and mobility, among other things. The idea is for co-workers to live in these spaces to get work done together.
But what's missing? Email. Namely, the ability to collaborate outside your company is lacking.
We recently chatted with Irwin Lazar, vice president and service director at Nemertes Research, to try to make sense of this collaboration craze. Among his many good points, one in particular stood out: Microsoft Outlook, the simple communications tool that the majority of workers use religiously every day, is a key cog in this collaboration clamor.
"For Cisco, they have to find some way of competing on a broader scale with Microsoft than just in the voice and video market," Lazar said. "People spend a lot of time in Outlook. And Cisco, for years now, is saying, 'How do we get people out of Outlook and into something else?' "
If users live in Outlook, that means they have Microsoft licenses, which also gives them access to other capabilities like voice, desktop video and Web conferencing. So the process becomes a natural progression into the Microsoft suite, Lazar said, which steers users away from Cisco collaboration tools.
Cisco products have plug-ins for Outlook. And Cisco Jabber, one of the company's collaboration tools, recently added text messaging outside the company network. But as a universal collaboration tool, especially outside your organization, email is still persevering.
Smaller apps' big influence
In response to newer companies flooding the collaboration market with smaller apps, Cisco recently unveiled Spark, while Microsoft retooled Lync as Skype for Business and introduced Groups, another collaboration tool that includes an inbox, calendaring, file sharing and quick messaging.
Lazar does think smaller collaboration apps, like Slack and Glip, can challenge the larger incumbent vendors.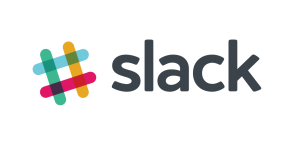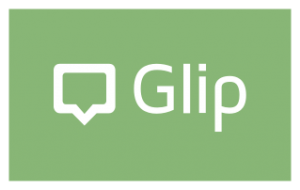 "I think they are competitive," he said, "and that's why Cisco spent a lot of time, effort and money to build Spark because they're trying to find some way to finally replace Outlook as the thing that people spend most of their day living in." (Again, it comes back to Outlook.) "I do think the [new] tools have a lot of potential to severely disrupt the market."
Fast forward two years from now and Cisco Spark will probably replace Cisco Jabber, Lazar added.
Alan Lepofsky, vice president and principal analyst at Constellation Research, agreed that "a new lightweight breed of real-time communications" is challenging big vendors. At the same time, he said, persistent chat is making a huge comeback — from its late '90s popularity — with tools like Slack, Glip, HipChat, Convo, Flowdock and others.
Lepofsky said with all the collaboration offerings, both big and small, some of the questions customers need to ask is: Do you want presence, chat and video conferencing as part of an integrated vendor suite, or do you want to go with a smaller vendor and hope it integrates with the rest of your enterprise software?
The bottom line: The market is indeed muddled as users wade through many options. But, like with most technology, find what suits you.
---
April 28, 2015 10:42 AM
Unified Communications
,
Video
,
YouTube
Enterprises looking to deploy a video content management system should take a page out of YouTube's book.
While video content management allows organizations to store videos, create content and interact with content, employees expect a video management system to have the easy accessibility of YouTube.
In a recent Polycom webinar on video content management, Aragon Research Lead Analyst David Mario Smith discussed what he called the "YouTube effect" in the enterprise.
He said YouTube is "starting to creep into the enterprise" as employees are searching the site for tutorials and how-to videos. Enterprises can take advantage of this trend with a video content management system that makes it easy to store and access content and lets employees engage and create content.
But organizations shouldn't just use video for video's sake, they need to put video where it matters to achieve specific business goals, Smith said.
Beyond mimicking YouTube's easy accessibility, enterprises should look to video content management features like the ability to broadcast and record a livestream and extend to mobile devices. Enterprises also should determine the level of interactivity they want employees to have — whether it's the ability to comment on a video or provide them access to experts featured in a video.
Analytics is another important feature of video content management. With analytics, enterprises can understand how well a video is performing, how their employees are interacting with video content and how video is impacting business goals.
In the webinar, Cara Daly, senior products manager at Polycom, outlined four use cases that could benefit from video content management.
Corporate communications: Create a better connected organization

Provide employees easier access to the organization's brand
Publish and syndicate videos easily — from polished campaign videos to employee-generated content
Push and prioritize mission-critical content or highlight featured content

Training departments: Develop talent without disrupting day-to-day workflows or being constrained by a budget

Capture instructor presentations, slides and Q&A sessions
Expand access to training course inventory
Asynchronous training improves work/life balance

Lines of Business: Foster innovation and reduce time-to-market through the collection and management of knowledge

Share best practices and document complex tasks
Boost post-meeting productivity
Overcome scheduling and time-zone changes

C-level executives: Need to engage employees with the commitment to drive toward the organization's strategic vision

Extend the reach of leadership to everyone, everywhere
Adapt quickly to changing market positions
Enhance corporate culture
"It's really about knowledge sharing and enabling that valuable asset of knowledge to be moved quickly and easily through the organization for a more connected and informed culture," Daly said.
---
April 16, 2015 9:50 AM
Enterprise mobility
,
Mobile
,
Mobile devices
,
Mobility
,
Unified Communications
The power and proliferation of mobile devices are not new concepts. But stepping back and evaluating the mobility market and its staggering numbers – and what it all means for unified communications – can be eye-opening.
Mobility and its influence on the UC market was a focal point of Google's keynote address last month at Enterprise Connect. Google for Work's technology evangelist Adam Swidler said mobile devices are causing a "wonderful disruption" in the way we live and work.
Swidler cited a study by Benedict Evans of Andreessen Horowitz called "Mobile is Eating the World," which has some revealing findings. Namely, smartphones and tablets have far surpassed laptops and PCs in sales and shipments – and the changeover has been rapid and dramatic. Mobile devices are now nearly half of all consumer electronics sales.
The mobility market has seen dramatic growth since 2007 when the iPhone launched. Android launched a year later, and the iPad was released in 2010. Part of what's fueling mobile growth, said Swidler, is the refresh cycle for mobile devices is usually every two years, while users may buy a new PC just every five years.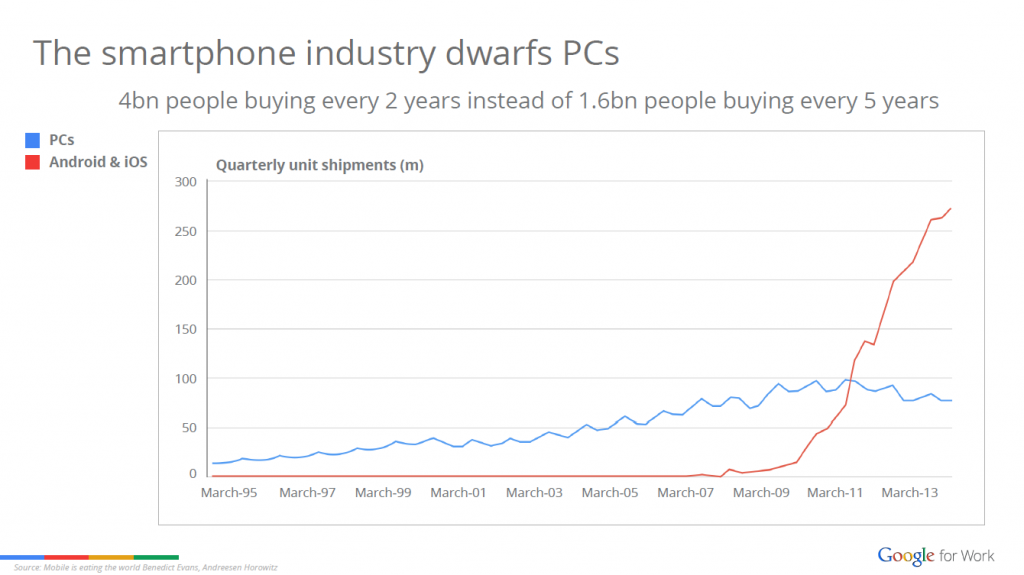 With the advent of iOS and Android, Microsoft in particular has been significantly disrupted from its leadership position, said Swidler, citing the Evans study. In early 2009, Microsoft was on more than 90 percent of the personal computing devices that were sold. Since then, with the popularity of iPhone and Android devices, Microsoft now represents less than 25 percent of the devices sold.
This dramatic shift, according to the Evans study, is expected to continue over the next five years as another billion people come online – and virtually all of them will do so on smartphones.
Additionally, a younger generation of workers, who grew up with mobile technology, will only add to the mobile momentum as they join the workforce in the coming years. Teenagers, noted Swidler, simply don't use email today and don't make or take phone calls. They text.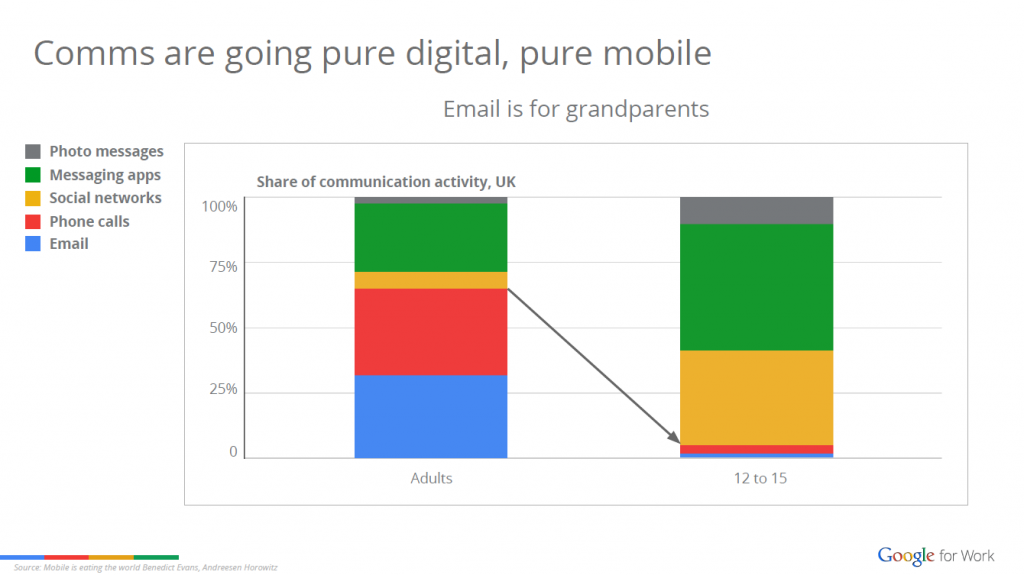 Mobile promotes productivity
So what does this mean for UC? Swidler cited research by Steven Sinofsky, former president of Microsoft's Windows division, on how mobile technology fosters a culture of "continuous productivity" and impacts organizational structures.
Mobility, said Swidler, puts a focus on faster problem-solving and execution among team members. Mobile technologies can also allow outside perspectives into your organization – and that's a good thing.
"There's a clear rise and need to communicate with the outside and bring the value they can provide into your organization," said Swidler. "It probably seems uncomfortable to think you might have the same chat message intimacy with your customers that you do with your co-workers. But think how great an experience that is for your customers. Let them chat with you."
This mobile modernization is also inverting company launches and collaboration, said Irwin Lazar, vice president and service director at Nemertes Research.
"It's usually desktop first, phone first, video room first and app second," said Lazar. "Now mobile apps have feature parity right out of the box or feature superiority in some cases – that's a very different mindset for the collaboration industry."
Google searches for enterprise niche
Google's presence at Enterprise Connect this year was intriguing. The Internet giant didn't have a new product to pitch, and they didn't even have a booth. This year, however, marked the first time Google delivered a keynote address at the conference. So it makes you wonder if we'll be seeing more from Google in the business communications space.
Don't expect Google to rival Cisco or Microsoft in the UC market, and I would guess Google is fine with that. Google's focus perhaps might be just on small businesses – and there are plenty of those. Small businesses, after all, probably can't afford a big, expensive video conferencing service and would opt for Google Hangouts instead.
In his speech, Swidler did spotlight some of Google's achievements in the business communications market – most notably Hangouts and Google apps.
---
February 12, 2015 5:43 PM
Collaboration
,
Headsets
,
Mobility
,
Unified Communications
While on a phone or video call, it's pretty common to pick up some background noise — whether it's dogs barking, car horns blaring or a co-worker's goofy ringtone.
As offices become more open and workers become increasingly mobile, background noise is a new challenge facing collaboration. Plantronics is targeting this problem of UC noise with four new audio devices announced earlier this month.
"Everywhere is the new workplace. We know office noise is increasingly becoming a concern due to more open working environments that promote collaboration, but workplace noise isn't just a problem for those in the office," said Bill Loewenthal, vice president of enterprise product solutions at Plantronics, in a statement. "You can't always control your environment and you certainly can't control your caller's environment."
Users are demanding tools that promote seamless collaboration. If someone on a call can't be heard because of background noise, users can't effectively collaborate. It's that simple.
"There's been increasing emphasis on the importance of a reliable, high-quality, seamless user experience when communicating and collaborating today," said Rich Costello, senior research analyst for unified communications at IDC. Plantronics' new devices aim to reduce background noise for users on audio or video calls and increase the clarity of their voices, whether they're at their desk or on the road.
The new products from Plantronics are:
Blackwire 725, a corded stereo headset with noise-canceling technology, is geared toward workers in open or collaborative workspaces who make PC-based calls. In addition to reducing outside noises, the device's headset includes a noise-canceling microphone that diminishes noise on the user's end of a call. The Blackwire 725 is available now and retails at $179.
Voyager Edge UC is a mobile headset for workers who take calls on their mobile devices, from their phone to their laptop. The headset includes three microphones that reduce noise caused by outside elements like wind. The Voyager Edge UC is available now and retails at $199.
Calisto 610 is a speakerphone that allows for mobile conference calls with small groups of people. The speakerphone includes a noise-canceling, omni-directional microphone and can integrate with a user's softphone. The Calisto 610 is available now and retails for $99.
Clarity 340 is a handset phone designed for workers with vision, hearing or dexterity challenges. The phone includes sound amplification, large buttons for dialing and a large display. The phone is compatible with hearing-aids. The Clarity 340 will be available in March and will retail for $149.
---
November 24, 2014 9:21 AM

Profile: Gina Narcisi
Mitel
,
ShoreTel
,
UCaaS
,
Unified Communications
Mitel has officially shelved its plans for a ShoreTel takeover.
Mitel pulled its third acquisition proposal — several days prior to the Nov. 20 deadline — due to " the repeated refusal of ShoreTel's Board of Directors to engage in discussions of any kind regarding a potential transaction," according to a press release from Mitel.
The UC vendor came forward with an unsolicited bid to buy ShoreTel for $540 million back in November, which ShoreTel scoffed at. In a press release, ShoreTel's board of directors said it "unanimously" concluded that "Mitel's proposal significantly undervalues ShoreTel and fails to reflect the upside of ShoreTel's growth initiatives and technology developments."
Mitel was unfazed at first, following up with two more offers. The final bid would have put the buyout at $574 million. When ShoreTel still refused to entertain the idea, Rich McBee, Mitel's CEO, brazenly wrote a letter to ShoreTel's board, noting that since the board wouldn't engage with him, he had approached unnamed large ShoreTel shareholders independently regarding the acquisition.
In the end, however, Mitel has decided to take its offer off the table.
Mitel has good reason for wanting ShoreTel. While Mitel's UC products are popular in Canada and Europe, ShoreTel has a solid customer base in the U.S. ShoreTel also has a very strong UCaaS offering — ShoreTel Sky — which is especially appealing at a time when businesses are becoming very interested in the prospect of moving their communication off-premises.
Since cloud-based UC is gaining popularity very rapidly in the telephony market and ShoreTel is a little ahead of the game in that space, Mitel's proposal makes sense, said Joe Rittenhouse, president of business development for Converged Technology Professionals Inc., a technology consulting firm and ShoreTel partner. "It's something worthy of acquiring, but I'm glad it didn't happen," he said.
With formidable leaders in the UC space — including Cisco and Microsoft — smaller vendors are forced to fight over scraps. Mitel's unsolicited offers may have created uncertainty among prospective ShoreTel customers, causing them to worry about Mitel discontinuing or ending support of Shoretel equipment. ShoreTel customers may also have worried about a forced migration to Mitel products. Such doubts could cut ShoreTel off at the knees in an already competitive UC market.
"[The bid] caught us off guard, that's for sure. It made us reevaluate where we were and where the industry is headed," Rittenhouse said. "But if anything, in the end, it reaffirmed the position we're going in as far as offering cloud services."
Rittenhouse said that existing ShoreTel customers probably felt more confident about their investments after seeing ShoreTel's reaction to the Mitel offers. "We were actually concerned it would have a negative effect, but because ShoreTel rejected [the bids] so quickly, our existing [customer] base wasn't worried," he said.
But just because Mitel has called it quits, doesn't mean other suitors won't step up to the plate for a chance at ShoreTel. Consolidation is a certainty in the already crowded UC market.
"I think there is going to be consolidation eventually, but ShoreTel is also carving out what will be a niche market and good hybrid approach, so I think that would be giving up before they had a chance to play the game," Rittenhouse said.
---
August 13, 2014 6:26 PM

Profile: Tessa Parmenter
IP telephony
,
PSTN
,
telecom service providers
,
Unified Communications

 As the public switched telephone network (PSTN) blinks out of existence, carriers are left wondering what will become of it's by-product: the telephone number. Will it go down with the ship, or will it become the life raft — connecting islands of communications?
I called on Voxbone's vice president of Strategic Alliances, Hugh Goldstein, to answer this question. He took part in a panel discussion yesterday at ITEXPO in Las Vegas on the future of the phone number. Here's what he had to say:
How will telephone numbers be common denominators between networks?
Hugh Goldstein: Voxbone has a big vested interest in this question because we've built a business around telephone numbers. The thing is that telephone numbers are very useful, yet they're linked to this legacy system that a lot of thought leaders in the industry believe will eventually go away. So there's a big debate from people at industry conferences on what the future will look like for telephone numbers. For the next 10-20 years, I expect everyone is going to continue to see telephone numbers in their daily lives. Part of the reason is that it's the common denominator between networks. When we have islands of IP communications we can use any [connector] you like — some SIP networks use email-address-like identifiers. If you have a provider, whether it be an over-the-top (OTT) service like Skype, or you have an enterprise that's built its own private network, they can use [that identifier language] within their own island. But when they want to go outside of that island, the telephone number is the common denominator. That's what everyone uses to find the destination for a call to make communication work.
What might be the long term solution for connecting disparate communication systems?
Goldstein: Long term, there might be other systems that become popular. But at this point in time it's difficult for any one new paradigm to really take a strong position unless there is a huge critical mass of customers just getting on board with it. Even though Skype has many hundreds of millions of users, there's not any big push to make a Skype ID the new telephone number, because it's attached to one individual company and it's proprietary. Telephone numbers are international, regulated — the property of countries essentially — and they're managed by international organizations regulators, so they're viewed as being neutral. That's a very strong attribute, even though we're seeing lots of ideas come about. It's still the telephone number that sits in front of a lot of IP services today.
Why might telephone numbers be replaced?
Goldstein: If there's a complaint about telephone numbers, it's that they're not that easy to remember by people. People prefer language-based things. [But] if that's the complaint of telephone numbers, an IP address of the length of IPv6 complexity would be worse. We all have lots of other different identifiers that are useful for us, like Facebook names, email addresses, [and] Skype names, but the telephone number is something that can link everything together.
How are telephone numbers being used as the common denominator between networks today? 
Goldstein: One thing we find in our business [for OTT providers] is that businesses like to have numbers in different geographies. It's something that helps them deal with global markets. So if you run a business in L.A. and you sell to people in Japan, France and Brazil, [and] if you only put an L.A. number there, it's still difficult for people around the world to call an L.A. number. It's a perceived economic barrier. Not everyone's phone plans allows them to call international. Some of them feel reluctant to dial that international number. Maybe there's perceived language issues. But let's say in that scenario they put a Japanese, French and Brazilian number up on their webpage — that opens up the game and allows people in those markets to call and interact to do business with them. [For] Voxbone and other OTT providers like us, the cost to add numbers like that … is very low. So a lot of over-the-top and hosted PBX providers, I think they've found this as something that customers like. For their businesses, it's a way to increase the average revenue per user, because that business is very competitive based on price, so there's a certain amount that you can realistically charge for a phone line and voicemail. But now with international numbers, suddenly that customer in L.A. is [saying;] 'I'll upgrade my account, and I'll add the number in Tokyo, Rio and Paris, and they see a lot of value in doing that. That's what's happening today and that illustrates to an extent why [phone] numbers are still very important.
Continue this interview: Calling all OTT providers: Enterprises want your UC services!
---
July 22, 2014 10:37 AM
Magic Quadrant
,
Unified Communications
Employees are streaming more video at work and it's not just cat videos on YouTube. Enterprise video content management is the latest service to emerge in the UC market as interest in enterprise video streaming grows. What exactly is video content management? Any software, appliances or software as a service (SaaS) offering that manages or facilitates the delivery of on-demand video (one-to-any device) across the Web, according to Gartner's Magic Quadrant.
Compared to 2012, the number of hours workers have spent streaming video at the office has risen from 7.2 to 10.8 hours per user, per month. Gartner projects that by 2016, enterprises will stream more than 16 hours of video per user, per month. Video streaming is catching on as enterprises use the technology to improve collaboration, customer service, employee training and advertisements. To prevent the increased video streaming from congesting the network, enterprises are turning to video providers for management services.
While the enterprise video content management market has grown significantly, Gartner said it is too early to forecast the market's future or estimate market size. However, Gartner found that most enterprises are looking at SaaS or hybrid video content management services. Gartner predicts that SaaS for streaming video will continue to grow in the market, especially for organizations that want to use video to target customers or avoid unpredictable storage infrastructure costs.
In its Magic Quadrant, Gartner named two market leaders: Qumu and Kaltura.
California-based Qumu offers a secure video content management system that not only lets IT pros manage and distribute content to any platform/device, but also allows them to capture video from any source and automate streaming and downloading. Qumu was founded in 2000 and acquired by legacy video vendor Rimage in 2011. The company identifies enterprise video content management as its best potential for revenue growth.
According to Gartner, Qumu's strengths include:
— a strong hybrid storage model that allows third parties to be storage partners;
— its partnership with audio search specialist Nexidia;
— and a modularized workflow that makes room for external processes.
However, Gartner says Qumu's pricing model is challenging and difficult to interpret.
Kaltura, based in New York, was founded in 2006 and claims to be the only open source online video platform. It offers a modular platform where IT pros can customize and develop aspects of the service, like the management, publishing, distribution and analysis. Kaltura also offers a social video portal for employees and a video extension for Sharepoint.
Gartner noted that in addition to the company's strong customization, other strengths include:
–a hybrid storage model that allows for third party partners;
–a highly flexible workflow engine; and
–flexible analytics that can serve just about any use case.
Gartner cautioned that transcription for search and other functions provided by Kaltura are licensed from other vendors and the administration and management interface requires more streamlining to make it easier use.
Other providers ranked on the Magic Quadrant include Panopto as the sole visionary; Polycom, Cisco, Kontiki, Ignite, KZO Innovations and Brightcove as challengers; and Sonic Foundry, VBrick Systems and Media Platform as niche players.
---