---
March 18, 2010 3:44 PM
Aside from taking in most of the keynotes, meeting with vendors and chatting up attendees to learn about what they're working on, I've picked out a handful of sessions that I think relate to key trends in the industry right now. I'm going to attend as many of them as I can.
1. Integrating Group Video with PBX and UC
Tuesday at 2pm, Brent Kelly of Wainhouse Research
For the last few years vendor keynotes at VoiceCon have invariably featured demos of simple, one-click video conferencing from within desktop UC clients. They make it looks so easy, but all of know that it isn't always that simple. I think Brent's session on integrating video with PBX and UC environments should be interesting. I look forward to the Q&A session.
2. Organizational Impacts of Convergence
Tuesday at 4pm with Don Van Doren of UniComm Consulting
I've attended sessions on this subject in the past and it always generates good discussion. Unified communications, for those who dive really deep into it, can create some headaches for an organization for a number of reasons. First of all, many organization are still consolidating their networking and telecommunications team in the wake of the transition to IP telephony. Then there's the rise things like communications-enabled business processes, which will force new types of collaboration with enterprise application managers. Also, enterprises need to rethink their help desk when they dive into UC. Tier 1 support too often elevates every trouble ticket to the top because they don't understand the technology well. Many UC and network management vendors are trying to address this one specific problem. Which leads me to…
3. Network Test Tools for Voice and Video
Wednesday at 8am, Moderated by John Bartlett of NetForecast with a panel of representatives from CA, Integrated Research (making of PROGNOSIS), Psytechnics and Apparent Networks.
I still don't get the sense that many enterprises are properly testing and monitoring their IP telephony and video deployments, perhaps because this requires investment in tools they're not necessarily familiar with.  It's simply tough to know how well your VoIP system is performing unless you get complaints from your users. These vendors are sort of pushing beyond that and I like to keep tabs on this market.
4. User Forum
Wednesday at 10am, moderated b Eric Krapf of NoJitter and Zeus Kerravala of Yankee Group.
For me this one is all about the panelists. I like to hear straight from these guys what exactly they're doing with UC. This panel features Donna Zett, CIO of Serta International; Jason Norton, director of operations and telecom at Scripps Networks; Duane Longhofer, telecom manager at AccuQuote; Darrius Jones, executive director of channel management and technical fellow at USAA; and Saustrup Arne, computer operations manager at Alamo Community College District.
5. SIP Trunking Case Studies
Wednesday at 1pm, moderated by Sorrell Slaymaker of Unified IT systems.
Everyone seems to be wondering aloud about whether and/or when SIP trunking services will become mainstream. Vendors like Acme Packet will tell you that time is very near. I'm sure we'll hear a lot about SIP trunking from vendors and carriers at the show this year, but I'm most interested in hearing from enterprises who are actually doing it. That's why I'll try to attend this session, which will feature engineers Steve Blair of the University of Pennsylvania and Larry Riba of Alpine Access.
6. Challenges in Achieving the Promise of Presence
Wednesday at 3:15pm, moderated by Don Van Doren
I think everyone is intrigued by the idea of presence, but I haven't talked to a great deal of people who are actually doing much with it yet. Vendor offerings in this area are very uneven. I think this should be an interesting panel discussion simply because of who is on the panel. It features representatives of Cisco, Avaya, IBM and Microsoft, all major players in the UC space. Some of them have excellent presence products. Others, not so much.
March 11, 2010 4:37 PM
Gawker is musing that terrorists prefer video chat to email or Twitter when it comes to communicating with their operatives. Evidence? Exhibit number 1 is the experience of writer John Battelle, who was told to stop using in-flight Wi-Fi to video chat with his wife and kids while flying on United Airlines yesterday.
When he pressed the flight attendant on why he couldn't use iChat to talk to his family, the attendant suggested that he could "communicate with a terrorist on the ground." I suppose that's true, but couldn't he use IM, email, Twitter, Facebook or any other countless apps to do the same thing?
---
March 5, 2010 5:57 PM
The visionaries and the evangelists at vendors like Cisco, Polycom, HP Halo et al would have you believe that the immersive experience of telepresence videoconferencing will eliminate some if not almost all of the need for business travel as the technology is adopted more broadly across the globe. The need for face-to-face meetings among business partners and between corporate branches will decrease as companies realize that telepresence is a feasible alternative to face-to-face meetings in many if not most circumstances.
The notion that telepresence could reduce business travel should be bad news to the travel industry, right? Business travel is bread and butter for airlines and hotels.
And yet, hotel chains appear to be embracing the technology. Both Marriott International and Starwood Hotels and Casinos have opened public telepresence rooms in a couple of pilot locations this month, both using Cisco's TelePresence technology. Mariott has opened rooms in New York City and Bethesda, Md., and plans to open at least a dozen more across the U.S. and Europe, China and Brazil. Starwood opened rooms at its W Chicago City Center and at its Sheraton on the Park in Sydney, Australia. It has plans to open more rooms in New York, Toronto and Los Angeles this summer.
Mary Casey, vice president of corporate global sales at Starwood, told me her company was prompted to install telepresence rooms in its hotels after speaking with large corporate customers who were looking to reduce their travel costs.  She said one of Starwood's largest customers in Chicago said told her that it had been investing in telepresence rooms across the world, but there were certain regional hubs where it wasn't practical for the company to make an investment in the technology because a company-owned telepresence room in such locations wouldn't be used enough to justify the investment.
Casey says that large corporate clients, especially those who have invested in telepresence in certain locations, are the main targets of her hotels' telepresence rooms. She said smaller companies haven't expressed much interest in such services yet. However, she thinks that might just be a matter of educating the market on the experience the technology can offer. She also expects some non-corporate clients to use the technology, based on what she's heard from Tata Communications, Starwood's technology services partner in the telepresence venture.
"If we listen to our partners at Tata, they're beginning to see their public telepresence offerings used by different segments, such as suites used by families who are spread around the world, who want to celebrate events like a birthday party," she said.
Casey and Starwood clearly see telepresence as an opportunity, not a threat.  Perhaps someday some hotels will have just as many telepresence rooms as they do beds.
Now airlines, on the other hand — I don't see them adapting quite as well.
---
February 22, 2010 12:44 PM
The Cisco/Tandberg acquisition catapulted the video conferencing and telepresence market into a competitive frenzy. Don't expect this rivalrous race to slow down any time soon.
Shortly after Cisco brought Tandberg into the fold, Logitech acquired LifeSize, and earlier this month, Radvision announced plans to acquire Aethra.
 
Incumbent Polycom quickly mobilized with a counteroffensive play, hyper-focusing on a strategy to retain their current market share and pull customers away from the monolithic Cisco. Forging new partnerships, cultivating deep alliances with existing partners and an aggressive focus on product development is Polycom's core strategy.
---
February 5, 2010 2:26 PM
Agito Networks is mostly known for its dual-mode fixed-mobile convergence solutions, helping enterprise get their mobile phones off the cellular network and tied into a corporate PBX via Wi-Fi networks.
This week Agito came out with something slightly new that is targeted at a very specific, yet pricey problem faced by many companies which do international business.
Many corporate telecom and mobility managers today probably support executives who travel internationally and need to buy a temporary international roaming plan for their smartphones while on the road. These short-term voice roaming minutes are pricey. We're talking more than $1 per minute in many cases. If you have a lot of guys on the road, this can get out of hand fast.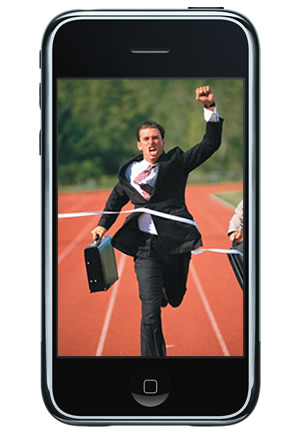 This week Agito announced Agito Global Enterprise, a feature in the 4.0 release of its RoamAnywhere routers and clients. This feature will automatically handover voice calls from an international cellular voice network and convert it into a VoIP call over a 3G data connection. Since most short-term international roaming plans offer relatively lower flat fees in the range of $20 or $30 for a unlimited data, this could be a huge savings for mobile employees who are traveling overseas. A $20 flat fee is a bargain compared to the $300-$400 a worker might rack up in talk time with a typical arrangement.
Late last month Pejman Roshan, founder and chief marketing officer for Agito, visited my office and gave me a demo of the cellular to VoIP handover on both a BlackBerry 9700 and an iPhone, both of which Agito also now supports as of this week. The voice quality was on par with what you might expect from either device, although there was a probably a half-second of latency in the call. Roshan attributed this to the fact that we were using a custom built demo version. The production version won't be available until next month.
Image from Technodorm.com
---
February 1, 2010 2:03 PM
We love our smartphones. It's understandable, this unique attachment we have to our intelligent devices. The familiar, comforting glow of the LCD screen. The soothing pulse of a blinking message light. Smartphones have become indespensible for both consumer and business use.
I use mine as an alarm clock, a GPS system, a camera, a video camera, an MP3 player, a calendar, oh, and I even place and receive calls with it. I check and respond to text messages, voicemail, email, Facebook and Twitter. I won't even mention the available smartphone apps.  We all know there's an app for everything, if not, it's coming soon. Check back tomorrow.
For personal use, they are indispensible. As a business tool, these pocket-sized powerhouses equip on-the-go employees with the power of a laptop. People not only use smartphones to access multimodal messages, they use smartphones to store and retrieve valuable records and files.
The smartphone won't push the laptop into extinction any time soon, primarily because of its size. However, with Bluetooth and USB keyboard add ons and wireless connectivity to a larger external display, such as a hotel TV, smartphones could be accountable for dustier laptops in the near future.
Smartphone security becomes a bigger issue as employees use smartphones as an adjunct to the laptop or PC, as does the management of these mobile devices. Remote lock/wipe functions are available for lost or stolen phones. Anti-virus client applications, firewalls and back up can help safeguard proprietary or sensitive data. Fingerprint sensors are becoming increasingly popular as an added measure of security.
---
January 26, 2010 1:20 PM
Cisco Systems' acquisition of videoconferencing vendor Tandberg is driving Cisco's rivals to Polycom, just as we expected.
When we reported on the Cisco-Tandberg deal in October, Ira Weinstein, senior analyst with Wainhouse Research, told us that the acquisition would force other unified communications and telephony vendors to embrace Polycom in an effort to differentiate their own enterprise video strategies.
Siemens Enterprise Communications made its move this month, announcing a new videoconferencing alliance with Polycom. As Mike Vizard at CTOEdge pointed out, Tandberg had been Siemens' go-to partner on video solutions prior to the Cisco-Tandberg deal. Siemens will continue to support Tandberg products with its OpenScape UC products, but Polycom is now its preferred partner.
Yesterday, Polycom picked up an infrastructure partner, too, when it announced a deal with Juniper Networks. In mid-2010, the two companies will release updates to their products that will allow service providers to optimize their networks for Polycom videoconferencing products.
Stacey Higginbotham over at GigaOM says that Juniper's partnership with Polycom won't work.
I'm not sure that Juniper and Polycom are an ideal match, mostly because tying the product to the networking gear is a strategy that ultimately follows along with Cisco's aims. As a smaller rival to Cisco, Juniper can't win by playing by the same rules as the larger company — it needs to break them.
Regardless of whether Juniper and Polycom's new alliance works, it's clear that Cisco's acquisition of Tandberg has Cisco's rivals in multiple markets looking to work with Polycom.  Not only are other UC and telephony vendors embracing Polycom. Rival network infrastructure vendors are cuddling up to them as well.  Competition in the videoconferencing market is alive and well.
---
January 25, 2010 3:35 PM
While little is recession proof, unified communications (UC) has managed to skirt ground zero of the global economic free fall. In a survey recently conducted by SearchUnifiedCommunications.com, over 50% of respondents expect to spend more on UC in 2010 than they did last year.
Newly published research from Infonetics Research show businesses are investing in communications with shipments of communicator clients increasing almost 1,000% between the first half of 2008 and the first half of 2009.
According to our survey, the top drivers for UC adoption are:
Increased productivity
Operational and business process improvement
Real-time connectivity
Providing mobile support to employees
Though budget is consistently an obstacle to deploying new technologies, our survey respondents also reported that they simply don't know enough about available UC options to move forward. While we can't augment your budgets, we can provide you with the resources you need to better understand unified communications technologies and help you map out a solid ROI strategy.
For starters, here are the top five unified communications issues you can expect in 2010.
---
January 13, 2010 10:17 PM
Blogger Greg Ferro (Etherealmind.com) claimed last week that the days of the IP PBX are numbered. It's hard to argue with him. The IP PBX – all PBXes, really – will go away. The only question is when?
As Ferro points out, the original value proposition of the PBX is losing its appeal.
The PBX, or Private Branch eXhange, was designed to save a company money. It allowed employees to call other desks in a company without routing the call through the telecom provider's network. The PBX also made people more productive by allowing them to communicate and collaborate more freely.
Nowadays, how often do you pick up your deskphone and call someone else in your office? Wouldn't you rather send them an email or an IM or open up a video chat with them?
Heck, I don't even give out my office number anymore. I hand my Google Voice number and set it to ring wherever I am (office, home, iPhone). The only "value" I get from my PBX is voicemail. And I'd prefer to receive voicemails in my email inbox rather than dial into the PBX.
Ferro points out that the future of the PBX is as a presence server. Rather than routing phone calls, the presence server will tell users whether people are available for a conversation and how you can reach them (email, IM, phone, etc). The server will also hold all your message, regardless of the medium.
Most vendors clearly see that this is on the horizon. See Cisco's acquisition of Jabber, Microsoft's Office Communications Server strategy and IBM's Sametime strategy.
In my view, it's not a question of if the PBX will go away, but when. Any shift away from the PBX paradigm will lead to a broader and deeper dependence on mobile phones. And mobile phones are still relatively expensive in the United States. I spend four or five hours a day on the phone. If I did all that on my iPhone, I'd blow up my minutes.
So this would require not just a big technological shift, but also a philosophical shift for business leaders. Most enterprises still adhere to the strategic deployment of mobile devices. They hand BlackBerrys to sales teams and top executives and leave the rest of the company tied to their desks.
A world without PBXes would require a big shift in thinking, and this will take time. Have you ever tried to convince the CFO that you need to give the mail room manager an iPhone?
---
January 4, 2010 9:18 PM
Unless you're a Mitel customer or a Canadian, you're probably not all that interested in Mitel's plans for a $230-million initial public offering. However, if the IPO goes well, Ottawa-based Mitel could have some capital to make some moves in 2010 and beyond. Mitel will use capital from the IPO to settle some debts, but the company said it will also look to make some acquisitions with the money.
Avaya's acquisition of Nortel's enterprise division means that a lot of enterprises are re-evaluating their voice and UC infrastructure these days. Cisco and Avaya remain at the top of the heap, but smaller players like Siemens and Mitel will undoubtedly try to take advantage of the inevitable churn that will follow Nortel's exit from the market. For the first time in many years, Nortel customers are shopping for a new vendor. Nortel customers will be wined-and-dined at VoiceCon Orlando in a couple months, that's for sure.
With that in mind, it's worth looking at some highlights of what Mitel has been up to in the world of UC in recent years.
---