---
January 10, 2012 3:19 PM
Posted by:
Matt Heusser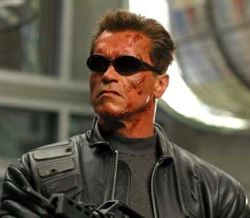 I've been enjoying the series on career directions, but it's time for a bit of a break — so let's take a coupe of posts for something completely different.
Have you heard of the Singularity?
It's an interesting sort of technological apocalypse — you can see it's ideas on the big screen in The Terminator or The Matrix; that eventually machines will become self-aware and rise up to rule over their human overloads.  To introduce the subject properly would take a book; Amazon tells me that there are thousands of books on the subject, so I'll make mine very brief.
It is also easy to dismiss Singularity as Science Fiction inspired by an Arnold Schwarzenegger movie from the 1980′s, but let's dig in a little bit.
The most compelling observation I know of for the singularity is that Computer Clock Cycles and Processing Power keeps increasing, roughly doubling every few years in accordance with Moore's Law, while we humans are at best, facing small gains over millions of years through natural selection.
The thinking goes like this: Eventually computers will catch up, have some sort of "divine spark" event, and go past us.
That thinking has been smacked down in the media:  Right now, today, we could create a three-dimensional grid, 100x100x100 of the strongest CPU's in the world together, something like the Department of Energy Project ASCI Red, and get a computer that strong, but we know what it would do: Execute instructions it was fed in serial order.   The "divine spark" is a question mark, a huge one, one that can't be ignored.  Without it, we have no singularity.
But here's the thing: We don't need one.