---
December 27, 2012 10:45 PM
At the end of one year and the beginning of the next, a writer's mind is prone to wander to think about goals, the future, and this crazy thing in modern life we try to call a career.
We are also likely to try to draw some inspiration.
Some authors pull from sports heros — how Tiger Woods rose, fell, and may rise again, for example.  Perhaps politicians or corporate CEOs; there's more than one story to be found in the life of Steve Jobs.
Today I'd like to draw from the Schwan's delivery man.
Yes, the guy who brought incredibly good frozen food to your house, offered a free sample … at five to ten times the price of what is in the grocery store.
No, you didn't buy it, and twenty-thirty-odd years ago, neither did your mom.  Okay, I get it. But someone did, or else Schwans wouldn't still be in business.
There might just be lesson in there, after all. Continued »
December 21, 2012 7:44 PM
I've covered a lot of things on this blog in the past year and a half, but one of the recurring themes is going independent.  I've run interviews with Corey Haines, J.B. Rainsberger, David Hoppe, and Rosie Sherry, along with several posts about my own journey as a digital migrant.
A few people expressed concern over what I was writing.
After all, most North Americans are looking for those 'job' things, with the benefits, paid time off, corporate retirement plan with unemployment insurance if things go badly.  By pushing people to go against their natural instincts, I am pushing them to make an unnatural choice.
At least that's the argument.
I'm not too worried about the person that shouldn't go independent.  They won't read these articles, or if they stumble on to them by some great accident, they certainly won't do anything about it.
No, I am looking to find people on the fence, who have the inclination, but lack a little something – people who want to be inspired.
Today, I'm going to try to inspire you.
---
December 6, 2012 3:21 PM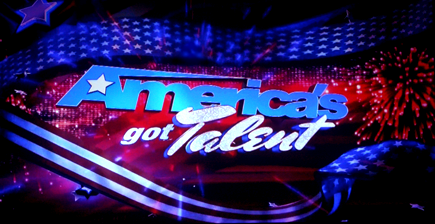 I my previous post I suggested that the workforce is split into three general roles – 'Labor', 'Crew' and 'Talent' — and that it was better to be talent.
In order to be talent, you need to be differentiated somehow from everyone else.  Unique; different.  The classic definition is either a 'known good quantity', willing and able to do things others are unwilling, or unable to do — and you've got to work gigs, not that day job stuff.
Let's talk about how to get there.
---
December 4, 2012 11:29 AM
So earlier in the week I was on craiglist, looking at gigs.
Yes, gigs. Not jobs.
Part-time, temporary, and flexible, gigs represent a different lifestyle, different risk profile, and different rewards.  You can start them with a day job, and have the best of both worlds … there is just one small problem.
They don't pay much.  Or at least, they often don't pay much.
This article is about how to change that — to get the high-paying gigs,  while doing good, ethical work, that you can tell your family about with pride.
---
November 26, 2012 3:46 PM

I am in Germany!
or … almost.  I started the article on the way to Germany.  Now, on the way back, I am interested in something else.
I want to talk about the plane.
Better yet, how smart IT is turning itself into a profit center on my airplane.
You see, it wasn't an airplane.  Not really.
It was more like a flying data center.
---
November 14, 2012 1:19 PM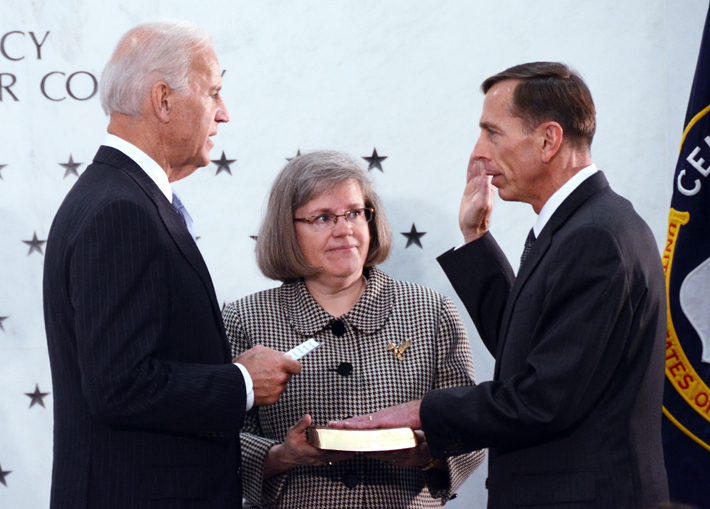 When the director of the Central Intelligence Agency quits fifteen months into the job, that is news.
When that director is a retired Army general and former commander of US and International Forces in Afganistan, something is going on.
When the whole issue is due to email security and privacy … we are in unchartered waters.
The Quick Back Story
According to the Associated Press, general Petraeus had an affair with his biographer, Paula Broadwell, that began shortly after his retirement.  While showing incredibly poor judgement and opening himself up to blackmail, this act was not illegal.
Again, according to A.P., Petraeus wanted to avoid a paper trail, so he and Broadwell shared an email account.  They would create draft messages and share them with each other, then delete the message, eliminating the trail of evidence.
Then things get weird.
A Tampa, Florida socialite named Jill Kelly starts receiving anonymous, harassing, private emails and complains to the FBI.  The FBI takes the investigation seriously, and, after a series of events, Petraeus resigns.  The primary theory is that Broadwell logs into Patraeus's other accounts – perhaps they have the same password, perhaps he leaves gmail logged in – and finds email to Kelly, creates an anonymous account, and begins the harassment campaign.  The FBI works this backwards and eventually Petraeus is forced to resign.
Whew.  With me so far?
General Petraeus's successor in Afganistan is Marine Corps General John R. Allen, about to be appointed to the position of supreme allied commander Europe … except the FBI found a bunch of "flirtatious" emails from him to Kelly as well, and his appointment is on hold.  (The New York Times referred to it as "hundreds of emails".)
Now let's talk about IT policy.
Implications on 21st Century Technology
When known for some time that What Happens In Vegas is unlikely to stay there – thanks to the smart phone, everyone has a camera and an internet connection.
One thing this new wave of technology gives us is the ability to melt down incredibly quickly.  Anthony Weiner, for example, sent an explicit photo and some inappropriate emails, and his political career was over.
Yes, Weiner was doing … other things, the real things that killed his career.  Twitter and the iPhone didn't do him in, but they made it incredibly easy to create evidence in seconds – where a polaroid and a hand-carried letter might not.
A second surprise around the Petraeus scandal is the expectation of privacy.  By creating an anonymous account, our email harasser expected anonymity   Once the FBI got involved, all pretense of that was gone.  If anything you do online is trackable to an IP address, you might do well to consider it public.
There is at least one more unexpected twist to the story, because the investigation went wherever it found evidence.  By contacting the FBI, and giving them access to her computer, Kelly allowed the FBI to get access to all her email – including the records of General Allen.
Conclusions
I have no easy answers; records you thought you deleted have a way of showing up in system caches.
Except, perhaps, that this situation might be a good chance to take a look at your company's policies about internet use, separation of personal and work email, about information retention and lifecycle management, or as a good story to use to encourage people into right behavior.
Or, perhaps, just perhaps, the Petraeus Principle will come to be about how to deal with failure with integrity – by admitting mistakes and taking responsibility for our actions.
---
November 12, 2012 3:23 PM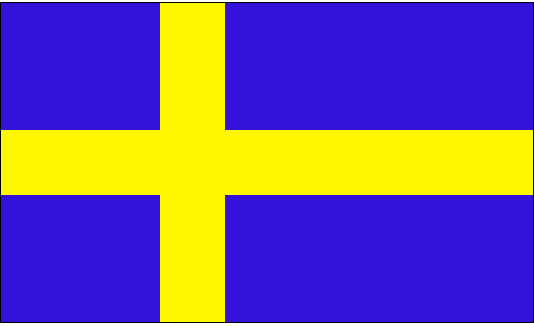 I just got into Sweden for a conference, and I am immediately struck by how efficient the place is.  My room, which might be described as a small American room, had two additional roll-away twin sides beds in it.  When I asked the front desk what they were, the one person on duty (that is the standard shift size) explained that the room is so big that it usually fits three. The hotel had some extra space available, so they gave me a free upgrade.
There is also no storage space.  No dressers, just a one-foot-wide desk-like surface that goes the length of one wall, and a space wide enough for shirts with six inches of depth, a bar, and four hangers.
Most of the lights in the hotel are motion-sensitive; they waste no power.  In order to turn on the lights in my room, I have to insert my key-card.  If I want to get back in the room, I need to take my key-card out — making it impossible for me to accidentally leave the lights on.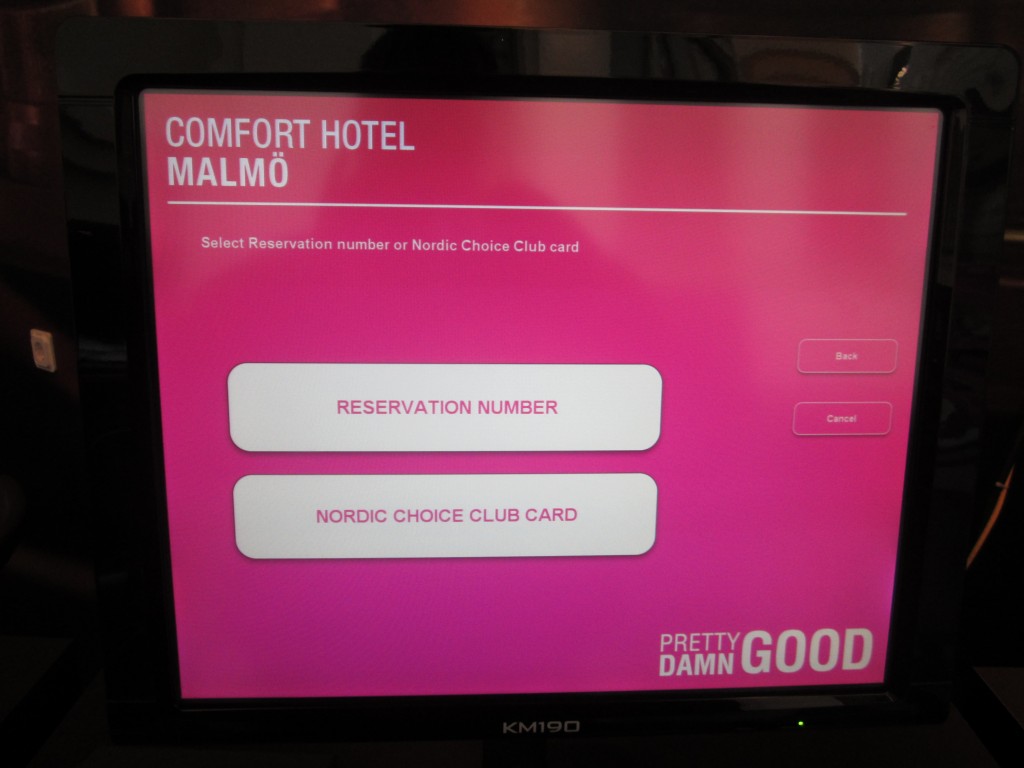 Assuming you made your reservation right, sign-in is with a kiosk, not a person.
All of these efficiencies  make it possible for the company to have more guests per employee, to compete on price.
In a sense, that is a wonderful thing. The Swedish people are hard-working and view efficiency as a virtue.  The waste-basket is tiny because they don't waste — these are the people that invented IKEA.
The downside is that this drive for efficiency destroys jobs.
That's not new either; the luddite riots, when the "machines are taking our jobs away", actually happened in 1812.
Unlike 1812, though, I do see some  forces at work that are a little troubling. Continued »
---
October 31, 2012 5:59 PM
Someone told me once that you can describe a software tester (my own tiny branch of IT specialty) as someone who "imagines the world could be different." Not the world is different, but that it could be.  The tester imagines, and asks questions to confirm if, say, reality deviates from the project plan.
If you will, for just this blog post, please, imagine along with me.
Let's start with the first debate, between president Barak Obama and Mitt Romney.  At 46:41 exactly, there was a strange 'blip' in the communication protocol.  Here's the clip; you can skip the ads after five seconds:
What was that?
You may want to rewind back to 46:41 and watch it again.  Alternatively, here's a screen capture: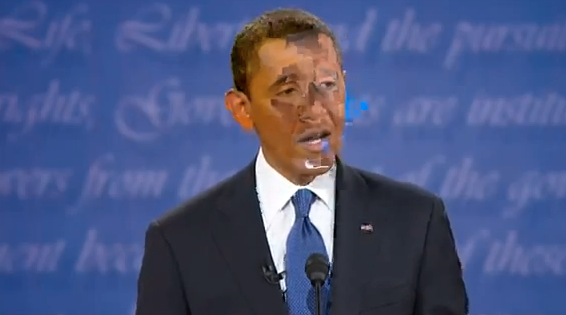 Notice the only thing that changes in the instant is the face; the digital signage is fine, the suit, the shirt, the tie, everything is fine.  There is just some sort of signal problem with the face.
In that instant, It looks remarkably like someone else, not the president, is giving the speech, and the presidents image is projected overtop.  Or perhaps the opposite.
Or perhaps this is just some digital 'fluke'; a problem with the codec, the algorihmn that compresses the pixels to form a real-time transmission.
And, If that were the only problem with the debate, that might be it.
But there's more.
---
October 12, 2012 1:32 PM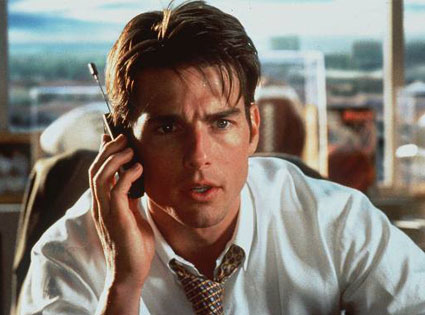 Many of us are familiar with the movie Jerry Maguire, which begins with Jerry writing a mission statement for his business.  He writes about how the company had lost its way, how to change it, prints out a copy for every employee, comes into the office early, and leaves it on their desks.  (If you haven't seen the movie, the video is on youtube.)
And, as you expect, within a week, he gets fired.
I hadn't seen the movie, or even heard the story.
And so, when our company was pursuing a process improvement odyssey" (whatever that was) and I was heading up the committee on quality assurance, I took a page from Karl Wieger's "Creating a Software Engineering Culture" that differentiated what we really want (improvement!) from some of the things we do to get there (paperwork! metrics!).  I made a hundred copies and put it in every mailbox in the IS department.
Yes, I was that guy.
---
October 4, 2012 11:13 AM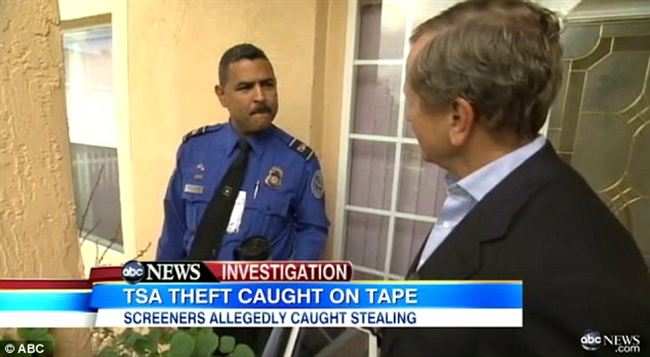 I've been running a blog series for 21st Century IT on about how new technology can change the very concept of employment, hiring, and 'work.'
At the same time, a few things have been happening that give me pause.
Take last week, for example, when ABC News caught an  airport security agent stealing an iPod in an Sting Operation.  In another segment the same week, ABC News interviewed a  former TSA officer, Pythias Brown, convicted of stealing over eight hundred thousand dollars of personal electronic equipment.
How was Pythias caught?
It turned out that he didn't bother to remove the CNN labels off some cameras he was reselling on eBay.
---