---
June 5, 2009 2:22 PM
Talk about a lack of business intelligence: A former Cognos BI sales rep has been indicted, along with some former top Massachusetts officials, in a bribery scandal surrounding a now-voided $13 million deal for performance management software for state government.
Though nearly all the players have since moved on to other things, this episode takes us back to a time that wasn't good for this state's IT. Indeed, the IT organization was apparently nothing but a pawn in this transaction, as the House speaker and his associates took seeming advantage of a CIO office in transition.
The time of the alleged activity found the IT organization in the hands of an acting CIO, the previous two CIOs having left after short tenures in apparent turmoil over an open document standard. CIO Peter Quinn resigned in late 2005, and his successor, Louis Gutierrez, lasted just 10 months. Gutierrez resigned in October 2006, citing a lack of funding for the commonwealth's technology initiatives. Interesting how the House speaker pushed through legislation for $15 million for a BI project just a short time later. (He resigned earlier this year and is a key figure in the indictment.)
The acting CIO then signed off on the Cognos BI deal; in one account, this interim leader said the influence of top politicians didn't affect her technology choice. However, the project didn't get far. The commonwealth finally hired a permanent CIO in July 2007, Anne Margulies, who soon "raised concerns about 'discrepancies' in the bids," and ordered the review that eventually uncovered the alleged activity, according to one report.
Now, anyone who pays attention to the news knows that there's plenty of influence peddling out there, and much of what we find out about is in the public sphere, where everything from construction contracts to political office seems to be available for a price. CIOs are hardly immune to similar temptations. Whether it's Lakers tickets or a pool in your backyard, CIOs do encounter vendor bribes, and it's my guess that not all of them are as honest as the CIOs we interviewed for a story on steering clear of vendor bribes a couple years back.
Still, in Massachusetts, it's notable that only elected officials and their lobbyist face charges as a result of the investigation into the bribery scandal. But the fact that no one from IT was fingered isn't exactly good news, either. If elected officials (or executives) are steering the IT ship, choosing the technology path or big package that will perform key functions for years to come, something is wrong. Of course, with a revolving CIO door, Massachusetts already knew that.
---
May 28, 2009 7:14 PM
I'm still reflecting on last week's MIT Sloan CIO Symposium, where my colleagues and I gathered a lot of good information on CIO leadership, IT outsourcing, health care, CIO innovation and more — and where some of us used Twitter for business to share, in real time, some of what we were hearing.
As I live-Tweeted and followed others via the #MITCIO hash tag, I have to say there were upsides and downsides to using Twitter for business. I'm used to taking extensive notes at conferences, but with live-Tweeting I felt the margin for error was greater — not only for typos, but also for failing to provide crucial context for a quote. And I know that I was more likely to miss that context as I was typing out Tweets – context that I would almost certainly capture when taking notes the old-fashioned way. On the other hand, I gathered a lot of Twitter followers relevant to my work, and now have the opportunity to follow and learn from them, as well.
My colleague Kristen Caretta, who has blogged about the using Twitter as a business tool and live-Tweeted from last week's Forrester IT Forum, felt the same way.
We did find live-Tweeting to be helpful for capturing and sharing sound bites — but did you?
Here are some of my favorite quotes from the MIT event (with full speaker titles added, since the darn 140-character limit didn't allow for them as I Tweeted them):
"Just because a CEO carries a BlackBerry, he/she doesn't necessarily get technology. CIOs must show how investment pays off." — Jim Champy, chairman of consulting, Perot Systems Corp.
"Innovation is easy — it's called continual improvement." Look to process improvement, not big infrastructure change. — Alan Trefler, CEO, Pegasystems
"I don't see cloud computing as a game changer for big companies. … They have to clean up infrastructure [first]." — Jeanne Ross, director, MIT's Center for Information Systems Research
Don't waste recession: "Hopefully, 10 years from now, we'll look back and call this 'The Great Restructuring.'" — Erik Brynjolfsson, Schussel professor of management and director of the MIT Center for Digital Business
"We've been talking a lot about cloud computing here. Maybe the next big thing is crowd computing." — Tom Malone, Patrick J. McGovern professor of management and director of the MIT Center for Collective Intelligence
So — do you find these Tweets useful or engaging? Does using Twitter — either as a Tweeter or a follower — enrich your understanding of a conference while you are there? Do you follow individuals' Twitter feeds or conference hashtags when you're not in attendance? Or would you rather that we bring you fuller coverage after the fact?
---
May 28, 2009 2:49 PM

Profile: mschlack
For 20-odd years, the many problems with electronic health records (EHRs) ably highlighted by Karen Guglielmo have stymied the pervasive use of IT in healthcare. But the Feds' newfound interest in EHR could well change all that. The reason is not so much the $34 billion allocated by the government for electronic health record development – much of that seems destined to help individual doctors or small practices and clinics. For hospitals and other health institutions, the payoff may well be the new air of seriousness surrounding EHR. With the Feds looking for major cost savings to help offset historic deficits, I expect a certain amount of arm twisting to get all the parties to play nice.
We recently surveyed several hundred IT managers in healthcare institutions to see where people are at. Sixty percent have some form of EHR under way, with 36% either planning or in some stage of deployment. IT managers at these healthcare organizations see themselves overwhelmingly as playing a major role in EHR implementation, often leading the project.
The EHR troika is shaping up to be IT, medical records and medical staff. Pencil in the compliance officer and make that a quartet. CIOs I have spoken with are talking up the idea of a chief medical information officer (CMIO), most likely a doctor with an IT bent, as the ultimate application owner. The CMIO is shaping up as the person who can hold software vendors accountable for the two main issues that have plagued EHR to date and that Guglielmo wrote of in her blog entry: unwieldy user interfaces and lack of interoperability.
Within IT, CIOs and security managers will have the biggest involvement in the up-front planning and decision making around which packages to buy, etc. Development staff will, of course, be involved in the inevitable customizations. However, 75% of our respondents will bring in outside professional services for some phase of the project, especially for customization and deployment.
Once established, EHR will become the responsibility of application managers (CMIO or not) and of course, the usual infrastructure directors of servers, storage, database and networks.
Hospitals have often lagged behind corporate IT in their adoption of new technology, with notable exceptions in digital imaging and wireless networking. Still, we are likely facing a wholesale modernization of hospital IT to accomplish the broad goals of electronically managed healthcare. Without high-density commodity servers and server virtualization, for example, it's hard to see how hospitals can afford to run all this new software. Will they also say goodbye to Unix and rely on Windows and Linux exclusively? Will hospitals be able to afford maintenance of fat clients in every exam room, or will they opt for desktop virtualization of some flavor? Time will tell.
The other thing time will tell is if the government or industry can rationalize the cuckoo economics of EHR. Conventional wisdom is that payers will be the biggest beneficiaries of cost savings, while providers the biggest spenders. Seems like we're just trading one series of problems in healthcare financing for another unless that's addressed.
---
---
May 22, 2009 3:05 PM
In a perfect world, connected healthcare information systems would be easy to use, offer doctors a way to effectively communicate with their patients without any barriers or restrictions and give patients a secured means of keeping track of their electronic medial records (EMR).  Today's healthcare information system doesn't do this.  
According to last month's New England Journal of Medicine, 17% of U.S. physicians use some kind of electronic medical records system and only 9% of U.S. hospitals are adopting EMRs. What's the holdup?
Some say it's a case of misalignment of incentives. At this week's MIT Sloan CIO Symposium, Dr. John Halamka, CIO of Harvard Medical School, talked about how implementing connected healthcare information systems comes at a high price in terms of cost and productivity to doctors and medical facilities, with little return on their investment. Halamka talked about how doctors are presented with this great new technology for electronic health records. But the doctors initially have to put their own money up to fund the technology investment. They then see an immediate loss in productivity due to the setup time and management of the system. Finally – their staff ends up quitting or complaining about all the extra work involved in the new process. What are the incentives to this? Extra hours, lack of productivity and no additional compensation. And how is that supposed to improve my healthcare experience?
Or maybe it's a workflow issue that's holding up the progress of connected healthcare information systems. Fellow panelist Gregory Veltri, CIO of Denver Health and Hospital, blamed the lack of progress on workflow. Veltri gave a great example of his CEO telling him, "Nurses chart today the same way they did 30 years ago. You need to fix that." This was a wake-up call for Veltri, who realized that doctors and medical facilities have a major workflow issue. They have been using the same systems and workflow processes for years and literally haven't had the time to make changes.
Could the holdup be blamed on the technology? Does the technology behind connected healthcare information systems do a good enough job in meeting the needs of doctors, patients and insurance carriers? Connected healthcare information systems are very complex and involve doctors constantly codifying data for flows, reminders and alerts. Most doctors don't think in terms of codes. Moreover, a lack of standards means the system your primary care doctor adopts might not be the same as the one a specialist or hospital has, making your record unusable by anyone but the facility that created it.
The goal of connected healthcare information systems should be "to push the right data to the right provider at the right time," said Veltri. I'm not sure about you, but I'd rather have my doctor use a system that will allow him to spend more time figuring out my diagnosis, not just the right codes to enter.  
---
May 22, 2009 2:52 PM

Profile: AlexanderHoward
CIOs look to the MIT CIO Symposium for information on management, technology and innovation. Those in attendance at the academic panel held in Kresge Auditorium in Cambridge, Mass., enjoyed a healthy helping of all three, as distinguished researchers from MIT's business centers offered ample insight into how successful organizations leverage technology to increase innovation and profit. Over the course of the hour, the audience heard about the power of collective thinking, the impact of Web 2.0 tools behind the firewall and the methodologies for innovation that have served to differentiate IT giants like Google from their competitors.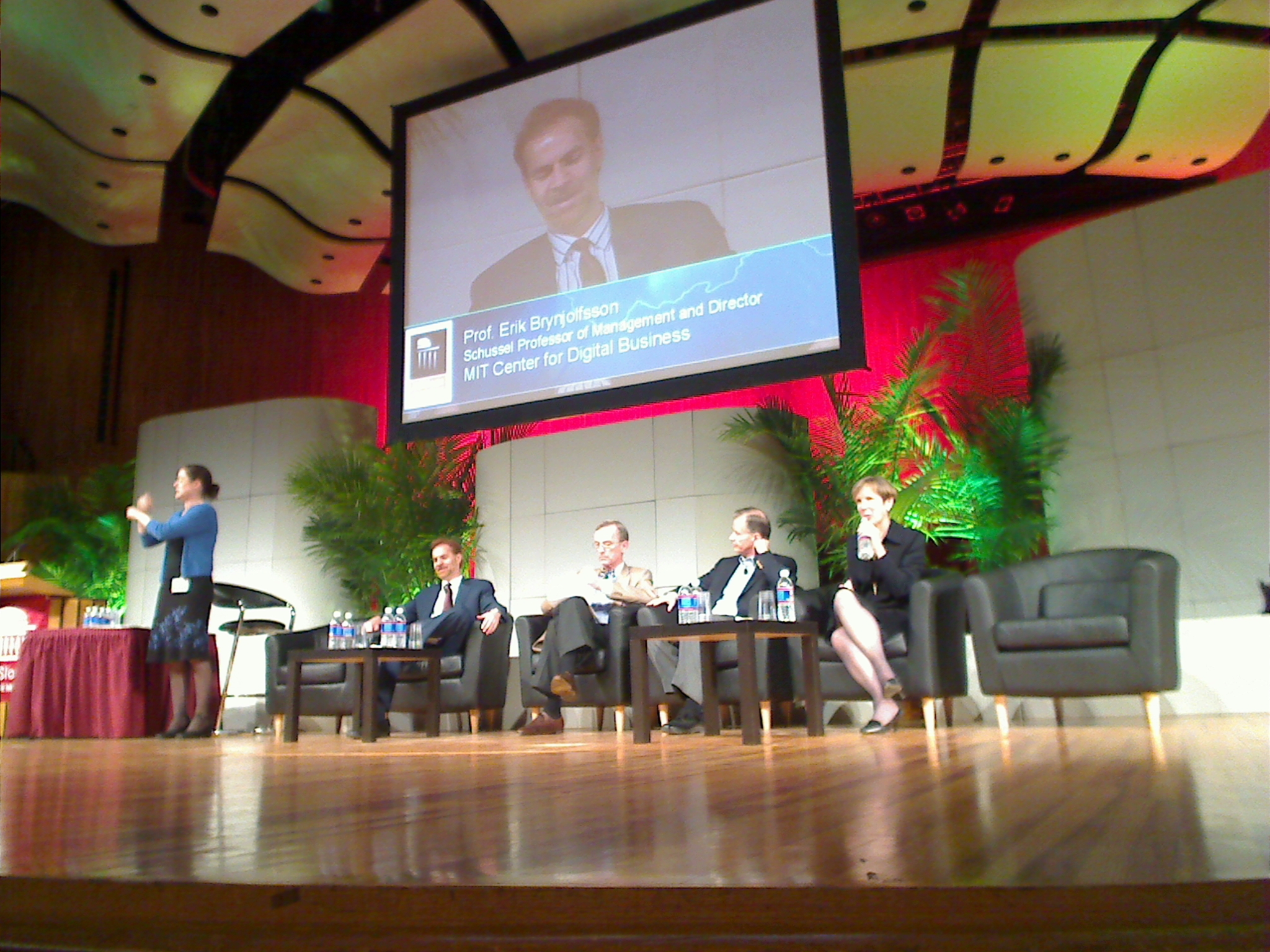 [From left to right: Prof. Erik Brynjolfsson, Gary Beach, Prof. Thomas Malone, Dr. Jeanne Ross]
The moderator for the panel, publisher emeritus of CIO magazine Gary Beach, didn't waste any time, asking each academic what "the next big thing" in IT was. Professor Thomas Malone, Director of MIT's Center for Collective Intelligence, noted immediately that the "elephant on the table is cloud computing." In his opinion, "It may well be the next being thing in the hardware progression." He chose, however, to focus on the power of collective intelligence.
His choice may not be surprising, given his research, but his coinage of the term crowd computing to describe distributed online collective intelligence turned to solving problems drew appreciative chuckles from the crowd. In Malone's view, the answers of the many, or so-called "wisdom of the crowds," is a powerful tool for organizations seeking answers to tough questions. Malone noted Twitter and Innocentive as two examples of the concept.
Dr. Jeanne Ross from MIT's Center for Information Systems Research (CISR) chose to focus on the digitization of organizational resources, stating that in her view, only "about 2% of global companies have nailed the concept of a digitized platform." She said here are two things IT does well: standardizing and integrating business processes. Organizations of all types will gain the most from their IT investments by focusing in these areas.
Professor Erik Brynjolfsson, author of the forthcoming Wired for Innovation: How Information Technology is Reshaping the Economy, sees opportunity in the downturn. As he noted, "the lion's share of Fortune 500 companies were founded in earlier economic disruptions." Brynjolfsson calls today's recession the "great restructuring." In that trend, he sees three key elements: Experimentation, measurement and scale
Each of these elements is substantially enabled by innovations in information technology, like A/B testing, Web and data analytics and cloud computing or enterprise resource planning systems. Brynjolfsson provided a bottom-line example of how such methodologies can result in increased profitability, noting that "Yahoo only makes 16% as much per page served as Google with the same underlying technology. Why? Scale."
Brynjolfsson suggested to the CIOs in the audience that they push for experiments, measure and validate them in order to rapidly adopt the innovation, replicate it and then scale it. "Experiments aren't an excuse to validate preconceived notions," Brynjolffsson was quick to note. "That's the wrong mentality. Leaders must approach experimenting with a genuinely open mind to see what works and what doesn't." Brynjolffson offered a CVS case study that he and Harvard Professor Andrew McAfee wrote in 2005 as an example. CVS created a pharmacy service improvement at one test location. Once the new process proved effective, CVS embedded the process into all of its IT system, replicating it to thousands of other locations.
Take his research with McAfee as another example. McAfee hypothesized that companies would become more similar over time as each organization enjoyed the benefits of improvements in information technology. What he and Brynjolfsson found was striking. When you compare leaders with laggards, over the past decade there has been a substantial growth in the gap. From the 1960s through the late 1990s, technology advancements benefited the nation's companies in roughly the same amount.  Starting in the late 90s, however, there was a discernible shift to higher profitability in the top 25% of the nation's corporations, particularly in more IT-intensive areas of economy. Increasing performance heterogeneity was a result that appeared to be closely correlated with IT – if not IT itself.
In other words , the results implied that companies were using information technology in a new way after the dot-com bubble, with the top echelon leveraging investments in ways that dramatically accelerated their growth and profitability in the new millennium.
When asked what CIOs and CEOs could invest in now for returns on investment in recessionary times, Brynjolfsson focused on so-called "Enterprise 2.0" technologies. In his view, blogs, wikis and enterprise microblogging quickly allow innovations to be discovered and amplified across the companies.
---
May 21, 2009 1:08 AM
Organizations that establish a BPM center of excellence have a much greater degree of success, according to Clay Richardson, a senior analyst at Forrester Research. Recent Forrester research showed that out of the customers who weren't having success in their BPM initiatives, only 4% had a formal center of excellence in place. Out of the ones who were having BPM success, 67% had centers of excellence.
According to Richardson and other experts, a center of excellence is ideal where there are multiple players contributing to each project. A BPM center of excellence often consists of IT and business people and serves as a formal hub to coordinate goals, priorities and governance for process implementations.
If centers of excellence are tied to BPM success, why aren't more people implementing them?
One reason might be credibility. For organizations new to BPM, it's a business culture change. Justifying the value of BPM isn't always easy, especially without proof. That's why it's often easier to implement BPM successfully on a couple of projects first and then set up a center of excellence as phase two.
"You can't start with a center of excellence," said Derek Miers, founder of BPMfocus.org. "You have to deliver value on projects first."
One could argue that a BPM center of excellence is like the chicken and the egg all over again: You need one for the other to work. But in the case of BPM, it's better to start small, show value and then build your center of excellence.
---
---
May 15, 2009 3:02 PM
When the Massachusetts Senate took action this week to modify the state data privacy act (Standards for the Protection of Personal Information of Residents of the Commonwealth), I didn't jump for joy the way some people did.
Yes, the original legislation set such a high benchmark that it would place an enormous burden on businesses to comply: encrypting all personally identifiable information, designating one person to oversee a company's privacy program (a big burden for smaller businesses where there's not even one person dedicated to security). So I understand the hue and cry about legislators not getting the implications of what they are putting in place because they don't understand the technology, or IT, or the economics of risk management for the business world. That is all true.
But what is also true is that data protection is changing, and needs to change, in the U.S. Even as the Massachusetts law would defer to federal law in many places, the fact is we don't yet have a tough federal law on the order of what is commonplace in some other parts of the world. Americans, as capitalists, often roll their eyes at many European conventions (think: six-week vacations, nationalized health care, controls on greenhouse gas emissions) but in fact the U.S. could end up emulating some EU practices because they work. Privacy and data protection should be no different.
As a resident of Massachusetts, I'm disappointed that my state might not end up with the toughest data protection law in the nation. But I hope the feds will soon pick up the ball and take care of that for us. Unlike legislation like SOX, where the sins of the few brought the burden to the many, a federal data protection act would be one for all of us. With nothing less than the integrity of our identities at stake, creating such electronic border controls should involve federal funding just as any aspect of national security does. And on the global stage in the electronic age, this is indeed a national security issue.
Yes, many states have data protection laws on the books now. But that doesn't satisfy the Europeans, who view our data protection as weak without a federal law. Now's the time for the feds to step in and give us a united stand.
---